Drive sales on autopilot with ecommerce-focused features
See Features
Reading Time:
6
minutes
You can't expect visitors to buy something the first time they encounter your ecommerce store—the best you can do is encourage them.
With the right encouragement, you can push them towards joining your email list. This way, you can start building the kind of relationship that will eventually lead to conversion.
One of the most reliable ways to do that is by designing compelling email capture forms—and making sure you get your popup timing right.
But what are popups, and how are they ultimately used? We explore the different types of popups, how to use popup timing, and other quick tips in this article.
What are popups? Why is it important to use them?
Popups are pieces of content that appear on a website at specific times of a visitor's browsing experience. They pop up over the main content to get the visitor's attention.
It's hard to deny that popups are intrusive. However, if they're used properly, they could be the perfect tool to grab your visitors' attention. This can serve as the first step that begins what could be a lifelong relationship with your brand.
For the best chances to grab customer attention, it's best to use professionally designed templates. By using these alongside easy-to-use popup timers, you can boost email subscriptions and increase your revenue.
Make use of professionally designed email & popup templates with Omnisend.
Start Free Today
What are the types of popups and when should they be displayed?
There are several types of popups—and there's a perfect time for each one. To increase the likelihood of conversion, it's essential to use the right one based on every visitor's mindset.
For ecommerce stores, there are two useful popup types in particular:
1) Exit-intent popups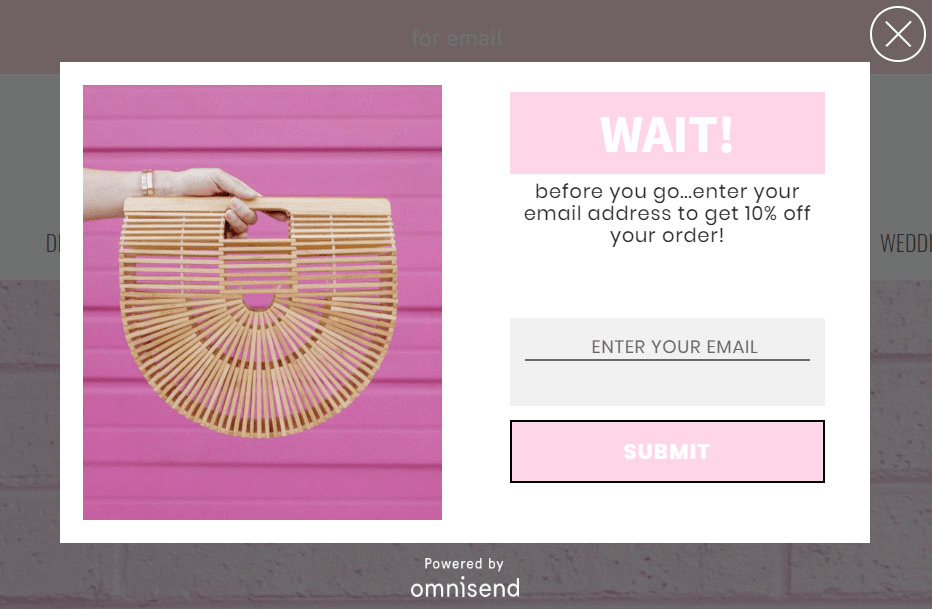 Exit-intent popups appear when visitors show a clear intention of exiting a website. For example, when they move the mouse pointer towards the close button or off the page. These are useful for recovering leads that would otherwise be lost.
There are certain ways you can make the most of these popups—they're essentially reaching out to someone on their way out, which means you need to give them a reason to stay.
Consider using them to offer something that will allure the customer to making a purchase. The likes of special discounts or limited-time freebies can address wherever issues may have kept your shopper from checking out earlier.
2) Signup popups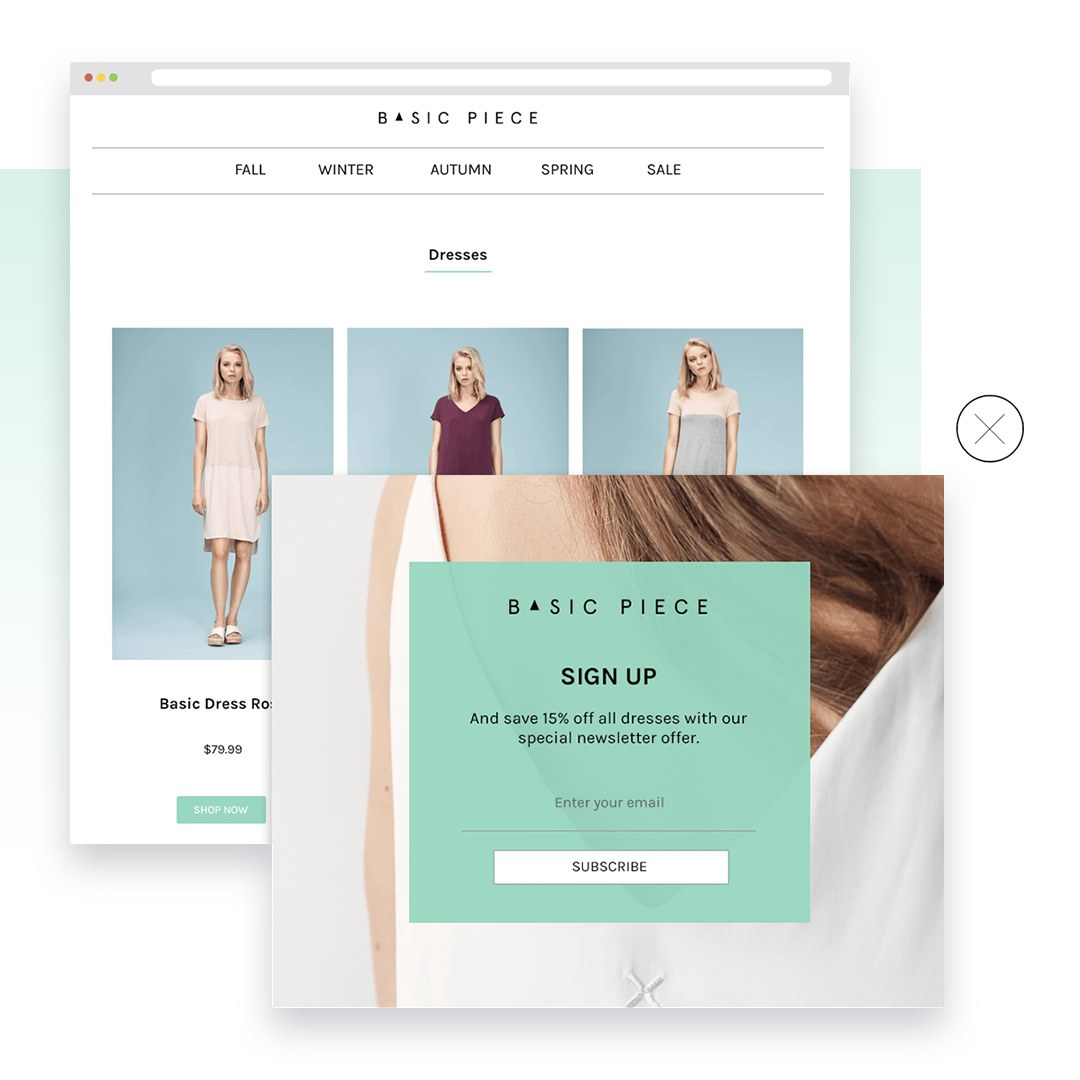 Sign-up popups are a way to collect information from your audience. These are useful for developing customer relationships that would eventually lead to conversions—and possibly repeat purchases.
Naturally, you can make these popups more interesting or alluring to the customer. Simply asking for their contact information isn't much of a pitch, as most customers will want something in return.
This is where offering benefits comes into play—provide an incentive, like a discount code, to get your potential buyers engaging with you.
There are ways to make the most of, and increase your chances of popup opt-in form engagement. One way of ensuring you're reaching out to those who are more likely to engage is by measuring their behavior.
For example, set up the popups so that they appear after a certain level of engagement, such as after several page views, or after they've spent a certain amount of time on your site.
Why is the right timing important to display popups?
Popups are tricky to master, and more so to effectively use without irritating customers. This is because, by their nature, they are disruptive to the customer journey. However, some argue that it's this quality that makes them effective.
To successfully utilize popups and engage with your customers, you need to nail the timing of the popup.
Show popup forms too soon and you risk losing any visitors. It's likely that they won't have seen enough to know if they're interested in developing a relationship with your company.
Show popup forms too late and you risk your visitors missing you entirely. There's a chance that you may have already lost the opportunity to influence what they think about your brand.
Additionally, it's worth remembering how intrusive popups are. If you make popups appear too often, your store will appear too pushy, or worse, you can appear desperate for subscriptions—and desperation is never a good look.
How to find the best time to display popups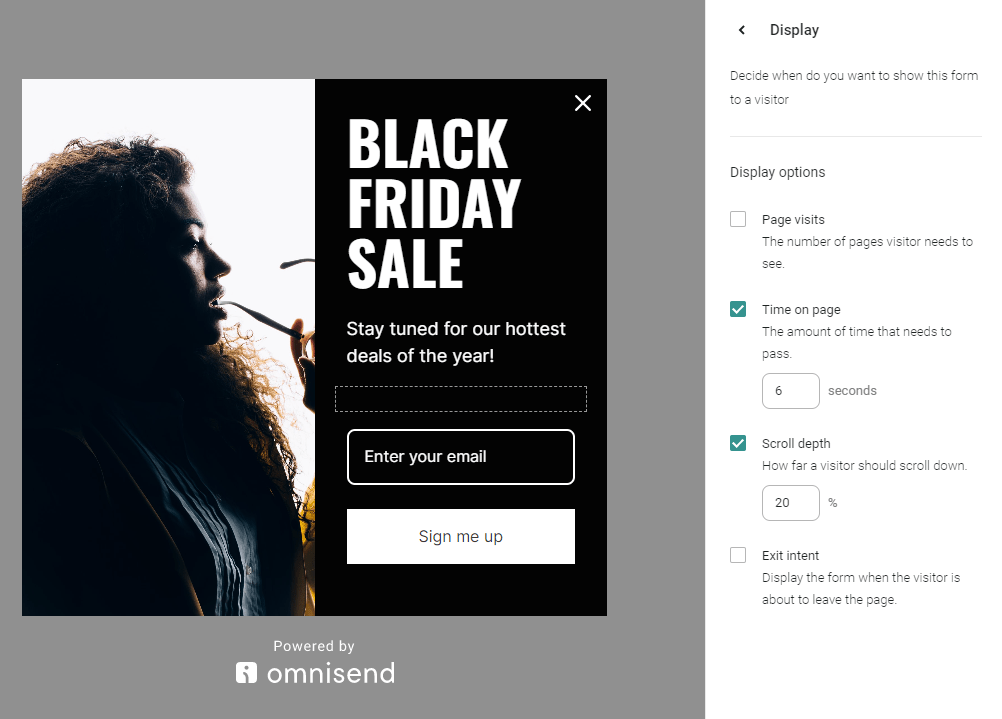 Getting your popup timing right depends on the content and purpose of your popup. For example, exit-intent popups are obviously for visitors that demonstrate a clear intention of leaving your site.
However, these work best when shown after visitors have already viewed several products or have added items to their cart.
On the other hand, the best time to display popup opt-in forms is a little trickier. It helps to ensure a certain level of engagement before asking visitors to sign up.
To do this right, use your popup timer to make email capture forms appear only after visitors fulfill certain criteria. This includes:
Number of pageviews: At what point are your customers most engaged with your store?

Analyze your customers' journeys and see what the average amount of pageviews are. This can help you determine when and where most customers are most likely to engage with a popup.

For example, let's say over half of all your visitors visit three different products after reaching your homepage. This suggests that they are often interested in enough products to remain on your site for more than one product—placing a popup on the second product page they visit might serve as a good spot to pique their interest with a discount.


After a certain amount of page scrolling: Does your site consist of many different short pages, or do you have long pages with a lot of information?

If you're confident that your visitors will scroll down a page long enough, planting a popup at a specific spot will ensure that only those engaged up to that point will see it. This makes it more likely that they'll engage with the popup.

For example, say your website features in-depth product descriptions and a structure that shows pictures, videos, and reviews. If visitors reach the bottom of this extensive product page, they're more likely to consider purchasing this product than someone who spots the main image and bounces.

Once again, timing a popup here ensures that anyone seeing it will have already engaged with your store—enough to be interested in a special offer.


After a specific time after entering the website: Does your store have enough on the homepage, or any other main page, to attract visitor attention for more than a few seconds?

If you find your customers lingering on specific pages longer than others, you can take advantage of this attention with a popup. It's more likely that anyone remaining on one page will engage with content you show them.

For example, if your site has a special page for sales or clearances of items. A visitor on this page may remain long enough to try and find the best deals or most alluring products.

Knowing what they're looking for on this type of page helps craft popup content almost automatically. In this case, a popup notifying the customer that they can receive news of new sales will likely result in engagement.
Quick tips for using and displaying popups
Although timing is critical, other factors can further drive the success of your popups. You should always strive to keep experimenting with them to see what works but to help conjure some inspiration, let's explore some quick tips.
To make your popups even more effective, consider:
Ensure proper targeting: Show popup content only when it is relevant. For example, visitors who have already subscribed to your email newsletter should not be bothered with popup subscription forms. OptinMonster, a premium lead generation software, comes with powerful targeting rules to display your popups to the right visitors at exactly the right time. You can show popup content based on visitors' previous campaign interactions, pages they viewed, geographical location, and more.

Deliver a concise message: You're disrupting a browsing experience, so make sure your audience understands the benefit right away. It pays to keep the message short and your call-to-action obvious.

Include an irresistible offer: There's a smaller chance of irritating a visitor with a popup when they get something really good in exchange. Sometimes, a discount code or free shipping voucher is all it takes to shift from a minor displeasure to a successful conversion.

Create urgency: Get your visitors to think that now is the best time to subscribe. Tie in your offer with an expiration date—this way your visitor won't hesitate to sign up right away.
Wrap up
Getting popup timing right doesn't just encourage better conversion rates, it also keeps leads from dropping off. The key is to have a good understanding of your audience and their mindset at every stage of experiencing your website.
With that level of insight, you can better maximize the value of your email marketing platform. You can work more efficiently with popup timers, boost subscriptions, and likely find yourself in a better position to drive revenue for your business.
Boost subscriptions and increase your revenue using conversion-focused designs and perfectly-timed popups. Try Omnisend for free and see for yourself how to make the most out of your store popups.
related features
Want more sales?
Omnisend has everything you need to succeed.
Start free now
No Credit Card needed.