Drive sales on autopilot with ecommerce-focused features
See Features
30 Exit-Intent Popup Examples & Ideas for Small Online Businesses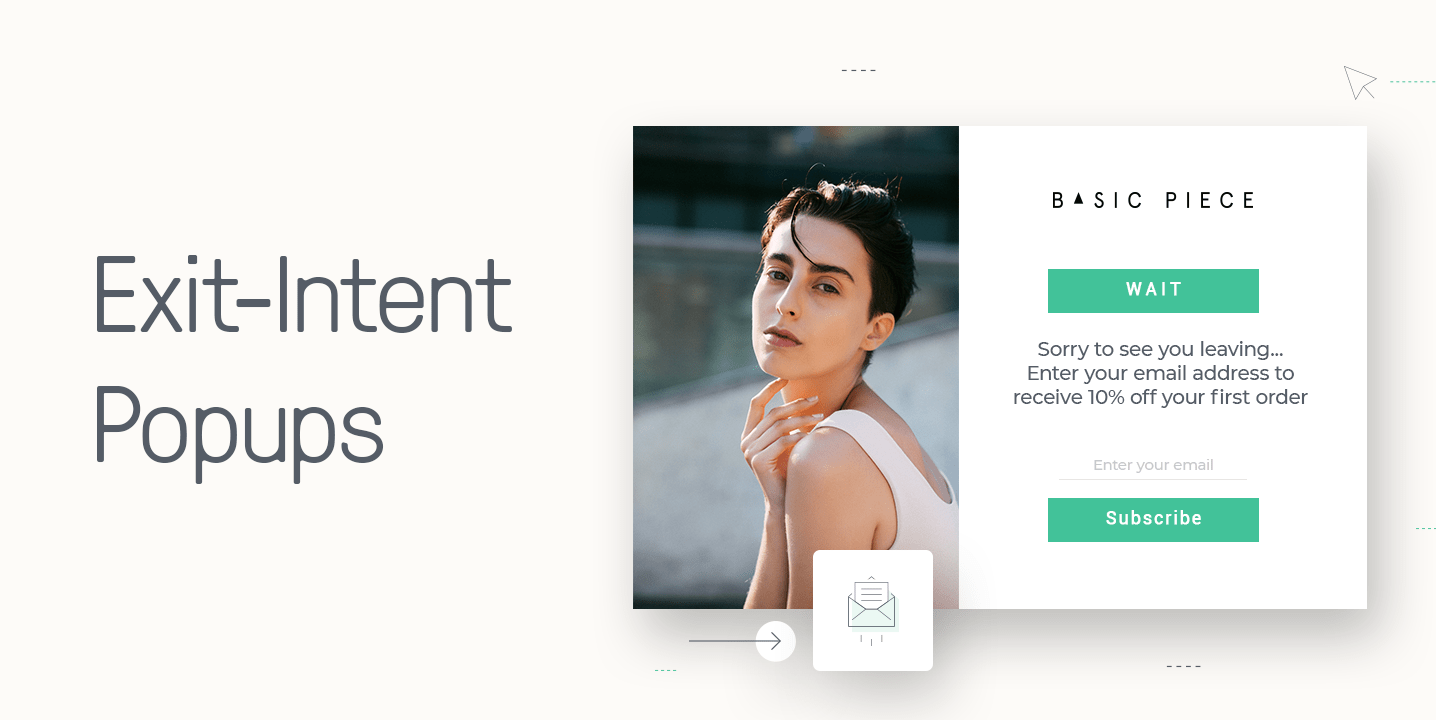 Reading Time:
11
minutes
There is a paradox in the online business ecosystem.
Everyone writes about how they hate popups, but they still use popups themselves. In fact, popups are some of the best sign-up forms for conversions.
Yes, popups can be distracting and intrusive. But that all comes down to how you use them. In the right setup, you can get all the benefits of popups without any of the downsides.
The exit popup remains one of the most effective ways to collect new subscribers. Furthermore, it offers a range of other benefits that can drive even more engagement and revenue to your store.
As popups gained a bad reputation in the early days of the internet, marketers responded by making them more sophisticated and personalized. And that's what's making the difference.
Research indicates that standard, immediate popups result in a sign-up rate of just 1.9%. On the other hand, interactive exit-intent popups that appear only when a visitor is preparing to leave your site enjoy a success rate of almost 8%.
You need to make your popups more sophisticated and compelling in order to capture a visitor's attention and develop more dynamic and effective marketing campaigns.
In this article, we'll explore the world of exit-intent popups by explaining how they work and how they can help your brand. We'll also look at some exit-intent popup ideas to spark your imagination. Finally, we'll share some of Omnisend's best and most innovative email popup examples to inspire your own campaigns!
What Is an Exit-Intent Popup?
An exit-intent popup—also called an 'exit popup'—is a popup that only appears when a visitor is going to leave your site. The goal of the exit-intent popup is to get the visitor to subscribe to your newsletter.
Exit-intent popups are usually most effective when they include an appealing offer along with a clear call to action. For ecommerce stores, this could be anything from a discount or gift to a free ebook or training course.
Our previous experiments showed that exit-intent popups convert new subscribers into customers more effectively than landing popups that appear immediately when you enter the store.
This powerful ecommerce solution might come in handy when you're growing sales, trying to reduce your cart abandonment rate, or actively building your email list.
The Main Benefits of the Exit-Intent Popups
1. Reduce Your Cart Abandonment Rate
Shipping costs are one of the most common reasons for cart abandonment. Exit-intent popups can help you tackle this issue by offering a discount or free shipping for the first conversion.
This special call to action will make visitors rethink their intention to quit, and some of them will definitely take the offer.
2. Build Your Customer Database
New contacts are perhaps one of the most important reasons to add exit-intent popups to your campaigns. Exit popups can bring you great results when you target specific pieces of customer data.
Exit-intent popups are a great opportunity to ask visitors for more information. Gathering customer phone numbers or birthdays will give you new opportunities to engage with them in a more personal way.
Data indicates that adding extra fields into your exit-intent popup will actually improve the sign-up rate, which is great news for marketers who are focusing on building their customer database.
3. Boost your sales
Adding an engaging offer is a powerful way to convert first-time shoppers into loyal customers. Consider targeting visitors who come from particular sources or who are looking at a particular product page.
Don't forget about interactive sign-up forms like the Wheel of Fortune, which generates three times more sign-ups than simple popups. Continue reading for more details about this unique sign-up form.
4. Minimize Distractions
Popups are great for drawing attention, but they can be distracting when used too often. Think of them as a last resort—you don't want to display a popup until you're about to lose a sale.
With exit-intent popups, you can avoid showing unnecessary or intrusive popups to visitors who are already going to convert. Instead, your popups will only target users who are about to leave. In other words, you'll get all the benefits of popups without the distraction.
How Does the Exit-Intent Popup Work?
Exit-intent popups (which are also available in Omnisend) monitor visitor behavior and appear once a person is showing the intention to leave the site.
Technically speaking, exit-intent popups are triggered when the visitor's cursor leaves the page window. An exit popup with a tempting offer will bring their attention back to your site and potentially extend the interaction.
Immediate popups are notorious for interrupting visitors as they are trying to browse. On the other hand, exit popups aren't particularly annoying—you also have nothing to lose since the visitor was planning to leave anyway before the popup was triggered.
If you're not using exit-intent popups yet, you're leaving a lot of money on the table.
Whether you need ideas for your very first exit popup or you're looking for new things to test, you'll appreciate these exit-intent popup best practices and 30 examples for inspiration.
Top 4 Email Popup Ideas and Best Practices
These best practices can help you optimize your popups and generate even more subscriptions. With that being said, it's important to keep in mind that there isn't a universal solution.
Each industry and business is unique. What works for one company can totally fail for another.
Ongoing experimentation is the best way to determine which tactics are best for your business.
#1. Craft a Concise Message with a Clear Benefit
One of the biggest mistakes you can make with your exit popup is trying to pack too much into it.
The visitor is already willing to leave your site—he or she does not have time to read your long proposal.
Get straight to the point with just a sentence or two.
Your call to action must be short and show a clear benefit for the visitor—check out the exit popup example below for inspiration.
Not sure what it could be? You can offer a discount, free shipping, trial period, free sample, exclusive content, etc.
Offering a discount or gift is a great way to convert prospects into leads. It encourages shoppers to go through with a purchase they were on the fence about.
What's great about the exit-intent popup example above is that instead of a generic "Subscribe" button, they've used the much more compelling call to action: "GET $10 COUPON."
#2. Add an Extra Field
Take advantage of this contact to ask visitors for some personal information.
Our recent study revealed that adding a few additional fields into the exit popup isn't a deal-breaker. In fact, today's customers are generally willing to share their details for the sake of a better shopping experience. So don't miss your chance to get a visitor's phone number, birthday gender, or location.
See this data from Omnisend's 2019 statistics:
As you can see, customers are ready to share basic information like phone numbers and birthdays. You need to be ready to collect it. Collecting this data will open new opportunities for your ecommerce campaigns.
#3. Target Your Popup
Businesses often have concerns about providing discounts. This is one reason why they hesitate to include special offers in their sign-up forms.
Exit-intent popups are a powerful digital marketing tool, and they're even more effective when segmented based on user behavior.
Displaying the same sign-up forms for all website's visitors isn't a viable strategy in 2021.
Instead, make the effort to personalize them through targeted messages.
Slicing up your audience into smaller pieces will enable you to create more appealing calls to action, offer a discount only for those with high-intent, or target customers based on any other tendency.
Targeting your sign-up forms isn't as complicated as it sounds—simply define the segmentation rules you want to use when creating a new popup.
A customer who is about to leave after looking at your homepage, for example, might respond to a different popup compared to another customer who had already navigated to a particular product.
If a visitor leaves your site from a product or category page, they may be concerned about your shipping, return, and/or exchange policies. These are great pieces of information to include in any exit popups you display to these users. The popup below is a perfect example of preempting customer concerns and increasing their confidence in your brand.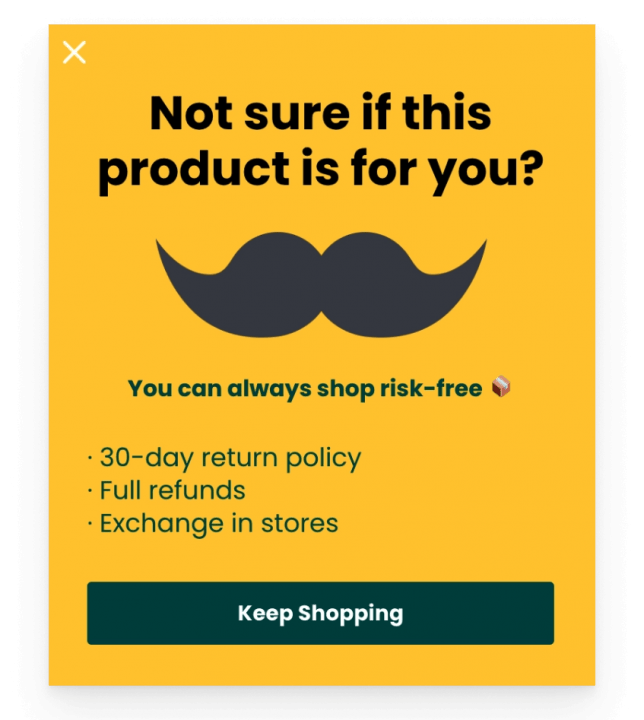 On the other hand, some customers who view a product page and then start to leave may have ended up deciding against that particular product. That makes the exit-intent popup an ideal opportunity to present other products in order to increase the odds of conversion. The popup below displays the most relevant product and gives customers the chance to browse other items in the same category.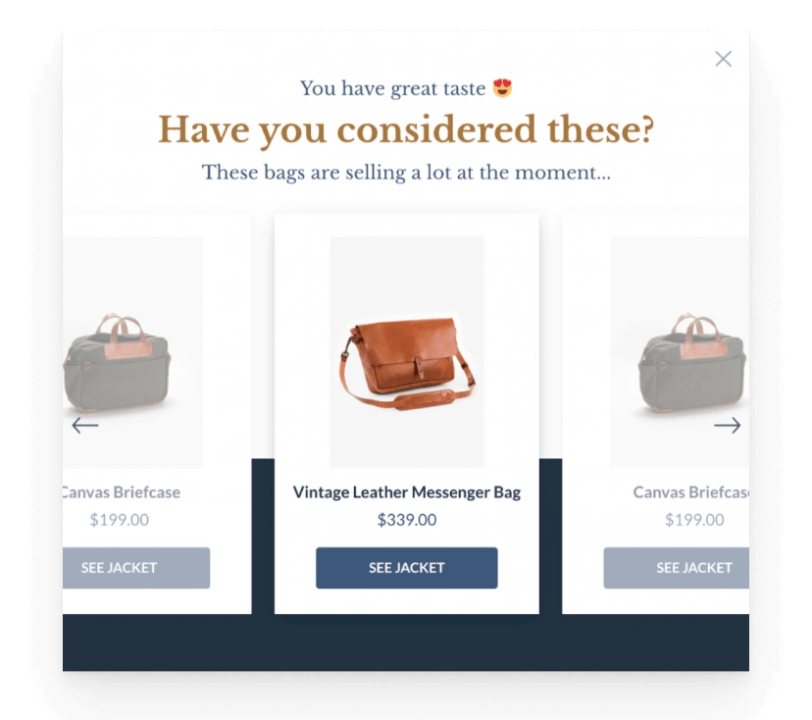 #4. Employ Gamification
Instead of a common looking popup, you may also try an interactive alternative, such as the Omnisend Wheel of Fortune. Some other marketing tools offer something similar, so you should check with your service provider.
This interactive solution reaches a 12.74% sign-up rate—three times better than a regular sign-up form. People love games!
#5. Use Social Proof
Consumers already see thousands of ads every day, so it's natural for them to gloss over the next promotion. Customers are generally much more responsive to user-generated content and other forms of social proof.
Social proof could be anything that demonstrates audience interest in your brand. In the example below, Pressed uses a short testimonial from a satisfied customer to generate more engagement with their products.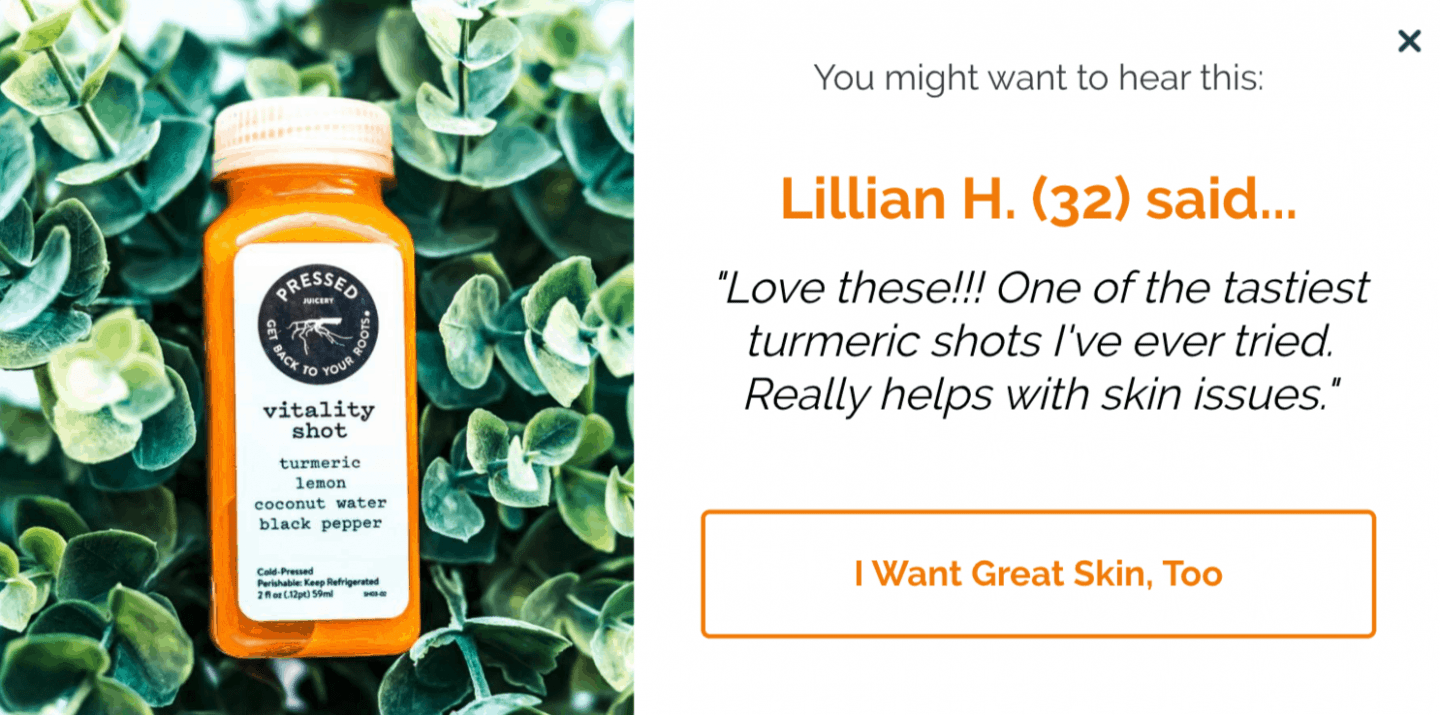 Social proof also gives you the opportunity to preemptively respond to common questions or concerns that leads might have about your products or services. See how Casper leverages a short testimonial to give customers confidence in the unboxing process, as well as the comfort and the overall value of a luxury product.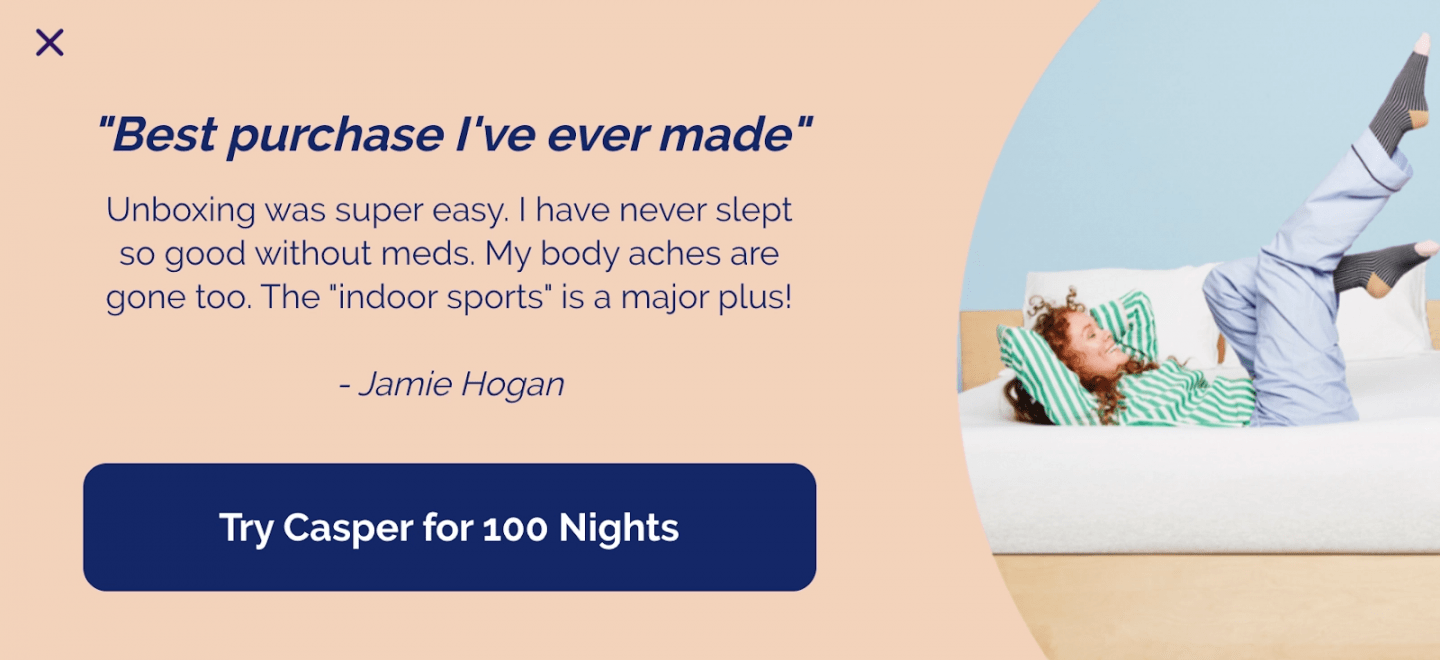 #6. Generate Urgency
Creating urgency is one of the most reliable ways to increase your sign-up rate. Your site visitors are more likely to follow through on an exit-intent popup when they start to feel that FOMO.
Whenever possible, leverage the power of unique or exclusive offers to build up that urgency and motivate them to subscribe. If you're offering a discount for 10% off, for example, let viewers know that there won't be another chance to get that deal if they don't take advantage of it right now.
How to (Quickly) Create Your Own Exit Popup
While they might seem complicated, it's actually pretty easy to create your own exit-intent popups.
So let's go ahead and walk through the process.
We'll be using Omnisend's form-builder for this one—it should only take you a few minutes to create a responsive form.
First, choose "exit-intent" in the drop-down menu: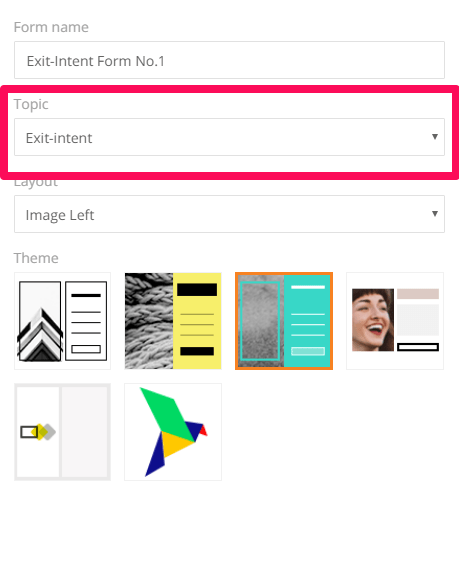 From there, choose the style of popup you'd like to use.
Note: Omnisend's forms come with pre-filled text, so you can launch them right out of the box.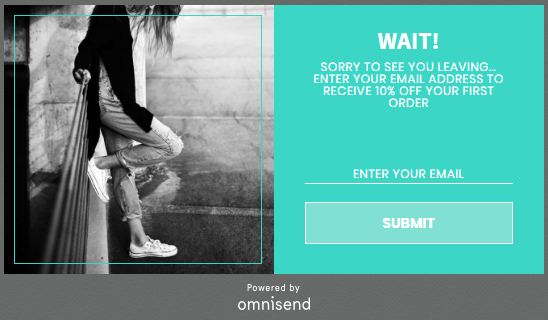 Next, quickly edit the call to action. For example, I switched the discount from 10% off to 15%.
You can also add a field for phone numbers or other pieces of information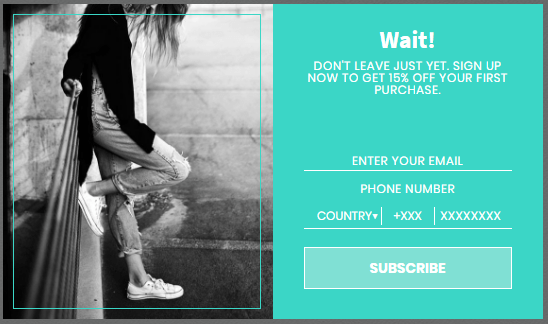 That's it! The popup is all ready to launch.
Before publishing, however, you can also quickly change the popup's maximum frequency—for example, no more than once a week.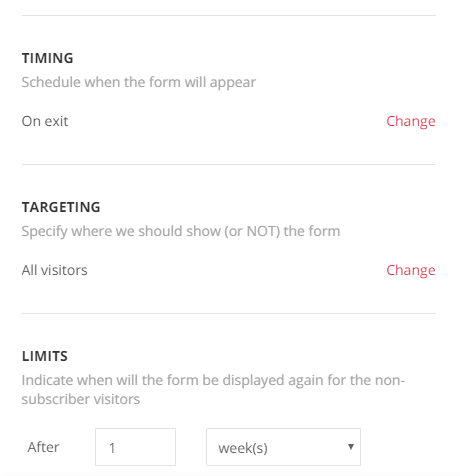 Note: for the 'Targeting' option, you can show or hide the popup based on page or URL.
My exit popup is now ready to show to my website visitors.
30 Exit-intent Email Popup Examples
Now you know how to create and customize exit-intent popups. Let's look at some of the incredible popups Omnisend customers have used to increase conversions.
1. War Fit
This exit popup example demonstrates the power of a simple call to action—customers can get a 15% discount in a few seconds just by entering their email and birthday.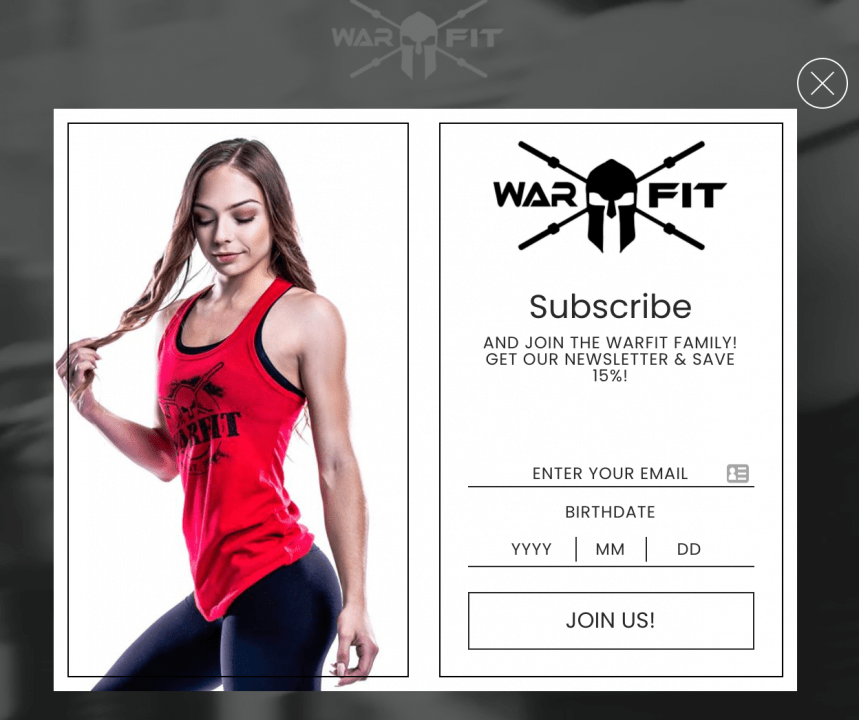 2. Avanchy
Avanchy starts their exit-intent popup with a clear "WAIT!" message that pulls users back in and gives them a chance to continue their visit.
3. Alastin
Alastin uses a giveaway rather than a standard gift or discount—new subscribers can simply enter their email address or provide their phone number for an additional entry.
4. Olive and Piper
Olive and Piper's popup sticks to the point and gives visitors a quick call to action. They also streamline the sign-up process by only asking for an email address.
5. Roadside Vapes
Roadside Vapes gives visitors a similar offer for 10% off their first order while teasing additional "subscribers-only specials"
6. Modern Me Boutique
The Omnisend Wheel of Fortune form makes the sign-up process more interactive and is more likely to catch a visitor's attention.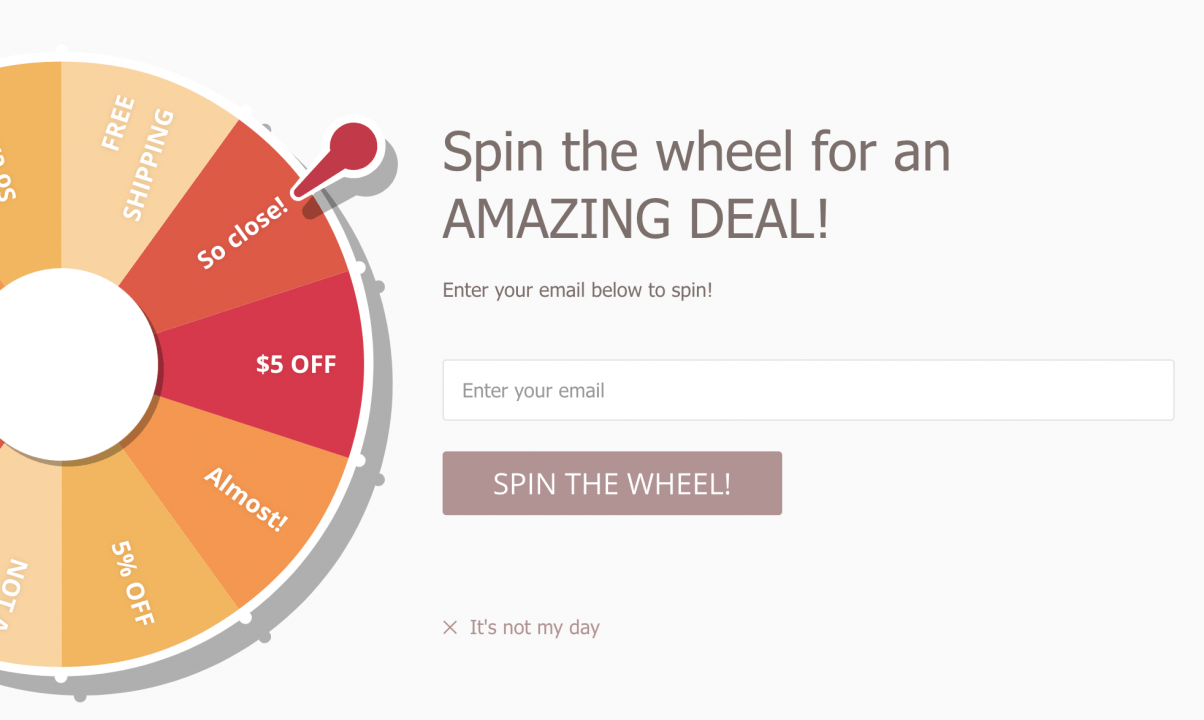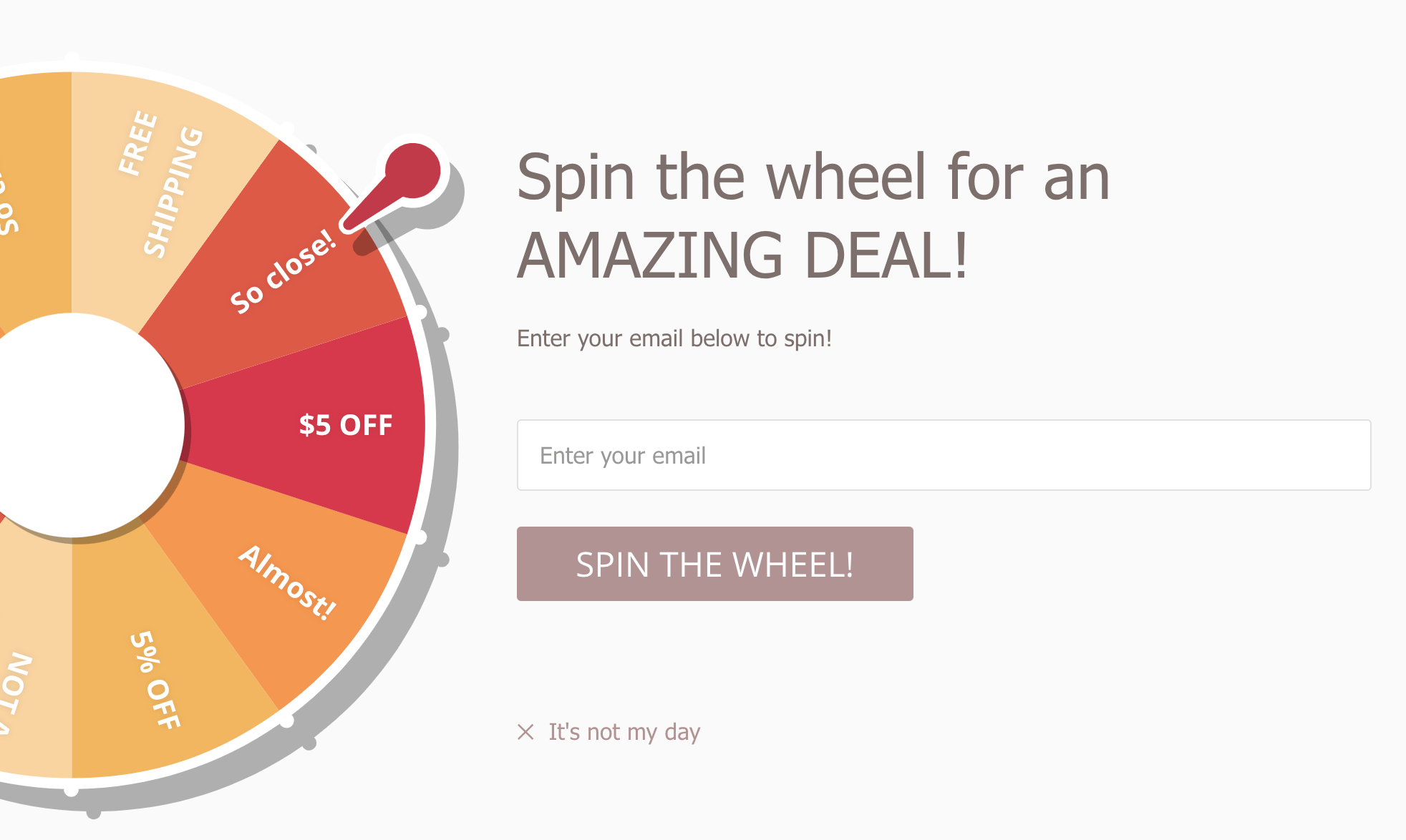 7. Selective Norway
Selective Norway's clear popup includes their branding along with a quick offer and simple call to action.
8. The Purr Shop
The Purr Shop uses a similar version of the Omnisend Wheel of Fortune, but they also ask users for their first name in addition to their email address. Gathering first names will make it easier to personalize your marketing emails in the future.
9. Seven Swim
Seven Swim goes slightly further by providing 15% off instead of just 10%—don't be afraid to experiment with different offers and see what your audience responds to.
10. Shin art
Shin Art shows the power of the default Omnisend sign-up form for ecommerce vendors.
11. Spoiled Brat
12. Vesper Books
13. Alyanna by Alexandra
14. Spoiled Brat
15. Wilson Street Gifts & Decor
16. Hannahpad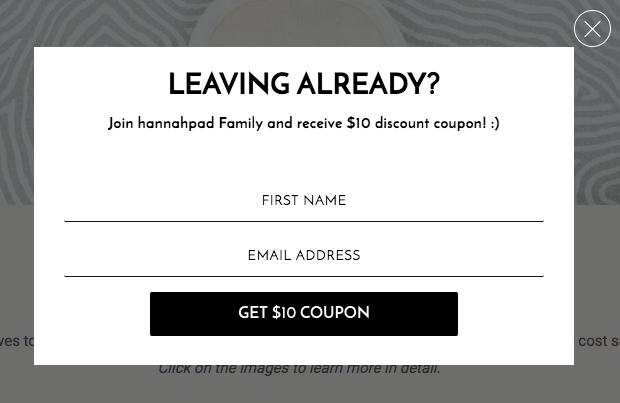 17. Ask&Embla
18. Emrick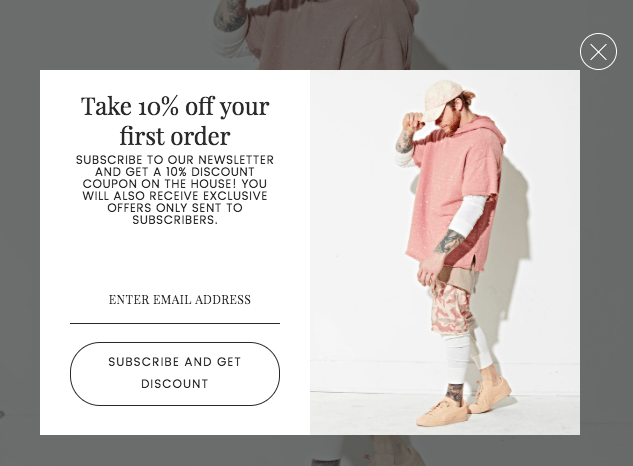 19. Out of the Rat Race
20. Blue Culture Tees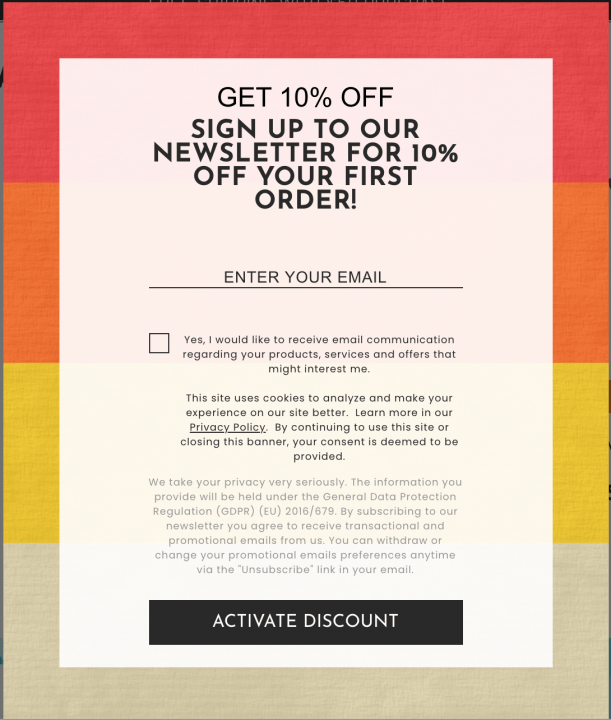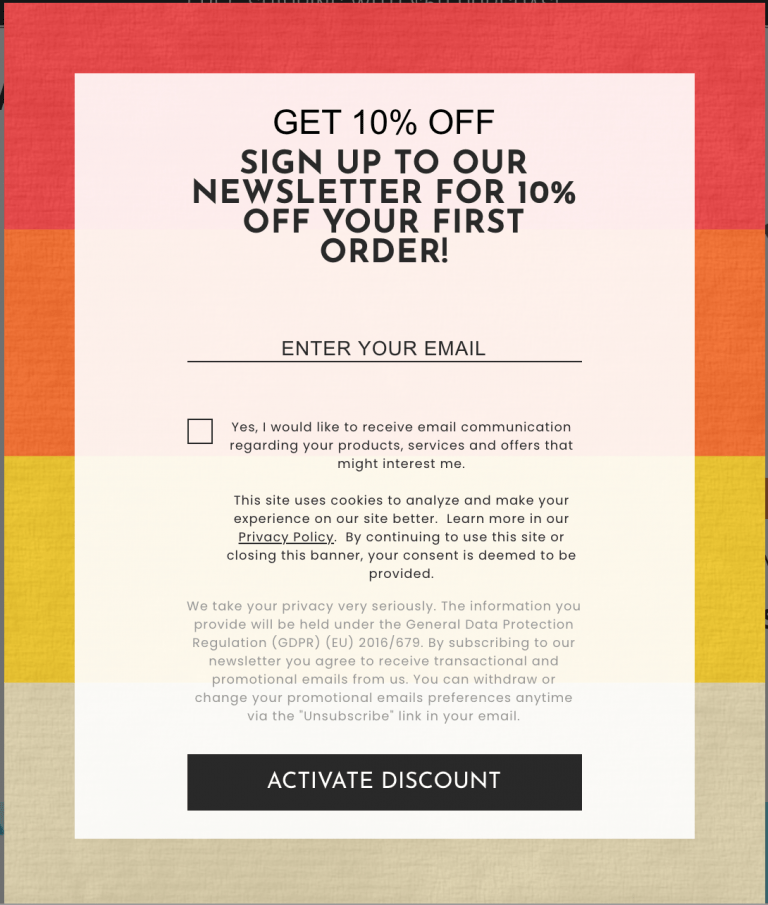 21. Petite People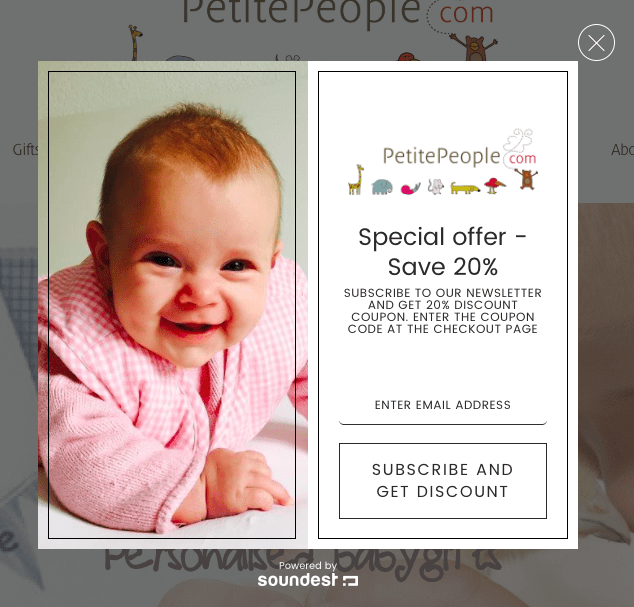 22. She Simply Shops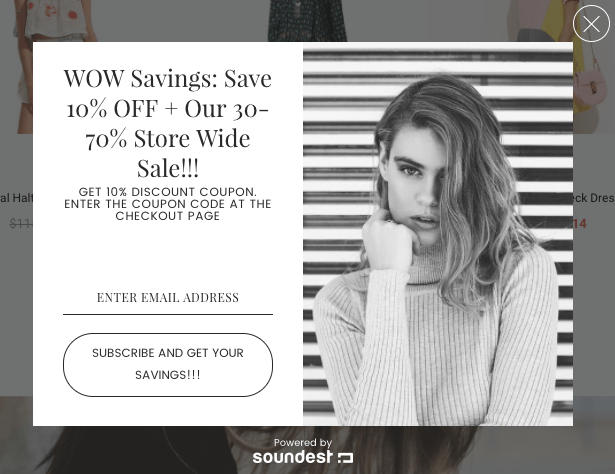 23. Ararose Clothing
24. Love Fitness Apparel
25. Harper Liz
26. Cover Me Ponchos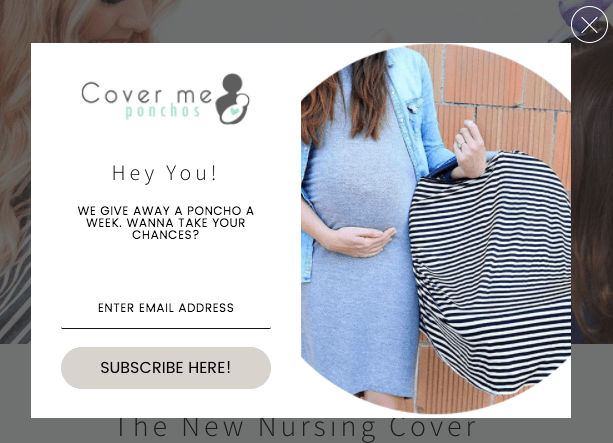 27. Ahod Store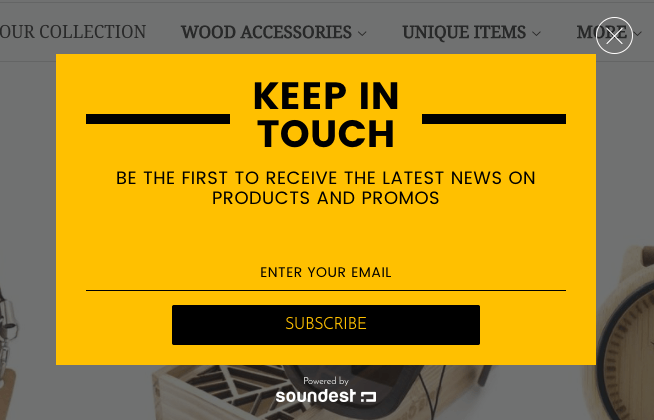 28. Gym Ryan
29. Ozzi The Sloth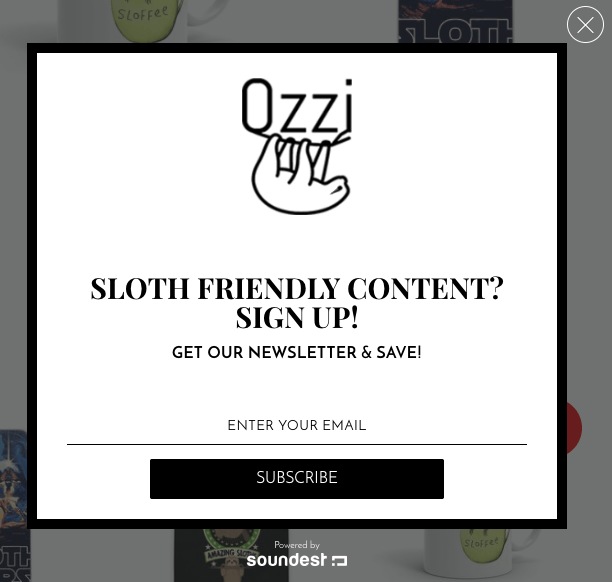 30. Coffee in a Cone
Exit-Intent Popup Examples: Final Words
That's it for now! We hope this selection of exit-intent popups examples inspired you. If you think we missed something good, feel free to suggest it in the comments—we'll be happy to add it to our selection.