30 Exit-Intent Popup Examples & Ideas for Small Online Businesses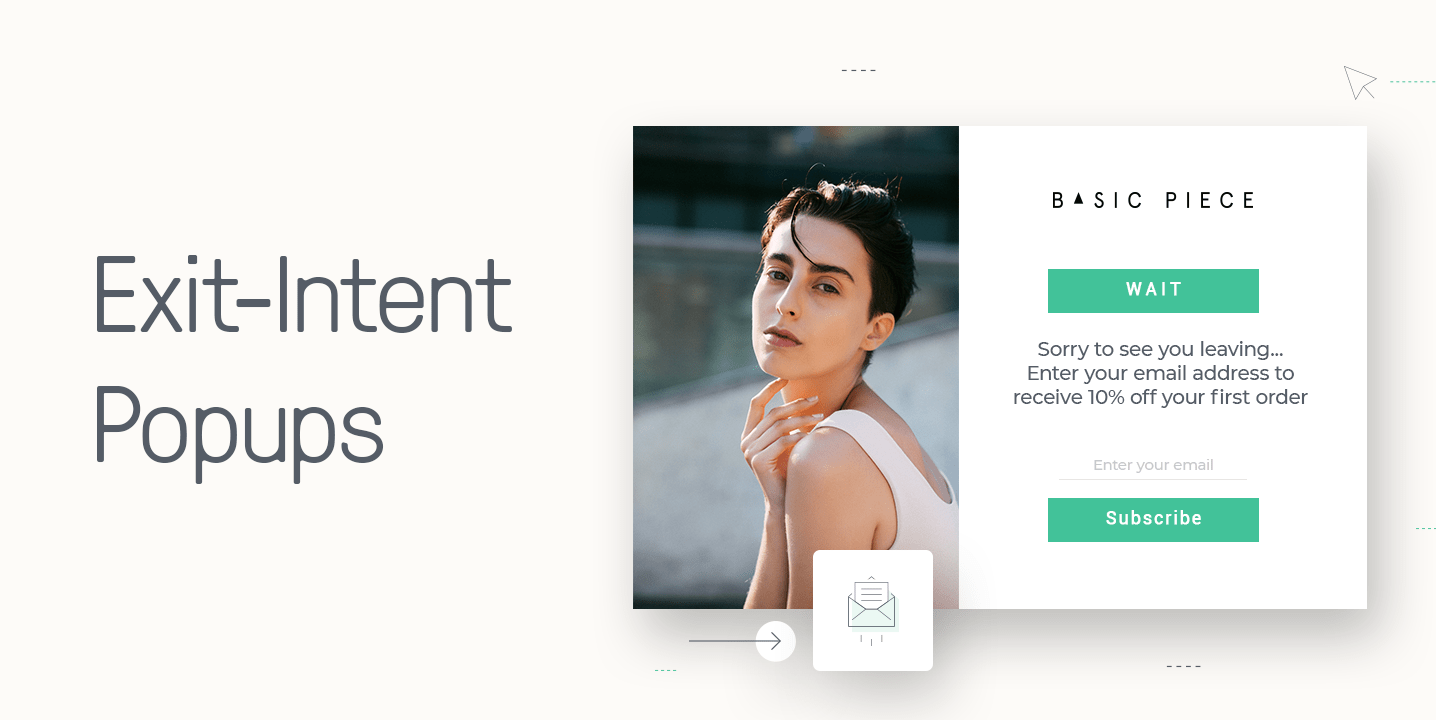 Reading Time:
9
minutes
There is a paradox in the online business ecosystem.
Although most online resources write about how people hate popups, they still use popups themselves.
Why so?
The exit popup remains one of the most effective ways to collect new subscribers and offers a range of other benefits that can drive more engagement and revenue to your store.
The only thing that's changing is that the popups are becoming more sophisticated and personalized. And that's what's making the difference.
If a standard, immediate popup results in a 1.9% signup rate, an interactive exit-intent popup that appears only when a visitor is preparing to leave enjoys a success rate of almost 8%.
You need to make your popups more sophisticated and compelling so they capture a visitor's attention and imagination and become a more dynamic and effective marketing tool.
In this article, we are going to explore the world of exit-intent popups, finding out what they are exactly, their main benefits, and looking at some email popup ideas on how to create them. Finally, we'll share some of Omnisend's best and most innovative email popup examples for inspiration for your own store!
What Is an Exit-Intent Popup?
An exit-intent popup (also called an 'exit popup') is a popup that only appears when a visitor is going to leave your website. The goal of the popup is to get the visitor to subscribe to your newsletter.
Usually, this is done by including an appealing offer in the popup. For ecommerce stores, this can be a discount, gift, or free shipping. This can also be a lead magnet, such as a free ebook, training course, or any other appealing resource.
Our previous experiments showed that the exit-intent popup converts new subscribers into customers more effectively than a popup that appears immediately when you enter the store.
So this smart ecommerce solution might come in handy when you're growing sales, trying to reduce web abandonment rate, or actively building the email list.
The Main Benefits of the Exit-Intent Popups
1. Reduce your checkout abandonment rate
As a matter of fact, one of the most often checkout abandonment reasons is unexpected or elevated shipping expenses. The exit intent popup can help you to tackle this issue by offering free shipping or a discount for the first purchase.
The special offer will make your visitors rethink their intention to quit and some of them will definitely take the opportunity offered.
2. Complement your customer database with new customer emails and other data necessary for omnichannel marketing
New contacts are perhaps one of the most important reasons to add exit-intent popups to your toolkit. When doing it in a captivating or interactive way, this popup can bring you great results.
Furthermore, take advantage of and ask your visitors for more information. The date of birth or phone number will significantly expand your opportunities to approach your customers in a more personal way.
Data shows that adding extra fields into your signup form might even improve the signup rate. Which is great news for marketers heading to omnichannel marketing and aiming to complement their database effectively.
3. Boost your sales
A significant increase in sales will be noticeable if you add an engaging offer, for the first-time shoppers, or visitors coming from the particular media, or maybe only for the particular product page's visitors. There are many options that you can choose from.
Also, interactive forms like the Wheel of Fortune that generates 3X more signups than a simple popup, and often have a positive impact on the final conversion. Keep reading this article and you will find more details about this particular signup form.
How Does the Exit-Intent Popup Work?
This kind of popup (which is also available in Omnisend) monitors visitor behavior and appears once a person is showing the intention to leave the website.
Technically speaking, when a mouse cursor leaves the page window, that's the moment to shine. If a visitor intends to click the Close button, the address bar or anything else in browser's toolbar, a popup with a tempting offer should jump out.
Unlike immediate popups, which interrupt your visitor as they are trying to browse your site, exit popups aren't that annoying.
If you're not using exit-intent popups yet, that's a lot of money left on the table.
Whether you're looking for an idea for your very first exit popup, or you're looking for new things to test, here are exit-intent popup best practices and 30 examples for inspiration.
Top 4 Email Popup Ideas and Best Practices
In order to craft the perfect exit-intent popup, you need to follow these best practices. But keep in mind that there isn't one universal solution that works for everyone.
Each industry and business is unique. What works for one company can totally fail for another.
That's why you should try experimenting and see which solution fits your business the most. Nevertheless, here are ideas and tips to get you started.
And don't be afraid to mix different ideas.
#1. Craft a bold message with a clear benefit
One of the biggest mistakes you can make with your popup is trying to pack too much into it.
The visitor is already willing to leave your website—he/she definitely does not have time to read your long proposal.
Get straight to the point with just a sentence or two.
Your offer must be short and show a clear benefit for the visitor.
Not sure what it could be? You can promise a discount, free shipping, a trial period, free sample, new awesome content (like e-book or guide), a pdf checklist, etc.

If you are an ecommerce business, offering a discount is a great way to turn that prospect into a lead. It encourages shoppers to go through with a purchase they were on the fence about.
What's really great about the example above is that instead of a generic "Subscribe" button, they've used the much more compelling copy: "GET $10 COUPON".
#2. Add an extra field
Take advantage of being in contact with your visitor and ask him/her more personal questions.
Our recent study reveals that adding a few additional fields into the signup form isn't a deal-breaker. Contrarily, today's customers tend to share their details for the sake of better shopping experience. So don't miss your chance to get a visitor's phone number or birthday date/gender/city.
See the data from the Omnisend statistics 2019:
As you can see, customers are ready to share their sensitive information like phone numbers or birthday dates. Be ready to collect it. Operating this data opens new opportunities for your ecommerce business.
#3. Target Your Popup
Usually, businesses have concerns about sharing discounts. It's one of the reasons why they don't want to include special offers into the signup forms.
What's obvious, displaying the same signup forms for all website's visitors is "so yesterday".
You should personalize them and show targeted messages. And that is an all-changing factor.
If you slice up your entire visitors' acquisition into smaller pieces, you will be able to create more appealing signup forms, offer discounts only for those with high-intent or loyal or only new customers, etc.
To implement the signup form targeting isn't something very advanced. It can be done by defining the rules to whom the signup form, in our case, the exit popup should be displayed.
For example, the exit popup will be shown only to newcomers, only on the particular product page, or only the visitors coming from particular URL will be able to see the signup form with a special offer.
#4. Employ Gamification
Instead of a common looking popup, you may also try an interactive alternative. At Omnisend, we call it Wheel of Fortune. Some other marketing tools also have something like this, you should check in your service provider's offering.
What is fascinating is that this interactive solution reaches a 12.74% signup rate and that is 3 times more leads than a regular form. People love games!
How to (quickly) create your own exit popup
Although they're extremely effective and can seem complicated, it's actually pretty easy to create your own exit-intent popups.
So let's go ahead and create our own exit popup (in just a few minutes).
We'll be using Omnisend's form-builder for this one.
First, let's start by choosing the exit-intent popup as an option in the drop-down menu: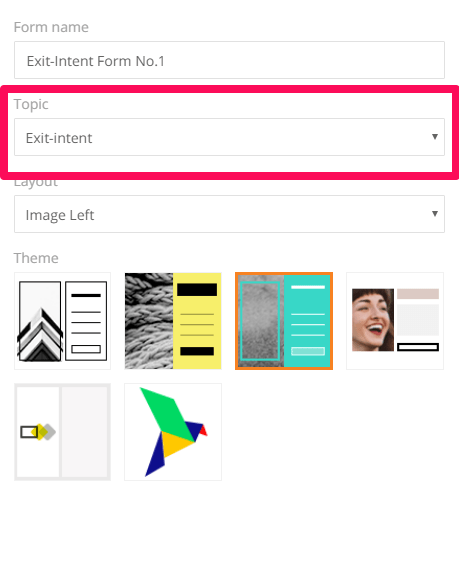 After that, you can choose which style of popup you'd like.
Note: Omnisend's forms come with pre-filled text, so you can even launch them right out of the box.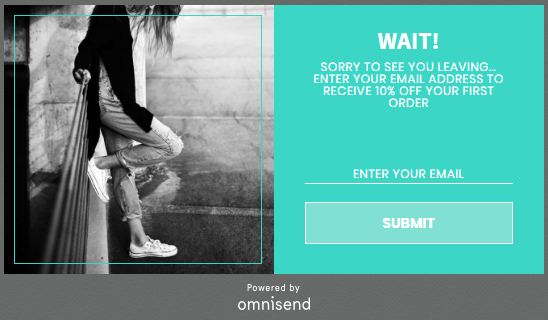 Next, I'll quickly edit the messaging. I want to give them 15% off, not 10% off.
And, because I plan on using SMS marketing later, I'll ask for their phone number as well.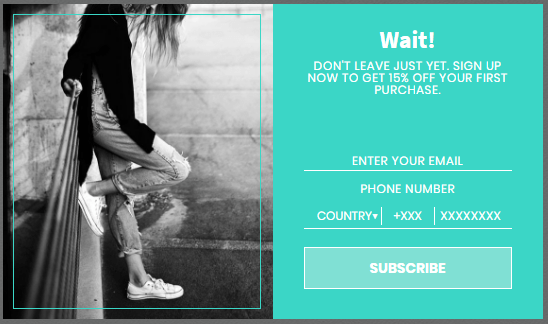 As it is, I can go ahead and launch it right now.
However, I'll quickly change when the exit-intent popup will show. I just want it to show no more than once a week.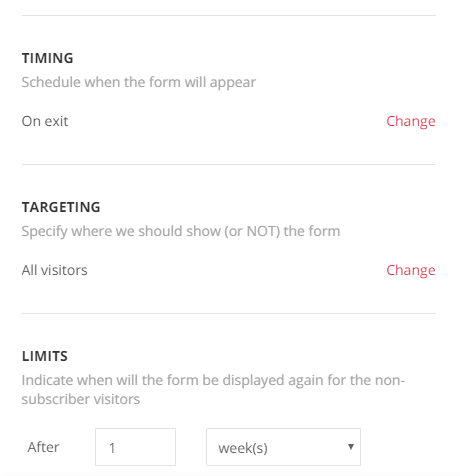 Note: for the 'Targeting' option, you can show or hide the popup based on page or URL.
And that's it! My exit popup is now ready to show to my website visitors.
30 Exit-intent email popup examples
So now we know more about how to create exit-intent popups and their main benefits. Now let's look at some great email popup examples that Omnisend customers have used to increase their conversions.
1. War Fit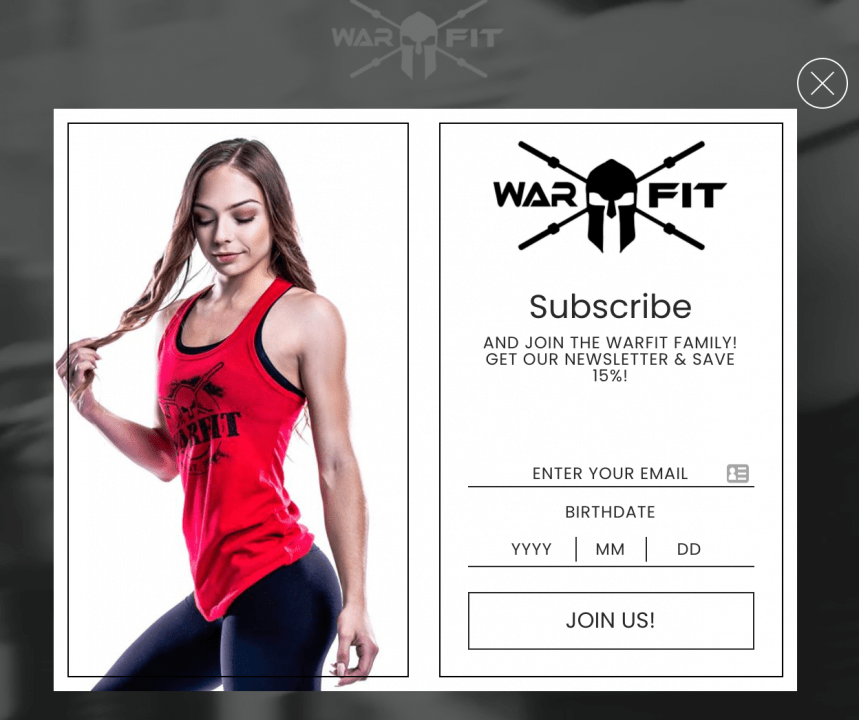 2. Avanchy
3. Alastin
4. Olive and Piper
5. Roadside Vapes
6. Modern Me Boutique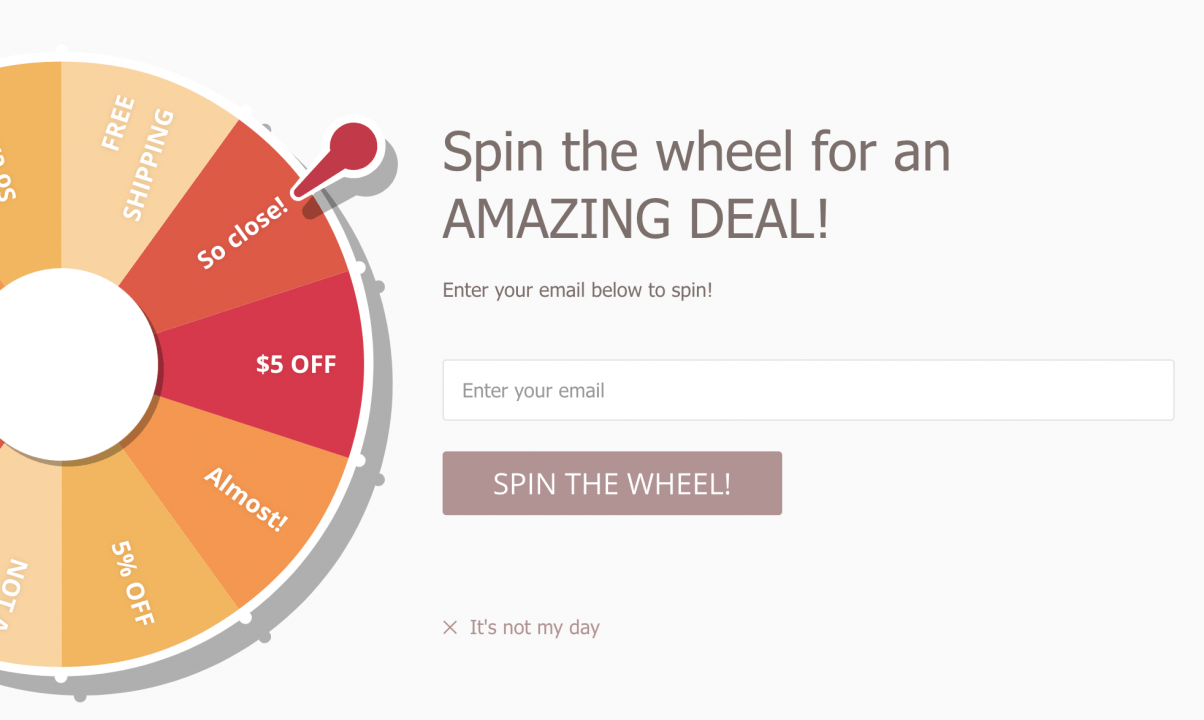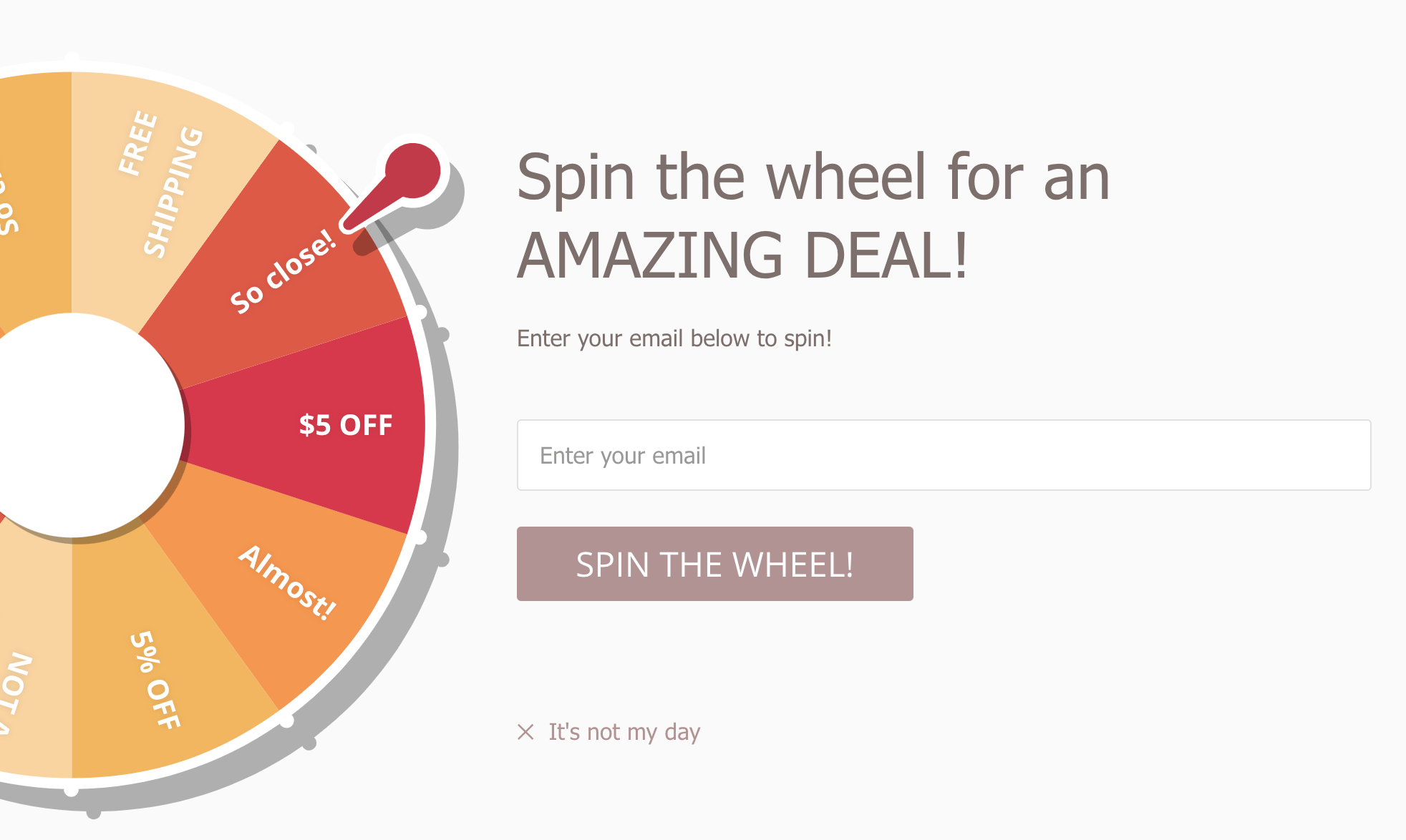 7. Selective Norway
8. The Purr Shop
9. Seven Swim
10. Shin art
11. Spoiled Brat
12. Vesper Books
13. Alyanna by Alexandra
14. Spoiled Brat
15. Wilson Street Gifts & Decor
16. Hannahpad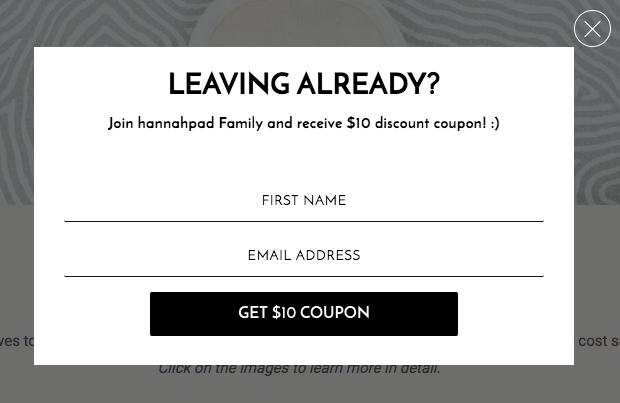 17. Ask&Embla
18. Emrick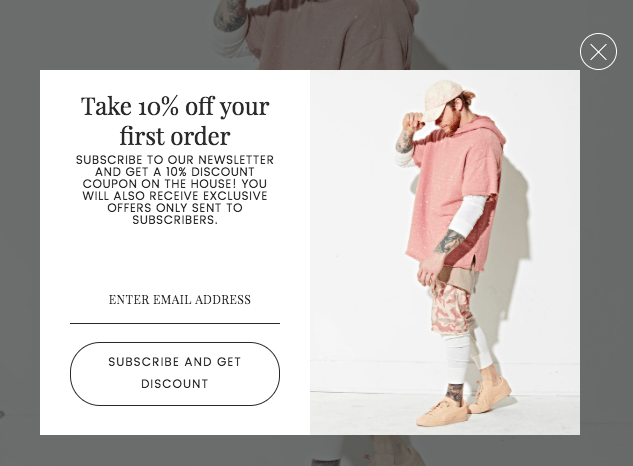 19. Out of the Rat Race
20. Blue Culture Tees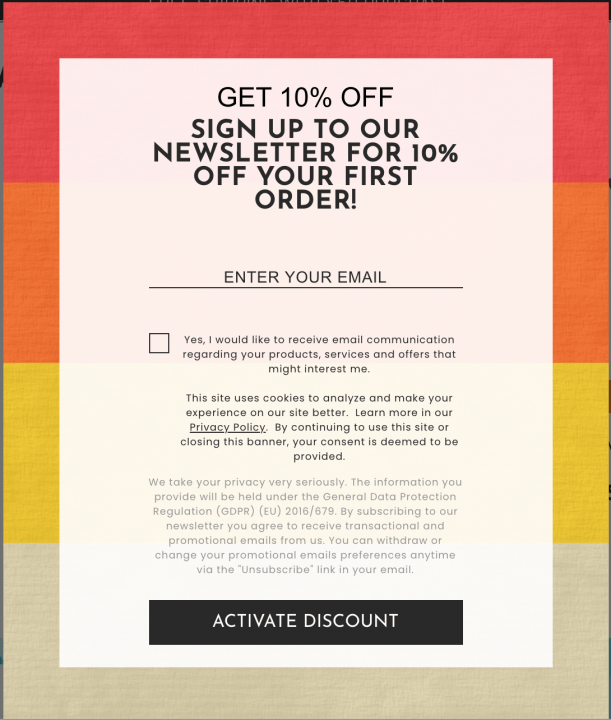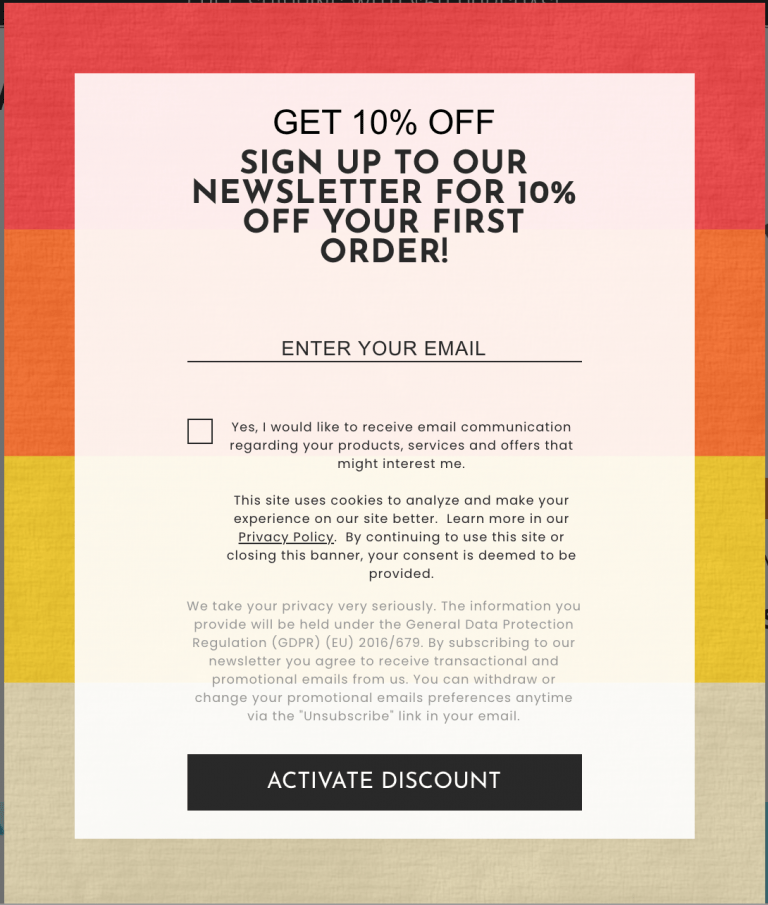 21. Petite People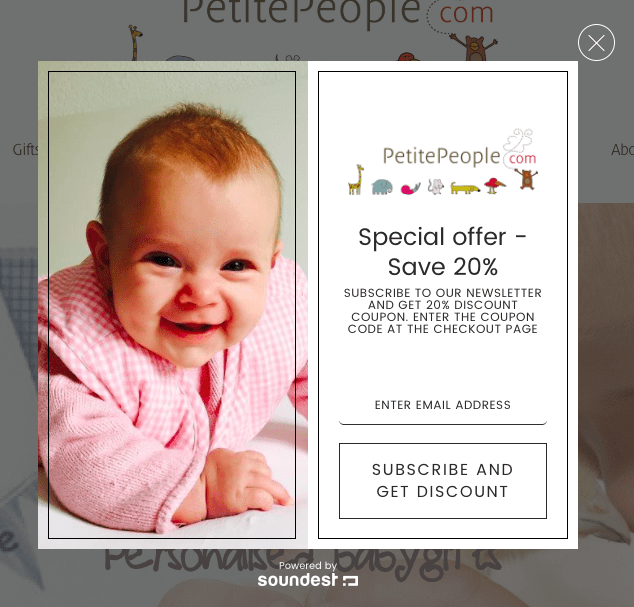 22. She Simply Shops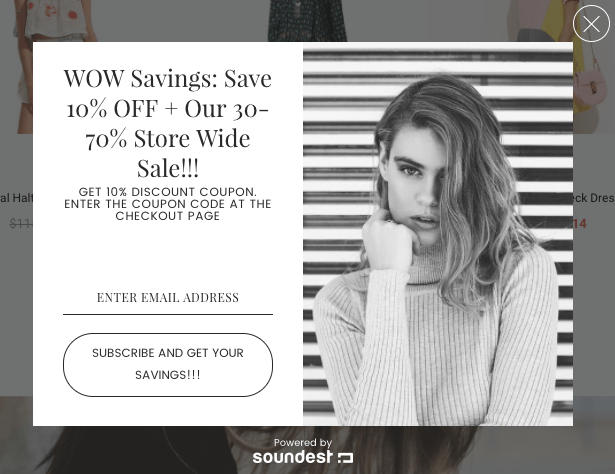 23. Ararose Clothing
24. Love Fitness Apparel
25. Harper Liz
26. Cover Me Ponchos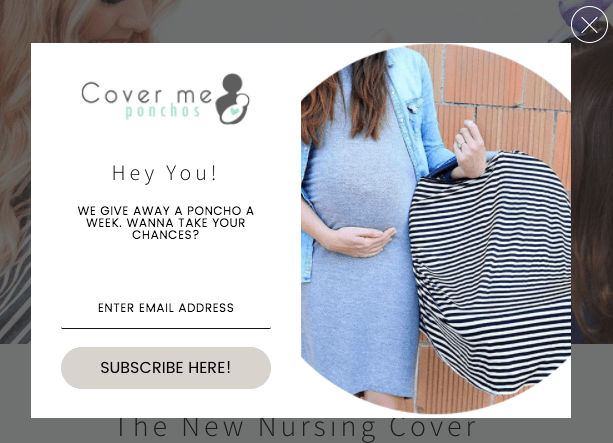 27. Ahod Store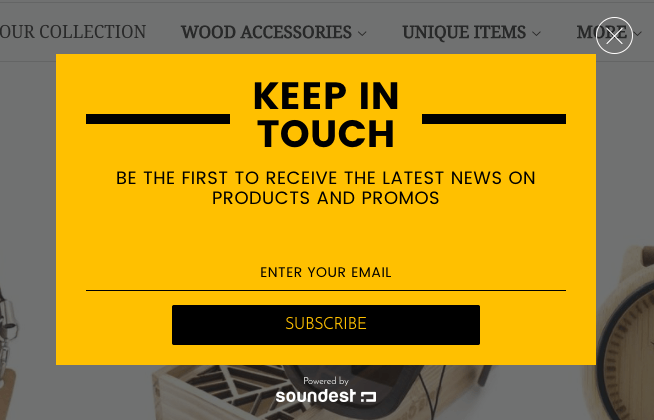 28. Gym Ryan
29. Ozzi The Sloth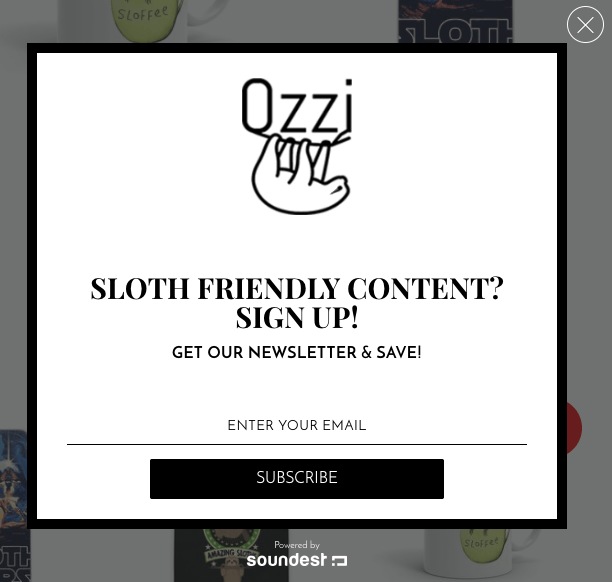 30. Coffee in a Cone
Exit-Intent Popup Examples: Final Words
That's it for now! We hope this selection of exit-intent popups examples inspired you. If you think we missed something good, feel free to suggest it in the comments—we'll be happy to add it to our selection.