Drive sales on autopilot with ecommerce-focused features
See Features
Reading Time:
6
minutes
As if preparing for the Black Friday/Cyber Monday weekend (BFCM) wasn't hard enough already, ecommerce marketers now have to contend with the loss of their contacts' open rate and location-based data with iOS 15.
So what's the best way to prepare for this, and what's a good action plan going into the Black Friday/Cyber Monday mega sales weekend in 2021?
Well, that's exactly what I want to talk to you about today.
Now, for those of you who may not have the context of why the upcoming iOS 15 release will impact marketing, here's a quick refresher:
On June 7, Apple released news of upcoming iOS 15 changes. It should come into effect in September or October
This includes a few things. Users will be able to hide their IP addresses, and iCloud+ users can hide their email addresses.
Most impactful for email marketers though: users will be able to turn off open tracking with the Mail Privacy Protection feature, so that marketers won't have reliable data on who opened their emails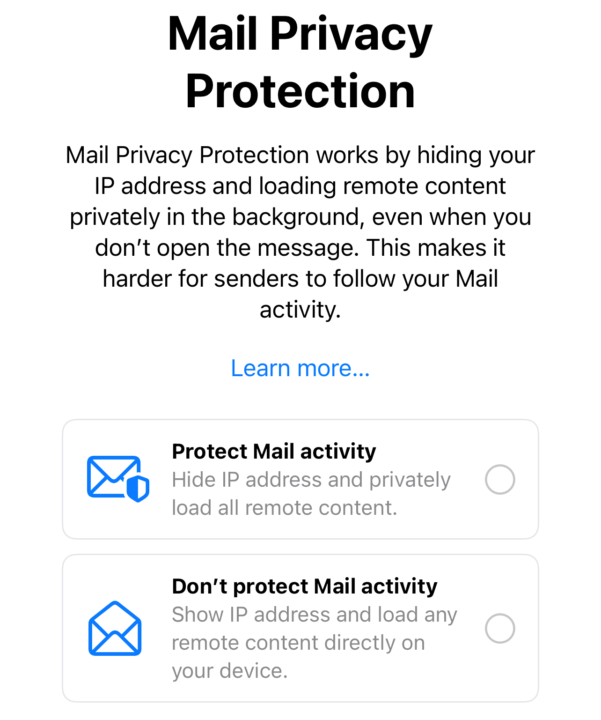 In practical terms, this means that emails for Apple users will show 100% open rates. Data from Litmus showed that Apple commands up to 58% of the email client market share and a full 90.5% of all mobile email opens happen on an iPhone.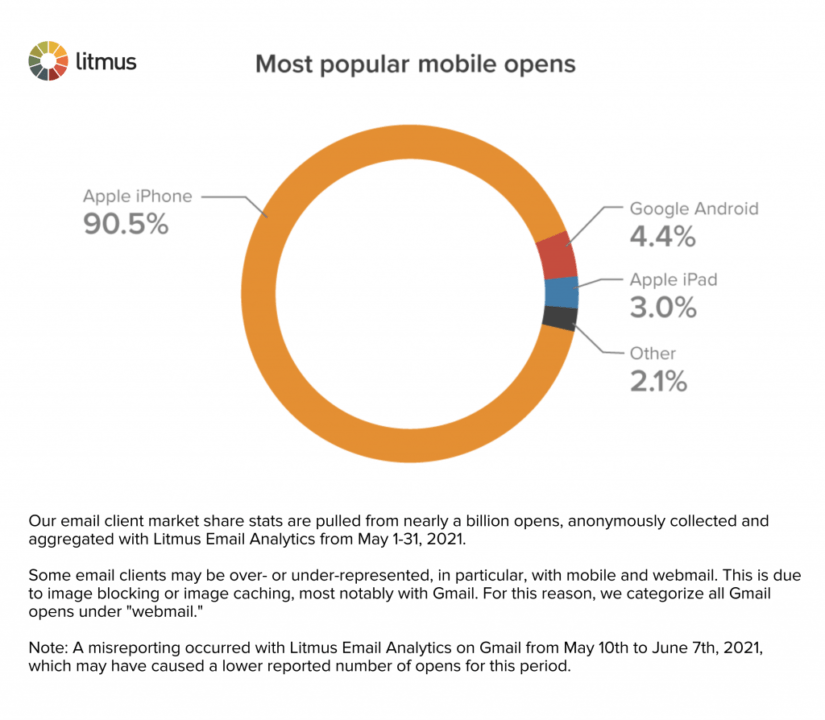 So while it may be possible to remove reliability on open rate data for one segment of your audience, and continue with 'business as usual' for the other segments, this is probably not the best direction to go into.
Firstly, you'll essentially be doubling your workload, since you'll have to have two different systems of logic for how you interact with your contacts—those with and those without reliable open rate data.
Secondly, you're relying on the assumption that other giants, like Google, won't follow. Fortunately or unfortunately, where Apple leads, others tend to follow.
Now, let's look at what that really means and what you can do about it to prepare for BFCM 2021.
The impact on email marketers
There are a few important ways this is going to impact email marketers:
Retention and re-engagement marketing, which depends on open rates as an engagement metric, is going to need updating.
Segmenting inactive subscribers. Previously, to clean your email list, we'd suggest segmenting your inactive customers—those who didn't open a campaign in a certain amount of time. From now on, we'll have to opt for different ways of measuring engagement.
With clicks being your first look into email engagement following iOS 15, you may have to change the way you implement these campaigns. For example, instead of measuring whether a customer opens an email, place a CTA in your email stating "Yes, I still want to hear from you."
Segmentation based on engagement, including conditional splits by opens, will have to adjust.
This will also impact list hygiene, in which you determine how much a recipient actually wants to receive your emails based on, in large part, the open rate.
Moving beyond iOS 15's disabling of open tracking, IP-based geo-segmentation will be rendered useless if recipients aren't showing their true IP addresses.
This can seem like a lot, but I promise you there's a way to get ready that can lead to even better results than you had before.
Your post-iOS 15 BFCM plan
This year's BFCM is not going to be drastically different from previous ones. Take a look at our report of BFCM emails to get a better understanding of what performed the best.
iOS 15 won't impact how you normally do business; it will only impact how much information you have about your contacts.
So your post-iOS 15 BFCM plan should be based on a few recommendations:
Look for new channels. Other channels like SMS and push notifications can help you expand your reach. Omnisend's statistics report shows that last year, the number of SMS messages sent increased nearly 400%, and SMS conversion rates increased by more than 100%. This year, Omnisend customers are on pace to send three times more SMS messages compared to 2020. Web push notifications made its grand entrance this year, with an impressive 35% conversion rate.
Focus on click (CTR) and conversion rates. Yes, you are probably aware that the goal of any campaign is most likely not to have engagement but to have conversions, and marketers are already focused on click rates. But now we'll need to lean on this metric even more. While CTR measures the number of clicks, conversion rates are the positive metrics that are always worth watching—and this has never been more apparent than now. Your conversion rates tell the tale of how customers complete specific actions, with one of those being a successful sale.
For a more complete view that is independent of open rates, you should be looking at RFM analysis — Recency (how recently a customer purchases from your brand), Frequency (how often a customer purchases from your brand), and Monetary (how much a customer spends on their orders) which helps identify your best customers. Omnisend customers, for example, can use the Customer Lifecycle Stages—which are based on RFM segments—to identify customers based on their lifecycle stage.
Based on those recommendations, let's look at how you can set up your store for BFCM success in the post-iOS 15 world.
Get traffic to your site (and use multiple channels)
The first thing you'll want to do is draw traffic to your site and collect your subscribers and new customers.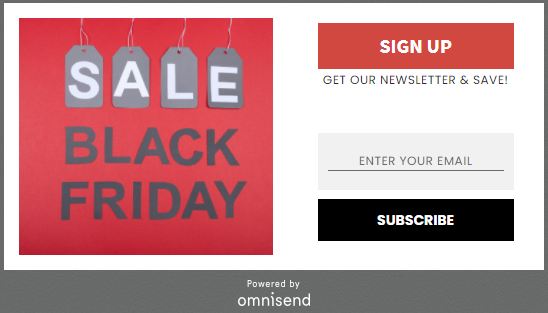 If you want to use multiple channels, now is a good time to ask for additional information like their phone number. That's not going to change much from the way you've (hopefully) been doing it in the past.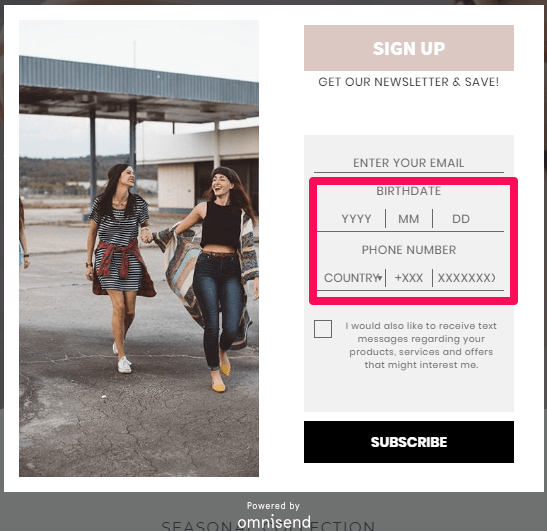 If you need a refresher, check out our article on how to build an email list.
Now, for your existing customers or subscribers, that's where we're going to see the biggest changes.
Analyze contacts using RFM analysis
The first thing you'll want to do for your existing contacts is to analyze their engagement and behavior based on RFM analysis.
This will give you a better idea of where your customers are in terms of their buyer's journey, including those who are your Champions, or alternatively those who you are About to lose: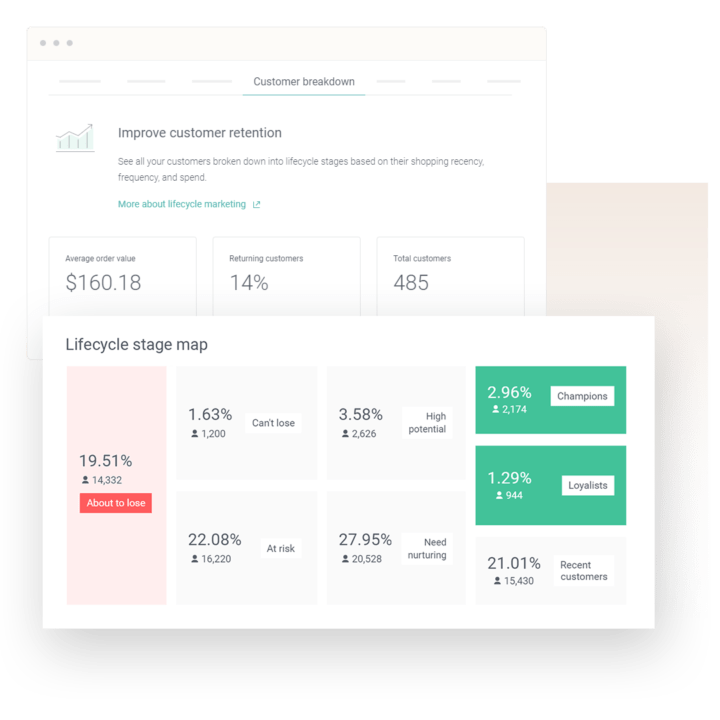 Segment subscribers using clicks and conversions
After that, you'll want to segment your subscribers based on various engagement metrics: most importantly, focus on conversions, but also clicks in your recent campaigns. To those who are most active (and most likely to enjoy your brand, products/services), send exciting new deals or product lines.
For those who have engaged the least, you can send high-converting or discounted items to get them to buy, or begin your re-engagement automation (a series of two or three automated emails to get them active and/or buying again).
You'll also want to communicate via multiple channels. You can create impactful automation workflows using not only email, but also SMS and web push notifications.
For example, instead of sending a few emails in your cart abandonment workflow, you can send the first cart abandonment message as an email, and if they did not click on the email, you can send a follow-up SMS message after a few hours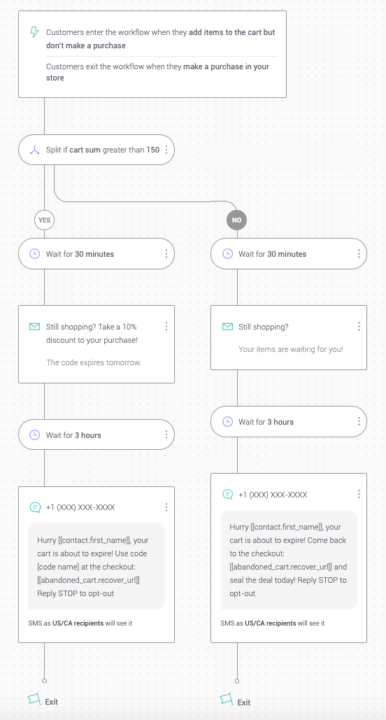 Keep contacts engaged during post-purchase stages
Lastly, don't forget the post-purchase: measure engagement using RFM analysis, conversions or clicks, and ensure you have a plan in place to convert first-time buyers into repeat buyers.
Keep them engaged for post-BFCM sales or discounts, such as end-of-year sales, product launches, clearances, etc.
Try to turn your existing customers into engaged, repeat buyers, and convert your subscribers/non-buyers into first-time buyers.
Main takeaways
It's important to remember that the iOS 15 update will be a big change in many ways, but it won't impact user behavior. It will only impact how we measure user behavior.
In general, this change is good, because it will help us marketers refocus on what's really important: true engagement, measured by actions and sales, not just opens.
Before iOS 15 is released and adopted, you should A/B test now as much as you can to use open rate data for insights into what your subscribers prefer. This is great for subject lines, but remember to focus on clicks. Use open rates only to check the correlation between opens and clicks.
Use segmentation based on where the user is in the funnel, using RFM analysis, clicks, conversions, etc. You should also add more channels to your automations, such as SMS and web push notifications, which can have great conversion rates.
But lastly, and most importantly, remember: opens may be dead, but email marketing isn't. If you are adequately prepared for the iOS 15 update, you'll see your sales skyrocketing this Black Friday/Cyber Monday weekend.
related features
Want more sales?
Omnisend has everything you need to succeed.
Start free now
No Credit Card needed.