Drive sales on autopilot with ecommerce-focused features
See Features
Reading Time:
6
minutes
Opens are dead, that much is certain. Apple's announcement of upcoming email marketing changes with its iOS 15 update is already causing quite a lot of headaches for marketers, and ecommerce marketers especially.
With a greater push toward privacy, Apple's new iOS 15 update will allow Apple users to disable the ability of email senders to track whether the recipients opened their emails. They're calling it Mail Privacy Protection, and besides blocking open tracking via hidden pixels, they'll also hide Apple recipients' IP addresses: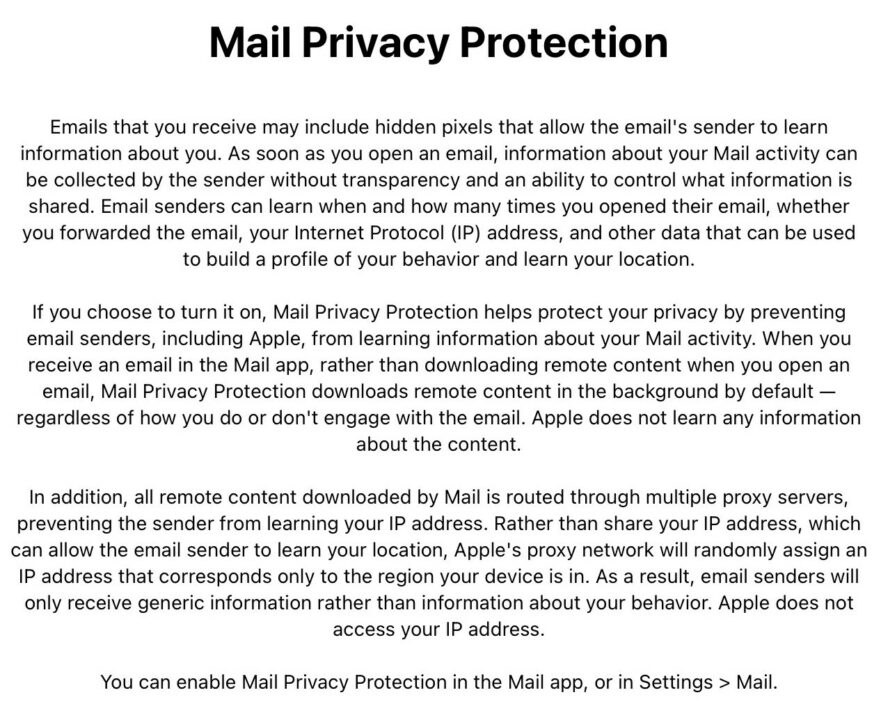 So, yes, goodbye to IP-based geo-segmentation, too. But really, that's a smaller concern in scope to the open rate armageddon that should come, by all estimates, some time in September or October.
Yes, just in time for the Black Friday/Cyber Monday mega sales weekend.
After iOS 15, every Apple user will have this Mail Privacy turned on by default on their devices (meaning they'd have to actively seek this out to turn it off):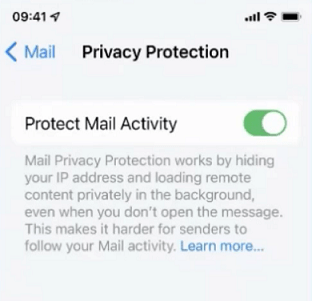 So, instead of having no open rate information for iOS 15 users, marketers will now see roughly 100% open rates for Apple users. This is because Apple will "open" all emails for its users, regardless of what they end up doing with those emails. This will render useless all open rate data for Apple users after iOS 15.
So what's a marketer to do? Will this kill off a significant part of our automation workflows (which in total bring in 29% of all orders, even though they make up only 2% of emails sent)? Is it truly the "end of email marketing" (something that's announced every few years)?
Luckily, the answer is no. But let's be clear, it's going to require some big adjustments for marketers. We're going to lose a metric that for many years has helped us understand how our subscribers and customers engage with our brand.
That being said, there are some important adjustments that can be made to automation workflows to work around the loss of the open rate. Let's take a deeper look at which ones to update before iOS 15 hits.
Updating your re-engagement automation
The automation that will take the biggest hit is the re-engagement automation, which looks at which subscribers or customers have not engaged with the brand for a certain period of time and hopes to re-engage them.
The metric that many marketers use to decipher subscriber engagement is, you guessed it, the open rate. (Which, if you've been paying attention, won't work after this fall.)
There are a few ways to adapt this automation.
Switch to clicks
First of all, these marketers should try to change their definition of an "unengaged" or "inactive" subscriber. Besides the open rate, marketers often use click rates and purchases to measure a subscriber's or customer's engagement with the brand.
The quickest fix, then, would be to use clicks or purchases, data that won't be affected by any upcoming updates. In order to do so effectively, marketers will need to set benchmarks for how much time should lapse without clicks or purchases for them to become inactive.
Use RFM analysis
There are more complex (and for the most part, more accurate) ways of defining how engaged a valuable or potentially valuable customer is with your brand.
One of these is known as the RFM analysis, which focuses on three core figures:
Recency: how recently a customer purchases from your brand
Frequency: how often a customer purchases from your brand
Monetary: how much a customer spends on their orders
There are many ways to integrate RFM analysis into your workflows. We've gone over RFM analysis more extensively before, so be sure to read for a good overview. But in general you'd need to do a little bit of work to get the RFM figures.
There are other solutions available that can help marketers implement RFM into their customer re-engagement automations. Omnisend customers, for example, can use the Customer Lifecycle Stages—which are based on RFM segments—to identify customers based on their lifecycle stage.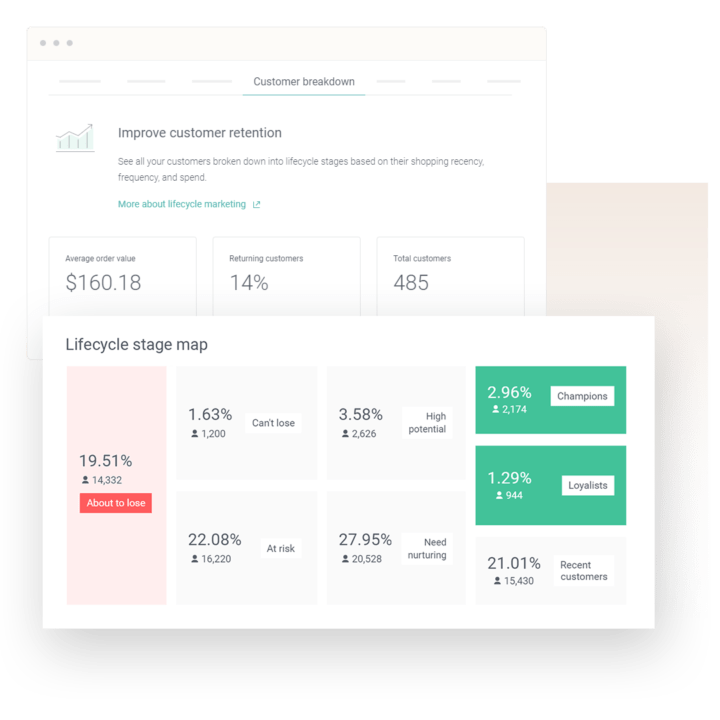 This includes customers identified as "Can't lose," "At risk," and "About to lose," so that marketers can target them—all without having to depend on open rates.
A/B test while you can (and do more testing)
A/B testing is a crucial part of many marketers' strategy to improve their messaging, showing different subject lines to their audiences to see which one performs better. The one with the higher open rate wins.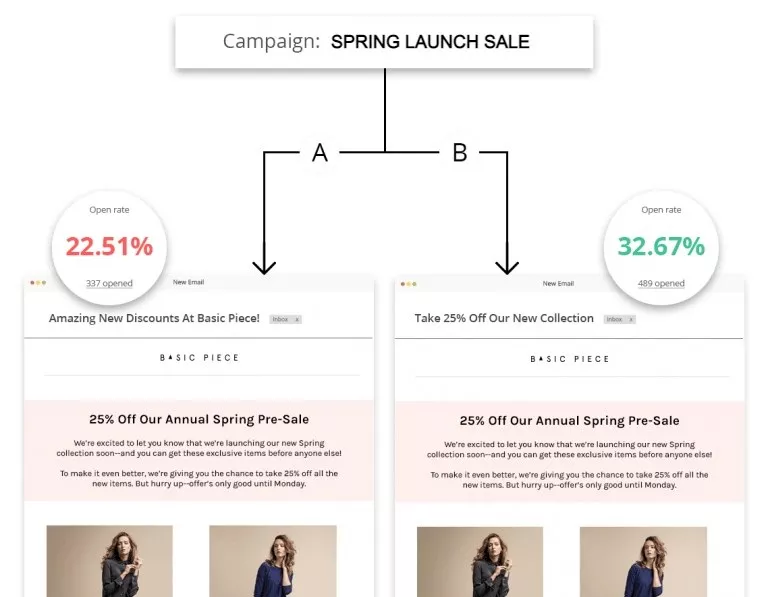 Unfortunately, this is not going to fly anymore. After the iOS 15 update in the fall, open rates for Apple users (which demand roughly 58% of the market) will be unavailable or highly inaccurate.
For that reason, it's best to adjust any automations that use subject line A/B testing by optimizing them sooner rather than later.
Even more, you should ramp up your A/B testing now to get the data you need to prep your future campaigns.
Checking which subject lines (or even type or style of subject line works best with your audience, such as those with or without emojis) can give you the information now that you'll be able to use later.
Update your conditional splits
Many marketing automation platforms, like Omnisend, have special conditional splits that determine user behavior based on open rates.
In Omnisend, this is known as Message behavior rules: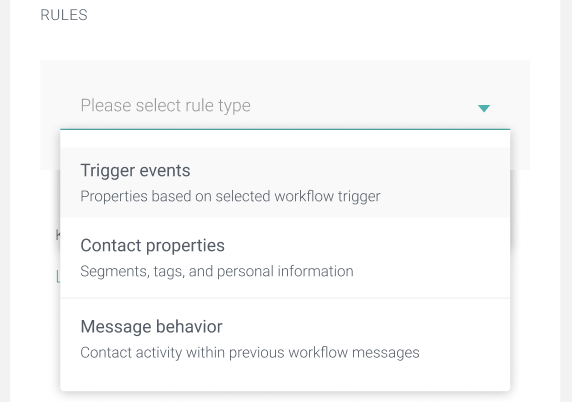 If these rules are in place, users will most likely use open rate as a signifier of a recipient's engagement, and integrate that in their conditional split. You can see an example of this: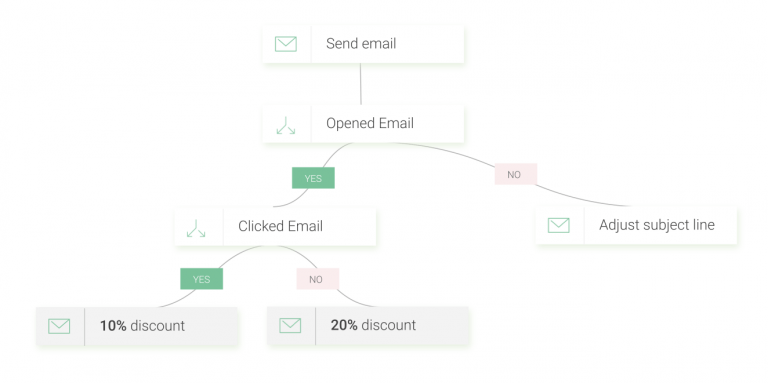 For the most part, in order to fix this in the wake of the iOS 15 update, marketers will need to use different message behavior options. Most likely, this will be to use clicks instead of opens.
Some users who are interested (i.e., they opened the message but didn't click on anything) will be lost along the way. That's a fact that will be in place until practical solutions appear.
Nonetheless, open rates have been leaned on for too long, causing marketers to misalign goals where they end up focusing too much on engagement and not on sales. Click rates do a much better job of reflecting the potential of a recipient to buy from you.
Add channels to your automations
Ecommerce marketing has depended for a long time on email open rates, with campaigns and automations built entirely on email. However, there are other channels that don't depend so strongly on open rates that have high conversion rates, and marketers should start including these channels in their automations.
This includes SMS, which has seen huge jumps in not only clicks, but also the all-important conversion rates. As we mentioned in our latest Ecommerce Statistics Report:
"[SMS] click rates ended 2020 at 10.6%, a YoY lift of 5.5%, while the conversion rate totaled 2.65%, a 102% YoY increase—even with the massive increase in sends."
You can add SMS with conditional splits in high-converting workflows like the cart abandonment automation: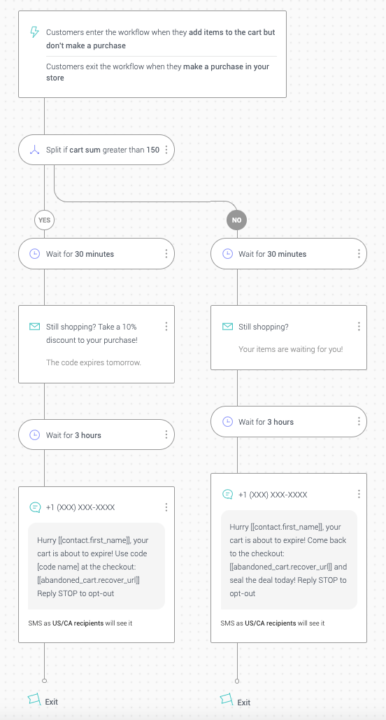 Another channel is push notifications. This channel also displays open or view rates, and will not be affected by the iOS 15 updates. This is a good opportunity to move a lot of engagement-related content to push notifications to understand how they respond to your content.
Beyond that, push notifications have amazing conversion rates, reaching an average of 28.1% in 2020 (with a high of 31.7% during Q4):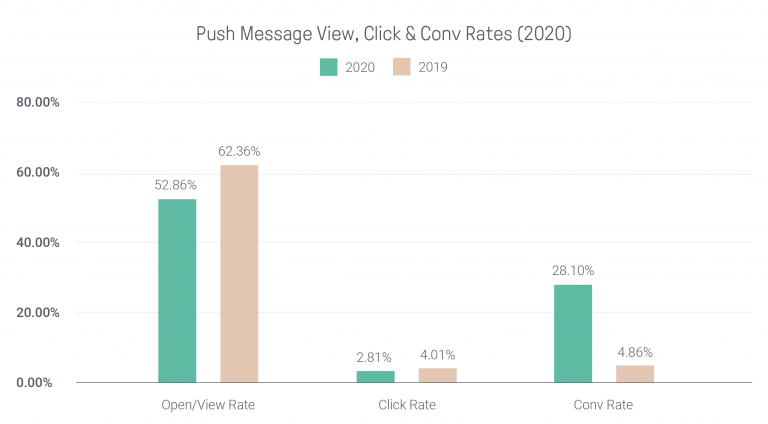 When it comes to re-engagement emails, and you've identified the "At risk" or "About to lose" customers, you can create emails with an irresistible offer with a CTA. If the user hasn't clicked the CTA, you can set an SMS or push notification to go out after 48 hours with a similar or better offer.
When trying to send engagement-oriented messages (such as company announcements or other updates), you can send push notifications to still get that engagement-via-open rate data.
Final word
The upcoming Open Rate Armageddon will eventually become the Great Shift in email marketing, as marketers will be forced to adopt a strategy that does not depend so sorely on open rates.
There are many workarounds and upcoming solutions that will help marketers maintain or improve their overall conversion rates and user engagement activities.
Omnisend is a top marketing automation platform that emphasizes an omnichannel approach with built-in RFM analysis to help businesses better communicate with their customers.
However, this really all depends on marketers understanding their subscribers and customers, and working towards providing them with more value. If so, then the iOS 15 and future updates will present no significant change: your engaged and loyal customers will remain engaged and loyal.
To see how Omnisend can help you prepare for the iOS updates, sign up for a 14-day free trial.
related features
Want more sales?
Omnisend has everything you need to succeed.
Start free now
No Credit Card needed.