Drive sales on autopilot with ecommerce-focused features
See Features
Reading Time:
3
minutes
There has been quite a bit of uncertainty over the past few days about Shopify and MailChimp integrations.
While MailChimp is back, for the moment, it might be time to think about potential alternatives. Because if we've learned one thing from this event, even MailChimp isn't immune to sudden change.
We understand what you're going through. We understand that you want to help your customers make the best decision for their ecommerce stores, and we understand that you're trying to make the best recommendations for their email marketing needs.
Have we got a solution for you.
Built specifically to respond to problems only online sellers would have, and made to make omnichannel and email marketing accessible, Omnisend would be a great alternative to MailChimp for Shopify customers.
In fact, Shopify customers already love us: we have over 2100 five-star reviews on the appstore and more than 300 from G2Crowd, Capterra, and various other review platforms. We're already a great alternative, it's just time to embrace Omnisend.
And we want to welcome your merchants with open arms.
Key Omnisend Features:
Omnisend is a powerful email marketing tool that empowers online retailers with omnichannel marketing. In actively listening to what our merchants needed, we've created a full marketing suite to respond to their biggest pain points.
Automated workflows based on smart triggers for welcome emails, cart abandonment, and more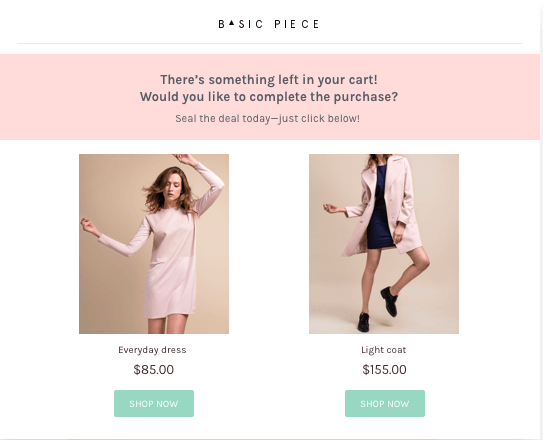 We understand that running an online store can be difficult and time consuming. When you have to think of several things at once, sometimes certain priorities can fall off the radar.
We think it should be easier.
This is why we believe email automation is so important. By setting up key triggers, so when shoppers do something specific, like abandoning a cart or purchasing from a retailer, they can receive a customized email. This means cross-selling to shoppers when they're on the fence and upselling to shoppers who have already purchased.
And our cart recovery emails are game changers.
On top of automated emails, we offer easy list-building features including pop up boxes, exit intent, and landing pages so retailers can build their subscriber lists in a snap.
Accessible omnichannel capabilities across email, SMS, Facebook, and Google
Online sellers need email marketing, that's obvious.
We take it a step further.
With Omnisend, retailers can add SMS messages into their automated workflows. They can then follow up by syncing their Omnisend account to Google and Facebook ads.
By combining their ad campaigns with our smart segmentation, shoppers are always getting the right message at the right time, where ever they are.
Robust Segmentation Including Shopping and Campaign Behavior
When we say we're built for ecommerce, we mean it. We offer smart subscriber segmentation including segments based on shopping and email campaign behavior.
With detailed, layered segments, merchants can create in just a few clicks, they can precisely target their customers with the most relevant message, and create a more personalized experience.
Intuitive Drag-and-Drop Email Builder for Easy Campaign Creation
We started as an email marketing tool, and email has always been at the heart of what we provide. We know how crucial email marketing is for online merchants, and we want to make campaign creation as simple as humanly possible.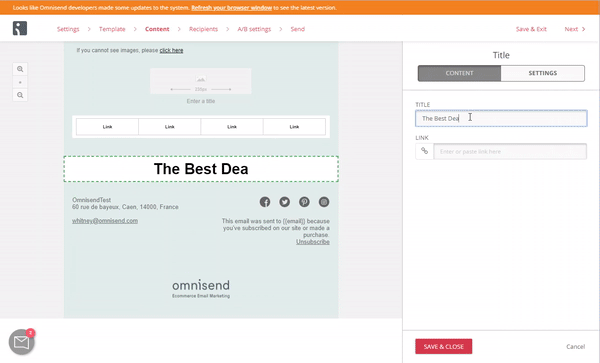 Our simple email builder is complex enough to be completely customizable, and simple enough to create a beautiful email campaign in seconds.
And with easy gamification elements, merchants can set up a dynamic Gift Box or Scratch Card to keep shoppers engaged.
24/7 Support for Online Sellers
We want Shopify merchants to feel comfortable with Omnisend, and we've got the support to back it up.
Whether a retailer is on a free or paid plan with us, we offer free 24/7 support.
Forever.
Creating a great experience is the cornerstone of omnichannel marketing, and the same is true for how we treat our customers.
We connect with our customers in the same way that we guide our sellers to put their customers at the core of their businesses. This has been our philosophy since the beginning, and we choose to lead by example.
After all, if we talk the talk, we should walk the walk.
For those of you who have never heard of us, and still aren't convinced that Omnisend is a great alternative to MailChimp, book a demo and we can personally walk you through our tool.
We think you'll love it as much as our customers do.
Get a personal 1-on-1 Omnisend demo that will supercharge your next campaign!
Get My Demo
related features
Want more sales?
Omnisend has everything you need to succeed.
Start free now
No Credit Card needed.