Drive sales on autopilot with ecommerce-focused features
See Features
did you know
Omnisend customers automate 32% of their email conversions. Are you maximizing sales?
automate my sales
Reading Time:
6
minutes
Email marketing continues to hold the top spot for marketing return on investment (ROI) with an average return of $40 for every dollar spent— almost double the return seen by SEO.
With such a positive impact on a company's bottom line, and shoppers continuing to use email as the primary communication channel for online purchases, it's definitely a channel that belongs in your marketing arsenal.
However, there's more to consider than just the marketing emails designed to sell your products. Transactional emails have very high open and click-through rates—up to 85%, compared to the 16.97% all-industry average open rate for other emails. This high level of engagement can translate into additional revenue, on autopilot.
One of the most powerful transactional emails is the order confirmation. Automatically sent to buyers after making a purchase, it confirms important information about their order. The order confirmation email Shopify provides is sufficient to start with, but it's advised to build your own as your store grows so that you can provide a more branded experience—and when you do, remember to turn off Shopify's automatic responses.
So if you're ready, let's look at building a Shopify order confirmation email.
Order confirmation template for your Shopify store
Although your email can look however you want, there are key pieces of information that buyers expect to see. In particular, all of the following information should be included in your Shopify order confirmation email template:
Order confirmation and a thank you note
Date that the order was placed
Product details, including price and quantity
Total price
Billing and shipping addresses
Payment method
Shipping method
A 'view order' button that takes them back to the store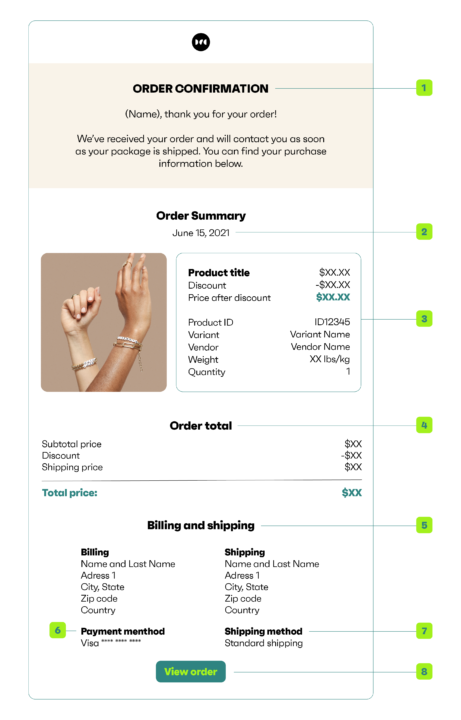 This Shopify email template contains all of the information that shoppers expect to see, but you could maximize the value of the email by including other things they might like to see, such as related items, discounts, or helpful information about their items. Consider this example from Patch Plants, which starts with a GIF to show the different types of plant that can occupy a space: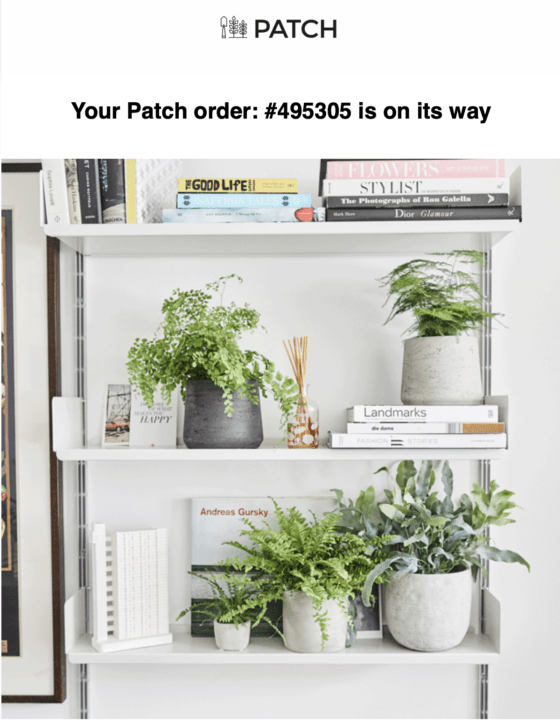 It then shares helpful information for the plant's owner, such as care tips and finding the right spot to keep the plant: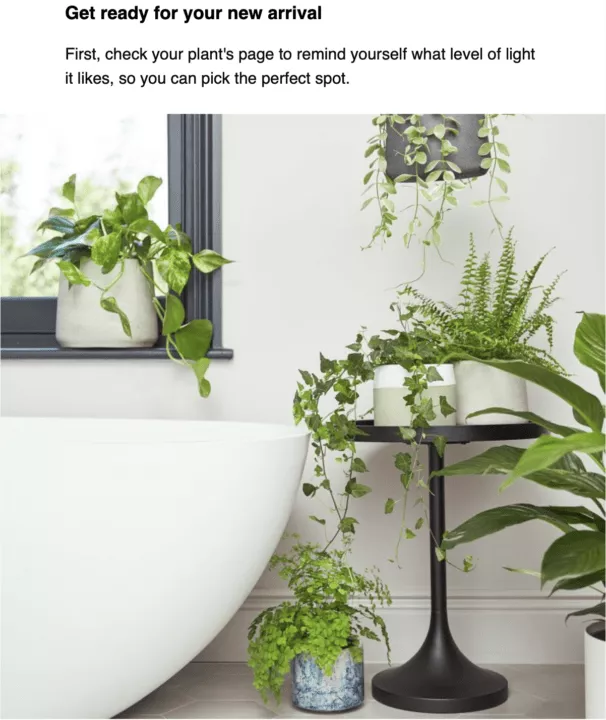 Cleverly, Patch Plant's email includes links back to its website, which increases the likelihood of a repeat purchase.
Other brands, like iHerb, promote items that the shopper is likely to take an interest in:

Your Shopify order confirmation email doesn't have to be limited to one email. Today's consumers expect to also receive a notification that the order has been dispatched, and you can follow this up with additional emails such as:
Delivery notification
Care tips for the items
Discount codes
Related products
Review requests
Omnisend's automated workflows and templates make it a breeze to create all the emails you want, and send them automatically when an initial action has been taken. With flexible parameters, you can set the workflow however you want—from a single order confirmation email immediately after purchase, to a sequence that sends a new email every two days and ends with a request for the buyer to leave a review for your store.
Optimize your Shopify brand voice
Transactional emails represent your brand so, like any other customer touchpoint, they need to be consistent with your branding. When creating your Shopify confirmation email, think beyond the order information and consider how your brand can be incorporated. Whereas Patch Plants used a GIF and on-brand tone of voice, this example from Ipsy injects personality into the text: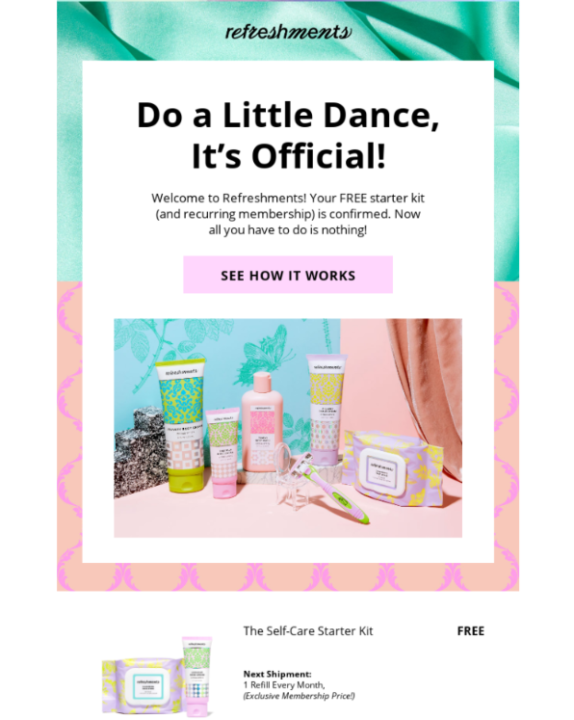 The order confirmation email is an excellent opportunity to leave a positive lasting impression with your buyer, so always give it the same care and attention that you give to your website, social media, and marketing emails. This consistent and seamless experience for visitors, regardless of where they're interacting with you, is the essence of omnichannel marketing.
Visual style customization
Speaking of consistency, it's something that applies to your visuals too. If your brand colors are reds and oranges everywhere else, they shouldn't be blues and greens in your Shopify order confirmation email.
Visual style encompasses:
Fonts. Which font do you use? Are there different ones for headings, subheadings and body text? What sizes are used?
Colors. How many colors are in your brand palette? What is the hex code for each one, to ensure that it's exactly the same on every platform? Do certain colors get used in specific ways e.g. only in featured images or as a secondary color?
Patterns. Do you strictly use plain images, or patterns like stripes and polka dots?
Image treatments. Do you always have people in your photos? Never have them? Are your images black and white, or vivid and bright? Does your logo always go in the same place?
Logo variants. Do you have specific versions of your logo depending on the size of the space it's occupying? Is your logo text, an icon, or both? What are the guidelines for using the logo, such as placement, dimensions, and maintaining the color?
There's no right or wrong with any of these options, but the choices in your emails should be consistent with the visual style of your Shopify store.
Take advantage of cross-sell and upsell opportunities
The above-average open rates of transactional emails make them a perfect place to offer upsells and cross-sells. Having already established trust, shoppers are more likely to become repeat buyers from a shop than to always find a new one. With that in mind, a purchase isn't the end of the road for a buyer—it's the time to start building an ongoing relationship.
With cross-selling, you're offering additional products that are related to the item they've just purchased. For example:
If they've bought lipstick, they may be interested in other beauty products
If they've bought a phone case, they may like a phone mount for their car
If they've bought a pair of shoes, they may like different color laces to express their style
Upselling takes a slightly different approach, offering enhanced versions of what they want to buy to increase the order value. McDonald's is probably the most famous example of upselling, with its "Would you like to supersize that?" question. The supersize option gives customers the exact same meal, just more of it.
Examples of upselling are all around us—from delis offering to add a cookie and drink to your order, to car dealerships suggesting optional extras like heated seats.
Both cross-selling and upselling help you to increase the average order value of your customers without increasing your acquisition costs, so they're worth investing a little time to add to your automated emails.
Decrease your cart abandonment rate
Because the Shopify order confirmation email only gets sent when a purchase is made, reducing your cart abandonment rate should be a priority.
For a variety of reasons, many people aren't ready to complete a purchase on their first visit. And although some may remember to visit your store again, a lot of them won't.
Omnisend's ability to send automated messages on different channels allows you to contact your visitors to remind them of their abandoned cart in multiple ways, including email and SMS. Omnisend even syncs with your Facebook and Google Ads accounts, so you can show them the exact items they added to their cart with a reminder to complete the purchase. To make the item even more appealing, you could consider offering them a discount or free shipping.
Automated cart abandonment emails have been so successful for Snatcher that they're now a vital component of their marketing efforts:
Our biggest revenue generator is definitely our cart recovery campaigns. This is what we were missing in our previous email tool, and the payoffs have been amazing so far. We've been able to generate more than $120,000 in less than a year with just this one feature … In total, compared to our regular campaign sales, automation workflows have increased our revenue by 74%."

Dirk van Greuning, Snatcher founder
Wrap up
It may not always be the first sales tactic you think of, but with a well-designed order confirmation email Shopify users can significantly boost their revenue. Best of all, by automating the email and creating a sequence that includes asking for reviews, every buyer will receive it without your manual input. The additional reviews will help to create trust for new buyers, helping to grow your customer base, who in turn will see the order confirmation email, and so the cycle continues.
Get started with Omnisend today & drive sales on autopilot with pre-built automation workflows
Start Free Today
related features
Want more sales?
Omnisend has everything you need to succeed.
Start free now
No Credit Card needed.