Drive sales on autopilot with ecommerce-focused features
See Features
Reading Time:
8
minutes
Shopify makes it easy for you to set up your own ecommerce store. However, its free or paid templates sometimes don't match the vision you have of your online store. And customizing those Shopify templates can be a real pain, with restrictions that ask you to either compromise or completely abandon your original idea.
That's where Shopify landing page builders come into play, which are often some of the most important ecommerce tools for Shopify stores.
These landing page builders can help you:
Collect more subscribers
Promote special events
Offer special bundles, packages, or limited products
Customize parts of your website, such as your product pages
With the right landing page builder for your Shopify store, you can have the website you want in hours or days, and for a lower price, rather than waiting weeks and spending thousands.
What to look for when choosing the best Shopify page builder
When you're looking for the best Shopify landing page app, it's important to understand that landing page builders fall to the same issues as other Shopify apps: some are great for your store, and others—not so much.
There are a few important things to look for to choose the best Shopify page builder:
Ease of use: the page builder has to be easy enough to use that you can create your landing page or website without needing technical knowledge. This includes not only a drag-and-drop builder (which is a de facto standard now), but smart saving, the ability to copy, undo or revert, and other useful editing features
Pre-built templates: along with how easy it is to use, Shopify's best website builders will come with a library of pre-built templates that you can quickly adapt to your needs. The more templates, the higher the chance you'll find something in line with your vision
Features: for Shopify landing page builders, it's crucial to have features that suit ecommerce businesses. The ability to create high-converting Product pages, global styling options, page sections, lazy loading and more will be important features
Pricing: while you'll get what you pay for, it shouldn't cost an arm and a leg. Pricing should offer logical tiers, based on usage and extra features
With that settled, let's look at the best Shopify landing page builders.
Shopify rating: 4.8/5 (5000+ reviews)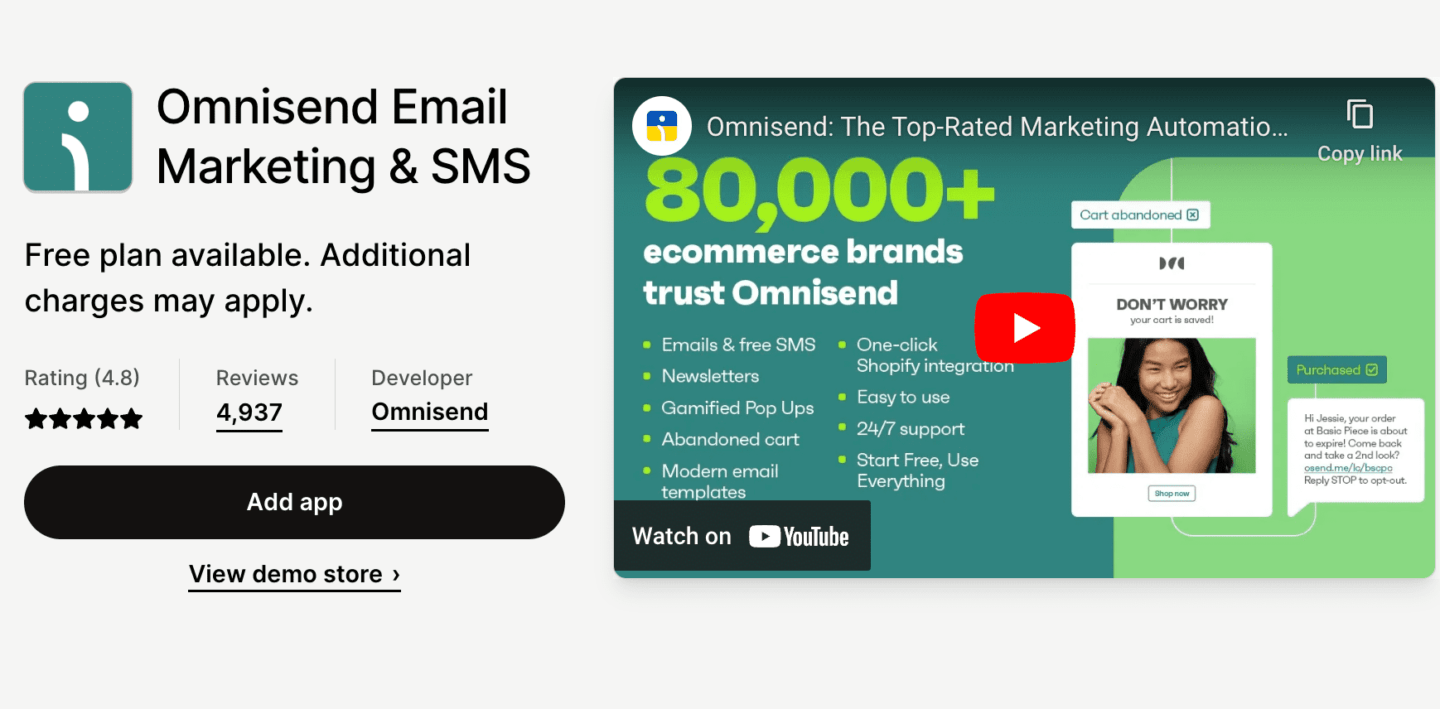 You may not be aware, but Omnisend has a landing page builder nested right within its many ecommerce marketing features. Although it's known primarily as an email & SMS marketing automation platform—making it easy for ecommerce brands to communicate with their customers via email, SMS and push—Omnisend also has a plethora of list building features.
You can easily create landing pages that are hosted on Omnisend. Use the easy customization features or go with the high-converting, pre-written default text.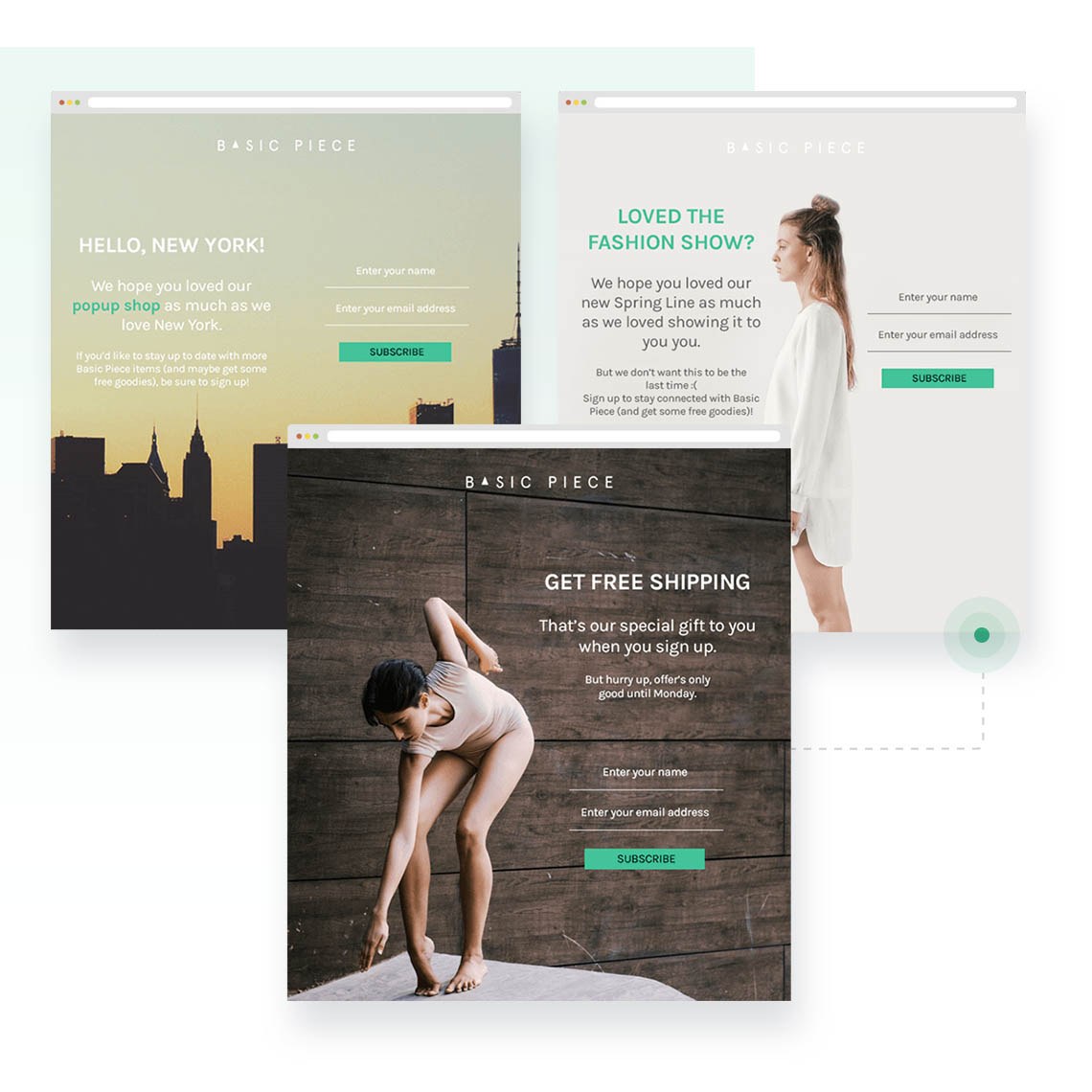 Omnisend's landing page feature is best for ecommerce businesses looking to quickly grow their subscriber list. Because it's built into Omnisend, it's easy to create campaigns or set up automations using the subscriber list gathered from the landing page.
However, it may not be best for those looking to build entire websites, since it's targeted specifically on subscriber collection.
Key features:
Drag-and-drop email builder for easy email design
Email segmentation to target specific groups of visitors with greater granularity
Automation workflows to set up a variety of triggers to get more sales consistently
A/B email campaign testing
Integration of SMS marketing and push notifications in all of your campaigns and workflows
Advanced reporting shows you everything including KPIs top performers, in a single view
Mobile-optimized popups and forms to help you grow your email and SMS subscriber lists
Free SMS credits on all plans—even the Free plan
Dedicated Customer Success Manager to help improve your marketing and pinpoint new opportunities
Pricing:
Omnisend busts the myth that email marketing has to be expensive. There's a generous free-forever plan, which includes the landing page builder, 500 emails/mo and global SMS with all features included. Paid plans start from just $16/mo, unlocking services like a dedicated customer success manager and advanced reporting. Every plan, including the free tier, include 24/7 live support from real people.
Shopify rating: 4.9/5 (3700+ reviews)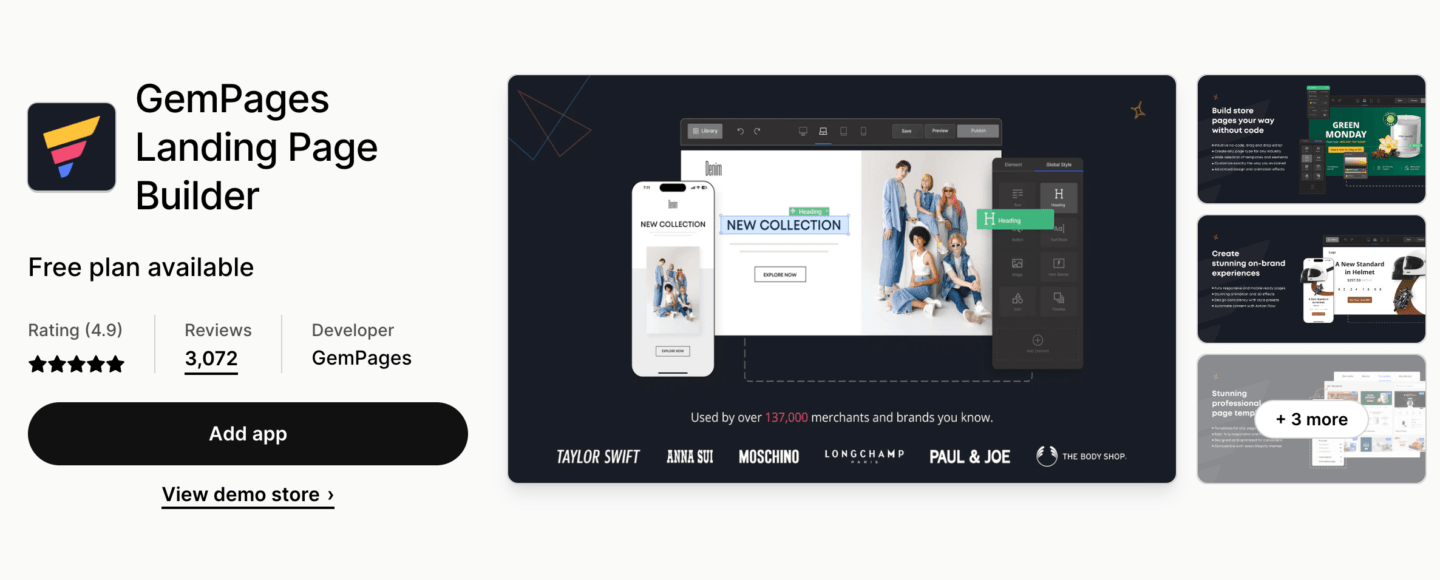 GemPages is the powerful drag-and-drop page builder to create, customize, and optimize your Shopify store pages for conversion. Choose from an extensive library of ready-made templates and easily drag and drop hundreds of elements to style store pages that are equal parts stunning and high-converting. No coding skills required.
Key features:
Compatible with most Shopify themes and Online Store 2.0.
65+ ready-made templates for any page type, be it landing pages, product pages, or collection pages.
A slew of sales-boosting elements like product recommendations, countdowns, social proofs, and more.
Stunning animations, effects, and immersive 3D models to enhance brand visual experience.
The A/B testing feature to test different layouts and make data-driven decisions.
Pricing:
There is a free plan with all page types, 01 publishable page, and live chat support. Paid plans start from $29/month.
Shopify rating: 4.9/5 (8000+ reviews)

With more than 7,000 reviews on Shopify (and 6,095 of those being 5-star reviews), it's no wonder that PageFly is one of the best landing page builders for Shopify stores. It's exceptionally easy to use and create the pages you want, with common sense pricing and a generous free plan.
This Shopify landing page app makes it easy to create high-quality landing pages, including sales landing pages, "coming soon," product and pricing, Collection, About Us and much more.
Key features:
A host of pre-made templates,
Content display options, like slideshow, tabs, accordion, image, video, and more
Reviews, customer feedback and other options
FOMO options, such as countdown timers, low-in-stock alerts, etc.
Advanced HTML, Javascript and other coding options
Pricing:
PageFly offers a free plan that comes with unlimited features, 24/7 live chat support, up to 3 publishable slots. Its paid plans start at $29/mo, up to 20 publishable slots, or $199/mo with everything unlimited and priority support.
Shopify rating: 5/5 (2200+ reviews)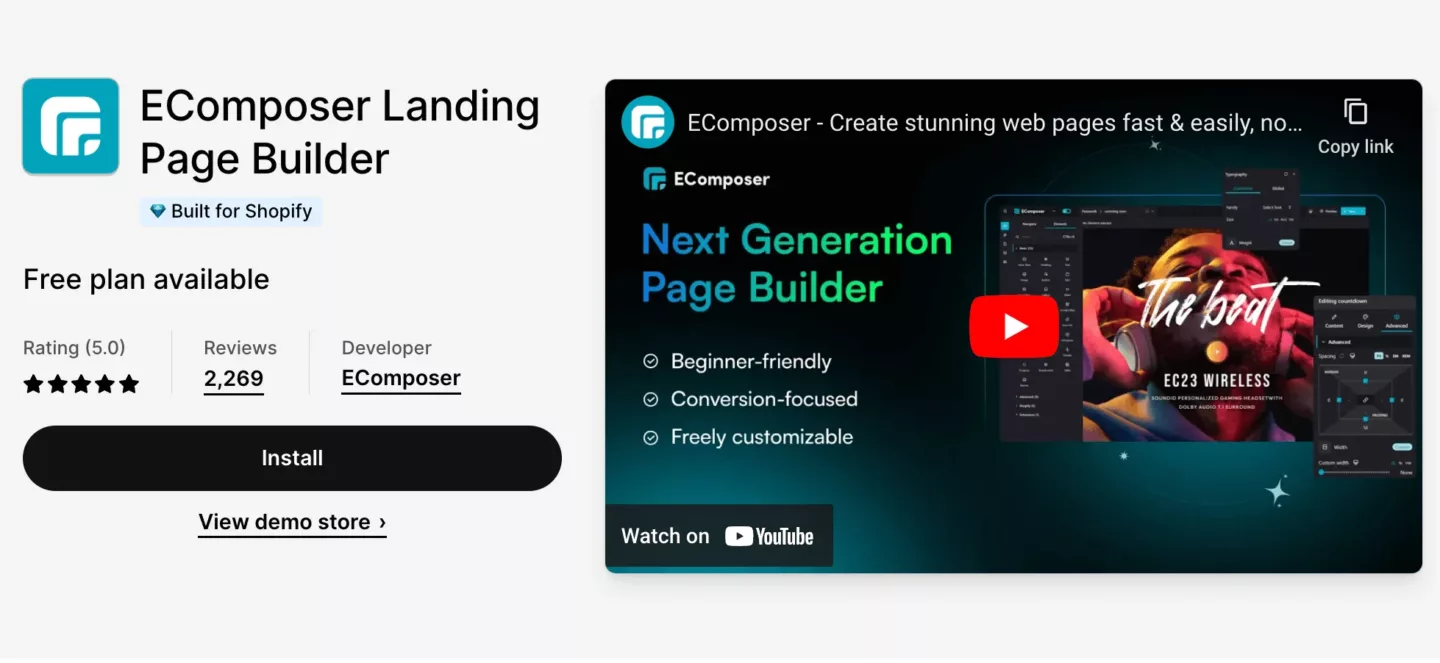 EComposer is an All-in-one Page Builder that helps online merchants create professional Shopify stores with stunning pages. You can build any page type fast and easily with tons of pre-made layouts & sections from eCommerce experts. Especially, you don't need to know coding knowledge; everything is more accessible with the friendly editor.
Key features:
Create any page types & sections: Homepage, landing page, collection page, etc
Powerful live drag-and-drop editor: user-friendly interface, no coding requirement
Rich library page & section templates: 100+ page templates, 260+ pre-made sections, and numerous elements
Excellent Built-in add-ons: Ajax Cart, Color Swatches, Image Optimizer, Cross-selling, Variable Product, etc
Page Analytics, Global Blocks, an AI Content Generator, Lazy Load, etc
Pricing:
Free Plan available with 24/7 live chat support, access to all elements, various templates, and publish up to 3 pages. Unlock other features with the paid plans for just $19/month.
Shopify rating: 4.9/5 (1399+ reviews)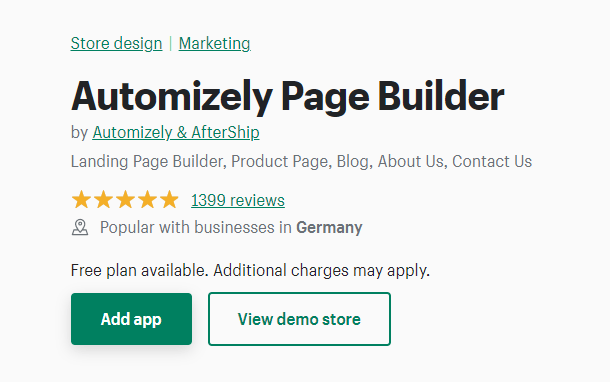 Automizely is another popular Shopify landing page builder with a high user rating of 4.9. Its focus is squarely on helping to create conversion-driven landing pages, with features that all help users easily create just that. Their free plan offers everything needed to build landing pages; their premium features include the ability to track key page metrics and some advanced styling options.
Key features:
Easily customize landing pages
Wide variety of pre-built templates around holiday or other themes
Ability to display product recommendations
Advanced analytics to track visitors, add-to-carts, subscribers and more
Pricing:
Automizely's free plan comes with a full elements library, basic templates, and live chat support, but allows for only one published page. Paid plans start at $35/mo for 25 pages, and $95/mo for up to 150 pages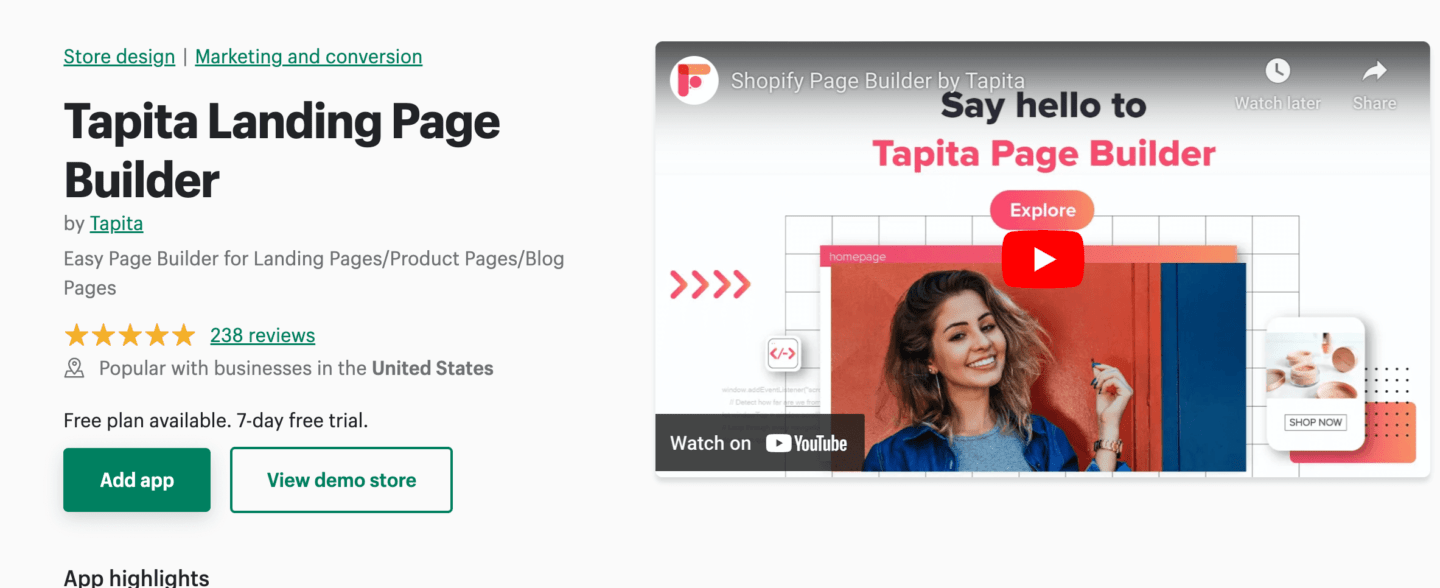 Shopify rating: 4.9/5 (200+ reviews)
Tapita offers not only pre-built templates, but pre-built templates that they've studied and refined to drive sales. They also offer diverse elements to help merchants create hundreds of styles, design SEO-friendly pages optimized for speed, and save blocks that can be reused to more quickly create landing pages.
Key features:
70+ pre-built templates designed to deliver sales
Lazy loading and other speed optimizations available
SEO-friendly tools
Create specific designs for desktop, mobile and tablet
Support custom HTML/CSS/Javascript for developers and advanced users
Pricing:
Tapita is completely free to use up to 5 published pages, with paid plans starting from $9/mo
Shopify rating: 4.8/5 (595+ reviews)

Zipify is the first Shopify page builder app on this list that doesn't offer a free plan. However, that doesn't mean that it isn't one of the best Shopify page builders though. However, it makes up for that by providing more features for great marketing effectiveness, with great tracking, SEO optimization, and mobile features.
Key features:
Powerful drag-and-drop page builder
Ability to create unlimited pages on any paid plan
Lots of email templates that are regularly updated
Split testing
Dedicated mobile tools
Easy integration with Facebook, Google and others
Pricing:
There is no free plan, although Zipify offers a 14-day free trial. Paid plans start from $67/mo
Shopify rating: 4.8/5 (2800+ reviews)

Shogun helps ecommerce merchants create stunning storefronts that align with their original visions. It has an extensive drag-and-drop elements library that include video background, carousel, product quantity and image, and more. It's also well-positioned for both beginners and enterprises, with advanced features for advanced users.
Key features:
A full web elements library including icons, buttons, product quantity & image, tables, sections, etc.
Drag-and-drop layout control for all pages, including home, collections, FAQ, product, size charts, etc.
A/B testing for advanced users
Multi-store sync
Custom elements
Dedicated account manager (for Enterprise users)
Pricing:
There is no free plan, although Shogun offers a 10-day free trial. Paid plans start from $39/mo
Shopify rating: 5/5 (130+ reviews)

Zeno offers pre-made templates and sections that merchants can use to easily get started. They also promise to have no "bloat or unnecessary libraries" to have better loading times. Zeno is more suited for absolute beginners who want to get started on building their landing pages right away, without too many bells and whistles.
Key features:
Design multiple pages, including blog posts, product pages, collections, cart, even 404
Extremely easy to use for non-technical merchants
Design elements include count up/countdown, newsletter, testimonial, and more
Built-in addons include currency converter, Messenger chat box, announcement bar, etc.
Lots of pre-built templates and sections
Pricing:
Free plan includes one landing page and one blog post; paid plans start from $19/mo and include unlimited pages and blog posts
Shopify rating: 4.2/5 (80+ reviews)

Buildify offers a generous package for beginning ecommerce merchants: more than 50 free page templates and 80+ widgets. Their drag-and-drop landing page builder allows for creating or customizing collections, produce and blog pages, and more, all without needing to code anything.
Key features:
80+ widgets, including basic, media, icons, buttons comments, analytics and more
More than 50 free page templates
Fully responsive widgets and templates
Live preview mode to see what the page looks like before publishing
Pricing:
There's both a bare-bones free plan (offering 1 page to publish) and a 7-day free trial. Paid plans start from $9.99/mo to publish up to 15 pages.
Best Shopify landing page builder: Summary
We're pretty sure you'll find the best Shopify page builder in our list above.
While you can't go wrong with your choice, remember that creating an on-brand storefront is one only of the important aspects of creating a successful Shopify store.
Be sure to check out our guide on how to create a landing page that converts, our in-depth Shopify checklist for launching your own store, and of course the best email marketing apps for Shopify.
Easily create, edit and publish landing pages with Omnisend—& so much more
Start Free Today
related features
Want more sales?
Omnisend has everything you need to succeed.
Start free now
No Credit Card needed.