Drive sales on autopilot with ecommerce-focused features
See Features
did you know
Omnisend customers automate 32% of their email conversions. Are you maximizing sales?
automate my sales
Reading Time:
9
minutes
Whether you're new to Shopify email apps or not, imagine searching for a new email marketing tool on the Shopify App store. Shopify, one of the best ecommerce platforms, naturally has a lot of choices when it comes to effective apps.
You might type "email marketing" into the app store, only to find this: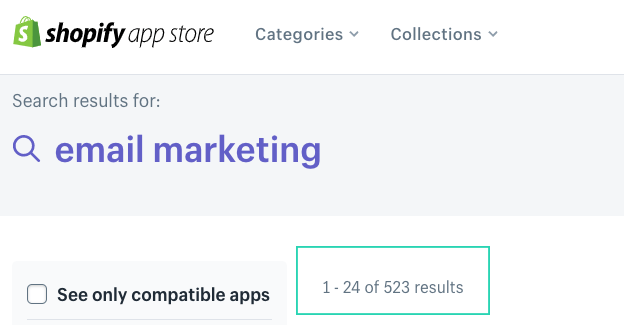 There are literally hundreds of Shopify apps on the marketplace, and all of them claim to offer great features.
But that doesn't mean you have to install a bunch of Shopify email apps and test them on your own.
We already did the testing for you. We gave a free hand to our Shopify app tester and asked him to rank the best Shopify apps for email marketing based on their performance, features, and overall value. We think you'd like the end results.
This list will help merchants, as well as marketers, figure out which Shopify email apps best match their needs.
1. Omnisend
In recent years, Omnisend has been known for offering one of the most sophisticated omnichannel marketing solutions in the market. It means that you can add SMS messages, Facebook and Google retargeting ads, push notifications, and other channels into one smooth communication flow with your segmented audience.
Some merchants even refer to Omnisend as "the Shopify email marketing automation app" mainly due to the 360 degree customer marketing experience it offers.
Another reason why Shopify Omnisend app got 4,000+ positive reviews on Shopify app marketplace is that it lets you set up automations and perform marketing based on insights about customers, rather than spamming their inbox with forceful abandoned cart emails.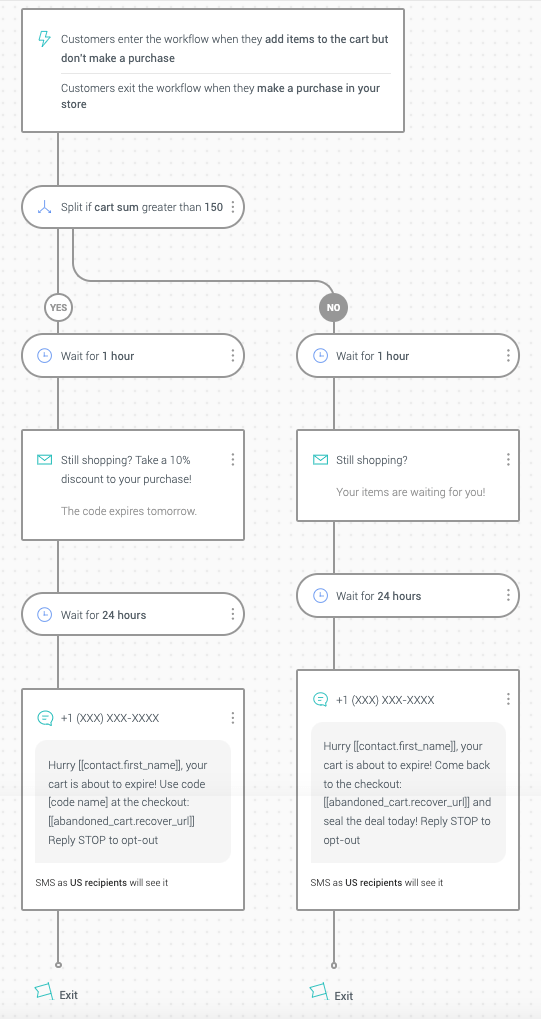 On top of that, Omnisend for Shopify provides dynamic gamification elements, interactive sign-up forms, landing pages.
This platform provides sales reports from every single campaign, which isn't common in other email service providers. Click maps and in-depth reports for email campaigns and automations are all there, so you can make the best decisions from your data.
Omnisend pricing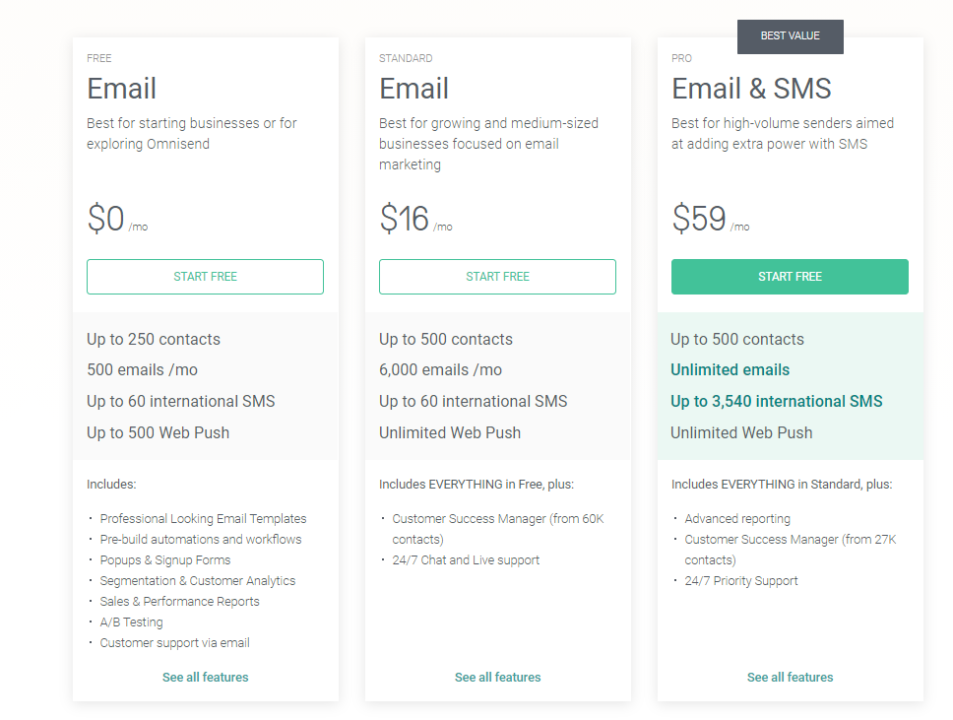 Like most other email marketing tools, Omnisend offers subscriptions based on the number of contacts merchants have.
Omnisend's free plan allows for all features, with up to 500 emails and 500 web push notifications. If you want to use increase the email sends, plus get 24/7 live chat, you should go for the Standard plan. The Pro plan offers everything in Standard, except for unlimited emails, unlimited web push, advanced reporting, and other advantages, you will have to upgrade your plan to Pro.
For marketers on Pro plans, text messages are free (equal to the dollar amount paid for the plan). On Standard, SMS credits go on top of this price. $0.015 for an SMS.
Calculate the exact pricing for your contact list here.
| | | |
| --- | --- | --- |
| Number of contacts | Standard Plan | Pro Plan |
| 1,000 | $20 | $59 |
| 5,000 | $65 | $90 |
| 50,000 | $330 | $650 |
Top rated email marketing app on Shopify. Start driving more sales with Omnisend today.
Start free today
2. Klaviyo
Klaviyo Shopify is another one of the most comprehensive Shopify email marketing tools in the market nowadays. Like Omnisend, this platform offers an entire suite of tools necessary for email marketing, starting with sign up forms, robust segmentation, and email templates, ending with marketing automation across different channels.
However, if you are used to email editors like Omnisend, Mailerlite, or Mailchimp, Klaviyo's email editor might look a bit bizarre. For example, instead of building a column into an existing content block, you have to add a pre-split block and then edit it. Adding products and designing the email is pretty easy, though. With Klaviyo, you can build advanced marketing automation flows. At the beginning of 2020, this Klaviyo introduced SMS marketing.
Klaviyo pricing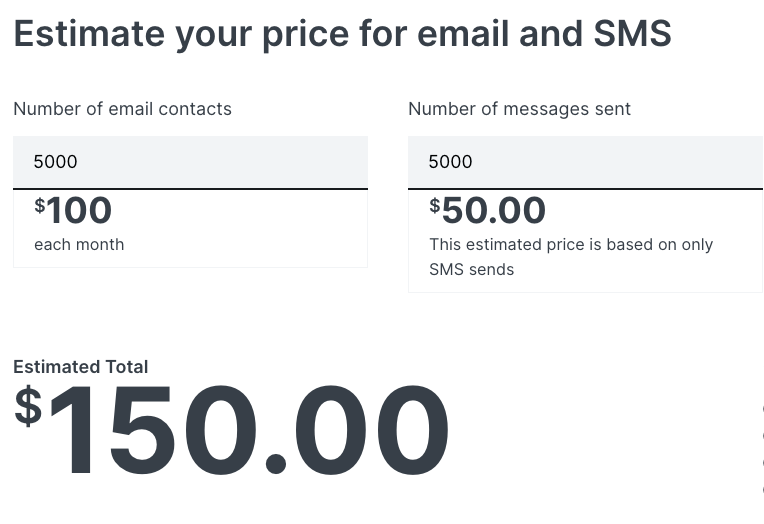 Klaviyo is an advanced tool, you can see it when looking at their pricing plans.
This platform also offers a free plan up to a meager 250 subscribers and 500 email sends per month. If you're just getting started, it can work well. However, scaling with Klaviyo can get expensive quickly. Look at the table below.
At Klaviyo, SMS credits also count on top of the price you pay for their plans. Here you will pay about $0.01 for an SMS + additional costs for LVN numbers and a higher sending speed.
| | |
| --- | --- |
| Number of contacts | Price |
| 1,000 | $30 |
| 5,000 | $100 |
| 50,000 | $700 |
3. Campaign Monitor
Campaign Monitor is another one of the best email marketing apps for Shopify. This platform has a great set of features. Here, you can find pretty good segmentation and personalization that will help you employ your customer data in an actionable way.
Campaign Monitor has a great visual journey designer for building automations. Although it isn't perfect for advanced triggers, you can still set up bare-bones marketing automations.
Another reason why we placed it on the third position—Campaign Monitor doesn't offer any additional channels to email. So there are no integration capabilities for SMS retargeting when it comes to your communication workflows.
This Shopify email marketing app is limited to basic email marketing. If you feel like not being ready for more relevant omnichannel marketing, this tool may be your choice.
Campaign Monitor pricing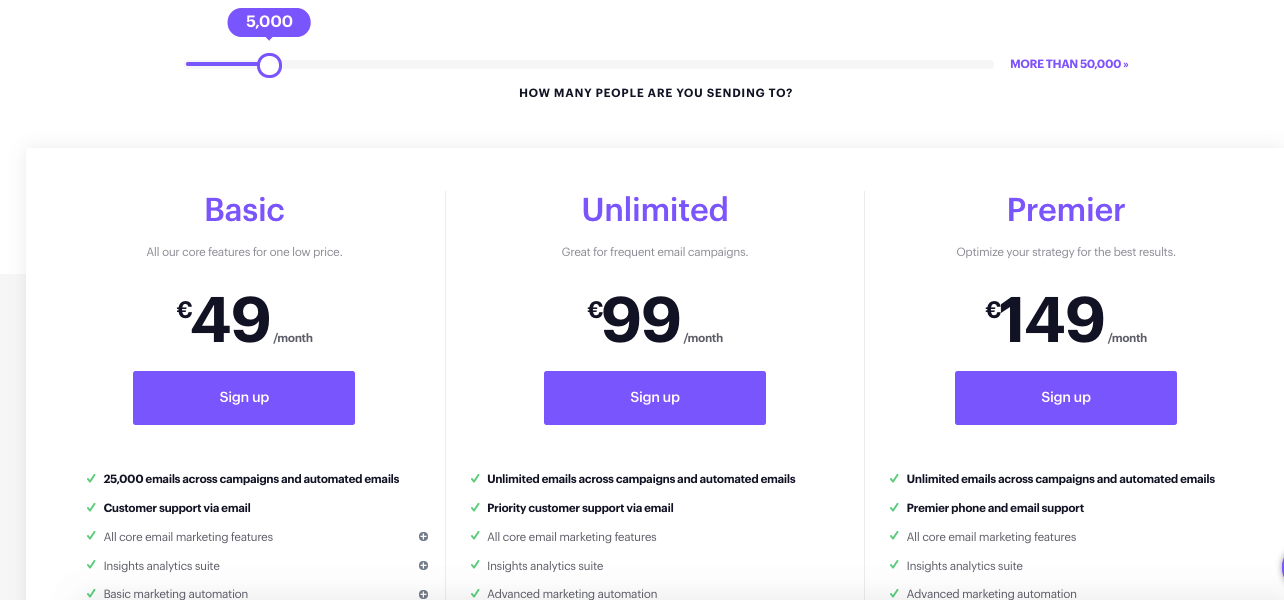 Campaign Monitor doesn't offer any free plan and it seems to be more expensive even than Klaviyo. Its pricing is as follows:
| | | | |
| --- | --- | --- | --- |
| Number of subscribers | Basic | Unlimited | Premier |
| 1,000 | $29 | $59 | $149 |
| 5,000 | $49 | $99 | $149 |
| 50,000 | $329 | $749 | $989 |
4. ActiveCampaign
Active Campaign Shopify is less geared towards customer relationship management and less towards email marketing. ActiveCampaign can provide you with CRM functionality: it enables you to manage sales funnels and customer databases on top of email marketing for your ecommerce store.
Also, ActiveCampaign is another platform that offers integration with SMS marketing as well as customer Facebook audiences.
One of the best things about this platform is that it works well if you need multiple domains to manage. As you don't directly connect one domain to ActiveCampaign, you can choose which domain to assign your campaigns to.
Although ActiveCampaign provides its clients with great support, be ready to spend some time learning how the platform with all its in-depth functionality works.
ActiveCampaign pricing


Like any other email marketing tool, ActiveCampaign's pricing is based on the number of your subscribers and the features you want to use.
| | | | | |
| --- | --- | --- | --- | --- |
| Number of subscribers | Lite | Plus | Professional | Enterprise |
| 1,000 | $29 | $70 | $159 | $279 |
| 5,000 | $99 | $169 | $239 | $449 |
| 50,000 | $345 | N/A | N/A | N/A |
5. Privy
Although Privy is a new player on our "Best Shopify newsletter app" list, it seems to be ready to cover ecommerce beginners' needs thoroughly.
Privy was well-known for its great email templates and sign-up forms. On top of that, Privy significantly extended its functionality by adding email marketing, some automated emails as well as SMSes.
Here, you can find some basic automations like welcome, order follow-up, abandoned cart emails. In addition to that, an automated SMS after abandoned cart is available like in the tools mentioned above.
Privy might be the best Shopify newsletter app for ecommerce beginners who are still focused on adding subscribers and don't need a sophisticated tool for customer database segmentation and an omnichannel approach. This platform even has the sending limit – they can cover up to 200 000 subscribers and up to 10 000 SMS recipients.
Privy pricing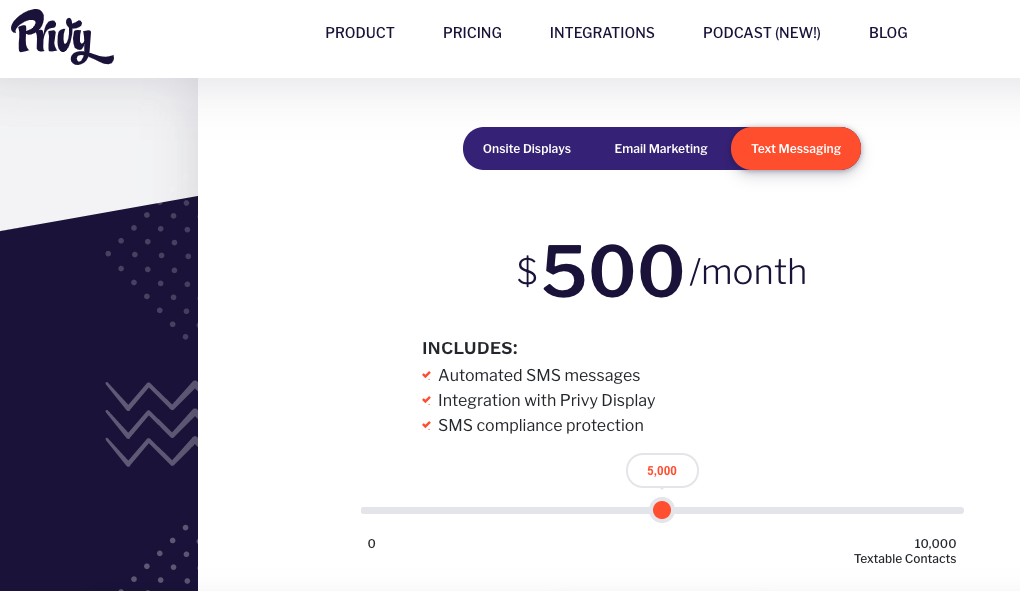 Privy pricing, as well as its features, is tailored for ecommerce beginners.
On top, they charge $0.1 per SMS. It's almost ten times more than Omnisend.
| | |
| --- | --- |
| Number of subscribers | Price |
| 1,000 | $13 |
| 5,000 | $30 |
| 50,000 | $255 |
6. Mailerlite
Mailerlite is a proper solution for those who are still getting their feet warm in email marketing and marketing in general.
This platform has an intuitive and user-friendly design, a drag-and-drop editor, beautiful newsletters, in-house signup forms and email templates, and basic automations. So it's good for beginner email marketing.
However, Mailerlite won't cover your sophisticated needs such as advanced segmentation, omnichannel communication, or in-depth reporting. Which is something you'd need to get an upper hand on your competitors.
Overall, it's good for those who want to engage their customers with eye-catchy emails.
Mailerlite pricing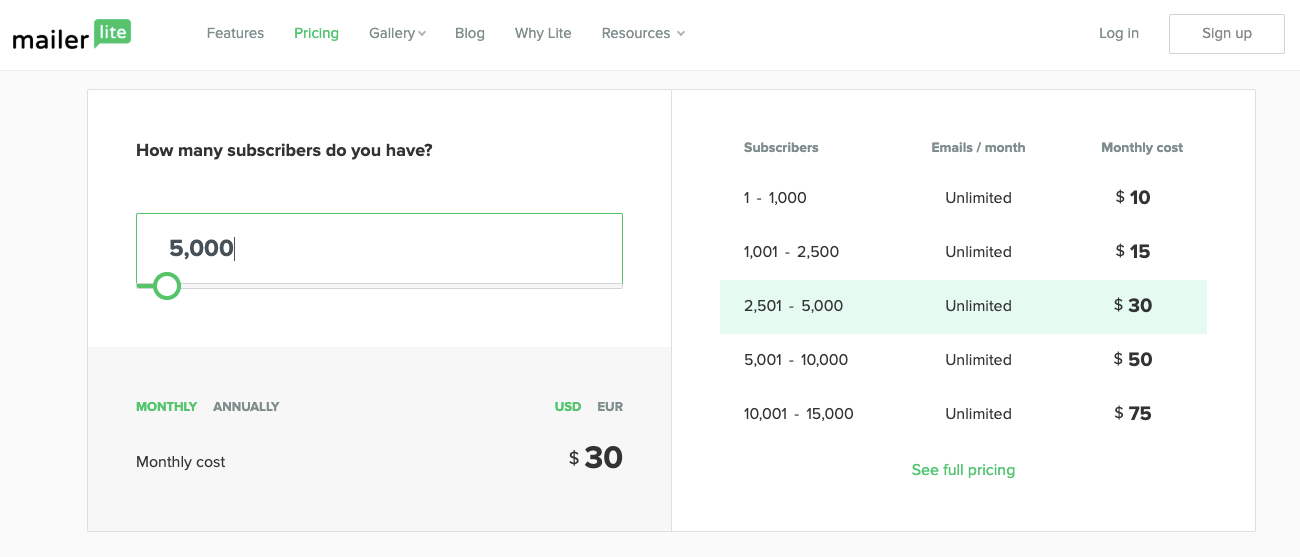 Up to 1000 subscribers and 12000 emails per month, Mailerlite is free of charge.
Further pricing is as follows:
| | |
| --- | --- |
| Number of subscribers | Price |
| 1,000 | $0 |
| 5,000 | $30 |
| 50,000 | $215 |
Frequently asked questions about email marketing apps for Shopify
Can you do email marketing with Shopify?
Shopify offers some basic features for email marketers, but it can't match the robust tools that are available with dedicated email marketing platforms like the ones we've mentioned.
Paid Shopify subscribers can now send up to 2,500 free emails per month, so this may be a more realistic option for startups and smaller businesses. Check out our guide to Shopify email setup if you're looking for tips on getting started with their email marketing tools.
Is Mailchimp good for Shopify?
Mailchimp was once one of the most popular options for Shopify store owners, but Mailchimp ended their Shopify integration in 2019. While Mailchimp and Shopify can still work together through third-party platforms, the lack of a direct integration makes it much less practical for Shopify users.
With that in mind, Shopify vendors should seriously consider moving their email marketing campaigns to another platform that can support a more seamless workflow. Omnisend's powerful automation tools and deep Shopify integration make it a great alternative for anyone using Shopify.
What is the best email marketing app that works with Shopify?
With hundreds of email marketing apps available for Shopify, it's impossible to identify a single best choice for every situation. The right choice for your brand depends on a number of factors including your budget, volume, contact list, and any other channels you want to work with.
As the top-rated email marketing service on the Shopify App Store, Omnisend has everything you need to run sophisticated campaigns through email as well as SMS, social media, and push notifications. Furthermore, Omnisend is entirely free to use—you can access email SMS, and other features without ever spending a dime.
If you're having trouble adding new subscribers, Omnisend can help you grow your list through several sign-up options. Along with conventional sign-up forms, Omnisend also offers interactive forms, templates for dedicated landing pages, and a unique "wheel of fortune" sign-up game which gives your leads the chance to win prizes in exchange for providing their contact information.
With Omnisend's intuitive automation tools, you can set up even complex workflows in just a few clicks. The workflow editor also makes it easy to split sequences as needed—for example, you might want to create one strand for first-time customers and another for users who have already made a purchase.
As mentioned above, Omnisend is free to use if you stick to simple features like email campaigns, sign-up forms, and basic analytics. You can also sign up for a 14-day free trial of either of the premium plans before committing to a paid subscription.
Pricing for paid plans is determined by your subscription tier along with the size of your contact list.
Which Shopify email app is the best deal?
Every email marketing app comes with a unique set of features. Furthermore, each one uses a distinctive pricing system, so it can be tough to compare them directly.
| | | |
| --- | --- | --- |
| Provider | Free Plan | Cheapest Paid Plan |
| Omnisend | ✅ | $16 per month |
| Klaviyo | ✅ | $20 per month |
| Campaign Monitor | ✅ | $9 per month |
| Active Campaign | ⛔ | $9 per month |
| Privy | ⛔ | $15 per month |
| Mailerlite | ✅ | $10 per month |
Each email marketing app and whether they offer a free plan or free trial.
| | | | |
| --- | --- | --- | --- |
| Provider | 1,000 Contacts | 5,000 Contacts | 10,000 Contacts |
| Omnisend | $20 per month | $65 per month | $115 per month |
| Klaviyo | $30 per month | $100 per month | $150 per month |
| Campaign Monitor | $29 per month | $49 per month | $89 per month |
| Active Campaign | $25 per month | $79 per month | $125 per month |
| Privy | $30 per month | $75 per month | $150 per month |
| Mailerlite | $10 per month | $30 per month | $50 per month |
Email marketing app pricing comparison by contacts.
Omnisend, Klaviyo, Campaign Monitor, and Mailerlite offer free access to a limited set of features as well as a limited number of subscribers and email sends. For example, you can get all the features in paid plans, such as signup forms, automation, email templates and much more, which is great for basic email needs. If you want to send more emails and get 24/7 support, the Standard Plan starts at $16 per month.
On the other hand, ActiveCampaign, Privy, and Mailerlite offer brief free trials of their premium plans—15 days for Privy and 14 for the other three. While trial accounts may be subject to some restrictions, you should be able to access most paid features during the trial period.
Key takeaways
Which is the best Shopify app for email marketing?
All tools on this list are high-end solutions for email marketing. Some of them are better in terms of features, and expertise level, while others have a better price.
Selecting email marketing services for Shopify depends on your needs, for instance, if you want email marketing with pretty basic automations, you can select Klaviyo. If you want to provide your customers with a 360° marketing experience, you can try Omnisend. In case, you just need to keep your customers in the loop with catchy newsletters with product mentions, you can try a free Shopify app like Mailerlite.
Imagine advanced reporting that spells out your next move. Stop imagining and make it reality – Get Omnisend today
Start Free Today