Drive sales on autopilot with ecommerce-focused features
See Features
Omnisend and CartHook Integration: Because Your Checkout Page Deserves Better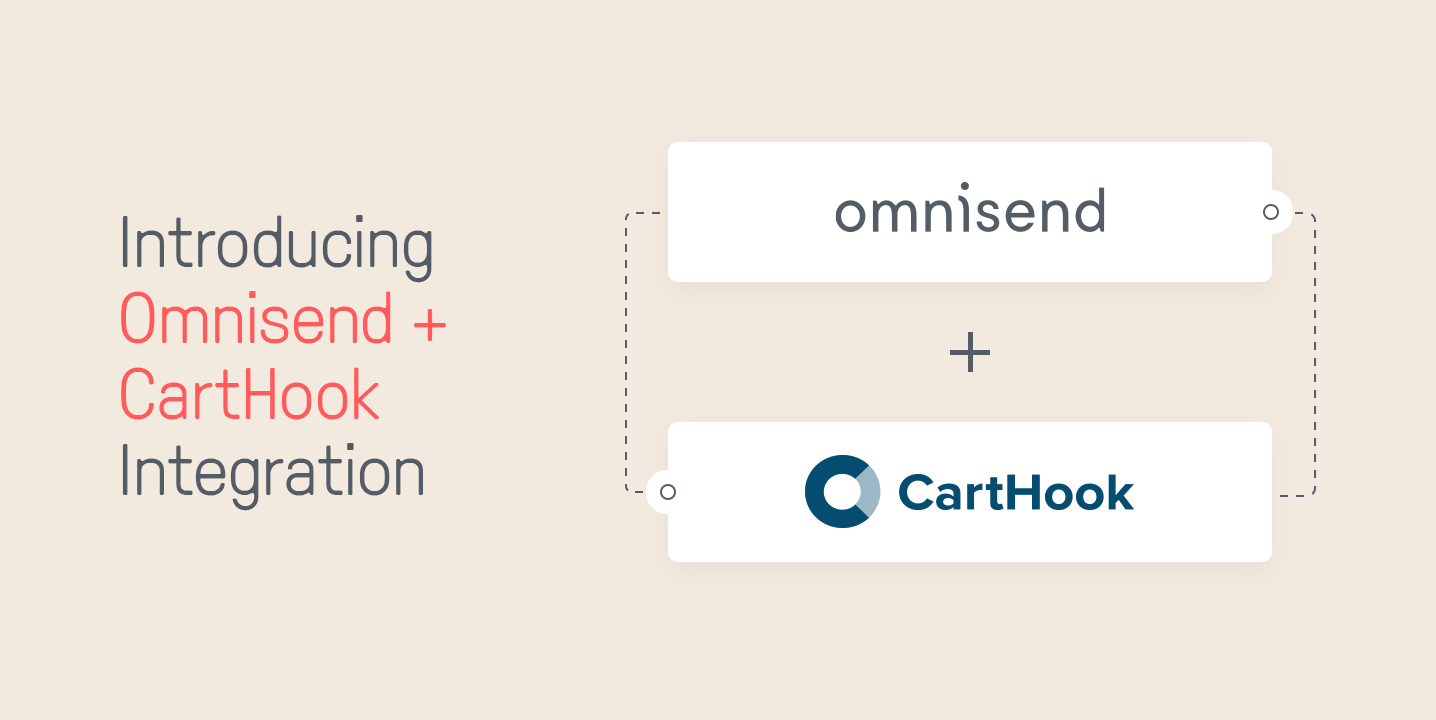 Reading Time:
2
minutes
When it comes to conversion rate, many marketers look towards source channels for the answers to optimization.
However, it's usually the very last step that has the biggest impact on conversion rate: your checkout page.
After all, your most important marketing channel is your site.
With our newest CartHook integration, you'll be able to optimize your checkout flows alongside your omnichannel communication. An optimized checkout page provided by CartHook means less failed conversions, and when customers abandon their cart, Omnisend will be there to scoop them back up with an abandoned cart campaign.
How the Omnisend and CartHook Integration Works:
Once you integrate Omnisend and CartHook, you'll be able to trigger events on checkout pages and report the orders through Omnisend. This will help you catch customers that have abandoned their cart even after an optimized checkout page through CartHook.
Integrate CartHook in the Omnisend App
CartHook integration with Omnisend is a snap. In your Omnisend app:
Go to My Account and then click Integrations & API (the third tab in your My Account) and API Keys
Click on the button that says Create API Key +
Name your API key for CartHook and choose I want to set up custom permissions for this API key
Leave everything checked, and hit the Save button at the bottom right
Then go to your CartHook account:
Navigate to your CartHook Tracking & Integrations page
Select the Omnisend app, and paste the Omnisend API key you just generated
Enable the integration
And that's it!
Now, CartHook will automatically generate custom events in your Omnisend account for order reporting and cart abandonment.
Check out our full tutorial on the new integration here.
How to Get the Most Out of Omnisend and CartHook Integration
With CartHook integration in your Omnisend app, you can use the amazing checkout flow that CartHook provides and still retain your fantastic omnichannel abandoned cart campaigns.
CartHook allows you to create a streamlined checkout process, adding in the information you need to convince your customers to finalize their purchase:
Customer reviews and testimonials
Shipping and Billing forms on one single page for easy completion
Integration with all the biggest payment methods: PayPal, Stripe, Authorize.net, NMI, etc
CartHook even offers a post-purchase one-click upsell technique that allows you to recommend personalized products to your customers without making them navigate out of the checkout flow. They'll have no need to re-enter payment, or their shipping address, they'll be able to add in their products in just one click.
This helps you increase AOV without distracting your customer from the reason they came to you in the first place.
However, customers abandon checkout flows for a multitude of reasons. While CartHook will help you reduce checkout abandonment by optimizing your checkout flow, nothing can stop it completely.
This is where your integration with Omnisend comes in: With Omnisends native integration with CartHook, you can recover those lost customers by sending a cart abandonment campaign across any channel available for that customer.
By pulling data from CartHook's checkout, you can show your customer the products they've left behind, reminding them why they fell in love in the first place.
With Omnisend and CartHook's powers combined, you'll be seeing more revenue that would have been otherwise lost.
Do you use CartHook for your checkout pages? What's your favorite feature? Tell us below!
Get a personal 1-on-1 Omnisend demo that will supercharge your next campaign!
Get My Demo