Drive sales on autopilot with ecommerce-focused features
See Features
Reading Time:
8
minutes
So you're looking for an email marketing platform.
One that resoundingly busts the myth that great email marketing has to be expensive, and is packed with all the features needed to help with the growth of your business without sacrificing ease of use.
Two of the main platforms that can meet most of those needs are Omnisend and MailerLite. In this article, we'll compare them on the following:
Who they're for
The main features
Deliverability
Pricing
Let's get started.
Get better email & SMS marketing that brings real sales and happier customers
Start Free Today
Omnisend vs MailerLite: Who are they for?
Omnisend and MailerLite have significant overlap in who they're built for, with both being simple to use and appealing to small and growing businesses. The main difference is that Omnisend has a particular focus on ecommerce.
While they serve a similar audience, MailerLite is more suited to smaller businesses while Omnisend is built to support growth. The big differentiator between Omnisend vs MailerLite is features, so let's dive into those.
Pricing
Let's get to the good stuff first: how do MailerLite pricing and Omnisend pricing compare?
The good news is that both MailerLite and Omnisend offer a free tier and paid plans, with pricing varying depending on the number of recipients you have.
The generosity of the free plans is heavily in Omnisend's favor, as MailerLite's free plan does not provide access to the following: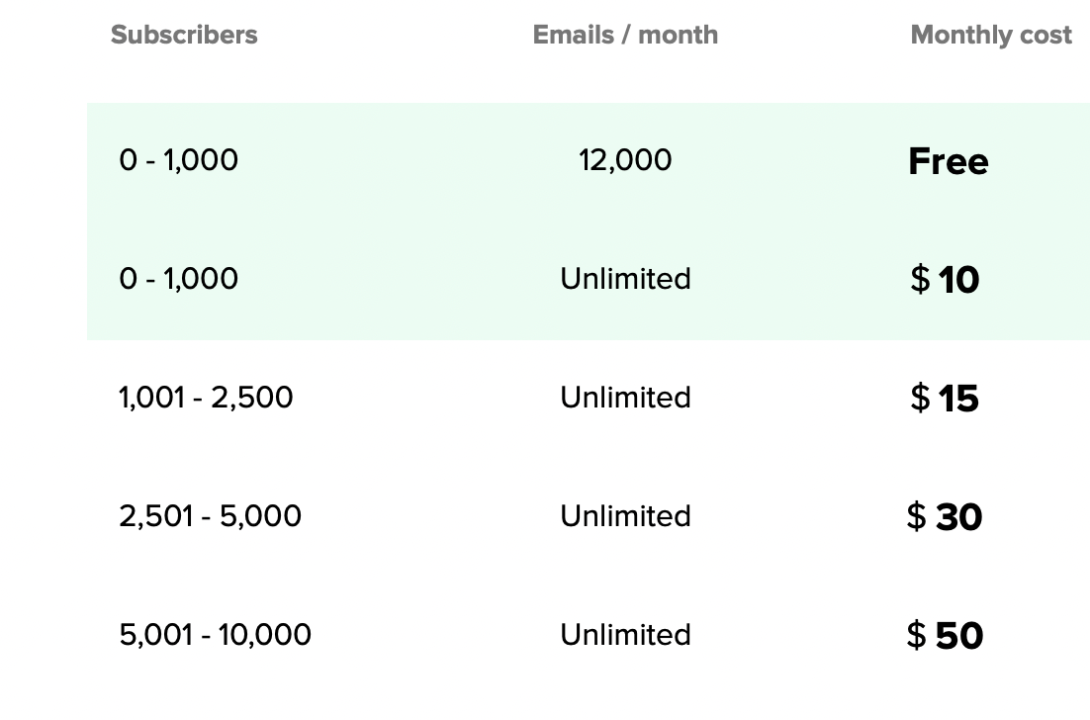 In comparison, Omnisend's free plan does include all of the features that are available on its paid plans, such as:
Email templates
Pre-built workflows and automations
Popups
Clickmaps
Sending a repeated email to recipients who didn't open the first one
Discount coupon codes
Facebook Custom Audiences and Google Customer Match
Gamification signup form Wheel of Fortune
In addition, Omnisend's free plan includes 60 free SMS sends and 500 web push notifications each month, for messaging up to 250 contacts.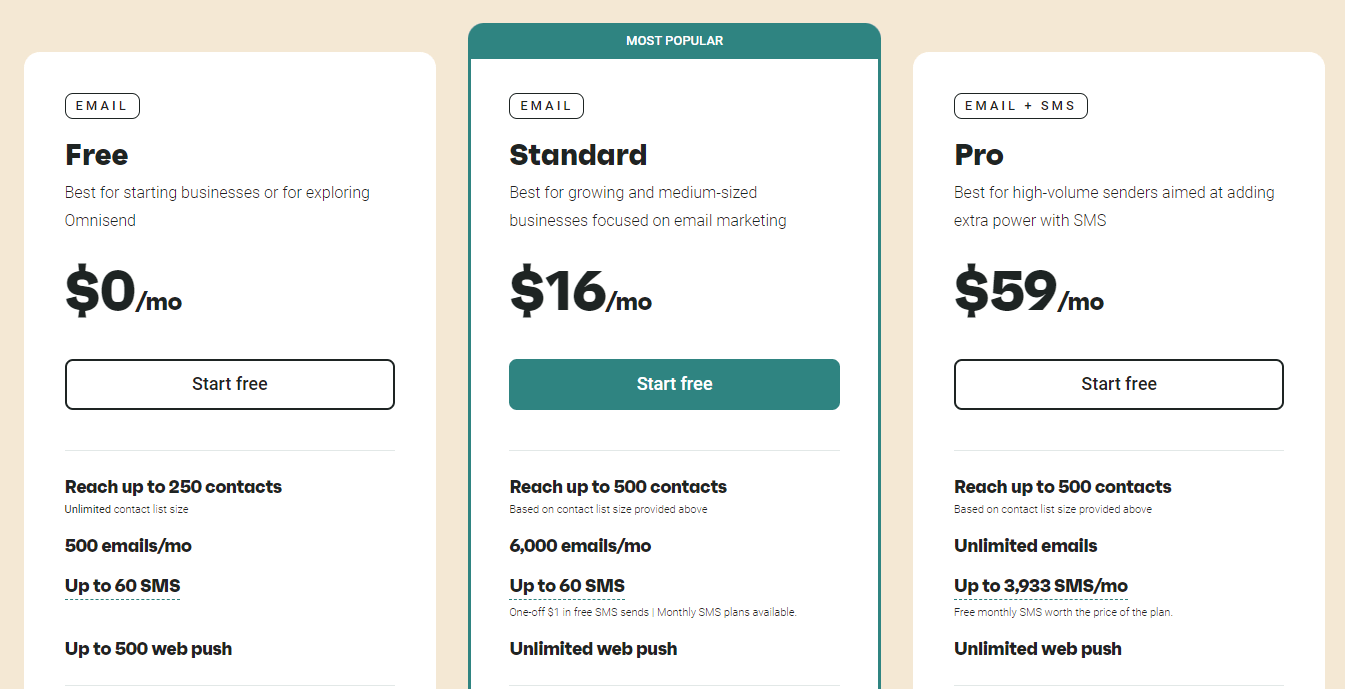 The Omnisend vs MailerLite differences continue with the paid plans, too.
Notably, Omnisend offers 24/7 chat and live support on its Standard plan, which starts at $16 per month. Its Pro plan includes a Customer Success Manager at a monthly spend of $400. MailerLite's paid plans offer 24/7 email and live chat support, but a dedicated manager costs an additional $100 per month regardless of your existing monthly spend.
Both MailerLite prices and Omnisend prices depend on the number of subscribers you have. But it's important to understand the details hidden in MailerLite pricing:
Although Omnisend's Standard plan costs $44 per month for 2,500 subscribers compared to MailerLite pricing of $15, it's worth remembering that Omnisend's price also includes additional features: SMS, web push notifications, retargeting, and gamification.
Main features
The names of the platforms give an insight into what they offer: Omnisend offers omnichannel features, whereas MailerLite is focused on mail.
That's not to say that MailerLite features are lacking. It packs most of what you'd expect an email marketing platform to offer, such as automations, landing pages and signup forms—although in a generally basic way.
Omnisend goes multiple steps further, though. It's the Swiss army knife of email marketing platforms, offering not only the usual features noted above but additional features including:
advanced features for growing your email and SMS list
dynamic syncing of your contacts with your Facebook and Google ad accounts to retarget potential buyers.
Ecommerce
Omnisend and MailerLite both support ecommerce stores, integrating directly with other platforms (including Shopify and WooCommerce) in addition to dozens of third-party apps, including Zapier – enabling users to sync with additional platforms or create their own automations.
They're also both capable of adding products from your store into your campaigns. This makes building emails a breeze, especially when you need to quickly make a campaign – such as for the upcoming holidays. With your email marketing platform linked to your ecommerce store, you can simply import your products, complete with images, descriptions and prices.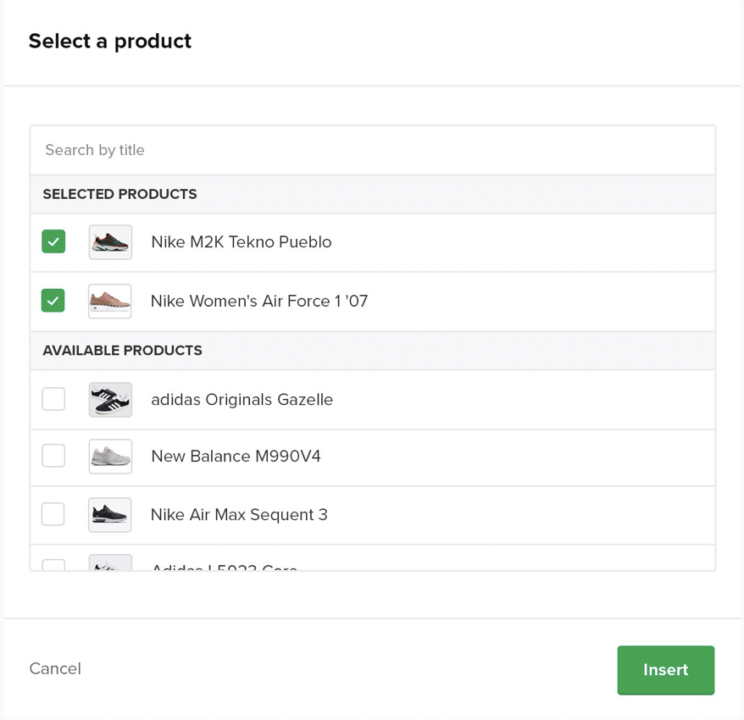 Omnisend, on the other hand, offers up its unique Product Picker, which makes it very easy for merchants to add their products (and all related info) to their campaign newsletters:
This feature also enables you to send tailored emails to segments of your audience, such as sending products related to purchase or browsing history to particular people, increasing the likelihood of new sales.
One of the main features required of an ecommerce-focused email marketing platform is the ability to send cart abandonment emails. MailerLite features include ecommerce automation triggers when the account is linked to WooCommerce or Shopify, giving users the ability to send emails to site visitors who added items to their cart but didn't complete the purchase.
Omnisend also offers automated cart abandonment emails, but whereas MailerLite will only send them to subscribed contacts, Omnisend will deliver to subscribed and non-subscribed contacts. Both platforms have premade emails to choose from, but Omnisend also offers a selection of full workflows: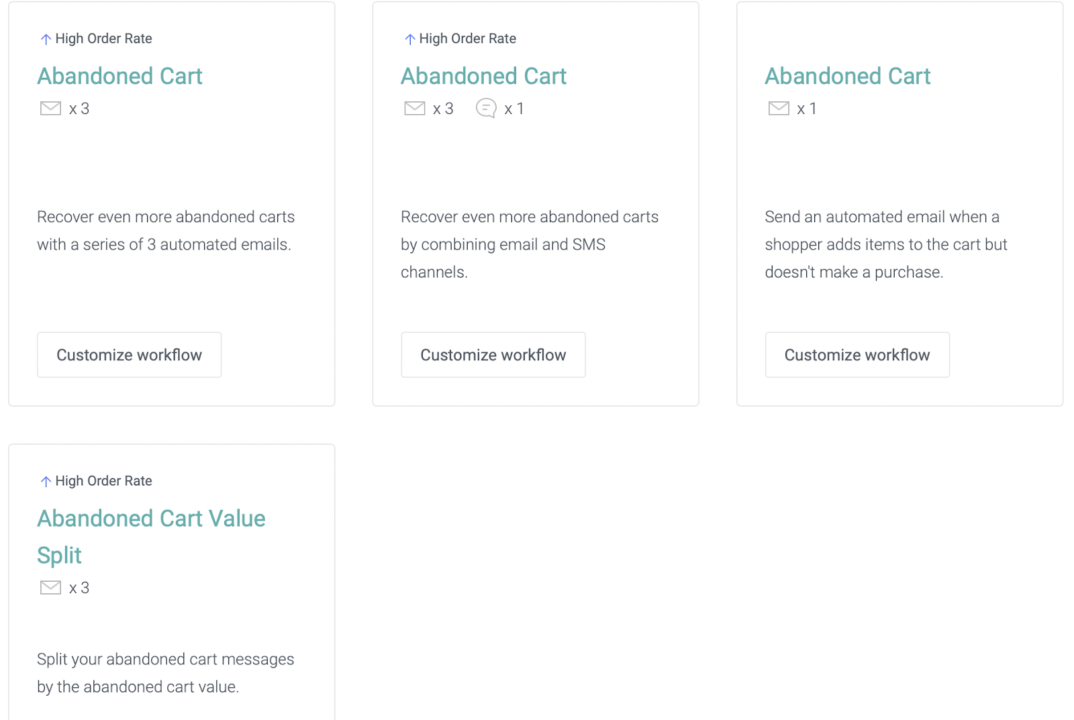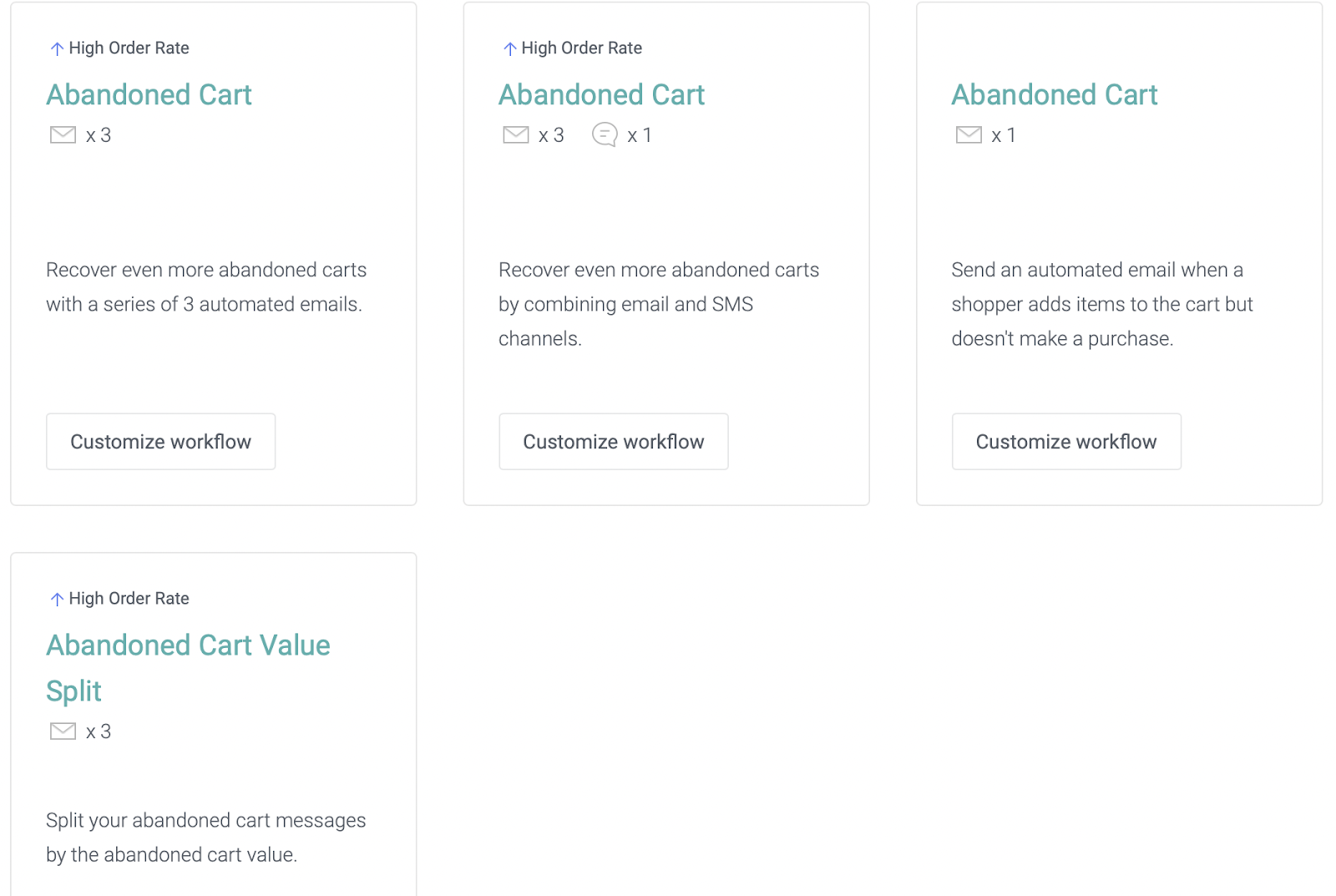 As a final consideration, Omnisend can send automated SMS and push notifications as well, which allows you to reach people even when they're not checking their email inbox.
💡 Check out the detailed Mailerlite alternatives article to make the right choice.
Tools for growing a list
Having great campaigns is one thing, but they're not going to drive any sales if you don't have anybody to send them to. That's why the best email marketing platforms also have tools to help you build your email list.
Neither Omnisend nor MailerLite are slouches in this department, with both packing a variety of popups, landing pages and forms. The popups can be deployed in multiple ways: taking up minimal screen space or the entire page, and appearing when the visitor scrolls to a certain point on the page or as they're about to leave the site.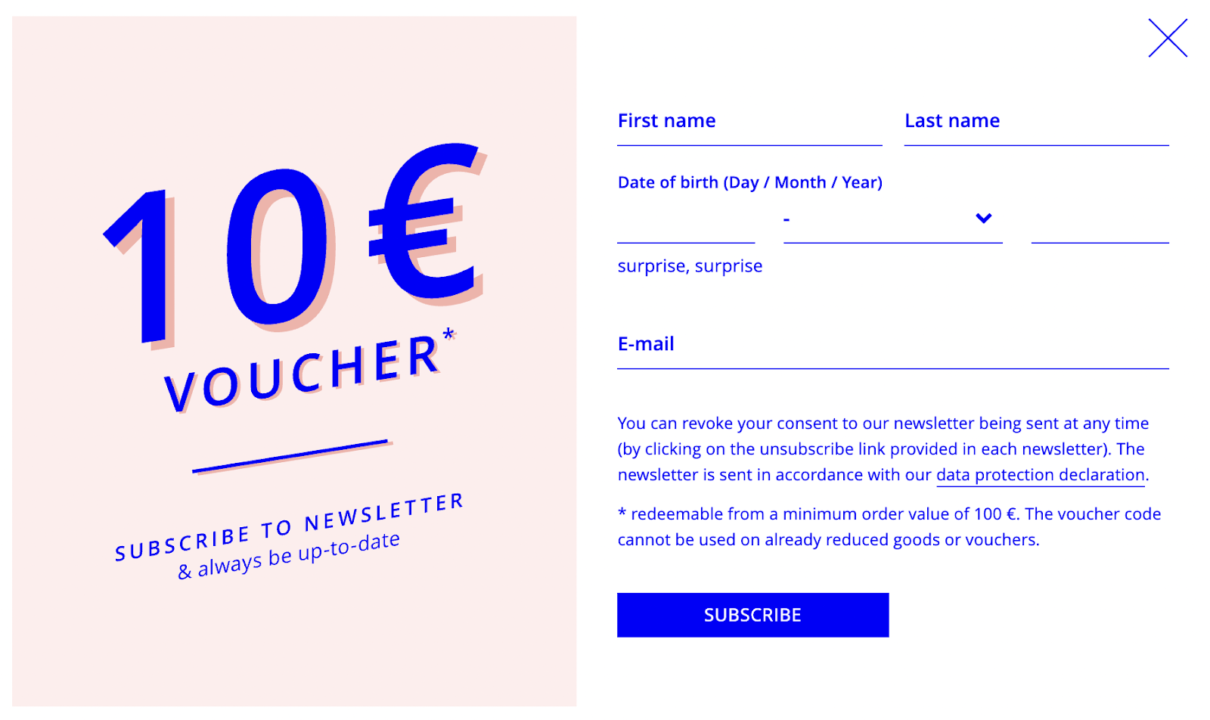 Both platforms offer advanced customization options for the popups too, including adding your own logos and images, choosing from an expansive color palette, adding GDPR-compliant permissions boxes, and segmenting subscribers depending on which popup they subscribe through.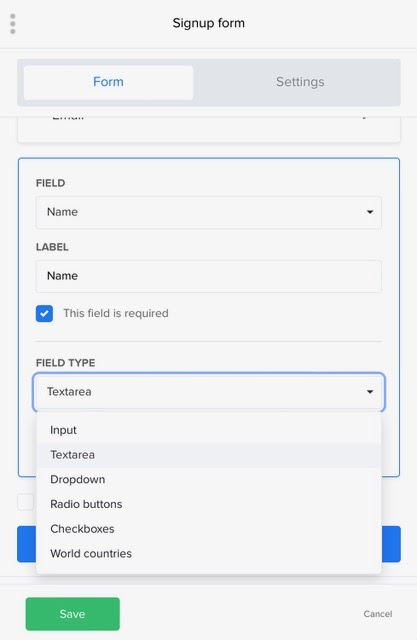 That's where the audience-building features end for MailerLite, and where Omnisend really comes into its own. In addition to the above, Omnisend has Wheel of Fortune.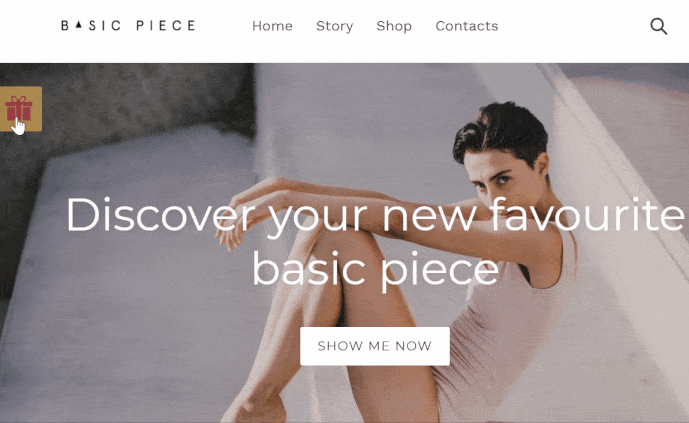 Instead of asking visitors to give you their email address in a text box, Wheel of Fortune adds an element of fun and rewards visitors with prizes that you choose – it could be free shipping, a discount, or anything else you want to offer. The Wheel of Fortune form can also appear only when you want it to, whether that's on specific product pages or when visitors are about to leave the site.
This helps to give Omnisend the edge when it comes to tools for growing your list, but it has another show-stopping feature up its sleeve: letting visitors sign up with just their phone number. You can ask for both an email address and phone number, or one or the other. The advantage is that you can send marketing campaigns to subscribers who have only provided their phone number, whereas other email marketing platforms, like MailerLite, rely on having an email address.
Retargeting
In recent years, we've seen huge strides in integration. We can talk to a smart device to control our lights, TVs, robot vacuums, and even open the curtains. Platforms working in isolation are a common source of frustration, because marketers and business owners invariably use more than one platform and need them to work together.
In this category, Omnisend takes the victory over MailerLite. While the latter offers direct integration with numerous platforms, Omnisend has the ability to integrate with your Facebook and Google ad accounts.
Specifically, it can sync your contact segments with Facebook and Google. This way, your retargeting adverts are always up to date and the campaigns will be more effective (and cost effective). Now when someone views one of your products, they'll be synced to your Facebook and Google ad accounts in 5-15 minutes, ready to see your retargeting campaigns shortly after.
Best of all, the retargeting occurs based on your audience's email addresses instead of cookies, meaning you won't be affected when Google stops support for cookies at the end of 2022.
And when someone moves from browser to buyer? That's updated in the next sync too, removing them from the retargeting ads and reducing your customer acquisition costs.
Deliverability
Having an email campaign with low deliverability is like having a Ferrari with no wheels: useless.
The reason you put time and effort into building campaigns is for your audience to find them appealing, open them, and visit your store. In order for that to happen, they first need to see the emails.
It's important to remember that deliverability is influenced by multiple factors, including the reputation of your sending domain and the content of your email. Nonetheless, an email marketing platform's deliverability score is an important consideration when choosing who to sign up with.
Online reviews can vary, in part because of the multiple factors that influence deliverability. MailerLite doesn't disclose its deliverability rates, so its users have to monitor their campaigns and track metrics such as the hard and soft bounce rate, unsubscribes, and the amount of emails being marked as spam. Conversely, Omnisend provides a full breakdown of your campaign's deliverability stats, including blocked messages and dead email addresses.
Omnisend also has a useful feature called Safe Send Volume Program, which helps you to 'warm up' your contacts lists. When migrating to a new email service provider or starting an account from scratch, you have no service reputation. As a result of this, you're more likely to land in the spam folder. By warming up your list, you're establishing a positive reputation and proving to Internet Service Providers (ISPs) that you can be trusted, which improves your deliverability.
The Safe Send Volume Program works by limiting the number of emails that you can send each day. This is one of the most effective methods for building a strong reputation, and the program automates the process for you. As a bonus, Omnisend recommends specific segments to send emails to, which will inform you which are the most engaged parts of your audience. This should lead to better performing campaigns in the future.
Conclusion
MailerLite and Omnisend are both popular email marketing platforms for good reason. Each offers a free tier with no time restrictions, making it straightforward to put them through their paces. They also both have reputations for ease of use and intuitive interfaces.
What makes it easier to decide between them is the focus of each: MailerLite is a very capable email marketing platform, whereas Omnisend is equally capable in that department but also goes further by offering omnichannel features with capabilities to scale.
Marketers looking for a straightforward platform for email only will find MailerLite a worthy option. In fact, based on the relatively light email marketing features it has, it might be better to compare MailterLite vs Mailchimp, rather than a more serious (but easy to use) ecommerce-focused email marketing tool like Omnisend or Klaviyo.
Compare the top email marketing providers so you can find the best platform for your ecommerce store needs.
For the ecommerce store owner looking for integrated marketing options, an automated contacts warm-up process, serious automation workflow and segmentation powers, deep reporting and gamification designed to boost signup rates, Omnisend is the clear winner.
If you want to try Omnisend for yourself, you can start using all features for free.
Get the top-rated email & SMS marketing platform built to help you get more sales and happier customers.
Start Free Today
related features
Want more sales?
Omnisend has everything you need to succeed.
Start free now
No Credit Card needed.