Drive sales on autopilot with ecommerce-focused features
See Features
Reading Time:
10
minutes
Take some time to think about this. You've worked so hard to create the perfect outreach campaign. Your headline is great, the email copy is compelling, and the offers in the email are attractive.
So far, so good.
And yet, your emails end up in your recipient's spam folder. Unfair, isn't it?
Well, most email clients have spam filters that protect users from unwelcome emails. While these spam filters do a good job of keeping spammers at bay, they can also send your good-natured sales emails into the junk folder.
This can be painful, especially when you know that your email campaigns are relevant to your recipients and can add value to them.
So, how do you avoid spam filters and ensure your emails are actually delivered to your recipient's inboxes?
In this post, you'll learn:
What spam filters are
How email spam filters work
How to avoid email spam filters
Join a platform that actually cares about your deliverability. Sign up for Omnisend today!
Start Free Today
What is a spam filter?
An email spam filter is a tool that detects and identifies harmful and unwanted emails and sends them to the spam folder. Email providers like Gmail, Yahoo Mail, and Outlook use them to ensure unwanted emails don't clutter their user's inboxes or harm them with viruses.
As a marketer, you should be concerned about spam filters because they can negatively affect your email campaigns.
You see, before you can generate a site visit or sale from your outreach campaigns, your email has to be delivered to your recipient's inbox, opened, and then clicked.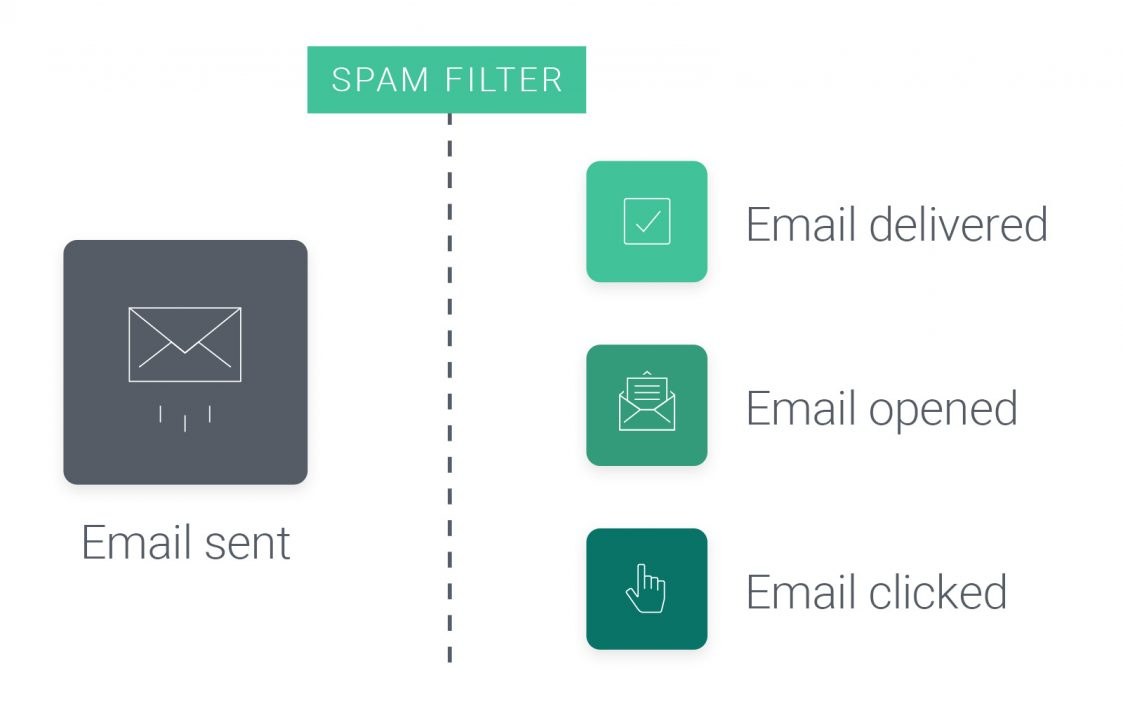 However, if your email is filtered out and sent to spam, it will not get to the subscriber's inbox. As such, it won't be opened and clicked to drive positive results for your online business.
How do spam filters work?
Gmail, Yahoo, and other prominent email service providers don't share all the details of how their spam filters work. Yet, we know a lot.
Google says that Gmail's spam filter checks:
Characteristics of the IP address
Domains/subdomains
The authentication of bulk senders
User input
How to avoid spam filters
After putting all the hard work to create the perfect email marketing campaign, it would be a shame to see your emails end up in the spam folder.
However, a report by Validity found that spam filters have become more vigorous, with only 19% of marketers reporting their inbox placement to be 90% or more.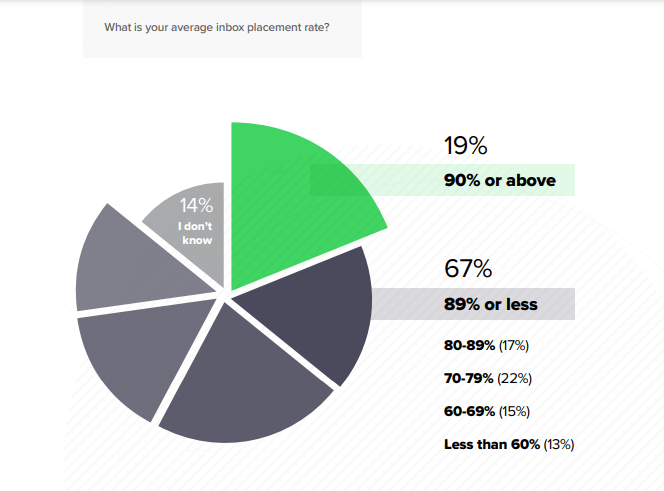 To prevent your emails from being another spam statistic, we have created this post to guide you on how you can avoid spam filters and deliver your emails to your subscriber's inbox—where they truly belong.
1. Get a reliable email marketing app
When you use email marketing software for your outreach campaigns, you not only get the tools to design appealing email campaignsbut also access to their email delivery infrastructure that ensures your emails get to your recipients' inboxes.
For instance, you will get email templates with your company address to prove to email providers like Google that you're a legitimate business sending good-natured email campaigns.
The templates also have the right image-to-text ratio to ensure your emails are not filtered for containing too many suspicious or promotional images.
Additionally, the email marketing software will also go the extra mile to optimize your email content and provide unsubscribe links that can be used by anyone who wants to opt out of your outreach campaigns.
All these measures help you gain favor with email clients and prove your legitimacy.
With a user rating of 4.6 on G2, Omnisend is the ideal app for your email marketing campaigns. The software has superb deliverability and helps meet anti-spam requirements easily. Best of all, the app is free to use.
Need to consider more options? See our guide on the best email marketing software.
2. Familiarize yourself with spam laws
Some countries and regions have anti-spam laws you need to abide by when sending electronic messages. The laws are meant to protect users from spammers. You must familiarize yourself with them or you will pay a hefty fine for non-compliance.
Some of the anti-spam laws you need to comply with include:
The CAN-SPAM Act – Senders must give their physical address, not use misleading information, and make it easy for users to opt out of the emails.
Canada's Anti-Spam Legislation (CASL) – Marketers must get permission to send emails.
General Data Protection Regulation (GDPR) – Organizations must protect the personal data they collect from users.
The next tips in this post resemble many of the requirements in these anti-spam laws. Read on to discover how to comply with these laws and boost your email deliverability.
Learn more about the GDPR in our DGPR law FAQs.
3. Authenticate emails with a business domain
Domain authentication is the process of linking your bulk-sending domain with the servers of your email marketing software so that they can deliver campaigns on your behalf and increase chances of avoiding spam filters.
By default, email campaigns are sent from an unauthenticated domain such as sender.cd21.com. However, there's a setting in your account that allows you to send your emails from an authenticated domain such as sender.apple.com.
By authenticating your domain, you prove to email providers that your business is legit and that you're sending useful emails. This way, the email providers will tolerate your bulk emails and not send them to the spam folder.
You can authenticate your domain by following these steps:
From your email marketing tool's Settings page, navigate to the Domains tab
Click Add Domain to create your own domain
Provide the name of the domain you want to use for your campaigns
When you receive the SPF records for this domain, add them to your DNS
Head back to the Domains page to verify that the records are approved
Related: Step-by-step guide to authenticating your business with a unique domain.
4. Use a double opt-in signup form
Double opt-in is where the visitors who fill out a subscription form are required to confirm their registration in a separate email. People who go through the trouble of confirming their subscription are less likely to report your email messages as spam as they genuinely meant to subscribe to your emails.
The animation below shows how Baking Steel uses double opt-in forms to avoid spam filters. As you can see, the visitor first provides their email address to subscribe to the company's newsletter.
Visitors then get an email that asks them to confirm their subscription.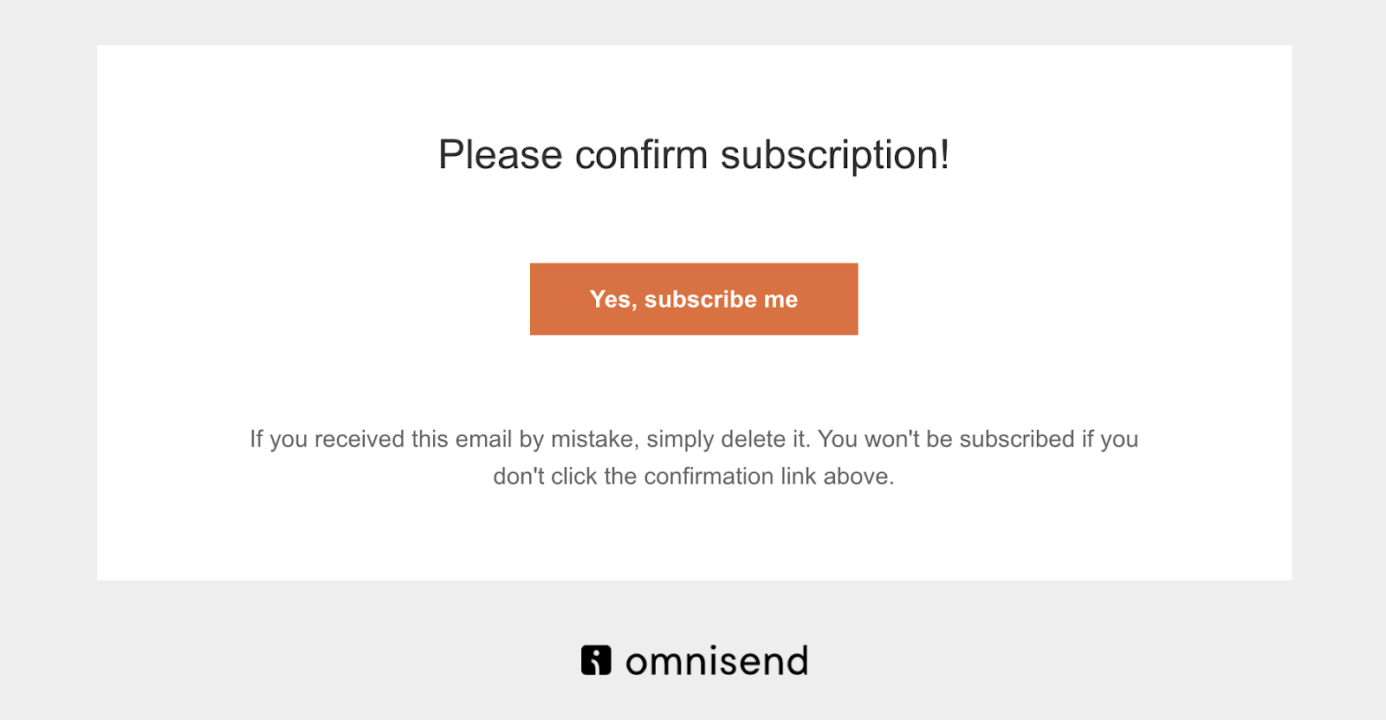 Related: How to protect your website from bots.
5. "Warm up" your IP address
Your sending behavior plays a huge role in email deliverability and avoiding spam filters. Sending an email campaign to a large number of recipients from a newly-created IP address is considered risky behavior and comes across as an instant red flag for email clients.
As such, email providers may hesitate to deliver your emails to your recipients' inboxes, opting instead to send them to the junk folder.
To prevent this from happening, you should warm up your IP address by keeping the email volume low at first and gradually increasing the quantity over time.
Additionally, send no more than one campaign per day, three times a week.
Increasing your sending volume gradually will help you build your IP's reputation. It will help email providers understand your sending behavior, list accuracy, and user response.
If everything is positive, then email providers will have no reason to send your emails to spam.
Related: How to use sender reputation warming for email deliverability.
6. Email only those who gave you permission
Nothing will see your email campaigns labeled as spam faster than sending them to users without their permission.
So, instead of wasting your resources buying an email list, concentrate your efforts on growing your subscriber list organically.
Lists that have been built organically have higher open rates and fewer spam complaints than those that have been bought or scrapped. High open rates and fewer spam complaints are the signals you need to convince email providers that your emails are meant for the inbox.
Some of the strategies you can deploy to build your email list organically include:
Signup forms
Popups
Bars
Offers
Gamification
Free resources
For instance, WordStream has several resources that anyone can get for free when they share their email address, as you can see in the image below.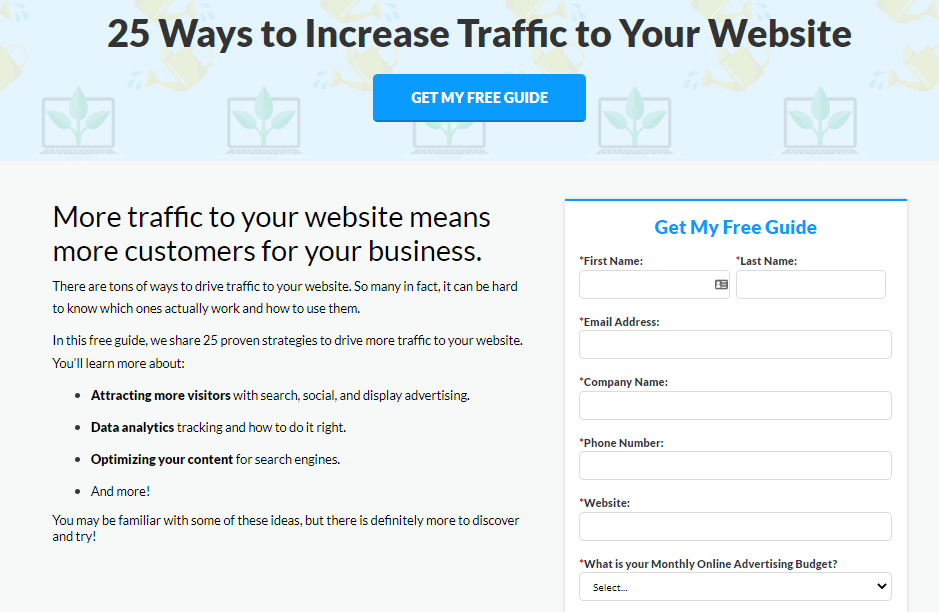 7. Use segmentation to send relevant emails
Rather than sending similar emails to everyone on your list, segment your email list and send targeted emails to specific groups to avoid spam filters.
Doing so ensures your recipients receive emails that are relevant to them. This will increase your email open rates and reduce the number of deleted emails. This signals to email providers that your emails are valuable to your users, hence they should be delivered to their inboxes.
Take a look at our comprehensive guide on email segmentation or watch the video below if you want to dive deeper into the topic:
8. Write accurate and engaging subject lines
While subject lines affect your open rates, they also determine whether your emails will be flagged as spam or not. Someone can quickly look at your email subject line and decide to mark the email as spam without even reading its content.
That's why you need to take extra care with your subject lines so you don't end up creating a negative impression with your email subscribers. Here's what you need to do to create impactful email subject lines:
Don't use all caps in the subject line because it's off-putting
Avoid exclamation marks
Avoid spam trigger words like "free", "now", and "guarantee"
Personalize the subject line to the recipient
Make the subject line as descriptive as possible
Not sure if your subject lines pass the spam test? Check your subject lines in seconds with our Free Email Subject Line Tester.
9. Lose words that trigger spam filters
We've talked about writing in the previous section, but this one is about the words you use in your email body. When writing your email copy, you want to limit the use of spammy words that can make readers flag your emails as spam.
If a word sounds desperate, it's definitely spammy and shouldn't be used in your emails. You also want to avoid words that are pushy and those that sound too good to be true.
Below is a table of spam-triggering words you need to avoid:
| | | |
| --- | --- | --- |
| Make money | 100% free | Cash bonus |
| Get extra cash | 0% risk-free | Instant bonus |
| Save big | Win $$ | Don't miss this |
Spammy words in email
10. Don't add attachments
Since spammers use email attachments to harm users, additional attachments will trigger spam filters and add "weight" to your emails. As such, you want to avoid attachments as much as you can.
Here are a few tips on how to avoid attachments in your emails:
If you want to add a document, just add a pic and a link to the doc
Want to add a video? Include a GIF and link to the video
These actions will reduce the chances of your email being flagged by spam filters and reduce your email load time.
11. Welcome new subscribers
Welcome emails give you a wonderful opportunity to make a good first impression with your subscribers. Do it well and your subscribers will look forward to your emails and open them when they land in their inboxes—a fantastic way to avoid spam filters.
You can also ask the new subscribers to add you to their safe sender list. New subscribers who have a great interest in your brand will make an effort to add you to their address book. This will ensure that your emails don't go into spam for them.
This, combined with the high open rates, will signal to email providers that your emails are legit and meant for the inbox.
The image below shows a great welcome email from Baking Steel. The email welcomes new subscribers to the brand and shares what they can accomplish with their products.

12. Make your email content engaging
Google says that users' negative behavior with emails (opening and closing it right away, not opening at all, deleting without opening, etc.) impacts the credibility of the email sender.
So, it's your job to make your emails as engaging as possible so people would want to open and read them. Here's how you can make your email content engaging:
Personalize the content to appeal to readers
Keep your emails brief and to the point
Don't stuff your emails with keywords
Ensure the email content is easy to read
Communicate the value of your offer clearly
The image below shows what a good email copy looks like. The email copy is concise and easy to read. It also communicates the value of the product clearly to help users understand what they are about to buy.

Related: Guide to using images in your emailsBest practices for email marketing [2023].
13. Make unsubscribing easy
Anti-spam laws require that commercial emails provide an easy way for email recipients to unsubscribe from email lists.
To this end, ensure you add a link to unsubscribe from your emails in the body of the email to avoid spam filters. Where you place the link is up to you but we recommend adding it in an unobstructive way in the footer of the email.
And when a user unsubscribes from your list, respect their decision and don't send them promotional emails anymore.
Baking Steel, for example, has an unsubscribe button at the bottom of their promotional emails as you can see in the image below.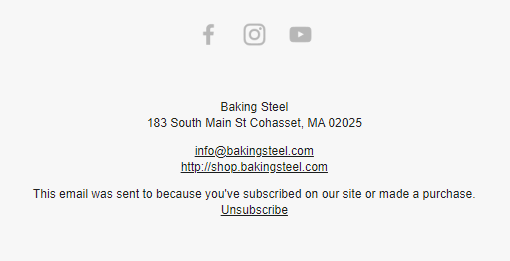 Related: How B-Wear Sportswear shapes marketing strategy with data.
14. Keep your email list clean
Access your email list periodically to identify inactive subscribers and remove them from your list to avoid spam filters. Inactive subscribers harm your delivery rates and this could see your emails labeled as spam. Poor deliverability also comes across as a negative sign to the email clients.
That's why it's important to perform a regular email list analysis to determine your active and inactive subscribers.
Do the following to keep your email list clean:
Segment your subscribers into active and inactive users
Add subscribers that lapsed not more than two months ago to a reactivation campaign
If the lapsed subscribers don't engage, remove them from your email list completely
Prefer a video to learn how to keep your email list clean? Here you go:
15. Maintain a strong sender reputation
The last tip on how to avoid spam filters is to maintain a strong sender reputation. This is the score that's given to your domain based on subscriber engagement and the quality and size of your email campaigns.
By following the strategies highlighted in this post, your reputation score will increase and your emails will not be sent to spam. You should also make sure you stay updated with the latest anti-spam laws and technology to keep your sender reputation in good standing order.
Need more information on how best to manage your email campaigns? Check out the following resources:
How to avoid spam filters: Summary
Provided your email campaigns are relevant to your users and you follow the guidelines we have mentioned above, you will greatly enhance your chances of avoiding spam filters.
Ultimately, the best email deliverability rate comes down to using a reliable email marketing software that allows you to create appealing email campaigns and send them from a reliable server.
related features
Want more sales?
Omnisend has everything you need to succeed.
Start free now
No Credit Card needed.