Drive sales on autopilot with ecommerce-focused features
See Features
Reading Time:
5
minutes
Today we'll look at the most common FAQs concerning the upcoming iOS 15 update. If you haven't yet, read our overview of what the iOS 15 update means for email marketing, and how marketers can prepare now.
This FAQ will help answer the most pressing questions around the update. The questions and answers will constantly be updated as more information becomes available.
You can watch Aleksej and myself answering some of your biggest iOS 15 email marketing questions in the video below:
What are the exact changes coming with iOS 15?
In its push for privacy, which started with its iOS 14.5 app tracking update, Apple's upcoming iOS 15 update will introduce Mail Privacy Protection, which will make it harder for marketers to get data related to Apple users' email behaviors.
Specifically, there are two changes:
Users will be able to hide their IP addresses
Users will be able to hide their open data
Hiding the IP address means that IP-based segmentation or campaigns will become useless. However, the biggest impact comes from the lack of reliable open data. Marketers will no longer be able to see whether an Apple recipient has opened their emails.
Are open rates going to become irrelevant?
Apple's iOS 15 update will make open rates irrelevant for Apple recipients. Because it's an Apple update, this only affects those recipients on iOS 15, iPadOS 15, and macOS Monterey.
Recipients on Android or other OS's will not, as far as we know, have any change to their open rates. That being said, the change will be significant enough to make open rate data unreliable in general.
For marketers, that means that the use of open rates as a core metric for email marketing reporting and optimization will no longer be possible. Beyond that, it's highly likely that other email clients will follow suit in the near future, so marketers should take this chance to initiate pivots in their reporting and marketing strategies.
When will iOS 15 go live?
The iOS 15 release is expected to go live anytime this fall between early September and November, which gives marketers about four to five months. However, we certainly don't recommend waiting until the last minute.
In order to keep your email marketing programs successful, you should take this time to revisit your strategies and get ready. We've already provided an overview of what marketers need to do now to get their email marketing campaigns and automations ready.
How many people use Apple Mail? Is the impact really that big?
According to Litmus, Apple commands up to 58% of the global email client market share as of June 1, 2021. While there are geographic variations, such as more iOS users in the US compared to Europe, on average this means that marketers could lose around half of their open rate data.
That will render it effectively useless, as it can no longer be used as a legitimate KPI or optimization metric.
Will Mail Privacy Protection be enabled by default? How will users set it up?
While it's still early, here's what we discovered about Apple's new Mail Privacy Protection after testing the beta version of iOS 15.
As soon as iOS 15 is updated and Apple Mail is launched, users will be presented with an option to protect their mail activity. The way it is communicated to users, it seems clear that most will choose "Protect Mail activity":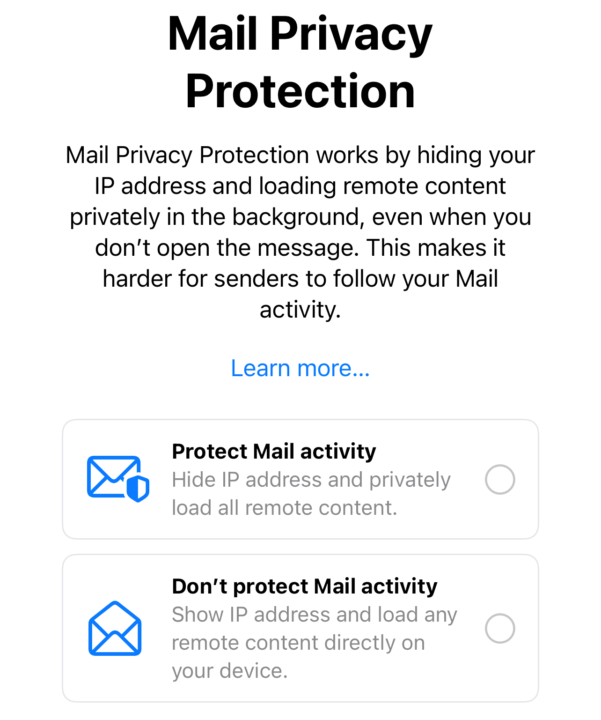 Apple users will be able to adjust this setting and turn off Mail Privacy Protection in their settings: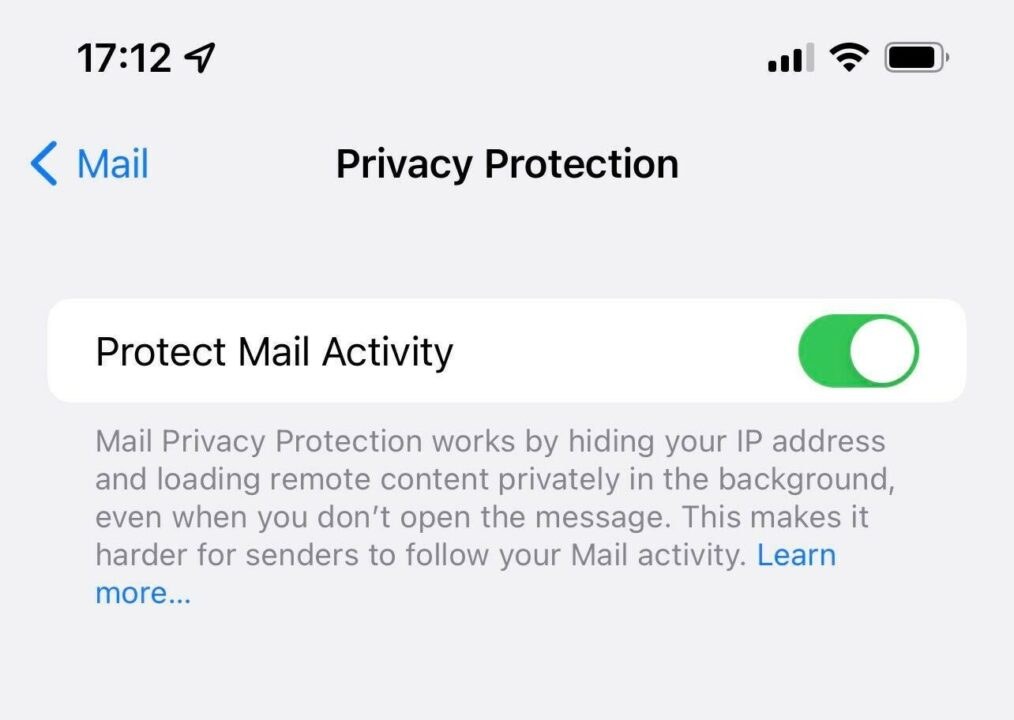 These users will need to go through a few steps to completely turn off Mail Privacy Protection, which suggests that few will do it. Once they disable the toggle on this first step, they'll still have their IP address hidden: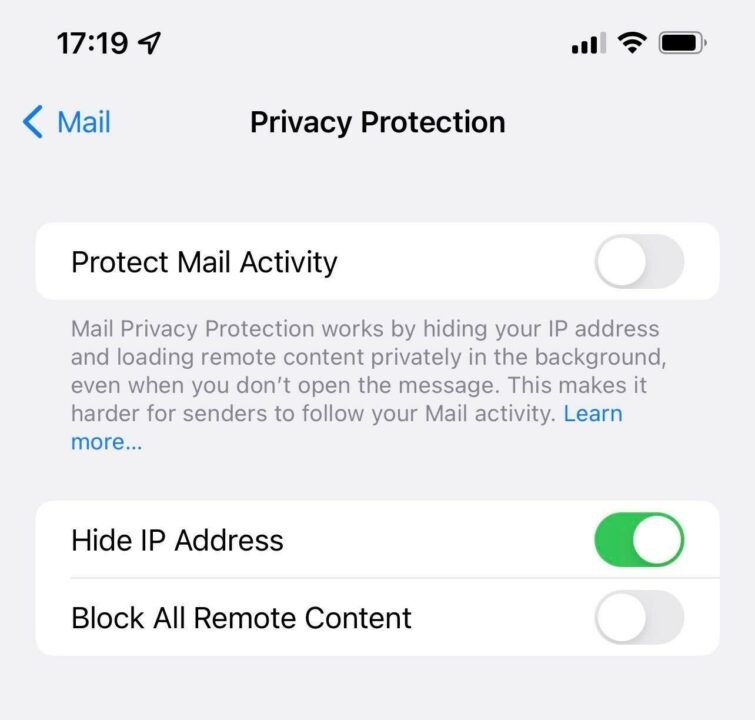 Only when all three toggles are switched off will Mail Privacy Protection be completely disabled (as much as we can tell with the beta version).
Knowing that around 94% of US mobile active app users opted-out of allowing app tracking after iOS 14.5 launch, we expect that nearly 100% will choose to protect their mail activity and enable this setting.
What if the recipient is using the Gmail app on iOS15?
Mail Privacy Protection will only apply to Apple Mail app users on iOS 15, iPadOS 15, and macOS Monterey devices. Therefore, it will not apply to recipients who open their emails in the Gmail app.
At least, for now. We believe that other providers will eventually follow Apple's lead on this.
Will iOS users' open rates be underreported or overreported?
Based on the notes accompanying the Mail Protection Privacy feature, open rates will most likely be overreported:

From everything we understand at the moment, Apple Mail will act like a concierge for Apple Mail users, "opening" their mail for them, regardless of what the users end up doing with those emails. To the sender, it will appear that 100% of the recipients have opened those emails.
This means that, good news: your open rates will go up. But bad news: this data will be completely unreliable.
We ran a few experiments with the iOS 15 beta version, and it's clear that the version is still being updated. In some test emails sent to ourselves, we saw that 80% of emails appeared to have been opened, even though none were.
In other tests, this "proxy open" feature appeared even when we'd completely disabled Mail Privacy Protection.
In general, while the kinks are still being worked out, it seems that marketers will see roughly 100% open rates for Apple users via the "proxy open" feature. No matter how it works in terms of technical details, this will render open rates useless for any campaigns sent after the iOS 15 update.
Will other email performance metrics also be impacted by iOS 15?
This change will only impact open rate tracking and recipients' true IP addresses. You will still be able to continue tracking clicks and conversions generated from your email campaigns and automations.
However, since opens are used not only to measure engagement with the subject line, but also of your audience reach and deliverability, new solutions and metrics will be needed in order to keep a quality, engaged email list.
How will the iOS 15 update affect ESPs and marketing automation platforms like Omnisend?
While we can't speak for everyone, we are pretty confident in saying that all email marketing platforms will need to adjust and provide new solutions to their customers on how to further manage and optimize their email marketing.
The core areas and new challenges will be related to:
Managing list hygiene and deliverability
Segmenting contacts based on engagement
Automated re-engagement and nurture flows based on engagement
Subject line A/B testing
Send-time optimization and real-time personalization
At Omnisend, we are currently prioritizing product updates that are needed to help our customers further optimize their email marketing. We will keep everyone informed about these updates as soon as they're defined.
Watch this video to learn more on how to improve email deliverability after iOS 15.
related features
Want more sales?
Omnisend has everything you need to succeed.
Start free now
No Credit Card needed.