Drive sales on autopilot with ecommerce-focused features
See Features
Reading Time:
6
minutes
"There's an app for that." Apple's immortal words told the world that third-party apps could be downloaded to iPhones, enhancing its functionality and giving more utility to users than ever before.
Did you know the same is true for Omnisend customers?
Not only does Omnisend integrate with over 60 trusted technology partners, including the top ecommerce platforms like Shopify, Shopify Plus, BigCommerce, and WooCommerce, but we've also just launched our dedicated App Market.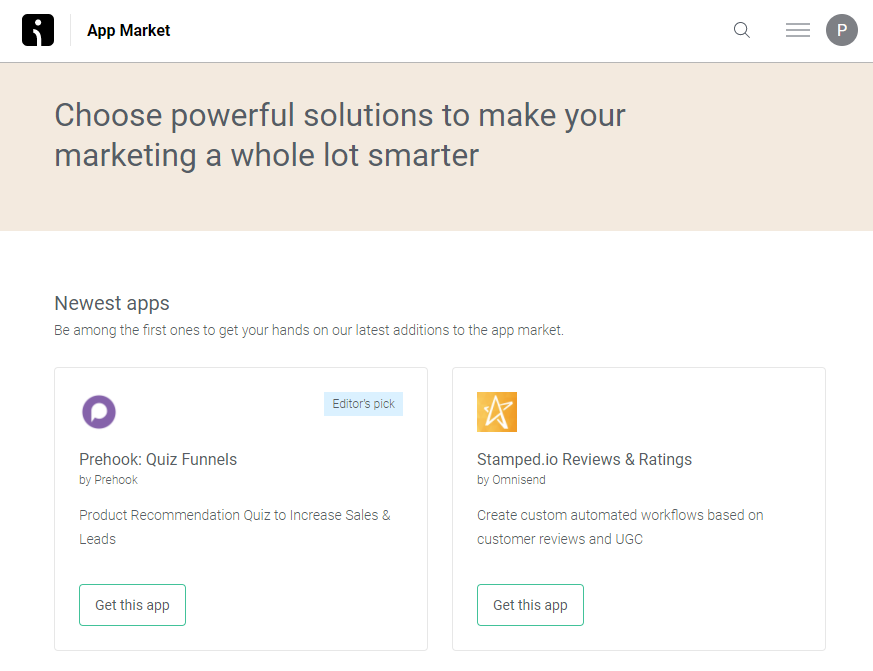 For customers, our App Market allows you to easily search for apps relevant to your store and integrate directly, giving you greater functionality and automations. For example, you can connect reviews apps to sync data with Omnisend and send automated messages that thank buyers for leaving a review.
For technology partners, the App Market helps you to reach a wider audience and increase signups to the app, while simultaneously offering more value to existing customers by integrating with Omnisend.
What are integrations and how do they benefit you?
Integrations allow you to connect Omnisend to other apps, thereby leveraging their features. As a result, you have almost limitless possibilities for streamlining your processes, uncovering growth opportunities, and enhancing the user experience.
This isn't an all-in-one platform trying to be all things to all people. Think of it like an à la carte menu, from which you choose the most appropriate integrations for your business. This way, you create a custom solution designed to provide the best shopping experience for your customers.
For example, if you currently spend a lot of time answering questions related to shipping information, you can choose an integration that updates customers automatically. Or you can drive new sales by automatically informing your audience that their wishlist items are back in stock, or reach a wider audience by sharing your campaign on Facebook.
So how can you use the App Market to enhance your business?
It's been built with ease-of-use in mind, so it's incredibly simple to search for apps you like and connect them to Omnisend.
In addition to the apps themselves, you can also find other important information in one place, such as support articles, setup guides, and the app website.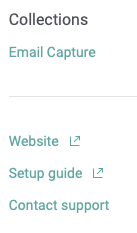 Best third-party apps for ecommerce businesses
Omnisend's App Market groups apps into Collections, allowing you to immediately find the solutions you need. Alternatively, you can use the search bar for specific integrations, or browse to see the full range.
In this section, we'll give a rundown of some of the specific integrations you can use to achieve specific goals.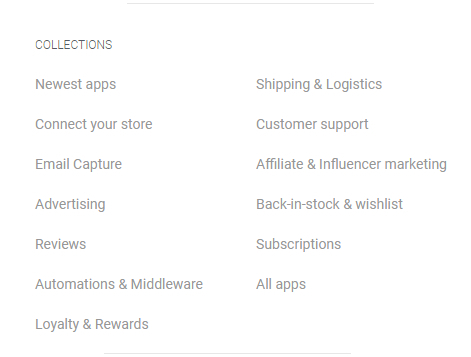 Grow my contact list
A robust contact list is an essential tool for an ecommerce business, helping you acquire new customers, drive repeat business, gather reviews, and upsell to increase revenue.
The Email Capture section of Omnisend's App Market has over a dozen integrations designed to help you grow your list and engage with subscribers, with a range of features including:
Push notifications
Product recommendation quizzes
Create social proof
Widget and popup creation
Personalized messages
Apps in this section include Wheelio, Recart, and Nextsale.
Easily migrate my contacts from Mailchimp
What can you do if you've been growing your list in Mailchimp but want to access Omnisend's features? Simple: use the Mailchimp Data Import Tool.
It not only allows you to skip some of the early steps of Omnisend's registration, but it also automatically brings across your data, settings, and contacts from Mailchimp.
Best of all, it continuously syncs contacts—so you can continue accepting sign-ups to Mailchimp, knowing they'll be synced to Omnisend without your having to do anything.
Optimize Facebook and Google ads
The Advertising collection has integrations for Facebook, Google and Amazon ads, helping you to drive new sales while improving your conversion rates and lowering acquisition cost.
The Facebook and Google integrations sync your segments, allowing you to build more personalized ads, retarget to people who are already familiar with your business, and create lookalike audiences based on your Omnisend contacts.
Meanwhile, the Amazon Attribution app will give you advanced reporting on how your Omnisend email campaigns drive sales on Amazon, including clicks, page views, purchases and sales throughout your funnel.
Auto-post my campaign to Facebook
An effective way to grow your email list and customer base is by using your social media pages. You can also share your newsletters, which will inform your connections about your communications as well as the products you're selling and promotions you're running.
By using Facebook Auto-Post Campaigns, you can have Facebook posts automatically created and published on the page, or pages, of your choice.
You'll not only increase the reach of the newsletter's audience, you'll also save significant time by not publishing it manually.
Follow up on customer reviews
Reviews are incredibly powerful for ecommerce stores, helping to demonstrate that your products are good quality and your store is worth buying from. The only problem is that they can be difficult to acquire, taking significant time to reach out to buyers and request a review.
The Reviews collection has multiple integrations, including Stamped.io, Okendo, and Loox to help you:
Collect reviews
Segment customers and create review-based workflows
Showcase photo and video user generated content (UGC)
Send personalized campaigns to follow up or thank customers for reviews
As a result, you'll save a lot of time and have the potential to increase sales.
Drive repeat purchases
Nothing says a customer loved buying from you more than when they become a repeat buyer.
The Loyalty & Rewards section of Omnisend's App Market is dedicated to turning one-time customers into repeat customers, featuring Smile, Loyalty Lion, Gameball, and Happy Birthday.
These will help you to engage your customers with regular loyalty emails, reduce your churn rate, increase your customer lifetime value, and drive new sales by allowing you to:
Create referral programs
Tailor rewards with personalized messaging
Rank customers by factors like amount spent, orders completed, or people referred
Create a cashback program
Create promotions like flash discounts and giveaways
Update customers on shipping information
The Shipping & Logistics section of the App Market features integrations that help you keep customers informed post-purchase. This can enhance the customer experience and increase satisfaction—in turn, making it more likely that you'll receive positive reviews, referrals, and repeat business.
Included in this section is AfterShip, the #1 shipment tracking solution for ecommerce businesses. Customers can track their orders from more than 800 carriers and receive an accurate delivery date prediction.
ShipStation helps you to streamline operations by letting you process and ship orders from any web browser. It also has automation features designed to help you take hours off your fulfillment process as well as save money with a free USPS postage provider account.
Along with the other integrations in this section, you'll be able to save time and money, and improve the customer experience from order to delivery.
Engage with customers
The Customer Support section of the App Market features integrations that help to keep your brand top of mind. Apps from Gorgias, Tidio, Re:amaze, and Intercom help you to:
Offer live chat
Automate messages to re-engage unhappy customers
Use segmentation to build loyalty and engage
Consolidate all communication channels into a single platform
Deliver personalized customer experiences
Process returns and cancellations
With these integrations, you can embed processes that improve customer experience and encourage repeat purchases—saving time and increasing revenue.
Grow your affiliate and influencer community
Having other people sell your products to their audience can be a hugely effective way to acquire new customers and increase sales. By using the integrations in the Affiliate & Influencer Marketing section of the App Market, you can increase the number of partners you have by sending personalized emails that offer partnerships. You can offer discount codes and welcome flows to your partners, and increase their sales.
The integrations from Gatsby and GrowthHero enable you to:
Create affiliate programs
Automatically find authentic influencers
Track when your partners post and measure performance
Pay your partners
Get more UGC for marketing
Work with international partners thanks to a multilingual portal translation
Send back-in-stock and wishlist notifications
When a visitor finds an item in your store they want but it's out of stock, there's a risk of losing that sale forever. With this section of the App Market, you can communicate with those visitors and:
Let them build a wishlist
Inform that items are back in stock
Announce a price drop
This has the potential impact of increasing your sales and bringing visitors back to your site where they can see additional items.
Inform customers about their subscription orders
The Subscriptions section of the App Market enables you to send automated messages and targeted campaigns that are based on a contact's activity and subscription status.
For example, ReCharge allows you to create personalized workflows informing customers if their subscription is activated, updated, or canceled, resulting in a better customer experience and higher satisfaction with your business.
Conclusion
With so many platforms specializing in particular areas, it's becoming increasingly important to integrate platforms together and benefit from their respective strengths.
Omnisend's App Market gives you control, so you can choose the appropriate integrations for your business. In just minutes, you can implement the apps that will help you acquire new customers, re-engage existing customers, improve the user experience, all while saving you a significant amount of time. A full list of available integrations is available here.
related features
Want more sales?
Omnisend has everything you need to succeed.
Start free now
No Credit Card needed.