Drive sales on autopilot with ecommerce-focused features
See Features
10 promotional email examples to drive more sales (+ how to write them)
Reading Time:
11
minutes
Unlike what some people believe, most customers are not repulsed by promotional emails.
In fact, recent statistics show that discounts and promotions are effective in selling to new customers 61% of the time.
And when you use emails, you send these promotions and discounts right to your audience's inboxes.
If written well, some benefits you'll get from sending promotional email campaigns include:
Increasing sales
Building customer loyalty
Drawing in new customers
Rewarding existing customers, and more
This post defines promotional emails and shares examples and tips to help you create effective campaigns that will generate revenue.
What are promotion emails?
Promotion emails are ones that are often sent to a broad audience and are meant to provide information about a specific discount, deal, new product, etc.
They're different from automated segmented emails that are sent to a specific audience based on their interests, purchase behavior, or any other demographic data.
Some goals of promotional emails include moving potential customers down the marketing funnel, speeding up purchases, inspiring action, and getting repeat customers.
The most popular promotion email examples include:
Product launch emails
Holiday or seasonal emails (to celebrate various occasions like New Year, Easter, Women's Day, etc.)
Flash sales (a sale valid for a short period to increase urgency)
Discounts/special offers
Event promotions
Limited edition sales
Typically, promotional sales contain prompt CTAs to drive immediate action, whether it's to make a purchase, download an ebook, join an event, and so forth.
Flash sales email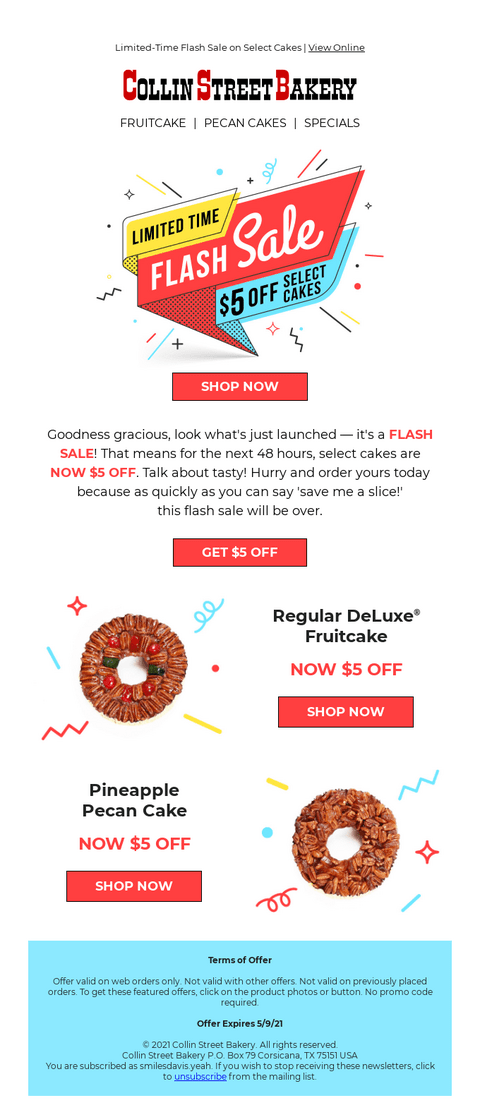 This promotional email example excels at creating a sense of urgency in customers, which is necessary given that it's a limited flash sale.
From the language used to the call-to-action, the customer knows right away that they do not have much time.
Furthermore, the language is exciting and engaging. The details are also specific. You know how much discount you'll get on the cakes, where to click to shop, and how much time you have.
When creating such emails, you want to make an impact within the shortest time possible.
So, including details such as how long the promotion runs, and emphasizing urgency is key.
Also, be sure to make your CTAs easily distinguishable as depicted in the above email example.
For flash sales, you can also use more than one CTA to drive home the urgency message.
Extended flash sale
This promotional email example leads with an incentive — how customers can significantly save on cost.
Then, it follows with a clear CTA in a distinct yellow "shop now" button you just can't miss.
Black Friday sales are often associated with crazy discounts and 70% sounds just right for this kind of promotion.
The content emphasizes price and potential massive discounts to encourage purchases on this extended Black Friday sale.
Also, besides using the sale to promote an entire catalog, they use it to target a specific item too, the GENO 2.0 DNA KIT.
The words "our lowest price ever" point to the high discount on this product and how rare such an offer is.
Such persuasive phrases are important in encouraging customers not to miss out on the promotion.
New arrivals
New arrival emails are another way to keep your email marketing going. This newsletter template example shows how you can use a promotional email to inform your customers about a new product.
Let your audience know you're introducing something new right away. The above promotional email template includes this information in the header.
The CTA here is clear too. You want your customers to browse and shop from your new arrivals.
The phrase "new limited editions" suggests exclusivity which inspires the audience's curiosity in the new arrivals.
This is how you get your customers to browse your new products. Even if you do not include a discount or sale in your introductory email, they'll have your new products in mind.
The color coding on this promotional email example is another thing to observe. It's best suited to its target market. Since it's about coffee brands, there's no need for anything flashy.
You should keep your target audience in mind when deciding how vibrant your email outlook should be.
Product launch email
Product launches are exciting, and this should reflect in your email just like it does in the above example. From the colors on your promotional email to the tone of the content, everything should ooze excitement.
The above example goes beyond exciting. It's inspiring. The business takes time to explain its journey with the new product and what led them into trying it.
Then, it proceeds to inform the audience about the product, why they should buy it, and its benefits. This further promotes it, making customers even more curious about trying it out.
When creating a product launch promotional email, it's important to evoke a sense of inspiration in your email body. You want to launch your product with a bang.
And that should start from the subject line. It must evoke curiosity among your recipients the moment they see it.
Then, you want to keep them hooked with your header all the way to the final CTA.
Seasonal email – New Year email
Seasonal campaigns are amongst the most common promotions there are, so much so that customers expect them. Which means you should take advantage of these campaigns too.
This New Year's email example showcases how you can drive your sales using the occasion. Holidays are gifting periods, and the promotion lets customers do that by giving them a 30% discount on all items.
The email also uses a personalized tone to make the promotion sound special — like it was made with the customer in mind.
It then concludes with a clear CTA that includes instructions on how to get a discount, a clear promotion code, and a link to the products.
Note how the visuals perfectly set up the email. They reflect the holiday season mood with the gits and the image. It can further drive home your message.
When coming up with such an email, maintain the holiday mood and keep your customers excited.
Seasonal Women's Day email
Festive seasons, New Year, Thanksgiving, and Women's Day, are all seasonal promotions to look forward to.
This creative International Women's Day email example shows how you can use celebration days to increase sales of specific items.
For instance, the Women's Day-related cards offer gives the audience something interesting to do as they celebrate women in history — at a discount.
This example takes the informative route and makes it interesting. Besides celebrating women, the game will help the audience get informed while engaging them.
When creating such promotions, you want to sound celebratory irrespective of the route you take.
You can go the gifting way and promote a sale where people get to gift the women in their lives and so forth. Or you can go the informative way, like in the above example.
Of course, your visuals should be in line with the theme of the day. In the example above, the visuals are in line with International Women's Day.
Holiday sale
This email doesn't reveal which products are on sale right away, and this evokes a sense of curiosity in the audience.
It makes them want to head over to the products page and find out.
The promotional email, however, leads with the 30% off offer, so the audience knows they're in for a treat.
Overall, the promo is brief, engaging, and creates fear of missing out (FOMO) in the audience, and this drives sales.
Besides the discount, the promotional email includes a freebie: free gift wrappers.
Here's how to write an email campaign for your holiday sales and have a similar impact. First, make sure your subject line is catchy.
Then, check if it can keep your customers curious. In this example, they use words like '"don't miss out" and "before time runs out" for this.
If you choose not to include your catalog items in the email as they did above, make your email brief. This way, the customer might click on your CTA button faster.
Limited edition offer
Limited edition promotions are time sensitive, and they're meant to urge customers to make a purchase quickly.
For this, you need to make sure you're convincing enough for customers who are at the top of the marketing funnel.
Take the above promotional email, for example. The subject line uses humor to remain catchy and introduces the product right away.
It then follows up with a compelling CTA button right away. This way, the customer doesn't need to get into the nitty-gritty of the product benefits if they don't want to.
They can go straight to purchase, as they already know what's on offer.
Overall, the color coding of this email is vibrant, and the language used is humorous and engaging. It's the kind of language you want to use when advertising cereal.
While incentives generally make promotions more impactful, limited editions don't always need one.
The fact that they're limited already creates an extra sense of desirability among consumers.
"Buy 2 get 1 free" offers
These benefit-driven types of promotional emails are popular with audiences, and what better way to run one than by email?
Everyone loves once-in-a-while free items. "Buy 2 get 1 free" promos increase sales more when the time is limited. The offer in the above example, for instance, lasts for six days.
Besides having an incentive, it's limited to specific products. You can use this method if you don't want to affect your profit margins that much.
For instance, you can limit your promotions to specific products or outlets. Or, you could have the sale on your online outlet only or in a specific store.
Other promotional email ideas you could add when creating your own campaign include using attractive imagery, visible headlines, and a compelling CTA.
Event promotion newsletter
While promotion emails majorly aim at driving direct sales, you can use them to promote just about anything. This could be an event such as a webinar, workshops, or even a concert.
The example above is a promotional email for a workshop. It outlines all the exciting things the attendees will learn and the people you can expect to hear from.
For event promotions, you'll need to be clear about the dates, times, and schedules. For instance, the above example mentions the dates twice for emphasis.
The email also uses a conversational tone to get the audience excited about the event. It also outlines the purpose of the workshop in an inspiring way.
This gets the customers interested in purchasing tickets for the event. The call-to-action is also easy to spot and specific on the action the customer should take.
While it's not included in this example, it's important to include the details of the person hosting the event.
This includes their name, position in the company, and role in the event.
Tips for writing your promotional email
Now that you have an idea of what impactful promotional emails should look like, here are some promotional email ideas to help you optimize them.

1. Use a compelling subject line and preheader:

For any email campaign, a headline and a preheader are the first things a customer sees. You want to make sure it grabs their attention and gets them to open your promotion email.
2. Keep it short:

Make your email promotions concise and be sure to pass your message across sooner. Ensure you stick to one promotion and make it clear. This way, you'll have a better chance to grab your reader's attention.
3. Use a clear call-to-action:

You'll need to be clear about what action you want the reader to take, whether it's making a purchase, signing up for a newsletter, or purchasing tickets for an event.
Also, make the CTA button distinct so customers don't miss it. You can do this by using a different color on the prompt and letters, using a larger font, or writing it in bold.

4. Evoke a sense of urgency:

Creating a sense of urgency helps you push over-the-fence customers to make a purchasing decision faster. You can do this by setting a deadline for your offer or by limiting availability.
You can also create urgency through the language you use or the graphics you include, for instance, a countdown timer.

5. Make it mobile-friendly:

A large number of people use their mobile devices to check their email. You want to reach your customers at their place of comfort. For that, it's essential to make sure the design and layout of your emails are optimized for mobile viewing.
6. Brand your email:

Your header is the first thing your customer will see after opening your email. Branding your header makes sure you introduce your business to your customer. Use your company logo, brand colors, and company name at the top of your email.
7. Test and optimize:

Test different elements of your emails first, e.g. subject lines, preheader text, and calls-to-action. This lets you see what resonates with your audience and helps you optimize your emails to match that.
8. Focus on benefits:

When promoting a sale via email, you want to lead with the benefits or the value you'll be providing for the customer instead of focusing on features.
You can then share a link to the site with detailed information on the promotion where customers can learn about features and more, if any.

9. Keep your target audience in mind:

While promotional emails may be for broad audiences, it's still okay to segment your recipients.
How you communicate with customers at various stages of your marketing funnel should be different. This way, even your impact is more targeted.

10. Add visuals:

Your promotional email can't be complete without eye-catching visuals. Personalize them as much as possible to make them unique to your brand and customers.
You can create your own graphics with free design tools or include product images from your catalog and so forth.
How to build a promotional email using Omnisend
Creating a personalized and compelling email campaign can be easy with the right email marketing tool. That's where Omnisend comes in.
Here's a step-by-step guide on how to use this automation tool to optimize your promotions.
Step 1: To create an email campaign on Omnisend, go to the Campaign tab and click the Campaign button, then select Email Campaign.
Step 2: Omnisend allows you to customize your email settings, including how your subject line, preheader, and sender's email address will appear in your audience's inboxes.
Step 3: Other general email campaign settings you can set up include language and internal email campaign name.
You can also turn on the Facebook auto-post option if you want to share the campaign directly on Facebook.
Step 4: Choose a suitable template from Omnisend's built-in designs or create your own. The tool has multiple customization options that let you build the campaign to your taste.
Step 5: Add content to your email using the drag and drop functionality, and customize email settings and themes.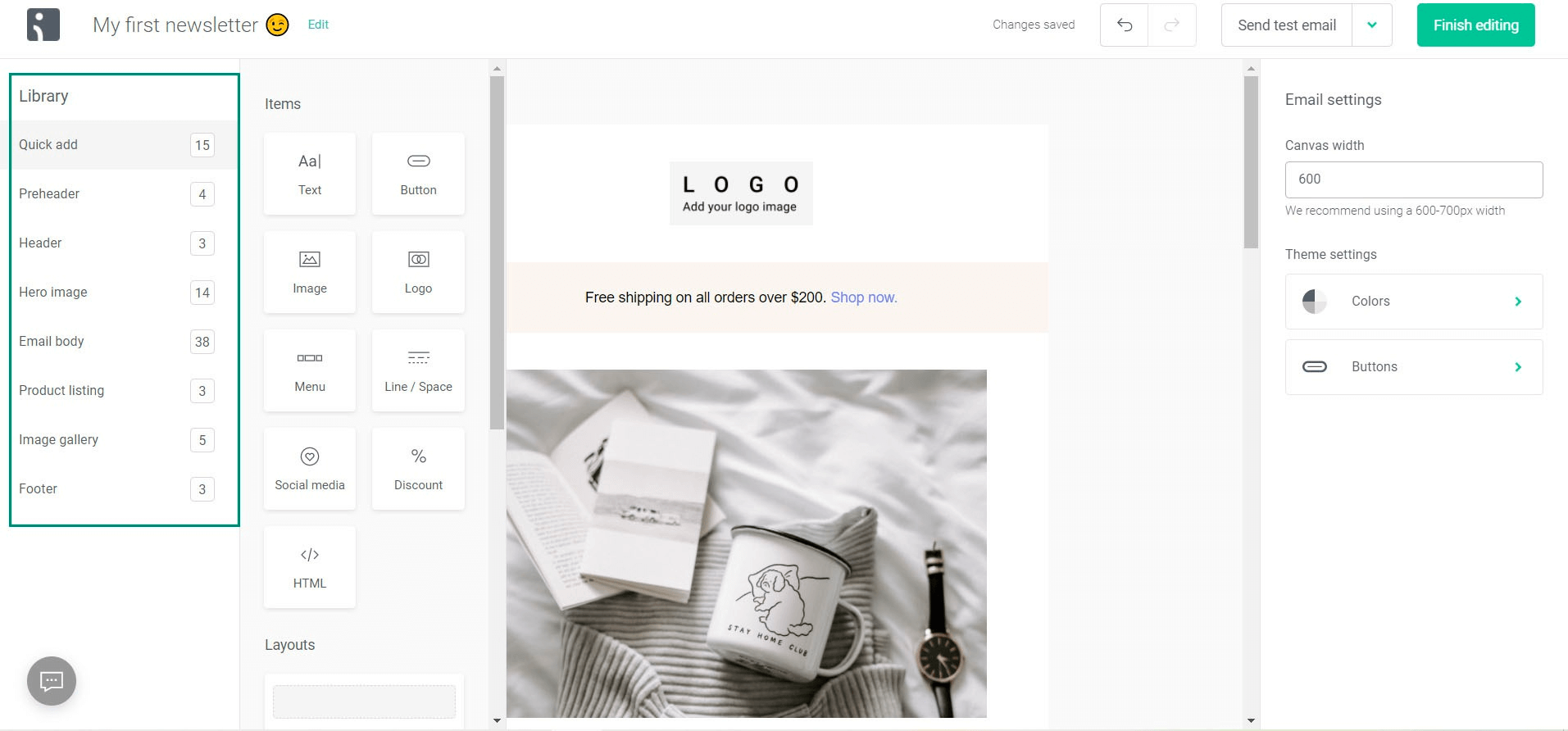 Use the left-hand sidebar's quick add option to pick different items like discounts and coupons and add them to the newsletter content easily.
Step 6: Use the Email Settings tab to access advanced editing features that will let you change your theme, width of your template, colors, CTA button design, and more.
Step 7: You can either choose to send the campaign to all your subscribed recipients from your contact list or specific segments only.
Step 8: On the send stage, you can send your campaign immediately or schedule it for later. Your recipients' lists refresh automatically based on segment rules.
Omnisend has a time zone optimization feature that lets you schedule emails based on your recipient's time zone.
Unlike most email marketing tools, Omnisend's free plan gives you access to all its robust ecommerce features with no limits. You get to test out everything for free before committing financially.
Try Omnisend's email editor and create promotional emails easily
Start Free Today
Promotional email examples: wrap-up
If created well, promotional emails can be crucial in driving sales, acquiring new customers, and ultimately increasing your revenue.
The tips and examples discussed in this post should help you optimize your emails for maximum impact.
Whether you're a beginner or an advanced business, you can easily maximize your email marketing campaigns by emulating the above promotional email examples.
If you're looking for an ecommerce-focused tool to create your campaigns, Omnisend has everything you need.
You'll get advanced automation features, award-winning customer support, numerous ecommerce integrations, and much more. To top it all off, you can get started for free.
related features
Want more sales?
Omnisend has everything you need to succeed.
Start free now
No Credit Card needed.