Drive sales on autopilot with ecommerce-focused features
See Features
How Customer Lifecycle Marketing Breathes Life into Ecommerce Retention
Reading Time:
7
minutes
Customer lifecycle marketing is frequently hailed as the way to find success when targeting customers. Not only does it boost marketing efforts for merchants, but it also makes that marketing much more relevant for customers.
This is true whether it's getting them through the proverbial door or keeping a brand in mind well-past purchase. Engage with customers at different stages of the lifecycle. By doing so, merchants can reach out to customers with much more precision.
This often makes the difference between attracting a customer when they're on the fence and losing their purchase. However, wrapping your head around customer lifecycle marketing can be tough.
As a merchant, you can have a lot of questions. Have you struggled to capture potential customers' attention? Do you find your audience slipping away at the end of the purchase process? Are you looking for ways to evolve first time buyers into lifelong customers?
Understanding how and when to engage with customers makes all the difference in the world of ecommerce. This is why we're exploring customer lifecycle marketing today, along with the crucial role it plays in ecommerce.
What's the Role of Customer Lifecycle Marketing in Ecommerce?
To start, let's define customer lifecycle marketing. Simply put, customer lifecycle marketing is the process of tracking customers throughout the different buying stages of the customer journey.
This includes the very first stage of a customer being aware of a store, brand or product. It continues all the way to the last stage of the cycle, where customers advocate a store, brand or product.
Every stage offers opportunities to maximize a customer's buying experience. And for merchants, opportunities to increase their average order value. Ultimately, the goal is to keep the lifecycle cyclical and forever turning, always engaging with customers. Doing so creates a lifelong customer that engages with and purchases from you over and over again.
This is the role that customer lifecycle management plays in ecommerce—creating brand loyalty while establishing and skyrocketing customer retention.
Retention marketing is useful during each stage of the lifecycle. After all, a staggering 79% of merchants state that they rely on returning customers. But, there are other important things to keep in mind.
For example, some customer lifecycle management best practices involve utilizing seamless customer lifecycle marketing automation. Some platforms allow you to set up personalized automations. These trigger when a customer enters a specific lifecycle stage. This works in tandem with efficient segmentation and omnichannel marketing.
With Omnisend, this is made simple.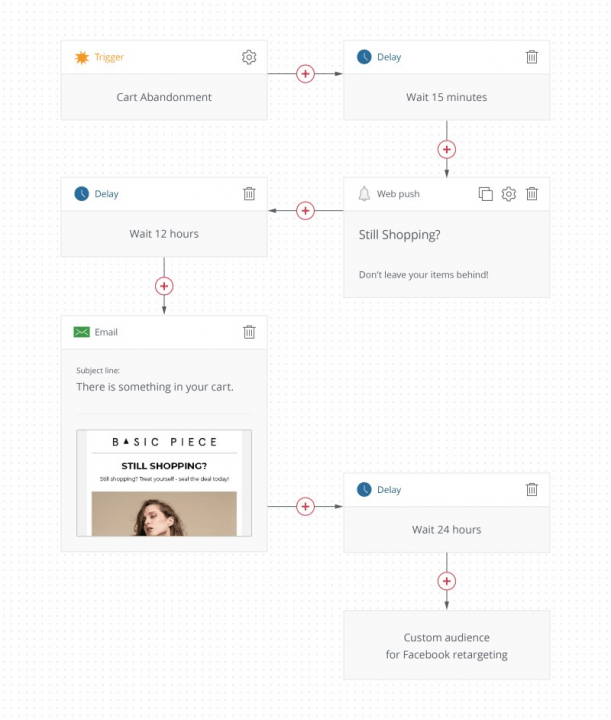 The Tech & Features Needed to Easily Perform Customer Lifecycle Marketing
The beating heart of any good customer lifecycle marketing strategy is efficient and effective customer lifecycle marketing software. Without it, you'll have to reach out to customers the old-fashioned way.
As it turns out, this is not one of those times that 'the old-fashioned way' is a good thing. Rather, it's a surefire way to hamper, slow down, and even halt your digital marketing. In order to nurture customer relationships with both potential and existing customers alike, you'll need the right tech & features.
First off, your tech & features need to be user-friendly and simple to get to grips with. This is more evident than ever, with 80% of consumers expecting and demanding fast and convenient platforms.
These same consumers look for exceptional customer service, so you can add to your list of essentials for customer lifecycle marketing.
When seeking a platform, you'll obviously be keeping an eye out for one that can handle everything. This includes your marketing activities and customer data. It also helps if it can enhance your customer experiences.
For these functions, as well as others that result in customer success, your platform will need:
Behavioral data collection and unification capabilities
Lifecycle-specific segmentation
Personalizable automations
Lifecycle stage-specific campaigns
Multi-marketing channel integration
Anyone familiar with Omnisend will know that our platform comes complete with these features. Merchants seeking to make the most out of their platform can see who they need to engage with and why.
By using Omnisend, you can create a customer lifecycle marketing strategy that takes the different lifecycle stages into account: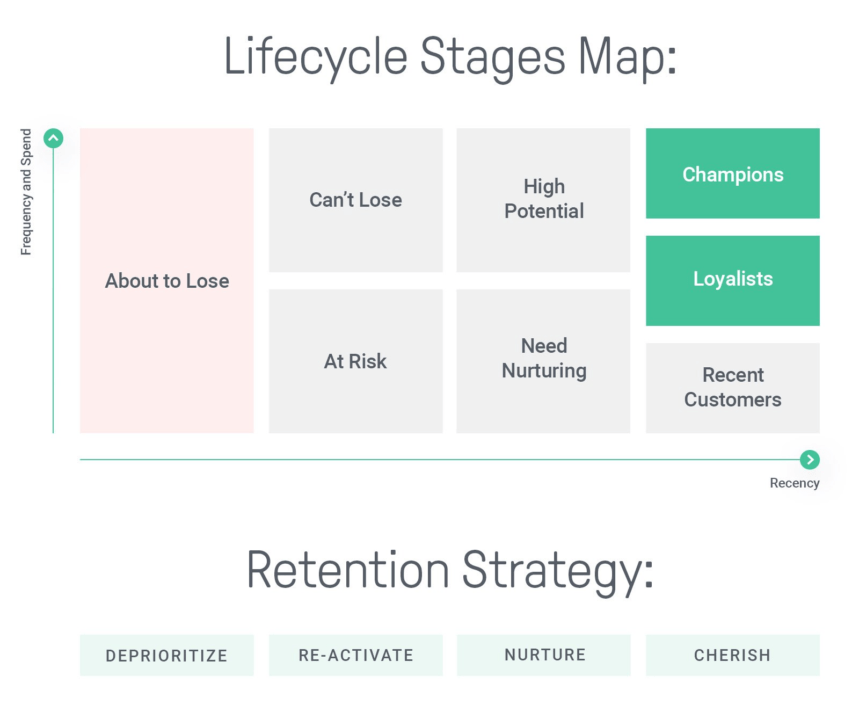 As you can see, there are different stages that merit different responses. These include:
About to lose: These customers will have made any purchases or engaged with a store for a long time. Naturally, you'll be the one to determine what qualifies as 'a long time', such as several months or a year, depending on the product or service you offer. They merit a 'deprioritizing' strategy. This allows customers to leave, as they have proven themselves unresponsive to prior marketing efforts.

Can't lose/at risk: These customers will fall into one of two categories. Either they'll have engaged with a store a lot in the past, or they'll show signs of slowing down on engagement with a store. Generally speaking, neither will have purchased from a store for a while. Again, what qualifies as 'a while' varies from merchant to merchant. Either way, they merit 're-activation' stages of retention. This includes reaching out with special marketing, such as special discounts, that attempts to lure them back to a store.

High potential/need nurturing: These customers may not have purchased from you recently, but when they did, they made purchases worthy of your attention. With the right marketing and engagement, these customers could become lifelong, loyal customers. Thanks to this, they merit a 'nurturing' approach to retention. Methods like reaching out with customer loyalty programs help to nurture these customers.

Champions/loyalists: These are the customers that consistently bring in the bucks. They're the customers that spread the word about your business. In short, they're the customers that, in some cases, you can't afford to lose. Not unlike nurturing, these customers merit 'cherishing' retention marketing. This includes sending them exclusive offers and products—and letting them know that they're the only ones receiving them.

Recent customers: These are your newest customers, the ones who are first-time buyers. They have the potential to fall into any of the other four categories—so why not endeavor to keep them in the best ones? You should save your best marketing for your best customers, but you can still cherish your new ones. Personalized recommendations, helpful advice, captivating discounts, and new sales—the sky's the limit for new customers.
With Omnisend, each of your customers are automatically assigned to a lifecycle stage. This is based on factors like how often they buy from you, how large their orders are, and how recently they've bought from you. Once these customers are assigned different tags, they can be easily segmented for focused targeting.
The Highest-impact Customer Lifecycle Marketing Tactics in Ecommerce
You can craft a customer lifecycle marketing strategy around lifecycle-based segmentation stages—all thanks to Omnisend.
By using customer lifecycle stages, you can create a data-driven retention marketing strategy without having to crunch the numbers yourself. Omnisend allows you to easily build reactivation messages—all while knowing exactly who and why you need to re-engage.
You can use these lifecycle stages as stand-alone filters for segment creation. Or, you can combine them with even more rules in order to narrow down your audience even further.
However you decide to cut it, you'll have the right tech to handle customer lifecycle marketing. And naturally, Omnisend has even more features to back them up.
Dynamic Automation & Reactivation Workflows
Take, for example, your automation process. Once customers have been dynamically segmented in real-time, Omnisend takes the guesswork out of the 'when' and 'what' you need to send.
This depends on how the customer is shopping, opting to reach out once you feel they've gone cold. This would suggest that they could use a gentle reminder about your great products or services.
This allows you to work with your customer lifecycle management in a vastly different way. A much more effective way, in fact, when compared to simply setting up a standard reactivation workflow.
Our studies found that by making use of this automation process, you can find 29% of all email marketing sales handled.
Retargeting Churning Customers on Paid Social
Thanks to Omnisend's dynamic segmentation, you can easily see which customers need special attention.
For those that are at risk of churning, you can begin to turn up the heat on your marketing efforts. Bringing out the big guns on social media is one of them. By retargeting customers on social media, you can take a more proactive approach to combating churn.
It's no surprise that of the many channels Omnisend integrates with, social media platforms are comfortably among them. Facebook and Instagram are dynamically synched with Omnisend, providing plenty of retargeting opportunities.
Capturing churning customers is no longer a guessing game—it's an issue that Omnisend can easily mitigate. However, Omnisend doesn't just aim to prevent customers leaving. It also has great features for keeping your best customers around for a long time.
Rewarding & Cherishing VIP Customers
One of the most effective ways of rewarding VIP customers and cherishing their business is with special campaigns. Whether you use emails or opt for SMS, champion and loyalist customers will feel that their needs are met by you and your store.
In fact, by using SMS in more creative ways, you can look forward to higher engagement with customers. The prospect of receiving exclusive offers and correspondence with a store is all the more engaging when it comes through over text.
Customers can check their emails at their leisure. But seeing a notification of something exclusive will inevitably be more exciting. This is becoming clearer to merchants by the day—our studies saw engagement, click, and even conversion rates with SMS rise dramatically between 2019 and 2020.
Wrap Up
Omnisend's got the tech, features, and capabilities to keep customers coming back time and time again—no matter where they are with their purchase journey.
Whether you're looking to boost engagement or keep your loyal customers happy, customer lifecycle marketing often proves itself as a one-stop-shop for improving retention and increasing revenue.
Thanks to exciting, omnichannel marketing opportunities, the customer lifecycle is no longer limited to email marketing. Rather, with a platform like Omnisend, you can explore new avenues and possibilities for engaging with your customers.
To see for yourself just how many opportunities you're leaving on the table, try out Omnisend for free with a free trial.
related features
Want more sales?
Omnisend has everything you need to succeed.
Start free now
No Credit Card needed.