Drive sales on autopilot with ecommerce-focused features
See Features
Reading Time:
13
minutes
When you've created a great product, all that needs to be done is promoting it to get customers. But, that's easier said than done. According to Clayton Christensen, professor at Harvard Business School, most product launches fail.
The key, however, lies in marketing the product launches well. That's where product launch emails come in. They help inform your audience about the new product and give it the boost it needs.
The good news is that over 90% of Americans want to receive promotional emails and 2 out of 3 base their purchase decisions on them.
To make the right first impression, your product launch emails have to hit home.
After reading this post, you'll know exactly how to do that.
Here's what we'll cover:
Let's get started.
Types of product launch emails
Product launch emails are a key part of any product launch campaign. Depending on your marketing goal, you can use them to announce a new product or feature, encourage pre-orders, or generate pre-launch buzz.
Most importantly, product launch emails provide all the details the prospects need to make a purchase.
Here are the different types of product launch emails that you can use as a part of your campaign, each with its own benefits:
Product release emails. These emails are used to share news about new products or a new version of an existing product.
Collection launch emails. You can use collection launch emails to showcase your new product line or collection.
Pre-order emails. This type of email is sent out before or during a product launch to generate interest and to encourage customers to place orders in advance.
Product edition launch emails. Marketers use these emails to announce a limited edition of products and build anticipation around them.
Product feature announcements. These types of emails are used to announce new features of a product.
In the next section, we will review the different types of product launch emails and highlight what they did right. You can use these as inspiration for your product launch campaigns.
Read on.
10 product launch email examples
If you're looking for some inspiration for your next product launch email, look no further.
We've compiled a list of 10 best product launch emails to help you get started.
From eye-catching visuals to witty copy, these product launch emails hit the right note.
1. Partake Foods
Subject line: We almost can't believe our eyes 👀
Type: New product launch
The new product launch email campaign from Partake Foods, an allergen-friendly snack company, gets several elements right by following email subject line best practices.
First, the short and emoji-infused subject line is designed to boost engagement. After all, 58% of people will open an email if the subject line has an emoji.
And, 44% of those who use emojis are likely to buy from brands that use emojis to advertise products. Adobe's study also shows brands that use emojis are perceived as approachable and friendly.
The second element this product launch email gets right is the number of words in the subject line. The sweet spot for boosting open rate is between 5 and 7.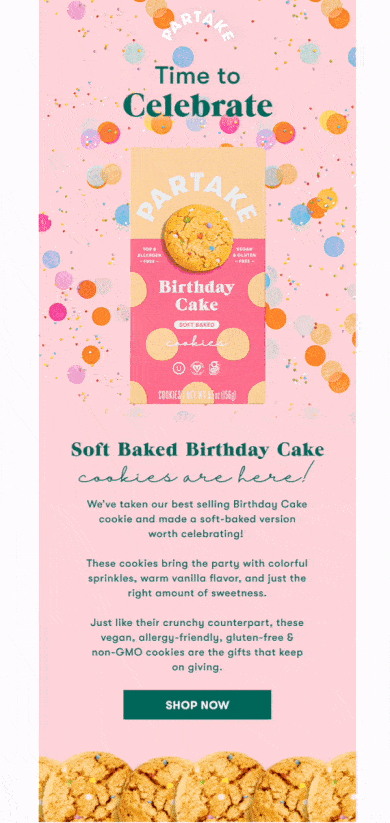 A pleasing color palette and a clear value proposition combine to generate excitement about the new product.
The most interesting element, of course, in this product introduction email, is animation. Apart from adding an extra layer of visual interest, animation can help strengthen brand identity and boost brand recall. These are the reasons why 51.28% of marketers are using animated GIFs in marketing emails.
There are different ways to use animation in emails, right from showcasing how the product works to highlighting the key message in the email.
Here, Partake Foods has used animation in the background to match the new product's name ("soft baked birthday cake"), emphasizing the celebratory mood.
What this product launch email does right:
Short and crisp subject line that draws attention
Enticing visuals
A very clear value proposition
A well-placed emoji that adds levity and personality to the message
A prominent CTA
2. Amundsen Sports
Subject line: Our Coming Soons ❄️
Type: Product collection launch
If you are looking to give your loyal customers details of your upcoming products, take a close look at this new product announcement email from Amundsen Sports, an outdoor clothing brand.
The short and simple subject line and the emoji tell readers what to expect and why they should open the email.
In our research, we have found that emails with to-the-point and short subject lines are the highest-converting ones.
When opened, Amundsen's email tells readers exactly what they need to know before adding the products to their wish list. The clean design and use of minimal text make this email feel elegantly understated, while still managing to pack in all the essential details about the new product.

Like other product release emails in this list, Amundsen Sports's email makes good use of visual hierarchy to get the message across effectively. In addition to the copy, the layout, design, and even the colors you use can make a big difference in how your message is received by recipients.
While the visuals guide recipients through, the headings and subheadings break up your content and make it easier to scan.
What this product launch email does right:
A clean, clutter-free design that draws attention to the product collection.
Clear information on what the upcoming products are, why readers need them, and how to buy them.
A to-the-point subject line with a relevant emoji.
👉 Take a close look at Amundsen Sports use of emails: Amundsen Sports' email marketing strategy
3. Holo Taco
Subject line: Prepare to be 🧲attracted🧲 TOMORROW💅
Type: Product launch announcement
Timely and visually captivating, this product teaser email campaign from Holo Taco, a brand that makes holographic nail polish, is all about drawing attention to its new magnetic nail polish collection.
Holo Taco's emails are always packed with energy and excitement, and their most recent one for the magnetic nail polish is no different. The use of bold colors and dynamic imagery in the email really makes it email pop, and it's sure to get recipients excited about the new product.
The subject line has all the elements that can pique the readers' curiosity, right from power words such as "prepare" and "attracted" to creating a sense of urgency with "tomorrow."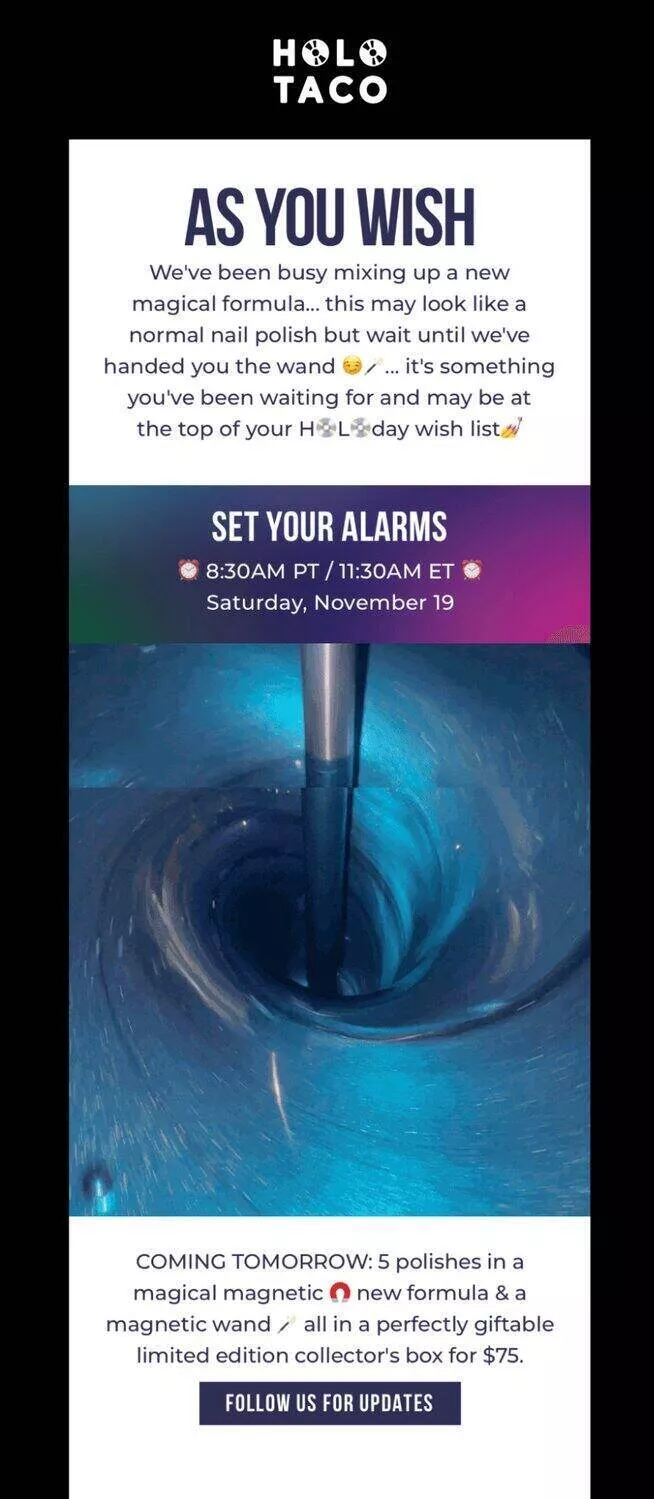 In fact, a Worldata study has found using the word "tomorrow" in the email subject line can increase open rates by 25%.
You can see that there are multiple emojis sprinkled throughout the email. While there is no hard and fast rule on how many emojis are ideal in an email, keeping them relevant to the message and branding will help strengthen your message.
For instance, Holo Taco's subject line has two magnets that convey that the product has something to do with magnets, and also create a sense of urgency by using the color red.
To get the balance of emojis right, it is important to know your target audience. Studies show that the choice of emojis and gender can both influence perceptions and how a message is received.
Another thing this product launch email from Holo Taco gets right is the timing. The email was sent out just before the holiday season to promote the giftable collection.
If you're looking to send a product launch email for the holiday season, you'll want to send it out at the right time—not too early (people will forget) and not too late (you don't want to miss the hype).
What this product launch email does right:
Starts the subject line with an action word that entices readers.
A brief but compelling message that gives recipients just enough information to whet their appetite without giving too much away.
Nice use of emojis in the subject line and email in line with the brand communication style.
A high-quality, engaging image.
4. Grammarly
Subject line: NEW: Tone detection has arrived! 🤔 🤩 👍
Type: Product feature announcement
Creating an effective product launch email is all about achieving the perfect combination of an engaging subject line, valuable content, and visuals that support the text.
This is exactly what this product launch email from Grammarly, a well-known proofreading platform, does when announcing the new AI-based tone detector. The product launch email does two things well:
It addresses the readers' pain point (understanding how their email comes across to readers).
Makes use of animation to show how the tone detector works.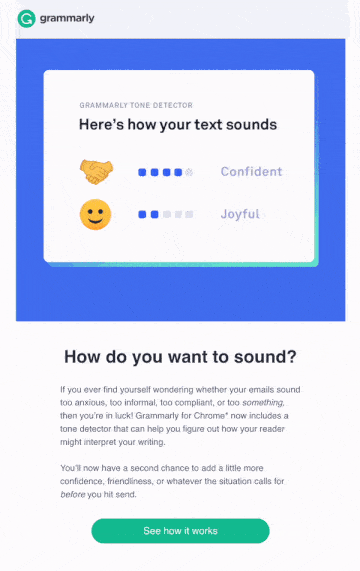 As you can see, the email draws attention to the most important information with the help of animation. This technique can help you ensure that your email stands out in recipients' inboxes and that they're able to quickly understand and act on your message.
While using animated GIFs, note that larger GIFs are poorly optimized for certain devices.
To avoid loading issues, you'll need to make sure the file size is less than 250 KB.
What this product launch email does right:
Use of animation to hook readers and demonstrate how the product works.
Concise, yet, informative text.
A clear CTA that highlights the value of the product rather than forcing readers to "sign up" or "purchase."
Clever use of relevant emojis in the subject line.
5. Huckberry
Subject line: Huckberry 🤝 Taylor Stitch
Type: Limited-edition product collection launch
Let's look at all the elements that Huckberry's product launch email aces.
When it comes to a limited-edition product launch email, it's important to create a sense of urgency. In our research, we have found that better-performing email subject lines have scarcity and time references such as "now," "while they last," "until midnight," and "today."
You will also need to highlight the unique features of the collection, like exclusive designs or limited quantities to tap into the fear of missing out (FOMO) of your audience.
Huckberry's email subject line does this well by simply stating "limited edition product collection launch."
One of the best practices to make your email stand out is to use eye-catching visuals like images or videos. This is one of the strongest points of this product launch email.

Along with top-notch product photographs, one of the elements that stand out in this product launch email design is the asymmetric visual hierarchy.
Asymmetric visual hierarchy is an important design principle in email design. It allows you to create a hierarchy of information that is easy for your recipients to understand at a glance.
There are a few different ways to create an asymmetric visual hierarchy in your email designs.
You can use different font sizes, colors, text treatments, or different sizes of images to create visual cues for your recipients. In any case, the goal is usually the same: to guide the reader's eye through the email in a way that makes sense and highlights the most important information.
And, Huckberry includes a simple and direct call-to-action so recipients know how to purchase the collection.
What else?
The introductory paragraph compares the collaboration between Huckberry and Taylor Stitch with the famous NFL pair of Montana and Rice—something that is sure to resonate with its target audience.
This messaging catches the attention of both the target groups—those who love Taylor Stitch brand and those who are fans of NFL stars. This helps build trust in Huckberry too.
What this collection launch email does right:
Speaks customer language (target customers are men who know about Montana and Rice [NFL stars] and Scorsese and De Niro).
Uses brand recognition to attract attention (Taylor Stitch is a famous brand)
Creates a sense of urgency ("snap your sup before this limited-edition release becomes history")
Showcases multiple products, giving customers a few options to check
Contains unbelievable product images
👉 Learn more about creating a winning product line for ecommerce.
6. Meow Meow Tweet
Subject line: When we say "all over"… 😉
Type: Product launch
Meow Meow Tweet, a Brooklyn-based company, makes all-natural, vegan, and cruelty-free skincare products. Their product launch email for "Aloe Rose Lotion" does many things well.
It starts off with a cheeky subject line, follows it up with neatly organized text that draws your attention to the most important features of the new product, and ends with a clear CTA.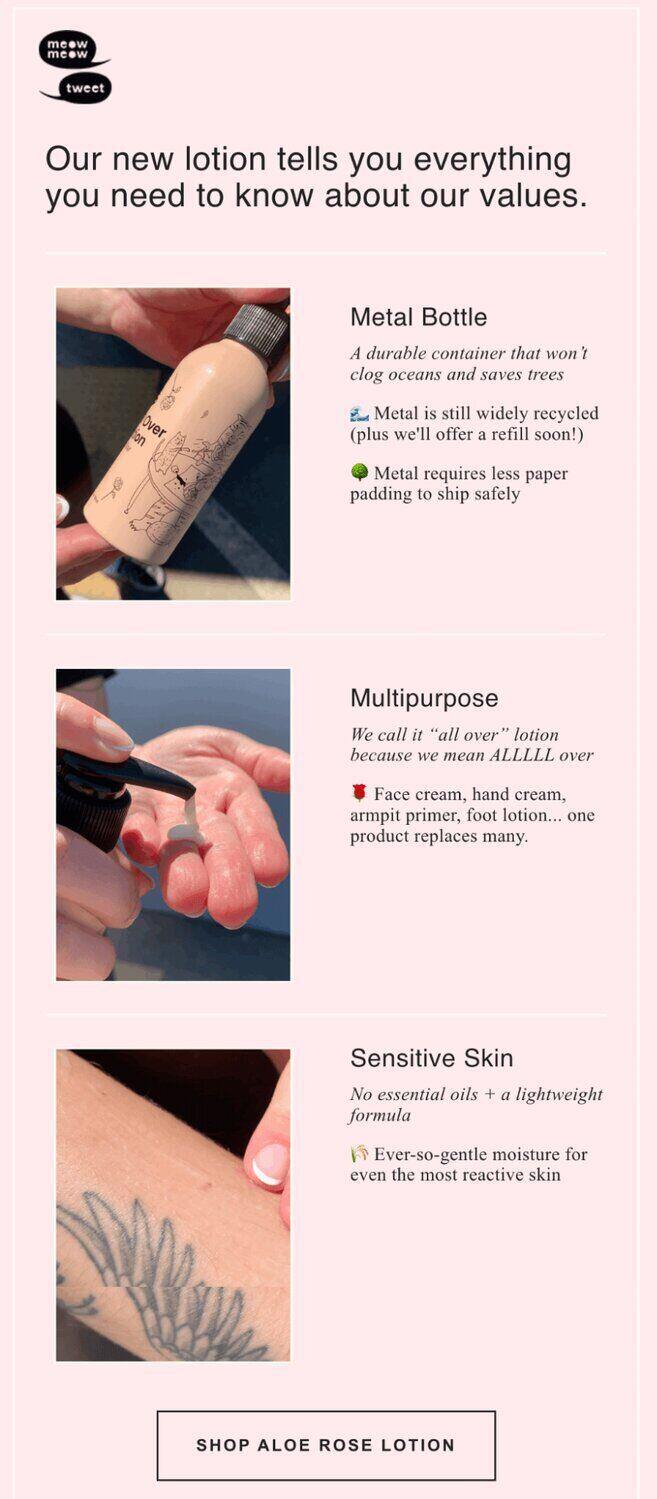 When it comes to email marketing, a funny and witty subject line can be your best friend. Not only will it help you stand out in a crowded inbox, but it can also help encourage your recipients to actually open and read your message.
Of course, not all email subject lines need to be funny. But if you've got a humorous message to share with your subscribers, why not go for it?
A little bit of humor can go a long way towards making your emails more engaging and memorable.
So what makes a good funny or witty email subject line?
Your subject line should be related to the content of your email in some way. Otherwise, your recipients may feel misled or even annoyed. Be creative with your wordplay and don't be afraid to experiment. After all, part of the fun of a funny subject line is seeing how far you can push the envelope.
What this product launch email does right:
Piques interest with a cheeky subject line ( "when we say "all over"… 😉.")
The limited color palette and uncluttered design optimize readability.
Well-written copy that ties the benefits of the product to the company's values.
Clever use of emojis throughout the email.
👉 Related: Learn how to create effective CTA buttons in emails
7. Ugmonk
Subject line: 🚀 IT'S LIVE! Meet the New Gather Collection
Type: Pre-order email
Ugmonk's Gather collection is all about bringing a method to the typical madness that happens when you work.
To promote their new magnetic desk organizer collection, Ugmonk has come up with a pre-order email that leverages minimal design and concise, personalized copy that speaks to the reader directly.
The other elements that make this a good pre order email example are a clean image and a strong CTA that allow the email to achieve what it set out to do.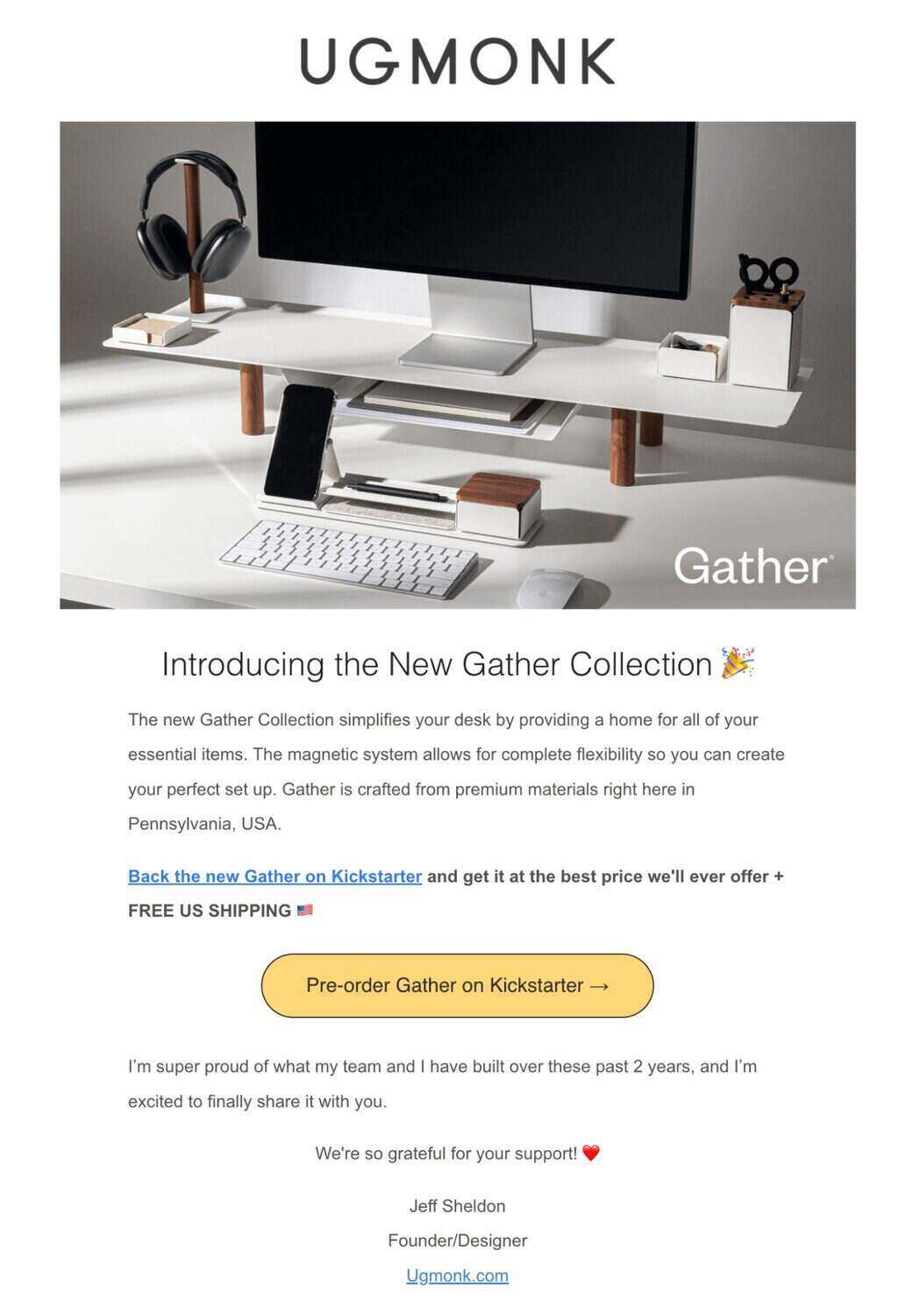 Campaign Monitor's research reveals that some words are more effective in increasing open rates than others. Some of these power words include:
Introducing
Invitation
We
You/yours
Update
New
As you can see, Ugmonk's product launch email uses one power word in the subject line and two of them in the headline.
For best results, use power words sparingly. Power words are effective because they stand out from the rest of the content. If you use them too often, they will lose their impact.
Be sure to use them in the subject line, which is the first thing your readers will see, and throughout the email. Finally, test different words as not all power words will work for all audiences. A/B testing your emails will help you see which ones resonate best with your target groups.
What this product email does right:
Feels like a personal letter
Clean visual imagery that instantly shows the benefits of using the product.
Use of bold text to highlight the compelling reasons to pre-order the product.
Seals the deal with a personal thank you note and the heart emoji.
👉 Learn more about creating a winning product line for ecommerce.
8. Vessi
Subject line: VIP ACCESS 🌑 Weekend in ECLIPSE BLACK 🌑
Type: Product launch
Vessi, a footwear brand, puts a creative spin on its product launch emails. Their message sounds like a VIP invitation, especially the subject line and headline that immediately grab your attention. The first paragraph reaffirms the headline, saying that "You heard it first!"
Sounds exclusive, right?
The copy maintains the fun and upbeat vibes throughout while creating a sense of excitement and urgency around the new product.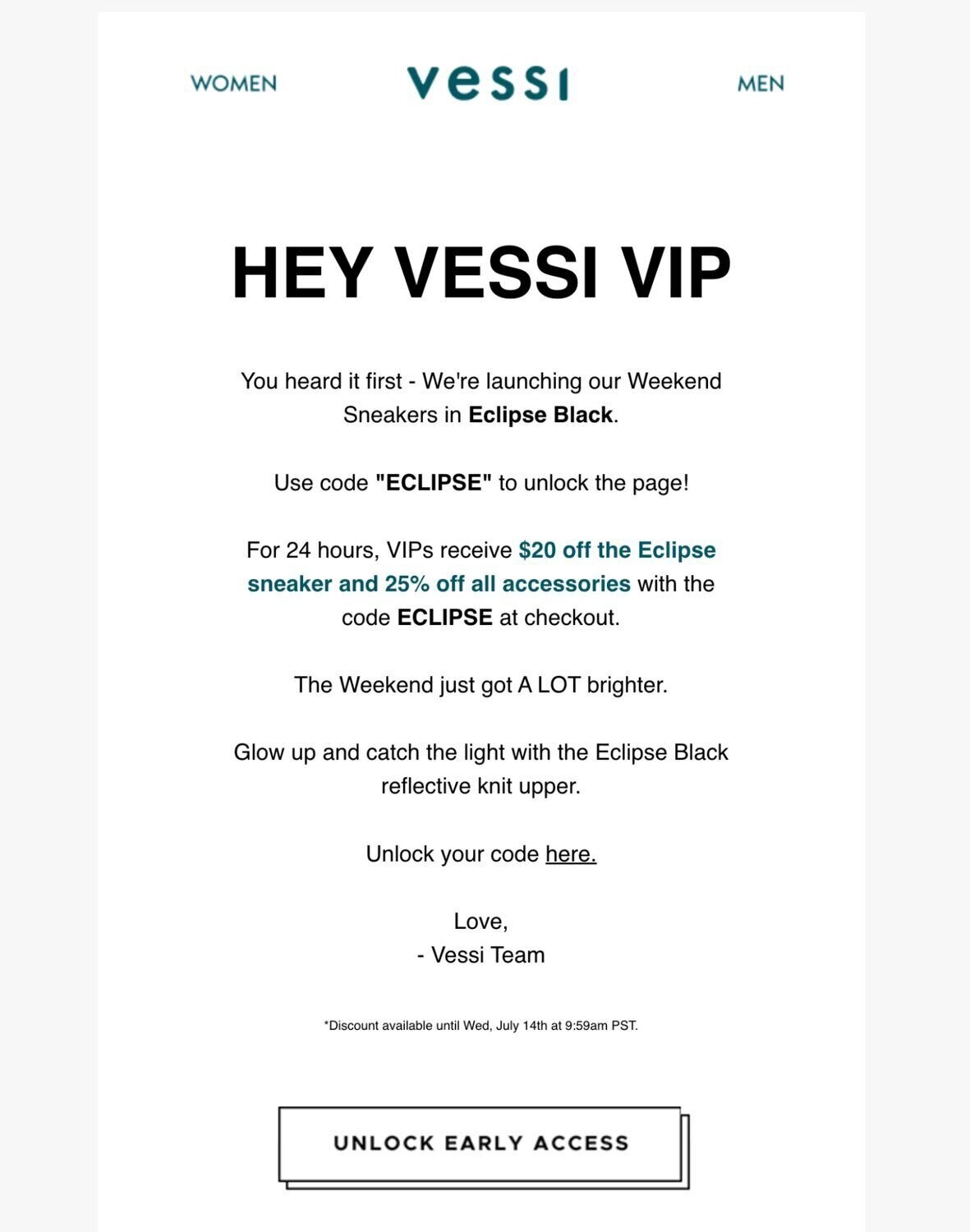 Starting an email with a pronoun (you or we) is a great way to personalize the email message too. These pronouns signal recognition and relationship between the parties involved.
Personalization can help increase click-through rates, conversion rates, and ROI of email campaigns. This is the process of tailoring your email content and subject lines to match the interests and needs of your individual subscribers.
But how do you get started?
The first step in creating a personalized email campaign is to segment your email list. You can segment your list with a variety of criteria, including location, age, gender, interests, and even purchase history.
Once you've segmented your list, it's time to create targeted content that speaks to the needs of each group.
What this product launch email does right:
Creates the feeling of exclusivity
Generates a sense of urgency
Provides all the necessary info (timeline, the new products, the discount code, and the link to the offer) in a concise way
Uses an action word ("unlock") in the CTA button to encourage readers to, well, take action.
9. Allbirds
Subject line: New Color Alert: Limited Edition Trail Runner
Type: Product launch
One of the formulas that works well when it comes to product launch email design is to go light on the text and heavy on the visuals. This email from Allbirds is based on this winning formula.
The subject line is straightforward but when you open the email, you are treated to a stunning image, followed by a concise copy that talks about the product and who it is for. A couple of CTAs and then more product images and a clear description of the features follow.

You'll also notice the way the CTA buttons have been placed in this product launch email.
It follows the best practices to place the primary CTAs at the top of the email. This is the most visible spot and people are more likely to see them here. Allbirds has also used a different, contrasting color in the CTA button to ensure it catches people's attention as soon as they open the email.
While following these practices, be sure to place the CTA on its own line so that it stands out from the rest of the text in your email for maximum impact.
For email campaigns with one CTA, it is important to place it according to the logical progression of your message. Typically, people read text from the left to right and top to bottom of an email.
This means, placing CTA buttons on the top and the bottom or on the right side of your content will make sense.
Also, don't assume the recipients will only click on the CTA button. Most people will click on different email elements including the images, logo, or headlines. Adding the same CTA link to these elements is a clever way of driving traffic to your site.
What this product launch email does right:
A stunning image at the top and messaging immediately grab the attention of target groups—those who love the outdoors.
Creates a sense of urgency with the use of "very limited edition."
Lists the top features of the product with minimal text.
Multiple CTAs throughout the email that are relevant and well-placed.
Brilliant product photography to highlight features such as "shroomy detail."
👉 Learn how to write interactive emails with this detailed guide.
10. Chubbies
Subject line: Soft Snorts
Type: Product feature announcement
Chubbies always brings a touch of fun and whimsy to its product launch emails, and its email for the new soft lounge shorts is no exception. The use of playful graphics and tongue-in-cheek copy makes this email a joy to read, and it's sure to put a smile on recipients' faces.
There's so much to love about this product launch email from Chubbies. Loads of colorful images that exude the beach vibe, playful tone, and creative ways to say "shop" are some of them.
What also works well here is the use of first person that makes the email look like a personal note from Ashley Spencer, the Director of Marketing at Chubbies.

Notice how Chubbies uses fun images to depict how relaxing and comfortable their soft shorts are?
What this product launch email does right:
Playful, engaging copy that speaks the language of the target customers.
Lots of colorful, quirky images that showcase how comfortable the lounge shorts are.
A tongue-in-cheek subject line.
Creative and effective CTAs.
Product launch email: summary
A product launch email is a great way to generate buzz around a new product, feature, collection, or to encourage pre-orders. Winning product launch emails have these elements in common:
A short and sweet (or witty) subject line
High-quality visuals
Engaging copy
A clear CTA
A clutter-free layout
Above all, don't forget to segment your audience to send tailored product launch emails for maximum impact. An easy way to create impactful product launch emails is to use our responsive email templates and audience segmentation features.
Need more resources? Take a look at other guides on our blog:
Perfect your product launches, limited-offer sales, abandoned carts & much more
Start Free Today
related features
Want more sales?
Omnisend has everything you need to succeed.
Start free now
No Credit Card needed.