Drive sales on autopilot with ecommerce-focused features
See Features
Reading Time:
5
minutes
One big myth about SMS marketing is that it's expensive—so won't provide a good ROI.
But here's the truth:
SMS marketing can be very cost effective and deliver impressive ROI for businesses.
A survey by Simple Texting shows over 80.5% of consumers check their notifications within five minutes of receiving a text. And in 2022, Omnisend customers sent almost 100 million SMS, which led to a 23.8% increase in orders from the channel.
While upfront costs may be involved, SMS marketing pricing is generally considered economical.
How much does SMS marketing cost?
The cost of SMS marketing depends on several factors. This includes your chosen service provider, message volume, geographic reach, and any campaign keywords.
To give you a general idea, here's a quick estimate of SMS charges for Omnisend users:
For US-based brands, sending a message with up to 160 characters will cost $0.015. So, if you plan to send 1,000 messages, the total cost would be $15.
Longer texts will have higher prices. Here is a brief table illustrating the expenses based on text length:
| | |
| --- | --- |
| Characters | Cost per message |
| Up to 160 | $0.015 |
| Up to 320 | $0.03 |
| Up to 480 | $0.045 |
| Up to 640 | $0.06 |
SMS charges will also vary depending on the country to which you are sending them.
Usually, marketing tools offer monthly plans with a sending limit on text messages. For instance, Omnisend offers a Standard plan priced at $16 per month for up to 500 contacts, allowing you to send up to 60 SMS messages. Similarly, its Pro plan, which starts at $59 per month, permits sending 3,933 texts.
In fact, you receive an SMS allowance even with Omnisend's free plan.
If you want to send additional messages, you can purchase additional credits. Simply check SMS prices in recipient countries to determine the required credits.
SMS marketing cost per message
In addition to the basic pricing mentioned above, if you're prepared to increase your budget then it's possible to further enhance your SMS campaigns.
For instance, you can use shortcodes and longcodes to improve campaign effectiveness. A shortcode SMS is a 5 to 6-digit number used to send a large number of SMS and MMS messages to customers, whereas a longcode SMS is a standard 10-digit number that can be used to send messages, receive calls, and send faxes.
You can also consider keywords, which are important for opt-ins, service subscriptions, and promotional access. For instance, customers can text 'HELLO' to a specific shortcode or longcode to get updates on discounts.
Although features like these will increase text message marketing costs, they can boost effectiveness.
MMS message cost
If you want to include images, videos, GIFs, and audio files in your messages, you'll have to opt for MMS marketing.
However, sending this type of content takes up more data, storage, and processing power, so an MMS can cost the same as sending four or more regular SMS messages.
International SMS marketing
Another factor for SMS charges is where you'll be sending them, as rates can vary from one country to another.
Different countries have varying carrier fees and SMS regulations that can affect the cost per message. On the other hand, some service providers have partnerships with local carriers, which can reduce costs.
On average, international SMS marketing pricing typically falls between $0.25 to $0.50 per message.
Note that Omnisend supports sending SMS messages to all countries, which isn't the case with every platform.
What is SMS marketing ROI?
Is your SMS marketing campaign delivering worthwhile outcomes? Your SMS marketing ROI will tell you, by measuring the financial gains achieved from your SMS campaign in relation to the costs invested.
How to calculate ROI?
Here's a three-step process for calculating SMS marketing ROI:
Determine net profit: Calculate the total revenue generated from your campaign and subtract the costs associated with running it.
Calculate investment cost: Add up all the costs incurred to implement and run the SMS marketing campaign. This includes SMS service fees, campaign setup costs, and staff wages.
Apply the formula: Divide the net profit by the investment cost. To convert the result into a percentage, multiply it by 100.
The resulting figure will tell you how profitable your campaign was.
That said, every business has unique goals for its SMS marketing strategy. So there is no universal method to measure ROI.
To increase sales, you can evaluate the number of clicks a link receives in a specific campaign. Similarly, you can also assess conversion rate and cost per subscriber.
SMS ROI compared to other channels
SMS marketing generates a favorable ROI compared to other marketing channels like email, social media, and paid ads. This can be attributed to several factors:
High open rates: SMS messages have higher open rates than other channels. This ensures a greater likelihood of recipients seeing and acting upon your message.
High engagement rates: SMS marketing recipients actively choose to opt in and receive messages from specific companies. This leads to a more receptive and engaged audience.
Mobile friendliness: Mobile phones have become an integral part of people's lives. SMS doesn't require an internet connection or a specific app, making it accessible to many users and demographics.
Minimal competition: The SMS inbox is generally less cluttered with marketing messages. This means your SMS marketing campaigns have a higher chance of standing out.
More economical: SMS marketing pricing is typically lower than other advertising methods. This makes it an attractive option for businesses of all sizes.
Gartner shows SMS open and response rates are as high as 98% and 45%. This starkly contrasts email's corresponding averages of 20% and 6%, respectively.
Paid ads also boast a strong ROI, although it's worth noting that this channel is generally much more expensive than SMS marketing.
Overall, SMS is an exceptionally powerful marketing channel.
How to choose the best SMS marketing tool
When deciding on the ideal SMS marketing tool, it is crucial to consider various factors, such as:
Pricing: Assess setup fees, monthly subscription costs, and additional charges for extra features or messages.
Features: Evaluate the range of features provided by the SMS marketing tool. Essential features to consider include contact management, scheduling options, automation capabilities, and campaign tracking.
Reliability: Ensure that the SMS marketing tool has a high delivery rate and reliable service.
Scalability: Pick a tool that can handle the number of contacts you have and can support your future expansion plans.
Customer support: Consider the quality of customer support offered by the SMS marketing tool. Ensure they offer timely and reliable support channels like phone, email, or live chat.
Luckily, there is a range of SMS marketing tools available. Choose the most suitable one by evaluating your requirements and financial resources.
Omnisend fares well on all the considerations mentioned above, offering a combination of affordability and robust features and is suitable for small and large businesses.
Its functionalities include automation workflows, SMS list creation tools, 2-way SMS messaging, and comprehensive analytics.
In addition, an award-winning customer support team is available to assist you with any issues.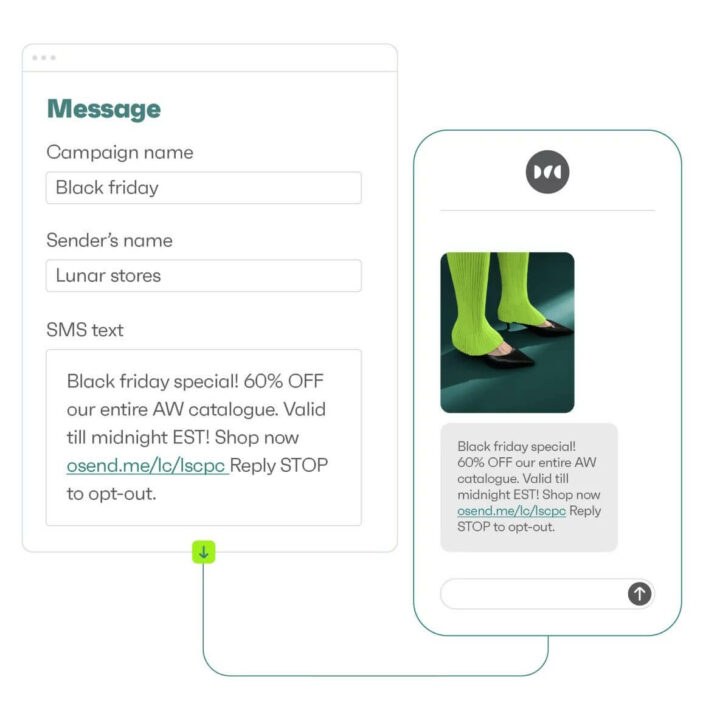 Wrap up
For businesses looking to implement effective marketing strategies, it's important to understand SMS marketing pricing.
When choosing a service provider, consider factors beyond just the cost such as message volume, geographic reach, customer support, and integration capabilities.
But once you've chosen the right SMS marketing pricing plan, it will ultimately help drive engagement and reach your customers.
Take your sales to new heights using Omnisend's SMS marketing capabilities
Start Free Today
related features
Want more sales?
Omnisend has everything you need to succeed.
Start free now
No Credit Card needed.