Drive sales on autopilot with ecommerce-focused features
See Features
Reading Time:
7
minutes
Despite the growing popularity of various digital media, SMS remains among the most powerful platforms for marketing. This is especially true in ecommerce where marketers can maximize the value of automated text messages.
SMS automation enables you to generate higher conversions through personalized texts that spur customers to action. The problem with text message automation is that it can be overwhelming to understand and set up properly.
This article gives you a good understanding of what automated text messaging is and how businesses can use it successfully. It also includes a step-by-step guide for setting up your own automation campaigns for sales generation.
What are automated text messages?
Automated text messages are pre-written SMS messages that are automatically sent to customers based on certain criteria. Such automation criteria can involve a schedule (sent 2 hours before the start of a big sale), a timeline (sent one month after a customer's last purchase), or a trigger (sent immediately after a customer completes a purchase).
Through automatic text messages, businesses can reach customers with more personalized messages without the additional resources involved in sending out SMS manually. In this way, text message automations enable businesses to develop better connections with their audiences in a quick, cost-effective way.
How do businesses use automated text message sending?
Businesses across all industries Use SMS automation for marketing. It is most valuable to ecommerce merchants that provide personalized experiences throughout the shopping journey.
Here are some of the most beneficial ways to use automated text messages for business:
Ask for customer reviews
Send transactional messages
Recover abandoned shopping carts
Reach out with special offers
Raise awareness for sales and promotions
Remind clients of appointments
No matter what you use it for, among the most exciting benefits of running an automatic text message campaign is that it generates results right away.
Laura Greenshields, CEO of Canada's beloved Silver Street Jewellers attests to this, saying "SMS is powerful because you can see a huge traffic jump immediately after you send an SMS campaign."
Silver Street Jewelers enjoyed a $40K increase in profits by adding automated text messaging into their digital marketing arsenal. Learn how your SMS campaign can generate the same results by reading the full story
here
.
Examples of automated text messages
Writing automated text messages can be daunting because they need to be short but also engaging enough to drive recipients to action. If you get it right, however, each automated message can make a significant contribution to your traffic and revenue.
Here are some effective automated text message examples you can use as inspiration for crafting your own pre-written marketing messages:
Personalized discount
Hi [first_name]! It's [brand_name]. Your exclusive 10% off code is: [code] Shop now: [link] Text us at [phone_number] if you have any questions!
Special offer
TWO HOURS LEFT to get 40% off your entire order at [brand_name]! Use code: [code] at checkout! Sale ends TONIGHT [date]! [link]
Sale notification
[brand_name]: Our best offer just got even better. Buy a [bundle_name] and receive [item_name] as a free gift. Seriously. Click this link to access now [link].
Order confirmation
Hello [first_name]! Thanks for shopping at [brand_name]. We will send you another text when your order is on its way. You can also track your order at [link].
Abandoned cart reminder
Hi [first_name]! Did you forget about the items in your cart? They'll look great on you! Treat yourself and enjoy free shipping. Just enter [code] at checkout.
Newsletter welcome message
Hey there, [first_name]! Thank you for signing up for the [brand name] newsletter. Here's a 10% off voucher—a gift for your first order. Enter [code] at checkout.
Customer review request
Hi [first_name]! Thanks for your recent purchase! Can you leave a review of your experience with us? It'll only take 1 minute. Just go here: [link]. Thanks for your help!
Appointment reminder
Hi [first_name]! It's been [#] months since your last [service]. Text back or call [phone_number] to set your next appointment. See you soon!
SMS for delivery and pick-up options
Hi [first_name]! Your order [number] will be ready for collection after 2pm today
Hi [first_name]! Your order [number] will be delivered tomorrow. Not going to be in? Designate a safe place or reschedule here [link]
Updates (e.g. back in stock)
Hi [first_name]! Items you recently viewed are now back in stock! Take a look at [link]
Customer support surveys
Hi [first_name]! How was your shopping experience with us? Please reply between 1 (bad) and 5 (great).
How to send automated texts to customers [5 steps]
Introducing SMS as a messaging medium for your business may be a gargantuan task. But once you have the automations all set up, you'll have a dependable system for communicating with all your customers on a personal level and in a timely manner. Best of all, because these are automated messages and the communications will essentially be on autopilot, you don't ever need to be burdened with manual messaging.
Follow these five steps to set up automated text messages for your business:
Step 1: Sign up for an automated text message service
Your success in using automated messages for driving sales starts with the tools and services you employ. When choosing an SMS marketing service, scrutinize the cost structure to make sure you're not surprised with hidden charges down the line.
Other essentials you should consider are available automation text message features, ease of use, and complementary tools like data capture forms, customer segmentation, and campaign reporting.
Sign up for a free Omnisend account and you'll get access to these features right away.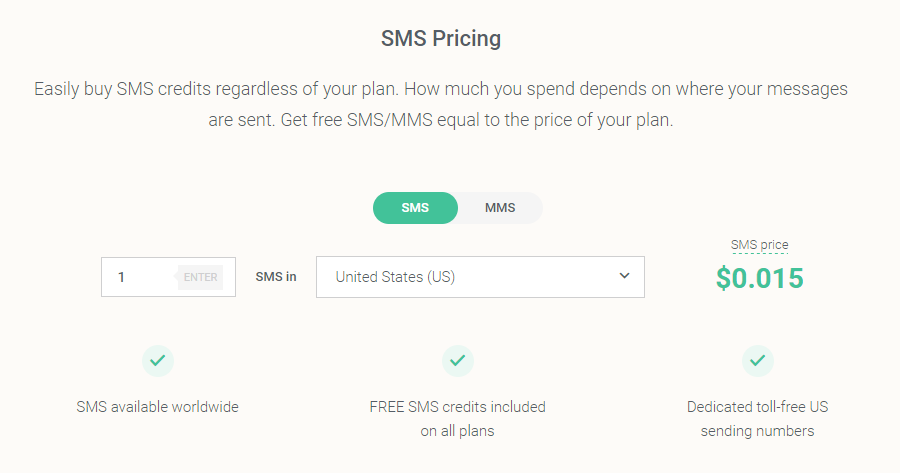 Step 2: Upload your contact list or start building one
Once you've registered with an SMS marketing platform, you'll need to upload your contact list and make sure that every number is in international format. Omnisend has multiple ways to easily add contacts: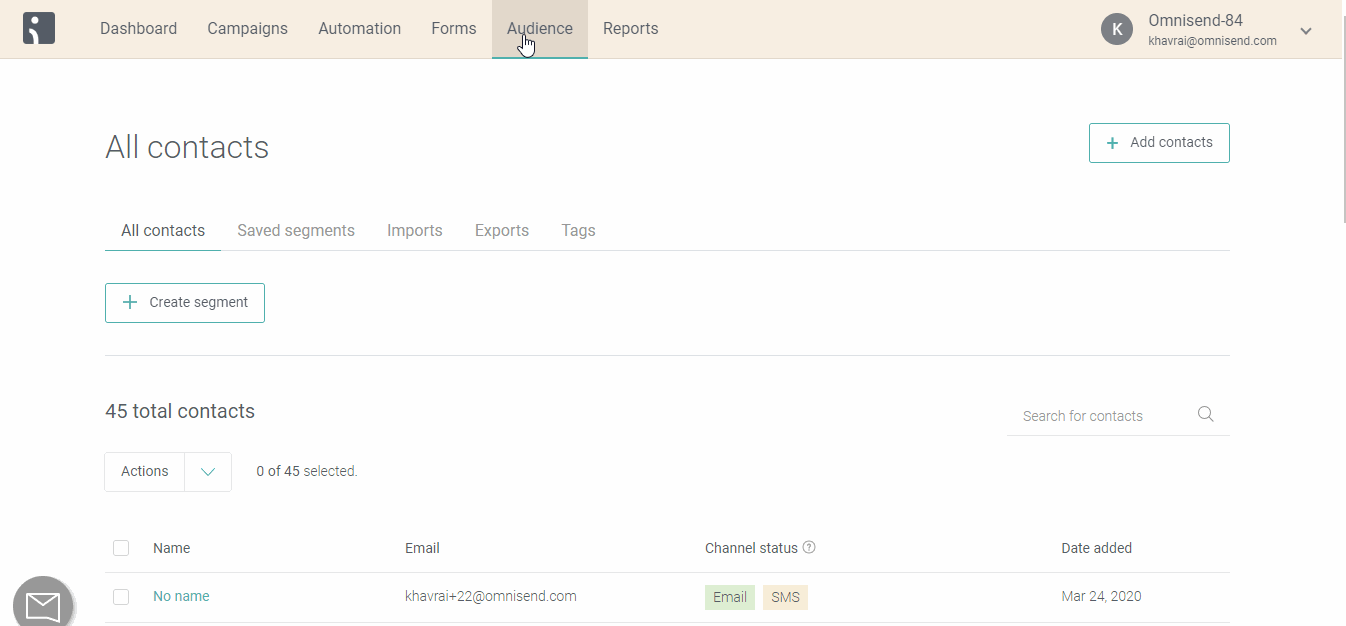 Keep in mind that it's best practice to send text messages only to customers who specifically opted in to the service. In some countries, including the United States, this requirement is mandated by law, so make sure you have express consent before adding anyone to your text message list.
If you don't have a list yet, it's a good time to start building one. Integrate Omnisend's ready-to-use sign-up forms into your website and they'll work seamlessly with the automated SMS features.
Step 3: Create an automated text campaign
For automating text messages on Omnisend, start by selecting the pre-built workflow that best matches your business goals. Among the most useful automation workflows for SMS are the Welcome workflow and the Product Abandonment workflow. You can set these up to work with just SMS or as part of a series that also includes email and push notifications. Just make sure you add the right messaging types in the sequence you prefer.
For example, you can set a Welcome series to send an SMS immediately after a customer signs up. Then, configure the workflow to send a welcome email sometime after the SMS. If used correctly, these two messages can complement each other to spur on a first purchase.
Similarly, employing an Abandoned Cart workflow reminds potential customers of products they are interested in. Incentivizing their purchase with a well-timed offer delivered via automated text message could be the key to getting them over the fence.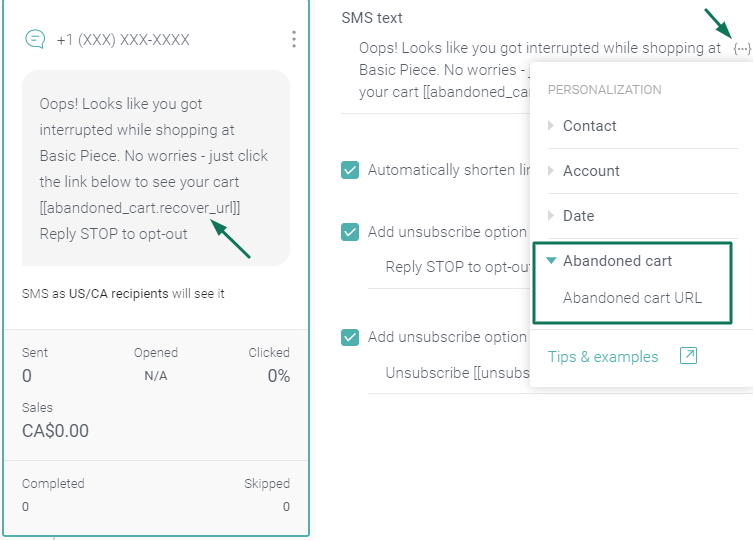 Step 4: Add content to automated message text
Once you've selected the right automated workflow template, you'll need to customize it to work for your business. Some things to add are your campaign name and sender's name. Most importantly, you need to craft your customized message.
Additionally, your auto-generated text messages need to include opt-out instructions. For recipients based in the US and Canada, opt-out instructions should involve a keyword response (e.g., "Reply STOP to unsubscribe"). In other parts of the world, an unsubscribe link would suffice. Thankfully, Omnisend has features that make these opt-outs easy to manage.

When you're done customizing the text message, make sure you save the campaign so it can start sending out messages.
Step 5: Monitor campaign performance
Once you have your campaign up and running, you can just sit back and let the software do all the work. However, you should also go through Omnisend's reports to see what's effective and gather insights on what you can improve for your business.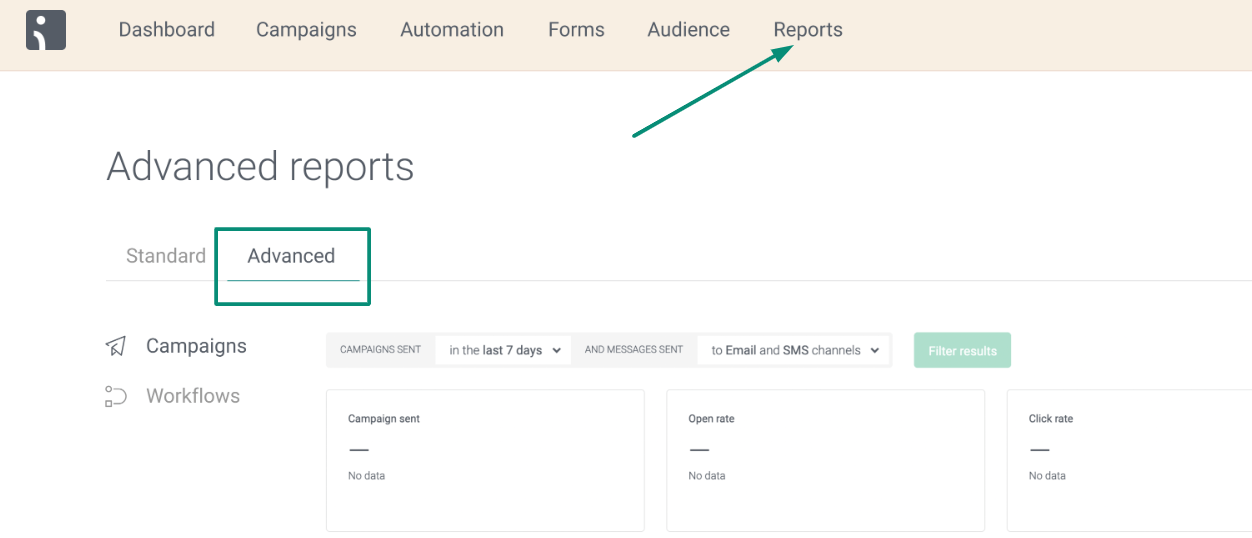 To view only SMS, you can filter the visible campaigns:

You can also view your trends to see how your campaigns perform over time and decide whether you need to make adjustments:

Here are some of the most important SMS metrics you should keep an eye on:
SMS sent – The total number of text messages sent
Click rate – The percentage of recipients that clicked on a link in an SMS
Sales – The dollar value of sales generated by the campaign
Unsubscribe rate – The percentage of customers that unsubscribed from your messages
Bounce rate – The percentage of intended recipients that did not receive the SMS for any reason (such as for an invalid number)
Automated text messages: Summary
SMS automation has proven to be a valuable marketing tool for all kinds of businesses. It's essential for generating sales and providing excellent customer experiences. Thankfully, finding the right service with powerful features takes care of most of the work. Taking the task one step at a time can make it easy to get your business started on such an effective marketing medium.
Sign up for a free Omnisend account and start sending automated text messages today (free accounts also get free SMS per month).
Add automated SMS to your marketing campaigns and automation workflows with Omnisend.
Start Free Today
related features
Want more sales?
Omnisend has everything you need to succeed.
Start free now
No Credit Card needed.