5 Automated Text Messages Necessary for Every Ecommerce Site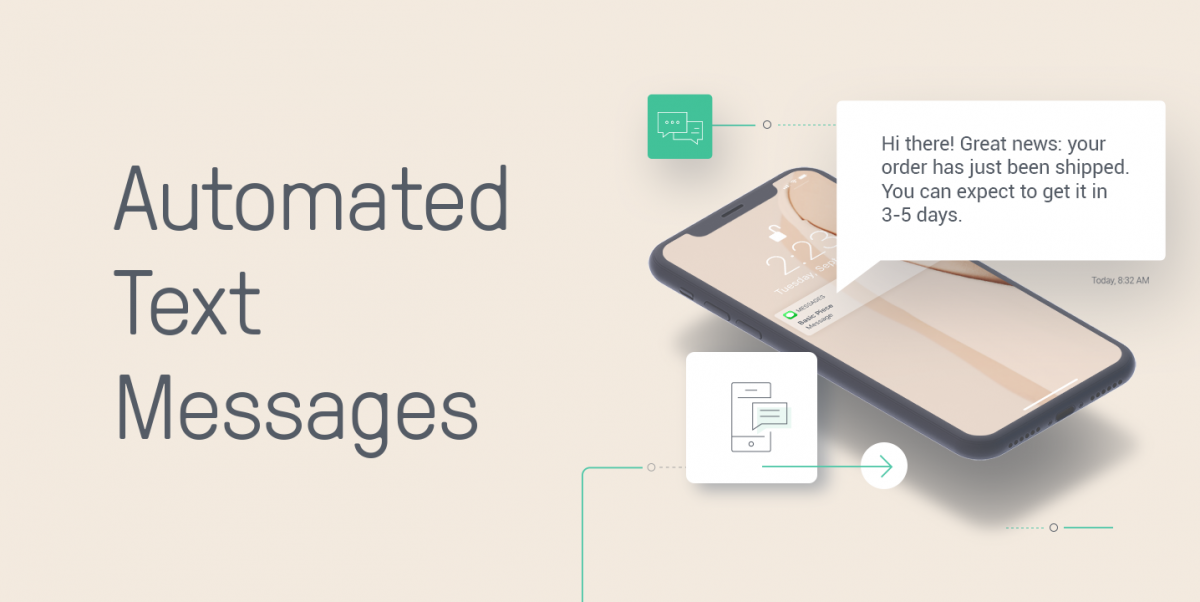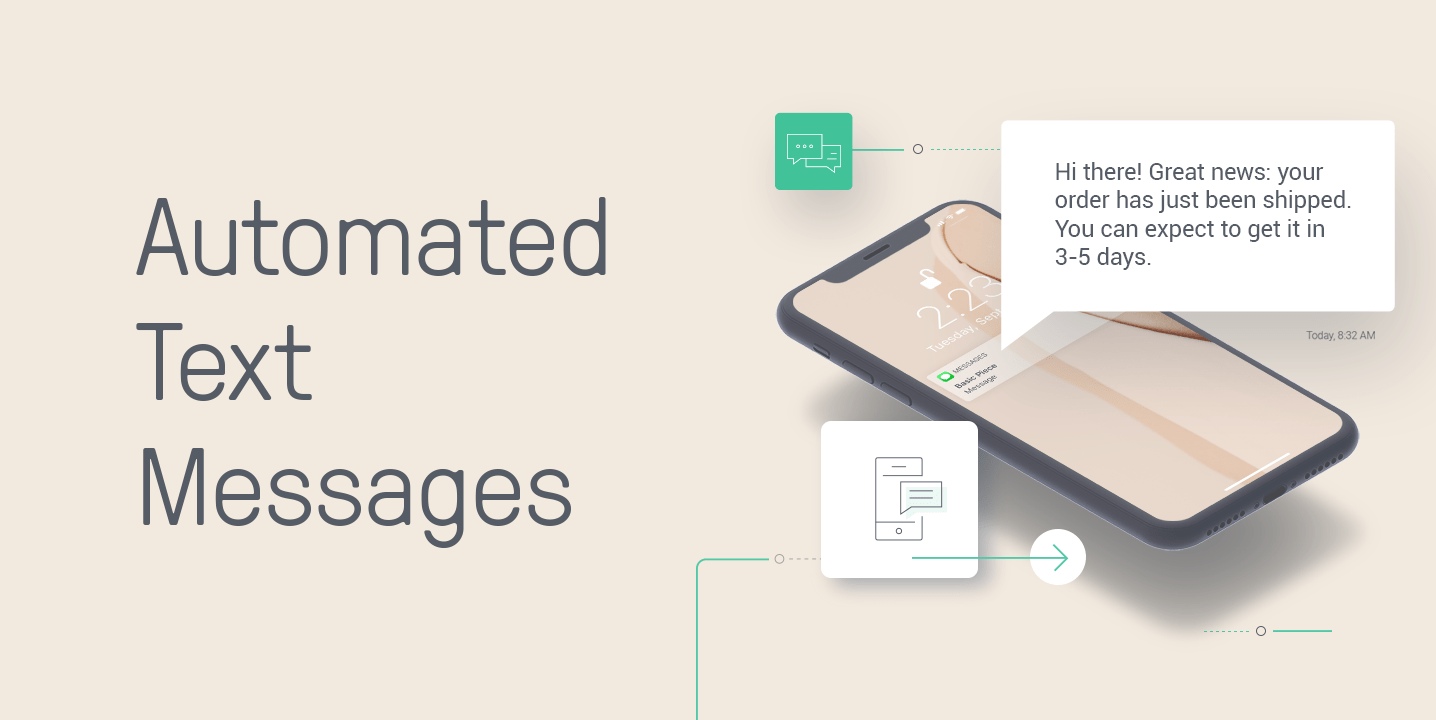 Reading Time:
7
minutes
SMS marketing: sounds a bit… old-fashioned perhaps? It wasn't long ago that people were predicting the rapid demise of SMS, as innovative internet-based messengers loaded with GIFs, emojis and other cool features took over and began to leave the humble text message far behind.
But how wrong they were! The reach, versatility, and cost-effectiveness of SMS have long been hugely underestimated, particularly in its marketing potential, where incredible open rates (98%) and engagement (29%) have turned it into an essential marketing channel for any successful ecommerce business.
This article takes a deeper look at automated SMS marketing, exploring its various benefits while finding out how best to harness its vast potential. We will also present some real-world use cases, so you can get the ball rolling on your own campaigns!
What Are Automated Text Messages?
Auto text messaging is just that: pre-written SMS sent out on a pre-determined schedule or when triggered by a planned event.
This way, you can reach your audience directly in their pockets, at exactly the most opportune times for your message to be seen. With over 90% of SMS messages being read within 3 minutes of receipt, you can offer actionable, personalized content that encourages an instant response.
For example, you might be offering a fast-food service. What better time to make a special discount to busy commuters than just as they are leaving the office? You could schedule a text message each day at, say 5.30 pm, offering different meal packages. Easy for you, easy for the customer to make their choice. It's a win/win.
5 Benefits of Automated Text Messages
1. Cost-Effective
SMS marketing expenses are considerably lower than boosting posts on social media or launching retargeting campaigns, for example. With a massive reach of more than 5 billion daily users worldwide and international SMS rates at an all-time low, you are no longer limited by geography when it comes to sending automated text messages.
2. Speed
No more lingering in the inbox, or even worse – the dreaded junk mail. Text messages are received instantly, and most importantly, they're read almost immediately too. This makes SMS campaigns ideal for introducing a sense of exclusivity and urgency that no other marketing channel can match, and might explain why a full one-third of SMS recipients react to text message CTAs with 47% making a purchase.
3. Sky-High Open and Engagement Rates
With 70% of customers saying that an SMS immediately earns their attention, it's no surprise that SMS is way ahead of email when it comes to open and engagement rates. This is partly down to notifications – text messages are seen as more personal and are more likely to appear directly on a phone's screen than an email.
4. Simple Set-Up
You don't need a graphic designer for an SMS campaign, they are quick and easy to set up and execute – it's only a short text after all! However, we all know how important images are for ecommerce businesses, which brings us to our final benefit…
5. Ease of Integration with Other Channels
As a standalone channel SMS marketing has robust benefits, but it truly comes into its own when integrated with other marketing channels. By combining the urgency and accessibility of SMS with the rich, detailed content of email, you can truly get the best of both worlds. This is why it's important to consider a truly multi-channel platform when shopping around for your automation software.
How to Send Automated Text Messages
Firstly, you'll need marketing automation software that supports SMS, and preferably other channels, too. Omnisend offers SMS for standalone, one-off campaigns or you can integrate it along with their other channels into your automation workflows.
If you haven't done so already, you'll need to collect phone numbers to build an SMS list. Most serious platforms will offer integrated SMS list building tools that use things like pop-ups, signup boxes, and more allow you to build your list from the visitors to your site in a TCPA-compliant manner.
When your list is complete, you'll need to decide how many SMS you'll need to send throughout your campaign. This will depend on a variety of factors – do you plan on a longer-term drip campaign or just a one-off offer? Are you planning to set 'triggers' that automatically send messages in response to certain actions? Will you include personalized messages like birthday wishes and loyalty rewards?
Once you have planned out your campaign and made an estimate, you can purchase your SMS credits. With Omnisend, SMS is offered on a simple, subscription-based model that makes this a simple process – you simply set up your campaign with a drag-and-drop builder and away you go.
So now you know the what, why, and how of SMS marketing. But how to apply it in real-life situations? Let's look at 5 examples of automated text messages at work, so you can get some inspiration for your own campaigns.
1. Browse Abandonment
Many merchants use the "spray and pray" method by sending emails or SMS messages in bulk. That might work for a while, but data shows that triggered messages perform better. Automated emails and automated text messages can reach customers at the right time with the right content.
One of the examples is a browse abandonment. We know how widespread the cart abandonment issue is. But try to imagine how many customers fall in love with your products and leave the site without even putting them in their shopping cart. You can win them back by sending an automated text message. See some examples below:
Some more ideas for SMS copy:
Thanks for stopping by! We noticed you visited us and we'd love to see you again. Visit us now at [link to the site]
Hi [customer_name], thanks for visiting us! We sent you an email with a deal you'll love. Check your inbox!
2. Cart Abandonment
You can apply the same scenario to address your cart abandonment. An automated workflow for the cart recovery is king among other workflows and it is a must-have one for every merchant.
Let's look at the examples to better understand how it works.
Some more examples:
Your shopping cart is waiting for you. Don't let it expire! Use code [code name] to get a 20% off for the entire order. [link to the site]
Still shopping? Don't miss out! 30% off your order. Use code [code name] at the checkout. [link to the site]
In the 4th example, you can see a workflow where the text message supports prior cart recovery emails. The message is sent only if emails haven't worked.
At Omnisend, you can find this workflow and many others already preset and ready to use. Also, check out a more in-depth article about abandoned cart SMS here.
3. Order Confirmation
Multiple touchpoints with your customers are vital if you want to stay at the top of their minds. And although order confirmation messages don't generate any direct revenue, they are good for engaging with your customers.
Find below some examples of how other businesses use this message to their advantage.
More examples:
Thank you for your order. We will contact you when your package is shipped. Contact us at +971567282242 for any inquiry.
Thank you very much for choosing [brand name] as your workout accessory provider! We have received your order and we're packing it up now. Tracking information will be available once your order ships.
For order confirmation, you may also use two channels: SMS and email. See the example below:
4. Special Occasion
Customers' birthdays, signup anniversaries, and other occasions are perfect for re-engaging with your customers. Don't miss that opportunity! With Omnisend you can easily implement sms campaign ideas.
At Omnisend, we see that brands often follow up text messages with an email. We find this practice the best because then you can add nice images of the product and a coupon code and these kinds of visuals help brands sell more.
See what messages and automated workflows merchants send for these occasions.
More examples of SMS copy:
We know, today is special! Happy Birthday from us all at [brand_name]. Check your email for a little present.
Happy Birthday [customer_name]! We sent a present to you by email. Don't forget to open it!
5. Cross-Sell and More
Automatic SMS sending is perfect for up-selling, cross-selling, feedback gathering, and many other necessary things for ecommerce, especially time-sensitive offers.
Here's another batch of text message examples that may inspire you:
[Customer_name], because of your recent purchase of [product], there is an upgrade available to you for the [product group] at 60% off! Visit: [link to the site]
Do you love [brand name]? Let us know! It would help us out if you post a review here: [link]
Your 10% discount expires tonight. Head to [link to the site] to redeem it. Code: [code_name]
Hello! We hope that you can take a moment to give us some feedback! Please check out the email that we sent to you. Kind regards, Team [brand name]
Free [brand name] voucher only for you! Use the code [code name] at the checkout. Redeem it now: [link to the site]
There are dozens of scenarios possible for SMS marketing automation. Timely and relevant automated messages can reduce the time spent on tedious work and help you focus on big ideas for your core business.
If you're still hesitant about SMS marketing, consult with Omnisend. Get a one-on-one demo and learn about your business opportunities today.