Drive sales on autopilot with ecommerce-focused features
See Features
Best Automated Text Messages for Ecommerce Businesses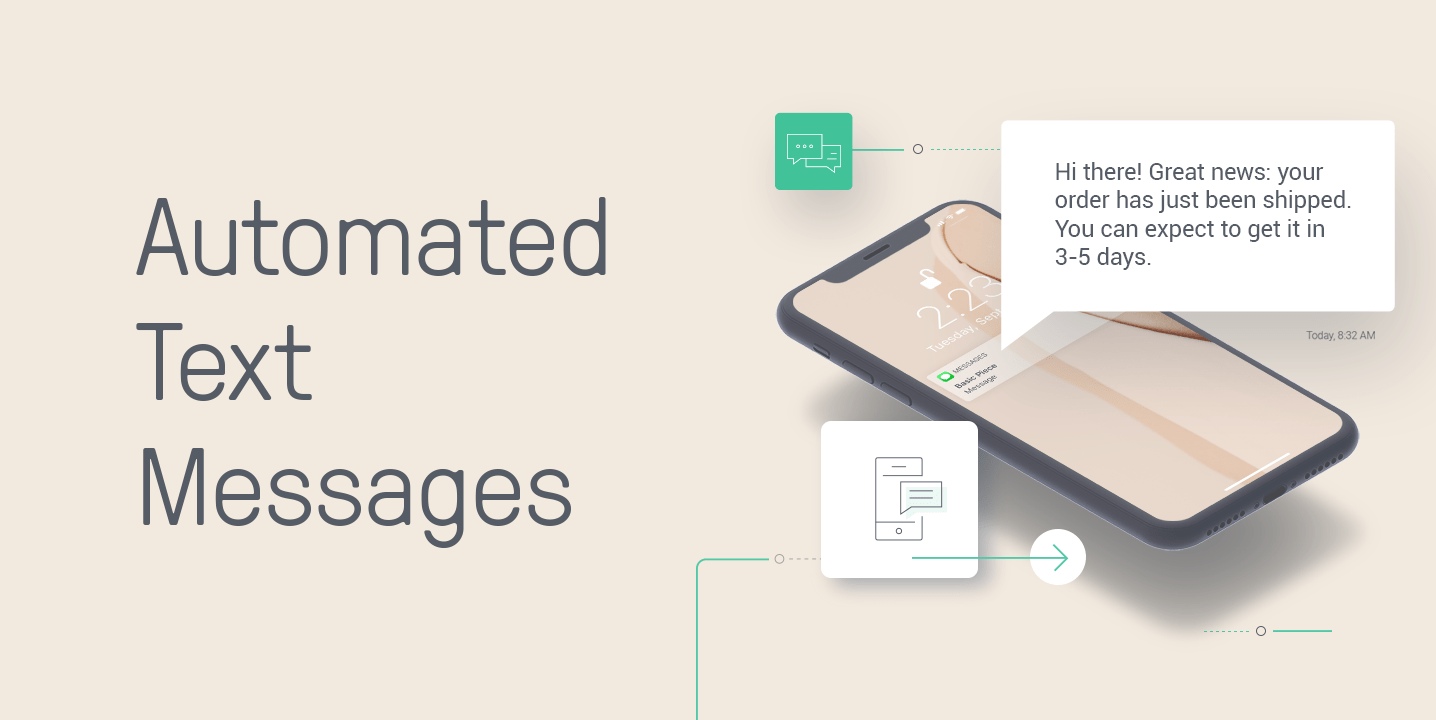 Reading Time:
9
minutes
Along with email, social media, and push notifications, SMS is one of the most important digital marketing channels in 2021. If you're looking to take full advantage of the platform, you'll need to leverage the power of automated text messages in order to increase your volume and respond to leads at specific points of the customer journey.
In this article, we'll take a look at some of the key advantages of automated text messages and help you develop a more effective approach to SMS automation. With the right automated text message strategies for business, you'll be able to make automated text messages a crucial aspect of your digital marketing campaigns.
Automated Text Messages 101
Automated text messages are all about setting up sequences and workflows that meet your audience at particular points in the sales funnel. With automation, you can create large-scale campaigns while maintaining a personal connection with each lead.
If a new customer provides their contact details, for example, you might use text message automation to send a welcome SMS with basic information and move them along for further engagement. Each new automation text message gives you additional interactions without forcing you to spend more time managing each campaign.
Ecommerce SMS Templates You Can Steal
The right phrasing for your automated text messages will depend on your brand image, but the following examples of automated text messages can serve as templates that help you get started with SMS workflows.
Remember that these ecommerce SMS templates are just a starting point—feel free to get creative as long as you stay within the character limit. Let's discuss the top automated text message examples.
Hi! It's [brand name]. Your 10% off code is: [code] Shop now: [link] Text us at [phone number] if you have any questions!
[Brand name]: Our best offer just got even better. Buy a hardcore Bundle and save an additional 20% on top of the usual 25%. Seriously. Click the link below to access now [link]
Hey there, [first name]! Thank you for signing up for our newsletter. Here's a 10% off a gift from [brand name] for your first order. [link]
TWO HOURS LEFT to get 40% off your entire order at [brand name]! Use code: [code] at checkout! Sale ends TONIGHT [date]! [link]
[Brand name] DEALS! Today all swim is BUY ONE GET ONE FREE! Code: [code] expires tonight at midnight. [Brand name] will be offering a new deal every Friday in December, so stay tuned! Shop at: [link] Unsubscribe: [link]
[Brand name]: Here are some great gifts for you to give or to keep! All on sale are ready to ship. [link] Unsubscribe [link]

There are dozens of examples of automated text messages useful for SMS marketing automation. Timely and relevant automated texts can reduce the time spent on tedious work and help you focus on big ideas for your core business.
Ecommerce Automated SMS Workflows
While custom automated SMS workflows open up a vast array of possibilities, you may want to start with some simple preset sequences. In this section, we'll go over five of the most common workflows that can increase traffic and sales for businesses in nearly any field.
1. Welcome sequences
Welcome sequences are a great place to start if you're new to automated text messages. Email is still a more common channel for these campaigns, but a welcome SMS will be more immediate and may generate more engagement.
The character limit is the most obvious downside of SMS compared to email, but you don't need to say much in a welcome message. A quick greeting, link to any offers, and other basic information should be enough of an introduction.
2. Limited-time offers
A welcome message can work equally well through either email or text, but limited-time offers are particularly well-suited to the SMS format. Of course, any major promotions should be communicated on as many platforms as possible.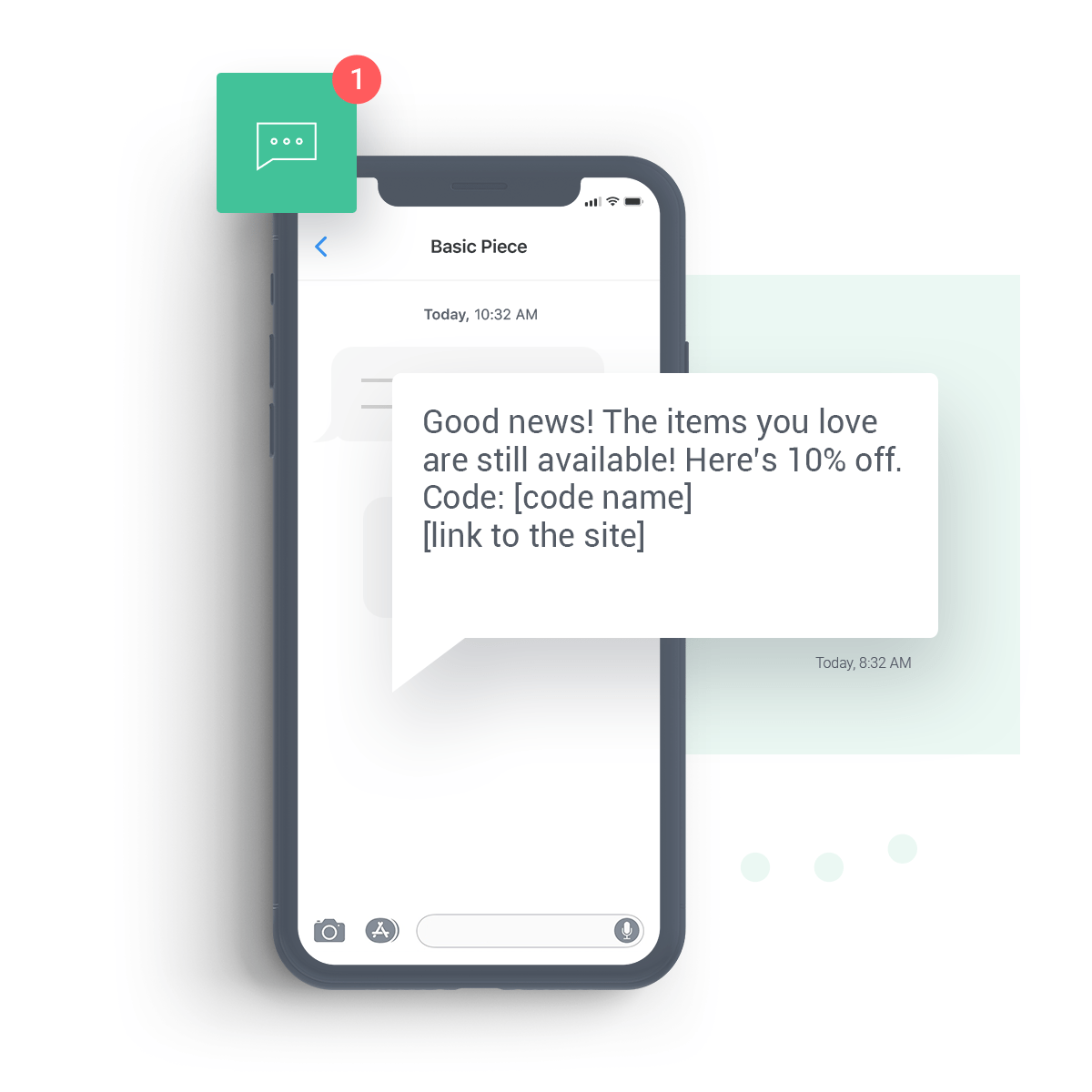 These kinds of promotional messages can become intrusive if you sent them too often, especially if you're sending them via SMS. Make sure to decrease your frequency if you start to notice a lower conversion rate or if more users start to unsubscribe.
3. Cart abandonment
Cart abandonment is one of the most common causes of lost sales in ecommerce, with roughly two-thirds of all online shopping carts being abandoned before the order. A brief follow-up message can help you make back some of that revenue.
During the 2020 holidays, SMS clocked a 3.2% conversion rate in November, making it an indispensable break-out channel for conversion optimization. Ecommerce merchants can't afford to ignore this channel any longer.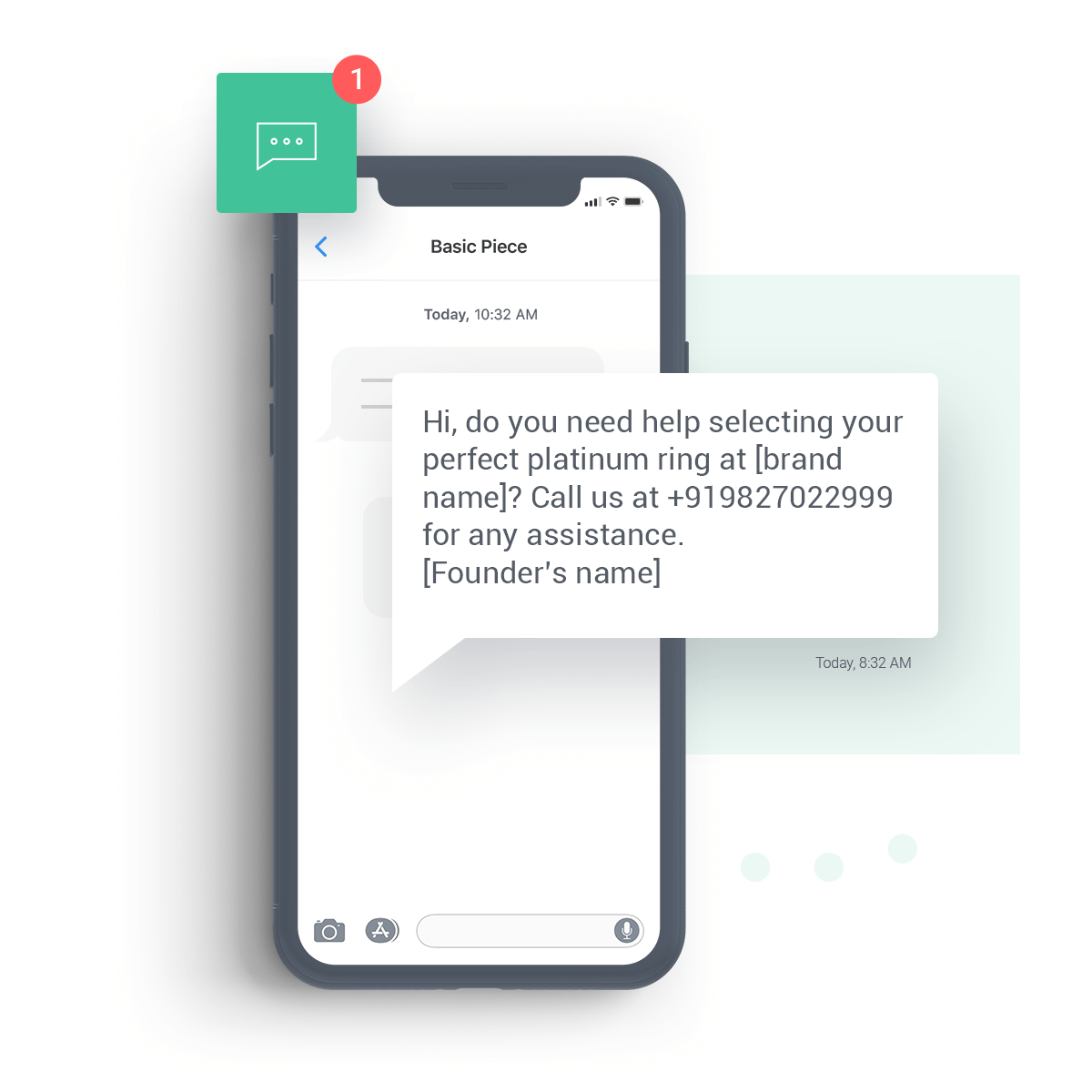 Luckily, Omnisend makes it easy to set up channel priorities for these notifications—for example, you could make SMS the first option and then email subscribers who haven't opted into text. This allows you to reach as many leads as possible without sending any duplicate messages. You could also send an initial reminder via SMS followed by a longer email to those who didn't convert on the first message.
4. Order confirmation and shipping updates
Customers expect brands to give them options. More and more vendors are giving users the option to set channel preferences for order confirmation, shipping updates, and other promotional messages.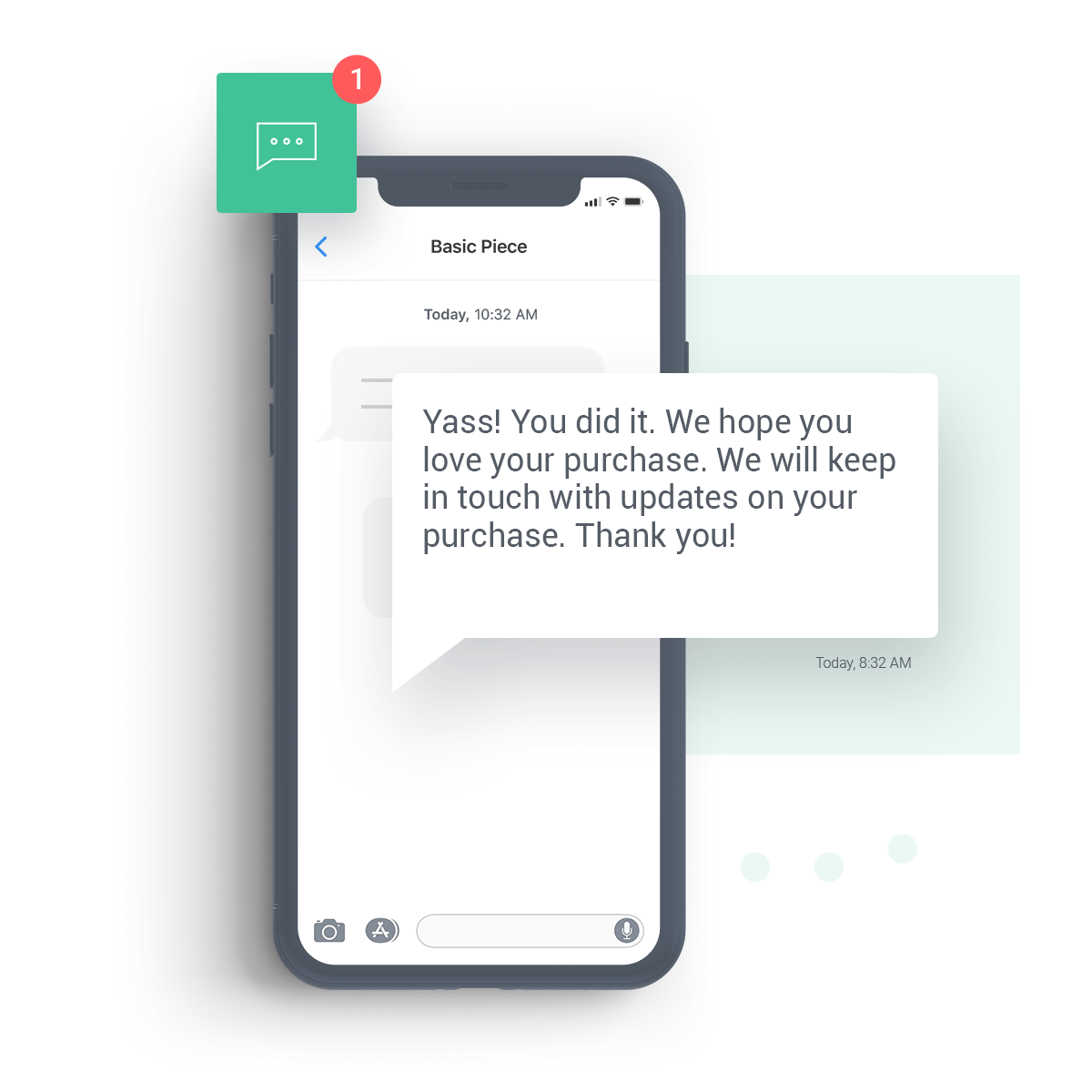 These notifications don't usually contain much information, so it shouldn't be an issue to create an edited version for SMS users. Allowing your customers to customize their own experience will go a long way toward building brand trust and facilitating more seamless interactions.
5. Birthday messages
Birthday discounts and gifts are a powerful way to bring back inactive customers, and they may also motivate some leads to finally make their first order.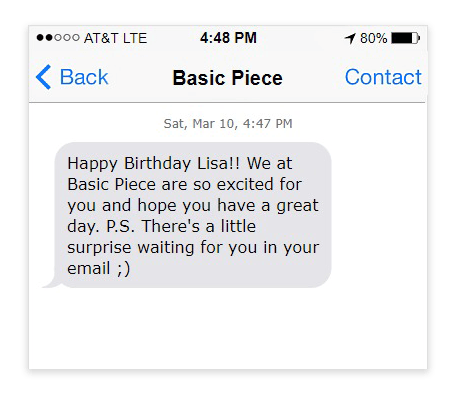 This is also the perfect setting for a limited-time offer—you could either give leads a few days or set the offer to expire at midnight for even more urgency.
How to Set Up SMS Automation in Omnisend
Omnisend makes it easy to configure either preset or custom automation sequences depending on the needs of each campaign. Of course, you'll need to collect customer mobile numbers before you can contact them in an SMS campaign, so check out our guide to getting started before moving onto automation workflows.
1. Build your contact list
Before you can increase sales through automated text messages, you'll need to grow your contact list and collect as many phone numbers as possible. Remember that your sales can be calculated through multiplying your conversion rate by the size of your list—every new contact gives you another chance to generate revenue.
Under contemporary privacy regulations, it's crucial to get a user's permission before sending them any promotional texts. TCPA makes it against the law to contact a user via phone or text without first receiving their explicit consent. While Omnisend is designed to facilitate TCPA compliance, we still recommend consulting a lawyer to avoid any liability.
2. Get SMS credits
Depending on your subscription tier, you may already have some SMS credits included with your plan. Pro and Enterprise users receive a free monthly credit equivalent to the price of their subscription, while Standard users need to pay out of pocket for each text.
SMS messages are generally restricted to a total of 160 characters, so texts longer than that limit may not go through in a single text. Take a look at our SMS credit page for more information.
3. Add an SMS block to your automation workflow
SMS blocks can quickly be added to any area of an existing automation sequence. At this stage, you'll have the opportunity to select a trigger and other settings such as lag times and split sequences.
If you're following up on abandoned carts, for example, you might want to leave some time rather than sending the message immediately after a user leaves your site. On the other hand, SMS for ecommerce like order confirmation notifications should go out as soon as the customer makes a purchase.
4. Set a sender name
The sender name is the first thing your subscribers will see in their inbox, so it's important to use something that will catch their attention. Unfortunately, SMS sender names are generally limited to 11 characters, which doesn't give you much space to work with as a marketer. It's also impossible to add spaces to a sender name, and some countries don't allow them at all (including the US).
With that in mind, you probably won't have enough room for anything more than the name of your brand. Of course, you can always A/B test different sender names to see which ones lead to the best results.
5. Enter your SMS content
From there, you'll be able to add the body of your message and see how it will appear on a recipient's device. Make sure to look at the preview for both US/CA and international recipients to confirm that there aren't any inadvertent differences between the two versions of your message.
Before distributing your message, Omnisend will also ask if you want to send a test SMS—for example, you might want to send it to your personal number. While the preview tool will identify most errors, this is your last chance to look at your message before the campaign. Test messages come at the same price as any other text.
6. Add personalization
Personalization is one of the most powerful tools for automated text messages, allowing marketers to distribute engaging content without sacrificing scalability. With Omnisend, personalizing a message is as simple as selecting options from the drop-down menu.
Omnisend supports four general types of personalization:
Contact, which includes things like email addresses and phone numbers
Account, which includes things like currency, time zone, and URL
Date, which accounts for the current day, month, or year
Abandoned cart, which accounts for the specific product a user was looking at
7. Select opt-out preferences
At this point, you can also choose whether you want users to opt out through an unsubscribe link or by replying to the message. Automated text messages are usually more intrusive than emails or social media posts, so it's even more important to make it easy for recipients to unsubscribe from your SMS campaigns.
The unsubscribe option is mandatory when sending automated text messages to American and Canadian subscribers, but it's a good idea to make this as easy as possible for your entire audience. Our article on SMS compliance is a great resource for staying knowledgeable about industry norms and legal requirements.
Keep in mind that unsubscribing from your SMS feed won't change a user's subscription status with respect to your email newsletter. A user who has unsubscribed may also still receive order confirmations, shipping updates, and other transactional messages.
8. Review and send
Finally, take a last look at your message and send it out to your subscribers. Don't forget to keep an eye on your SMS performance in order to identify strengths and weaknesses and avoid repeating the same mistakes.
Why Automate? 3 Key Benefits to Using Automated Text Messages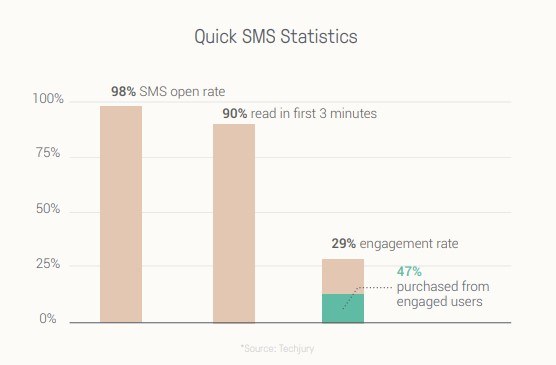 1. Speed
While emails are typically opened over a longer period of time, automated text messages are more likely to trigger an immediate response. This makes automated message texts a better option for most time-sensitive campaigns—if you're running a flash sale, for example, you should consider using SMS over email or social media.
Your goal should be to create a sense of urgency and get customers to react immediately, which contrasts with the longer time horizon of an email campaign.
2. Engagement
Emails are more likely to be missed or forgotten in a user's inbox, while leads tend to engage with SMS marketing far more often. According to Omnisend's Ecommerce Statistics Report 2020, SMS click rate totaled 10.6% on average throughout the year, with conversions experiencing a 102% YoY increase.
With that in mind, automated text messages should be at the center of your digital marketing practices. Text message automation tends to generate significantly more opens than emails, and customers are more likely to have push notifications enabled for SMS.
3. Efficiency
Automated text messages can help you increase sales by a significant amount. In addition, automated SMS messages can also help you cut down your marketing budget while spending less time on SMS campaigns. Marketing software allows brands to set up a variety of automatic responses to common events in the customer journey.
With no ongoing maintenance involved, automated text messages are an incredibly efficient solution for digital marketers. Every new sequence you configure will take some pressure off the rest of your messaging and free up more time to spend on other areas of your campaigns.
4. Improve Customer Relations
Automated text messages for businesses can be a powerful marketing tactic. In fact, automated text messages automation helps yield incredible financial returns for all types of organizations.
When it comes to SMS marketing and ecommerce texting, businesses face challenges with timing and relevancy. Luckily, SMS automation software automatically identifies potential SMS campaign targets and sends them automated texts and automated SMS.
These innovative platforms efficiently send prospectives automated text messages containing a killer promo code or an attention-grabbing CTA. Automated message texts are also a cheaper and effective way of distributing surveys which can help boost responses.
A business's ability to deliver a personalized message via text message automation at the ideal time is key for boosting customer service, engagement, and retention. By monitoring your business applications and using personalized automatic text messages, you can expand your reach and increase revenue.
If you're still hesitant about automated SMS marketing, consult with Omnisend. Sign up free for 14 days and try out automated text messages today!

Add automated SMS to your marketing campaigns and automation workflows with Omnisend