Drive sales on autopilot with ecommerce-focused features
See Features
Reading Time:
9
minutes
Many marketers believe that sending automated text messages is easy and requires no in-depth strategy.
The idea behind SMS automation is to help marketers save time with pre-written messages. While this saves them the trouble of manually crafting a message every time they need to send a text, it's wrong to imagine you don't need an effective strategy for this.
Like other marketing techniques, you need a calculated approach to succeed with your automated text messaging campaigns.
This automated text message guide will show you how to build the perfect SMS strategy and generate more leads for your brand.
What is an automated text message?
An automated text message schedules the sending of a message to the recipient(s) at a specific time. These pre-written messages help marketers save time and effort when engaging their audience.
They also result in timely and personalized customer engagement since they are built around a user's online behavior and personal information.
SMS automation may also refer to drip campaigns that are triggered by specific actions. Many SMS marketing tools provide different ways to send automated text messages.
Reasons to send automated text messages
Here are the reasons why automated text messages are a hit with marketers:
High open, click, engagement, and response rates
Brands can engage their customers directly and effectively through automated messaging. Your contacts are likely to open the messages within minutes of delivery.
In fact, a SimpleTexting survey found that 80.5% of users check their SMS notifications within 5 minutes of receiving a text.

This is great news for marketers because it implies that recipients will check their messages when they pop up on their phones.
But that's not all SMS recipients do when they receive a text message.
The same SimpleTexting survey found that 77% of users reply to an SMS within 10 minutes of receiving it. In comparison, only 28% of email recipients reply to the email within 10 minutes of receiving it.

These statistics underscore the importance of leveraging automated text messaging for your client communication. By sending the right automated text message, you can be sure that your recipients will not just see the SMS but also engage.
Efficient and time-saving
Imagine the challenge of drafting a brand new text message each time you need to interact with your customers.
It will take hours to personalize the message and keep it on-brand. And by the time you hit send, the customer would have already moved on to other things and is no longer excited to hear from you.
An automated text message saves you time and resources. It allows you to send personalized, on-brand text messages in minutes.
SMS software comes with text message templates to easily design your text communication. The tools also automate the follow-up process to help you provide on-demand responses that meet customer needs.
This will help you deliver a better user experience and earn the trust of your customers.
Conversational and easy-for-personalization
SMS automation software allows marketers to personalize their automated messages and connect deeply with their users. Personalization tags allow you to add user information, such as their name, in the automated text message.
Ecommerce SMS automation tools allow for personalization on a much larger scale. For example, when a shopper visits a product page and leaves without making a purchase, you can send them an automated text message encouraging them to have another look at the product.
The SMS templates are also designed in a conversational tone, allowing you to send thoughtful messages that appeal to the recipients.
Features like this make for a better brand experience for your customers. This will help you earn their loyalty and drive more sales for your business.
Types of automated text messages
Here are seven ways to use automated messages to engage your audience:
Welcome message
When users subscribe to your SMS list you can create a workflow that sends them an automated welcome message. You can also use the text-to-join feature to make it easy for people to subscribe to your email list.
And when they do, don't forget to send an automated text to welcome them to your brand.
Send transactional messages
Transactional messages are sent to customers after completing a transaction on your online store. For example, after a customer places an order, you should send them a message acknowledging their purchase.
Other transactional SMS messages brands send to customers include:
Shipping confirmations
Delivery updates
Booking confirmations
Account notifications
Cart abandonment recovery
Online merchants send cart abandonment SMS to shoppers who leave their online stores without completing their purchase.
These messages are meant to bring shoppers back to your store. You can add a link in the SMS that takes them directly to their abandoned cart, like in the image below: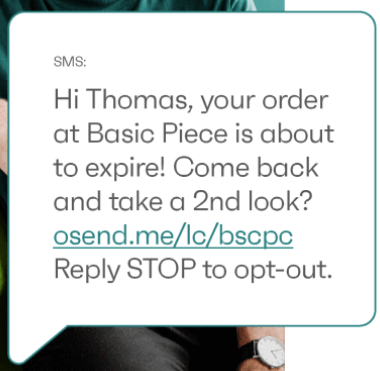 Send special offers
You can also use your automated text messages to send special offers to your subscribers. Since these are promotional messages, only send them to subscribers who have consented to receive them.
Appointments reminders
When clients book an appointment with you, consider using automated text messages to send them timely reminders and confirmations. Just ensure to schedule the reminders during normal working hours.
Collect reviews from polls and surveys
Customer feedback is valuable for any business that desires growth. You can use SMS automation to collect feedback about your products or services.
After a customer makes a purchase, you can send an automated text message asking them to rate your services.
Raise awareness for sales and promotions
Have a sale or promotion coming up soon? Use SMS automation to send details to your subscribers.
How to send automated texts with Omnisend
Introducing SMS as a messaging medium for your business may be a huge task. But once you have the automation all set up, you'll have a dependable system for promptly communicating with all your customers on a personal level.
Best of all, because automated messages handle communications on autopilot, you will never be burdened with manual messaging.
Follow these five steps to set up automated text messages for your business:
Step 1: Sign up with Omnisend
There are many automated text message services you can sign up for, but not all of them allow you to reach a global audience. Omnisend provides robust automation features ideal for ecommerce businesses of all sizes.
Our Automations Library has many pre-built workflows you can use for your SMS campaigns. The ready-to-use text message templates are simple to customize, making it easy to send your first automated text message within minutes of signing up.
Save time with Omnisend's robust SMS automation features. Join today.
Step 2: Upload your contact list or start building one
Once you've registered with Omnisend, you'll need to upload your contact list and make sure that every number is in international format. Omnisend has multiple ways to easily add contacts: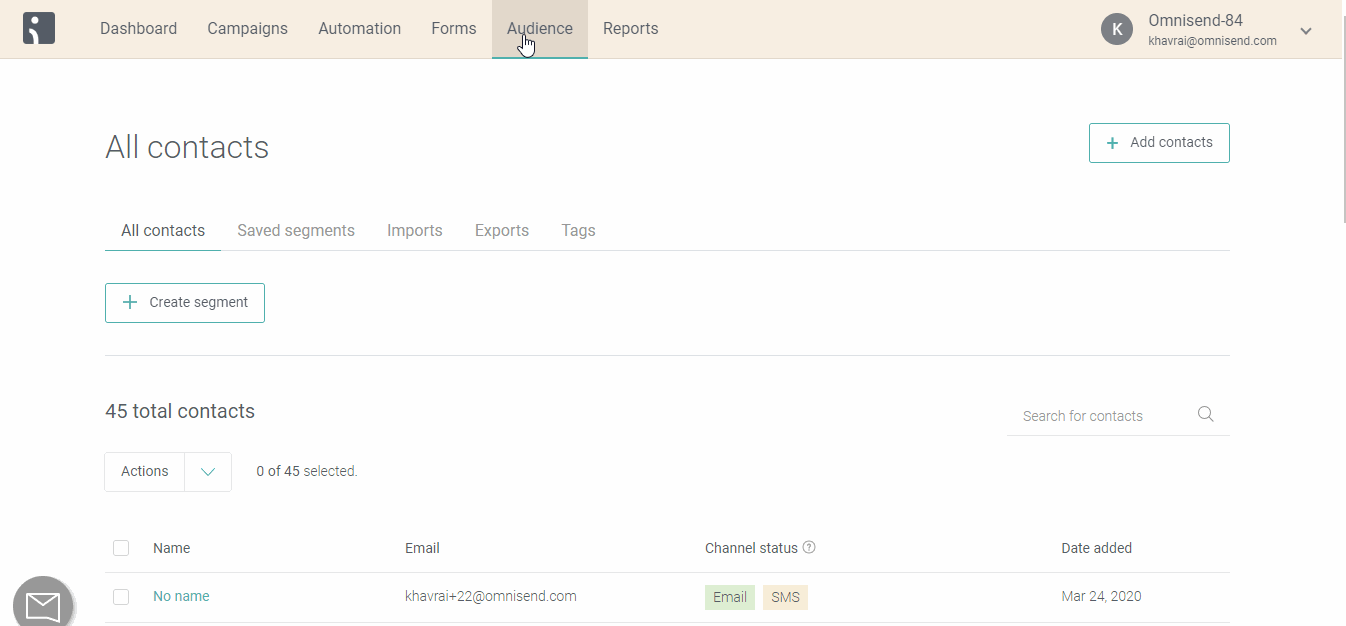 Keep in mind that it's best practice to send text messages only to customers who specifically opted into the service. In some countries, including the United States, the law mandates this requirement, so ensure that you have express consent before adding anyone to your text message list.
If you don't have a list, it's a good time to start building one. Integrate Omnisend's ready-to-use signup forms into your website, and they'll work seamlessly with the automated SMS features.
Step 3: Create an automated text campaign
For automating text messages on Omnisend, start by selecting the pre-built workflow that best matches your business goals. Among the most useful automation workflows for SMS are the Welcome workflow and the Product Abandonment workflow.
You can set these up to work with just SMS or as part of a series that includes email and push notifications. Just ensure you add the right messaging types in your preferred sequence.
For example, you can set a Welcome series to send an SMS immediately after a customer signs up. Then, configure the workflow to send a welcome email sometime after the SMS. If used correctly, these two messages can complement each other to spur a first purchase.
Similarly, employing an Abandoned Cart workflow reminds potential customers of products they are interested in. Incentivizing their purchase with a well-timed offer delivered via automated text message could be the key to getting them over the line.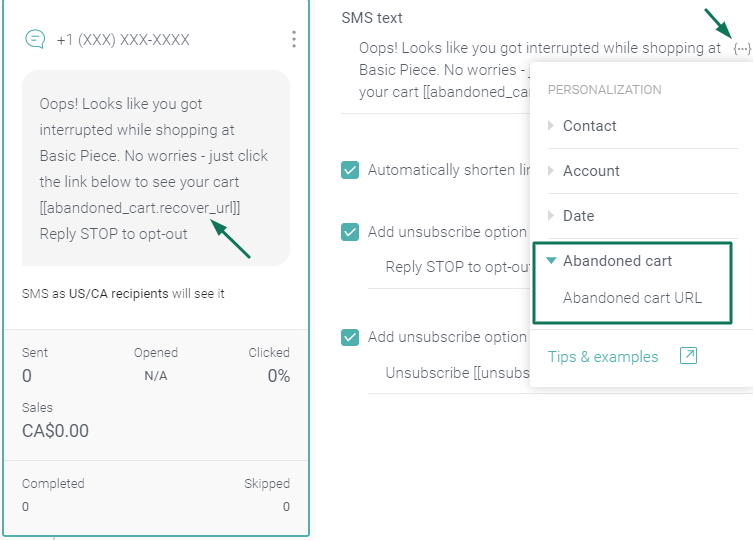 Step 4: Add content to automated message text
Once you've selected the right automated workflow template, you'll need to customize it to work for your business. Some things to add are your campaign name and the sender's name.
Most importantly, you need to craft your customized message.
Additionally, your auto-generated text messages need to include opt-out instructions. For recipients based in the US and Canada, opt-out instructions should involve a keyword response (e.g., "Reply STOP to unsubscribe"). In other parts of the world, an unsubscribe link would suffice—so make sure to check the requirements for each country you're planning sending to. Thankfully, Omnisend has features that make these opt-outs easy to manage.

When you're done customizing the text message, save the campaign so it can start sending out messages.
Step 5: Monitor campaign performance
Once you have your SMS campaign up and running, you can just sit back and let the software do all the work. However, you should also go through Omnisend's reports to see what's effective and gather insights on what you can improve for your business.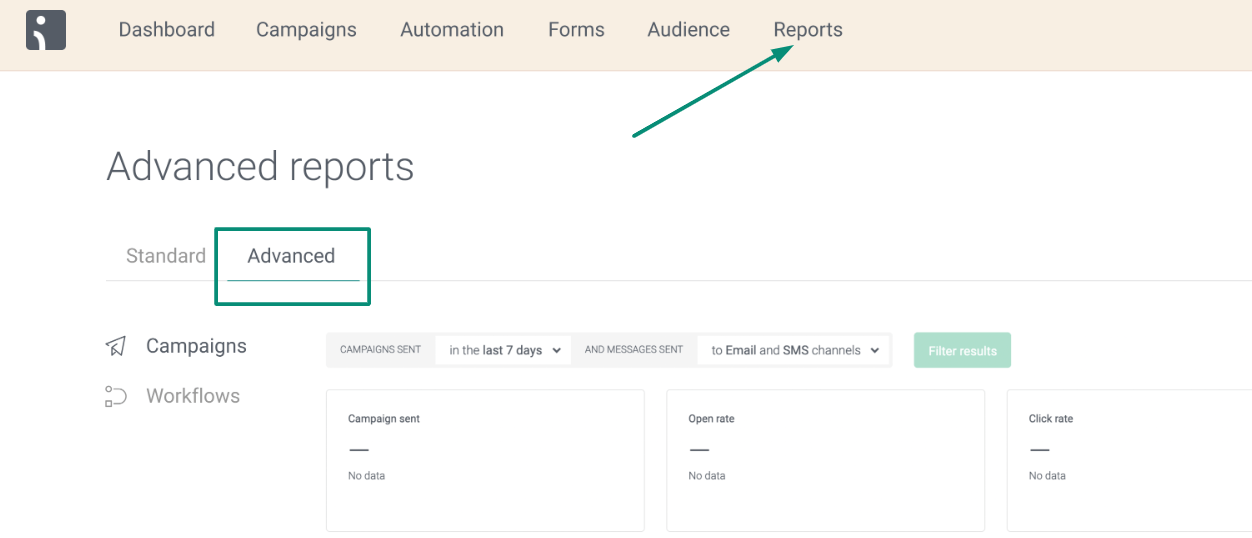 To view only SMS, you can filter the visible campaigns:

You can also view your trends to see how your campaigns perform over time and decide whether you need to make adjustments:

Here are some of the most important SMS metrics you should keep an eye on:
SMS sent – The total number of text messages sent
Click rate – The percentage of recipients that clicked on a link in an SMS
Sales – The dollar value of sales generated by the campaign
Unsubscribe rate – The percentage of customers that unsubscribed from your messages
Bounce rate – The percentage of intended recipients that did not receive the SMS for any reason (such as for an invalid number).
Examples of automated text messages
Writing automated text messages can be daunting because they need to be short but also engaging enough to drive recipients to action. If you get it right, however, each automated message can make a significant contribution to your traffic and revenue.
Here are some effective automated text message examples you can use as inspiration for crafting your own pre-written marketing messages:
Personalized discount
Hi [first_name]! It's [brand_name]. Your exclusive 10% off code is: [code] Shop now: [link] Text us at [phone_number] if you have any questions!
Special offer
TWO HOURS LEFT to get 40% off your entire order at [brand_name]! Use code: [code] at checkout! Sale ends TONIGHT [date]! [link]
Sale notification
[brand_name]: Our best offer just got even better. Buy a [bundle_name] and receive [item_name] as a free gift. Seriously. Click this link to access now [link].
Order confirmation
Hello [first_name]! Thanks for shopping at [brand_name]. We will send you another text when your order is on its way. You can also track your order at [link].
Abandoned cart reminder
Hi [first_name]! Did you forget about the items in your cart? They'll look great on you! Treat yourself and enjoy free shipping. Just enter [code] at checkout.
Newsletter welcome message
Hey there, [first_name]! Thank you for signing up for the [brand name] newsletter. Here's a 10% off voucher—a gift for your first order. Enter [code] at checkout.
Customer review request
Hi [first_name]! Thanks for your recent purchase! Can you leave a review of your experience with us? It'll only take 1 minute. Just go here: [link]. Thanks for your help!
Appointment reminder
Hi [first_name]! It's been [#] months since your last [service]. Text back or call [phone_number] to set your next appointment. See you soon!
SMS for delivery and pick-up options
Hi [first_name]! Your order [number] will be ready for collection after 2pm today
Hi [first_name]! Your order [number] will be delivered tomorrow. Not going to be in? Designate a safe place or reschedule here [link]
Updates (e.g. back in stock)
Hi [first_name]! Items you recently viewed are now back in stock! Take a look at [link]
Customer support surveys
Hi [first_name]! How was your shopping experience with us? Please reply between 1 (bad) and 5 (great).
Wrap up
An automated text message service will simplify your brand communication and help you save time and resources.
When deployed correctly, SMS automation will help you send personalized messages to your audience at the right time. This will result in a better user experience and help you drive more sales for your business.
Add automated SMS to your marketing campaigns and automation workflows with Omnisend.
Start Free Today
related features
Want more sales?
Omnisend has everything you need to succeed.
Start free now
No Credit Card needed.