Drive sales on autopilot with ecommerce-focused features
See Features
Reading Time:
4
minutes
Here at Omnisend, we're always updating our product to make sure we're giving our customers the best experience possible.
Our product releases and integrations are built based on real customer feedback about what they'd love to see added to a product they already love to use.
And each month, we're delivering new integrations and new features designed to make creating and sending emails and SMS faster and with better results.
Here's a video summarizing all the exciting things Omnisend released in July 2022:
And if you want to get more in-depth details about our July updates, just keep on reading.
Our new Email Builder keeps getting better
We are on a constant mission to improve our new Email Builder so that you can create beautiful, high-converting emails faster. For our July batch of updates, we want to help you inject even more personality into your emails and save more time building campaigns.
We're helping you do this with the following enhancements:
Single word coloring: you can now change the color of individual words, a single letter inside a word, or multiple words, helping you add much more creativity to your emails.
A flexible HTML block: this will allow you to now easily stretch the editing box, giving you more space when editing your HTML.
Save entire layouts and single items: now you can save all of your favorite components and simply select the saved layout or item from the sidebar whenever you need them.
Click here to find out how to use saved layouts and items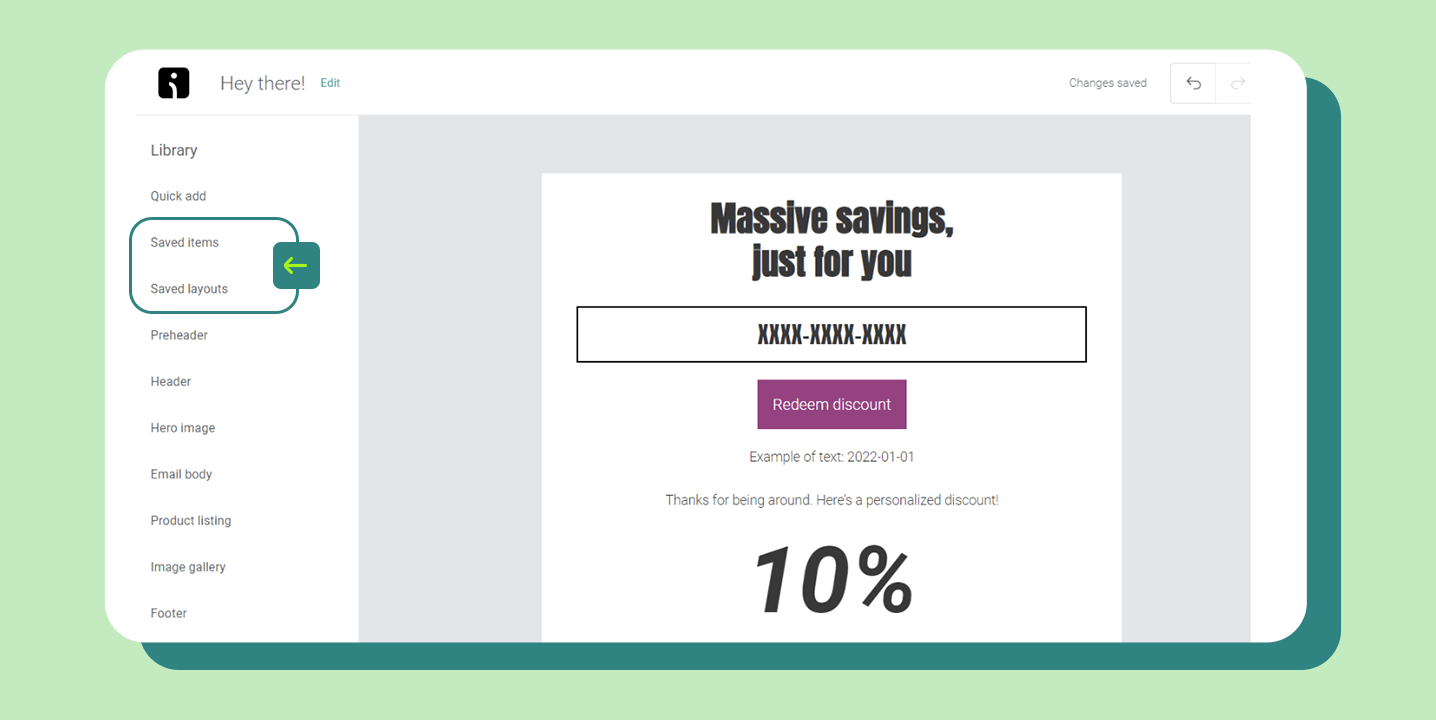 The new Form Builder
Our new Form Builder is continually getting bigger, faster and stronger, to help you quickly launch various signup forms and collect new subscribers or announce sales.
This month, we've added even more to our Form Builder:
Double opt-in: to ensure your collected email addresses are genuine and your emails can be delivered in future, you can now add double opt-in to your signup forms. Plus, we'll automatically apply your branding to the verification email and confirmation page, so you can get started more quickly. Learn more about double-opt in.
Mobile targeting: you can now target mobile users with our new filter to only view eye-catching mobile-only popups.
Collect birth dates: in our new signup forms, you can now use the drag-and-drop 'Date' block to collect birth dates (giving you more fun segments and workflows you can create). Learn more about birthday emails.
Birthday templates: we're now making it easier to promote birthday goodies to new subscribers 🎂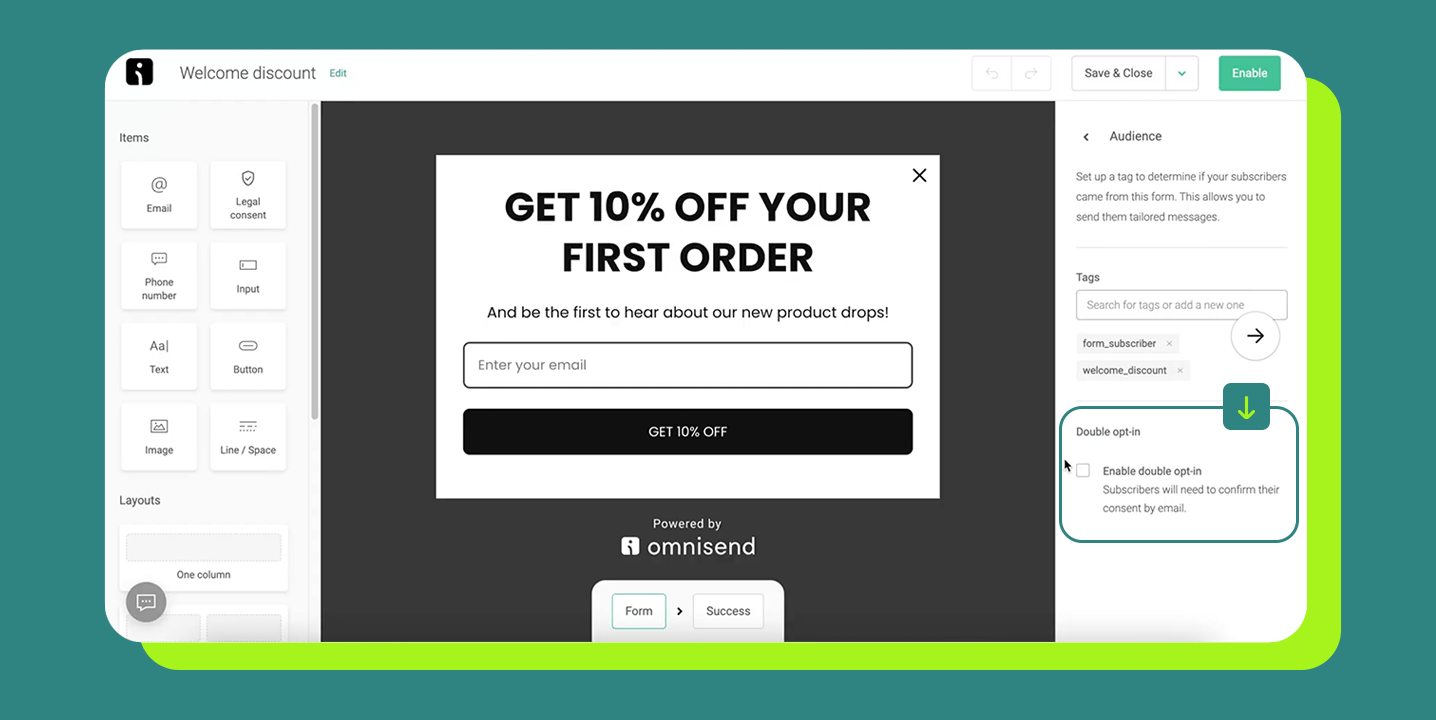 The brand new audience segmentation
Besides our new Email Builder and Form Builder, we've also got a brand new revamped segmentation—now with unlimited segments—to help you more easily and more creatively build any segmentation you can think of.
That's a bold statement, but that's only because Omnisend now offers the most flexible segment builder in the entire ecommerce industry.
For our July updates, we've created three new segment presets so you can reach your SMS subscribers based on their country code. With just one click, you can now create segments to reach SMS subscribers based in Canada, the US, or both.
You can also refine your audience segmentation using AND/OR connectors, and even combine two groups into one segment 🤯
Here are a few segment rules you can build with our July updates:
Email subscriber and Tag and City
Bought product or Viewed page
Email subscriber and Bought product or Viewed page
Contact List A and/or Contact List B
Click here to find out more about segment filters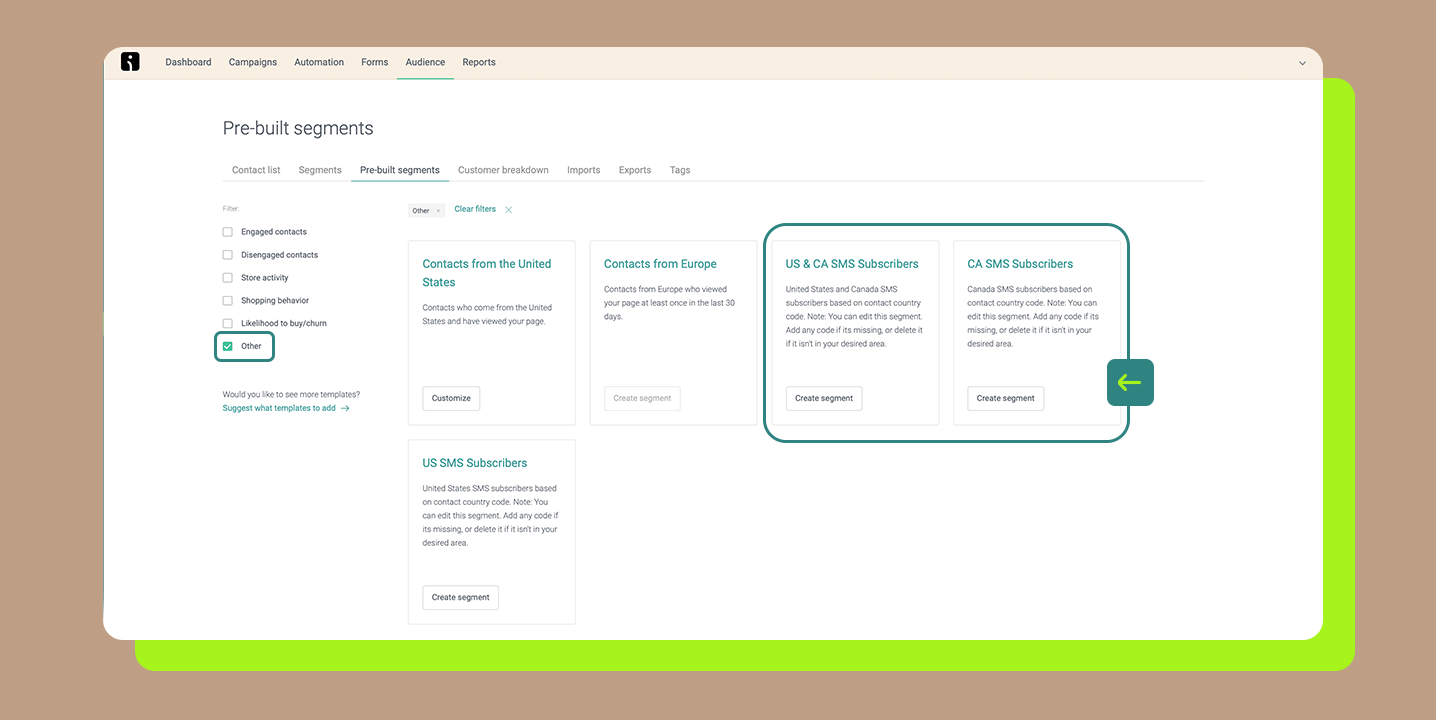 New integrations for our App Market
Every month, we add more integration partners to our App Market, which means more tools you can directly sync up with Omnisend to help your marketing and sales, or to run your business.
For July, we have these new additions:
Check out our App Market for all the latest integrations.
And that's it for the July product updates at Omnisend. We've covered only the biggest updates for July—if you want to see the full list of product updates, read our latest What's New support article.
Not a customer yet?
If you're as excited as we are about these updates to our email & SMS marketing platform, but you aren't a customer yet, don't worry—
Signing up is pretty easy. Even better, you can get started with Omnisend for free and get access to all the features. That way, you can directly see how Omnisend can help you build your brand (and sales) more quickly.
related features
Want more sales?
Omnisend has everything you need to succeed.
Start free now
No Credit Card needed.