Drive sales on autopilot with ecommerce-focused features
See Features
did you know
Omnisend customers automate 32% of their email conversions. Are you maximizing sales?
automate my sales
Reading Time:
7
minutes
Email automation is a crucial aspect of ecommerce marketing, and it's one that helps ecommerce merchants respond quickly to a customer's behavior and needs.
(If you haven't yet, read our in-depth strategy guide on email marketing automation.)
In fact, that's one of the reasons why we're really throwing so much of our effort into marketing automation, as it is based on the customers:
helping merchants build better relationships with their customers through constant attention at just the right time.
Today we'll look at what our flexible automation is all about by looking first at the customer journey, and then we'll show you 5 great ways you can use automation to help provide value to your customers and boost your sales.
Drive sales on autopilot
with pre-built automation workflows
Start Free
Why automation matters: your customer's journey
Marketing automation is a process of using software to automate repetitive, day-to-day tasks. This can be used across a variety of channels, including email marketing, social media, Facebook, and much more.
When it comes to ecommerce marketing automation isn't just about performing repetitive tasks, like sending out an email to a customer. It also helps you send out that email at the right time, which is whenever your customer has performed an action.
That way, a welcome email can go out right after a customer signs up to your newsletter, regardless of whether you're asleep, working on other tasks, or spending time with your family.
With the right software, marketing automation can be set up easily and adjusted according to the needs of your business or your customers.
When it comes to email automation, it's important to remember the five parts of your customer's journey: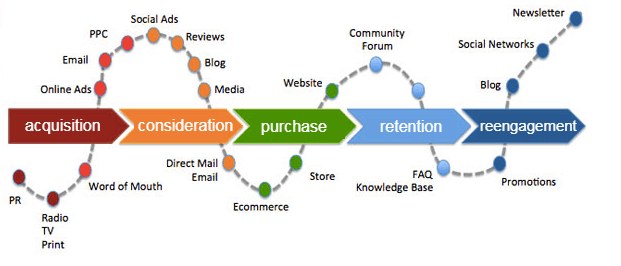 5 ways to use marketing automation for better value and sales
Now that you've got a pretty good understanding of what marketing automation is and how it works at Omnisend, you're probably eager to get started on it.
Below are 5 great ways you can use these new workflows to not only provide extra value to your customers, but also to increase your sales.
#1 Send different welcome emails for different signup forms
With Omnisend's updated automation, you can send different welcome emails to your subscribers based on the signup form they used to subscribe.
For example, if your subscriber signed up because of your 15% off discount, you should send a different email than a subscriber that signed up because of your resource on how to choose the best scarf to match your outfit.
This is also good for your Black Friday email campaigns, so that you can give a customized welcome message for the busiest shopping season of the year. Similarly, the end-of-the-year Christmas shopping season is a great opportunity to grow your email list, impress them with a fantastic welcome email, and convert them.
In your welcome emails you can offer discounts, free shipping, or free gifts on your hottest items or you can lead them to other important pages on your site.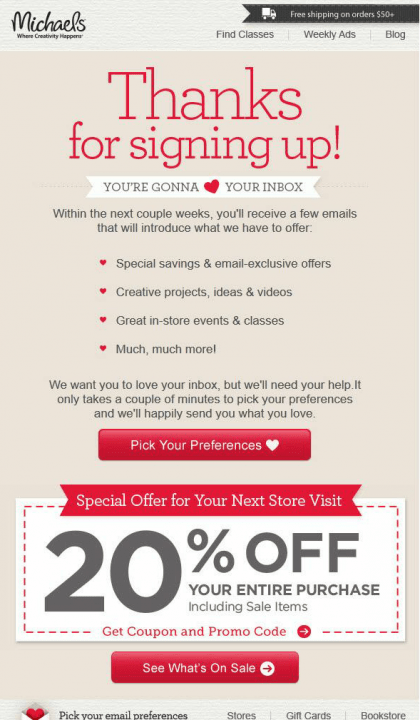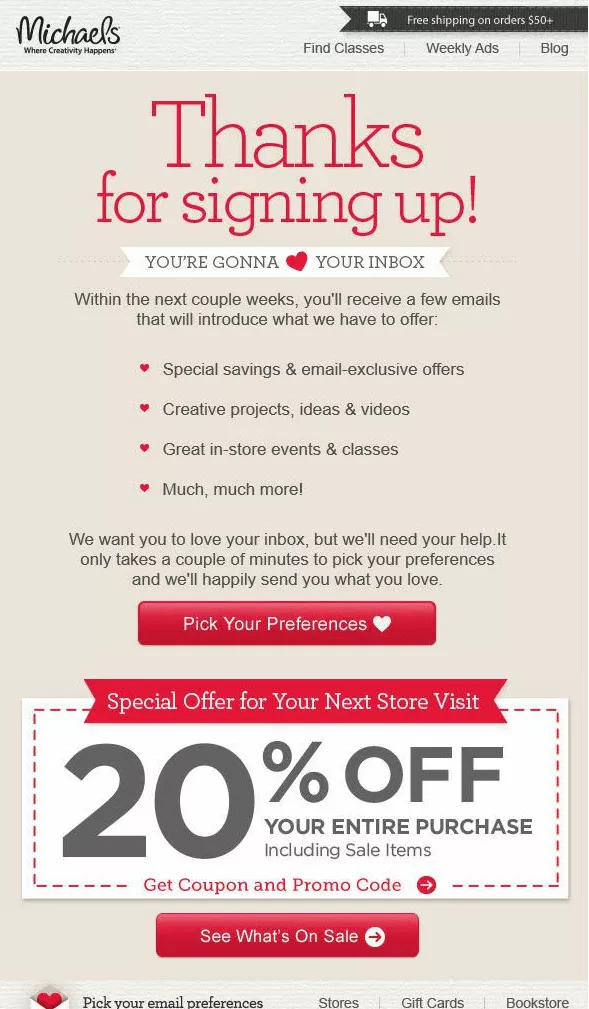 In general, we recommend sending not just one welcome email, but a series of three welcome emails:
The first email is a general welcome to the subscriber, and briefly introduces the benefits of joining the community
The second email tells the story about the brand
The third email is for social proof and gives an enticing discount for the first purchase
#2 Stop abandoned carts with relevant offers
Abandoned carts can be the most frustrating part of running an ecommerce business. Your shoppers are so close to buying from you, and then something stops them from completing the purchase.
When creating your abandoned cart emails, here are a few things you should do to get your customers to buy:
Don't just send one email—send a series of 3: Omnisend merchants with a a series of 3 emails see 69% more orderson average. The first email should remind the customer about the abandoned cart, the second suggests they finish the purchase, and the last email should provide an incentive, such as a good discount
Time it right: if you're sending a series of 3 emails (we strongly recommend you do), send the first one hour after they've abandoned the cart. After that, send the second message 12 hours later, and the third message 24 hours later
Use high-converting subject lines: a strong subject line can grab your customer's attention, get them to open the email and be enticed by your offer. We examined the subject lines of nearly 100,000 abandoned cart emails and the best ones are short and to the point.
Feature the abandoned product: make sure your customer remembers what product they were shopping for. Don't just say "come back"—showcase the product they abandoned and make it as large as possible (hint: this is pretty easy to do with Omnisend's drag-and-dropnewsletter builder)
Add an easy-to-find CTA button: near the product image, add a bold and easy-to-see CTA. The button text should say something like "Continue shopping" or "Buy now."
Provide customer support: there may be technical reasons why your customer abandoned their cart (such as a problem with the checkout page). Providing customer support options can allow them to reach out and find a solution
Add multiple channels: experiment with your abandoned cart messages by adding other channels, like SMS and push notifications. Sales from web push notifications occupy a small part ofDivatress' overall abandoned cartcapture, but nearly everyone who clicks on it (98%!) makes a purchase.

#3 Send irresistible birthday emails
Birthday emails are automated emails that go out on a customer's birthday. You may not know it, but birthday emails have a 45% open rate—more than double the open rate for regular promotional emails.
Birthday emails make your customers feel special, and provide you another occasion to get sales and increase customer loyalty. To make the most of your birthday email automation, you should:
Add free shipping. Free shipping should not be the birthday gift by itself. Instead, make it a part of the offer, combining it with the actualcoupon codeor another offer.
Include a clear Call-to-action (CTA). Make it clear, big, bold and easy to click
Add a discount. Don't be too cheap with very little discounts; it's a birthday, and the gift should be impressive.
Give extra time to redeem the discount. Since people tend to be quite busy, allow customers at least a week to redeem their birthday gift
Setting up birthday email automations can be a bit daunting (and pretty much impossible to do manually), but with services like Omnisend it's pretty easy.
All you need to do is click on the pre-built email automation for birthday emails (Special occasions > Birthday email):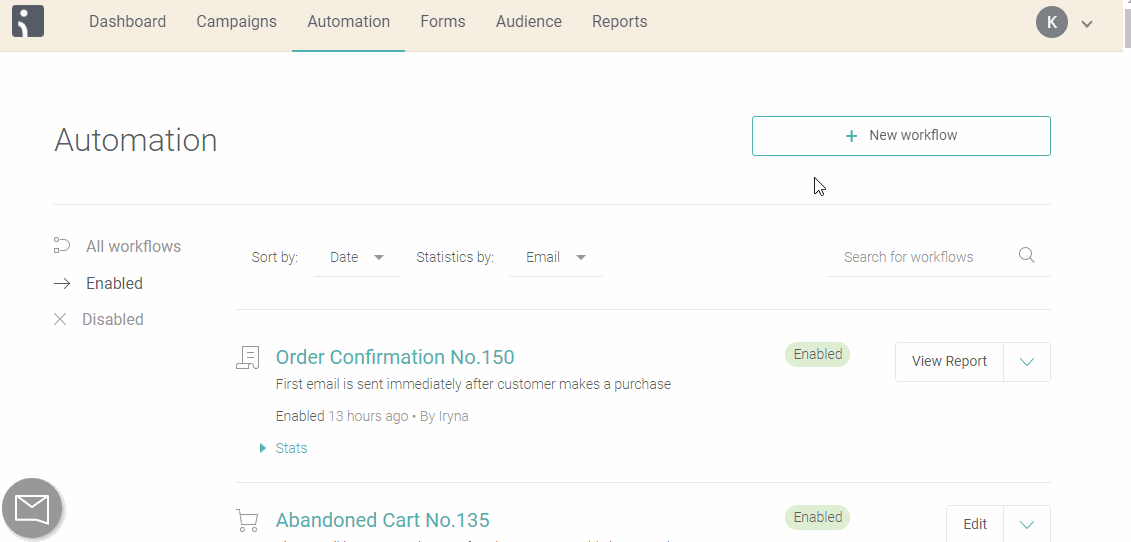 After that, you can customize it as you wish. You can even add a text message (SMS) into the workflow to delight your customers.
Set up your email marketing automations in no time with Omnisend. All plans (including the free plan) come with unlimited features and free SMS credits. Start free now.
#4 Keep your customers engaged even after they've purchased
A customer's lack of engagement may not be disinterest from a customer's side. Actually, it's more likely due to a lack of attention from the merchant side.
After all, if the customer bought from you and enjoyed your product, they're very likely to buy again. That's why you need to send them regular, interesting emails to keep their interest.
You can do this most effectively with two automation workflows: the Order Confirmation and the Order Follow-up.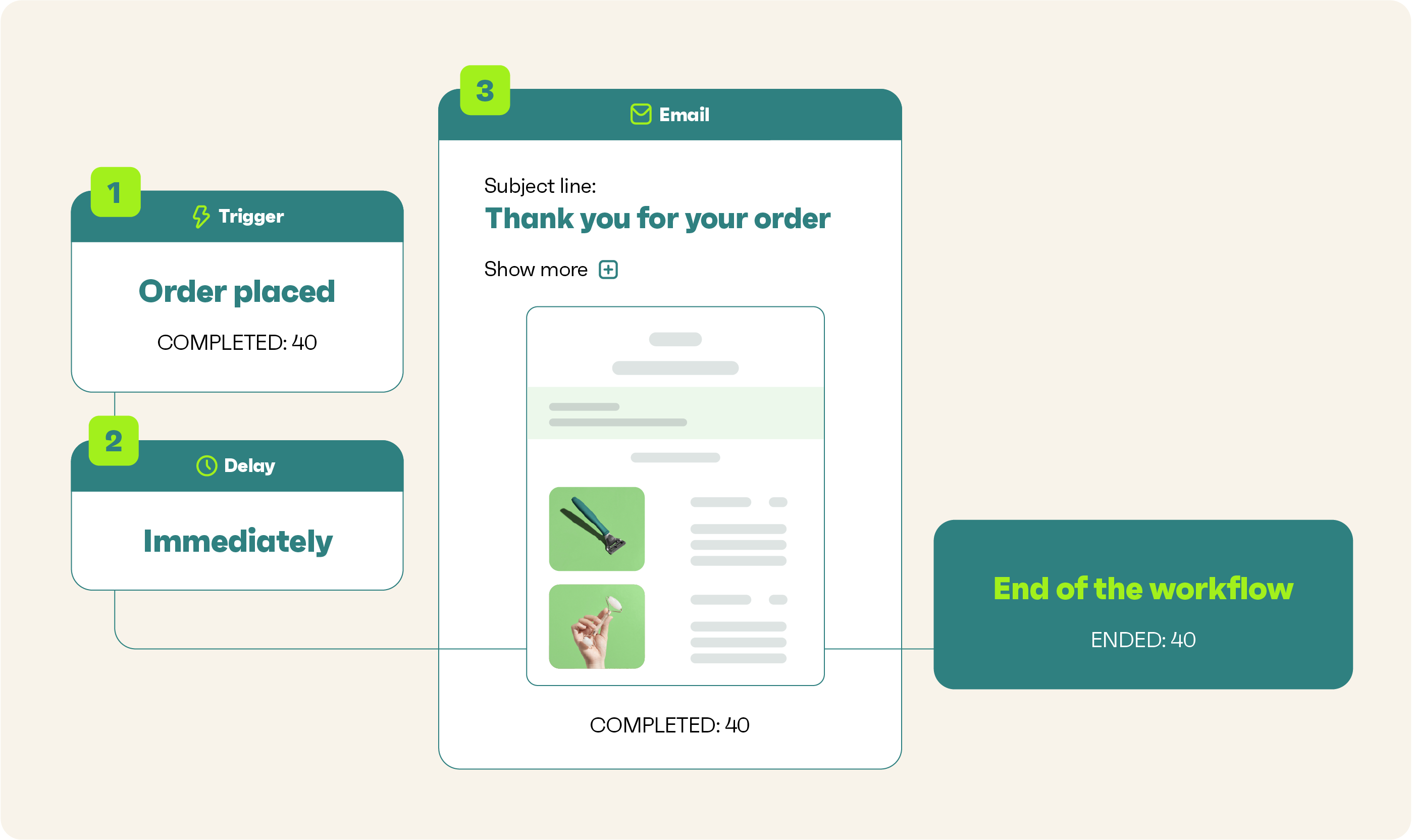 The Order Confirmation workflow should be set to go out to the customer immediately after they've made a purchase. You can include featured products or even an interesting offer for their next purchase.
The Order Follow-up should go out one week after purchase or later in order to get feedback from your customer about their enjoyment of the product. This will help you gather enough information to improve your products to provide even greater value.
You can also use this opportunity to send an offer and keep them engaged.
#5 Reactive your dormant customers
If you know your average purchasing cycle, you can set up your Customer Reactivation workflow to go out after the customer that hasn't made a purchase for a specific amount of time.
The timing here is really important, as you don't want to send the customer re-engagement emails too early or too late. Generally, the timing for the re-engagement emails depend on the frequency at which your customers would normally buy your products.
You can look at the graphic below for more information on that: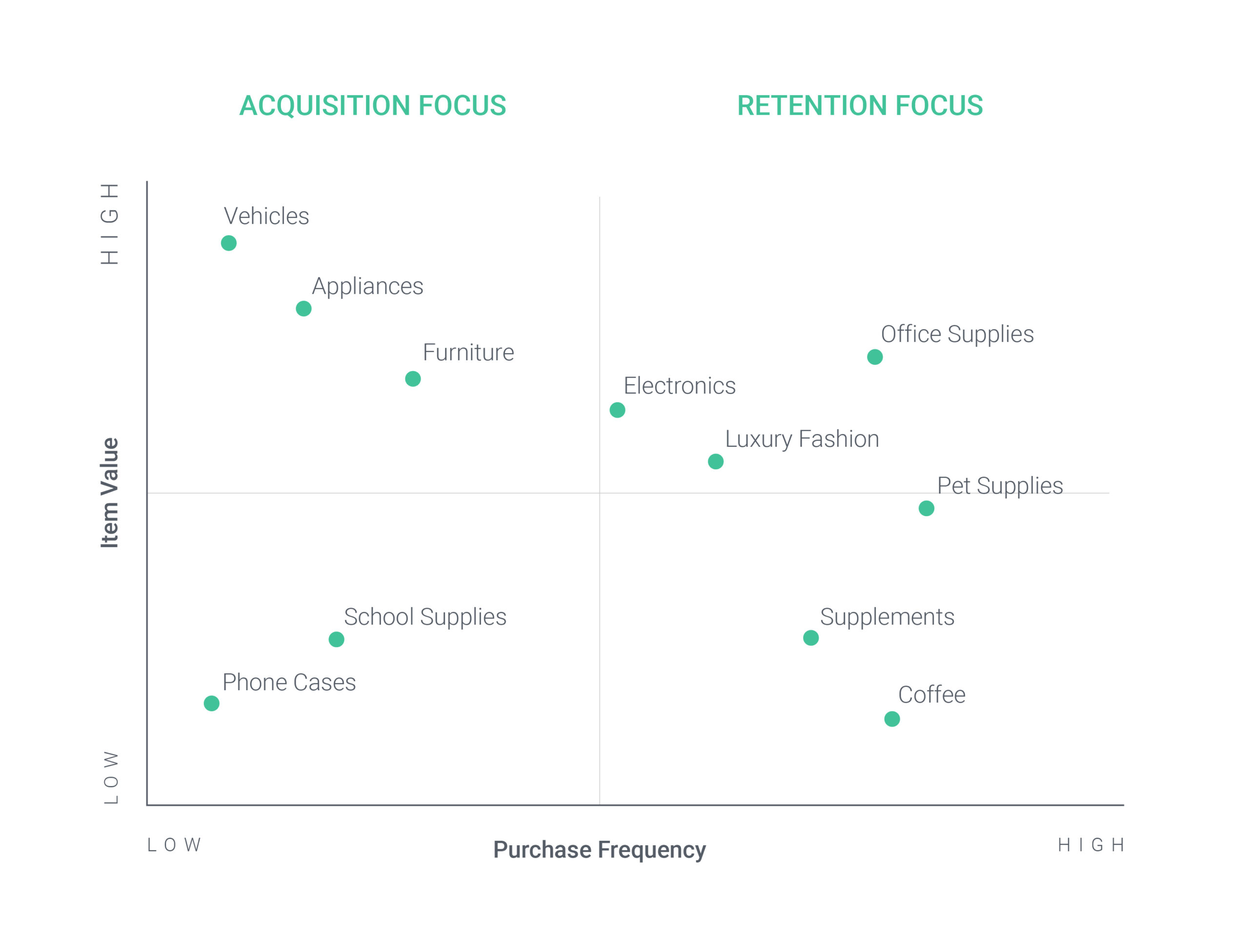 Here, you can see that products like pet supplies, coffee, and fashion are purchased frequently (and have a low to average price), while school supplies are purchased less frequently.
You should understand in which quadrant your products fall. The higher the frequency, the smaller the timeframe for sending out re-engagement emails. For example, school supplies are bought once or twice a year (usually per semester), so it's a good idea to send out reactivation emails only before semesters begin.
Supplements, on the other hand, are purchased monthly, so if a customer hasn't engaged within 70 or 90 days, it may be time to send out a re-engagement email.
You can easily set up these re-engagement emails with Omnisend's pre-built automation templates: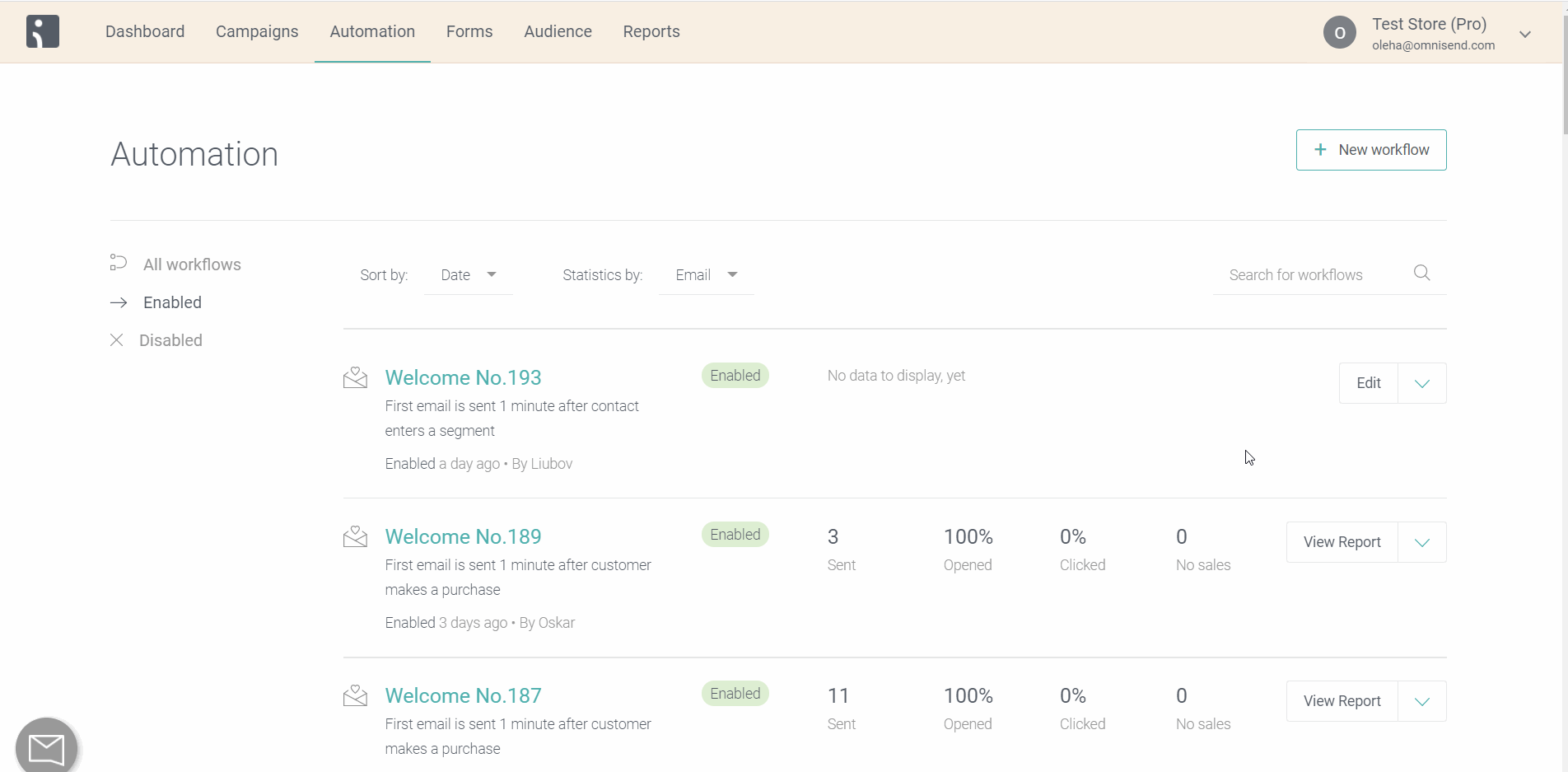 When you've set up your new automation, with our new workflows, you'll be able to reach the right customers at the times when they need and want your messages the most.
With that, you'll have happier customers, more conversions and much better sales.
Get started with Omnisend today & drive sales on autopilot with pre-built automation workflows
Start Free Today
related features
Want more sales?
Omnisend has everything you need to succeed.
Start free now
No Credit Card needed.