Drive sales on autopilot with ecommerce-focused features
See Features
Reading Time:
4
minutes
With Easter having been and gone, we're now firmly in the spring season—and that means it's the perfect time to do a little cleaning and look ahead to new growth throughout the rest of the year.
And of course, we've got just what you need to help you:
Clean your subscriber list (and possibly reduce your costs)
Enhance your automations with brand new triggers
Optimize your newsletters
Excited to find out? Watch the video below for a speedy overview, or read on for more details and a bonus update that's not in the video.
Spring cleaning
Spring cleaning doesn't just refer to dusting your home. By turning your attention to your contact list, you can improve your sender reputation—and if it reduces your list size, you could save some money at the same time.
The first step is to identify inactive contacts. If you're an Omnisend customer this is really easy, because we've made a pre-built segment that shows disengaged contacts. If you're not an Omnisend customer, you can quickly change that by signing up here.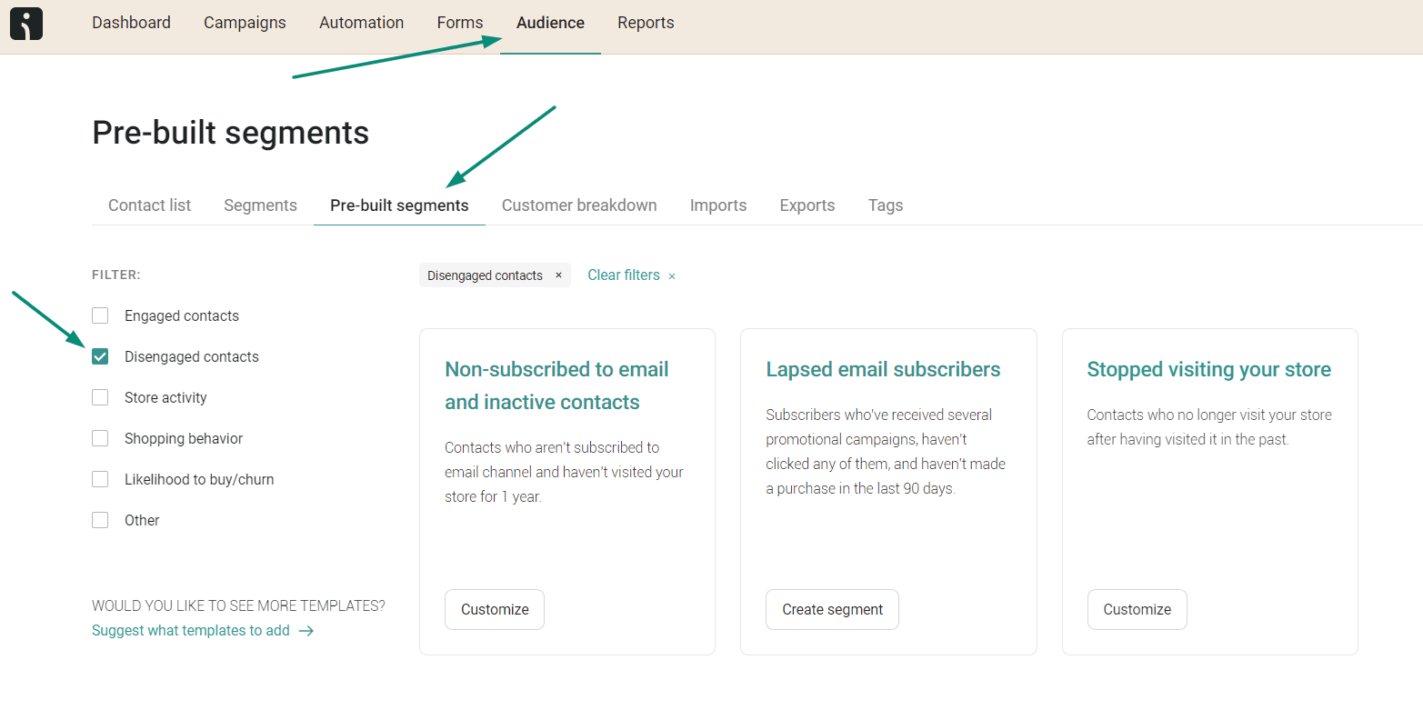 With these contacts identified, it's then up to you whether you remove them straight away, or try to win their attention back with a re-engagement campaign.
You could start with a re-engagement campaign and then consider removing anyone who still appears as a lapsed contact.
Automations
Your automations can now make use of these new triggers:
Message sent: Ideal if you want to send follow-up communication to people who have expressed interest in your store, or expand on a previous message
Delivery failed: Resend a message that wasn't delivered, or tag contacts who didn't receive a previous message—such as resending a welcome email so new subscribers don't lose a promised discount code
Message marked as spam: If someone marks your emails as spam they're automatically unsubscribed so you can't email them, but you might want to tag buyers who have marked you as spam
👉 Find out more about these new triggers here.
The Product Recommender can also now show items that are out of stock—perfect for making sure customers know you stock certain items even if they're not currently available. Add the Product Recommender block in your email and from the settings panel, then simply tick "Show items that are out of stock" under the Products display menu:

Audience
The new triggers aren't only useful for your workflows—they can also be used for audience segmentation. On each contact's profile pages, you can see:
which messages were marked as spam by a specific contact

which messages failed to deliver to a certain contact, and the reason why
And you can segment contacts based on these activities and any available properties.
Deliverability
Something to be aware of is that the toll free aggregator has implemented new limits to messaging traffic for restricted and pending toll-free numbers.
Messaging that exceeds the limits will return an error code.
The limits for restricted numbers are:
Daily: 500 messages
Weekly: 1,000 messages
Monthly: 2,000 messages
The limits for pending numbers are:
Daily: 2,000

messages

Weekly: 6,000 messages
Monthly: 10,000

messages
Integrations

Our ever-growing App Market now has Subscriptions by Loop, a subscription management platform that enables you to create the best subscription experience for your brand.
No-code workflow builder to create personalized and gamified subscriptions
Retention stack to reduce subscriber churn
Add Instagram and TikTok videos to your exit surveys
Automate or personalize discounts, rewards, trials, or gifts on specific oorders
👉 Find out more and try it for yourself here
Expert newsletter review
Have you ever wished you could have your newsletter reviewed by experts?
Well, now you can.
We've just started a brand new YouTube series where we review our favorite emails and share feedback on what brands can do to make their messages even better.
You can watch the first episode below, or apply to have us review your newsletter for free.
Events
👉 Workshops:
Segmentation made simple: Mastering the basics for marketing success (April 12 at 10:00 AM EST)
Building a seamless customer journey: Pre and post-purchase (April 20 at 3:00PM ET) Register here
👉 In case you missed it:
Not using Omnisend yet?
If you're still not using Omnisend, you can get started immeiately.
Not just in one day — in the same hour (even minute).
Even better: if you want to test out the features and see how they could work with your brand, you can do all of that with our Free plan with no restrictions on any of our features.
We've got lots of ready-made templates for emails, signup forms, automation workflows, even audience segmentation.
Our award-winning customer support is available 24/7/365 for all of our customers on any plan (including Free). They'll also answer in under 5 minutes on average for all customers on any plan.
Get better email & SMS marketing that's constantly being made better 👇
Upgrade your email & SMS marketing game with Omnisend. 1-click install with Shopify, BigCommerce & more

Start Free Today
related features
Want more sales?
Omnisend has everything you need to succeed.
Start free now
No Credit Card needed.