Drive sales on autopilot with ecommerce-focused features
See Features
Reading Time:
3
minutes
I'm going to tell you a word that may not sound fun or supercool, but it's very important:
Deliverability.
Besides being a favorite tongue-twister here at Omnisend (try to say it three times, fast), deliverability is important for getting your emails into your customers' inboxes.
After all — what's the point of working so hard to create amazing, beautiful, on-brand email campaigns and then…no one ever sees them?
It's like the classic tree in the forest. If it falls, and no one is around to hear it, does it really make a sound?
Deliverability helps solve that, by pushing your customers right there…under…the tree?
Ok, maybe not the best metaphor to extend, but what's essential here is that you get your message in front of your customers. After that, you can optimize for opens, clicks and, most importantly, sales.
Watch the video below from our Academy team to get a quick overview, or get more in-depth in today's article:
Drive engagement with better deliverability
Deliverability is a lot like love.
How, you might ask?
(Well, besides the fact that February is when we celebrate Valentine's Day…)
It's something that's fundamental and it seems stable, but we often forget to actively work on it. And if you neglect it, you won't really feel the impact until weeks or months later. And by then, in the worst cases, it might be too late to do something about it.
Luckily, Omnisend is like your love coach, and we're with you every step of the way.
With our help, you can help ensure your emails reach your subscribers' inboxes. Inside our product, you'll find multiple ways to actively work on your deliverability, including a List Cleaning service, custom signed domains, and a warm-up process.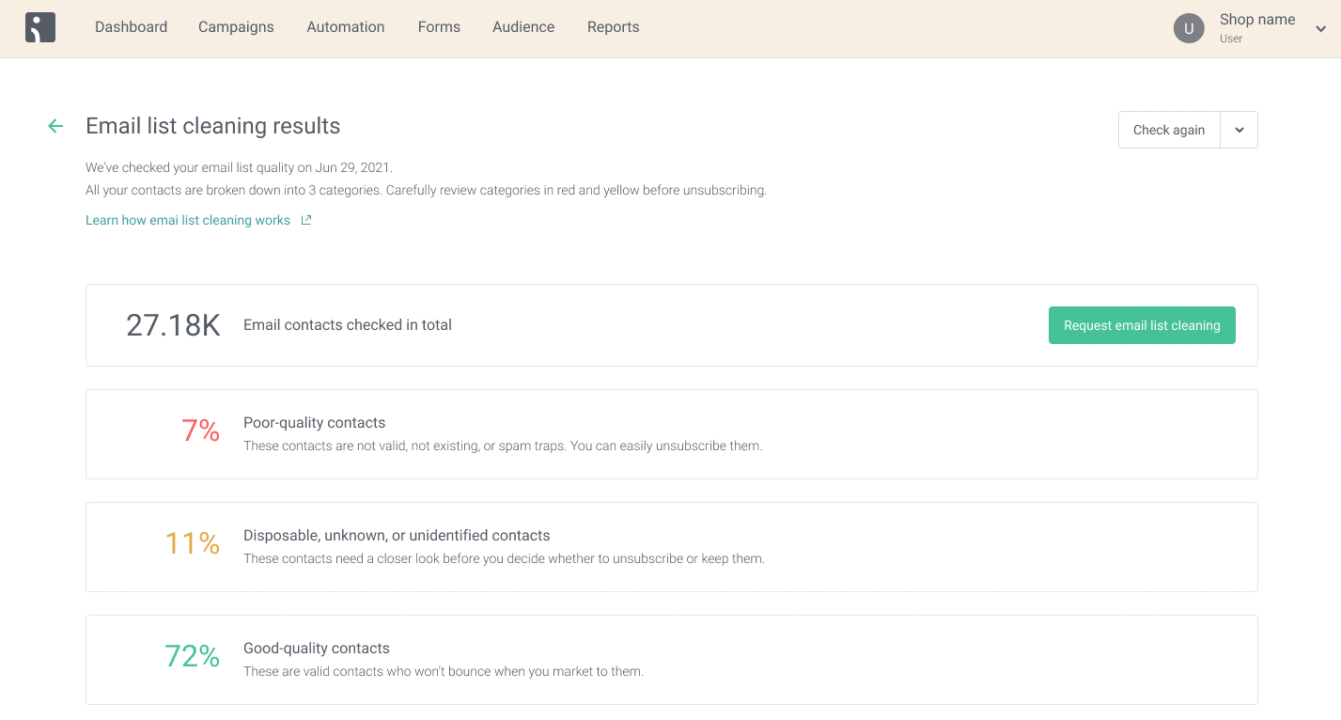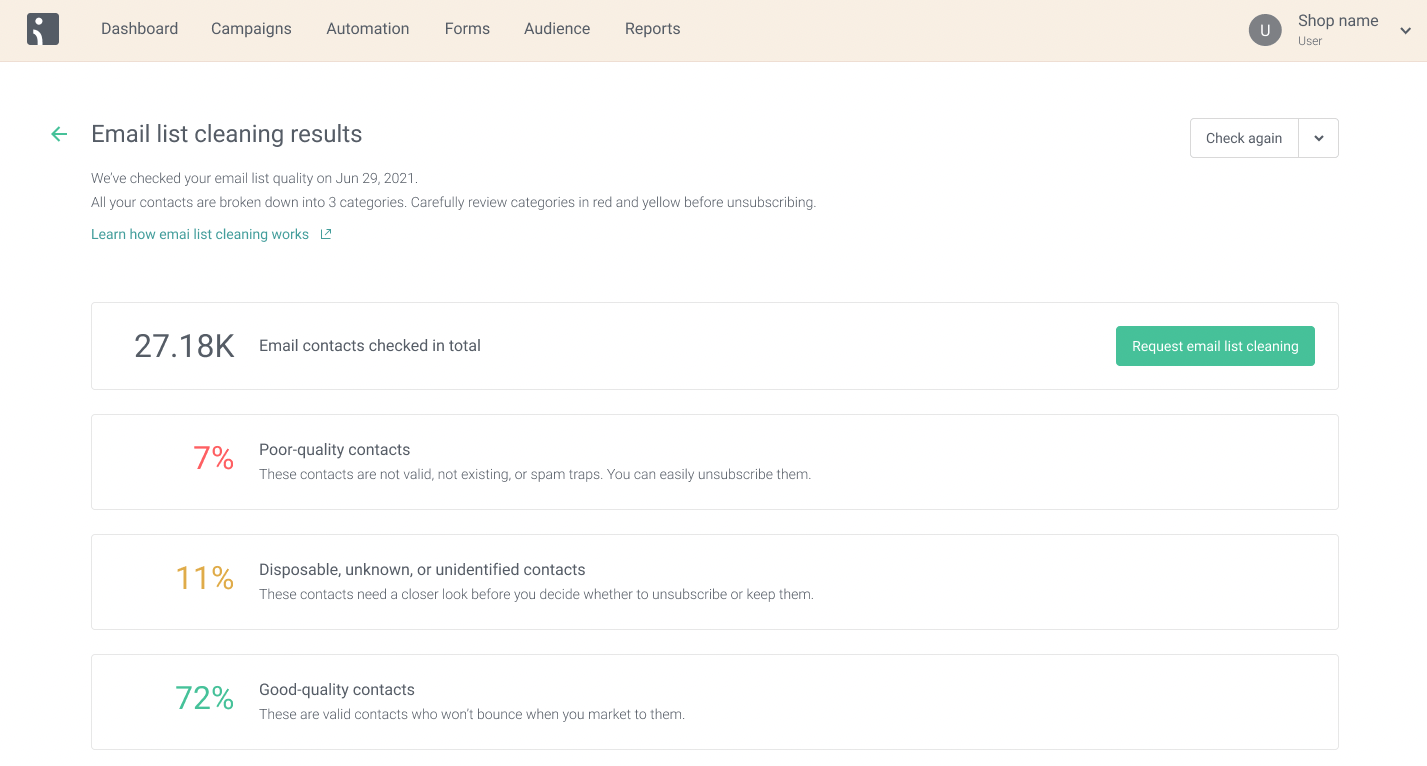 In fact, to help you out — today, even right now — we've compiled a checklist of tips and techniques you can use right away to build long-term success.
They differ depending your experience with Omnisend or any other ESP:
"Deliverability improvements helped 2x my revenue!"
Last summer, Tomas from 123Presets and his CSM, Gintarė, noticed that their emails were not getting opened. And, of course, but unfortunately, their sales soon plummeted.
Gintarė quickly discovered the reason: due to a combination of factors, including poor experiences with Mailchimp, emails from 123Presets were landing in spam. They needed to fix it fast so that the brand wouldn't be in hot water for Black Friday.
With our help, that's exactly what they did. The results?
They doubled their revenue.
Not only that, but they saw a 600% increase in clicks.
👉 Read more about their story and how you can achieve similar results for your own business.
Employee pick: App recommendations
Serhii, our Deliverability Manager, has a service recommendation that he knows will help improve your deliverability in a very short time:
Omnisend's List Cleaning.
As Serhii says:
"Prevent poor email list quality by using Omnisend's built-in list-cleaning tool to eliminate typos and bots!"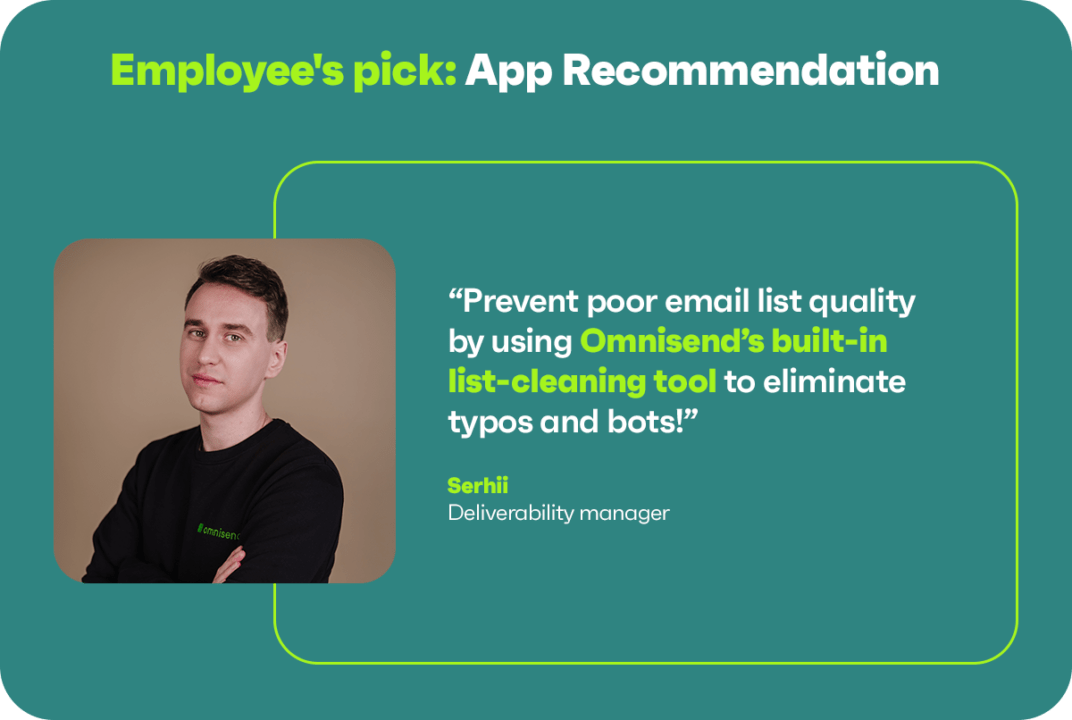 Not using Omnisend yet?
If you've made it this far, but you're not on Omnisend yet, I've got some really great news for you:
It's exceptionally easy to get started.
And, if you want to just test it out and see how the features could possibly work with your brand, we've got even better news:
On the Free plan, you can use all our features.
That's right: no restrictions on features.
We've got boat loads of ready-made templates for emails, signup forms, automation workflows, even audience segmentation.
Our customer support — which, by the way, is award-winning — is available 24/7/365 for all of our customers on any plan (including Free). They'll also answer in under 5 minutes on average for all customers on any plan. (You should test it out for yourself.)
Get better email & SMS marketing that's constantly being made better 👇
Get started with Omnisend today & drive sales on autopilot with pre-built automation workflows
Start Free Today
related features
Want more sales?
Omnisend has everything you need to succeed.
Start free now
No Credit Card needed.