Drive sales on autopilot with ecommerce-focused features
See Features
Reading Time:
4
minutes
Popups are one of the best ways for you to grab your visitors' emails. Just ask Organic Aromas, whom we helped increase their subscriber list by 150% in just one month.
There are many ways to use popups and signup forms to boost your subscriber list and ultimately your sales. Some of the most popular involves using exit-intent popups, delayed popups, and other signup forms.
If you want more tactics and an overview, remember to read our article on how to build an email list from scratch (with 9 proven methods).
However, there's a second level of smarter ways you can use popups to dramatically increase your signups and give your users a much better experience.
You can use Omnisend popups in a smart way to target specific visitors, such as those that come from your Facebook ads.
Or you can choose to disable popups only for your subscribers that are visiting by clicking a link in your newsletter. After all, they've already subscribed, so there's no need to show them additional popups.
Below, we'll look at the 3 smart ways you can use popups today for much better user experiences and conversions.
#1 Don't show popups to newsletter subscribers
One of the first thing you want to do to improve your visitors' experience is to disable popups specifically for those users that are already signed up to your campaigns, such as your newsletters.
This is pretty easy to do. All you'll need to do is make sure that you have the specific URL from your UTM parameters.
For example, one of our recent newsletters sent readers to our blog post on the highest-performing subject lines for Black Friday. The URL can be seen below, with the UTM at the end (after the first question mark, italicized):
"https://www.omnisend.com/blog/subject-lines-for-black-friday-campaigns/?utm_campaign=Omnisend+Newsletter+11-21_5a13f99f597ed723c71a71b7&utm_medium=email&utm_source=newsletter"
All the links that lead to your store will have similar kinds of UTM parameters, which you can use to disable popups to visitors coming in from your newsletters.
To not show your popups to visitors coming in from our newsletters, target them by URL.

All you need to do is paste in part of the UTM, specifically this part (or any part of it that would be unique):
utm_medium=email&utm_source=newsletter
That way, anyone with that UTM parameter will not see any popups.
#2 Show your popups to specific visitors
With the same idea of making sure your popups don't show to specific people, you can make sure they do appear for specific people.
We can do this in a few ways with Omnisend: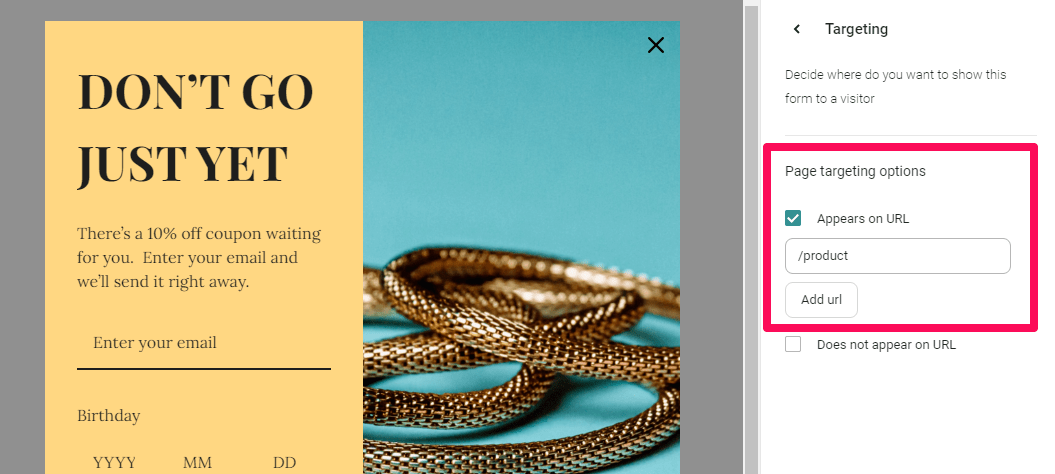 Here, you can show your popups only to people who visit specific pages, like your product page or other informational pages.
That way, you can provide those users with specific offerings. For example, if you noticed that a specific product page has high views but not many conversions, you can set a special popup to only show for that page.
Include an irresistible offer and convert those visitors into buyers.
Another way to use this is with our special UTMs.
For example, you can add a UTM (which you can create yourself with Google's URL Builder or Rebrandly) to your Facebook ads or other ads. That way, I can get a URL like this, with the UTM at the end (italicized):
"https://www.mystorename.com/?utm_source=Facebook&utm_medium=video-ad&utm_campaign=Christmas-sales"
That way, you can offer specific discounts or incentives only for users that are coming in from specific sources, such as Facebook ads, and not show those same offers to all your visitors.
#3 Get more info for greater segmentation and automation
Segmentation is a powerful way for you to divide your subscribers and customers into smart groupings, while automation allows for your emails to be sent out on auto-pilot.
That way, you can offer much more targeted messages to only those recipients that will really benefit from it.
In order to get greater segmentation, you need to get the right information from your visitors. In order to do that, you'll need to ask the right questions in your popups.
The standard popup normally only asks for visitors' email addresses and that's it. But you can go further with Omnisend popups.
You can get all kinds of information: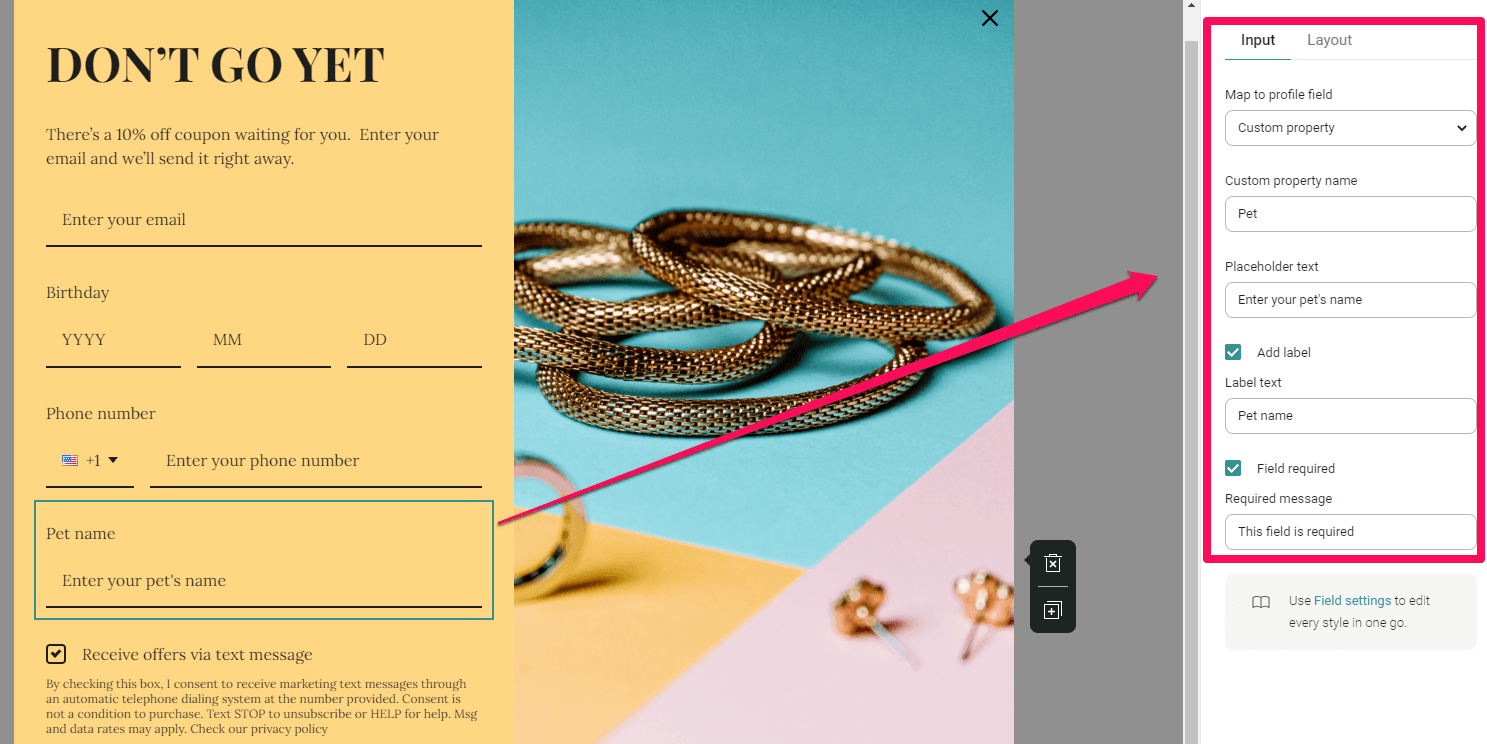 In the example, I've added default email, phone number and birthdate fields. But I can also add custom fields. Here, I'm also asking for my customer's pet's name, and can change it to any other type of input field.
When you gather default fields or custom information, you can create more efficient segments for your campaigns.
You can also use automation to its fullest with greater information.
For example, one of the highest-performing automated emails is the birthday email. They have a 45% open rate on average and 5x the conversions of regular emails.
But in order to use them, you need to get that information from your popups.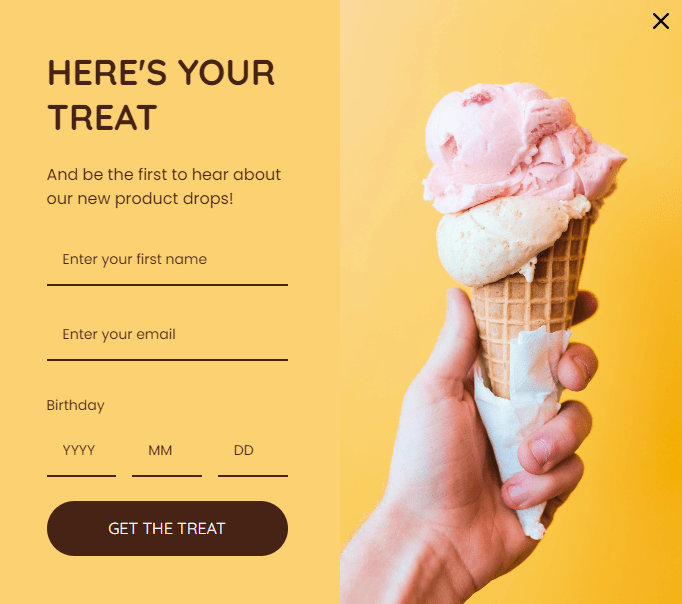 That way, you can use our powerful, flexible automation to send out birthday emails (and great offers) automatically to your users.
With better understanding of how you can use Omnisend's beautiful and powerful popups, you can help increase your user's enjoyment and boost your sales.
Try interactive signup forms at Omnisend today to collect more subscribers and turn them into customers
Start Free Today
related features
Want more sales?
Omnisend has everything you need to succeed.
Start free now
No Credit Card needed.