Drive sales on autopilot with ecommerce-focused features
See Features
Reading Time:
10
minutes
Marketing your business, especially your ecommerce business, requires many strategies, and advertising is one of the most important.
That's why marketers spent $590 billion on various advertising techniques globally in 2021. This number is expected to reach $792 billion by 2027.
So, what exactly counts as advertising and why is it important?
Advertising is a paid form of marketing that aims at either driving traffic to a landing page or directly selling products or services. It includes PPC advertising, image advertising, social media advertising, and more.
A prospective customer can see an ad, click on it, and end up making a purchase. That shortens the sales funnel considerably and gives a direct boost to sales.
In this post, we've listed different types of advertising techniques, with examples, that you can use to promote your brand and products.
Get more from your ads with Omnisend landing pages, Facebook and Google Ads sync, & much more
Start Free Today
#1 Joining the bandwagon
This is one of the advertising techniques that play on human emotion and their fear of missing out (FOMO). According to Eventbrite research, 69% of millennials experience FOMO on a daily basis.
The idea behind this technique is to create ads that make people want to be included in the small, exclusive group of people that use your products.
How can you achieve this?
Here are three advertising approaches you can take:
Portray your brand as something exclusively meant for a select few and allude to the fact that buying from you means joining this exclusive club
Show the growing number of people who are trying your new product and make it into a fad that people want to follow
Hire celebrities for brand endorsements and allude to the fact that if people want to live like a celebrity they need your products
Louis Vuitton, for example, exclusively uses the ad technique of having top celebrities endorse its products to maintain its "luxury" image.
Ads featuring celebrities make people want to join the bandwagon and use products that their favorite celebrities use.
Here's an example of an LV ad featuring Angelina Jolie:
This ad technique is not limited to luxury brands. Any brand can create ads that show exclusivity and make people want to join the bandwagon.
Pro Tip: Show some statistics on how quickly your brand is growing or how many people have signed up for your subscription to make it look like a trend that people want to join.
#2 The psychology of colors
Colors play a big role in creative advertisements by transmitting messages without words.
One example is using bold colors in calls-to-action for emails, which can drastically increase your click-through rate and by extension your sales.
Using the right email template builders can help you easily create high-impact emails with CTAs that stand out and get more clicks.
Sometimes the color is so important that it determines the entire brand identity.
For example, Coca-Cola's distinct bold red color is imprinted in our minds and most viewers would recognize their ads in one glance.
This advertising technique requires using the right colors to convey the emotions you want to evoke in your audience.
Colors play a big role in buying decisions and can sometimes be a key factor, especially with impulsive purchases.
One popular example of the use of color psychology in advertising is McDonald's. The brand's bright red and yellow colors are specifically designed to attract children.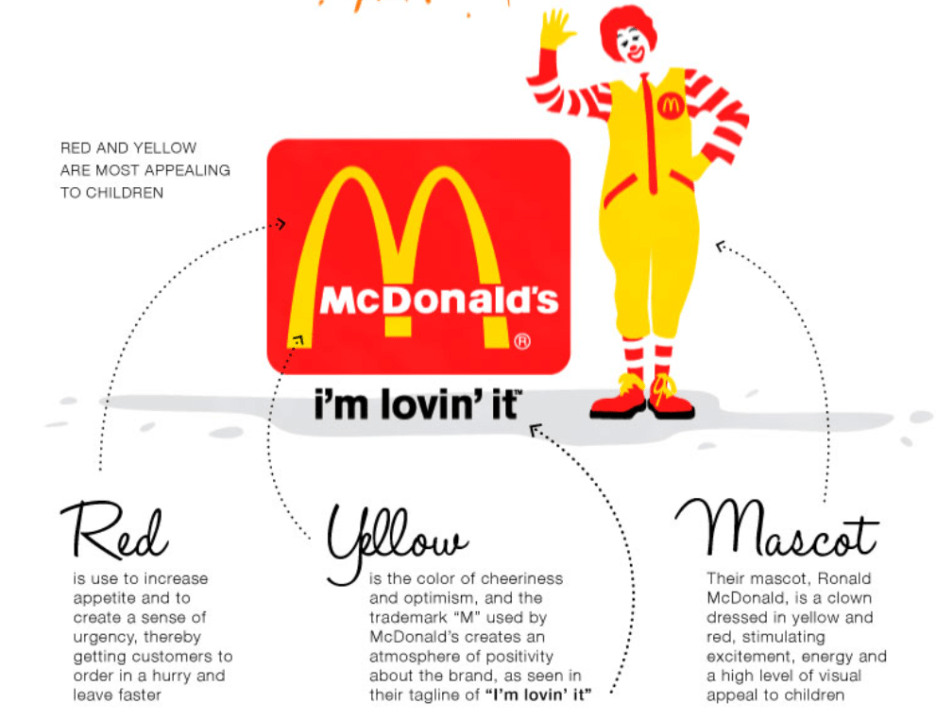 Pro Tip: First, decide on the emotion you want to evoke in your audience and then study the psychology of colors to find the right palette for your ads.
#3 Social proof
When talking about advertising techniques that play on human emotion, we can't ignore social proof.
When your prospective customers see many people using a brand's products and giving it good reviews, they believe that brand to be good.
According to a recent study, 85% of consumers consider customer reviews when choosing a brand. So, customer reviews and ratings act like social proof that a brand or product is good and useful.
How can you use this advertising technique?
Simply mention your product ratings or statistics on how many people use it, in your ads.
Check out this ad where the brand brags about how 90% of customers have given it a 5-star rating. To allay fears and remove friction, they've also highlighted how easy the shoes are to return.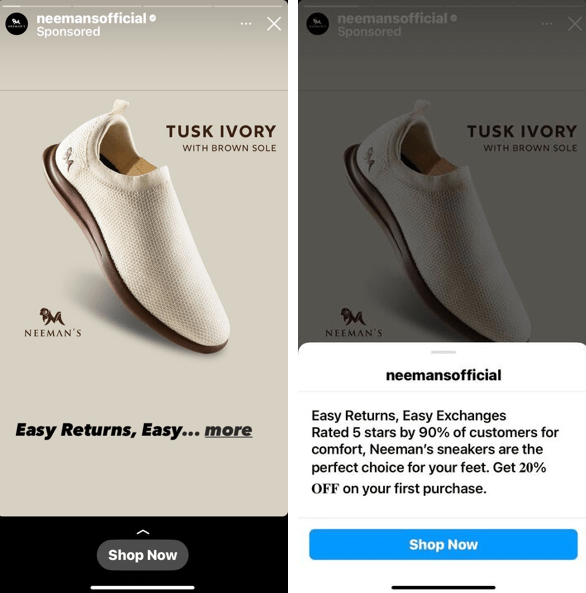 This method of advertising is especially effective for ecommerce businesses as it helps consumers make quick purchases.
So, if you sell day-to-day consumer goods that don't require too much research or consideration, then this is one of the best advertising techniques for you.
Pro Tip: Add customer ratings along with product images in your ads to provide social proof and encourage quick purchases.
#4 Social media influencers
Hire social media influencers to create branded content and then reuse this content for your ads. Video content such as product reviews and comparisons are especially effective as they build trust in your brand.
Influencer marketing also works similar to social proof and word-of-mouth marketing because people believe their favorite influencers when they give a positive review of a product.
37% of consumers in the US trust influencers over brands and 28% discover new products and brands through them.
Other than advertisements, influencers can also help promote your products on multiple social media platforms, where they have considerable influence.
Here's an example of a social media influencer promoting a health supplements brand on Instagram. It looks like native content but is actually a paid ad, with the hashtag #ad at the end of the caption.
Influencer marketing content like this is extremely effective in introducing new brands and encouraging people to try new products.
Want to know the best part?
Influencer marketing is effective throughout the customer lifecycle and works for all stages of a customer's journey.
Pro Tip: Ask influencers to share shoppable stories and posts that allow users to click on them and directly reach the product page.
#5 Storytelling
Of all the techniques used in advertising, storytelling is probably the most impactful because it makes your ads memorable.
People see numerous ads each day and may forget most of those, but if you tell them a great story, they'll most likely remember it.
Noted psychologist Jerome Bruner, in his book Actual Minds, Possible Worlds, says that facts are 22 times more memorable when delivered in the form of a story.
This is why brands have been using this advertising technique for ages to engage their customers and it's still relevant today.
The Bertha Benz video ad by Mercedez Benz is one of the finest examples of brand storytelling. It takes you on an emotional journey through time where Bertha Benz travels in one of the world's first automobiles.
Ads like these go beyond selling a product and form deeper customer relationships.
If you want to connect with your customers and retain them for the long term, storytelling is one of the advertising techniques that you should use.
Pro Tip: Make your story relatable and emotional so that it resonates with most people and they connect with your brand on a deeper level.
#6 Asking the right questions
Using the questioning advertising technique can be a double-edged sword, but if used well, it can generate great responses from customers.
This advertising strategy revolves around asking questions in ads to generate curiosity in viewers and luring them in with the promise of an answer. It's one of those advertising techniques that play on the human tendency to find answers and satisfy their curiosity.
If you show ads with questions that your target audience wants an answer to, they will be tempted to click on your ad and find that answer. Although it's a pretty common advertising technique, it's still effective.
You can also ask a rhetorical question for which there's really only one obvious answer.
Check out this ad with a simple question and one clear answer (yes) for most people, especially the target audience.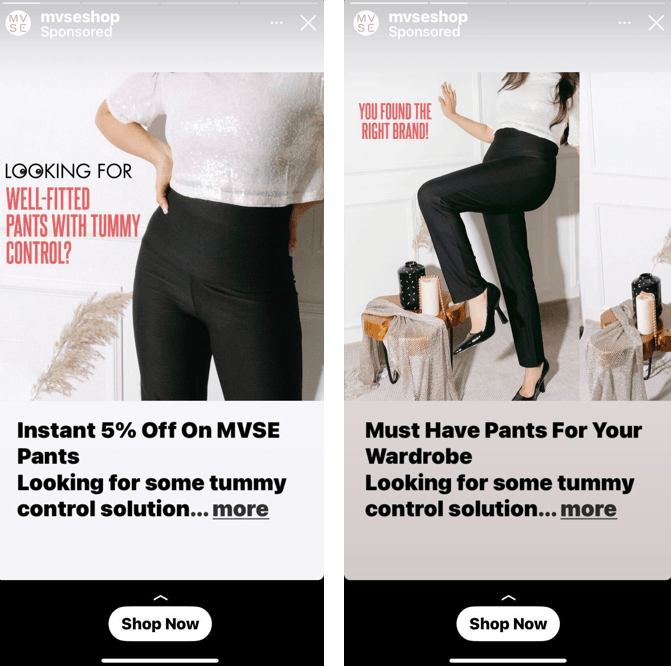 Another iconic example of a brand using this advertising technique is Snickers. Their popular "Hungry? Grab a Snickers!" ads relied on this strategy to ask and answer simple questions.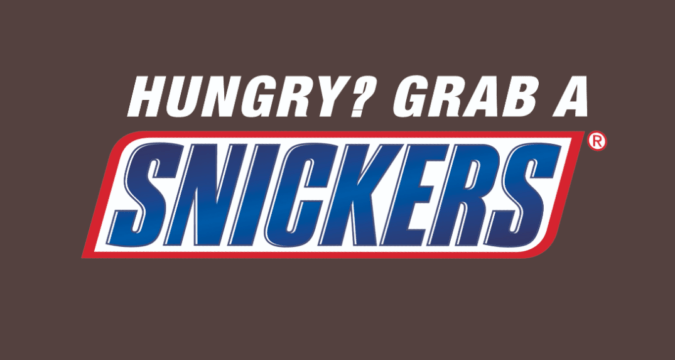 Need more proof?
Check out this TikTok video that was part of a campaign to increase tourism in Long Island. Discover Long Island created two TikTok accounts and gained a total of 80K followers throughout his campaign, which was aimed at generating curiosity among the audience.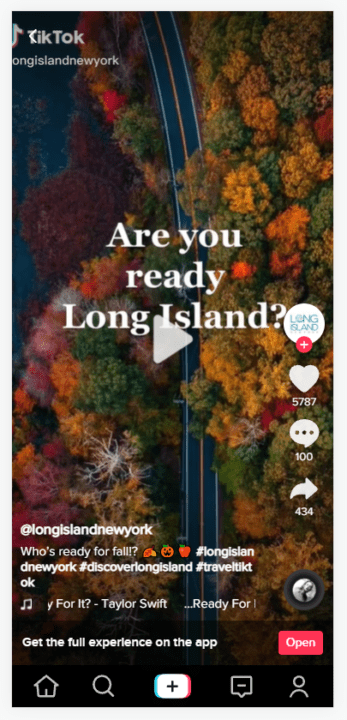 Pro Tip: Use a tool like AnswerThePublic or Google's "People Also Ask" section to find questions that people ask about a topic or keyword, and include these in your ads.
#7 Body language
Body language, just like color, is a non-verbal cue that can evoke certain emotions in the audience.
The way that people present themselves in an ad plays a big role in its success. Body language can convey different emotional states like happiness, sadness, anger, boredom, etc. It can also convey attributes like confidence, charisma, etc.
So, when you design ads with people, make sure you pay special attention to their body language and what it's conveying.
Here are some tips to use body language to make your ads more impactful:
Use eyes as cues to direct viewers' attention to the most important part of your ad, like your logo or the call to action (CTA). Check out how Seth Godin is looking towards the CTA "Go make something happen", which is right next to the site navigation menu, in the image below.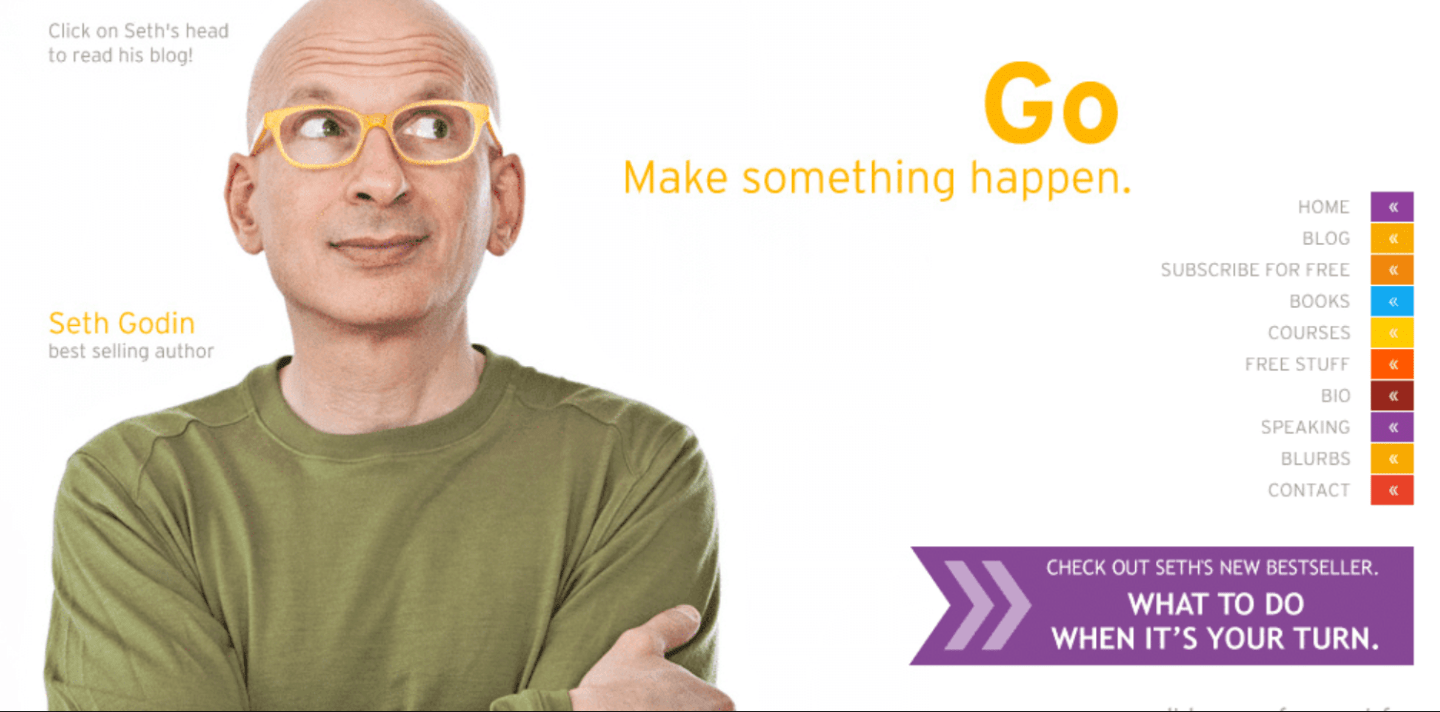 Ask your models to keep an open stance to convey openness and trustworthiness.
Use hand gestures to direct attention to certain elements of your ad or simply to show trustworthiness.
Focus on the right body parts. For example, show the entire body if you're promoting a fitness product or focus on the feet if you're promoting a sneaker. Here's an example.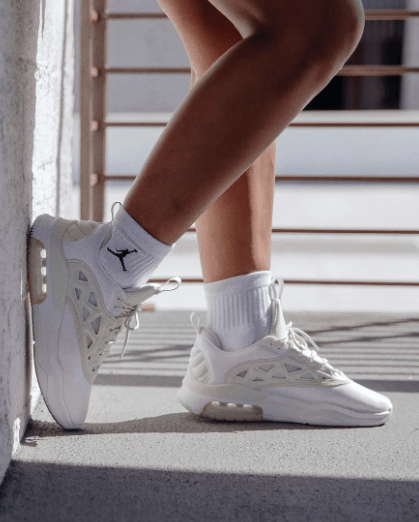 Use facial expressions to convey emotions, like smiling for joy and yawning to show tiredness.
Here's a brilliant example of an ad where the brand, McDonald's, has used body language as the key element without saying anything else.
The ad shows a sleepy person, probably someone who's up late at night. It doesn't have any text or explanation, just the brand's short logo and "24 Hours" written below it.
Pro Tip: Ask your models to look directly into the camera and give the impression that they're making eye contact with the viewers, to make your ads more impactful.
#8 Repetition
Repetition may be the sincerest form of flattery, but when it comes to modern advertising, it's more like the sincerest form of conditioning.
By bombarding consumers with a constant stream of messages, brands hope to embed their products in our minds so that we'll think of them first the next time we're in need of whatever it is they're selling.
The principle of repetition involves either increasing the visibility of your ads or repeating the same concept or object within an ad.
You can increase the visibility of your ad by:
Showing it multiple times, such as in a TV commercial played during every break
Placing ads on multiple platforms simultaneously to ensure that your audience sees your ads multiple times
Why does it work?
The principle of repetition is derived from the marketing rule of 7, which states that a typical prospect will interact with your brand seven times before making a purchase.
While this principle was developed in the 1930s, it's still applicable today. However, for this ad technique to work, you need to use visual branding like your logo, slogan, colors, etc.
It's not enough to just show your ads repetitively but to ensure that people recognize your brand's ads instantly.
This is why Omnisend's Brand Assets feature is so great—it automatically pulls in the branding (logo, colors, and fonts) from your store and imports them into your emails.
This way, you ensure that your branding is always present and consistent.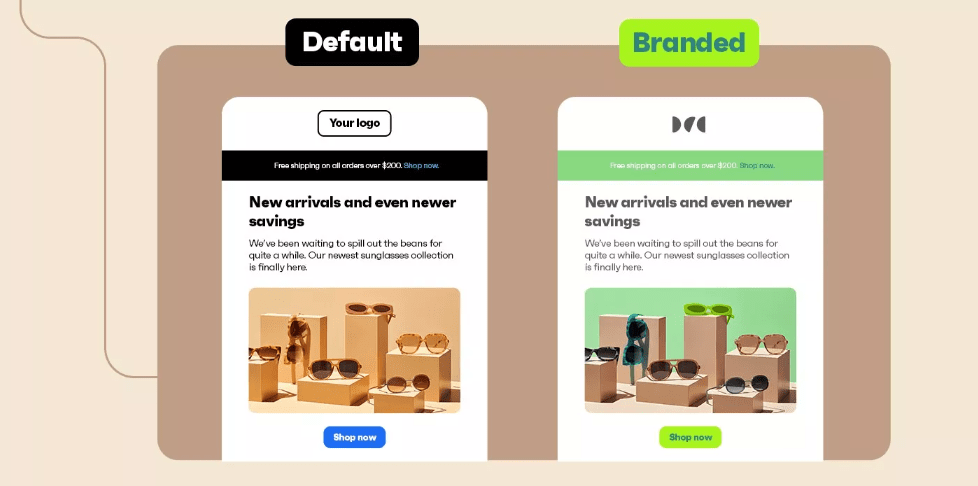 The second way of applying this technique is to repeat the same concept or focal point within an ad.
Here's an example of an iPod Nano ad that shows the product in different colors. This repetition imprints the product image in your prospects' minds.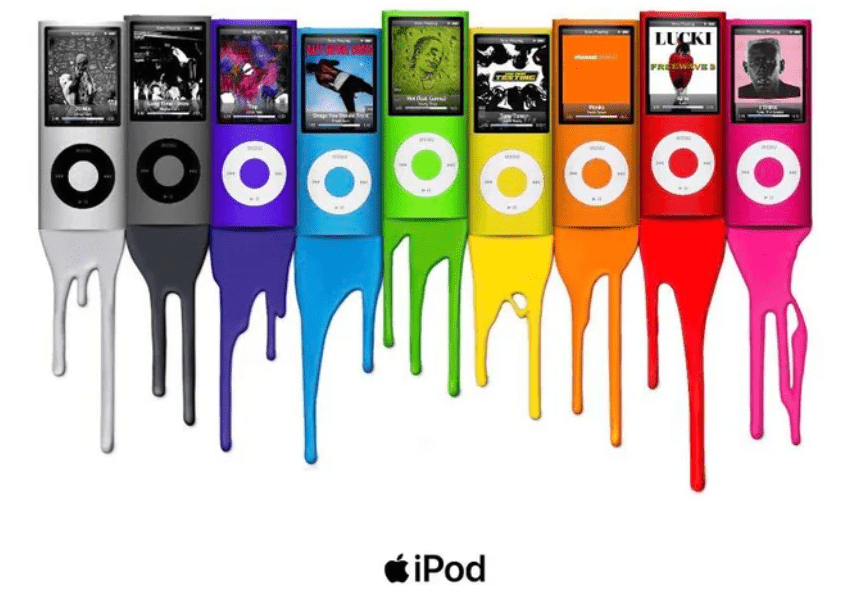 Here are some tips to use repetition in your ads:
Air your TV commercials multiple times a day, across different channels
Create an ad and place it on multiple platforms including digital ads, traditional print and media ads
Run a multichannel social media ad campaign showing the same ad or a series of similar ads
Create different versions of an ad explaining the same concept, but with slight differences in characters, positioning of ad elements, etc.
This is one of the advertising techniques that work best for raising brand awareness and visibility. So the next time you find yourself humming a jingle or repeating a catchphrase, just know that you're not the only one; advertisers have gotten pretty good at getting under our skin.
Pro Tip: Use this ad tactic in moderation and don't spam your audience, or it may have the opposite effect.
#9 Complimenting the customers
Everyone likes compliments. Complimenting your customers can be an effective technique to generate positive emotions and create incentives for them to buy your product or service.
Remember that tagline by L'Oréal—"Because You're Worth It"? It makes you feel like you deserve to spend money on some nice beauty products to treat yourself, doesn't it?
That's the power of compliments. Make your customers feel special and valued through your advertisements and you'll foster stronger customer relationships and improve customer retention.
Nike's "The Toughest Athletes" video ad is a perfect example of complimenting the customers. It shows female strength and claims that if women aren't the toughest athletes, then no one is.
Research by the Harvard Business Review shows that compliments have a mood-lifting effect and can even contribute to their well-being.
Pro Tip: Don't give shallow compliments related to physical attributes. Instead, give more meaningful compliments on your target audience's deeper qualities like resilience and inner strength that make them feel special.
Did you know…?
Settling on the advertising technique(s) you'll be using for your business is important. But that's actually just the start.
Did you know that Omnisend makes it easier to create ads that work and get more sales from those ads?
Firstly, you can use your existing customer base to create lookalike audiences on Facebook and Google with Omnisend's Audience Sync.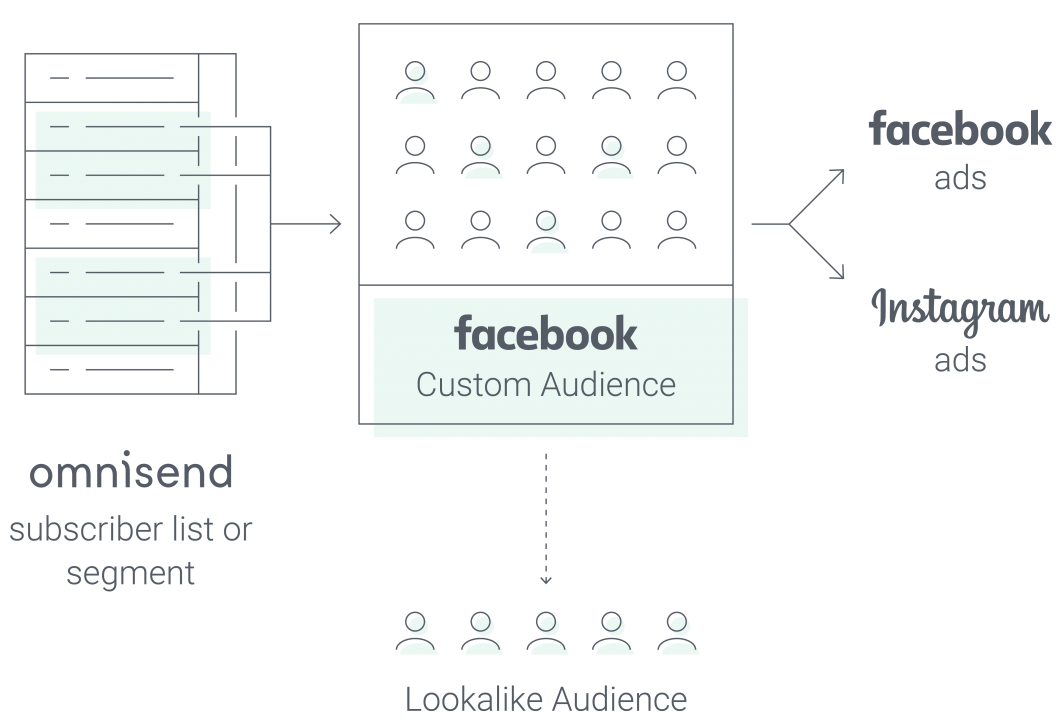 Once you've created your ads, you can use Omnisend landing pages feature to quickly create campaign-specific landing pages that convert better on average than generic home pages.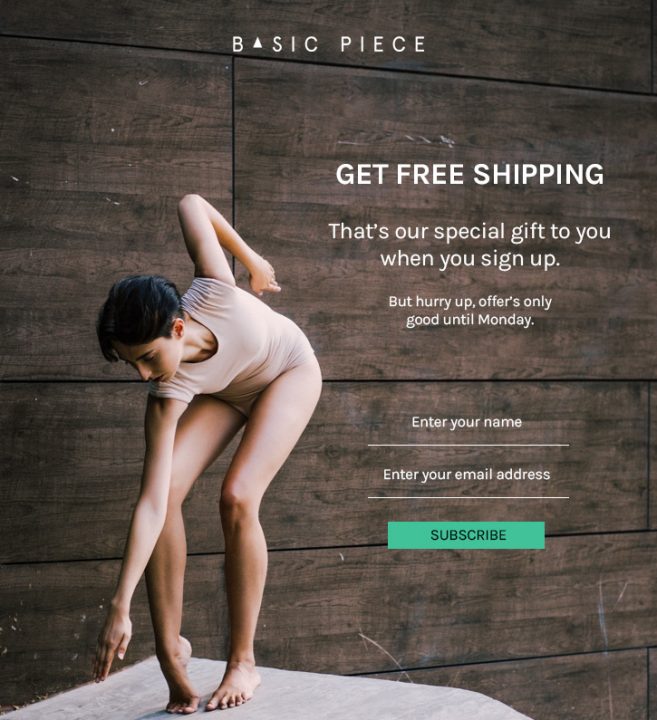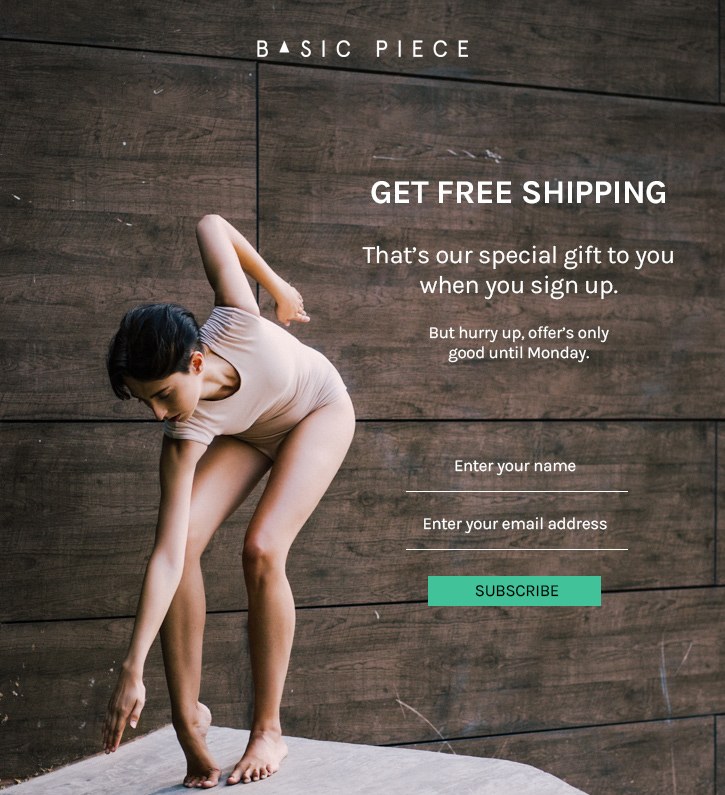 Or, if you're sending people who click on your ad directly to your homepage or a product page, you can use Omnisend's popups to make sure more of your visitors turn into subscribers or buyers.
Beyond that, Omnisend has tons of email and SMS marketing features that can help you run successful marketing campaigns, from getting new customers to keeping old ones.
Get started with Omnisend today & drive sales on autopilot with pre-built automation workflows
Start Free Today
related features
Want more sales?
Omnisend has everything you need to succeed.
Start free now
No Credit Card needed.