Drive sales on autopilot with ecommerce-focused features
See Features
Reading Time:
13
minutes
Adding SMS marketing to your email automation workflow may be the best thing you do for your marketing strategy in 2020 and beyond.
Far from a new channel in the digital marketing world, many marketers and online sellers are beginning to adopt SMS as a primary vector in their omnichannel strategies.
Why now? Why SMS?
There are plenty of things that lead to the rise in SMS marketing, and why marketers are now integrating it alongside their email strategies.
In this piece, we'll explore how the climate between generational adoption of text-based messaging, plus how the climate in the marketing and ecommerce industry paved the way for SMS to take more than a supporting role in omnichannel or multichannel marketing strategies.
Setting the Stage for SMS Greatness
In order to understand exactly why SMS is exploding today, it's important to look at where this channel has come from, and how it rose in prominence over the years.
While SMS has been available since 1992, it wasn't until 1999, when SMSes could be exchanged between networks, did it begin to gain popularity. In the year 2000, users in the US were sending up to 35 SMSes per month on average.
However, in 2008, SMS messages sent in the US surpassed phone calls for the first time ever. The rise of third-party messengers, Twitter, and other social networks, drove down the prices of SMS sending with telecom providers, and made SMS adoption even more rapid.
Today in a world where only 4.13 billion people have access to the internet, 5 billion people have access to and use SMS worldwide.
Generational impact: How Text-Based Communication Succeeds with Younger Demographics
Millennials are, today, the largest living generation in the US. With the oldest among them reaching 39 years old in 2020, millennials are expected to spend $1.4 trillion this year.
And the generation behind that spending power prefers digital to human communication. In fact, 65% of millennials and Gen Z interact with each other digitally more than they do face-to-face.
Generation Z already represents $143 billion in buying power and is becoming the generation of focus for many online merchants. With that generational shift, different forms of communication will be prioritized.
The Pew Research Center defines Gen Z as those born in 1997 or later, which means the oldest of Gen Z turned 23 this year. For Gen Z, the world of being constantly connected is the only world they've ever known.
This is even more apparent when we consider how Gen Z adopts mobile and internet use. With 61% of Gen Z using smartphones for five hours or more per day, the shift to mobile marketing is an absolute must for those targeting younger shoppers.
This means that using SMS marketing to reach this generation is simply part of using a channel where your customers are. For Gen Z, there's no other place they'll be if not on their mobiles.
A lot of the companies I see investing in SMS have younger demographics. The more native a communication channel is for you, the happier you are to communicate with that channel.

-Phillip Jackson, CCO of Digital Marketing Agency, Something Digital
As millennials and Gen Z become economic powerhouses in consumer spending, it's not surprising to see the shift towards marketing channels that are far more native to them.
Email marketing, already popular with previous generations, has continued its popularity with younger generations. However, using SMS to boost an email marketing strategy means speaking the native language of your customers.
What Makes SMS Unique as a Channel?
SMS is a unique marketing channel for a few reasons.
The lack of dependence on internet connection means that the reach is far wider than other digital channels built for the internet.
Second, SMS is fast. If you have timely promotions or information for your customers, SMS guarantees that your message will be read quickly.
According to one merchant in particular, SMS has been a great channel for delivering timely quotes to their customers. Frustrated with low open-rates from their emailed customer responses, they tried out SMS to get lawn care quotes out to their customers faster. Brian Clayton of GreenPal stated:
After we implemented SMS texting of bids and discount offers to our customers we noticed a 80% increase in sales. It was one of our best moves to date and I only wished we had done it from the start…it seems to me that our customer base checks email once a day and that SMS text is the best way to get in front of them and give them what they wanted.

-Brian Clayton, GreenPal
There's also an added level of proximity with SMS. In a mobile-first world, customers are already far more likely to do anything they'd do online on their phones. Their mobile phones are always within reach, and are likely the first things your customers look at in the morning when they wake up, as well as the last thing they look at before they go to sleep at night.
In fact, according to a recent study by Deloitte, the average consumer checks their mobile phone nearly 50 times per day. This means that by being able to send a message directly to a customer's phone, you're reaching an intimate level of proximity with them.

Watered-down, mobile-targeting tactics are costing you conversions, clients, and revenue. Meanwhile, SMS marketing is lurking in the background, waiting for you to capitalize on it.

Neil Patel, Co-Founder of Crazy Egg, Digital Marketing Entrepreneur & Consultant
Finally, SMS allows for complete channel ownership. Much like an email list, you own the contacts, their opt-ins, their phone numbers, etc. Unlike other third-party messaging apps, which have their own pros and cons, SMS is a channel you have complete control over.
Chloë Thomas, consultant, entrepreneur, author, expert in the ecommerce industry, and founder of Ecommerce MasterPlan, gave her thoughts:
Across the industry we're increasingly using short-form messaging systems for marketing, tools like Facebook messenger, and other social media DMs are being tested and rolled out. They are driving great results, but they are not channels that are owned by the retailer – the lists and the communication platforms are owned by the social media engine, and they can remove your access overnight.

SMS offers all the impact of short-form marketing communications, but without the social media middle man. Given the retailer has total ownership and control of their SMS list and platform, I think it's a no-brainer to use if you're having success on the other short form platforms.

Chloë Thomas, Ecommerce MasterPlan
Channel ownership is what makes SMS and email such a good match: both allow you to decide exactly what, when, and how your customer will receive your message.
Does SMS Live Up to Expectations?
It's easy to be hesitant when a new channel, or a recently reinvigorated channel, emerges on the market— especially when the industry moves quickly, like in ecommerce and digital marketing.
With that said, there are clear signs that the SMS boom has longevity.
A look into the data surrounding SMS marketing shows that there are clear benefits to not only using this channel, but combining it with existing channels to provide more value.
The Benefits of SMS Marketing: Key Statistics
It's no secret that SMS grabs attention from your customers. In fact, open rates for SMS can be as high as 98%. Compared to the 18.55% average open rate for email in ecommerce, this is a huge difference.
It wasn't just open rates that are higher with SMS, click through rate was over 14.2% according to the 2020 Omnichannel Marketing Automation Report.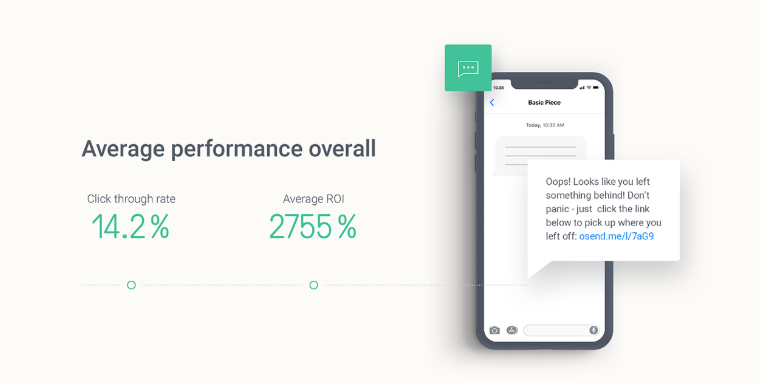 What's more, customers are rapidly adopting and accepting this channel as well. 48% of consumers prefer receiving brand updates from SMS (the top channel among email, app notifications, and direct mail).
Phillip Jackson commented on the rapid adoption of SMS as a marketing channel, both from consumers and marketers:
Is it a viable channel? Yes. Is it working? Yes. I've never seen a more rapid adoption of a new channel. Ever. There's an explosion of SMS in the market and it seems to come at the same time as consumers began to accept SMS as a form of contact from brands too.

Normally, the next trend tends to be out of line with consumer adoption across the board. But it seems like SMS is connecting with customers, and they're even favoring it. It's pretty impressive.

Phillip Jackson, Something Digital
Does this mean you should forego all other channels in favor of SMS?
Absolutely not.
In fact, there's a much better case for simply integrating SMS within your existing email automation workflows. Throwing yourself into only one channel means putting all of your eggs in one basket, and not fulfilling the full potential of what your channels can do together.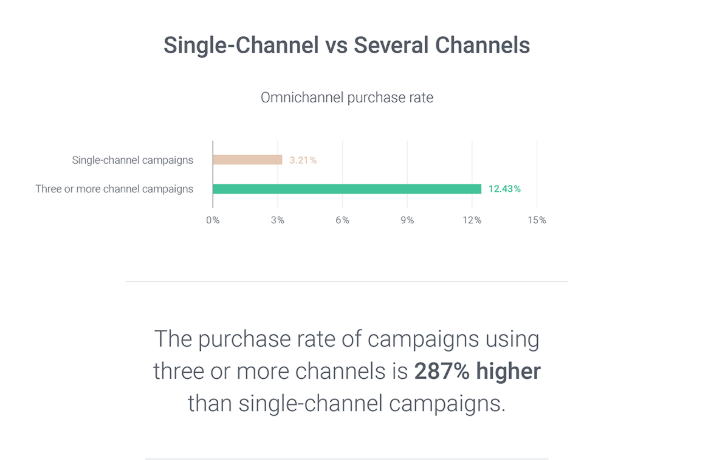 According to the research we performed within the Omnisend app, we found that omnichannel campaigns utilizing 3 or more channels earned a 287% higher purchase rate than single-channel campaigns. While most of the single-channel campaigns were solely email, it's clear that shoppers prefer consistent communication across several channels that are relevant to them.
While email marketing is certainly relevant to the vast majority of ecommerce shoppers today, SMS has a huge impact on conversion rates when it's combined with email. We found that of those campaigns, those that involved SMS were 47.7% more likely to convert than those who didn't.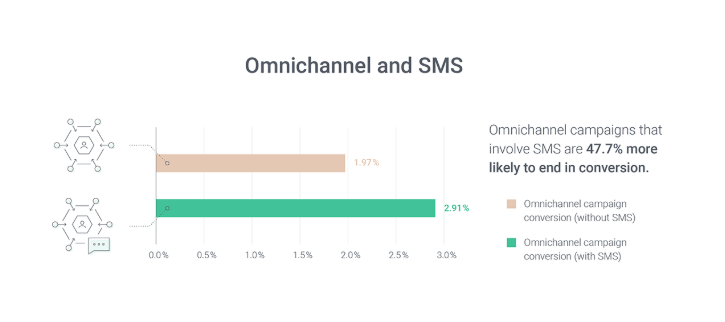 At the end of the day, SMS is not a channel that's well-adapted to each and every situation, like email is. This still means that email is an indispensable tool for your marketing strategy.
However, adding SMS at critical moments of the communication flow can dramatically improve your purchase rate, as seen above.
Chloë Thomas reinforced the need to consider making SMS one the top priorities this year:
SMS has long been a channel of consideration – one that sits on the "maybe list" each time the marketing planning process is underway. I think it's now time for it to be moved to the "must test" list. Consumers are increasingly used to getting SMS from businesses – so the fear of annoying customers by sending SMS should no longer stop anyone from testing it.

-Chloë Thomas, Ecommerce Masterplan
As she mentioned, SMS has long been on the radar for many a savvy marketer, but today, we can no longer ignore the impact SMS marketing can have on an automation workflow.
Founder of Nadimo and popular industry podcast Ecommerce AllStars, Branden Moskwa, agreed, sharing some of his own experience in the demand for SMS marketing with his clients and affiliates:
We have built an affiliate platform for a client and one of the main components we needed to build into it was the capability for one click sms marketing. We saw a significant increase in those using the SMS function.

It is my belief that SMS Marketing will not only rise but become as commonplace as email marketing in the near future. With everyone on their phones it has become the go-to form of communication. We have seen a rise in the sheer volume of client requests to integrate SMS into their marketing communications.

-Branden Moskwa, Nadimo and Ecommerce AllStars
While this demand is important to note, it's also critical to consider that SMS will be fulfilling different things than email marketing. Where SMS falls short, email will fill the needs marketers have in communicating with customers, and vice versa.
SMS Challenges to Consider (and Pitfalls to Avoid)
Like any marketing channel, SMS has its challenges. While we've highlighted a lot of the pros to working with SMS, this channel comes with unique challenges.
SMS Messages Can Feel Invasive if Not Sent Properly
As previously mentioned, SMS is an intimate channel. It offers a level of proximity that other channels can't necessarily achieve because you're able to send a direct message to your customer wherever they are, no matter what they're doing.
And chances are, that message will be seen immediately.
Be wise with the way you start a conversation with SMS, because it will set the stage for how your customer views communicating with you via this valuable channel. Sending an SMS campaign for everything means your customer will feel their privacy has been invaded.
In an interview with Phillip Jackson, he weighed in on his experience with SMS from a consumer standpoint. Explaining how a brand he values lead the conversation on SMS via transactional updates, he commented:
I got a text after my recent purchase with a brand, just a simple, "Hey your order's been shipped." Those little one-off texts are so appreciated, and they make me so much more susceptible to getting unsolicited marketing messages from them. When I do get a promotional message, which is rare, it's such a delight.

"On the flip side, with another brand I purchased from, I never received any transactional SMS from them. One day, I randomly got a promotional text from them with a new product that had nothing to do with what I'd originally purchased. It felt so random.

Start the conversation with an opt-in or a transaction, then continue the conversation with your promotion. But don't start the conversation with a promotion, because you haven't created that connection yet.

-Phillip Jackson, Something Digital
Earn your customer's trust and build a relationship with them by making sure that your SMS campaigns are important and relevant.
Branden Moskwa, echoed this advice, stating:
When you are able to tap into the preferred form of regular conversation you increase your chances of success substantially. Keep in mind, as with any other form of marketing, if it's perceived as SPAM or the message is not correctly targeted, you will turn people off of your brand potentially quicker than other forms.

-Branden Moska, Nadimo & Ecommerce AllStars
SMS Imposes Strict Character Restrictions
With a 160-character limit, your important message needs to be concise. While this isn't necessarily a bad thing per se, it means that you won't be able to add a lot of details to your message.
This is why including a link to a page with more information may make the most sense when sending an SMS with critical updates — or better yet, sending a follow-up email offering more information can create the perfect 1-2 punch.
For example, if you're sending an SMS in a post-purchase automation workflow for shipping confirmation, you might start with something that looks like this.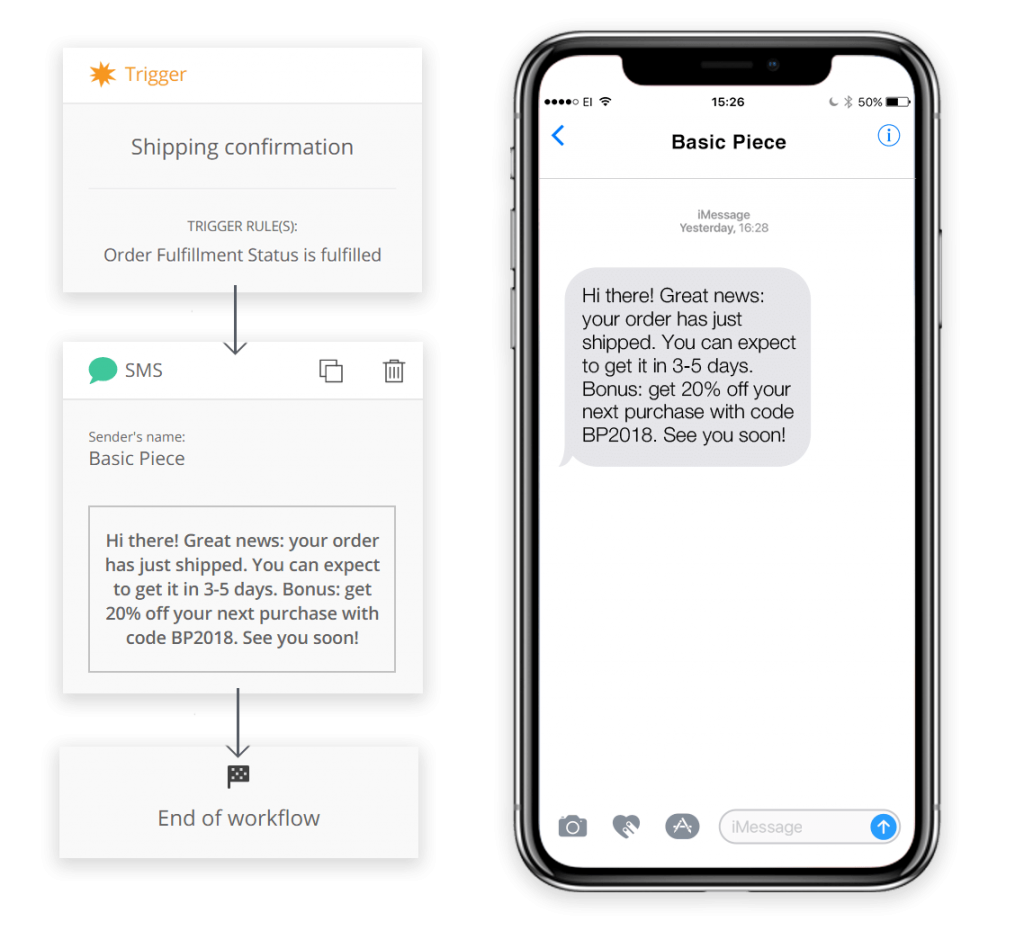 From here, you would simply add your normal email for shipping confirmation to the same workflow (with or without delay) to give your customer the critical information they need, like a tracking link, a recap of their order with pricing and returns information, etc.
These are elements that are paramount to any post-purchase communication, and they just won't fit into a traditional SMS message.
That's what your email follow-up is for.
What you can do is either have a link to the customer's account in the SMS, or you can say "Check your email for more info."
No matter what, make sure that you're using SMS when it counts: the last thing you want to do is burn your contacts out with SMS spam.
Which brings me to my next point:
SMS Has Been Cost-Prohibitive in the Past
Depending on the SMS marketing provider you use, and where you need to send your SMS campaigns, the channel can vary in cost.
Some companies will charge a flat fee for sending SMS campaigns plus the price per SMS, which will depend on the country, but can range between $0.01 and $0.05 per message.
However, these cost barriers have been mostly removed in recent years.
In light of the boom in SMS marketing, some SMS providers are lowering their prices and others are even offering free SMS credits to help ecommerce marketers add the channel to their email marketing strategies at no risk.
While challenges exist within any marketing channel, these challenges shouldn't dissuade you from adding it to your marketing workflows. If anything, they should act as a guiding light to help you maintain best practices when using SMS marketing.
Tips for Using SMS Effectively within Your Email Marketing Strategy
There are clear best practices for SMS marketing that will determine whether your campaign flies or fails. Follow these tips to assure maximum results from your next campaign:
Start the conversation via opt-in and transactional text messaging: You don't want to send an SMS campaign to your customers out of the blue, especially if you've never sent them a message before. Even if you have permission to do so, introduce your customer to SMS via an opt-in or a transactional message to start the conversation. Then move towards promotion once you've opened that door.
Make sure that you've got a good reason to send an SMS: If you're sending a direct notification to a customer's phone, you'd better have a good reason. The key to making sure a customer will be receptive to your offer is by making sure it's relevant. Keep your text messages limited in frequency, and make sure that you're always adding value to your customer's experience with your brand to maintain your relationship.
Keep your message short, sweet, and to the point: No one has time for long messages, and you don't have the character space for them! Make sure you get straight to the point with your SMS campaign, and give your customer the relevant information they need.
Always offer an out: By law in most countries, and by best practice in general, always offer your customer a way to opt-out from further messages, just like the unsubscribe link in emails. It does you no good to send SMS campaigns to those who will view them as a nuisance.
Think about geography and timing: If you're sending SMS campaigns cross-border, this is definitely something to take into account. While most people may not have notification alerts for their email accounts enabled, they certainly will for SMS. There's no better way to kill a customer relationship than to wake them up at 3 a.m. with a promotional text message.
Combine SMS with email and other channels for maximum impact: Given that you should keep SMS campaigns only for the most important and relevant messages, other channels will need to be used to maintain your brand's relationship with your customers. Combining SMS with email and other channels will help you not only maintain that contact, but avoid the temptation of over-using SMS.
Rytis Lauris, Omnisend Co-Founder and CEO had this to say:
SMS can be a powerful channel when used properly, but it can't do it alone. No channel can do it all alone. Each channel you use in your marketing strategy serves a specific purpose, and SMS is no different. While SMS might fulfill certain needs that email can't, it can't replace email completely. The best way to succeed? Use SMS alongside your email automations to increase conversions from your entire omnichannel workflow.

-Rytis Lauris, Omnisend
Key Takeaways
SMS marketing could be the best thing you add to your ecommerce marketing strategy this year. With the right tactics in place, the right practices, and targeting the right customers, you could see significant benefits to combining it with email.
Key Takeaways for SMS Marketing:
Use SMS with email to improve conversion rates from your automation workflows by leveraging the timeliness of SMS and the added dynamic content of email.
Customers are adopting SMS as a marketing channel just as much as marketers are, so don't be afraid to use it if you do it properly.
SMS works well for any demographic, and is especially successful with anyone under the age of 40, SMS is a great channel to natively communicate with customers where they spend the most time.
Be sure to use SMS marketing when it really counts. Sending for irrelevant or non-timely reasons will earn you nothing but opt-outs.
We expect SMS to evolve as a marketing channel over the next few months, and further earn its place alongside email as a key channel in the majority of online marketers' digital strategies.
Drive sales on autopilot with email & SMS marketing at Omnisend!
Start Free Today
related features
Want more sales?
Omnisend has everything you need to succeed.
Start free now
No Credit Card needed.