Drive sales on autopilot with ecommerce-focused features
See Features
How to create post-purchase emails that renew the customer journey
did you know
Omnisend customers automate 32% of their email conversions. Are you maximizing sales?
automate my sales
Reading Time:
10
minutes
"Thank you for your order" isn't the end of the customer journey—it's just a step within it. Post-purchase emails have become synonymous with fundamental email workflows, and they often make the difference between one-time customers and loyal advocates.
As many ecommerce merchants have discovered—it's much more cheaper (and profitable) to keep a customer around for longer than it is to keep acquiring new ones. In fact, 80% of your sales are likely coming from just 20% of your customers: returning customers.
While you're already created a personalized welcome series, cart abandonment, order confirmation and other automated email messages, the post-purchase flow is a crucial customer retention strategy.
So how do you get them to come back and shop after they make a purchase? The answer is by creating a purposeful post-purchase email series that nurtures, engages, and provides your customers with a better purchase experience.
Easily edit and send post-purchase emails with Omnisend (even on the Free plan)
Start Free Today
6 types of post-purchase emails that engage
Post-purchase emails cover a variety of purposes depending on what's most important for your ecommerce business—whether it's to make them feel special, collect feedback, remind a customer to replenish a product, or to cross-sell similar products, post-purchase messages can serve the purpose.
Let's look at the 6 most important types of post-purchase emails you can send to improve customer retention and boost your sales.
1. Order confirmation emails ("Thank you" emails)
Customers always expect an order confirmation, which not only confirms that they placed the order and paid successfully, but that the items they bought matches what they intended. Order confirmation emails have a 60% open rate, meaning that customers are eager to open and review the content.
"Thank you" goes a long way in establishing a connection with your customers, and sending thank you emails is an excellent way to humanize your brand and provide an excellent post-purchase experience. The thank you message is simple—just thank the customer for placing an order and provide a call to action (CTA).
In the example below, iHerb uses their order confirmation/thank you email to incentivize the next purchase. They include not only recommended products, but also Loyalty Credit points and information about their rewards program that could save them 10%:

If you choose not to offer an incentive, be sure to provide a CTA to something beneficial for the recipient, such as to a blog post or customer service hub. Remember, it's all about providing information, making the customer feel special and providing extra value.
Order confirmation emails are pretty easy to create and edit with Omnisend, which offers pre-built templates that can be launched within minutes.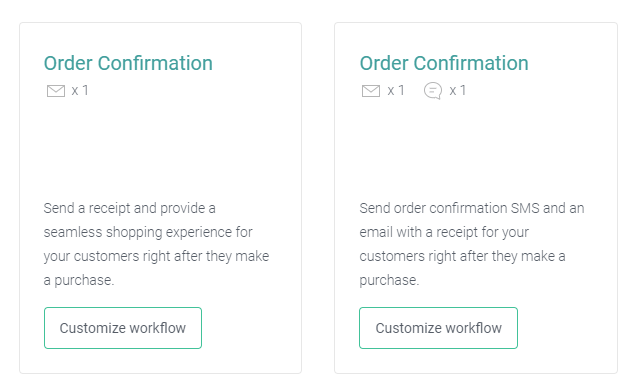 They also have the ability to include SMS in the order confirmation workflows to reach your customers where they are, more quickly.
Subject lines for order confirmation post-purchase emails
Messages like these tend to have a simple subject line, since it should plainly communicate the order confirmation. Some options:
Thank you for your order
Your [Brand Name] order confirmation [#12345]
Order received – [Brand Name] order [#12345]
Great news! We've got your order [#12345]
Your [Brand Name] order has been received [#12345]
Find out more about how to create high-converting order confirmation emails here.
2. Shipping confirmation emails
While order confirmation emails are both delightful and important to check the accuracy of of the order, the shipping confirmation email is mostly pure delight.
They're finally going to get their order (at least, they'll know when to expect it). This is also a great post-purchase email that you can use to build your connections with your customers.
When creating your shipping confirmation post-purchase email, be sure to:
be positive and build excitement with the customer
emphasize when the customer can expect delivery or a CTA leading to shipment tracking
summarize the order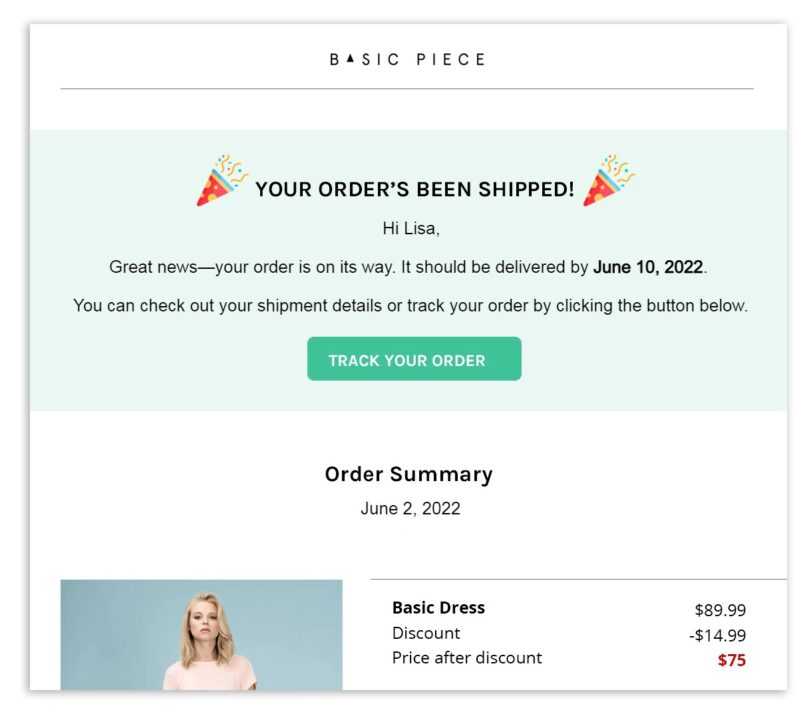 Similar to the order confirmation, shipping confirmation emails are pretty easy to edit and send with Omnisend: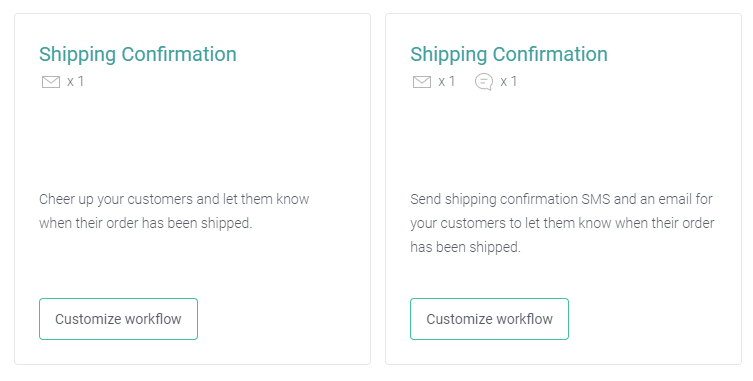 You can take this opportunity to provide recommended products, or offer a discount (or other incentive) to improve your customer retention and repurchases.
Subject lines for shipping confirmation post-purchase emails
Really, don't waste a lot of energy trying to be too creative here. Subject lines should communicate the fact that the order has been shipped:
Your order has shipped
Order [#12345] has been shipped
We've shipped your order
We've shipped your order [#12345]
Your purchase has been shipped
You can add emojis to make it more festive, as long as it doesn't distract from the information.
3. Review request emails (customer feedback email)
Getting feedback is important for any ecommerce shop, especially for those who want to be customer-centric.
Not only do these kinds of emails help you understand how your customers experience your purchase flow and products, but they provide you with valuable social proof that can be used in other messaging to influence customers to purchase from you.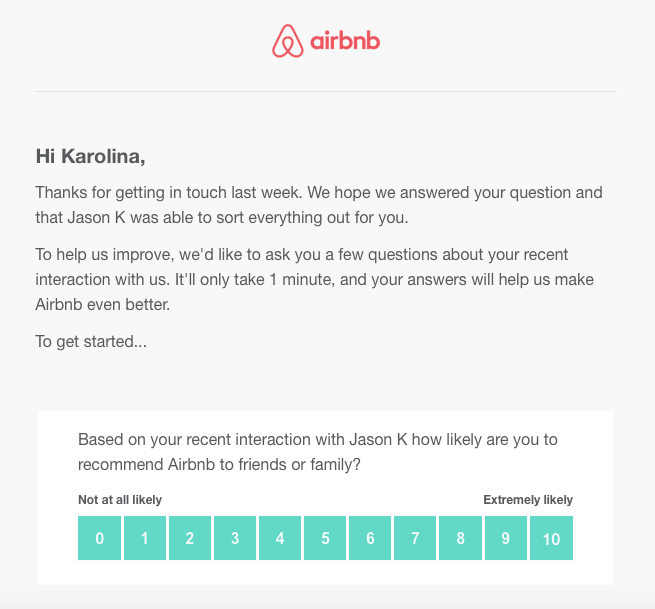 When creating a great feedback post-purchase email, there are a few best practices to put in place. Try to:
Remind your customers of the (hopefully) excellent product/service you gave them
Be honest about how long it'll take to leave feedback
Explain how leaving a review benefits your customer, and other customers
In the same vein, asking for a share on social media can not only give you valuable feedback, but provide you with curated user generated content.
Omnisend's pre-built Customer Feedback template and Order Follow-Up will help you set up this post-purchase email quickly: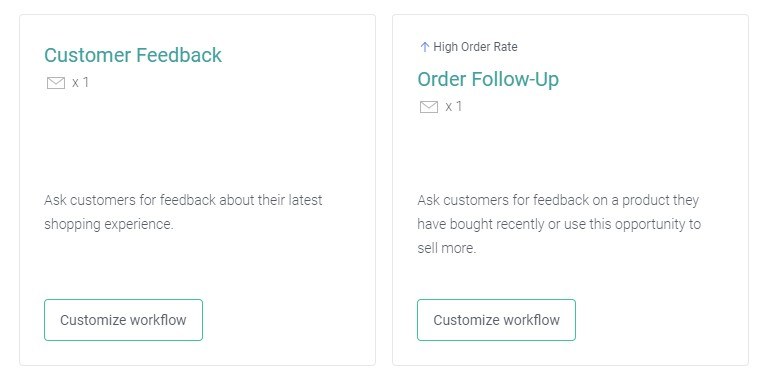 Which one should you use for your review request?
Customer Feedback: send this review request to your general audiences after they've bought something from you
Order Follow-Up: send this to customers that bought a specific product, and use it to get them to buy more
Subject lines for review request emails
Here you'll need to experiment a bit more with getting customers to not only open emails, but also provide their feedback. If you're offering an incentive for a review, you can include that in the subject line.
Some example subject lines:
Got a minute?
Tell us: how did you enjoy your recent order?
[Name], regarding your recent order at [your brand]
A minute of your time (and 15% off your next order)
About your recent purchase (Order #12345)
Get pre-built thank you, review request, confirmation and more post-purchase emails (all free)
Start free
4. Replenishment & restocking emails
Replenishment emails are especially useful for ecommerce businesses that sell products with a definite shelf life. The idea is to anticipate your customers' needs.
Imagine you sell skincare products, and your customer has purchased a 30-day supply of face cream. On day 20, your post-purchase email campaign might send them a reminder to repurchase the cream to maintain their skincare routine.
You know your customer likes—and maybe even needs—this product. They're going to buy it no matter what. Your challenge? You need to make sure it's you they buy it from. This email from Chewy really captures the essence of a perfect replenishment/restocking email:

This example is perfectly targeted: reordering pet food might slip even the most loving dog owner's mind. But with a well-timed email, Chewy targets their email so that it is personalized around this pup's particular blend of food.
Highly consumable products are great for this kind of message, and with subscription ecommerce taking hold of the industry, these emails can confirm and thank the customer for their continued business.
This is effective when considering email marketing for both new customers and repeat customers alike.
Subject lines for replenishment/restocking emails
Running low on [product]?
Don't forget to stock up on [product]!
Down to your last [product]?
Need a refill?
[Name], stock up on [product] now
5. Product recommendation emails & cross-selling emails
Product recommendations and cross-selling are great ways to bring a customer back into the purchase cycle.
However, blindly slapping some products into an email won't achieve very much. Instead, use the data from your customers' last purchase to create personalized recommendations based on what they've already shown interest in.
The idea is to offer your customers products that complement what they've already purchased and make them say, "Oh! I do need a controller to go with this. I didn't think of picking up an extra cable."
Your customers will better respond to relevant product recommendations. While it's absolutely possible to put a recommendation or two in your confirmation emails, you don't want to put it all in that one email—especially when a cross selling email can be powerful all on its own.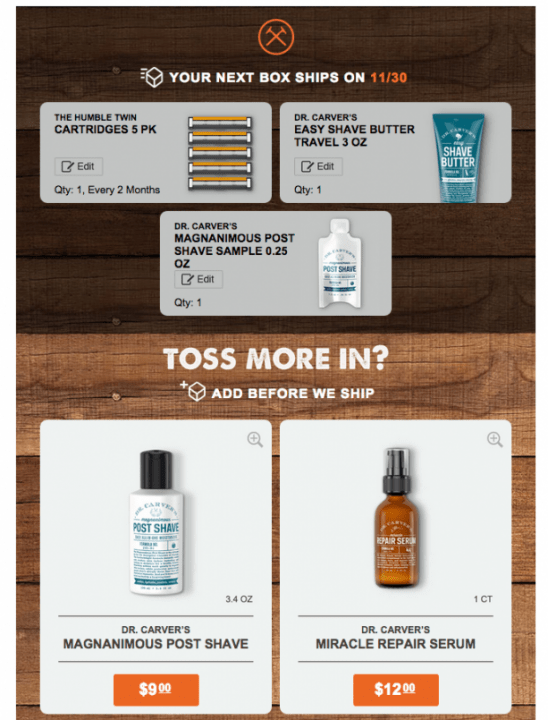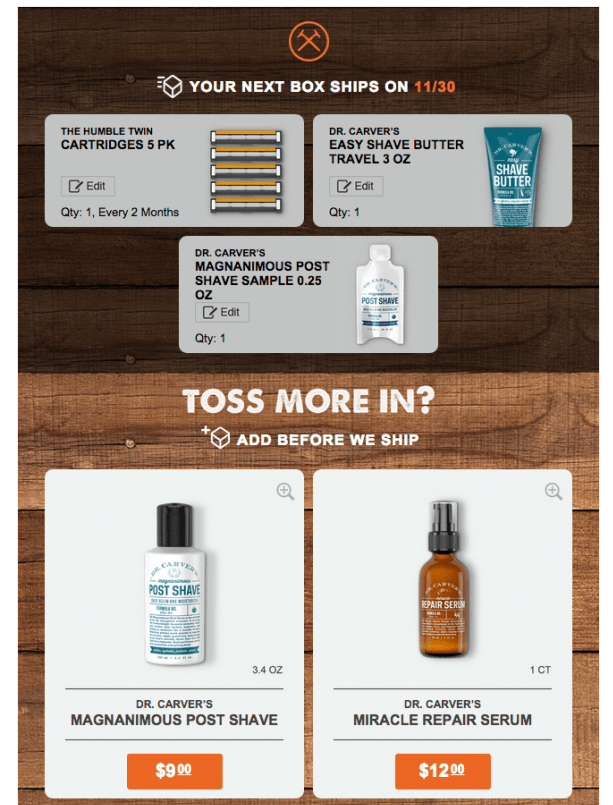 When using Omnisend, create your cross-sell emails quickly with pre-built templates: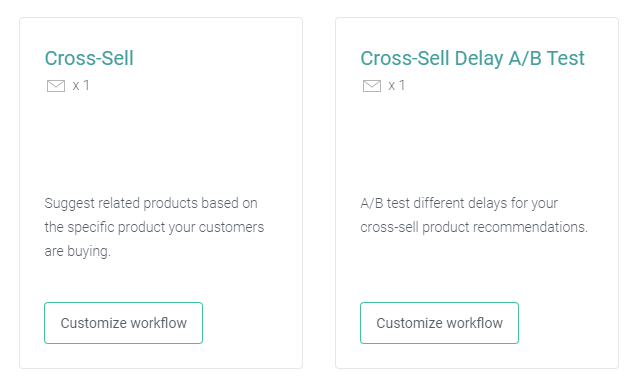 Subject lines for product recommendations and cross-selling emails
Discover more great finds from [brand]
We know you're gonna love these!
If you enjoyed [purchased product], you'll love this/these!
We couldn't wait to show you this
6. Win-back emails
Sometimes, your customers go quiet. They bought from you far too long ago, and they haven't been active since.
This is a shame, since existing customers are much more lucrative than acquiring new ones. (It's also cheaper to get more sales from existing customers than from new customers.)
Win-back emails aim to reactive dormant customers. They essentially serve a few purposes:
remind the customer of your brand
get them to buy from you again
get them to perform some loyalty action (like signing up for a rewards program)
When it comes to the content for your win-back emails, you can try a straightforward tone, or a softer, more welcoming one.
This email below highlights the reasons the subscriber should stay on their mailing list, and also offers a 20% discount as "reward" (which is essentially a bribe to buy more):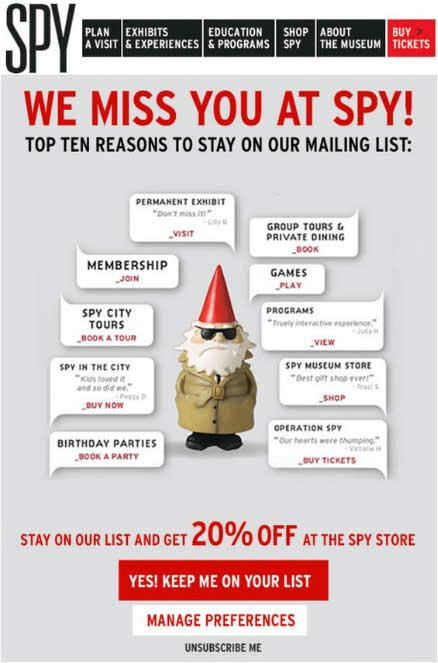 Alternatively, you can be straightforward, like this email from Framebridge: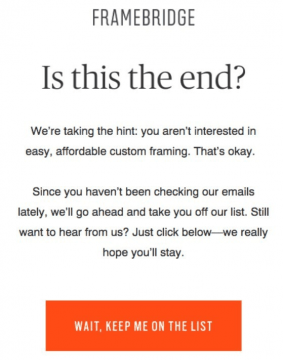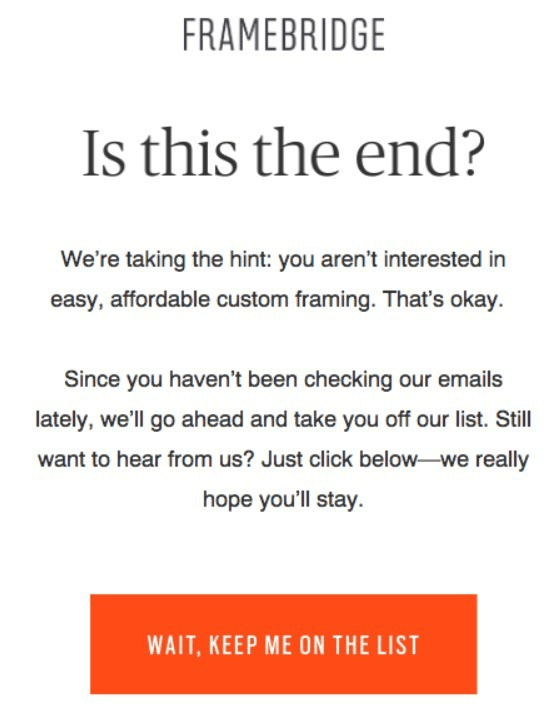 Whatever tone you choose, make sure that it's consistent with your brand, and that it also doesn't come off as petty, angry, melodramatic, or any other negative traits that can drive your customers away (instead of bringing them closer).
Subject lines for win-back emails
Again, strike the right tone so that your customers will want to open your emails and stay connected with your brand.
Some win-back post-purchase subject lines to try:
We miss you already
Come back & enjoy [free product or other offering]!
A lot has changed! NEW Special Offer Inside
Let's stay together, [NAME]
Ready to get back together?
Getting post-purchase timing right
One of the biggest questions around creating a post-purchase experience is, "When should I send these messages?"
There is no short and easy answer to this question. The fact is that you'll have to look at your own data and post-purchase workflow to determine the best timing, and to tweak as you go.
But there are a few things you should consider when timing your post-purchase emails:
Think about the whole flow, starting from the beginning of the customer journey: How many emails are your customers getting in total? If someone signs up and purchases on the same day, are they getting inundated by emails in the first 48 hours? Consider pausing your regular sales workflows until a customer exits your post-purchase series.
Try consolidating some of those emails: For example, a thank you message should also be roped into an order confirmation email, social sharing can be incorporated into a feedback request, and so on. Just keep the main goal of your emails clear, don't overload your customers with multiple CTAs, and maintain the overall theme.
The timing of your post-purchase emails ultimately depends on the emails you choose to send, and how your customers respond to them (in addition to other messages you might be sending).
How post-purchase emails work at Omnisend
Omnisend handles post-purchase emails in a variety of different ways. Our post-purchase email flow covers everything from shipping confirmations to review requests and emails with discounts that encourage second purchases.
Whether a merchant is engaging with a free or on one of our paid plans, automated workflows can be set up for post-purchase email marketing.
The process is simple and easy to edit if needed.
First, simply click on the Automations tab, and you'll see the option to go to our library of pre-built workflows: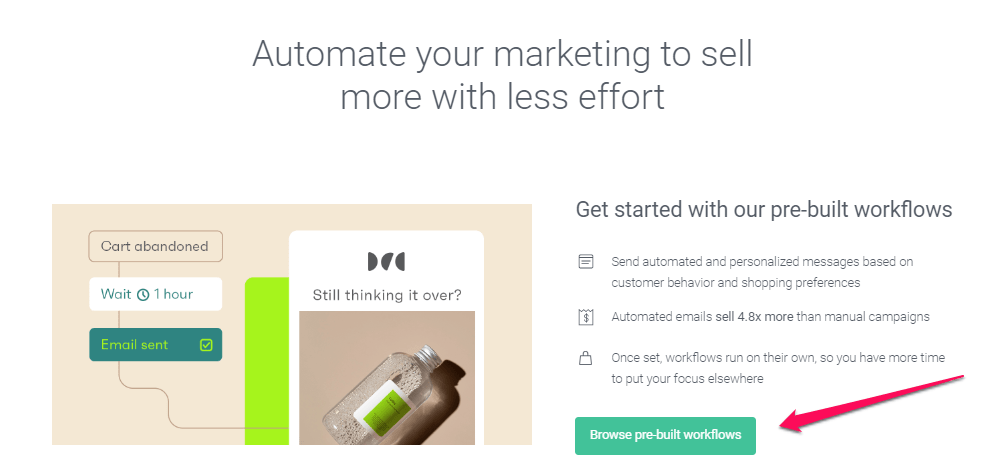 Once inside the library, you'll find a host of pre-built workflows that you can edit for your post-purchase email campaigns (and so much more):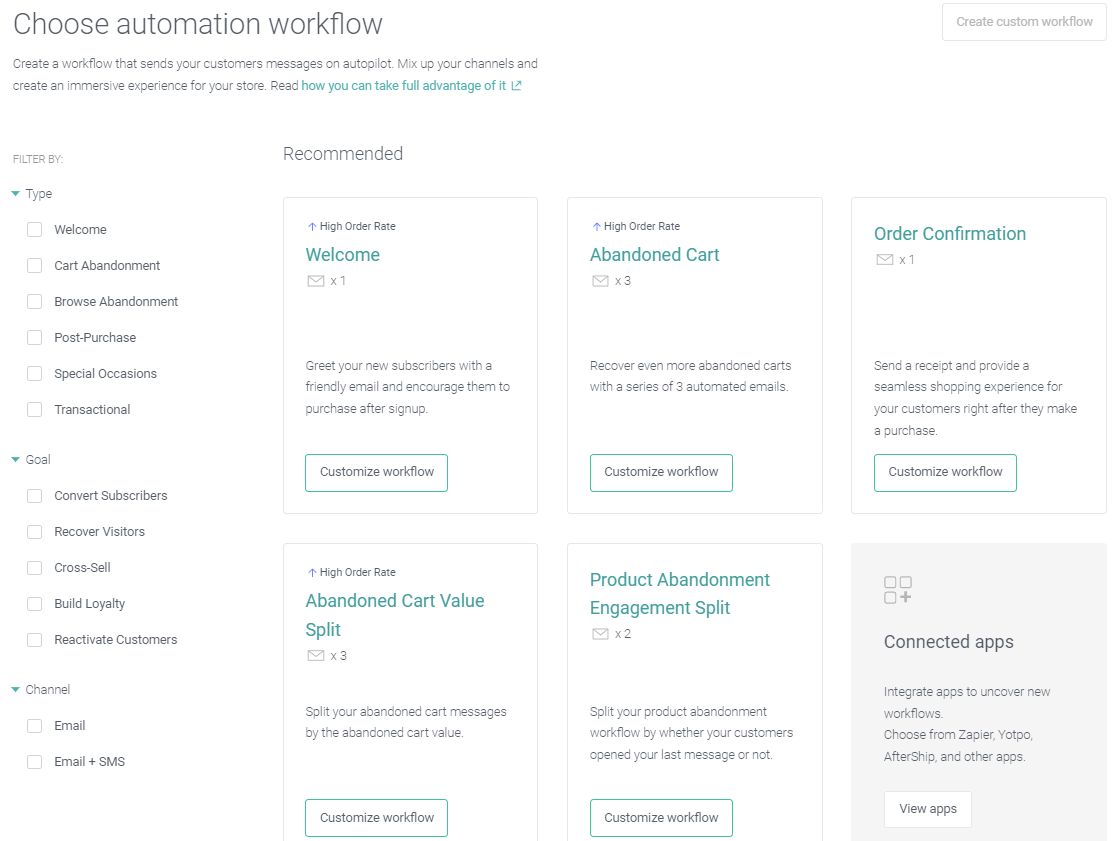 Once you've selected a suggestion, you can begin crafting post-purchase email campaigns with the following settings:
Trigger filters: this defines how your post-purchase email automation targets customers and what starts the workflow. This includes targeting new customers that don't complete a purchase, sending shipping confirmation once a customer has completed their order, etc.
Audience/Conditional filters: this looks at which of your customers you want to reach. This can include repeat customers, people that haven't bought anything in a while, recent customers, and more.
Delay: this defines when a customer receives a message. Should it be immediately when they entered the workflow, after a day, a week, a year?
Exit conditions: this defines when the customer should exit the workflow and stop receiving messages. This includes if a customer cancels or makes changes to their order.
When you've crafted the perfect content for your messages, such as a friendly review request or an alluring discount, you can begin your automated email marketing.
Wrap up
Retaining your customers is likely one of your top goals as an online seller, and keeping them coming back for more is a full-time job. However, by creating a great post-purchase email series, you can nurture your relationship with them, and restart the customer journey long before they're aware they want to purchase again.
Test out these messages and see what works best for your customers. Get creative, mix and match them, and consolidate where it makes sense. Test your timing to ensure it is as relevant as possible, and keep fulfilling the needs of your customers as the main priority.
What are some of your favorite post-purchase tips? Tell us below!
related features
Want more sales?
Omnisend has everything you need to succeed.
Start free now
No Credit Card needed.