Omnichannel marketing is far from just a buzzword for those who work in the digital sphere.
But what is it? How is it different from multichannel marketing?
And most importantly- how can your ecommerce store benefit from an omnichannel marketing strategy?
Today, I'm going to explain everything you need to know about omnichannel marketing, and give you some helpful tips to get your online store omnichannel-ready!
Let's get started:
OMNICHANNEL MARKETING DEFINITION
Omnichannel marketing is an approach that provides customers with a completely seamless and integrated shopping experience from the first interaction to the last.
That sounds nice– but what does it actually mean?
The idea behind omnichannel marketing is that each channel works together to create a unified message, voice, and brand for your company.
Today's consumers go through a multitude of touchpoints, or interactions, with a brand before they purchase. These touchpoints can be over any number of channels, digital or analog, and move the customer further down their customer journey.
It means that no matter which channel a customer uses to interact with your brand, that interaction is going to be consistent, and it will be tailored to the customer's preferences and needs.
Wait- I thought this was called multichannel. Isn't that the same as omnichannel marketing?
Not quite. There are a few key differences between multichannel and omnichannel marketing that make a huge difference.
WHAT'S THE DIFFERENCE BETWEEN MULTICHANNEL & OMNICHANNEL MARKETING?
The best way to understand the difference between multichannel and omnichannel marketing is to look at what drives these two strategies.
Multichannel marketing puts the business at the center of marketing operations, and communication moves outward from that business to customers on a variety of channels. This means that an online store would have marketing operations on their store, on social media, via email, and any other channel where a customer is present.
Unlike multichannel marketing, omnichannel marketing puts the customer at the center of marketing operations, and focuses on creating a seamless, unified experience no matter what channel the customer uses to interact with the brand.
For a marketing approach to truly be omnichannel, your channels need to work together and update customer data based on each interaction.
For example, say a company is displaying ads via Facebook to a customer that has purchased previously. If that customer comes back (from that ad or not) and purchases again, the ads they see would then change to offer a complimentary product. In conjunction, the customer would receive email communication to review the product they purchased, or refer a friend.
This would also include using multiple channels when communicating with a customer. For example, Omnisend allows you to set up an automated email sequence with SMS added in to further engage your customer.
In an omnichannel marketing strategy, your customer would receive an SMS follow up on a promotion they've been sent via email, perhaps based on whether or not they opened the last campaign, or if they've purchased a product. The idea is that the communication this customer has with this company is tailored so the message is always relevant to that customer no matter where they are in the customer journey.
MULTICHANNEL MARKETING WORKS- WHY SHOULD I BOTHER WITH OMNICHANNEL MARKETING?
Multichannel marketing is a great first step for a lot of brands. But omnichannel is what you do when you want to take your marketing next level.
We took a look at our customers to compare simple email marketing automation against an omnichannel experience. Even using just an extra channel outside of email and SMS yielded significant results for our marketers: When an ecommerce marketer used three or more channels in their marketing automation workflows, their campaigns outperformed single-channel campaigns in engagement and purchase rate by over 250%.
Consumers today are expecting a personalized omnichannel experience, and they reward brands when they find it: Customers who have an omnichannel experience spend 13% more online than those who only use one channel.
When customers have that omnichannel experience while doing research before purchasing? That number jumps to 13%.
Omnichannel marketing also boosts customer retention rate: according a study by Aberdeen Group, companies with an extremely strong omnichannel customer engagement have an 89% customer retention rate compared to 33% for companies with weak engagement.
In our own study, we found similar results. Comparing repeat customers for marketers who frequently used at least three channels in their marketing automation workflows, we found an approximately 90% customer retention rate as opposed to marketers who used only one channel. 
With customers spending more and retaining easier, it only makes sense to create an omnichannel marketing strategy for your ecommerce store.
4 WAYS TO WIN AT OMNICHANNEL MARKETING
We've already established what omnichannel marketing is and why it's great for the rapport between you and your customers.
However, implementing this kind of strategy does come with certain challenges, and it's important to maintain the best practices across your organization.
1. GET THE ENTIRE COMPANY ON BOARD WITH OMNICHANNEL
It can't be overstated: for an omnichannel marketing strategy to really work, your entire company needs to be on board.
This doesn't mean just your whole marketing and sales teams, it means customer support needs to be a part of the strategy too.
Think about it- omnichannel marketing puts customer data at the center of the strategy, and that data is useful to each and every person across your organization. You want your marketing team to speak to that customer and tailor your brand's communication around them.
You want your sales team to have information on not only your customer's purchases, but also their last interactions with your brand. You want customer support to see exactly what your customer has purchased, and also their favorite channels of communication so they can connect with customers in the place that feels the most natural.
For an omnichannel marketing strategy to truly be cohesive, each of your teams should participate and exchange data between each other. It makes adopting this strategy so much smoother.
2. GET TO KNOW YOUR CUSTOMER BETTER
When implementing an excellent omnichannel experience, it's important that you know your customer and their journey inside and out.
AUDIT YOUR PROCESSES
In order to figure out which channels to use for your omnichannel marketing strategy, you need to study your customers and find out which they use the most often, and audit their overall experience:
Go through research for your products
Order from your store
Complete your own returns and refunds processes
Test order placement
Engage with each available channel you use
Submit support tickets with your customer service team
Enlist external sources to help you do this too
How is your experience? Where could you remove some friction for your customer?
This is a process that you should be doing regularly to make absolutely sure that your customers are having the best possible experience with your brand.
ASK FOR CUSTOMER FEEDBACK
You should also be regularly checking in with your customer for feedback. In an omnichannel experience, you can do this at several steps in the customer journey. The most popular step sellers get feedback on is the post-purchase phase where retailers ask customers to review their purchase and product.
However, it wouldn't be an omnichannel marketing strategy if you were only getting customer feedback at the product and purchase stage. When customers contact your customer success team with questions or support tickets, it's a great opportunity to create an omnichannel experience.
Not only should your customer success team be using the customer data they have at their disposal to personalize the way they interact with your customer, but they should also be recording and updating the data they have on your customer with their feedback during a service interaction.
3. SEGMENT YOUR AUDIENCE
While it's a good idea to segment your audiences in multichannel marketing, it's critical with an omnichannel strategy.
Part of getting the right message to the right person at the right time is nailing down the exact right person and making sure your messages are always relevant to them.
There are a few main ways you can segment your lists:
SHOPPING BEHAVIOR: RECENT PURCHASE INTERACTIONS A CUSTOMER HAS HAD WITH YOUR BRAND
When you segment your lists by shopping behavior, you can really pinpoint where a customer is in their journey. For example, you can segment your customer based on when they last purchased from you to reactivate them and re-engage them if they've dropped off.
Or you can personalize cross-selling campaigns for customers who have recently purchased from you by segmenting by when an order was placed. You can even customize what product they're proposed by how much they spent last, or how much they spend on average.
The idea is that by segmenting by shopping behavior, you can respond to how your customer last interacted with your products and send an ultra relevant message to them when they'll be susceptible to engage with your brand.
PROFILE DATA: DEMOGRAPHIC INFORMATION ABOUT YOUR CUSTOMER
When you segment by profile data, you can really personalize your communication with customers based on the type of customers that they are. For example, you wouldn't necessarily recommend winter clothing products to someone who lived in a warm climate.
For this kind of communication to really work, it has to speak to the customer receiving it.
CAMPAIGN ACTIVITY: HOW A CUSTOMER HAS BEHAVED IN REGARDS TO YOUR RECENT CAMPAIGNS
Campaign activity is also an interesting way to segment your communication because it means you can reactivate inactive customers with tantalizing offers.
For example, if you're sending an email campaign to your list, you can send people who didn't open your last email into a completely different segment than you send the people who opened but didn't click.
You can then send personalized offers to each segment based on what's worked best for you in the past.
Segmenting these customers can be even further amplified when you combine the different ways that you segment your customers.
For example, let's say you want to segment men between the ages of 25-35, who purchased a coat from you less than three weeks ago, and who opened your last email about accessories. Perhaps you then send those customers a personalized email campaign offering an incentive to review the coat they purchased, or offer them a scarf to cross-sell to them.
But just keep in mind, segmentation has to achieve some kind of goal. If you have the same exact customers in each segment, they don't really serve a purpose.
In this way, you can precisely target your customers and keep data on what kinds of emails work for what kinds of customers. Which brings me to my next point:
4. MEASURE EVERYTHING, ALL THE TIME
When implementing an omnichannel marketing strategy, it's critical to measure your results at each and every step of your communication with your customers. An omnichannel strategy can't work if your customer data isn't updated and measured regularly.
Measuring how your customers react to your campaigns is just as important, how else will you find out that your female customers prefer SMS campaigns sent on Friday evenings or that your shoppers are more susceptible to Black Friday email campaigns around 4 pm?
When you keep detailed metrics about your campaigns and your customers, you can optimize your campaigns over and over again. Tweaking your campaigns will only help you get better at this cohesive message that you're sending to your customers, and will improve your omnichannel marketing strategy.
—
Today's consumer is not only more inclined to purchase with an omnichannel experience, but they're expecting it.
In fact, we found that 86% of customers are willing to pay up to 25% more for products and services just to have a better customer experience. We performed a case study for Net-a-Porter around their adoption of omnichannel marketing. Net-a-Porter set up an omnichannel experience around three principal channels:
Mobile app/social network
Email marketing
Ad retargeting
By using a Net-a-Porter social media app, they were able to find products that most resembles the products being shared between customers and then recommend those products. They would then follow up with email and use retargeting ads to meet their customers on other channels.
In 2017, Net-a-Porter profited from a nearly 17% growth with more than €2.5 billion earned. 50% of those sales were via mobile, while email, retargeting, organic, and various other channels made up the rest.
What's more, Net-a-Porter customers were more than ready to pay more for a better experience: Net-a-Porter earned the highest AOV among online retailers at €328 per order.
Here's how they did it:
Get your free copy of '5 Ecommerce Marketing Automation Case Studies' today.
Omnichannel Case Study #1: Net-a-Porter
Net-a-Porter is one of the first online-only luxury clothing stores.
When they started out, they had a pretty big challenge: how can they create a luxury brand that is exclusively online?
After all, luxury brands communicate high quality, exclusivity, and unique appeal.
Online brands (especially in the early 2000s when they launched) seemed very far away from those qualities.
Their desired outcome
Net-a-Porter had quite a few important things they wanted to achieve, but for them there were three crucial things that would allow their brand to really be a leading online luxury brand:
to improve sales
to increase brand loyalty
to create lasting customer relationships
The challenges for Net-a-Porter
They identified two important challenges to getting what they wanted.
First of all, there was quite a lot of competition online that wanted to position themselves either as luxury or the best online brand.
Secondly, because of the nature of online shopping, customers tended to bounce around from one brand to another in trying to find the best deal.
Overcoming that was intimately connected with positioning themselves as luxury, which is not based on price, but on quality.
The omnichannel solution
While the usual marketing automation would have worked wonders for email, Net-a-Porter wanted to make sure they achieved their goals efficiently while providing a great customer experience.
That's why they naturally turned to omnichannel marketing.
First, they set up their approach to include three distinct channels:
their mobile app/social network to keep customers inside their ecosystem
email marketing to make sure they follow-up on customer behavior on their store
ad retargeting to catch visitors who abandoned their site before buying
Perhaps the most famous part of their omnichannel marketing strategy is their mobile app/social network called The Net Set.
This allows users to interact with each other and share images with each other.
However, the app also recognizes the products being shared, finds the closest match in Net-a-Porter's inventory, then recommend it to users so they can buy it.
But an overlooked part of their customer experience strategy is their emails, such as the welcome email below.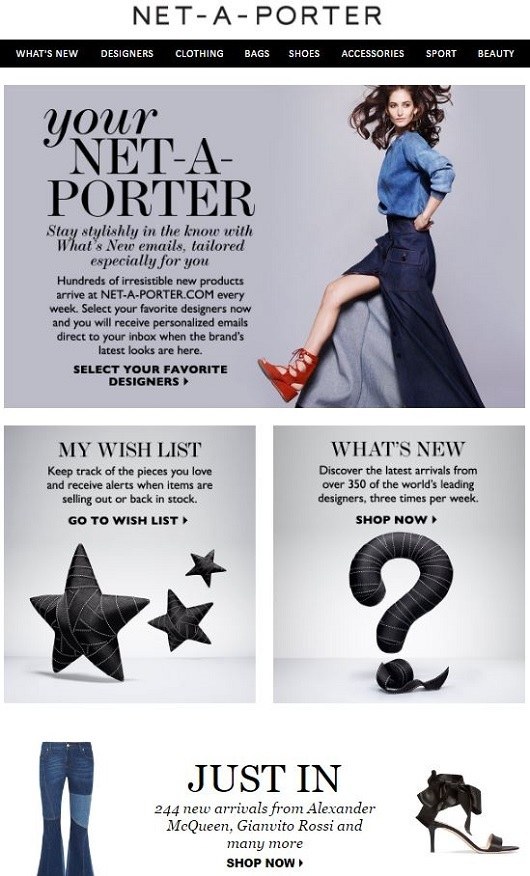 Combined with their mobile app and retargeting ads, they're able to provide users with an always-available experience.
Also, in order to make sure that customers do get an experience on all of their channels, they often send reminder emails or messages in-app to connect on their other channels.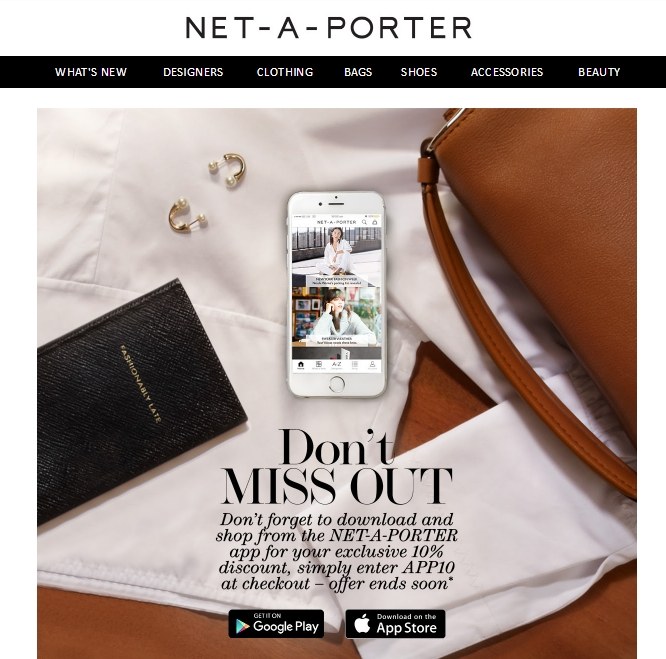 Net-a-Porter's omnichannel results
It's not difficult to see the results of Net-a-Porter's fantastic omnichannel marketing strategy.
(Which, by the way, you can use for your online store with our 14-day free Pro trial.)
In total, as of January this year, Yoox Net-a-Porter had revenues of more than €2.5 billion (more than $3 billion) in 2017 alone, with a 16.9% year-over-year growth.
50% of those sales came from mobile, with the rest comprised of email marketing, retargeting, organic and many other channels.
Order values also increased to €328 (or about $400), which is one of the highest for any online store, beating even the likes of Amazon.
As Net-a-Porter shows, the omnichannel marketing approach really works.
Omnichannel Case Study #2: Mainline Menswear
Opened online in 2004, Mainline Menswear is a British ecommerce business that is focused on the men's fashion niche.
As with all online retailers, Mainline Menswear found it rather difficult to find footing in the ecommerce space and needed to boost their traffic sales.
Their desired outcome
Two of the most important things for Mainline Menswear were intricately connected, uniquely so for ecommerce stores: traffic and sales.
More specifically, they wanted to increase their sales, and one of the best ways to do that is to increase traffic.
Of course, they didn't want to fall into the get-any-traffic trap, where they increase any traffic, just not the ones who actually wanted to buy.
They wanted to increase their sales by increasing the amount of actual shoppers who would be more motivated to buy.
The challenges for Mainline Menswear
Besides the understandable challenge of increasing competition from similar brands around the web, Mainline Menswear also realized they couldn't really reach their customers like they'd want to.
After all, while email marketing boasts some great numbers, it's also true that everyone is using email marketing.
That means all brands are fighting for the same inbox space, and most are losing this battle.
This understanding of their main challenge—not necessarily low traffic or low sales, but high competition in the same marketing channel—led them to understand what their solution should be:
Omnichannel marketing.
The omnichannel solution
Mainline Menswear decided to try to beat their competition by being more creative and resourceful.
Instead of doing a large, expensive campaign that would get their users' attention via inbox, they decided to get their attention by using the thing that nearly all of their ideal audience had:
Their mobile phones.
For their Winter Sales (Boxing Day 2013), Mainline Menswear decided to move beyond the standard marketing automation channel and use a combination of coupons/promotions via SMS, retargeting ads, and cart abandonment emails.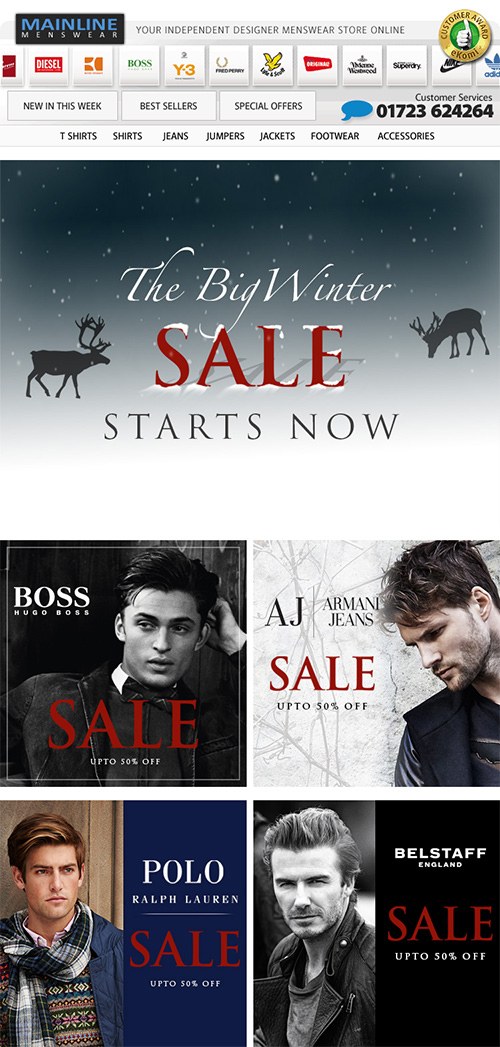 Instead of using just one great channel (email), they decided to stack it up with a few channels.
But they also decided to make it a seamless campaign, so that users would have a great, connected experience on all 3 channels.
Mainline Menswear's omnichannel results
On Boxing Day (December 26) 2013, Mainline Menswear decided to send a sales campaign via SMS, instead of the usual email campaigns they often did.
They began to see results immediately.
For their Winter 2013 Sales campaign, Mainline Menswear saw:
a 45% increase in direct traffic
a 27% rise in overall traffic
an amazing 93% boost in their mobile traffic
Their sales also increased significantly, with their campaign having led to one of the busiest days in Mainline Menswear's entire history.
This because the rise in quality traffic allowed their email marketing and retargeting to kick into high gear.
Not only that, but utilizing the omnichannel approach lowered the average customer acquisition cost, and it's an approach they've utilized repeatedly since.
Why omnichannel is unbeatable
Using omnichannel, you get to provide users, shoppers and customers with a unified experience.
This not only leads to better user engagement, but also (as you can see from the above case studies) better sales and brand awareness.
Omnichannel marketing will allow you to:
Seamlessly integrate different channels
Provide users with a unified experience
More easily control all your channels
Improve your ROI
Increase brand awareness
Build a long-term, sustainable business
In short, omnichannel marketing will allow you to take your online store from a good business to a powerful, sales-driven business that can establish and grow its customer base consistently.
By being omnipresent on the channels that your customers are the most comfortable with, and getting your entire brand behind creating an omnichannel experience, you will be able to give your customers a level of service that will set you apart from your competition.
It's the only approach Amazon and other big players use, and it's available for you right now, whenever you're ready.
Get a personal 1-on-1 demo (that will superpower your next Omnichannel campaign)!