Drive sales on autopilot with ecommerce-focused features
See Features
What is omnichannel marketing? Examples & tips for ecommerce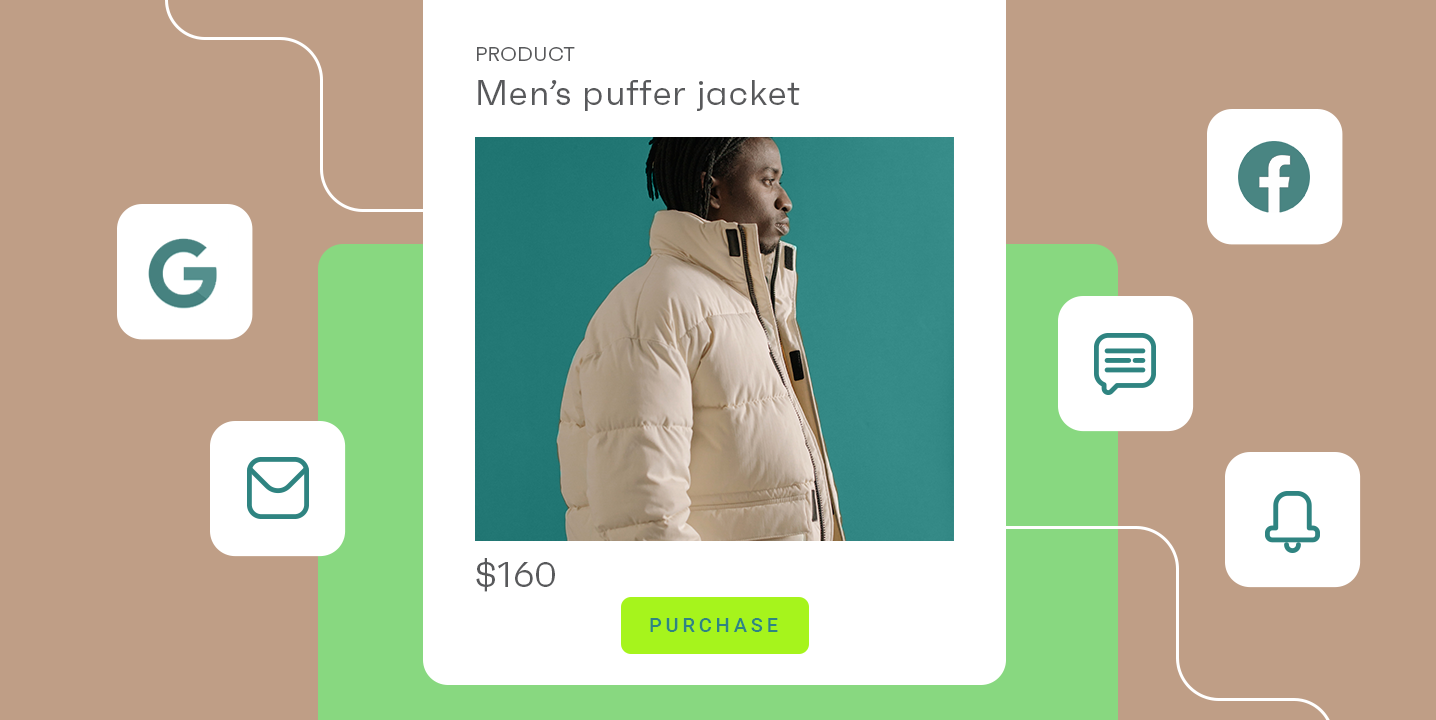 did you know
Omnisend customers automate 32% of their email conversions. Are you maximizing sales?
automate my sales
Reading Time:
8
minutes
If you're like a lot of marketers, you hear the term "omnichannel marketing" tossed around.
And … you're embarrassed to admit that you're not sure what it means and what makes it special.
Or … you think you know. But you wouldn't bet your money on correctly answering the question, "What is omnichannel marketing?"
Luckily, you've come to the right place. We're here to explain:
Exactly what omnichannel marketing means
What differentiates it from multichannel marketing
How to begin formulating an omnichannel marketing strategy for your own business
What is omnichannel marketing?
Before we define omnichannel marketing, step one is grasping the meaning of omnichannel.
Sometimes spelled omni-channel, it's the practice of using all types of channels to serve your customers and prospects. Omnichannel enables business operations such as:
Both in-person and online point-of-sale transactions
Customer support through digital channels, such as live chat or email, phone and face to face
Whatever the interaction or channel, the experience should be consistent and relevant to the individual.
Thus, a marketing approach that is omnichannel in nature creates seamless messaging across channels. Each channel works together—and we stress "works together"—to create a unified message and voice for your brand. For instance, an omnichannel marketing strategy would ban sending an SMS message about a particular product to someone who just purchased it.
Omnichannel is built on the premise that underlying data is automatically updated, triggering your messaging across all channels to adjust as well. It makes for an integrated shopping experience, from the first touchpoint to the last.
Still scratching your head? A few simple omnichannel marketing examples might help clear the confusion:
A customer receives an SMS message about a promotion while shopping in store
A promotional email alerts recipients to check their mailbox for a physical postcard with coupons
A shopper is retargeted on Facebook with the product they abandoned in their online shopping cart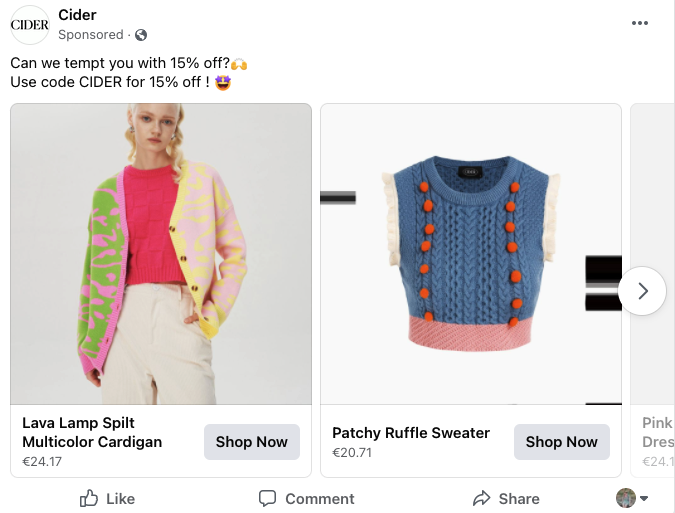 Omnichannel vs. multichannel marketing
You may wonder why we're focusing so much on the term omnichannel and ignoring the term multichannel. They're not interchangeable because there are clear differences.
Multichannel marketing:
The brand is at the center of your marketing strategy
Primarily static communication, with messages that are relatively the same, sent across several channels
Channels don't update and personalize to suit your customers' needs
Channels operate independently
Omnichannel marketing:
The customer is at the center of your marketing strategy
The message changes and adapts to how the customer has interacted with your brand
The customer's behavior prompts updates to each channel
Channels work together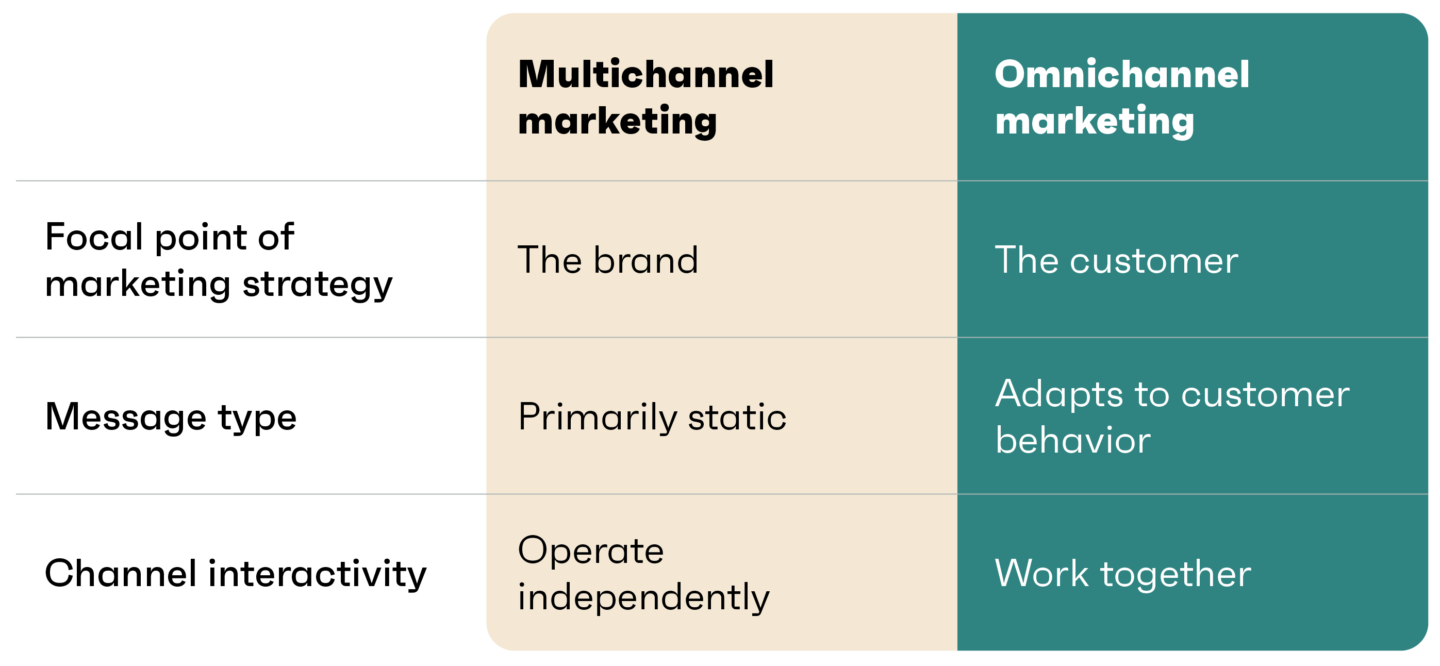 If there's one key word to distinguish multichannel marketing from omnichannel marketing, it's integration. Simply, channels are interconnected.
Benefits of an omnichannel marketing strategy
Rytis Lauris, CEO and co-founder of Omnisend, has been a vocal proponent of omnichannel marketing for years. He says its biggest benefit is making marketing relevant not only for brands, but for the customer.
There is a level of personalization that can only be achieved by omnichannel marketing. When you provide this relevancy, customers respond better to it, they purchase more, and they come back more often."

Rytis Lauris, Omnisend CEO and co-founder
Research supports Lauris' claims that brands should focus on the customer by leveraging multiple channels in their communications, versus focusing on channels individually.
In each case below, we define "omnichannel campaign" as using at least three channels. We found:
Higher engagement: Omnichannel campaigns earned an 18.96% engagement rate. Those using single-channel campaigns saw a 5.4% engagement rate.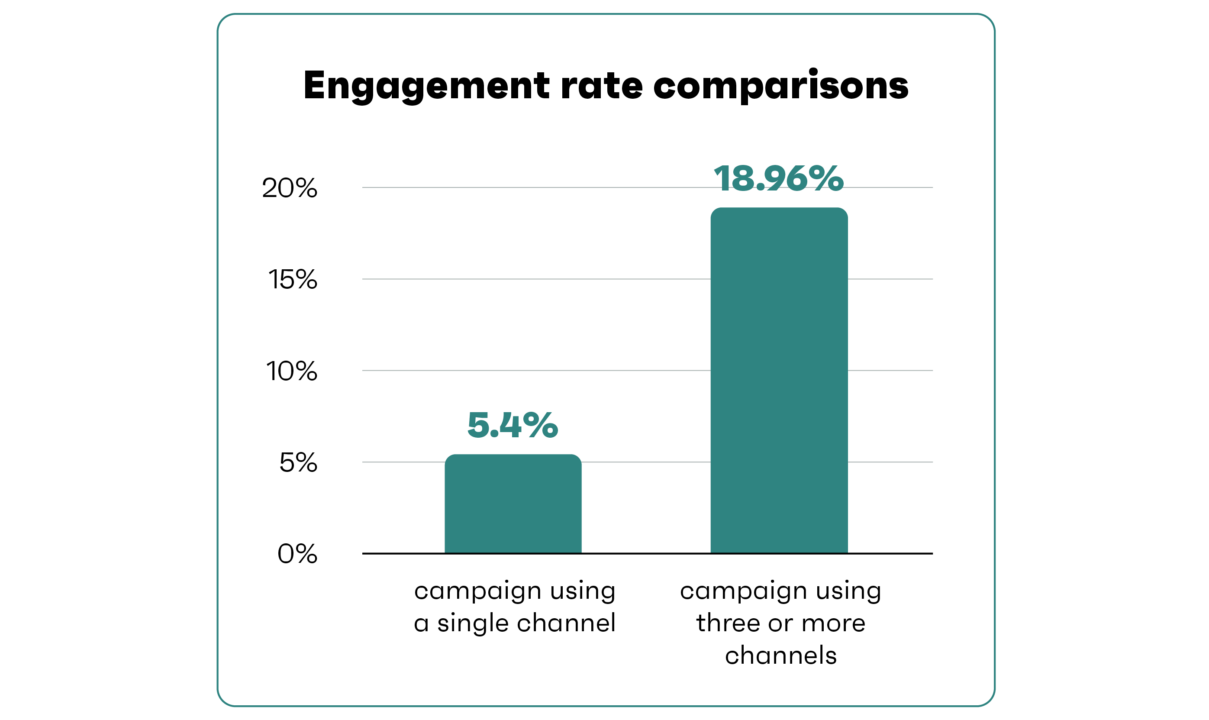 Higher purchase rate: Omnichannel campaigns earned a 287% higher purchase rate than those depending on just one channel (12% versus 3.21%). Bonus: When you use SMS as one of the channels within an omnichannel marketing initiative, the conversion rate improves by 47.7%.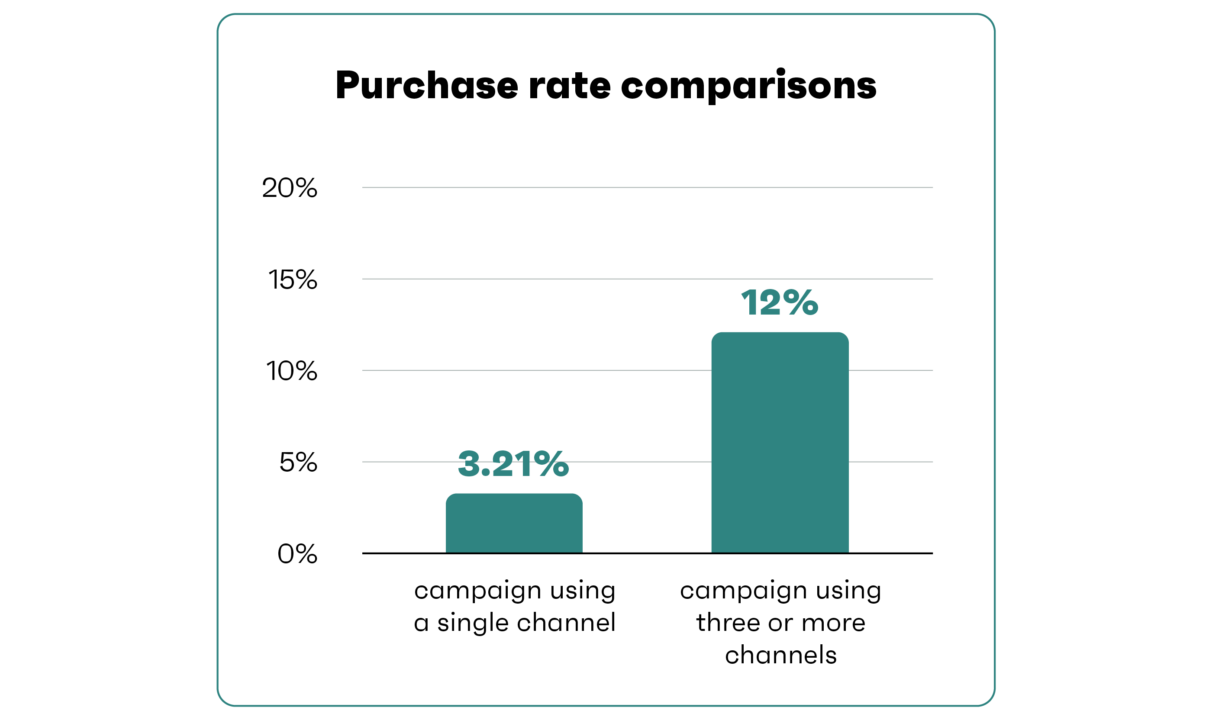 Higher spend rate: Customers engaging with omnichannel campaigns spent, on average, 13% more than those engaging with single-channel campaigns.
Higher customer loyalty: Marketers using omnichannel campaigns experienced a 90% higher retention rate than those using single-channel campaigns.
If omnichannel digital marketing can bring in the customers that are going to be most valuable to you or, better, transform your customers into more valuable customers, this is definitely a tactic worth trying.
4 pillars of an omnichannel marketing strategy
Omnichannel marketing is suitable for businesses of all sizes and is increasingly becoming more available. Even smaller and growing ecommerce marketers are seeing the benefits of launching an omnichannel marketing strategy.
As with any marketing effort, it's important to lay a good foundation before rushing ahead.
1. Get your whole team on board
A successful omnichannel strategy requires buy-in from everyone. They need to agree to make the customer the brand's focal point, and to work together.
This extends beyond the marketing team.
After all, working in silos is counterintuitive to the fundamental notion of omnichannel marketing. Your channels work together to create a better customer experience through omnichannel. And so should your team members.
2. Analyze your customer data
Customer data is at the heart of driving customer operations in an omnichannel approach. Every member of your team should be using data to create a better experience for the customer.
For example:
Marketers need data to send the most relevant message to customers at the right time
The product team needs it for merchandising the products that customers appreciate the most
Customer success representatives need it for maintaining consistent conversations
The more that each team member knows about your customers, the better they're able to respond to and interact with them.
So how do you get a better look at your customers? We have some pointers:
Examine your brand's customer experience from all angles. Go through a full purchase on your site, interact with all of your channels, and place a ticket with customer service. Pull in external people to help evaluate your customer experience for greater authenticity.
Gather customer feedback. Get it straight from the horse's mouth. Ask your customers for feedback at several stages of the customer journey by using a customer satisfaction mechanism. Offer surveys and incentives to encourage responses.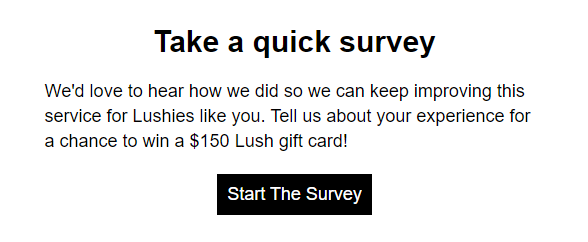 3. Appropriately target your messages
Fruitful omnichannel digital marketing hinges on personalization. The best way to target your message, now that you have all that nifty data on your customers, is to segment your subscribers into smaller lists.
Assigning contacts to different categories, based on similar traits, makes it easier to send personalized messages. These traits could include:
Profile data: demographics, age, gender, marital status, location, etc.
Campaign engagement: how your customers interact with certain campaigns and channels
Shopping behavior: where your customer is in their customer journey, how often they shop, when they purchased last, etc.

With a platform like Omnisend, you can easily create segments for subscribers who purchased in the last 30 days, subscribers who haven't made a purchase in at least 90 days, those who spend the most, and so much more. And, it's possible to combine segments to create even more precise segmentation.
4. Test, measure and test again
Your omnichannel marketing strategy will improve over time as you collect and analyze customer data. Robust marketing platforms give you loads of insights into your performance, from an overall sales dashboard to advanced reporting that shows aspects like segmentation performance and highest money-making campaigns.
This means you need to be active about testing components like different messages, headers/subject lines, images and send times.
Test your processes regularly to see which segments best respond to particular kinds of messages. If you track and measure your data regularly, you are bound to find the perfect formula.
David Sung, digital marketing director of SM Global Shop, is always testing to uncover indications that a tweak could be beneficial.
Once you have hundreds of thousands of customers in your database, even a .2 or .3 percent increase in any of your metrics can drastically have an improvement on your revenue overall. So I do believe A/B testing is very crucial."

David Sung, SM Global Shop digital marketing director
Omnichannel marketing case study: Net-a-Porter
Net-a-Porter was one of the first online-only luxury clothing stores in the early 2000s, meaning they had to convince consumers their products were of high quality, exclusive and unique.
They focused efforts on three key measures to establish themselves as a leading online luxury brand:
improve sales
increase brand loyalty
create lasting customer relationships
They had a couple of challenges. First, they faced competition from brands intent on positioning themselves as either a luxury brand or the best online brand. Second, their target audience tended to bounce from one brand to another in finding the best deals.
To achieve their goals efficiently while providing a great customer experience, Net-a-Porter turned to omnichannel marketing.
Net-a-Porter's omnichannel solution
The brand settled on three distinct channels for their omnichannel digital marketing strategy:
A mobile app/social network called The Net Set to keep customers inside their ecosystem. Customers can interact with each other and share images of products they like from any brand. The app's technology recognizes shared product images and locates the closest match to Net-a-Porter's inventory, then recommends it to users.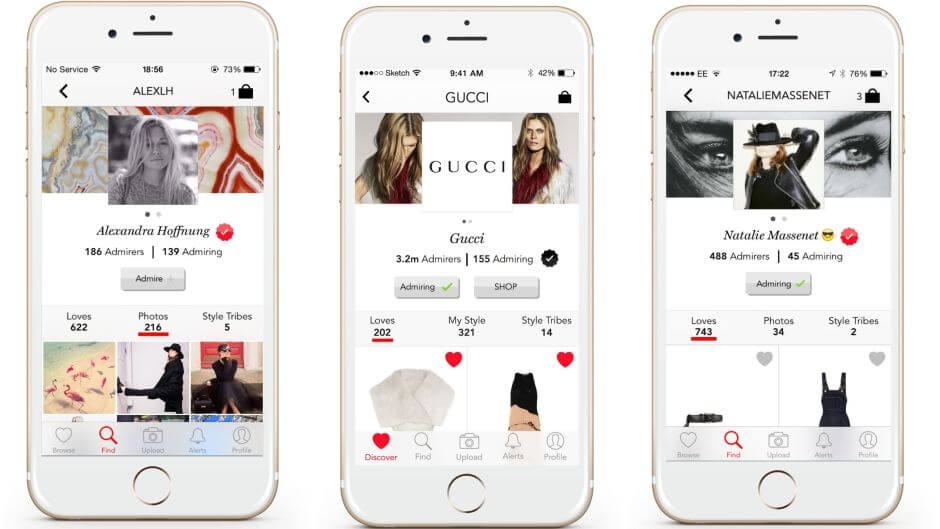 Email marketing, such as the welcome email below, to help guide subscribers in following up on their store-related activity.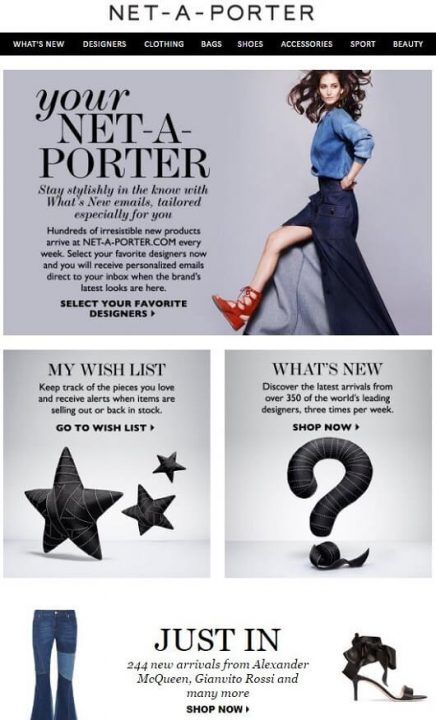 Ad retargeting to attract visitors who abandoned their site before making a purchase.
Additionally, to ensure customers are aware of all engagement opportunities, the brand regularly sends reminder emails or in-app messages inviting them to connect on their other channels.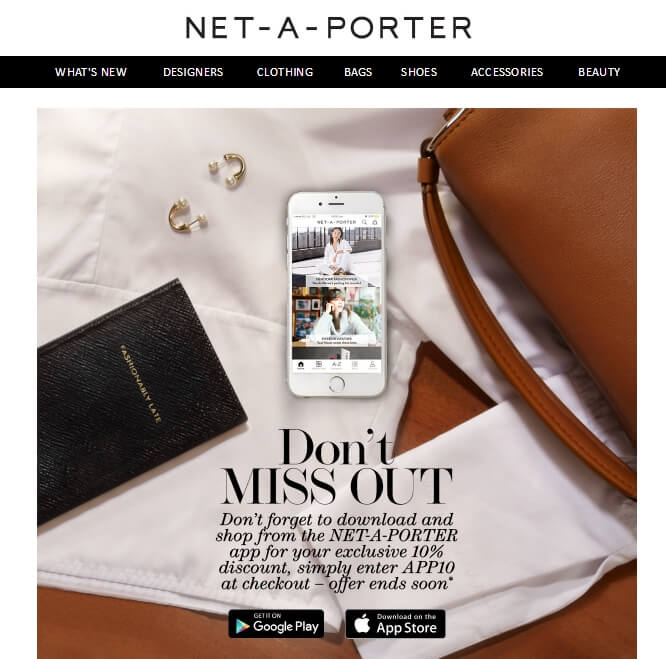 Net-a-Porter's omnichannel results
The omnichannel marketing strategy is credited for substantially contributing to Net-a-Porter's 16.9% year-over-year growth. Of that year's more than €2.5 billion ($3 billion) in sales, 50% came from mobile, with the remaining contributions stemming from email marketing, retargeting, organic and other channels.
Order values also increased to €328 (about $400), which is one of the highest for any online store, beating even the likes of Amazon.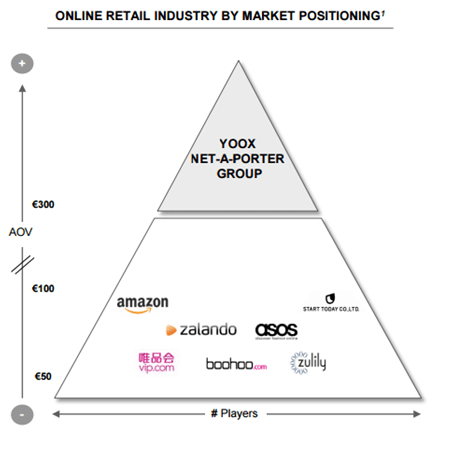 Omnichannel marketing tools
There's a lot to think about when contemplating an omnichannel marketing strategy. Once you decide it's the right approach for your business, it's integral to find marketing software that allows you to implement it the right way without fuss.
A platform such as Omnisend was built not just for ecommerce, but for brands that want to explore all that omnichannel marketing provides.
It features the primary elements needed to make it happen, including:
Multiple channels for meeting your customers where they prefer:
Intuitive, ecommerce-tailored segmentation
Marketing automation to instantly deliver messages based on a subscriber's activity, with the option to combine multiple channels in the workflow
Data reports to analyze your efforts
Once you get your feet wet with putting together your omnichannel marketing strategy, we suggest you dig into our resources for deeper insights and more inspiration, such as:
Experiment with omnichannel marketing today at no risk. Get started with Omnisend's features for free, and begin exploring how you can provide subscribers with a unified and relevant experience while having better control over your marketing channels.
Get started with Omnisend today & drive sales on autopilot with pre-built automation workflows
Start Free Today