Drive sales on autopilot with ecommerce-focused features
See Features
The best time to send SMS (2023 research)
Reading Time:
7
minutes
With ecommerce brands upping their text message sends by more than 75% in the first half of 2022, SMS is rapidly becoming a must-have marketing channel for merchants and marketers alike.
While the success of your SMS campaign is mostly determined by the content of your messages, their timing can be just as important. After all, even the best copy won't save you from an unsubscribe if your SMS wakes someone up at 3 AM.
Luckily, we at Omnisend do regular deep dives into SMS marketing metrics, and they give us a precise understanding of what works best for our customers. This includes the best times to send your text message campaigns.
To help you determine when you should (and shouldn't) text your customers, we looked at SMS campaigns sent from a year's worth of data—from November 30, 2021, to December 1, 2022.
So, what is the best time to send SMS marketing messages? Here's a quick TL;DR:
The best days to send SMS are Tuesday and Saturday
The best days of the month to send SMS are the beginning and end of the month, with the 13th being the best-performing outlier at a 2.57% average conversion rate.
Sending an SMS campaign on a Monday might not be the best idea
The best time to text your subscribers is 12 PM to 1 PM
With the short answer out of the way, let's dive deeper into why these particular times are so important for SMS marketing.
The best day of the week to send SMS
First, we'll look at the daily text message conversion rate averages. These will tell us when it's best to send SMS campaigns to your customers.
Saturday stands out as the clear favorite with a 2.17% average conversion rate. Tuesday, which has a solid 2% CR average, is the second-best day for text message marketing. Friday and Thursday are not far behind, coming in at 1.97% and 1.95%, respectively.
Unsurprisingly, the day of the week with the lowest average SMS conversion rate is Monday. By far. With a lackluster 1.53%, texts sent on Mondays convert nearly 30% fewer customers than those sent on Saturdays.
Interestingly, Omnisend data mostly aligns with SaleCycle's 2020 ecommerce statistics report, which found that ecommerce sales peak in the second half of the week.
In short: the latter part of the week, Thursday-Saturday, will probably be the best time to send marketing SMS for high conversion rates. Tuesday is also worth a try. But think twice before texting your customers on Mondays.
With that said, don't take this data as gospel. Make sure to test different days of the week to see which work best for your brand.
The best calendar days to send SMS campaigns
Similar to sending out emails, the best time to send text messages depends on your customer's actions. For example, the best delivery notifications are sent out a day before the courier arrives.
Promoting a flash sale weeks before your customers get their monthly paychecks, however, could negatively affect your sales.
Let's look at what the data says about SMS conversion rates on different days of the month. This data will help you adjust your SMS marketing schedule for better results.
As you can see, the 13th stands out as the outlier of the month, averaging a whopping 2.57% conversion rate. After that, the 29th and 30th, as well as the 1st, 4th, and 5th tend to convert in the range of 2.16-2.31%. The 16th is the worst, at 1.46%.
Judging from this, we can assume that–with the glaring exception of the 13th–the middle of the month isn't the best time for SMS conversions. Starting from around the 19th of the month, the numbers begin to look better, with relatively severe drops on the 20th and 23rd.
Unfortunately, it's hard to pinpoint exactly which variables are responsible for these numbers. The positive conversion trends at the beginning and end of the month might coincide with consumer paydays, so these may be better times to text them.
The best time of the day to send SMS
Omnisend research (for US customers) shows that non-standard times seem to have the best conversion rates:
Conversion rate here is calculated as sales divided by clicks. Here, we're only looking at 8am-8pm, as certain SMS regulations mandate quiet hours from 9 PM to 8 AM.
Based on that, we can see that 8pm has the highest conversion rate by far, with a 3.93% conversion rate. That's followed by 10am, and then 1pm.
Earlier research suggests that it's best to text your customers during active hours (8 AM to 5 PM), depending on their time zone.
For example, the lunch break (12 PM to 1 PM) is a prime sending window, as customers have largely settled into their day and have time to read and respond to your SMS messages.
It's also a good idea to avoid texting your customers during rush hour, as well as the times they're commuting to and from work.
If you're an ecommerce merchant, schedule your SMS between those hours. If not, sticking to 12 PM is a pretty safe bet.
Not a fan of setting up each of your SMS campaigns manually? Use a marketing automation platform like Omnisend to choose the best time to send SMS for you.
As a side note, keep in mind that text messages are more immediate than emails. Because of that, you should reserve this marketing channel for your most relevant messages.
You want to make sure that your customers are always happy to hear from you–as opposed to being constantly annoyed by unexpected messages.
Want perfectly timed SMS every time? Get Omnisend's email & SMS marketing
Start Free Today
Five ways to improve your SMS marketing metrics
Now that you know when to send your texts, let's take a look at five ways to improve your SMS marketing metrics and see better results from your campaigns.
Get your customers' permission
Just like email marketing, SMS marketing requires opt-in. You must gain express consent from your customers before you send them marketing messages.
A good way to get consent is by adding a phone number field in your newsletter subscription signup. Popup forms work great as well.
Omnisend's Text to Join feature is another convenient option for collecting and maintaining permissions. Customers can simply text a keyword to your number, and they're in. This means all you have to do is promote that number to get more texts and signups.
Even better, Text to Join isn't dependent on people visiting your store: They can find this option anywhere you share it, including your ads, emails, and social media pages.
If you're an Omnisend client, you can get your own Text to Join number absolutely free.
Include a call to action
Always add a clear call to action (CTA) in your SMS. It will encourage your customers to take the next step. It also makes sense to include a link that adds more context.
Here are some high-converting SMS marketing CTA examples you can use: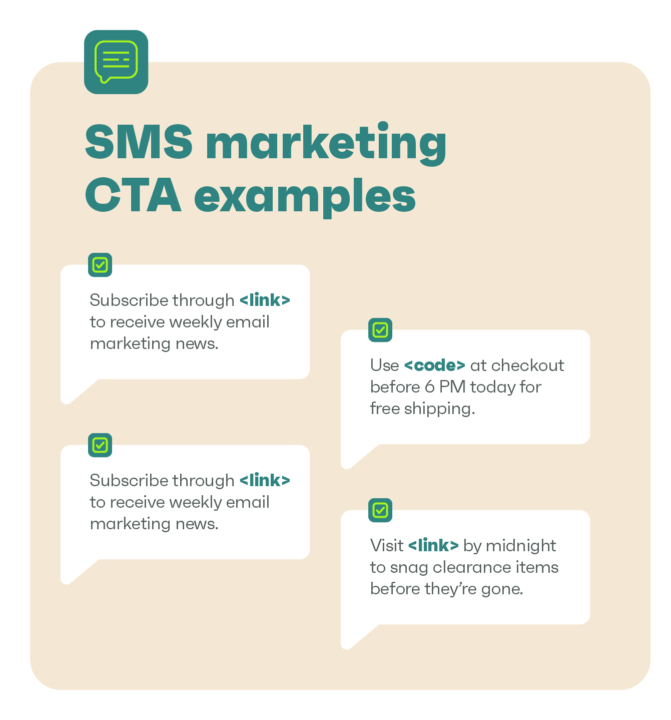 Many CTAs for marketing emails work well for SMS as well. Just make sure to adapt them to fit the medium.
Introduce yourself
If your SMS recipients don't know who you are, they won't understand the context of your text message and will be more likely to hit the unsubscribe link.
Always make sure to identify yourself to your customers in every message: Add your business name or a short snippet about what your company does.
Add a personal touch
Sending impersonal or irrelevant messages can negatively affect your campaign goals and lead to higher opt-out rates, or even hurt your brand.
According to a McKinsey study, businesses that personalize their marketing earn up to 40% more revenue than those that don't. With that in mind, make sure to send relevant messages based on aspects like the recipient's name, location, or previous orders to build and maintain relationships with your customers.
Email & SMS marketing automation tools let you easily personalize your texts by segmenting your customers, and therefore target them in the same ways that marketers do with email.
For example, Omnisend's Automations Library offers pre-built workflows with SMS in cart abandonment, birthday, order, and shipping confirmation automations–so you can start sending timely personalized messages with just a few clicks.
Go omnichannel
A platform designed solely for sending out SMS can be a good first start. With that said, your marketing efforts will be much easier when you can enhance them with additional channels like email or push notifications, all from a single command post.
If you want not just to make one-off sales but keep them flowing, SMS should be part of your overall omnichannel marketing strategy. Using a separate SMS marketing platform can lead to needless headaches later, not to mention slower growth and low response rates.
Looking to build a successful marketing strategy that spans multiple channels? Omnisend can help you do all that and more.
Combine email & SMS marketing on Omnisend and gain +48% conversion rates.
Start Free Today
Wrap-up
Let's do a quick rundown of the most significant insights from our deep dive into SMS timing:
The best time to send an SMS is Thursday-Saturday during lunch and early afternoon (12 PM to 1 PM) while avoiding rush hour on weekdays.
Avoid texting on Mondays and during weekday rush hour/commute.
The beginning and end of the month tend to see better SMS conversion rates, with the 13th being the positive outlier. This can vary month-to-month depending on weekends and holidays.
With all that being said, make sure to run tests before you commit to a sending schedule. When building your SMS marketing strategy, leverage your own data, brand image, and audience insights to maximize your conversions and nurture customer loyalty.
related features
Want more sales?
Omnisend has everything you need to succeed.
Start free now
No Credit Card needed.