Drive sales on autopilot with ecommerce-focused features
See Features
Reading Time:
7
minutes
With over 6 billion smartphone users worldwide, you can reach most of your customers through personalized text messages.
And the best part is that most people are never far from their phones. The average American spends 4 hours on their smartphones and opens their phone 160 times a day.
This makes sending personalized text messages one of the most effective marketing channels for ecommerce businesses in 2022.
The offers, recommendations, and content of a personalized message are tailored to the needs of the user. This, in turn, improves overall ecommerce sales and loyalty to the brand by:
Providing value to the customer
Giving the customer a positive customer experience
Capturing the customer's attention
Prevents choice overload by recommending products or services they're likely to be interested in
Let's get into the details of what personalized text messages are and how to make the most out of SMS marketing.
An overview of personalized text messages
Using SMS tools to send personalized text messages to your audience creates a one-on-one human connection that establishes trust.
Customized text messages open up an opportunity to provide readers with more value by providing subscribers with relevant information in real-time.
Why should text marketing be "personalized"? Here are some statistics to convince you.
48% of customers would prefer to receive special offers through text messages.
56% of customers expect personalized offers.
82% of customers are willing to share their data to receive personalized product recommendations and 90% will share their personal information readily to receive exclusive discounts for products they like.
Ready to make use of personalized messages for your ecommerce business? Get started with Omnisend.
Personalized text messages vs. bots
Customers crave interacting with brands, but providing this one-on-one interaction takes lots of resources. To resolve this, brands have been using bots and AI to interact with customers
Bots can chat with a customer in real-time until there's a need to talk to a customer service representative or salesperson.
An AI-powered bot sends responses to customers based on their replies to messages. This gives the customer the impression they're interacting with your business.
Although these bots enable some level of personalization in ecommerce, they come with a few limitations.
Some bots ask for too much information
Their language can't match humans. It might be hard for bots to understand the natural speaking language of customers
Bots can't show empathy for a customer's frustrations, which can result in a negative customer experience
Bots often have the same answer for multiple queries
Using text automation and personalization can address these limitations.
By adding personalization to your SMS campaigns, you can add the human touch that bots lack while using a mode of communication most people are comfortable with⁠—text messages.
What is a personalized text message?
A personalized text message refers to an SMS sent to the user that contains details that are relevant to the user.
Unlike the traditional one-size-fits-all messaging, personalized messages are created using the user's data, such as:
Name
Time zone
Demographics, such as age and gender
Birthday
Location
Other highly specific details
It gives the impression that the message was individually sent to them and is not a part of a personalized bulk text messaging campaign. This makes your prospects feel special and valued.
Personalized text messages enable ecommerce businesses to create promotional and transactional messages that are more relevant to customers.
You can make it easier for customers to make a purchasing decision by giving relevant product recommendations. You can message them exclusive product discounts and referral codes, and this boosts loyalty and conversions.
7 tips to send effective personalized text messages
Here are a few tactics you can apply to improve ecommerce sales through personalized text messages.
1. Segment your customers: You can segment customers based on defining factors like interests, past purchases, age, gender, location, and lifestyle.
2. Use a conversational tone: Personalized text messages should not sound like an ad or be too formal. They should be a friendly reminder that is light-hearted, short, and personal.
It should be conversational—like you would talk to a friend. A conversation is two-way. Make it possible for the user to interact with your brand by providing the option to reply to the message, and respond to the replies quickly to avoid disengagement.
3. Provide value to your customers: Send customized text messages to each segment based on their unique needs and interests. Your personalized message should bring them value, and this means providing exclusive offers that are aligned with their past purchases or interests on your ecommerce site.
4. Pick the right time to send a personalized message: Your message will not be effective if the customer receives it unreasonably early or late in the day.
For starters, your customers will not be happy about it. They could see it as a lack of respect for their privacy. Send the messages during business hours. Segmenting your customers by geographical location can ensure that you get the timing right. Even better, use automation so that the message always go out at the right time.
5. Ensure your customers want to receive the messages: Use an opt-in form to get the consent of a customer to send them customized text messages from your business. You should also provide an opt-out option.
6. Include a compelling CTA: If you skip the CTA, you miss the point of personalized messages. Provide clear instructions on the action you want a customer to take.
For instance, you can say "take this offer" or "check this out" at the end of the message and include a link to the relevant web page. Use link shorteners to avoid using too much space on your message.
7. Don't overdo emojis: While emojis create friendly and interactive communication, overusing them can distract the user from the main message. It can also make you come off as unprofessional.
How to send personalized text messages
Here are the steps you need to take to start targeting users based on their individual preferences using customized text messages.
Step 1: Collect opt-ins for SMS
Before you can start sending personalized text messages, your customer needs to give consent to receive SMS marketing from your brand (opt-in).
In the US, it's a requirement by law under the Telephone Consumer Protection Act (TCPA).
The written consent should be clear in the opt-in so that the customer knows what they're getting into.
Here are a few tips to convince customers to opt-in:
Let them know what value they'll be getting—coupons, expert tips, deals, reminders, etc.
Inform them of the frequency with which they'll receive messages.
Tell the customers if the messages will be free. But if there will be any fee they may be required to pay to receive or respond to the customized text messages, clearly disclose that.
List the privacy policy. It's important for customers to know their information will be safe with you
You can use pop-ups, landing pages, and surveys to get opt-ins.
Using surveys is especially important because the customers can provide feedback about your brand. It makes them feel empowered and valued right from the start.
Step 2: Import phone numbers
Import phone numbers (including area code and country code) from your CRM to your SMS ecommerce marketing tool.
You can also import other details, such as their names, age, and location. Details like date of birth can help you send personalized birthday wishes.
Ensure that each subscriber who has provided you with a phone number has also given you the permission to send them messages.
Step 3: Segment your SMS subscribers

As we mentioned earlier, segmentation is important in creating customized text messages.
Divide the customers who have opted–in to receive personalized messages into groups.
People who may have similar needs should fall under the same group. The segments can be based on location, age group, buying patterns, or in-app behavior.
Step 4: Create and send text messages
It's time to send personalized messages.
Make the customers feel valued by making it seem like you're directly speaking with them.
Give them an offer that feels like a special deal created just for them, by basing it on parameters like location or previous purchases.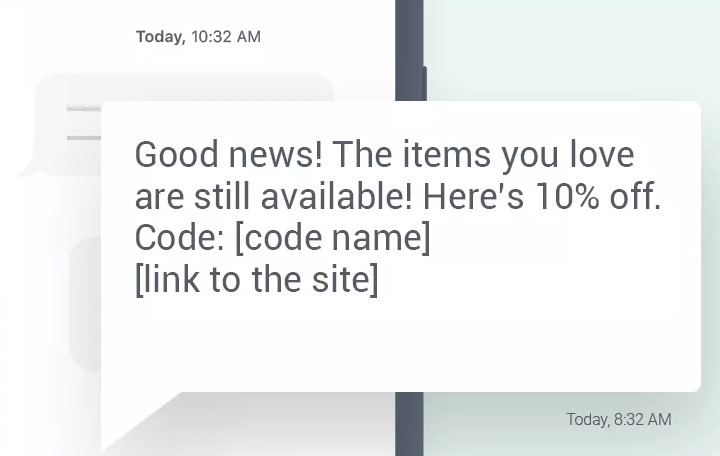 At the end of the message, provide an option to opt-out. For instance, state that the recipient can reply "STOP" to opt-out.
Here is an example.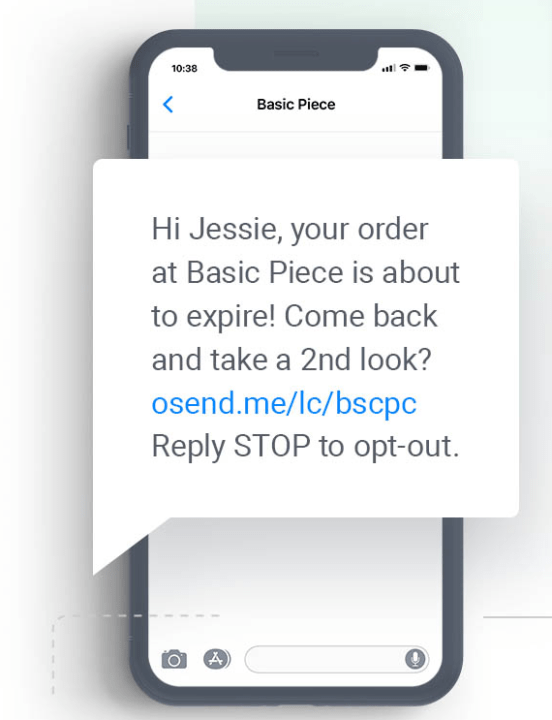 Step 5: Measure your results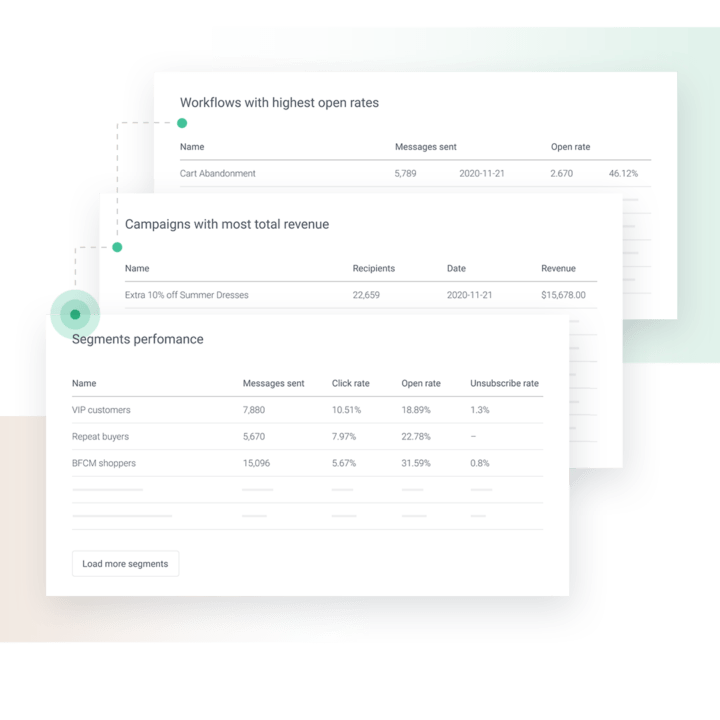 Although personalized text messages carry a low investment cost, you need to know if your efforts are paying off.
After you've run the campaign for a while, check if it's bringing in positive results.
A tool like Omnisend provides reports on:
The subscribers that get results
The click rate for the links in your personalized message
How many orders resulted from the personalized messages
The number of recipients who opted out
Bounce rates and SMS deliverability. Several things can cause bounces, such as invalid phone numbers, network problems, and spam restrictions
Personalized messages: examples
Here are some examples of customized text messages to get you inspired:
Hi [NAME], I hope you're enjoying your free trial of [SERVICE]. Would you like to upgrade?
Hello [NAME], it's been a while since you ordered your favorite [PRODUCT NAME]. Ready to make an order here [INSERT LINK].
Hi [NAME] we're excited to launch [NEW PRODUCT NAME]. Use this code [CODE NUMBER] in your next checkout for an [X%] discount.
[NAME], great news! We just shipped your [PRODUCT NAME]. It'll be arriving in 2-3 business days.
Hello [NAME], I hope you're enjoying your recent purchase of [PRODUCT]. Would you like to leave us a review? Use this link [INSERT LINK].
Hi [NAME] we noticed you didn't complete your purchase of [PRODUCT NAME]. You can complete it using this link [INSERT LINK].
Happy birthday to you, [NAME]! To celebrate your special day, get an X% discount on your next order.
Conclusion: get started with personalized text messages
Brands that don't send personalized text messages lose an opportunity to build a relationship with their audience, build brand trust, increase conversions, and build loyalty.
Personalized message marketing is not a complex strategy. But you need to work with a tool that will simplify things for you.
By using Omnisend, you get SMS list-building tools that are already TCPA-compliant. You can automatically send a personalized message triggered by a specific event, such as an abandoned cart or order & shipping confirmation.
Curious to see the full capabilities Omnisend has to offer? Request a demo.
related features
Want more sales?
Omnisend has everything you need to succeed.
Start free now
No Credit Card needed.