Drive sales on autopilot with ecommerce-focused features
See Features
Reading Time:
10
minutes
There's no avoiding it: "If you build it, they will come" is a fantasy. To the frustration of creators all over the world, building something is only the beginning; you then need to promote it so your target customers know that it exists.
If you're selling goods online then one of the most effective methods is ecommerce advertising.
This article will explain what it is, and how to avoid common ecommerce advertising mistakes.
Get started with Omnisend today & drive sales on autopilot
Start free
What is ecommerce advertising?
Ecommerce refers to shops that sell online, which includes large companies like Amazon as well as individuals who use sites like Etsy to sell handmade goods. Ecommerce advertising is simply any form of online or offline ads that raise awareness of, and drive traffic to, those shops. It's a critical part of any robust ecommerce marketing plan.
Offline ads are the traditional ads in print, on TV, billboards, and so on. But what about an online advertising definition? It's any form of advertising that occurs online: content marketing, search engine or social media ads, influencer marketing, and so on.
One of the huge benefits of how online advertising works is that you can reach specific groups of people who would like your products, and keep in touch with them through multiple platforms.
For example, email marketing is a particularly powerful form of online advertising as customers show clear intent when they sign up to receive emails from your brand. In fact, according to our Ecommerce Statistics Report 2021, conversion rate for promotional email campaigns was 0.10%, a 14% YoY increase.
Smaller brands with limited budgets won't be able to compete directly with bigger brands but, with some strategic thinking around earned media and less-used paid channels, there's plenty of opportunity.
The 6 best ecommerce advertising strategies
If you haven't done it before, then no doubt you're wondering how online advertising works or if some ecommerce advertising platforms are better than others.
While some ecommerce platforms, like Shopify and BigCommerce, might make certain online advertising strategies easier, you can create an effective strategy regardless of the platform you use. For example, in many ways Shopify, a ready-out-of-the-box ecommerce platform, can be SEO-friendly from the beginning. With other platforms, or a custom-developed ecommerce site, much of the SEO legwork will have to be done manually.
An effective ecommerce advertising strategy will include:
Acquiring new customers
Upselling or cross-selling to increase the value of those customers
Ongoing communication to encourage them to become repeat buyers.
It's also possible to automatically send messages based on the customer's behavior. For example, discounts can be sent to new email subscribers, and emails or SMS sent to people who abandoned their cart before checkout.
How to use paid social media ads in your ecommerce campaigns
While trusted opt-in channels are an excellent way to reach customers who have already manifested their interest in your brand, it also helps to build awareness with those who have never heard of you. This is where paid search and social channels come in. By putting a bit of budget into paid social and search ads, you can cast a larger (but still targeted) net. For more information, check out the tips and insights Hawke Media's Ashley Scorpio has for optimizing paid search and social media.
If you're already a user of social media platforms then you're already aware of how many companies run ads on them. That may put a little fear into you—"How can I stand out if there's so much competition?" But the beauty of how online advertising works is the ability to target very specific groups of people.
For your ecommerce campaigns to be successful on social media, it's important to respect the context of each platform. Each one can be effective at raising awareness and generating traffic if managed with consideration:
People may expect you to be creative, funny, even silly on Snapchat or TikTok
LinkedIn, a more formal environment, is a good place to share advice, tips, personal and inspiring stories
With its visual focus and native store features, Instagram is an excellent channel for showing users how your products would fit in with their lifestyle
Facebook also has native store features, and an effective ecommerce advertising strategy is to share your products, customer reviews, and user-generated content of real people using or wearing your products.
As these people probably don't know who you are yet, the key is to focus on creating compelling ads that grab their attention and pique their interest.
There's a low barrier to entry for running social ads, but if you really want to maximize your online store advertising then you'll be pleased to know it's possible to get very specific in the settings. If you want to reach recently-engaged women aged between 35-45 who run their own business, you can do that. Selling to people who live in a specific zip code and like The Beatles? You can do that too.
You can further refine by:
Location (country, state, city)
Languages
The industry they work in
Interests
The more you drill down, the more appealing you'll be to the audience, which can boost your campaign performance and ROI.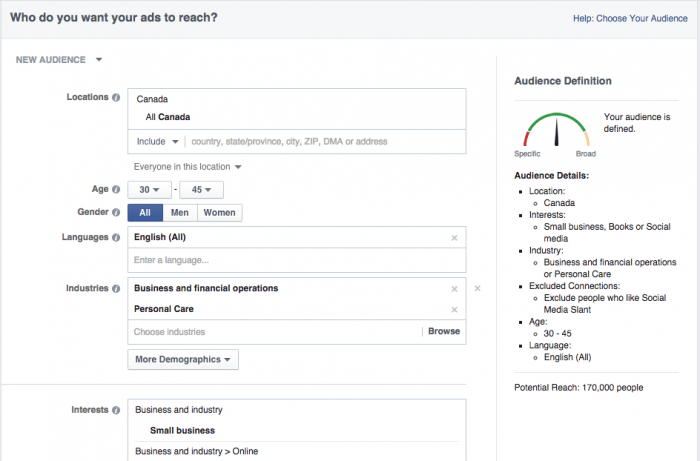 One of the most beneficial features of social media advertising is the ability to create lookalike audiences. This is where you tell Facebook who your most profitable customers are, and its algorithm finds people with the qualities they all share. Alternatively, you can create a custom audience by uploading a spreadsheet of email addresses and showing those people your ads—because they already know your business, custom audiences can have higher conversion rates.
If you install the Facebook Pixel onto your site (you should), you unlock a range of even more impressive retargeting features: send ads only to people who have already been on your site, or visited specific product pages, or completed a purchase within a certain time frame.
Whereas advertising on traditional media like magazines and TV means you're showing your ad to everyone who happens to see it, using social media for your online store advertising allows you to show it only to the type of people you choose.
Customer acquisition with Google Ads
Acquiring new customers is arguably the hardest part of the process, because you have to get their attention and earn their trust. Pay-per-click (PPC) advertising is an effective and popular method. When users search for relevant keywords, your ad appears. As the name suggests, you only pay when somebody clicks the ad, rather than when it is displayed. By following the best practices for acquiring new customers via PPC advertising, you can focus on turning them into loyal and valuable customers.
By way of analogy, when you're walking down the high street and a marketer stops you with a clipboard, that's similar to social media marketing. It may interest you, but it's not why you were out that day.
In comparison, Google Ads are like when you walk into a shop, approach a member of staff, and say "Excuse me, could you help me find this item please?" You have purchasing intent, and if the shop has what you need at a price you're happy to pay, you become a customer.
The big difference between Google Ads and social media ecommerce campaigns is that on social media, you're interrupting the user experience with your products. With Google Ads, people are actively searching for what you're offering.
With that quick lesson in how online advertising techniques work, it becomes apparent why ads should be different on different platforms, and what to consider for maximum effectiveness. For Google Ads, knowing that people are probably searching specifically for what you're selling, it's important to make your ads clear—ensure viewers know exactly what you're selling, without having to work hard to find out. After all, if they already want it, your job is to make it as quick and easy as possible for them to buy.
There are a couple of types of ads you can display in Google: Google Ads, which are text ads that display when a user searches for terms related to your keywords, and Google Shopping Ads, which allow advertisers to include ecommerce inventory details including photos, price, title, and reviews.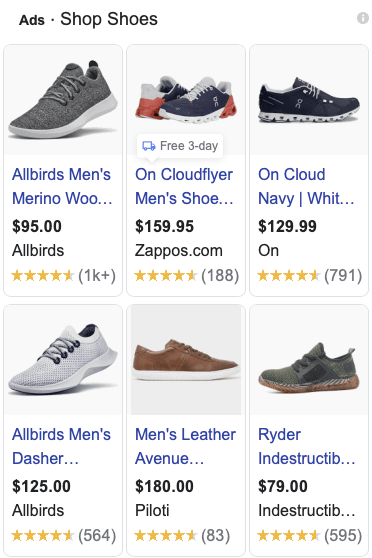 Boost your revenue with retargeting
Imagine walking into a store, finding something you liked but you weren't quite ready to buy, and after you leave, the shop assistant follows you out. They give you more information on the item you were looking at, remind you about the store, and perhaps give you a discount.
That's unlikely to happen, yet it's precisely what retargeting is.
People leaving online stores before purchasing is another of the main ecommerce advertising challenges, and it's a big one: 98% of visitors leave a website without purchase or action. Almost half of all ecommerce businesses sales take more than a day to complete, and three-quarters of visitors who abandon their cart want to come back later. Unfortunately, not all of them can remember the website later.
Email retargeting helps to overcome this, and as a result it can boost ecommerce sales.
Retargeting is a powerful option because it's flexible. You can gently remind people about your business, ask them to do something specific, offer a coupon, and so much more. The following example shows an automated sequence that starts 15 minutes after a site visitor abandons their cart. It reminds them there are items in their cart, and sends another reminder 12 hours later. After 24 hours, that person is added to a Facebook custom audience, so Facebook can show retargeting ads to people with similar characteristics.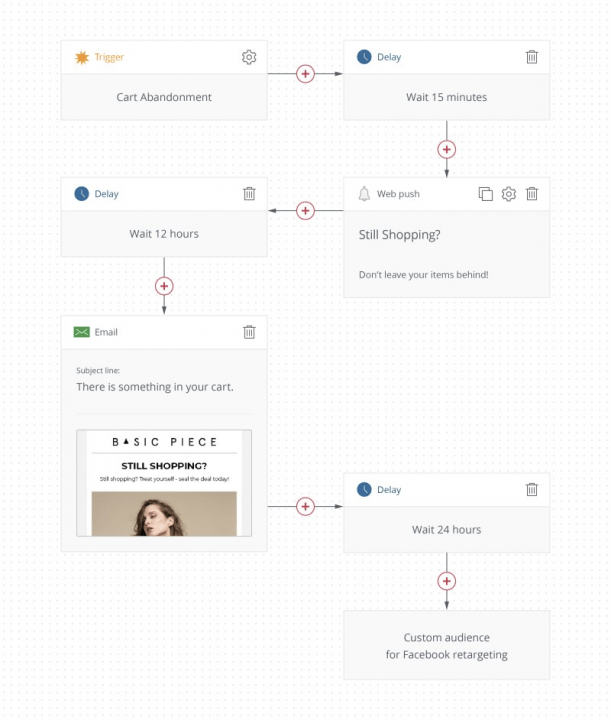 To get the most out of your email retargeting, it's important to test different subject lines to see which ones people are most likely to open. Do they respond to urgency, curiosity, or offers? You can also experiment with the best time to send them, and what messaging works best to encourage people to complete the purchase.
Retargeting isn't only for people who leave your online store before purchasing—it's also used to send post-purchase emails, and to keep in touch with past buyers. For example, you can show customers their favorite items in different colors, or product recommendations you think they'd like based on past purchases.
A key strength of email retargeting is its flexibility: it can be used to help a new customer complete their first purchase, and increase the lifetime value of existing customers.
Omnisend customers automate 32% of their email conversions. Are you maximizing sales?
Check features
Using omnichannel marketing to boost online advertising strategies
To make retargeting even more powerful, you can progress to omnichannel marketing. This uses multiple channels in such a way that it creates a unified experience for your customers.
This reflects how customers behave when browsing and shopping online: we don't only use emails, or only use Facebook, or only use SMS. We use all of them, perhaps for different things or at different points in the day. By having an omnichannel marketing approach, you can be present for your customer however they come to you. When they interact with one channel, the others update based on their behavior.
For example, instead of sending the same message on all channels, if a customer responded to an abandoned cart SMS with a purchase, the next email would be a post-purchase message, rather than another abandoned cart message. Another example could be the customer abandons their cart on the website, then sees a retargeting ad on Facebook.
Not only does the omnichannel approach give you more touchpoints with the customer, it can also not feel like advertising at all. Even the most staunch anti-ad customers won't mind an ad if it's perfectly relevant to them, and omnichannel marketing helps achieve that relevancy.
Content marketing: More than just blogs
Content marketing has developed a fearsome reputation over the years, and for good reason. It can bring people to your site, answer their questions, build trust, and lead them to become email subscribers or paying customers—not bad for a single tactic!
"Content" is an umbrella term including written, audio, and video materials via blogs, product pages, podcasts, YouTube videos, social media stories, and so on.
As with anything, quality matters if you want to get the best results. Whether you choose written, audio, video, or a combination, you'll need to incorporate it into a fuller ecommerce advertising strategy that includes what you'll post, how frequently, and with what purpose—because a blog written to gain new email subscribers will be slightly different to one written to drive more sales.
Product pages are also powerful forms of marketing. Make sure to include relevant keywords—including lesser-searched long-tail keywords—as well as focusing on your image alt text, headers, and titles.
Another effective form of content marketing is guest writing on other websites. This can expose you and your business to a wider audience, and tell search engines that your site is a credible resource with those all-important backlinks. Guest appearances don't have to be limited to blog posts—you can appear on relevant podcasts, social channels, and YouTube shows as well.
Finally, consider YouTube in your marketing strategy. You can do product overviews, reviews, customer interviews, walkthroughs, and anything else your imagination thinks of. Videos also have the benefit of being highly shareable and easily consumable, helping you reach an even bigger audience.
Leverage influencer and affiliate marketing to drive sales
For the same reasons that we're likely to trust the recommendations of our friends and family, word-of-mouth is a potent form of marketing. In fact, 79% of people trust online reviews as much as recommendations from friends and family, and 94% are more likely to use a business if it has positive reviews.
Influencer marketing is the close cousin to word-of-mouth: although not an endorsement from a friend or family member, an influencer is somebody who we might be, well, influenced by. In the pre-digital era, influencer marketing was predominately celebrity endorsements. Its effectiveness is well known, and it's why Pepsi-Cola paid Michael Jackson millions of dollars in the 1980s to publicly endorse the soft drink.
Thanks to the internet, it's possible for non-celebrities to become influencers, which can make it even more powerful as a marketing platform. And because many online influencers tend to focus on one topic—such as fitness, technology, marketing—it means they've acquired an audience interested in that topic, which increases the appeal for marketers. So if your store sells technology items, influencers in the tech space could be beneficial.
Affiliate marketing is another avenue for raising awareness and making sales through somebody else's audience. Affiliates earn a commission for each customer that they refer who then buys a product, so are incentivized to generate more sales because that increases their income.
The benefit to the ecommerce store is there are other people actively working to acquire new customers and drive sales—and of course, once they become buyers, they enter your sales funnel where you can use omnichannel and retargeting techniques to maintain contact with them.
Key takeaways
Growing your online store with ecommerce campaigns enables you to acquire new customers, increase the number of completed purchases in your store, and keep in touch with those customers to drive revenue even further.
There are various strategies that can be incorporated into an ecommerce advertising strategy, and omnichannel marketing puts the customer at the heart of the campaign by utilizing multiple touchpoints to update them.
Getting started with omnichannel couldn't be any easier. In fact, you can use a single tool to follow-up with customers via email, SMS, and social media, and get started with pre-built workflows.
Get started with Omnisend today & drive sales on autopilot with pre-built automation workflows
Start Free Today
related features
Want more sales?
Omnisend has everything you need to succeed.
Start free now
No Credit Card needed.