Drive sales on autopilot with ecommerce-focused features
See Features
Reading Time:
9
minutes
Text is obviously a critical component of any marketing email, but marketers often overlook the importance of visual content. Readers are more likely to engage with your newsletter and make purchases if you include different types of content in your messaging.
This article will teach you how to put an animated GIF in an email campaign and explain how this can help improve marketing performance. The perfect GIF can make your newsletter feel more personal and relevant compared to the same email with no visual content.
Supercharge your emails with Omnisend's ready-made email templates.
Get Started Now
What is a GIF?
In short, a GIF (short for Graphics Interchange Format) is an animated image.
Unlike many other image formats, GIFs can include multiple frames, which makes them far more versatile than JPEGs and PNGs.
While animated GIFs have been around for a long time, brands have finally begun to use them for email marketing. And for good reason: inserting a GIF into an email is one of the easiest ways to add levity and humor to your newsletter without embedding a video.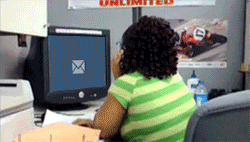 With that said, different situations call for different approaches, so it's important to understand the pros and cons of including GIFs in your emails. We'll cover some ideas for using them in marketing campaigns later on.
How to insert a GIF into an email
Pictures, visuals, and GIFs are a great way to add dynamic content to your email campaign and capture your customers' attention. While most email clients will support a variety of content in emails, it's important to always plan for images (animated or not) being blocked. Supplement those pictures with text so the message gets across.
The steps to insert a GIF into an email depend on whether you want to create the GIF yourself or use one that's already out there. Fortunately, many services streamline the process of developing a newsletter GIF.
If the GIF is online, you'll simply need to copy its link in order to embed the image. While you can add an animated GIF using your email marketing software, existing GIFs can also be sent through conventional email platforms like Gmail. If you have a great email service provider, inserting GIFs to your email newsletter is as simple as a drag and drop.
In Omnisend, you can simply add a GIF under 5 MB to your image library and then add it to your email like you would any other image. For a step-by-step process, check out our knowledge base.
Regardless of whether you're creating the animated GIF, you can add it by copying an online link or uploading the file from your device. Either way, make sure to preview the message or send a test email to yourself to confirm that the GIF displays correctly.
See how our
free Email Builder
can help you build beautiful emails that
get sales
and
fit your brand
.
Where to find GIFs
So now that you know how to send a GIF in an email, it's time to source your GIFs. Developing your own animated GIF might sound overwhelming, but there have never been more options available to marketers.
Your creativity is the only limit to your capabilities, and brands in virtually every field are constantly experimenting with new ways of using GIFs.
Gifs.com
Gifs.com is designed to turn videos of all kinds into animated GIFs, and it currently supports videos from platforms like Youtube, Instagram, and Vine. While you can create GIFs for free, paid users can remove the gifs.com watermark, edit existing animated GIFs, and access a number of additional features. Pricing depends on scale, so you can start small and expand later on as needed.
Pixabay
While Pixabay doesn't offer the ability to create your own GIFs, it offers one of the largest collections of freely accessible video content on the internet. In contrast to GIPHY and similar platforms, the GIFs on Pixabay can be used for both personal and commercial purposes.
Pixabay doesn't require you to credit the animated GIF's original creator in your content, but you should still include a small attribution as a token of your appreciation. There are stock images and GIFs covering anything you can think of, so you shouldn't have any trouble finding good visual content on Pixabay.
GIPHY Cam
There are a number of apps dedicated to creating GIFs, but GIPHY Cam is one of the best on both iOS and Android. It allows users to develop GIFs extremely quickly and add a variety of effects to the finished product. In addition to email, you can also share finished GIFs to Twitter, Facebook, or texts.
The best GIF size for email
Keep in mind that larger GIFs may not load well on some devices. GIFs are, in general, poorly optimized for many applications and devices, so it's important to keep file size as low as possible without sacrificing GIF quality.
It's best to keep the file size below around 250 KB to prevent slowdown and other issues. Remember that you need the animated GIF to work on every reader's device.
As mentioned above, a number of compression services can reduce file size without reducing image quality. That said, GIF compression isn't particularly effective, and it usually won't have more than a small impact on its own.
With that in mind, you'll need to edit your own GIFs if you want to create a substantially smaller file. There are a few ways to cut out unnecessary components in order to make a GIF more efficient, but this can also hurt its quality.
The right method depends on the individual GIF—for example, GIFs that only use a few colors can be compressed by shrinking the color palette, while the same process could make a colorful GIF look much worse.
Removing excess colors can make a GIF smaller by allowing it to rely on fewer elements. On the other hand, this requires merging multiple colors into one, so it could make the image less visually clear.
Similarly, reducing the total number of frames is arguably the simplest method of compressing a GIF. Of course, you can only remove a certain number of frames before you start to notice a difference in quality.
Online tools like EZGIF offer the ability to increase efficiency by moving static sections to the background. Without this feature, a GIF could increase significantly in size simply by loading the same element in each frame.
Most GIF compression options change the composition of the image, and every image is composed differently. For example, a GIF that only includes motion in a small section could be dramatically compressed by treating the rest of the image as a background layer. You can always improve compression by cropping the image or trimming frames from the beginning or end of the GIF.
Engaging audiences through GIFs
Like any other form of content, ecommerce GIF images can be valuable or useless depending on how they're used. With that in mind, you shouldn't add a GIF to your next email simply because you heard GIFs are powerful marketing tools. Otherwise, you might fall into the cringe-worthy "fellow kids" territory, which isn't a good look for anyone. Instead, each GIF should be closely connected to the rest of the email and make sense in terms of your content and your brand.

There are far too many ways to leverage GIFs in email marketing to cover in a single article. The important thing is to use GIFs in ways that add to the customer experience, whether through showcasing new products or provoking certain emotions with your customer.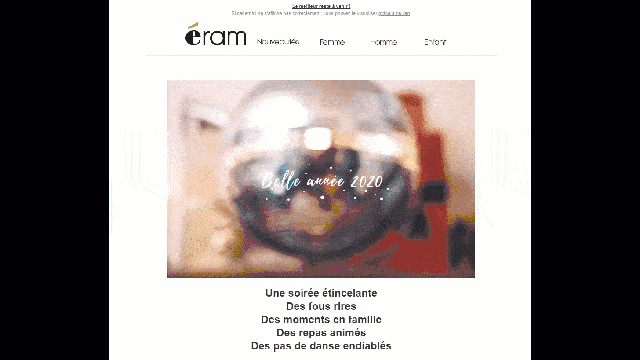 Éram, a popular French shoe company, uses GIFs in their emails to wish their customers a happy new year. While you don't see a single Éram product in the GIF itself, this has great context for the time of year and creates an emotional connection to the customer.
Here are some ideas to help you start implementing GIFs in your email campaigns.
Product demonstrations
Audiences don't spend much time skimming each email, and the average reader won't take the time to read the entire product description. Similarly, product demonstration videos often include too much extraneous information rather than focusing on core functionality.
In many cases, GIFs are the most efficient way to illustrate how a product works. Rather than having someone explain its functions, a GIF simply displays them in an easily understandable format.
GIFs are limited to just 500 frames, which works out to just under 21 seconds at 24 frames per second. Product demonstration GIFs are therefore best in situations where the most important information can be covered relatively quickly. You should consider using a video for more intricate demos.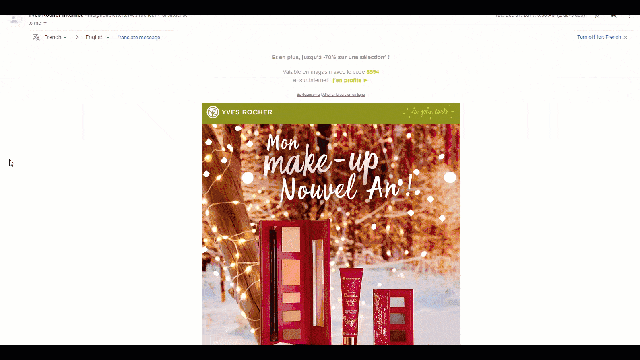 Yves Rocher uses a GIF to showcase different make up styles that can be achieved with a single product.
Emphasizing the call to action
The call to action is a central element in every marketing email, and inserting GIFs into emails can help draw your audience's attention back to the CTA. While the rest of the message still matters, you don't want readers to lose sight of the call to action.
In fact, you can even make the GIF itself the call to action by making it link to your website or store. Making your CTAs more visually distinct will have a significant effect on sales, clicks, and other crucial metrics.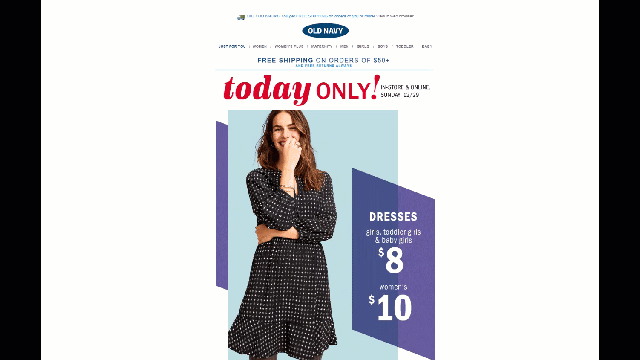 Old Navy uses a simple two-frame GIF to highlight their current promotions. This is effective as they're displaying a woman and a girl, and it helps get the message across that the sale is for dresses for both adults and children.
Product visualizations
While demonstrations are helpful for items that function in a specific way, visualization is just as important for products like clothing and accessories. Instead of showing how it works, a GIF could feature multiple perspectives or views of the same item in different colors.
Effectively displaying products is a critical obstacle for online vendors of all kinds, and GIFs take your readers one step closer to understanding how your items look and feel. You can even display multiple products in a GIF by putting a different item in each frame—just don't forget to compress the file by moving the rest of the image to the background.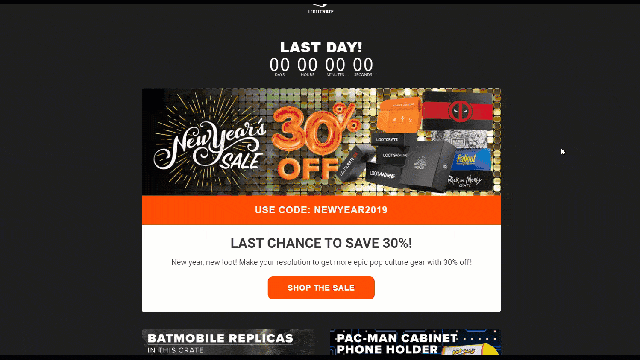 Loot Crate achieves this by including a GIF that simply showcases a few of the replicas they're currently selling in a more dynamic way than achieved by a still photo.
Benefits of inserting a GIF into an email
Efficiency in message delivery
Adding a GIF to your emails can make a good message great. Let's face it: animated GIFs are the new language of the web, and marketers need to speak it fluently if they want to make their content engaging.
After all, when it comes to storytelling, an image is worth a thousand words. And an animated GIF can be worth even more: it lets you provide information in a more compact way and can convey emotions that static images simply can't.
Making your customers happy
Millennials have grown up with GIFs in image boards and group chats, so they know and appreciate their humor. And zoomers haven't missed this train, either: GIFs are an essential part of their online culture. And if you want to ramp up customer engagement, using them in your emails is a must.
As an example, Starbucks knows how to cheer up its online audience when communicating with customers: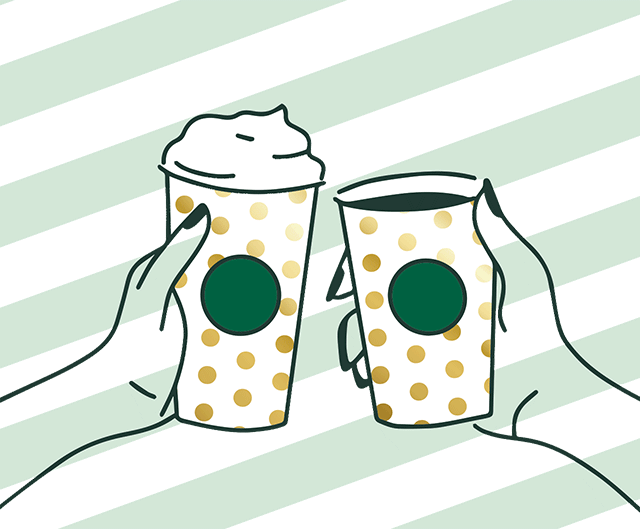 By adding GIFs to emails, you show your customers that you speak their language, which is one of the prerequisites for running a successful marketing campaign.
Making your brand identity clear
Finding random GIFs on a free platform like GIPHY Cam and inserting them into your emails won't always get you sales. To get the best results, your animated GIF should represent your brand, product, or service.
That's where on-brand GIFs come in. Using branded GIFs in your emails will help you showcase your brand identity to your customers.
Meditation app Headspace is a great example of using on-brand GIFs in both its emails and its website. Their colorful GIF designs combine perfectly with their simple yet cheerful email content to grab customers' attention and convey their modern yet lovable brand identity.
How to insert a GIF into an email: Wrap-up
Walls of text are no longer a viable option for email marketing, and GIFs are becoming more and more popular as brands begin to optimize their visual content. While there's a variety of ways to include GIFs in your email campaigns, it's important to keep them relevant. There's no sense in using a GIF just to use one—especially given that they tend to make emails heavier.

Done correctly, GIFs can add a lively punch to your emails and grab your customers' attention. These ideas will help you create more effective email campaigns and engage with readers through GIFs.
Get started with Omnisend today & drive sales on autopilot with pre-built automation workflows
Start Free Today
related features
Want more sales?
Omnisend has everything you need to succeed.
Start free now
No Credit Card needed.