Drive sales on autopilot with ecommerce-focused features
See Features
Reading Time:
10
minutes
Videos are long, images are static, but GIFs?
They're in the sweet spot.
GIFs have the best qualities of images and videos — being short yet dynamic.
And they can do a lot for your email campaigns. That's why it's important to know how to add a GIF to an email.
It can drive up your engagement, make your email more appealing, and even help you project a playful brand personality.
But considering that GIFs aren't images, it's important to know how to add them to your emails the right way, especially if you're using email marketing tools.
This guide will help you get started.
In this post:
Add GIFs into your emails with just a few clicks in Omnisend editor
Get started
What is a GIF?
A GIF (short for Graphics Interchange Format) is an animated image.
Unlike many other image formats, GIFs can include multiple frames, which makes them far more versatile than JPEGs and PNGs.
While animated GIFs have been around for a long time, brands have finally begun to use them for email marketing. And for good reason: inserting a GIF into an email is one of the easiest ways to add levity and humor to your newsletter without embedding a video.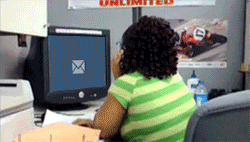 With that said, different situations call for varying approaches, so it's important to understand the pros and cons of including GIFs in your emails.
How to insert a GIF into an email
Inserting a GIF into an email doesn't have to be difficult. In fact, the process of adding them to your emails is fairly similar to the one you'd have to follow to insert images in your emails.
This guide is a general one that you can use for some of the most popular email marketing apps. We'll get into the process for Omnisend, Gmail, and Outlook in the next sections.
Here's a step-by-step guide to inserting a GIF to your emails:
Copy the link of or download your GIF
Create a new email in your app
Add the GIF using the insert images feature or simply drag and drop it into the email template (or if you copied your GIF, use the right-click menu to paste it)
Adjust the dimensions of your GIF to make it appear natural
Save the email
Yep, it's that simple.
How to add a GIF to emails in Omnisend
If you're using Omnisend for drafting your email campaigns, adding a GIF to your emails is even easier. Here's a step-by-step guide you can follow.
Step 1: Add the image element to the email
Click on Quick add and drag the Image element into the email body and release where you want to add the GIF.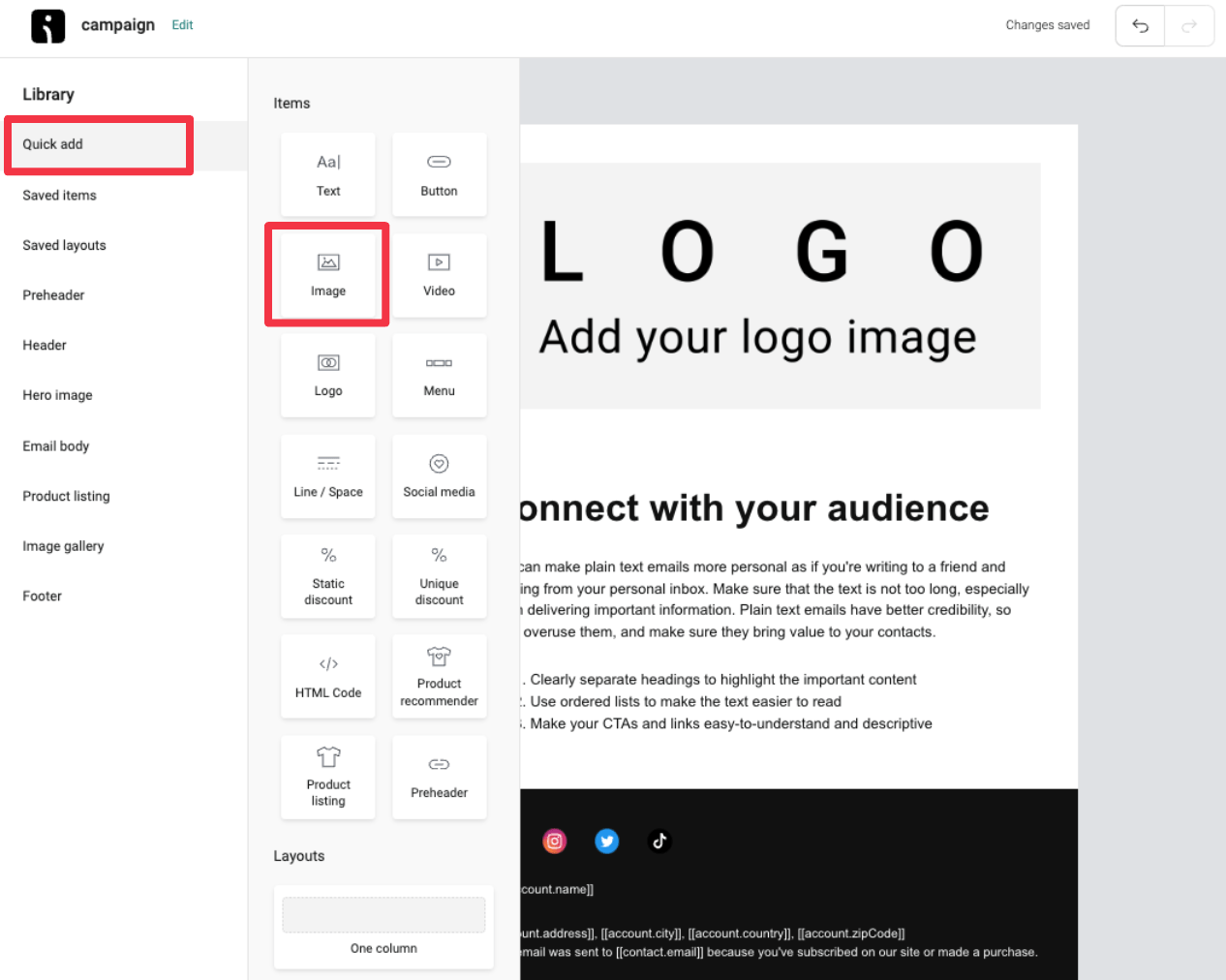 Step 2: Choose a GIF file
Click Select file in the menu on the right.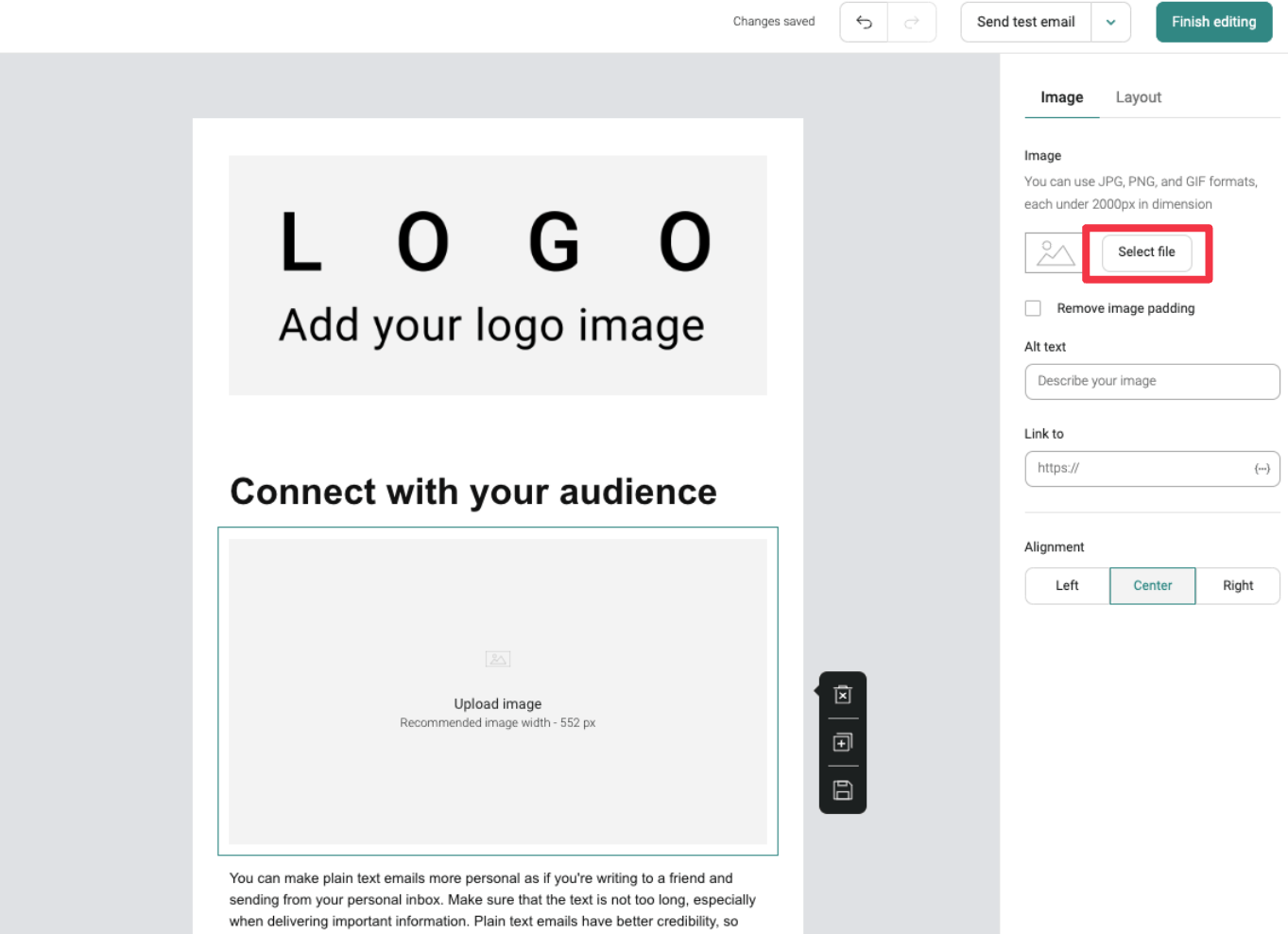 Step 3: Upload your GIF
Click Select from Computer or Use image from URL. Choose the GIF from your computer or add the URL you've copied. That's it!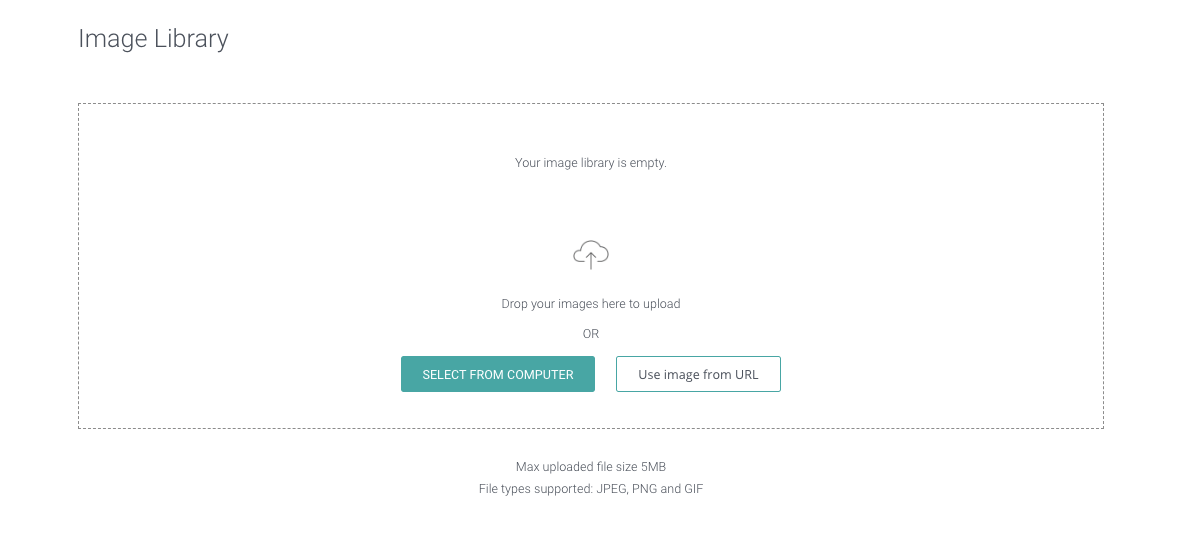 How to insert a GIF into Gmail
Gmail is one of the most popular email clients out there. However, the process of adding a GIF to your draft emails on the platform is slightly different from the general approach.
To put a GIF in a Gmail:
Click on Compose to open the email drafting box.
Click on the Insert Photo button to open a dialog box.
You can either click on Upload and drag-and-drop your GIF or click on Web Address (URL) and paste the GIF's URL there.
Click on Insert to add the GIF to your email.
How to insert a GIF into an email in Outlook
Outlook is yet another email client that's widely used by individual and enterprise customers alike. Like Gmail, the process of adding a GIF is slightly different for Outlook too.
To insert a GIF into an Outlook email:
Click on New Message to create a new email.
Take the cursor to the spot where you want to add the GIF to your email.
In the menu, click on Insert and choose Online Pictures for adding online GIFs or Pictures to add a custom GIF you've downloaded.
Select the GIF you want to add or upload and click on Insert.
Where to find GIFs for emails
While it's possible to create GIFs yourself, there are loads of free GIFs available on the internet that you can use. There are numerous GIF search websites that have a collection of GIFs. You can head to these websites and search and select your choice of GIFs for your emails.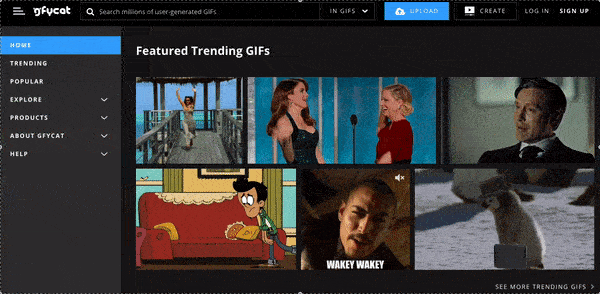 Powerful search for GIFs with and without sound.
Ability to create your own GIFs by uploading videos or adding their URLs.
Gfycat Pro for ad-free GIF browsing experience.
Gfycat is one of the best places to search for trending GIFs related to gaming, celebrities, and reactions. It also has GIFs with sound and stickers that you can use in your emails. The categories and filters make it easier to find the right GIFs for your business.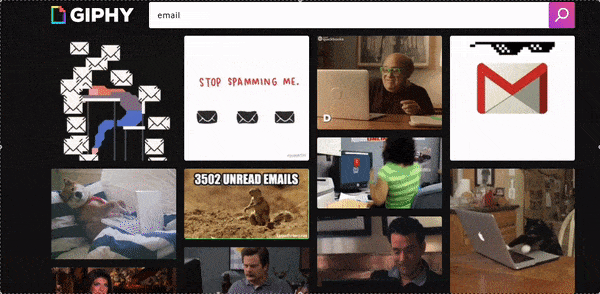 Serves over 10 billion GIFs every day.
Allows you to upload or create your own GIFs.
Offers over 11 categories of GIFs and stickers.
GIPHY is the perfect spot to find GIFs of all types—entertainment, memes, sports, food—you name it. That makes it a great platform for businesses of all types as there's something for everyone. The powerful search feature also simplifies the process of finding GIFs.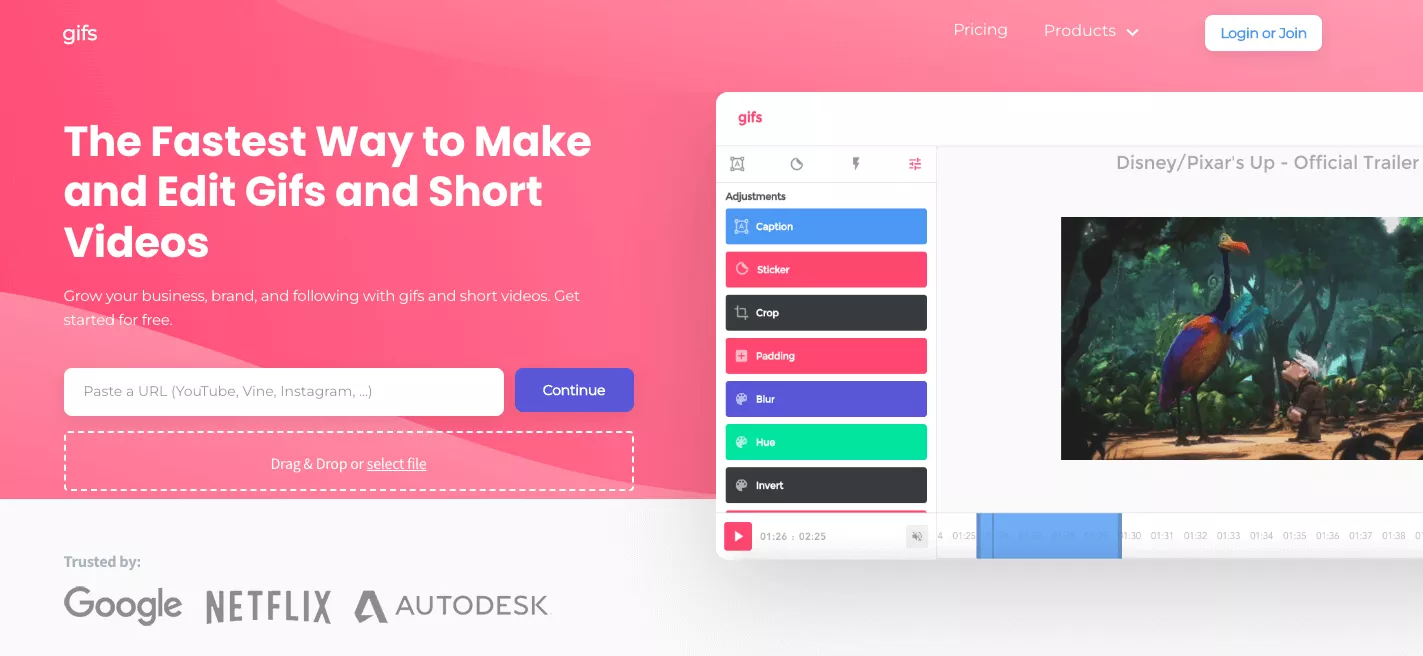 Enables you to make your own GIFs and stickers.
Cool effects to make your GIF engaging.
Highlights feature to spot the best bits of your videos for GIFs.
While Gifs doesn't have a collection of GIFs, it's a platform built for creating your custom GIFs. You can add your videos to the platform and edit them to create a GIF for your email campaigns.
Tips on using GIFs in email marketing
Now that you know where you can find GIFs for your emails and the methods of inserting them, it's important to know where to use them in your emails. After all, you'd want the GIFs to make an impact on your readers. Let's take a look at a few tips on using GIFs in your emails.
1. Share your brand's mission
To'ak uses the GIF in this email to give context to what it says in the text. The image slideshow in the GIF shows how To'ak is working with TMA to restore previous rainforest lands while boosting farmers' incomes.
GIFs give much-needed visual support to the message you want to convey about your brand's missions. You can use them to show conservation efforts, support diversity, display sustainability, and more. Use a slideshow of images or a mix of videos for best results as it looks authentic.
2. Add a countdown for sales promotions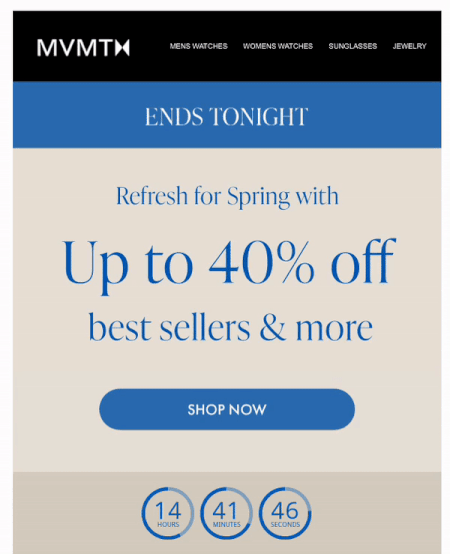 This email from MVMT is the perfect example of using simple GIFs to create a sense of urgency in the minds of receivers. The email boldly states that the sale ends tonight. But right below the CTA, there's a simple clock that keeps counting down. This helps the brand tap into the FOMO of its customers and boosts its chances of generating sales.
While the countdown above is a simple one, you can make it large enough and place it right at the top of the email. You could even add a catchy heading right above the timer to double up its impact and increase the sense of urgency. The key is to tap into the FOMO of your audience through email marketing and get them to buy from you.
3. Introduce your brand in welcome emails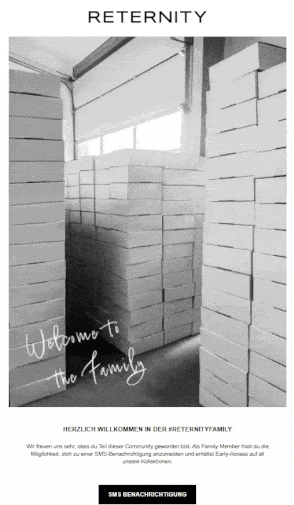 This email from Reternity features numerous behind-the-scenes shots of the products being manufactured. It's the perfect way to welcome a customer to the Reternity Family by giving them a look into how their clothes are made.
4. Add some humor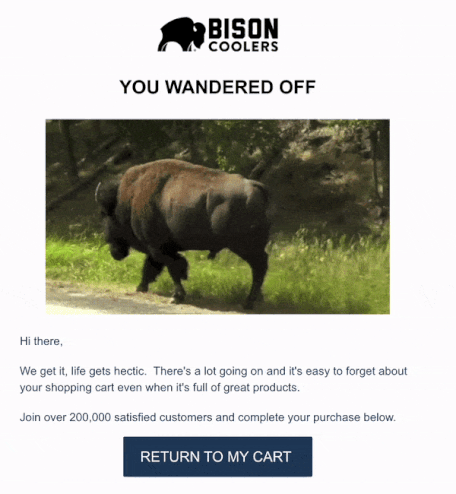 The GIF in this example adds a dash of humor to the email with a bison walking endlessly, showing how life can get hectic. The humor makes the email engaging and nudges the reader to click on the CTA. The GIF is also consistent with the branding as the name and logo of the brand are that of a bison too.
Cart abandonment emails need to be engaging enough to get people to click on your CTA. The idea is to ensure that the GIF you use gets people thinking about the products they've left back in their carts. Humor, in particular, works well as it can get people's attention.
5. Focus attention on the CTA button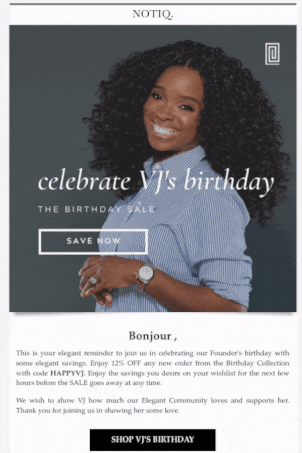 One of the striking features of the above email is that the image is static, but the text on it isn't. And that text includes the CTA. As the reader opens the email, the text comes up on the image dynamically, and that draws the reader's attention. This makes it a great way to bring their attention to the CTA.
While the above method works well, you can use GIFs in a few other ways to drive attention to the CTA, such as:
Turning the CTA into a GIF
Adding a GIF border to the CTA
Using a GIF to point to the CTA
6. Showcase new products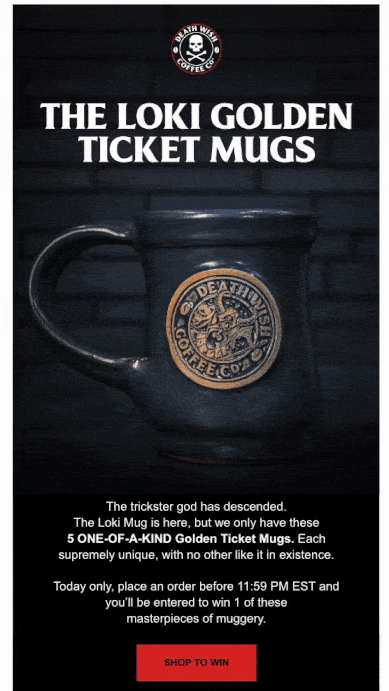 The above email is a fantastic example of a brand introducing five different products through a single email. The GIF includes a slideshow of five images of each cup that the brand's promoting. This helps the readers see all of them in a few seconds — without having to scroll. The changing imagery also keeps the readers hooked.
GIFs can play a helpful role in showcasing your products. You can use them to display their utility, show how they appear from different angles, and even show them in action. It leaves a much better impression than using static images like JPEGs to introduce them to your audience.
7. Introduce a new feature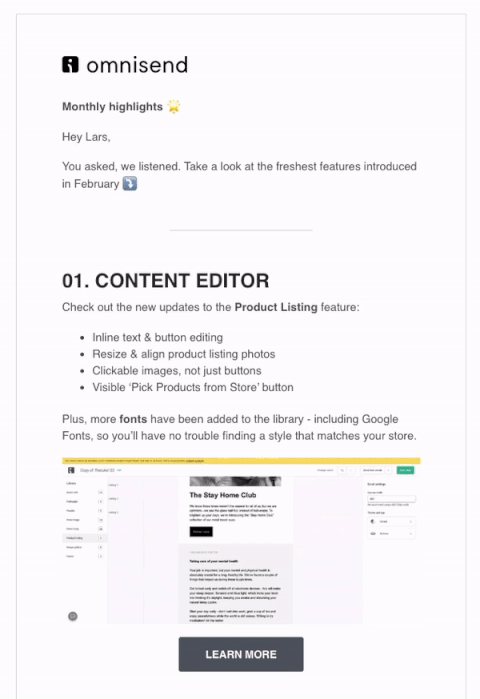 The GIF in the above email aptly introduces Omnisend's new content editor. Instead of using a set of screenshots, the GIF is more effective in showing the workings of this new feature. This gives the receivers a better look at it and enables them to understand it better.
A screen recording works well for new feature launches of digital products. For physical products, you can show the new feature in action. It also helps if you add the GIF right below the email header as it can make a powerful impression right away.
8. Improve back-in-stock announcements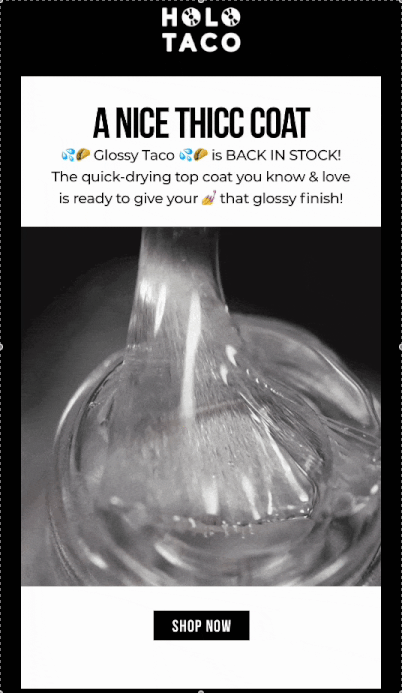 The glossy brush in the GIF blends in seamlessly with the headline and the description of the email. By just reading the first line and seeing the GIF, the email recipient would instantly know that their favorite product is now back in stock. The GIF is also conveniently placed above the CTA, which would be the next logical step for the recipient to click.
Here are some tips for adding GIFs to show your products that are back in stock and optimize your back-in-stock marketing:
Add a glittering GIF that reads "back in stock"
Include a GIF of the product that's back in stock
Show the product being added to your shelves
9. Compress your GIFs
Unlike images, GIFs are heavy files that can go from a few hundred kBs to MBs. And their size could directly impact the email viewing experience. The last thing you want your recipients to see is a white space or a partially loaded GIF. When you compress your GIFs, you can easily shed off the extra flab and reduce their size by 30-50%.
But experience isn't the only thing. Email sizes can also trigger spam filters and impact your email deliverability. That's why it's critical to ensure your GIFs are no bigger than 500 kB to 1MB.
You can use tools like Ezgif and gifcompressor to reduce the size of your GIFs.
10. Test your emails
Like all your email campaigns, it's important to test your emails with GIFs too. As mentioned earlier, the email size could impact your deliverability. So, make sure you test the deliverability well to find the sweet spot.
Similarly, you should A/B test the emails before sending them out to figure out which GIFs are creating a better impact on your recipients. You could even see the performance of your emails with different spots for your GIF. Make sure you test the email deliverability even without the GIF to see if adding the GIF has an adverse effect on it.
How to insert a GIF into an email: Wrap-up
Walls of text are no longer a viable option for email marketing, and GIFs are becoming more and more popular as brands begin to optimize their visual content. While there's a variety of ways to include GIFs in your email campaigns, it's important to keep them relevant.
Done correctly, GIFs can add a lively punch to your emails and grab your customers' attention. These ideas will help you create more effective email campaigns and engage with readers through GIFs.
Get started with Omnisend today & drive sales on autopilot with pre-built automation workflows
Start Free Today
related features
Want more sales?
Omnisend has everything you need to succeed.
Start free now
No Credit Card needed.