Drive sales on autopilot with ecommerce-focused features
See Features
Reading Time:
12
minutes
Text is a critical element in every email. However, too many marketers underestimate the importance of images and other types of visual content.
Images are incredibly flexible. Any good merchant worth their salt knows how to leverage them effectively in any email marketing campaign.
Our ultimate guide to using images in your email marketing campaigns covers this.
Below, we explore some of the most powerful ways to integrate more images into your practices. While adding pictures can be intimidating at first, it doesn't have to be overwhelming.
Over time, you'll naturally learn how to use images to engage with your unique audience.
Easily create beautiful emails that sell with Omnisend's intuitive drag-and-drop email builder
Start Free Today
Email image best practices: email banner and email header size
When using images in emails, the best practice is to keep your email consistent. Every time you send an email, it should be of the same email design. The layout might differ, but design elements like colors, header sizing, email fonts should be the same.
Although the width of emails is similar within different email providers, it might slightly differ. That's why all of them have their guidelines for images and you should follow them. Usually, you can find them in the knowledge base of your service provider.
The only rule is common for all email services. Image dimensions should be at least twice bigger than the image placeholder. That's because the image has to look sharp on high-definition displays commonly found on mobile devices. Such as, on iPhones, iPads and the latest computers, like 4k displays and Apple Retina displays.
For example, at Omnisend, the width of all email templates is 640px. That means your image width should be at least 1280px to look great on all devices.
The best format for email images
Digital images can be created in countless formats. However, there are a few standard options for email marketing when planning image based emails. Depending on the type of image you use, you can learn how to compress images in emails.
This section will cover the pros and cons of PNGs, GIFS, and JPEGs along with some other possibilities.
PNG
PNGs, or Portable Network Graphics, offer excellent fidelity and a larger color palette than GIFs, which can only display up to 256 colors. Unlike JPEGs, PNGs compress files without affecting their resolution. This allows them to maintain the quality of the original image.
One of the key benefits of PNGs is their ability to act as transparent layers, making it simple to embed them on top of other content. For example, a PNG would blend in more smoothly over a background image compared to a GIF. A PNG photo would also be easier to change background colors.
If an email includes screenshots, these can be reproduced perfectly using the PNG format. Lossy formats like JPEGs may lose some quality relative to the original. The main downside is that PNGs are often much larger than JPEGs or GIFs.
GIF
Like PNGs, GIFs are technically lossless, although some fidelity may be lost in the transition to an 8-bit color palette. Both PNGs and JPEGs use a 24-bit palette, allowing for a significantly wider range of colors.
The most obvious difference between GIFs and the other two formats is animation. You can use animated images in your emails and increase the interactiveness of it and show more products. One of the most popular ways of using it is to insert a Youtube video (the GIF is made automatically), or introduce new collections in store.
See an example below: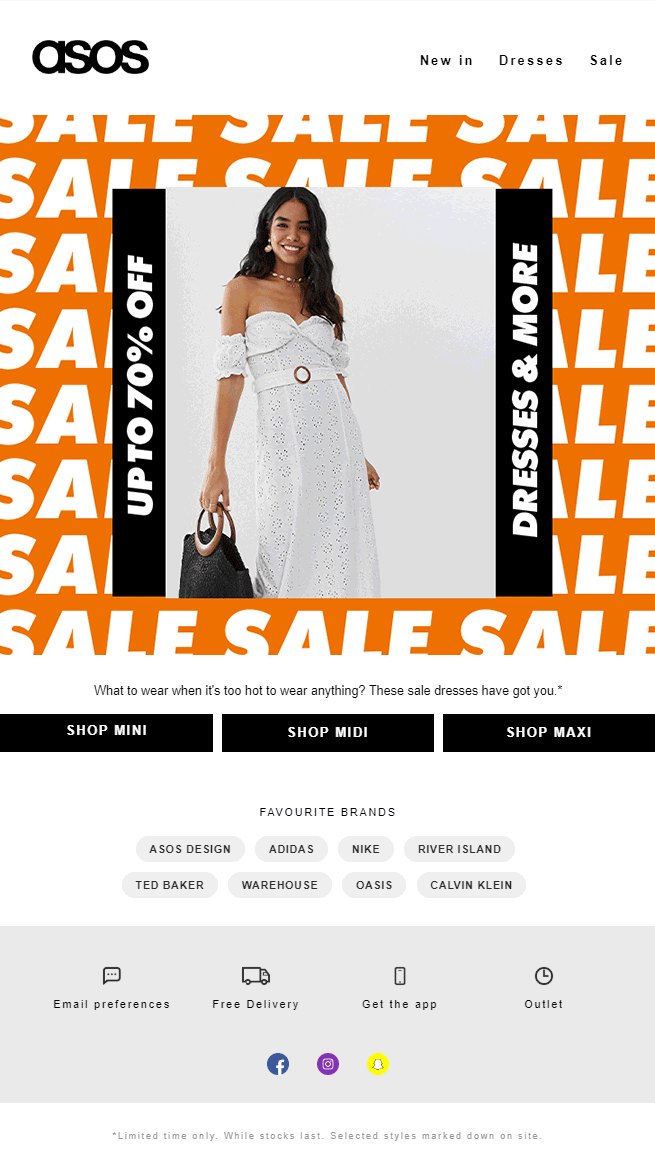 JPEG
JPEG is one of the most common formats for email marketing images. As mentioned above, it offers substantial image compression, often reducing file size by 90 or more percent. Unfortunately, JPEGs are a lossy format, while both GIFs and PNGs maintain the quality of the original image (aside from potential color distortion in GIFs).
JPEGs compress images by grouping sections into larger blocks, and this process irreversibly reduces the quality of the file. Similarly, existing blocks may be further consolidated in each successive compression.
How to attach images to email
Once you've determined which type of image you want to use in your email, it's important to understand how to attach them. This can vary between email platforms, yet the basic method for using email marketing images remains relatively simple.
For example, let's take a look at how to attach images to emails in common email platforms:
Gmail and Outlook

When writing an email on Gmail or Outlook, you can add images to an email in two ways. You can either attach or insert an image to an email.
How to attach the image to an email: On Gmail, simply select the paperclip option next to the 'Send' button. On Outlook, click the 'Attach File' tab, which is also represented by a paperclip. This is found on the header toolbar, next to 'Check Names' and 'Attach Item'. This will allow you to select a file or image from your computer or any drives connected online.

How to insert the image in an email: If you'd rather have the image be a part of the email rather than attached to it, you can insert it. To do so, you'll need to copy an image. Right-click on the image and select 'Copy'. Or, press Ctrl and C on Windows or Command-C on Mac. Next, right-click where you'd like the image to go and select 'Paste'. Or, press Ctrl and V on Windows or Command-V on Mac.
Personalizing images for email marketing
Targeted experiences lead to 26.5% more orders, and personalization isn't limited to text. It's easier than ever to personalize images for each subscriber using a service like NiftyImages. For example, including the reader's name gives an email a personal touch they may not expect in marketing content.
Adding names is the simplest way to leverage personalized images, but there's also room to experiment with a wide range of other strategies. If you're trying to get readers to visit a physical store, you could send a custom map of the nearest one based on their location.
Another popular option is to advertise specific products based on a recipient's history with your brand. Product recommendation emails can be triggered by a variety of behaviors. The message below invites the recipient to complete their purchase. All while suggesting a few alternatives in case they changed their mind.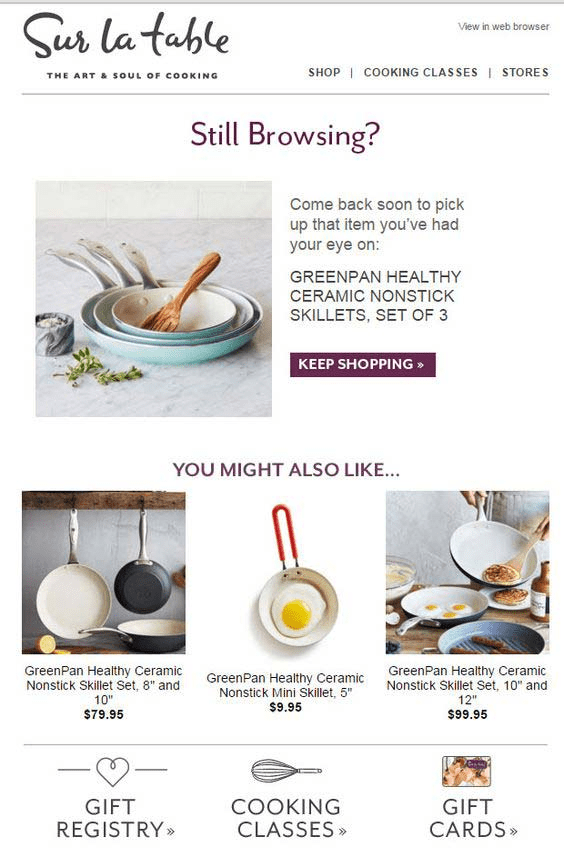 Omnisend users love how they can automate most of the busy work that goes into creating product recommendations with the Product Recommender feature. Not only that, they can also use Omnisend's Brand Assets feature to quickly and easily import their brand's default logos, colors, social links, and fonts into Omnisend.
Once imported, Omnisend will automatically apply your brand assets to your marketing emails, saving you tons of time and effort every time you want to send something beautiful to your customers.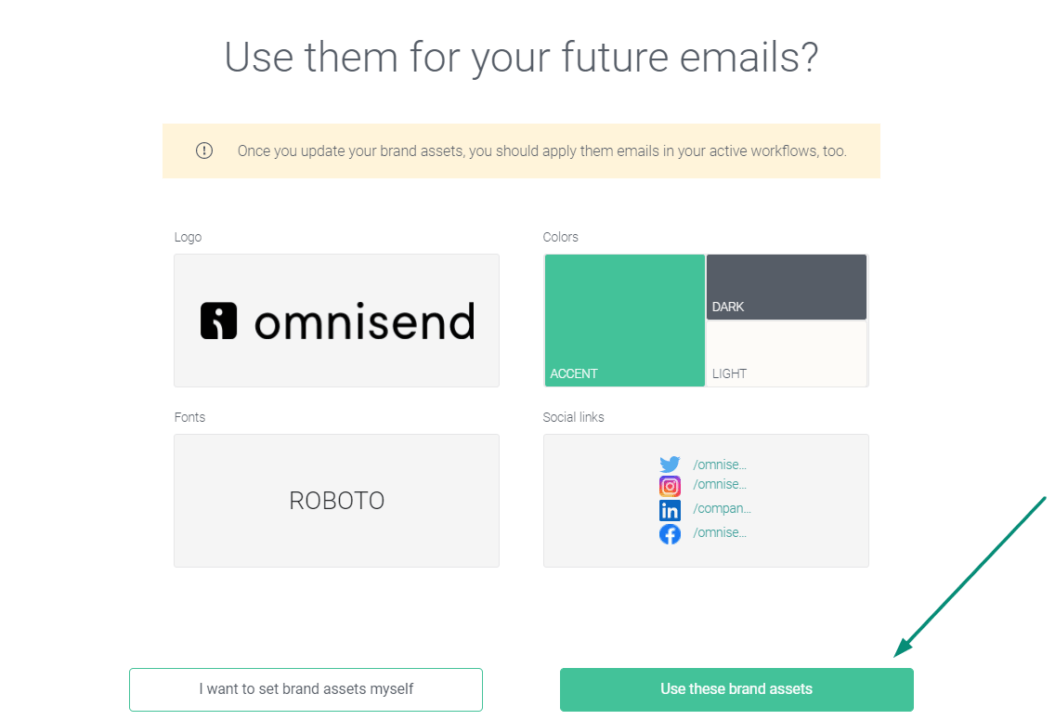 The benefits of images for email marketing
Even the best copy won't succeed without strong visual design, and including images in emails can lead to significantly better performance. Visual content strengthens your message and includes information that can't be communicated through text.
First, your subscribers don't always have time to read paragraphs of copy when scanning your emails. Images in emails are essential for making messages easy to understand immediately. Readers respond far more quickly to images and other visuals compared to text.
Similarly, images lead to excellent retention, even when users only see them for a few seconds. You can use a variety of images to connect with your audience. For example, screenshots and stock photos. Using these can increase click-through and engagement rates on your next email campaign.
Should you use images in email marketing?
This article covers only HTML emails that are sent via email service providers for promotional purposes. It aims to answer how to send HTML emails with images and how to embed images in HTML emails.
These emails include:
Email layout.
Text formatting.
Coupons.
Images.
Rich media elements.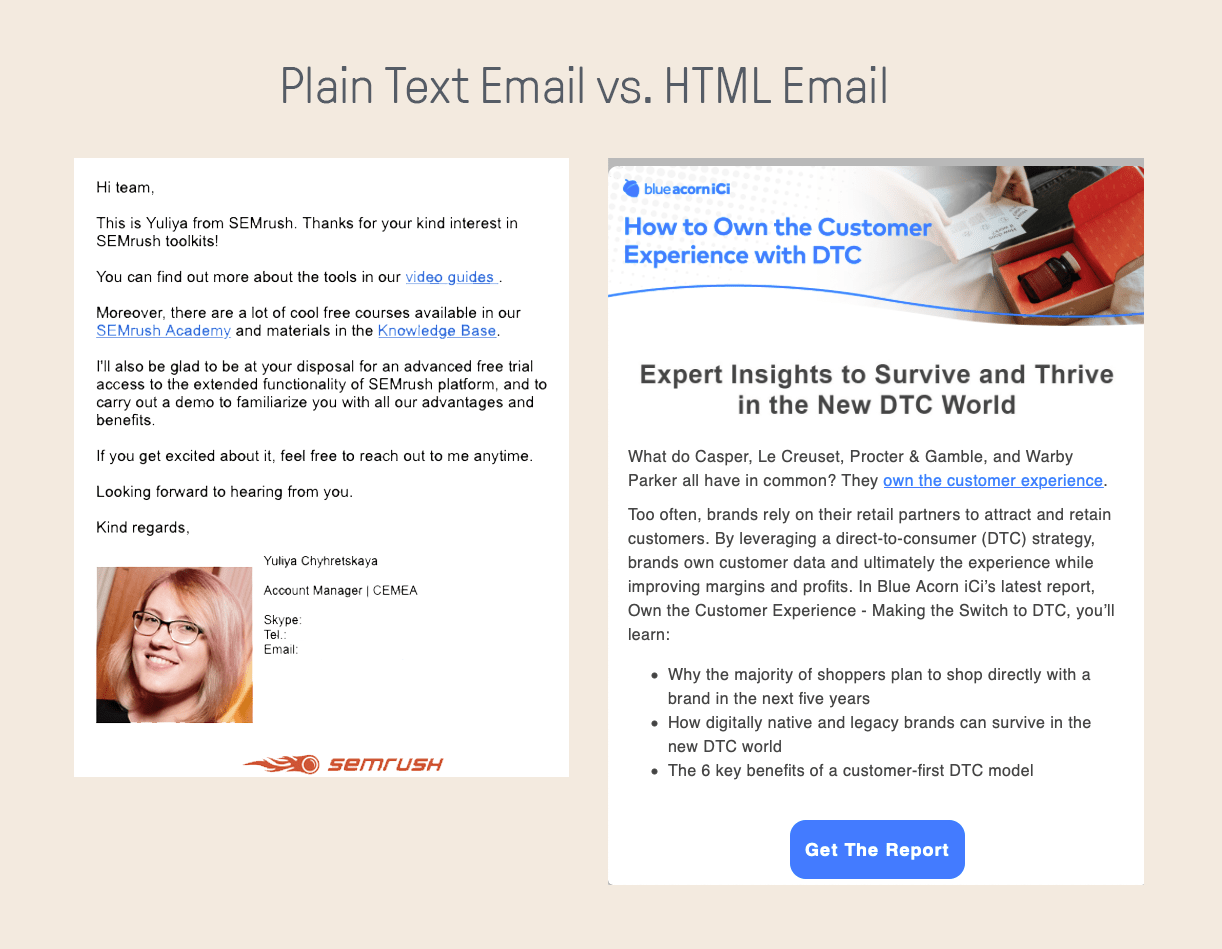 When building a beautiful HTML email, marketers use email service providers such as Omnisend, Mailchimp, and others. These platforms have email building tools—ready-made studios for marketers, so they could quickly design an email and include images they want.
Usually, these email builders apply a drag-and-drop method as well as WYSIWYG (a.k.a. what you see is what you get). So you can easily embed your image into the email by simply dragging the necessary content blocks and uploading the image you want.
See below an example of Omnisend Email Builder.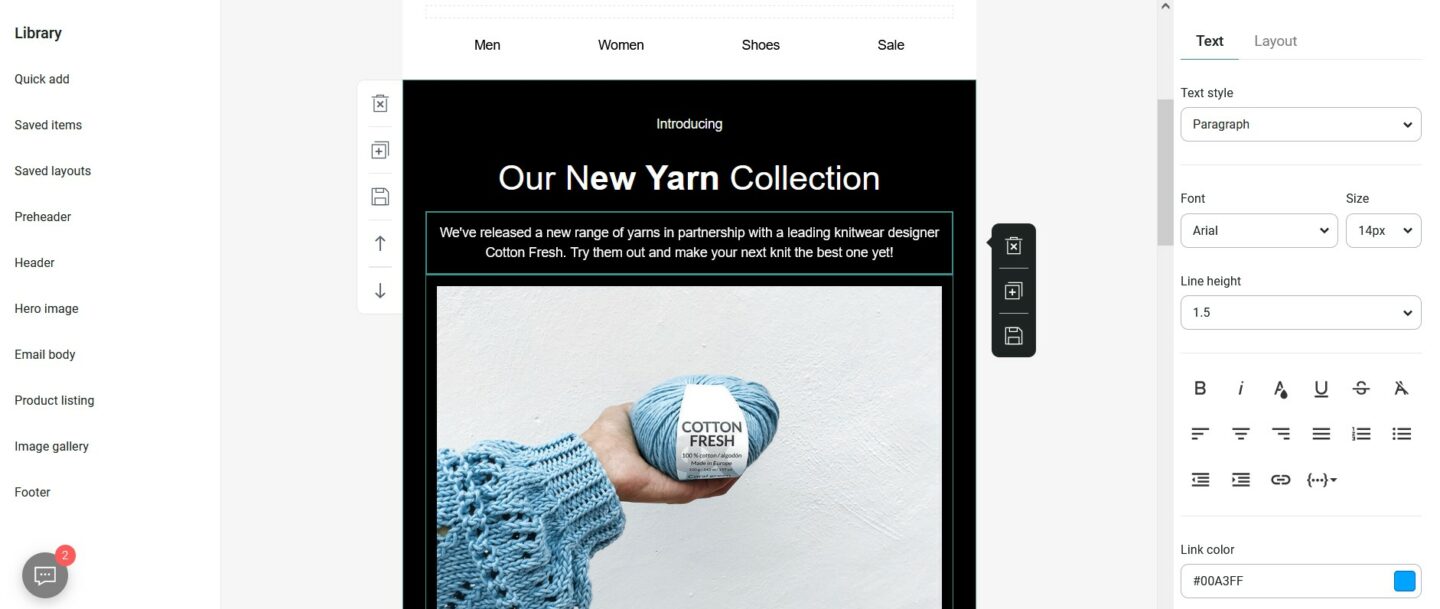 In some email builders, you can also find a built-in image editing functionality. These allow you to edit images and adjust them to your email design right in the email content editor.
For example, within the Omnisend platform, you can use Adobe Creative Cloud Connected image editor. On Omnisend, image sizes can be edited this way too. Since you don't need to use any other apps for images, you can build faster, better-looking newsletters.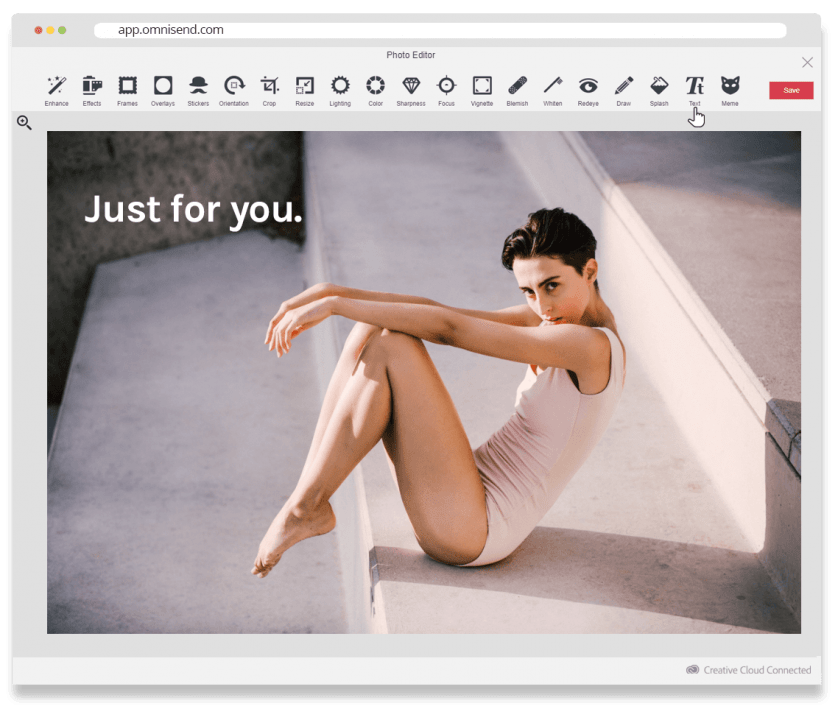 Using email background images
Most ESPs have the functionality of adding background images into promotional newsletters.
On the one hand, using background images can help your email stand out from other emails, it gives more email design opportunities.
On the other hand, not all email clients display these backgrounds equally. So for some recipients, your email can be viewed differently than you initially wanted.

Whether it's worth using them or not, you can decide after analyzing your audience and their email clients in your Google Analytics account.
Image-to-text ratio in emails
It's easy to eyeball an email and assume that it's good enough to achieve the results you're looking for. Many marketers take a relatively carefree approach to image size. Unfortunately, things aren't always that simple. Fine-tuning image sizes can significantly alter email deliverability.
Spam filters use a variety of criteria to assess the relevance of each message. Emails that contain only images, for example, will likely be sent to spam folders by most platforms. Optimizing image to text ratio is one of the easiest ways to increase delivery rate and therefore improve performance on all metrics.
There's no "perfect" ratio to shoot for, but most marketers try to keep images between around 20% and 50% of the content. Going above 50% can trigger spam filters and prevent your messages from reaching inboxes.
On the other hand, including more than 80% text will make your email unnecessarily difficult to read. Don't be afraid to experiment with different ratios to see what leads to the best results.
Using images to develop a brand voice
In addition to personalization, users also look out for brands. They look for consistent identities that align with their core values. When used correctly, images can become a part of your distinctive voice. This requires attention to detail in visual design. This includes a commitment to finding images that illustrate something unique about your brand.
Of course, a brand identity is important for more than just images in email campaigns. A cohesive voice can help you make informed decisions in every area of marketing. It's much easier to build an engaging and unique tone once you understand what separates your brand from the competition.
Like personalization, your brand identity should tie to customer research. For example, millennials and members of Gen Z are looking for something different than parents or retirees. That said, every brand sells to people in different demographics. Your identity should be flexible enough to appeal to a variety of customers.
If you're primarily targeting younger customers, you might use images that emphasize that your brand is on the cutting edge. On the other hand, brands that focus on parents could look for images that illustrate the benefits of their products for families.
Your unique identity should be clear throughout the entire customer experience. If two different teams manage your social media and email campaigns they should be in sync. They should update each other to ensure that both sides are working toward the same goal.
How to find email images
Now that you know how to effectively use images in email marketing, you can start looking for images to integrate into your next campaign. Some images will come with restrictions for certain kinds of use. However, there are a variety of ways to find images that are completely free to use for marketing purposes.
Stock images
Stock images are the simplest way to add images to your marketing emails, and they're available on a number of sites. With millions of images at your disposal, you should be able to find exactly what you're looking for. You can also edit stock images by cropping, adding text, adjusting colors, and more.
People often think of stock photos as generic, but they can also look just as authentic as a picture taken by your team. For example, you could look for a stock image that features a "normal" person rather than a model. The first image below is much more natural than the second, which clearly looks like a stock photo.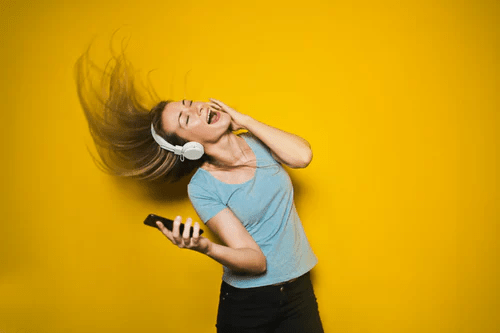 There are far too many stock image sites to cover in a single article, but these 21 platforms are an ideal place to start. Remember to double-check that an image is free for commercial use before putting it in an email.
Taking your own photos
Stock images are perfect for some occasions, but they aren't as useful for product launches or other things that are directly related to your brand. In these cases, it may be easier to take photos in-house, especially as high-quality cameras become more prevalent.
Audiences often look for personal connections. Consider using pictures of people in your organization to introduce readers to your team. Taking photos yourself opens up a variety of engaging opportunities. These aren't available with other options, such as stock images or user-generated content.
For beautiful, high-quality images of your products you may want to use a portable photo studio.
Illustrations
Images are a great way to add some personality to your content, and illustrations give you even more control over the tone of each message. They're also an effective option for maintaining a consistent voice as you can use the same style and color scheme across multiple emails.
Illustrations are significantly more flexible than their alternatives. They aren't limited by the possibilities of an actual photo. For example, a drawing could demonstrate different ways to use your product without showing a real person. Illustrations tend to be less distracting than photos, especially when you need to include several images in the same message.

The illustrations in this message adhere to a consistent style and match the rest of the email. Drawings were a much more natural choice compared to taking eight photos of the same person. The main downside of illustrations is the cost of an illustrator—a contractor or freelancer may be more affordable on a short-term basis, rather than paying someone in-house.
User-generated content
Most content should come from your team, but you should also look for ways to implement user-generated content. This allows readers to actively engage and contribute to the conversation. Unlike taking photos yourself or paying an illustrator, user-generated content is completely free.
A strong identity can help differentiate your brand. However, user-generated content offers additional authority. It's also often much more relatable for your audience. There are countless ways to leverage user-generated images in an email marketing campaign.
For example, contests are a popular way to generate reader engagement. It also gathers content from your audience to include in future emails. Even if you run the contest on social media, you can still use it in your newsletter by adding pictures of top entries.
Asking readers to add specific hashtags to their social media posts is another great option. You'll be able to search for user-generated content with those hashtags. They'll also provide free word-of-mouth marketing by telling followers about your brand.
You can source content on social media and add it to your email newsletter. It's the perfect way to streamline the customer experience across multiple platforms.
The images below show real customers, making the message much more relatable. This helps the brand save money on models and photographers.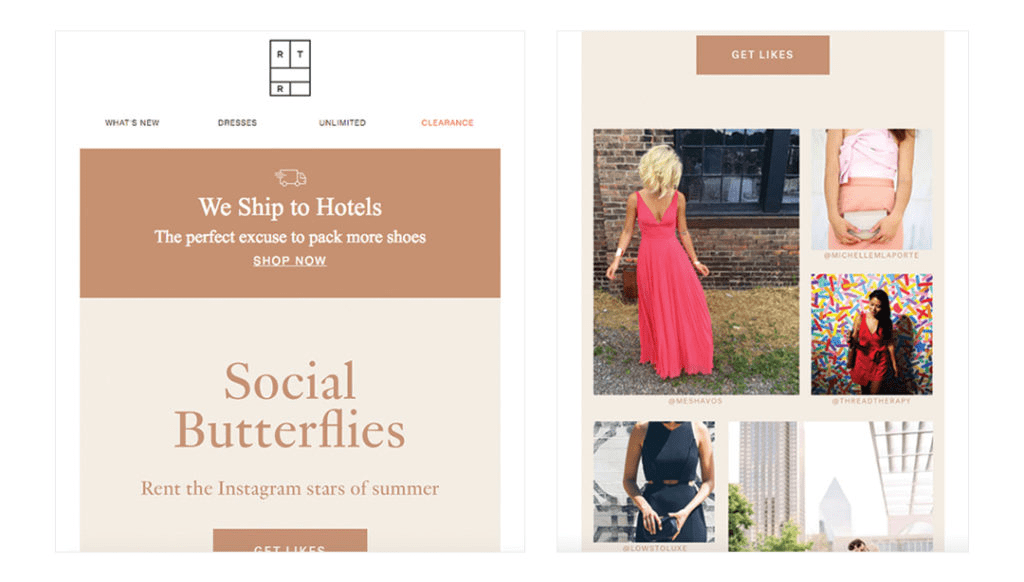 Image size for email signature
Speaking about plain emails, you may also want to add an image in your signature.
Using an image for your email sign-off can give your messages a distinctive flair without distracting from the rest of the content. That said, a signature that's too large or too small will only look sloppy and unprofessional. Most users read emails on their phone, so images need to display well on all devices.
Email services respond to oversized images in a variety of unpredictable ways. For example, they might shrink the image to the dimensions of the screen. They may also shrink the entire email, or expand the message so that users can scroll across the image. With that in mind, your signature needs to fit the dimensions of each screen.
If you want an image in your email signature, try to keep it as small as possible. While there isn't a strict rule for image size in email signatures, it's best to use images that are no more than about 150 pixels tall and 300 pixels wide.
Remember that file size is just as relevant as the size of the image itself. Large files can take a long time to download, especially on poor connections.
Wrap up
We all know the importance of images in email marketing, but adding them to your campaigns can be surprisingly tricky. These ideas will help you find better ways to integrate images into your email strategies.

Get started with Omnisend today & drive sales on autopilot with pre-built automation workflows
Start Free Today
related features
Want more sales?
Omnisend has everything you need to succeed.
Start free now
No Credit Card needed.