Drive sales on autopilot with ecommerce-focused features
See Features
Reading Time:
7
minutes
You've probably already noticed—it's getting more and more expensive to get new customers, mostly because ad costs have skyrocketed in the last few months. Some estimates put the increase in ad costs anywhere from 30% to 50%. This means that if you were paying a $10 cost-per-click in 2021, you'd be paying $13-$15 for that same click.
The bigger problem? It's going to get worse.
The pain is obvious: the higher your ad costs are, the more you're spending to get the same results. So if earlier you were spending roughly $1,000 per week last year to get $3,000 in sales, this year you'd have to spend $1,500 to get the same $3,000 in sales.
Lucky for you, there are ways to increase your sales without increasing your ad costs.
Get better sales & happier customers (without increasing your ad costs) with Omnisend's all-in-one marketing platform
Start Free Today
Get better Facebook & Google ad results
The first thing we're going to be tackling is the ad results you're currently getting on Facebook and Google (the two most popular ad platforms).
When setting up your ads, you're most likely using the audience that Facebook or Google are suggesting for you, or finding audiences based on your targeting. But—what if there was a better way?
What if there was a way to find the exact kind of future customers that you already have?
Like if you could duplicate your current customers, who've already bought from you, and are happy from those purchases, to find people exactly like them?
Well, you don't have to wonder.
You can actually use the current customers you have, that love your products, copy them, and ask Facebook or Google to find similar audiences that will also love your products.
At Omnisend, we call that Audience Sync, and it helps our merchants lower their ad costs by helping them target better.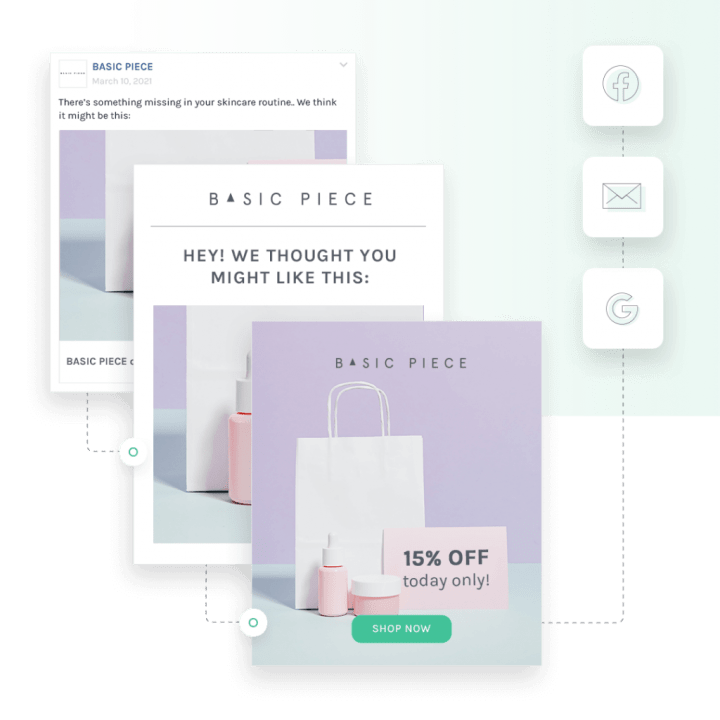 All you'd need to do is identify your absolute best customers (like the ones that have bought the most, or bought the most often) and sync that list with your favorite ad platform. And just like that, you get better results for the same ad budget.
Find out more about Facebook & Google Audience Sync.
Turn more site visitors into subscribers & buyers
So, now that you've improved your Facebook & Google ad targeting, you're getting a lower cost-per-click and more visitors for the same ad budget.
Great.
But we can still do better. Now that you've got more site visitors, (and since you used Audience Sync, they're better site visitors), you'll have an even better opportunity to turn those visitors into subscribers or even buyers.
The way to do it? With high-performing popups or other signup forms.
Don't worry, they're not intrusive or pushy, and in fact can help solidify your brand in your visitors' minds.
Let's take a look at some of the best-performing popups and signup forms on Omnisend's platform:
Exit-intent popups
These popups show up only when a visitor is about to leave your site, and you can use an exciting offer—like a 25% discount—to get them to make their first purchase.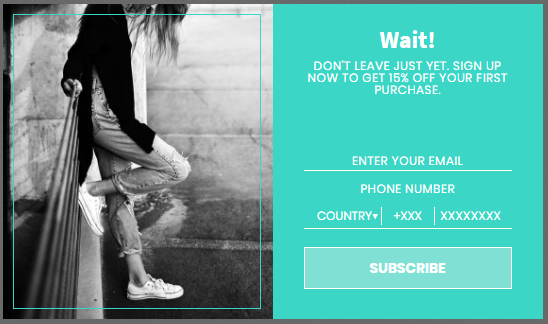 Back in Stock alerts
Besides the popups, Omnisend also allows you to send your shoppers Back in Stock notifications. These are important when shoppers are interested in an item, but you are currently out of stock. Instead of them leaving your site disappointed, they can sign up to receive alerts when the item will be back in stock: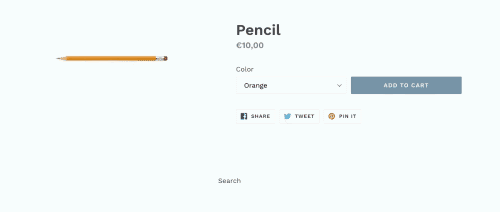 All of these are available in Omnisend's platform, and they're pretty easy to set up. With better popups and forms, you'll convert more visitors into subscribers or even first-time buyers.
Alternatively, you can use a lead generation software like OptinMonster to create high-converting popups. OptinMonster comes with a huge library of popup templates that you can customize using its easy drag-and-drop builder.
You can create exit-intent popups, floating bars, slide-in scroll boxes, inline forms, and more, with smart triggers to target the right visitors at exactly the right time.
Find out more about popups & signup forms.
Emails that turn shoppers into buyers, and buyers into loyal customers
Emails are probably the best chance to turn more shoppers into buyers. Of course, in order to send your shoppers emails, you'll need to have their email addresses, so it's very important to grow your email list.
Welcome emails — get more shoppers to buy from you for the first time
Welcome emails are emails that you send out automatically to people right after they've subscribed to your newsletter.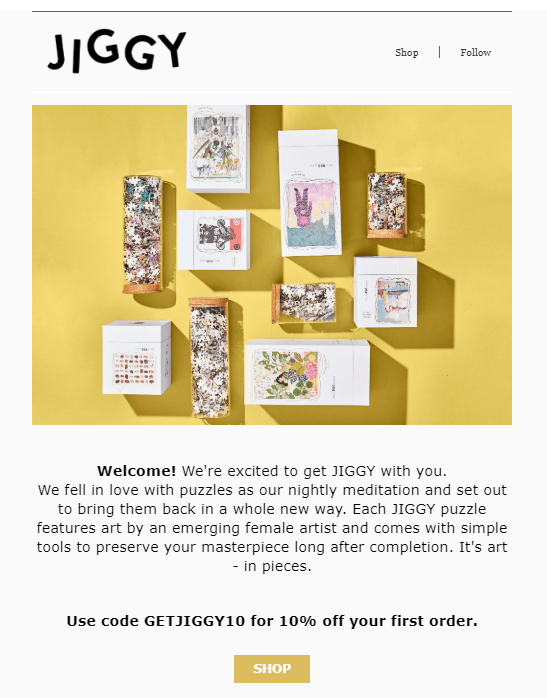 Even better, having these welcome emails go out automatically means that you'll be able to greet your new subscribers while they're still in the "honeymoon" phase. They just signed up for your brand and are eager to see more and hopefully get some good deals.
This is your time to strike, so make sure you don't waste it. Add an interesting offer, most likely for your most popular product(s), and you'll have new buyers in no time.
In fact, Omnisend's own research shows that welcome emails have the highest conversion rates.
Find out more about welcome emails.
Abandoned carts—get more almost-buyers to complete their purchase
Abandoned cart emails are automatic emails that go out right after a shopper adds a product to cart and leaves before buying. Omnisend data showed that abandoned cart emails have the second highest conversion rate, right after welcome emails.
Good abandoned cart emails go out at the right time—not immediately, while the shopper may still be buying products in your store, but still not too long after they've abandoned their carts and potentially forgotten about you.
We recommend sending out abandoned cart emails within an hour—and not just one, but a series of three emails.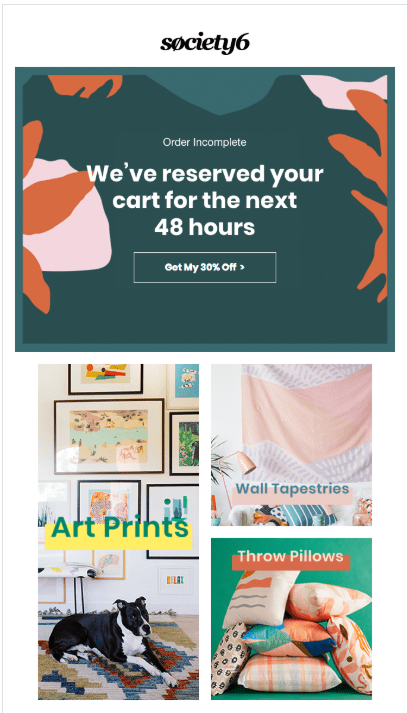 Find out more about abandoned cart emails.
There are other opportunities to get more sales while keeping the same ad costs. These are the special abandoned cart emails: browse abandonment and product abandonment. Essentially, these emails are activated when a shopper browses a certain page (that you set) or a specific page (that you determine), but they don't buy anything.
That way, you can send more targeted emails since you know what product they were interested in but didn't buy for some reason. Offer them the same product for 30% off, or offer free shipping if they buy this product.
Transactional emails
Transactional emails are emails that are sent out automatically after the customer does some activity, like buying a product. The most common, and most popular, transactional emails are order confirmation (email sent out right after a customer makes a purchase) and shipping confirmation (notifying a customer that their product is being shipped).
Many transactional emails are functional only—meaning they only contain the information they need. But a good transactional email takes that opportunity to get the customer to buy more products. You can add recommended products or special offers to your order and shipping confirmation emails that will incentivize your customers to buy more from you.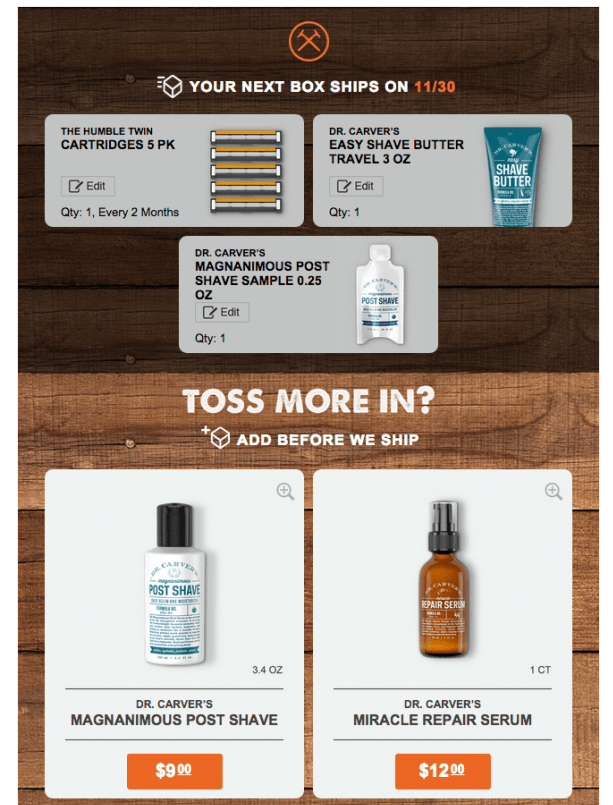 Find out more about order confirmation emails.
Customer loyalty and retention emails
Besides getting more sales from your existing customers, there's one more thing you can do to increase your sales without increasing your ad spend:
Keep your customers happy.
Happy customers go on to tell their friends, who become your new customers. This word-of-mouth marketing is the most prized form of marketing, and it's absolutely free—if you play your cards right.
That's why you should also consider sending out automated emails that ask for feedback about how your customers enjoyed the shopping experience or the products. If positive, you can ask for a referral or a social media post.
You can also offer them to join your loyalty program, where you'll give rewards or loyalty points after they complete certain actions or reach certain stages.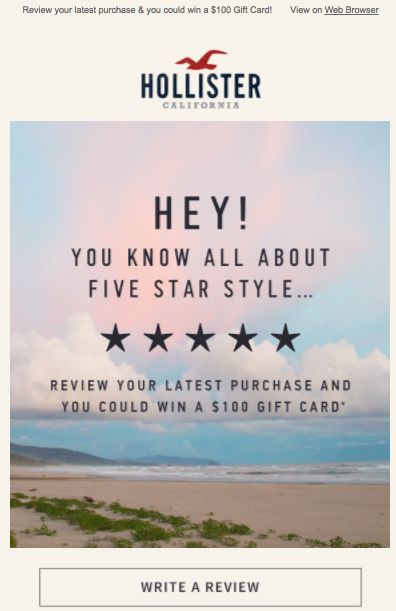 Sending feedback emails (and actually taking the responses on board) and entering customers into your loyalty program will lead to happier customers, which leads to more sales.
Learn more about these customer loyalty and retention emails.
Superpowered targeting to send better messages (to the right people)
If you have 100 or 1 million subscribers or customers, you probably wouldn't (or shouldn't) send them all the same messages. Some want to hear from you a lot, others only once or twice a month. Some want to get updates about high heels, others about electronics.
And this is where your targeting superpowers need to come in—which we call segmentation.
Segmentation is basically looking at all of your subscribers or customers and saying: "Find me all the customers that bought summer dresses from me last spring and summer." (You can promote your new line of summer dresses to them, knowing that they'll probably want to buy.)
Or: "Find me all the email subscribers that have an iPhone." (You can send them an email about your new iPhone cases.)

Even better, inside Omnisend you'll find pre-built segments so that you don't even have to think about what kind of customers you're looking for. We've already got the list of the most popular and most popular segments to help you target better.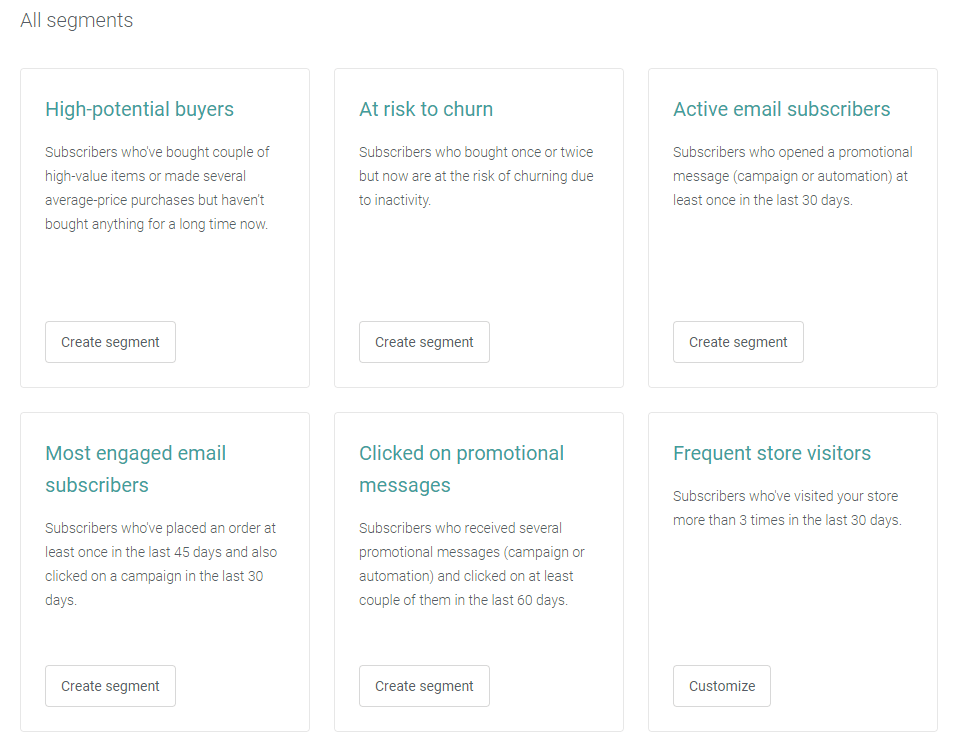 Find out more about segmentation.
"OK, so how can I get started?"
At this point, you probably understand how effective it can be to improve your sales at each point of your customer's journey. This allows you to keep the same ad budget but increase your sales two, three or more times.
But you're also guessing that it'll probably cost a fortune to get all of this in one package.
And that's where you'd be wrong.
You can actually get all of this for free.
By paying exactly $0 per month, you can get Facebook and Google audience syncs for better ads, high-performing popups, automated welcome and abandoned cart emails, customer loyalty and retention emails, and much, much more. That's because Omnsiend doesn't put any limitations on its free plan, and you'll be able to see how it works with your brand.
All you need to do is click this link to get started.
related features
Want more sales?
Omnisend has everything you need to succeed.
Start free now
No Credit Card needed.