Drive sales on autopilot with ecommerce-focused features
See Features
Reading Time:
11
minutes
When it comes to newsletter software, many people still believe that to get the best tools, they'll have to shell out the big bucks. But is that actually true?
Not necessarily.
With the right provider, great newsletter marketing can be both effective and affordable, with a potential ROI of as much as $72 for every $1 spent.
What's more, having the right newsletter software is no longer just an optional part of marketing for businesses—it's a necessity. In fact, 79% of marketers consider email marketing as one of their top 3 most effective channels.
Sharing newsletters is crucial in turning your subscribers into prospects and eventually customers. It's how you build familiarity with them, strengthen your relationship, and build trust.
This article explores what newsletter platforms are all about and how to pick the right one for your business. It also discusses some powerful newsletter platforms worth considering.
What is newsletter software?
Newsletter software is an online solution to grow your email list for marketing your business. It lets you communicate directly with your contacts through email newsletters that can be sent as often as you choose.
With newsletter software, you can:
Create newsletters
Manage your email list
Schedule email marketing campaigns
Track email marketing metrics
Although they can be transactional, newsletters are more of a long-term lead-nurturing marketing solution.
They're typically aimed at boosting your engagement by providing information that's relevant and interesting to your audience. You can send newsletters as one-time campaigns to share a story, promote a flash sale, wish customers a happy new year, suggest special offers, etc.
Create powerful newsletters for your marketing campaigns with Omnisend's pre-built email templates. Start for Free
How to choose the best newsletter software for your business
Newsletter software ranges from simple tools that let you send multiple emails at a time, to more comprehensive ones with automation and advanced reporting.
If you're just getting started with email marketing, here are some features to look out for when choosing the best software for creating newsletters.
Pricing
You can start by evaluating the pricing of the tool as compared to its features to see if you're getting value for your money. Your budget also plays into this and should help guide you.
If you're looking for something affordable, or you're just on a budget, there is lots of free software for newsletters that you can start with and perhaps upgrade as you go. On the other hand, if you've got a big budget and have extraordinary requirements, a comprehensive paid tool might be a better option.
Customer support
When you choose a newsletter solution, you must also check the quality of help you are getting from the company's customer support team. Some tools provide 24/7 live chat, email, and phone support depending on your subscription package.
But along with the availability of the support, check how effective the support is by reading customer reviews.
Check out if the email newsletter software has a knowledge base and a help center too. This way you won't be completely stranded when direct contact is unavailable.
Ease of use
Ideally, your newsletter software should be easy to use or have only a slight learning curve.
For instance, essential features such as email builders should be easy to understand. You also want a tool with pre-built newsletter templates and drag-and-drop editors that make it easy to design your newsletters.
Your focus should be on the content that goes into the email as opposed to losing a lot of time trying to improve the aesthetics.
Growth
Pick a newsletter software that can grow with your business. You'll need to visualize where you see your business going in the next six months to a year. Then make sure that your future prospects align with the features your newsletter software is offering.
Must-have features
Do you have non-negotiable features you can't run your marketing campaigns without? Maybe it's segmentation, reporting, integrations, etc.
Whatever they are, be sure to pinpoint them while considering your newsletter software.
Best email newsletter tools
This section reviews seven simple yet powerful newsletter platforms you should consider.
Let's look at each one of them in detail.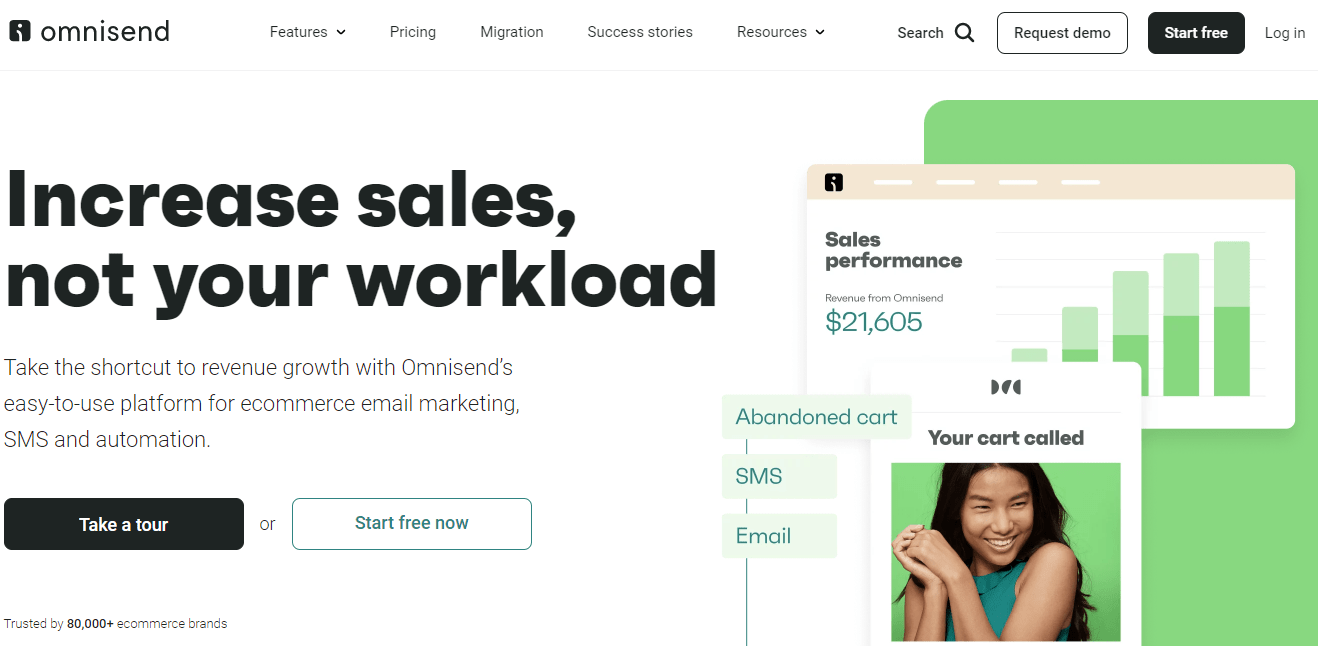 There's a widespread belief that maximizing the benefits of newsletter marketing requires a hefty investment. Unfortunately, this mistaken idea hinders many outstanding businesses from delving into newsletter marketing and realizing its impressive return on investment.
But here's the silver lining: Omnisend is dedicated to dispelling this myth each and every day, showing businesses that effective newsletter software doesn't have to cost a fortune.
It's the best software for newsletters, with a library of readily designed email templates you can customize for your email campaigns.
Features
Omnisend comes with the best newsletter builder—an easy-to-use drag & drop tool that lets you build your own templates easily. You can add logos, change colors, and add links to your social accounts without any design knowledge. With this feature, you'll have total control over how your email looks, from font to layout.
The platform also offers additional tools for ecommerce such as:
For email newsletter campaign optimization, Omnisend offers tools such as Campaign Booster, which automatically resends unopened emails using a new subject line within 48 hours, so you're leaving no stone unturned to drive engagement.
The A/B Testing feature also helps you determine what's performing better with your email campaigns.
Omnisend's reporting features include Campaign Reports, Campaign Click Maps, and Advanced Reporting. These help you track your sales, understand your audience, and monitor your best-performing email newsletters.
Other features include:
Pre-built and custom automation workflows for sending welcome, birthday, abandoned cart emails, etc.
Full integration with ecommerce platforms including Wix, Shopify, WooCommerce, and BigCommerce.
Segmentation for more personalized messages based on purchase history, contact behavior, location, etc.
Support
Dispelling the widespread myth that email marketing providers tend to offer lackluster support, Omnisend provides multiple 24/7 support options, including live chat and email, on every single plan. Yes, that includes the free plan.
You can also access their educational videos and live training pieces from the Omnisend Academy. The Help Center has useful information on onboarding, how to use Omnisend's features, and other important updates.
Pricing
With the Free plan, you can reach up to 250 contacts, send up to 500 emails and push notifications a month, and a maximum of 60 SMS.
You'll get professional email templates, workflow automation, segmentation, A/B testing, and 24/7 live chat and email support, among other features.
Paid plans start from $16/mo for up to 500 subscribers and include not only emails but both free SMS and push notifications.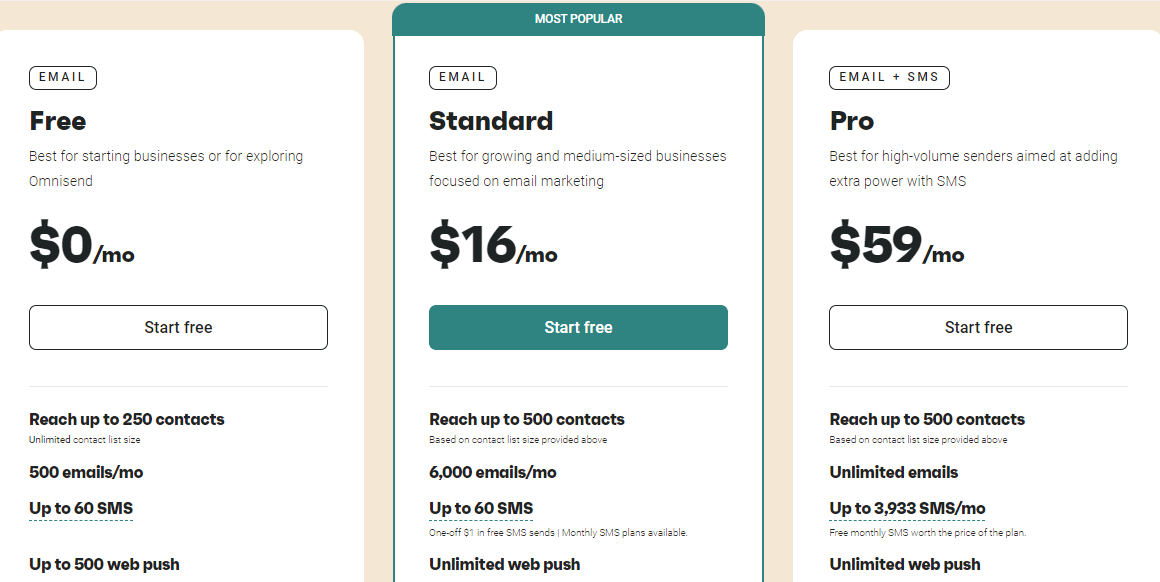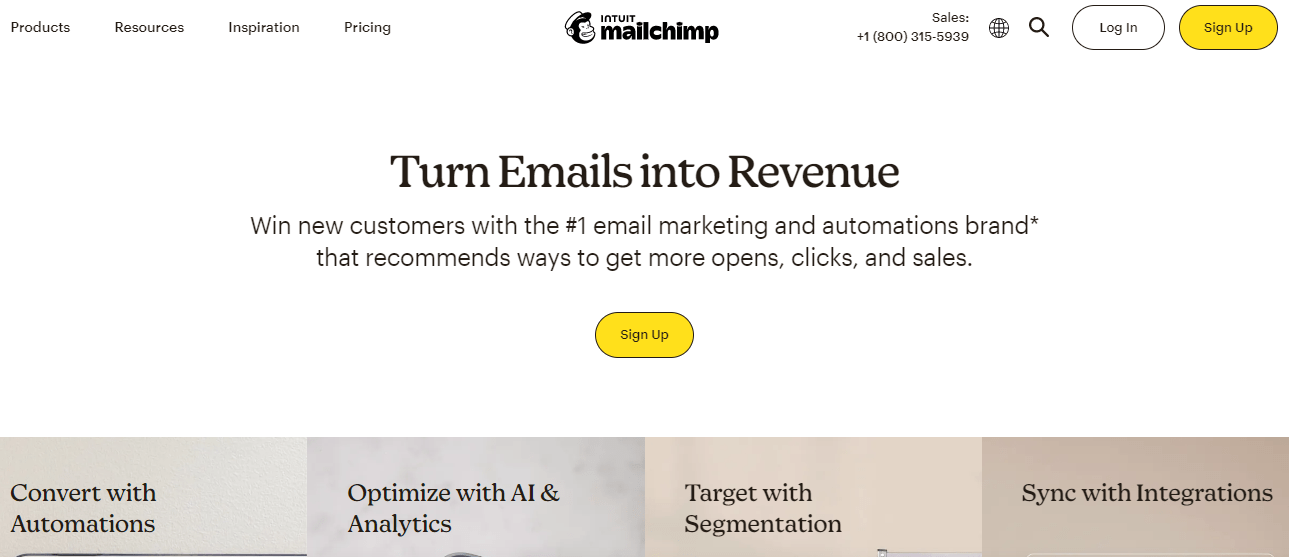 Mailchimp is an all-in-one marketing platform that was built with small businesses in mind. This means that you can find all the simplified features for your essential newsletter needs on this platform.
Here are some features that may be suitable for you.
Features
Mailchimp's creative tools are robust, giving you the option to build emails the way you want them. It generates designs for you, so you get to choose if you're not sure where to begin.
Alternatively, you can integrate Mailchimp with creative tools like Adobe Photoshop, and build your email template designs to your liking.
The tool's audience management features include newsletter signup forms, pop-ups, embedded forms, and built-in forms.
The dashboard also helps you get insights into your audience. You get to analyze details like the source of your new contact, their location, what they do, etc. This way you can filter through your list and separate specific leads from the rest.
Mailchimp's segmentation bolsters this feature further by helping you group your contact list into different segments by their purchasing habits, behavior, etc. It's one of the top newsletter best practices that keeps your email campaigns relevant by ensuring you send them to the right crowd.
This newsletter software also has a product recommendation feature that lets you boost your newsletter email campaigns by predicting products your customers are more likely to buy.
Other features include
Automated workflows tailored to specific customer interests
Personalized updates for customer transactional activities
Retargeting ads to bring visitors back to your site
Reporting and analytics
Support
You can reach the Mailchimp team through 24/7 live chat, phone, or email depending on your subscription, although users on the free plan only receive email support for the first 30 days and are reliant on the Mailchimp 101 section with guides and other helpful resources.
Pricing
With Mailchimp's free plan, you can have up to 500 subscribers, send up to 1,000 emails a month, and get email support for the first 30 days.
Some features you'll have access to include pre-built templates, unlimited integrations, forms and landing pages, email builder, creative assistant, and basic reporting and analytics.
The paid packages start at $13 a month and include more monthly emails, customer support options, advanced testing and reporting, and many more features.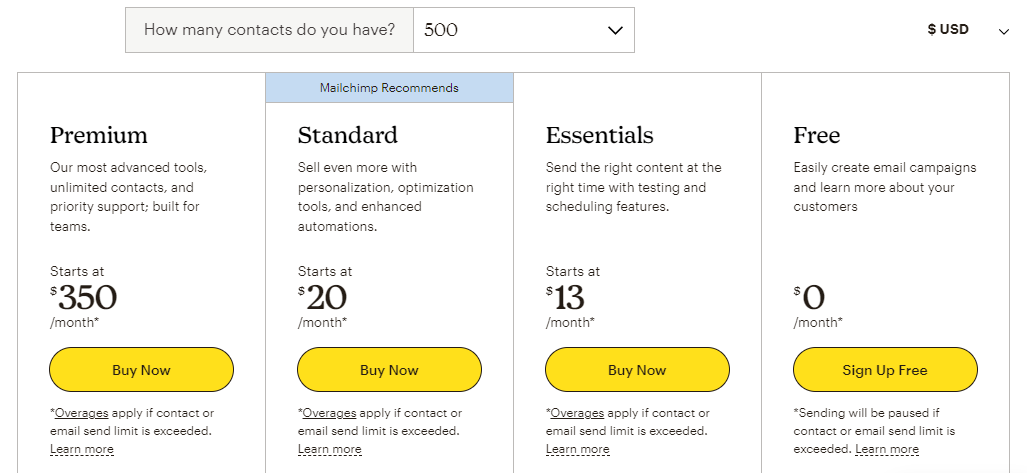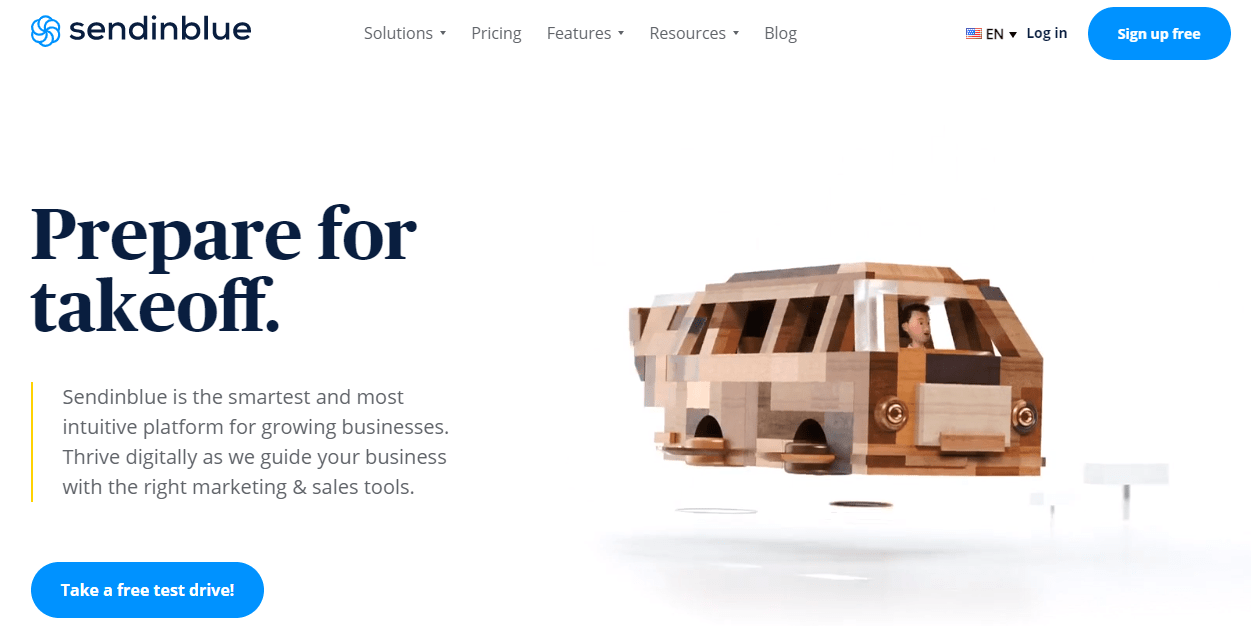 This is an all-in-one marketing platform for B2B, B2C, and ecommerce businesses that helps build relationships with customers. Here are some marketing features this software for email newsletters provides.
Features
Sendinblue provides pre-designed newsletter examples and templates you can personalize depending on your subscriber needs. It also comes with a drag & drop editor and design blocks you can use to build your email newsletter.
You can launch SMS and WhatsApp campaigns, and send transactional emails to grow your business with omnichannel marketing. Here are other items this newsletter software has:
Pre-built workflows for automated campaigns
Send pictures, links, and documents to WhatsApp customer list
Push notifications
Support
You can access DIY resources on the Sendinblue Academy. Alternatively, depending on your plan, you could reach the support team through email or phone.
Pricing

The free package has no cap on your contact list but you can only send 300 emails per day or 9,000 per month. With this plan, you get customizable email templates, drag & drop email editor, transactional emails, and SMS and WhatsApp campaigns.
Paid plans start at $25 a month and come with more features like reporting and analytics, email and phone support, A/B testing, send time optimization, and more.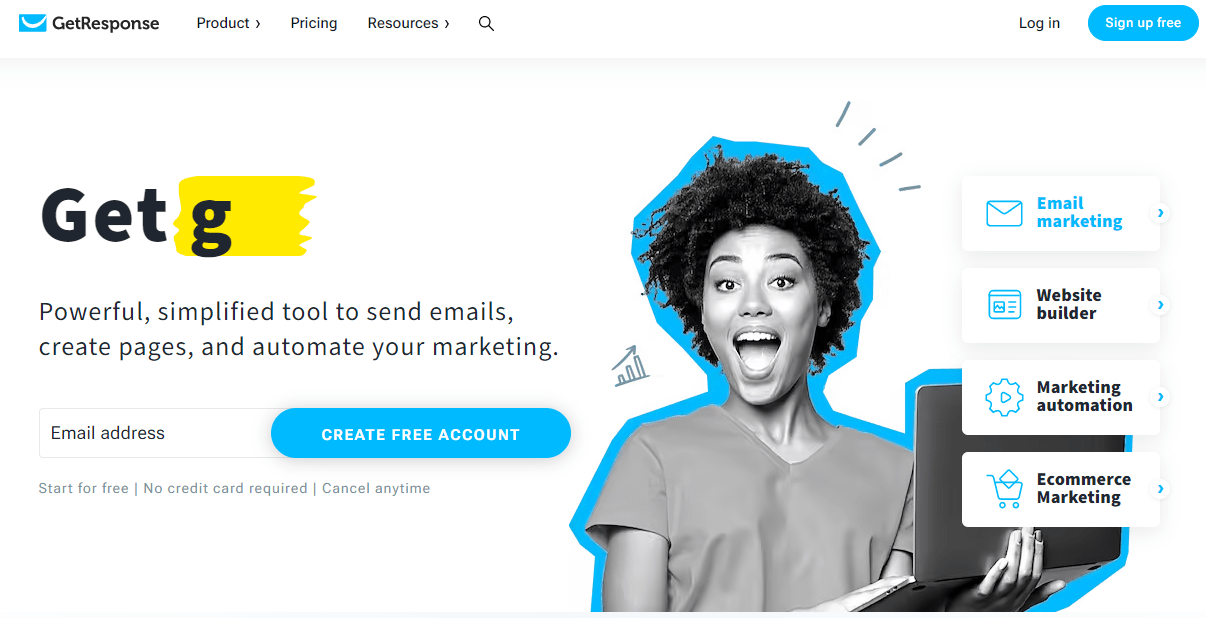 GetResponse is a powerful email marketing solution, simplified to empower businesses to meet customer needs in a dynamic market. This email newsletter software features the following capabilities:
Features
Some notable GetResponse features include their lead generation tool that lets you build an email list using pop-up forms, signup forms, and landing pages.
The tool also provides professional customizable email templates and an easy-to-use drag & drop email creator. It provides sections, layouts, and free stock photos.
Enhance your newsletter designs with over two million free images and thousands of GIFs.
The perfect timing tool lets you send emails to your customers at their preferred time, increasing your click-through and open rates. GetResponse also integrates with major ecommerce platforms like WooCommerce and Spotify.
The platform has a mobile application you can utilize when you want to track your newsletter campaigns on the go. Other crucial features include:
Custom segments for better personalization
A/B testing to optimize email marketing content like CTAs, subject lines, etc
Analytics to get insights into your open rates, click-through rates, bounce rates, etc.
Support
Customer support is available 24/7 through email and live chat
Pricing
GetResponse also provides free software for newsletters. With this plan, you can reach up to 500 contacts and send 2,500 emails a month. Some features you can access include landing page signup forms, website builder, and other signup and pop-up forms.
The paid plans start from $15.58 a month (paid annually) and include other features like segmentation, autoresponders, integrations, sales funnels, and more.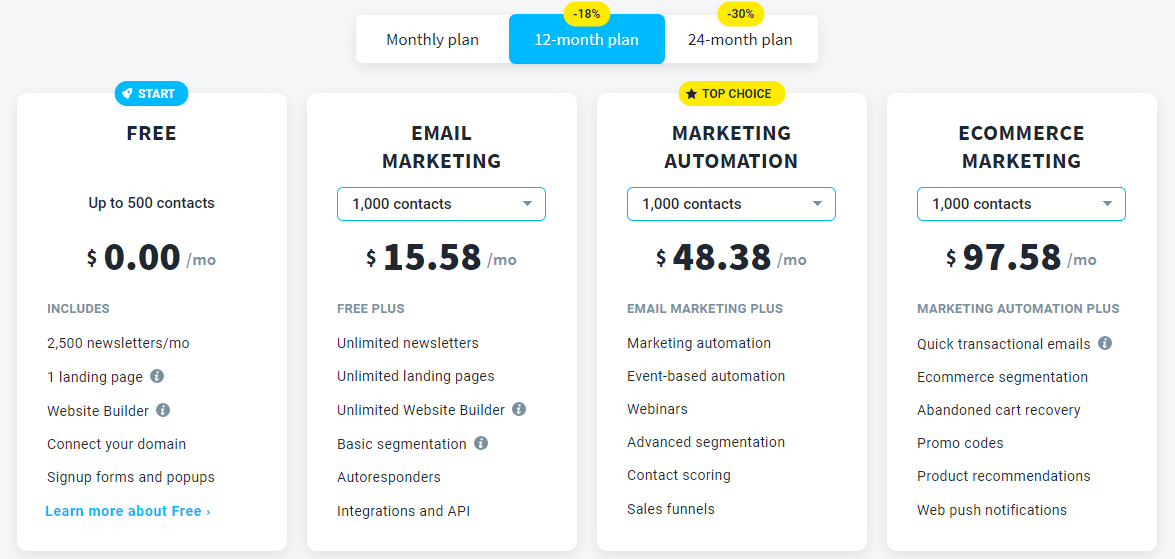 Feel free to check our in-depth GetResponse and Omnisend comparison.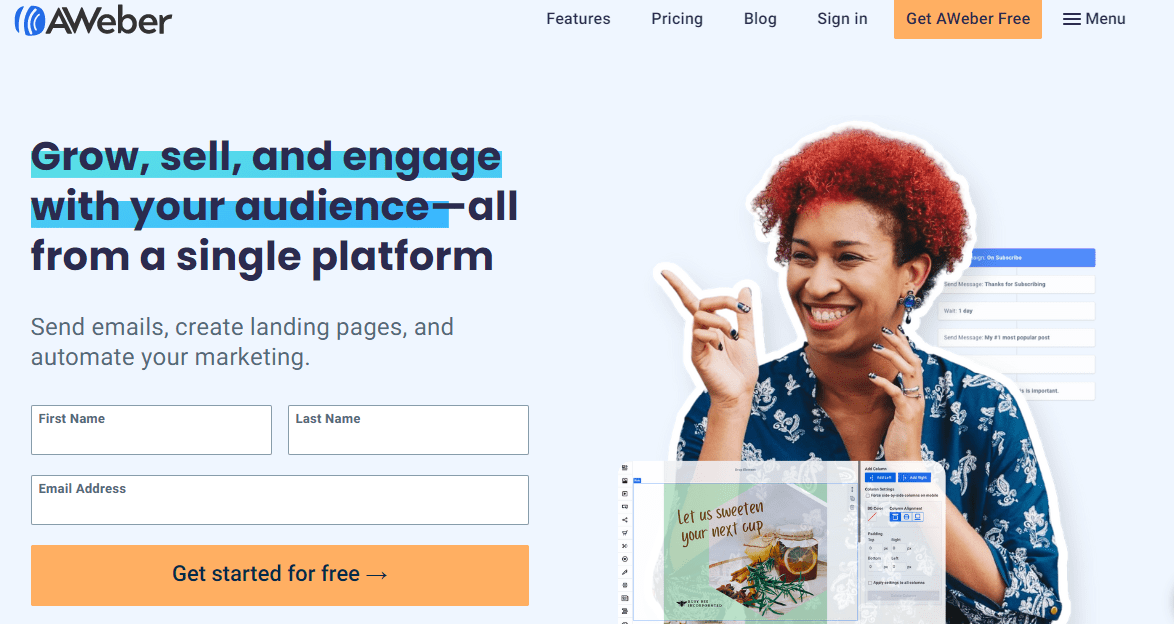 This is another of the best newsletter software that lets you connect to and monetize your audience. We discuss some of its major newsletter features below.
Features
Just like the other tools, AWeber provides customizable email templates so you don't have to create your own. However, if you choose to come up with your template designs, the tool lets you do so with its intuitive drag & drop email builder.
You can also design with Canva without having to leave the platform. AWeber provides thousands of free stock images you can use to enhance your emails.
Here is a list of other features this newsletter software provides:
Custom sign-up forms and landing pages
Prebuilt autoresponders
Subscriber segmentation
Pre-designed reports and analytics
A/B testing
Integrations with Facebook, Etsy, Shopify, and WordPress
Support
You can reach the AWeber sales and support team through chat and email for the free plan. However, you get phone support and a personalized account manager if you're on their paid plans.
Pricing
AWeber also has the option for free software for newsletters. The free plan is for up to 500 subscribers and includes one landing page, email automation, basic email support, and templates.
Compared to other plans, the free package has fewer features. Paid plans start at $12.50/month.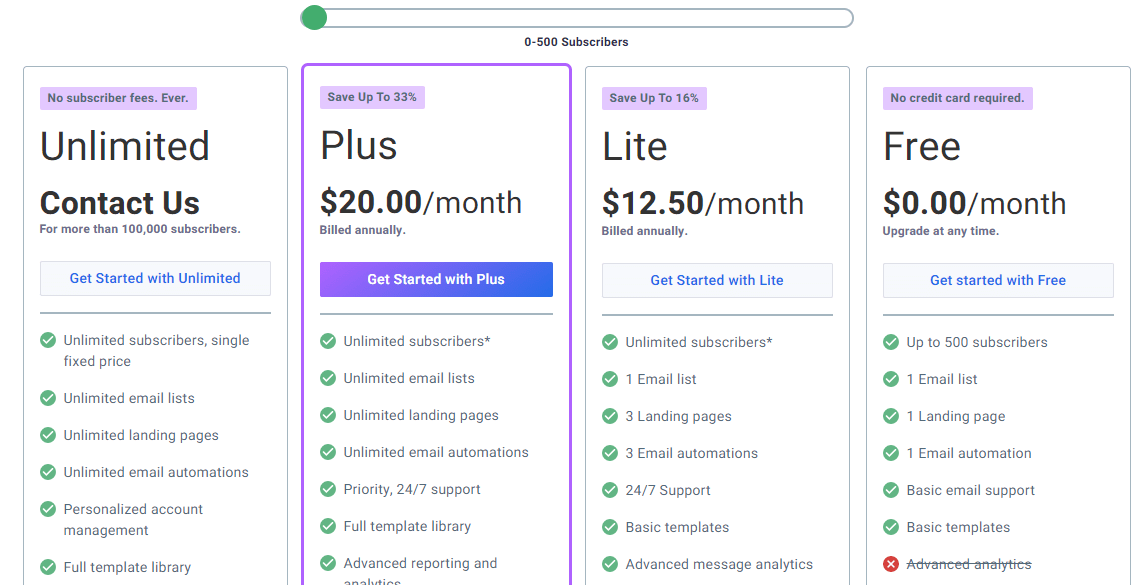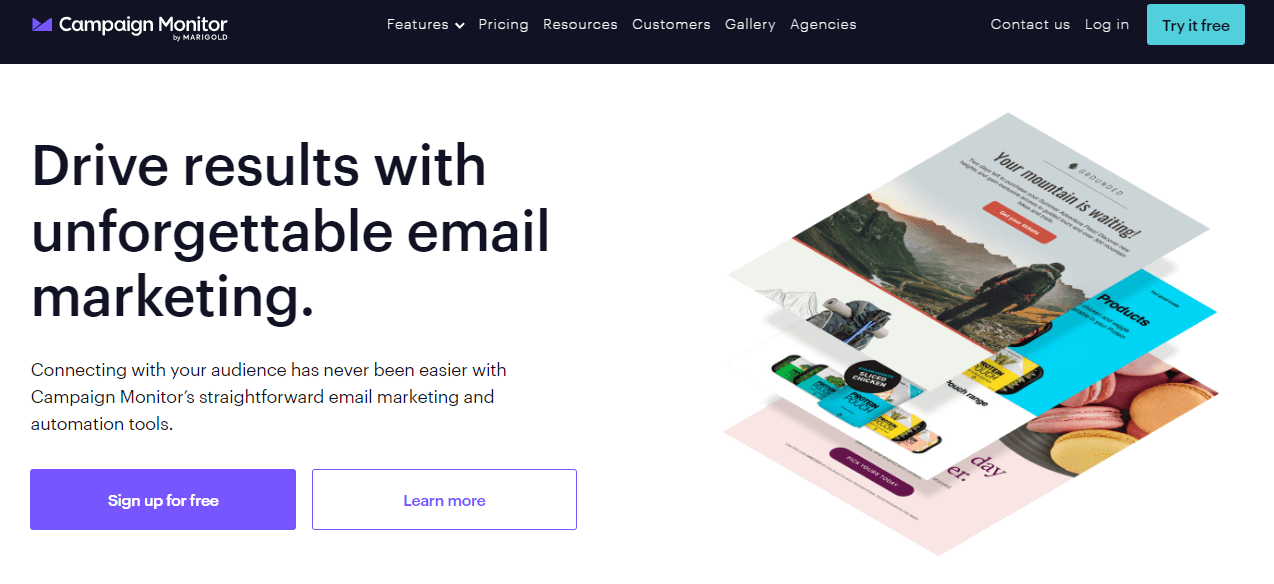 Campaign Monitor lets you craft great email marketing campaigns that help you grow your business. Below are a few of its email marketing features:
Features
The tool lets you assemble your email template easily with its drag & drop feature. You can also pick from an extensive list of readily designed email templates and customize them to your liking.
The segmentation and personalization feature lets you tailor your email campaigns to specific audiences for maximum impact. Besides email marketing, Campaign Monitor is also an SMS marketing tool.
The Link Review feature goes through the emails you send, identifies broken links, and alerts you about them. This way, when you send interactive newsletters, your audience won't end up clicking on non-existent links.
Other features include:
Optimized transactional emails
Marketing automation
Reports and analytics
Numerous integrations
Signup forms for growing your list
Support
There are numerous resources on the Campaign Monitor website including guides, a knowledge base, and webinars.
The Help Center also provides useful help for customers, and you can get email and phone support depending on your subscription package.
Pricing

The tool lacks a free plan. However, paid plans start at an affordable $9/month.
With the cheapest plan, you get to send 2,500 emails a month, a drag & drop builder, customizable templates, branded emails, a free image gallery, sign-up forms, A/B testing, and a few other advanced features.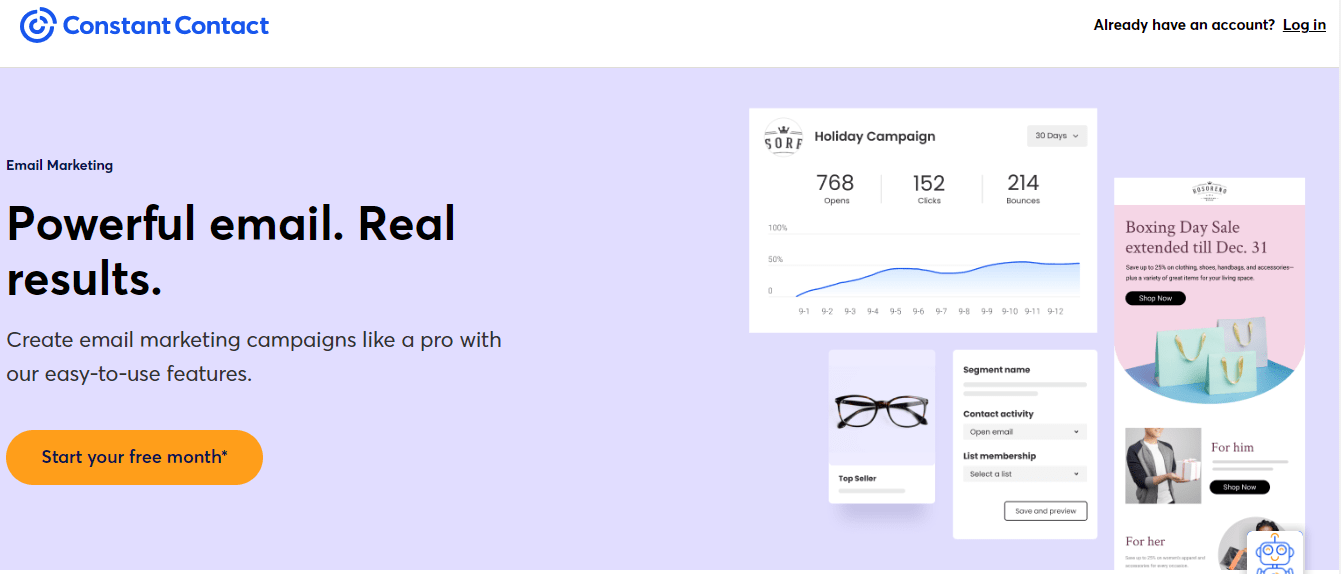 Constant Contact is another one of the best email newsletter software if you're looking to send multiple marketing emails to customers.
Features
The tool features an easy email builder that's great for beginner email marketers. It also offers custom pre-built templates to choose from and you can make branded emails from scratch using this software.
Constant Contact lets you create social media ads, run social media campaigns, and track their performance. The tool also has elaborate reports that let you gauge the success of your email marketing campaigns by showing your open, click-through, and bounce rates.
Support
You can reach the Constant Contact team through live chat and phone support.
Pricing
The tool only has a 30-day free trial period. Paid plans start at $9.99/month for up to 500 contacts. The cheaper package comes with features like email templates, signup forms, social media posts, integration with popular ecommerce tools, reporting, and more.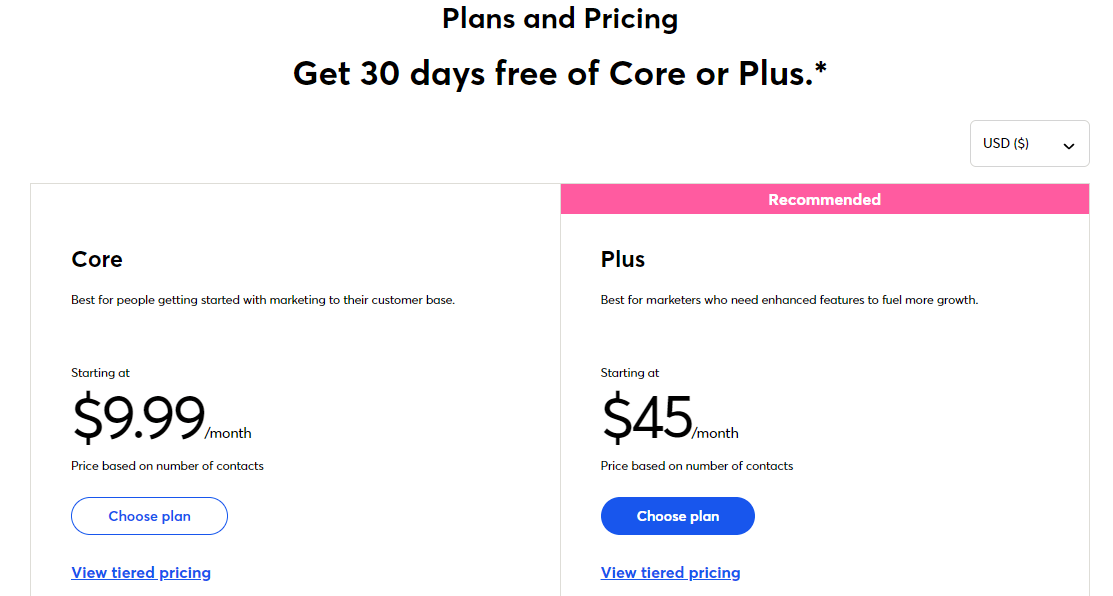 Looking for the best newsletter software for your business?
Your business deserves a befitting newsletter software that lets you craft the most impactful email marketing campaigns. For this, you need to make sure that the tool you choose offers exactly what your business needs.
Omnisend fits the bill perfectly. It's free to use, makes it easy to create your newsletter, and provides a lot of automation and ecommerce tools. So, get started with Omnisend for free.
related features
Want more sales?
Omnisend has everything you need to succeed.
Start free now
No Credit Card needed.