Drive sales on autopilot with ecommerce-focused features
See Features
7 tips on how to create a captivating product review email [+examples]
Reading Time:
7
minutes
92% of customers say that online reviews impact their purchasing decisions, meaning that retailers can't afford to ignore product review email anymore.
But the standard, predictable review request email likely won't bring you the stunning results you seek. Hundreds of brands send that same email. Why should customers spend their time and leave reviews for you and not others?
Reviews build social proof and trust, and create a direct connection with customers. One of the best examples of email marketing is how you gather feedback—and you can't afford to ignore your product review emails. They should continuously improve and optimize their messages to better collect customer feedback, and gather as much customer love as possible.
Keep reading to learn how to make your "leave a review" messages more engaging, how to include them seamlessly in communication with your audience, and ways to curb negative reviews by creating a better customer experience.
Get more reviews on autopilot with ready-made product review emails at Omnisend!
Start Free Today
#1 Incentivize product reviews
Although the vast majority of customers read online reviews, less than half of them actually write or leave reviews. For retailers, finding ways to increase customer participation is critical.
When creating your product review email, step into their shoes and answer yourself–why should I open this email? What value for the customer lies in this review request?
Usually, when asking for feedback, retailers emphasize the importance of customers' opinions. Some will find it convincing enough—others won't.
Although saying to customers you appreciate them is important, think of creating more tangible value, for example, by offering a discount on the next purchase or entering them into a drawing. These incentives may be the motivation customers need to boost product reviews.
Some product review email examples can help. Take a look at how George at Asda incentivizes their customers. In addition, they overcome customer concerns in advance by suggesting ideas on what to write in the feedback and encourage them to upload photos to show how products look in the customer's world.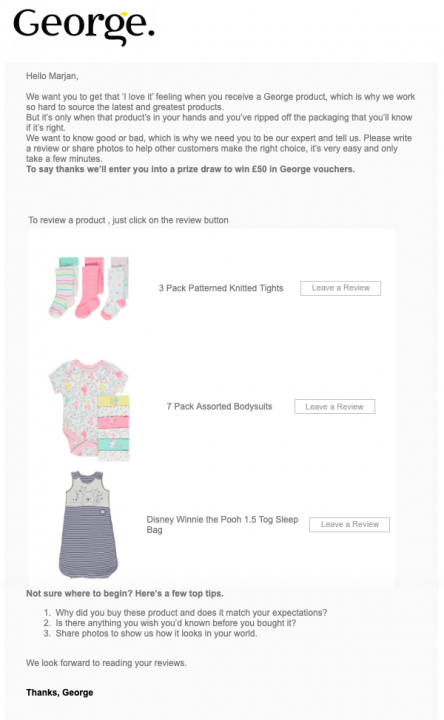 #2 Brand your message
Incentives may be one thing that can grab customers' attention, but these messages are part of the post-purchase experience with your brand. Do your messages include captivating, short-and-sweet copywriting, and branded visuals?
Avoid sending a standard black and white, document-looking review request email. Instead, convey your brand personality, make it warm, inviting, and even funny—like you're talking with a person you already know.
Ideally, your product review email is a part of your automated post-purchase series. Make it one of the best of the entire workflow.
See a few more product review email examples below.
Ties.com
This message is not only beautifully branded but it also educates customers on why they should leave a review. I also like that they give customers multiple options as to where they can leave their feedback.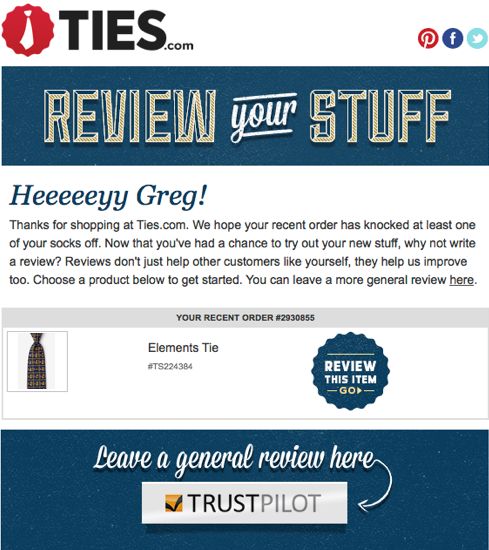 HollisterCo.com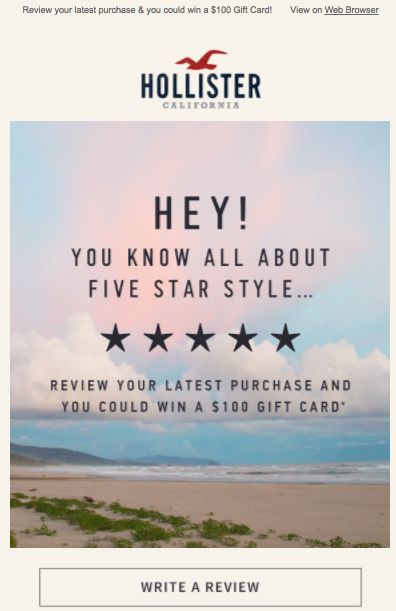 Hollister sends an entirely different style of product review email.
The message doesn't say anything about customer appreciation. Instead, it is concise, straightforward, and even suggests what rating they want you to give—while offering an incentive to do so. This message combines multiple elements and fits their brand voice.
Isn't it genius?
#3 Integrate "leave a review" message into your post-purchase communication
When it comes to creating post-purchase messaging, it is essential to think about who the messages benefit. If the messages all ask customers to make a purchase or do something that benefits the company (e.g., leave a product review), they do not enhance the customer experience.
The goal is to find a balance between those messages benefiting the customer and those benefiting the company.
So, before sending a "leave a review" message, consider how you can provide value to your customers with other messages. For example, send a thank-you message and provide product care instructions, share related blog articles, or offer an incentive for their next purchase.
After giving something valuable to your customer, they may feel more indebted to provide something of value in return—and their feedback may be better.
The example below illustrates a post-purchase workflow where email messages are combined with SMS, and the product review is being asked via an SMS message. Since 90% of text messages are read within the first three minutes, more and more retailers are starting to send some of their most critical messages via this channel.
This is something worth trying when building and testing post-purchase workflows.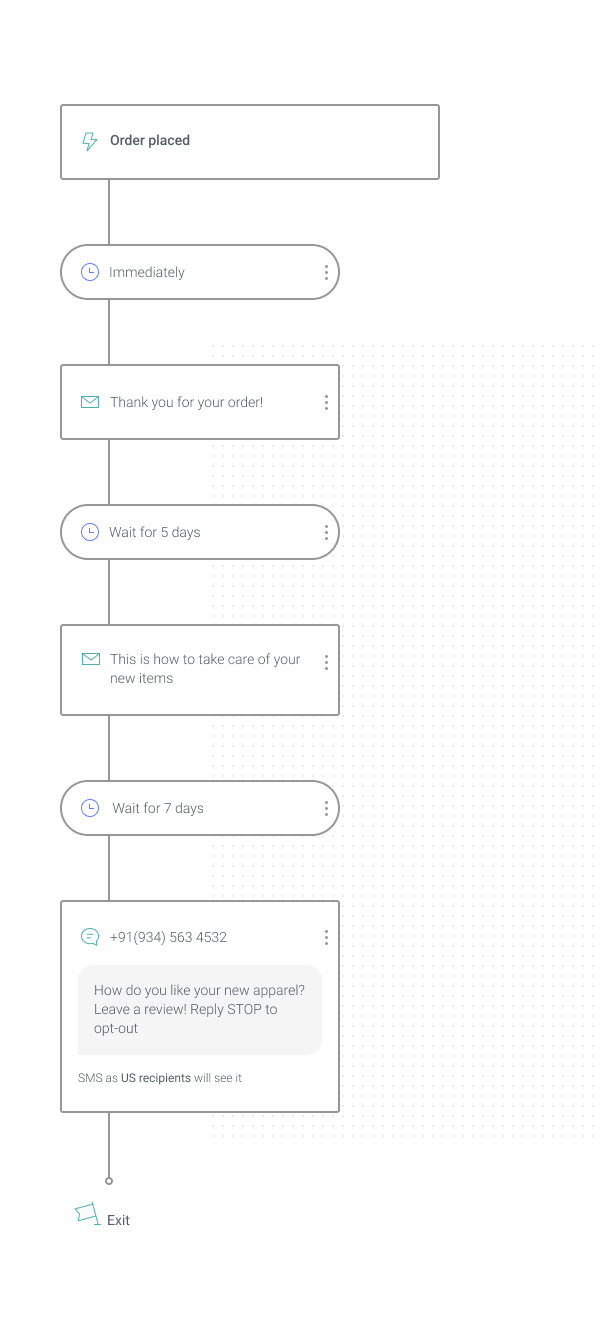 #4 Lessen negative online reviews
There's a saying: "There's no such thing as bad publicity." Well, when it comes to customer feedback, it's not necessarily true. While avoiding bad reviews is unrealistic, there are strategies retailers can use to reduce the number of them.
There are several ways you can do that:
1. Invite only returning customers to rate you. Some of the best review emails ask for feedback only from repeat customers, increasing the chances of getting good reviews. While this may limit the number of reviews you receive, the ratio of positive reviews received may outweigh the cons.
To do this, split your first-time purchasers from returning customers and set up different post-purchase workflows for them, focusing on more loyalty-oriented emails for first-time purchasers.
2. Provide the contact information of your customer service and include a link to leave feedback for your team (not a public review). This allows you to recognize any customer experience issues that arise and react accordingly. This could be a great option for first-time customers.
It doesn't have to be one or the other—these two ideas can be combined in every message. In fact, some of the best product review email examples use a variety of tactics.
Doing so may help avoid getting a negative review and solve a customer service issue at the same time–resulting in higher brand satisfaction.
#5 Provide alternatives to the traditional product review email
Social proof is a powerful tool that helps influence purchases. Building your brand's social proof can be as good as getting a review.
There are two great ways to start collecting social proof during the product review process:
Create a stand-alone message encouraging your customers to share their experience and photos of them wearing/using the purchased items.
Provide an alternate CTA in each product review message with the same social ask.
Unboxing YouTube videos, Instagram Stories of trying new makeup products, excitement about new sneakers on TikTok—these are all powerful examples of social proof, and brands should encourage customer sharing in their post-purchase messaging.
To use social proof in one of your customer nurturing messages, pick the best shots/unboxing videos from social media and create messaging around it. This type of content will make your customers engage with your brand and can influence future purchases.
Here are a few top review email examples encouraging customers to share their experiences on social media.
1. Buy Costumes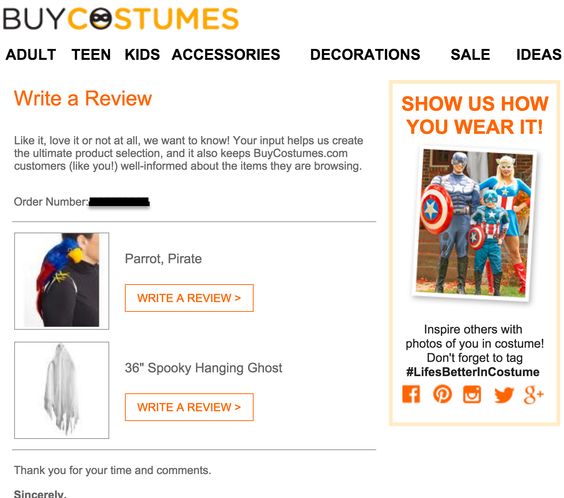 2. Cocunat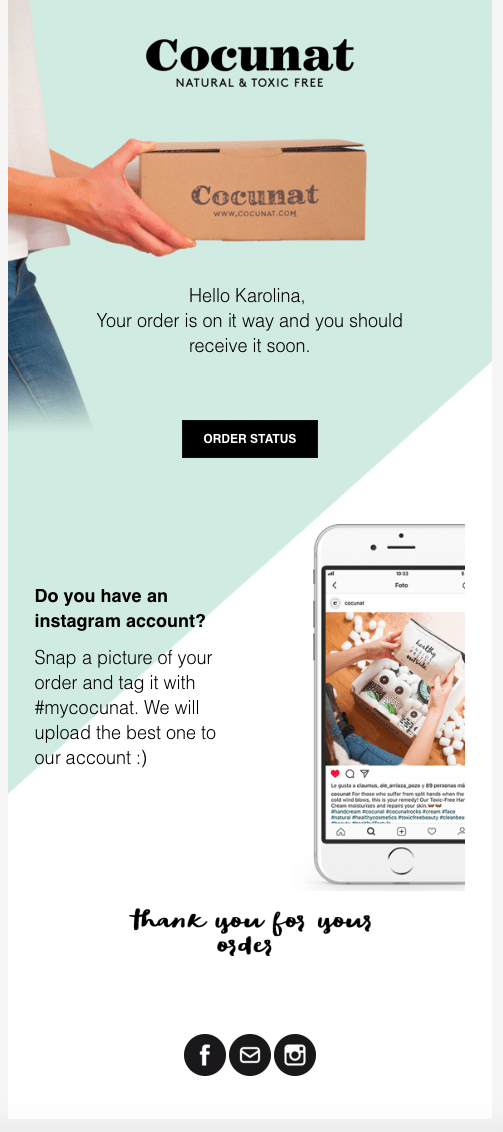 3.K-Deer

4. J.Crew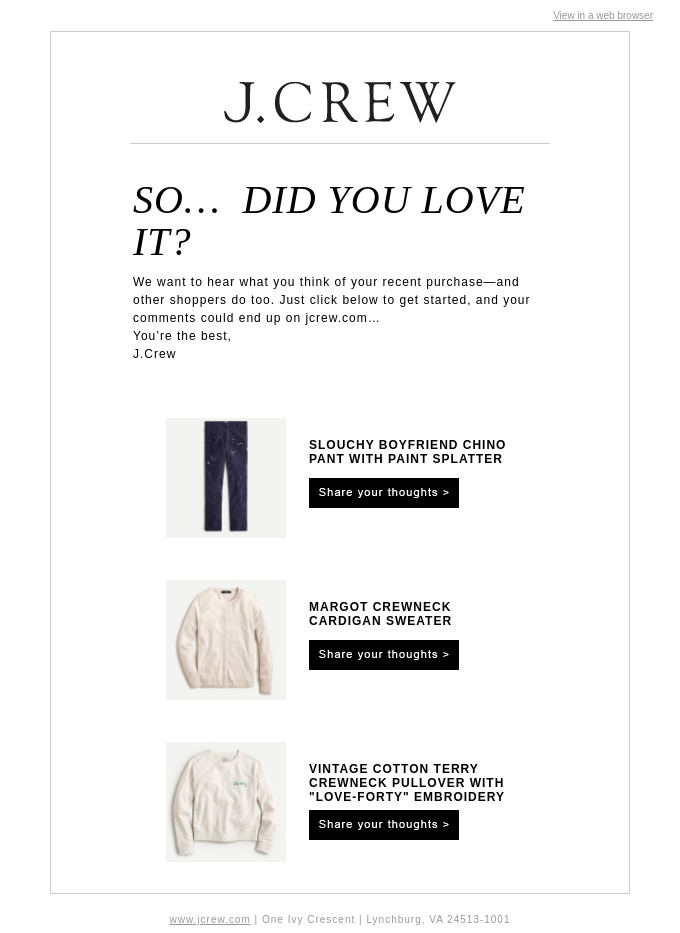 #6 Get interactive with embedded surveys
A successful email is one that stands out, and you can apply the same to product review emails. In fact, some brilliant review email examples include a variety of different elements to surprise and engage their readers.
Embedded surveys can offer not only that element of variety, but also make it easier for your audience to leave reviews. If they can do it directly in the email, then there's a higher chance your review request email will have positive results.
When looking at the subject line, be sure to imply that there's a survey inside the email, or that something is waiting inside.
You can go elaborate and colorful with your review request, or you can keep it plain and simple, like Mistobox here:
#7 Make it easier with emojis
Another way to have essentially the same information, more or less, is to go short, sweet and simple with emoji reviews.
Some of the best review emails we've seen includes a simple three-emoji answer to some version of the question: how did you like our product(s)?
Here's an example from Book of the Month:
Here, you can see they went with the really simple, straightforward method of focusing only on the product, a simple question and description, and the three emojis.
This can serve as an effective product review email template—that is, if you are interested in only aggregated data from your customers about their experiences.
However, if you wanted more qualitative and anecdotal information, then this product review email template may not be the best for your purposes.
Wrap up
The significance of a customer-centric approach is undeniable nowadays—but product review emails are not traditionally known to be customer-centric.
Asking customers about their latest shopping experience with you is a part of the entire customer experience. However, simply asking for feedback is not enough. The messages you send have to be captivating and provide tangible value.
Taking an authentic and creative approach, and smartly integrating your product review emails into your post-purchase communication, can make these messages work for you to their full potential.
Drive sales on autopilot with automated product review emails at Omnisend!
START FREE TODAY
related features
Want more sales?
Omnisend has everything you need to succeed.
Start free now
No Credit Card needed.