Drive sales on autopilot with ecommerce-focused features
See Features
Reading Time:
11
minutes
Customers want to be seen as humans, not just consumers.
This calls for marketers to shift their email marketing strategies from a numbers game on paper to creating meaningful connections with the people they're targeting.
And email personalization is one way to build these meaningful connections.
The result? Your emails will stand out from the tons of emails in your subscribers' inboxes.
It's so important that 76% of shoppers are frustrated when brands don't offer personalized communication.
In this article, we're going to help you get more from personalization strategies whether you're just starting out or already a seasoned pro.
What is email personalization?
Email personalization is the use of subscribers' personal information to send tailor-made emails that are more relevant to each recipient.
Unlike mass messaging, where you send a similar email to your entire list of subscribers, email personalization gives email recipients individual treatment. And this increases engagement.
It can be as simple as using their first name, demographic data, or location. Or more advanced personalization like behavioral data, such as the last product they bought or items on their wish list. When a product is recommended from purchase history, customers are 2.6x more likely to buy.
You could send a birthday discount to people about to celebrate their big day, a VIP announcement to your most loyal customers, and a re-engagement email to those subscribers who have stopped opening your emails.
A report by Bluecore shows that sending emails based on recipients' wish lists, for instance, has a high open rate of 35.67%: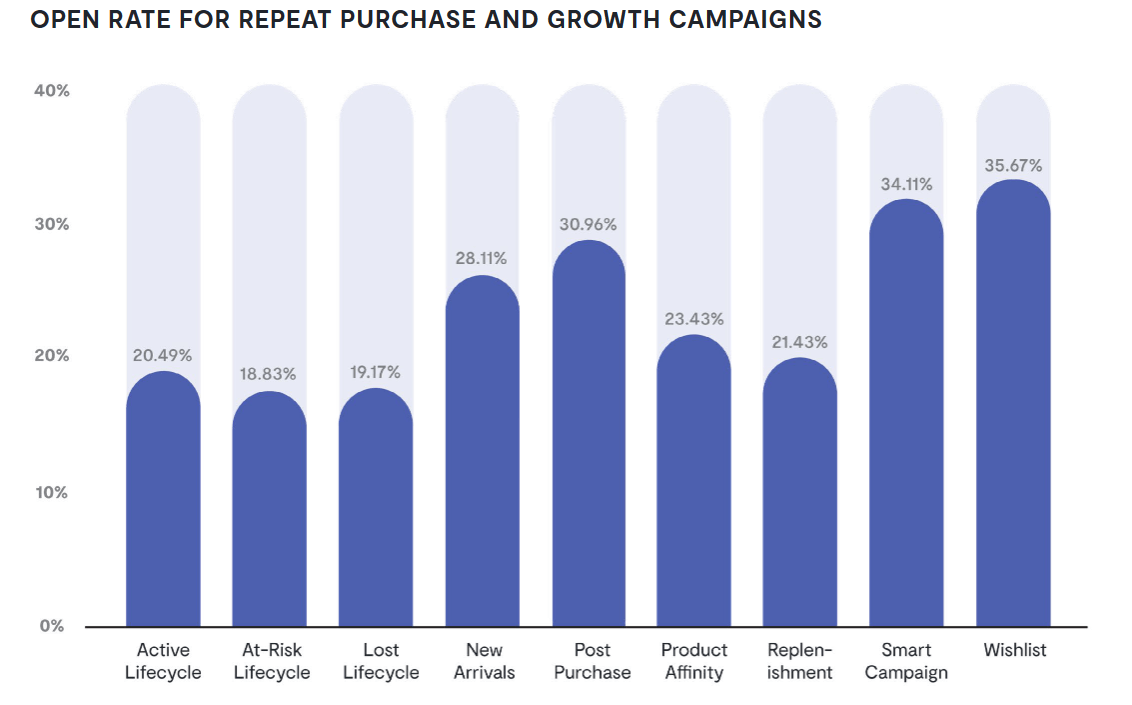 In addition to increased open rates, personalized emails also lead to higher:
Click-through rate
Conversion rate
Engagement
ROI
That's not all. Sending highly relevant emails also improves customer experience, which is important for sustained business growth.
Elements of an email that can be personalized
Let's get into more detail about the elements of your emails that you can personalize.
1. Subject lines
The subject line is often the key factor for people to decide whether they'll open an email as it's the first thing they see.
Personalizing your subject line using information such as the subscriber's first name, product interests, or location can increase open rates.
2. Email content
Beyond the subject line, make the content of the email more relevant to a subscriber by addressing them directly by their name.
You can also use distinguishing details you may have about the subscriber, such as the size of clothing they wear, gender, or demographics.
Details like their birthday can help you personalize email content further by offering a special birthday gift. Such a gesture can make the recipient feel like a VIP.
Don't just personalize the body—personalize the preheader, header, footer, and CTA as well.
3. Product recommendations based on demographic details
Email personalization can be based on a wide range of factors including age, occupation, gender, income level, geographic location, and other demographics.
For instance, if you sell clothes, your product recommendations should be relevant to the season in the recipient's location.
Similarly, a reference to a recent event in the recipient's location could be effective in capturing their interest.
4. Product recommendations based on customer interests
Personalize emails by making product recommendations based on recipients' interactions with your website.
Look at their past orders, product views, abandoned carts, and the product pages they visit.
By considering customer behavior in your cross-sells and upsells, you can create relevant campaigns that increase engagement and conversions.
These personalized recommendations will also increase customer lifetime value.
5. Offers and discounts
Another way to personalize your emails is to offer customized discounts. They should be in line with each recipient's interests and needs, depending on their stage in the buyer's journey.
For example, the offers that appeal to a new buyer will not be as effective when presented to a repeat customer.
If they delay making their first purchase, it could mean they're looking at your competitors. Personalize offers based on the pages they've visited and abandoned cart reminders.
Once they've made their first purchase, your subsequent offers should ensure you stay on top of their mind with things like discounted upsells and cross-sells based on their purchase history.
There are no fixed rules on how you can personalize your emails. What you need is an email marketing tool that gives you the flexibility to personalize the elements you want.
Here's an example of how Omnisend lets you personalize emails based on the average spend of a recipient: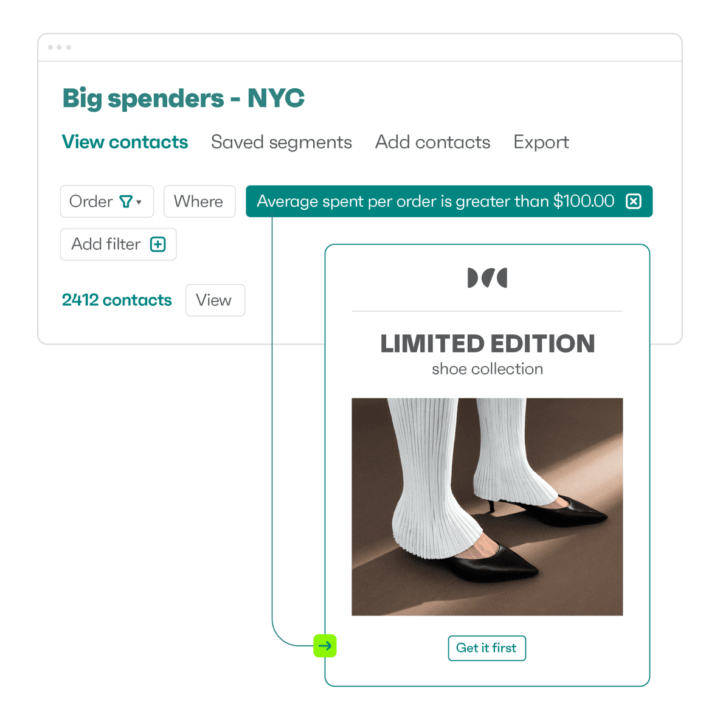 Email personalization strategies
Here are some tips on how to create personalized email campaigns that drive results:
1. Use signup forms to collect data
Signup forms are an effective tool to collect data about your subscribers for email personalization.
Signup forms allow you to collect a wide range of data, including:
Name
Gender
Birthday
Location
Email frequency preferences
Business name and company position
These are just possibilities—only use ones that would be useful to you, rather than all of them. If there are too many questions on the form, the visitor is likely to abandon it instead.
2. Go the extra mile to collect more personalization data
You can get more personalization data by integrating your email marketing tool with your CRM or ecommerce platform.
You'll get useful data about your existing customers, such as their preferences, average spending, purchase history, and so on.
You can also use email surveys to gather data. Make the surveys straightforward by requiring a simple 'yes' or 'no' answer to get the information you need from the customer.
Additionally, tools like Google Analytics can help you gather this information by allowing you to analyze the behavior of your site visitors.
3. Segment your email list
Email segmentation means using the customer data you have to break down your email list into meaningful segments. Instead of one general email list, you can have different lists for different customers.
Omnisend allows you to use 500 data points in your email segmentation.
Depending on the data you have, there are endless options to segment your contacts and personalize emails. Try segmenting your list based on:
Demographic data: This includes information like age, gender, income, education level, marital status, and geographic location.
Psychographic data: This relates to customers' values, attitudes, and personality traits such as their interests and lifestyle.
Relationship: This is data showing the relationship you have with contacts, such as stage in the sales funnel, activity, and length of the relationship.
Behavioral data: This indicates interactions between your contacts and your business, such as their behavior on your site, purchase history, and email engagement.
4. Create automated email sequences
An effective email personalization strategy aims to send the right information at the right time.
To achieve this, create automated email sequences for all stages of the buyer journey. Then use email personalization to address the unique needs of each email recipient.
The goal is to enhance their experience from the moment they sign up until they become loyal brand advocates.
Targeted email workflows can include:
A welcome sequence that connects to the reason the subscriber signed up.
Product recommendations based on past purchases and new product announcements.
A re-engagement sequence for inactive subscribers.
Pro tip: You can use automated subscriber tags to consistently send personalized emails even as subscribers' interests change.
5. Send dynamic email
Use dynamic email content to make personalization easier.
Instead of sending multiple emails, dynamic content uses custom variables so you can send a single email that changes depending on the details stored in the recipient's profile.
The result is an email that appears to have been written for each individual.
6. Test and refine your approach
Make email personalization effective by gauging how recipients respond to the emails you send.
You can carry out A/B tests on different variables including subject lines, content, and CTAs to see what works.
Test one variable at a time. It'll make it easier to understand what's working and what isn't.
By analyzing how your contacts respond to your personalized emails, you can make the right changes to get better results.
7. Leverage machine learning and artificial intelligence
You don't have to do all the heavy lifting, artificial intelligence (AI) and machine learning (ML) can do hyper-personalized email automation for you.
Some features are already built into the email marketing platforms without requiring third-party tools—for example, Omnisend can automatically create segments based on contact behavior.
AI and ML algorithms can analyze your customer data, such as purchase history, demographics, location, and website behavior to automate and optimize the personalization process.
You can use these insights to:
Make AI-driven list segmentation
Write more compelling and personalized subject lines
Optimize send times through predictive analytics
Using an AI-powered email marketing platform helps you create a more efficient and effective email marketing strategy.
8. Create a sense of urgency
The fear of missing out (FOMO) makes adding a sense of urgency to your personalized emails one of the best ways to convert more prospects into customers.
Here are a few tactics you can try:
Add countdown timers that are triggered when a recipient opens an email. It creates a custom deadline that shows readers how little time they have left to act.
Incorporate time-sensitive words and phrases into your emails, such as "quick," "act fast," "hurry," and "ending soon."
Indicate that there's a limit to what you're offering, such as limited stock. Use words and phrases like "only 5 available" or "while supplies last."
Creating a sense of urgency will make the recipients act sooner, rather than later.
9. Humanize your brand
Make your emails two-way communication to humanize your brand and let prospects know that they can talk to the real people behind the company.
It'll humanize your company and make your email marketing personalization strategy more effective.
Instead of using your business name or logo in your personalized emails, make your "from" address a real person's name with a real person's image instead of a logo or avatar.
Take it a step further and make it someone that the reader would expect to hear from, such as a salesperson or customer service representative they've been in contact with.
The language you use in your email content should also have a human touch.
Use a conversational tone that makes the reader feel that it's an actual human contacting them. Here are a few tips to make your emails more conversational:
Use words like "we" and "I"
Avoid complex words and sentences
Use active voice instead of passive voice
Make your sentences short, clear, and easy to read
Break the rules. Don't worry about starting sentences with "and," "because," or "but," to keep your sentences readable
Use contractions
Engage the reader by asking questions
Be empathetic
10. Choose the best time to send your personalized emails
Besides personalizing your emails, choosing the best time to send your emails is also important. Ideally, you want to send them at a time when the reader is likely to open them.
Omnisend's research shows that the best time to send an email is 8pm, 2pm, or 5pm.
Those are the times when most marketers report getting the best engagement.
It's a good starting point, but not a hard and fast rule for the best send time.
You need to understand your target customers and what works for them, so test different send times and study your email engagement metrics to find the best schedule for your audience.
10 email personalization examples
Here are 10 brands that show us how to personalize email marketing the right way.
1. WindWater Real Estate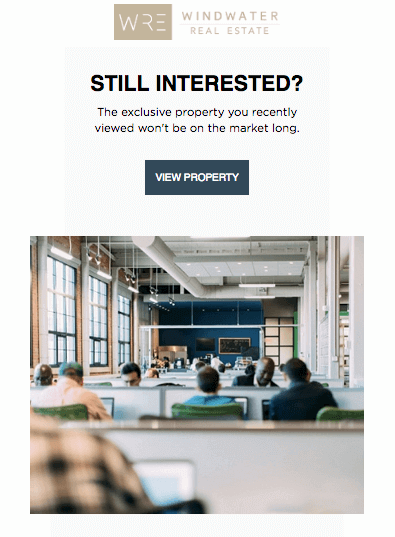 WindWater Real Estate uses customers' website activity for email personalization.
In this example, the recipient viewed an exclusive property but didn't take action. WindWater Real Estate followed it up with a personalized email.
They add an element of urgency by stating that the property won't be on the market for long.
2. Alaska Airlines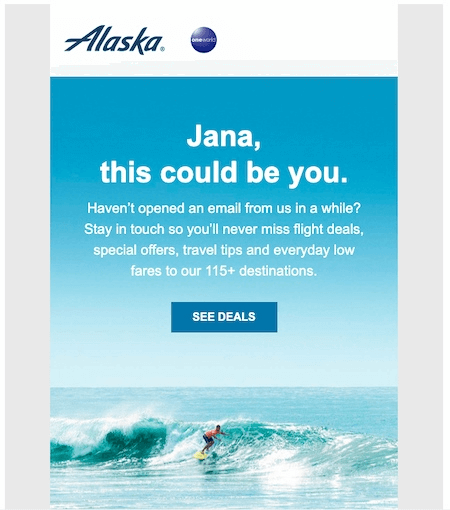 Besides addressing the email recipient by name, Alaska Airlines points out what Jana isn't doing, which is opening their emails.
This is a re-engagement email that addresses Jana directly and goes on to state the risks they're taking by not engaging with Alaska Airlines' emails—missing special offers and flight deals.
3. Sephora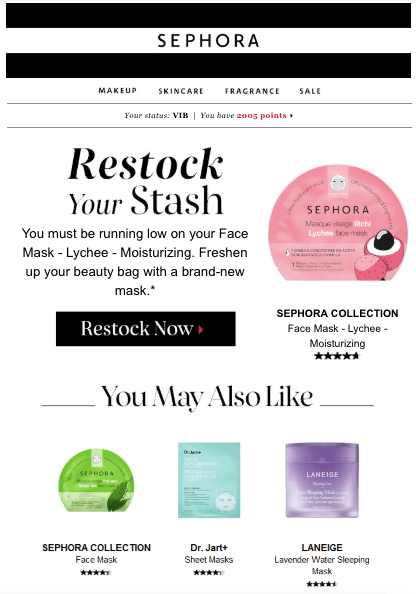 Sephora's email personalization is very sophisticated in this example. The email uses the subscriber's purchase history to remind them to restock their makeup before it runs out.
At the same time, there are recommended products based on what the subscriber may be interested in.
4. Etsy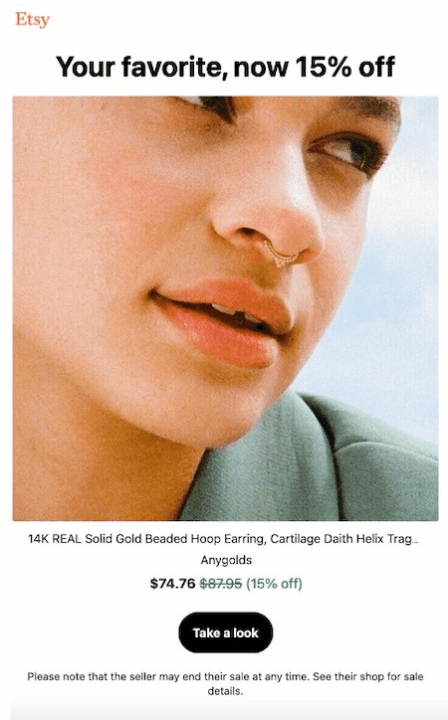 In this example, Etsy has sent an email on behalf of one of its sellers, informing the recipient of an offer on a product they previously viewed.
They include a direct link to the seller's page, with a warning that the offer could end at any time, which creates a sense of urgency.
5. Dollar Shave Club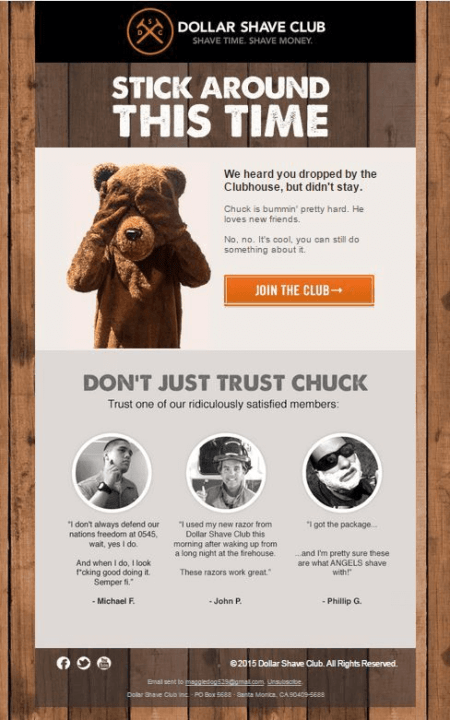 Dollar Shave Club has added social proof to this site abandonment email to win the trust of a lead. Take note of how human the email sounds.
Adding social proof to cart and browse abandonment emails is a great way to encourage top-of-the-funnel prospects to do business with you.
6. Spotify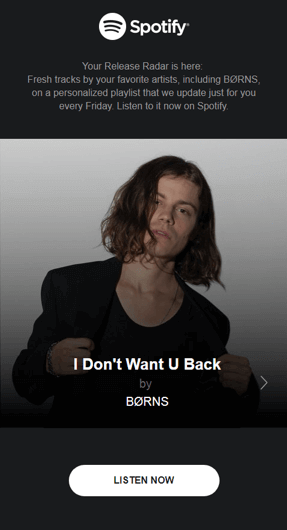 What would delight a music lover more than receiving a tailor-made playlist of their favorite songs? That's what Spotify has done with this email.
The brand includes an image of the subscriber's favorite artist to capture their interest and a direct link to the playlist.
The recommendation email is simple, yet highly personalized.
7. Jack Wills

Jack Wills' cart abandonment email uses empathetic language and embeds the entire abandoned cart in the email to ensure that the recipient can easily complete their purchase.
The email also includes personalized product recommendations.
8. Grammarly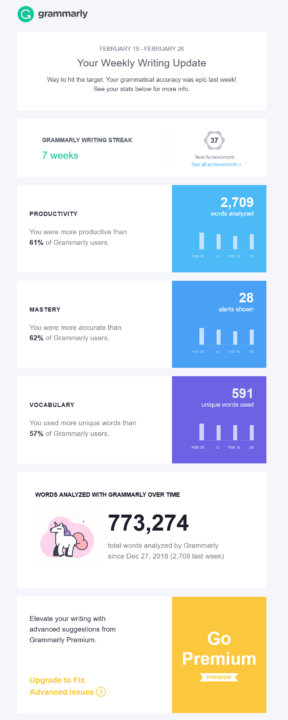 Grammarly takes email personalization to the next level by sending a personalized report of the recipient's activities on the site.
It shows how the recipient compares to other Grammarly users as well as how they've improved, and so on.
Having seen their progress in writing, the CTA persuades them to join the premium version to improve their writing further.
9. Rachel Jackson

This email from Rachael Jackson focuses on recipients' birthdays.
In addition to a birthday gift in the form of a voucher, the email has product recommendations of zodiac jewelry designs and birthstones that correspond with a recipient's birth month.
10. UNIQLO
We mentioned that email personalization based on the recipient's location is an excellent idea.
In this email, UNIQLO shares a seven-day weather forecast of the recipient's location, then makes product recommendations based on this information.
It's a great example of being hyper-relevant to the recipient's current needs.
Launch a hyper-personalized email campaign with Omnisend. Register today.
How to create a personalized email campaign with Omnisend
You can create beautiful and personalized email campaigns using Omnisend.
Start by using Omnisend's built-in signup forms to collect contacts' details. You can even gamify data collection and use teasers to encourage conversions.
If you have existing email subscribers, you can import them into Omnisend and apply our wide range of segment filters and subfilters. There are up to 500 segmentation data points including descriptive data, engagement, shopping behavior, and website activity.
You can then use Omnisend's drag-and-drop editor to get your personalized email campaigns and automation workflows in motion. And personalize even more by adding dynamic content blocks to your templates.
Finally, track the performance of your campaigns through sales tracking, attribution, and other powerful reporting and analytics features.
Get the most from email personalization with Omnisend
Enabling ecommerce personalization comes with plenty of benefits. Practicing email personalization can boost your engagement rates, drive higher conversions, and nurture long-lasting relationships with your customers.
But you need to apply the right strategies. Most importantly, you need to use the right email personalization tools.
Omnisend can help you from the first step of data collection to segmenting your list, as well as creating your personalized email campaigns and automation workflows. You can then keep track of your campaign performance and make necessary changes to improve performance.Getting started is easy, head to our registration page and sign up and you'll be on your way to higher revenue and business growth.
Join Omnisend for free and start sending highly-personalized messages to your customers

Start Free Today
related features
Want more sales?
Omnisend has everything you need to succeed.
Start free now
No Credit Card needed.