Drive sales on autopilot with ecommerce-focused features
See Features
Reading Time:
8
minutes
As a digital marketer, you've probably optimized nearly every aspect of your email campaigns. With the latest automation tools, marketers are finding innovative new ways to fine-tune their marketing email strategies.
Message timing is one aspect of digital advertising that some marketers still aren't considering in their email campaigns. With that in mind, you may be wondering what the best time is to send out your email newsletter?
Every year, the Omnisend team researches a variety of metrics to extract the deepest insights for our clients. You can find our latest up-to-date Ecommerce Email Marketing Statistics for 2021 here.
In 2021 alone, we've analyzed over 2 billion promotional campaigns sent using Omnisend's omnichannel marketing automation platform over 2018.
We focused on several different areas including list building, automated workflows, campaign timing, and the impact of omnichannel marketing
Understanding how email subscribers react to messages at different times can lead to measurable improvements in your overall email marketing performance.
While every audience is different, we were able to identify some key timing trends for high open rates, clicks, and orders.
Of course, email timing is just one of many factors that can influence your campaign performance—a well-crafted email sent at the wrong time will perform better than a rushed email sent at the perfect time.
Check out our guide to email marketing best practices for more tips to optimize your email campaigns.
The best days to send emails
Of course, the best time to send emails depends on specific customer actions. For example, the best welcome emails are sent out shortly after a new subscriber joins your contact list.
With that being said, other types of emails go out to your entire list. If you offer a weekly or monthly newsletter, for example, that message should arrive at a predictable time every week or every month.
Sending these messages at the wrong times will have a negative effect on engagement and make it harder to reach your campaign goals.
Let's see what the latest Omnisend data can tell us about email engagement at different times of the month. This data will help you adjust your newsletter routine to get optimal results.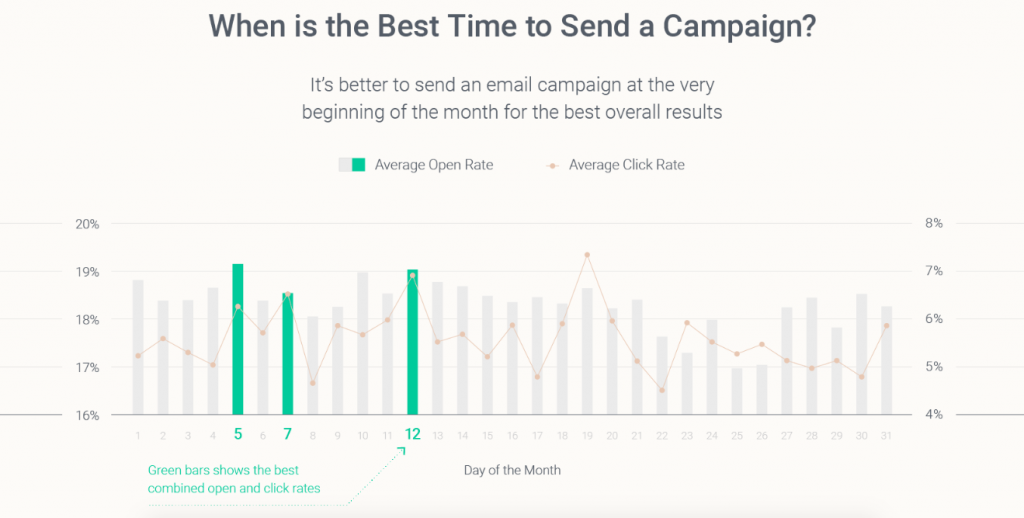 From the chart above, it's clear that the first two weeks perform significantly better than the end of the month. The best days are the 5th (19.15%), the 12th (19.03%) and the 7th (18.54%).
Let's dig a little deeper and take a look at the number of orders made at different times of the month. While performance is relatively consistent throughout the month, emails sent during the first 10 days of the month consistently outperform messages sent at other times:
Days 1-10 of the month:
Open rate: 18.56%
CTR: 5.59%
Orders 7.16

Days 11-20 of the month:
Open rate: 18.55%
CTR: 5.92%
Orders: 6.96

Days 21-31 of the month:
Open rate: 17.87%
CTR: 5.24%
Orders: 6.67
See the chart below for data on each day of the month.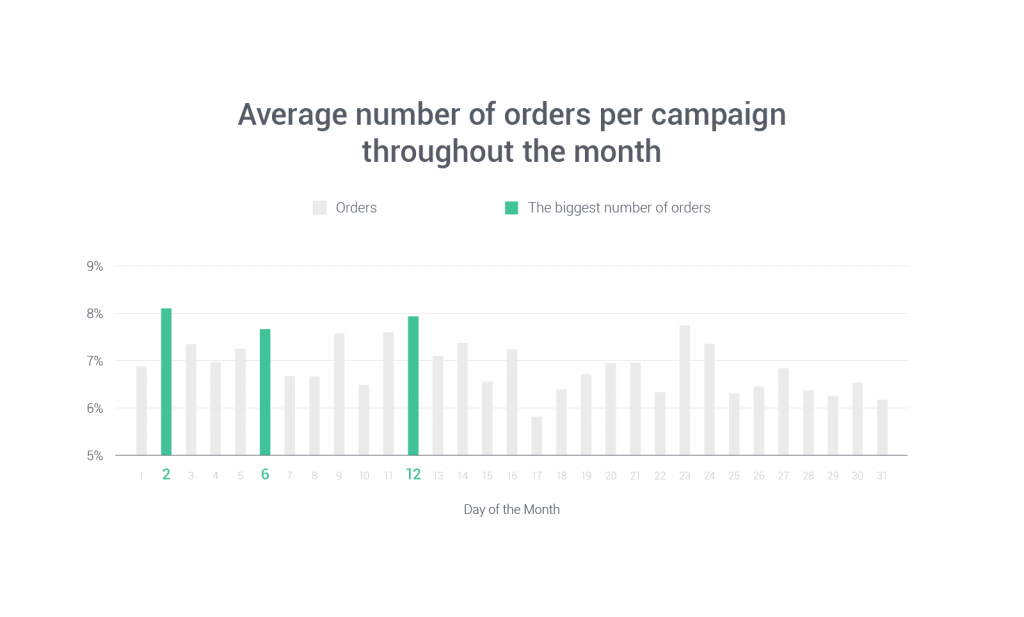 This chart also offers valuable information about the days when marketers should avoid sending emails. While performance is surprisingly strong on the 23rd and 24th, it drops off significantly during the last week.
Unfortunately, it's difficult to say which factor or factors are responsible for these statistics. Pay schedules are one reason why customers appear less likely to make purchases at the end of the month.
Most consumers are paid at the beginning and/or in the middle of the month, so these may be better opportunities.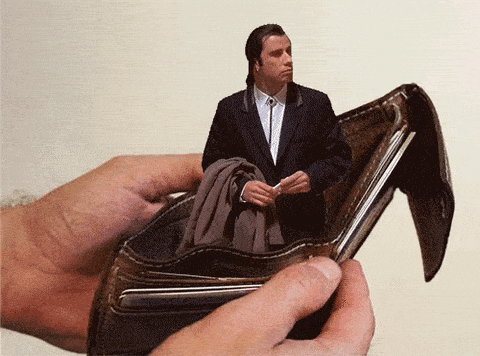 The best days of the week to send emails
While that data will help brands that send emails monthly, you may be wondering how to optimize your timing for a weekly newsletter.
Our data confirms that the best day to send promotional emails is Thursday, with Tuesday following close behind.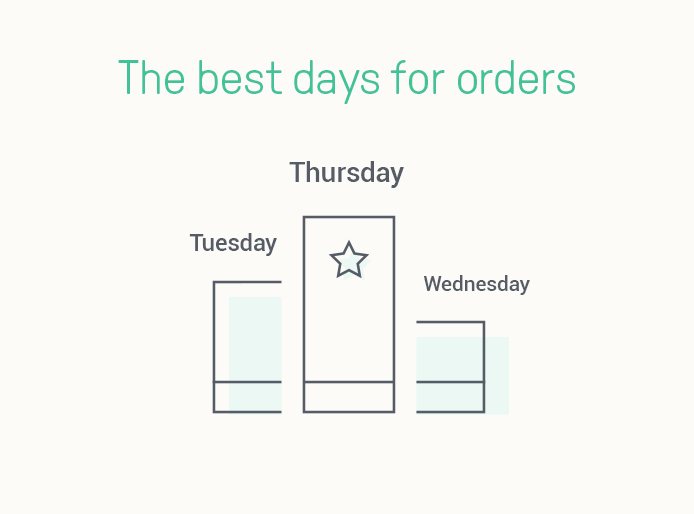 Sunday and certain other days offer higher click-through rates, but Wednesday is actually better than those days when it comes to email opens.
While more campaigns are sent on Friday than on any other day, Thursday is the clear winner in terms of overall performance.
On the other hand, Monday and Saturday are the two worst days to send promotional emails. We recommend switching your weekly newsletter to a day that offers more reliable results.
However, if you are going to send on other days, choose the best possible time to send an email on a Friday.
This obviously doesn't mean you shouldn't send out Black Friday campaigns or other timely offers because they happen to not fall on a Thursday.
The best time to send emails
Unsurprisingly, email performance is closely tied to the typical customer's workday. With that in mind, it's important to adjust your approach to email timing for weekday and weekend campaigns.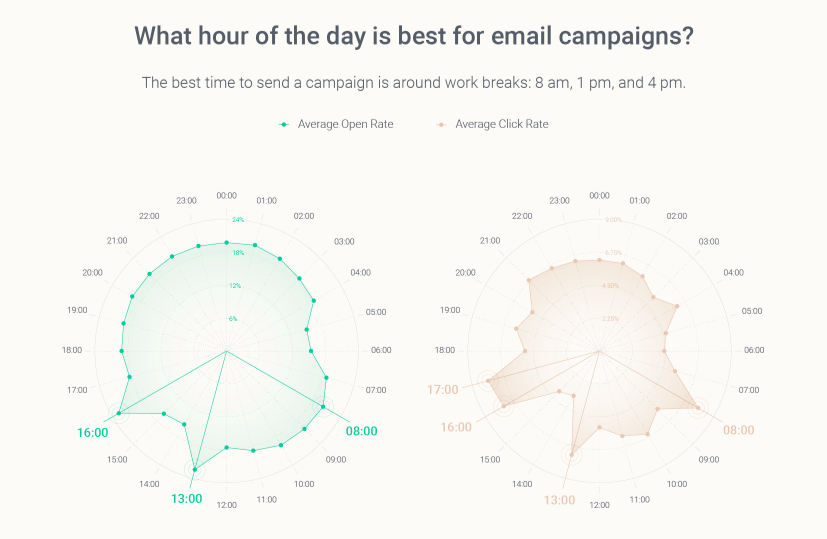 Some key insights from our hourly data:
8 AM is the perfect time to maximize your open rate. Messages sent at 8 AM were associated with a 20.32% open rate and a 7.79% click-through rate. 8 AM was slightly less.
Click-through rates peaked around 5 PM, with similarly strong figures at 8 AM, 1 PM, and 4 PM.
At 10.66 orders per campaign. 4 PM was the clear winner for sales-oriented messages.
While 1 PM doesn't lead in any individual category, it's still a great time of the day due to its overall performance.
Campaigns sent at 10 am have a great open rate (19.83%), but they lead to substantially fewer orders – just 4.66 for the average campaign. This is a sign that customers who open emails in the morning aren't planning to spend any money.
Overall, there's a strong connection between a campaign's timing and its eventual results. It's safe to say that you should send emails when most people have time to read them—either around lunch or before or after work.
Of course, times from roughly 7 PM until 7 AM should be avoided whenever possible.
Use timing to your advantage—if you want to send an email on an off-day, as previously mentioned, choose the best time to send a newsletter on Friday.
While many "best practices" might discourage sending on a Sunday, INGLOT Canada found that sending a campaign alongside an SMS yielded great results on Sundays, when shoppers were relaxed and had more time to shop.
When sending an email on a Sunday, opt to move outside of the typical 9-5 workday and shoot more for mid-morning to noon. Nailing the perfect timing for your emails is a breeze if you can schedule your marketing emails ahead of time.
Omnisend can help you perfectly time your newsletters with automatic scheduling.
Five ways to improve your email metrics
Clean up your contact list
While list building is crucial to long-term success in digital marketing, quality is more important than quality when it comes to email campaigns.
Keeping low-quality leads on your list will end up hurting your overall performance.
Make sure to review your contact list at least once every six months to remove any inactive subscribers. After one or two unsuccessful re-engagement emails, it's time to cut your losses and focus on more engaged leads.
Sending messages to users who don't have any interest in your brand will only drag down your campaign metrics and limit your email deliverability.
Limiting your newsletter to active subscribers will improve your sender reputation and help you prioritize leads who are more likely to convert.
Optimize your email frequency
Along with email timing, frequency is another factor that can have a surprising impact on each campaign.
You might think that sending more emails will lead to more orders, but it may also make customers ignore your messages—or even unsubscribe altogether.
On the other hand, you might send your campaigns too infrequently and miss out on important opportunities for engagement. Without a consistent presence, your audience won't feel the pulse of your brand and won't be motivated to make a purchase.
While once per week is a good starting point for most newsletters, the only way to optimize your email frequency is to test out different strategies over time.
You can also give subscribers the opportunity to set the frequency that's right for them. For example, by letting them opt into either weekly or monthly messaging.
Understand your audience
Knowing your audience is the most important thing in all of marketing. We can offer some general insights based on our data, but those trends may not hold up for more specific audiences.
If you sell to customers in their 20s, you might not have any trouble generating interest in a 10 PM email. Young people check their emails on mobile phones all the time, even during the night.
On the other hand, stay-at-home parents are more likely to open promotional emails during business hours compared to subscribers who are busy at work.
The perfect time for one of those groups is unlikely to be as convenient for the other.
Every audience is unique, and knowing your subscribers better than the competition can be a significant advantage. Understanding their desires and tendencies will help you prepare the content of your campaigns and identify the perfect time to send them.
Double-check your subject line
It's easy to make subject lines the afterthought of each campaign. We quickly write a brief summary of the content and add it to the subject field without a second thought.
The problem with this approach is that the subject line is your best chance to make a strong initial impression. Remember that your subject line is the first thing subscribers will see when the message appears in their inbox.
Subject lines can make or break an email campaign, so they should be one of your main priorities when crafting a new email.
Again, consistent testing is the best way to ensure that you're fully optimizing each message. Check out our guide to the top email subject lines if you're looking for a little inspiration.
Leverage email automation
Manually sending emails takes time away from the rest of your business while unnecessarily complicating your workflow. With marketing automation, you can configure emails to send at specific times and then focus on other tasks.
Keep in mind that automated emails can still be personalized in a variety of effective ways.
For example, you might trigger a cart abandonment reminder to send 24 hours after a user leaves your site. That message may include the customer's name along with unique product recommendations based on their browsing history.
Even though this email is "automatic," it's still highly relevant to each user's behavior.
The best time to send a marketing email is when customers are expecting a message—or at least primed to react to one. After setting up an automated email workflow, you'll be able to send highly targeted messages without any additional effort.
Wrap up
Let's review some of the most actionable insights from our deep dive into email timing.
The beginning of the month tends to see better email performance, along with the 5th and the 12th in particular. This will vary month-to-month depending on holidays and weekends.
The best time to send an email is on Thursday is during work hours: 8 am – 9 am; 11 am – 1 pm; and 4 pm – 6 pm.
Tuesday and Wednesday have strong order-generating performance. The best time to send on Tuesday and Wednesday are around typical work hours: 8 am – 9 am; 11 am – 1 pm; and 4 pm – 6 pm.
Test sending on Sundays to offer a relaxed shopping experience.
Avoid sending on Mondays and Saturdays when it makes sense.
Again, keep in mind that different audiences will respond differently to the same strategies. In short: leverage these stats to optimize your email timing, but make sure to use them as one factor in your decision.
Email timing and other marketing choices should also be based on your knowledge of the audience as well as your industry and brand image.
Drive sales on autopilot with Omnisend – email marketing automation for ecommerce!
Start free today