The Best Time to Send Emails (Omnisend Research)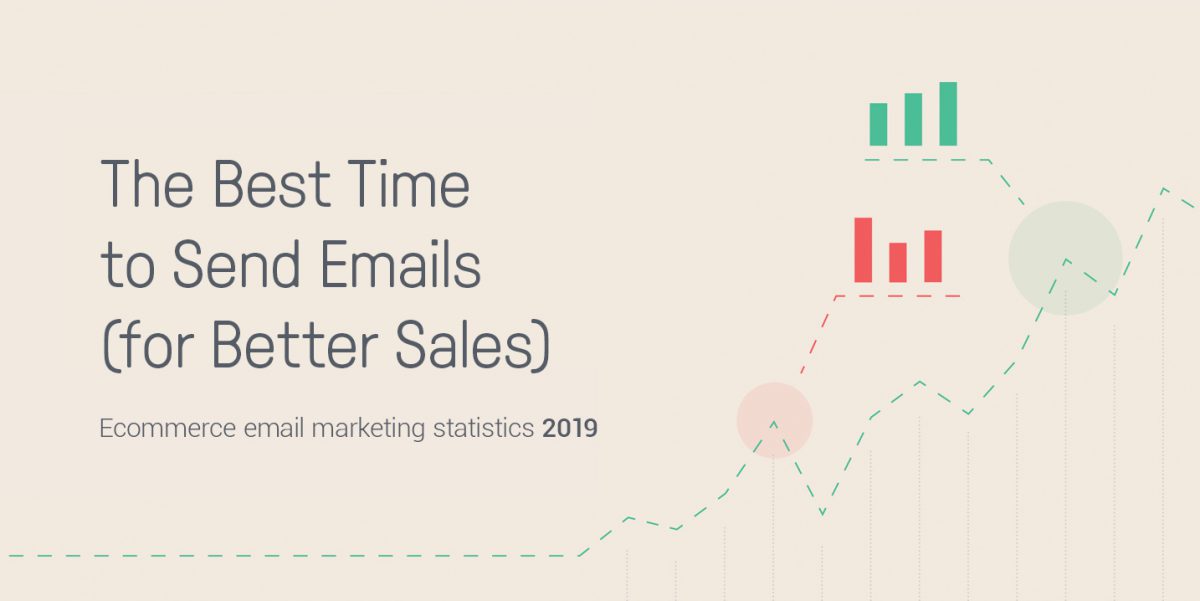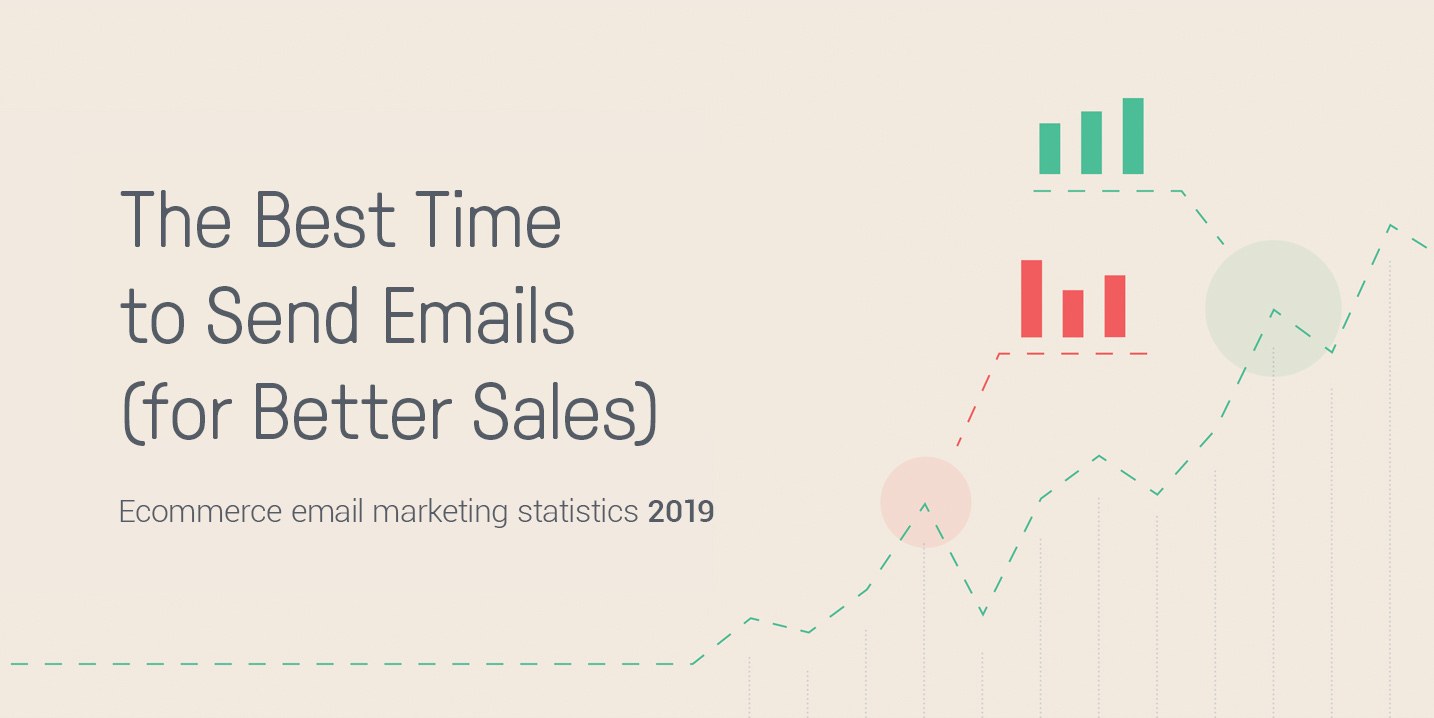 Reading Time:
7
minutes
What's the best time to send email newsletter campaigns? The ones that retailers send to their customers promoting their apparel, books, small electronic devices, and so on?
Every year, the Omnisend team does research on client metrics and shares the newest findings. This time, we analyzed over 2 billion promotional campaigns sent using Omnisend's omnichannel marketing automation platform over 2018. We examined several different areas, including the impact of omnichannel marketing on customer behavior, automated workflow benchmarks, best practices in list building, campaign timing, and etc. You can see our findings in this infographic.
Coming back to email timing, this knowledge can lead to measurable increases in your overall email marketing metrics.
In this article, besides the usual opens and clicks, you will find the time when most of the orders were done throughout the month and the day. So it will definitely help you to better plan your communication via email.

The Best Days of the Month to Send Emails
To cover marketing communication, retailers use a lot of different channels and even different means within those channels. The email channel isn't an exception.
We all know that the best timing for emails is personal timing which can be implemented with automation. But not all the email use-cases need to be automated. For example, newsletter campaigns or some occasional emails about the changes in our brand.
While big brands send weekly campaigns, smaller ones often choose to send on a monthly basis. The vast majority of retailers, no matter big or small, choose dates for emails intuitively, and that's fine.
But let's see what the latest Omnisend data shows about customer reaction on the promotional emails throughout the month and maybe this data will help you to readjust your newsletter routine to get better results.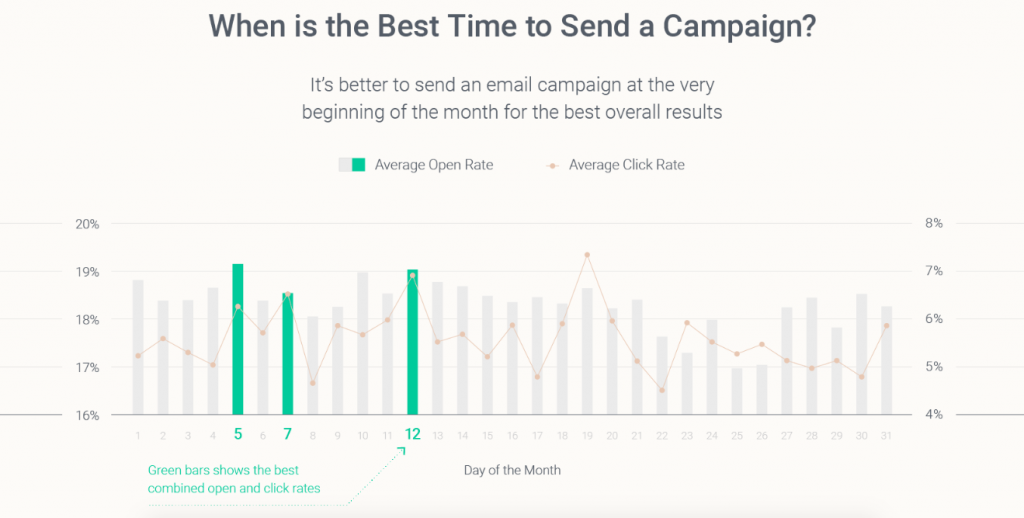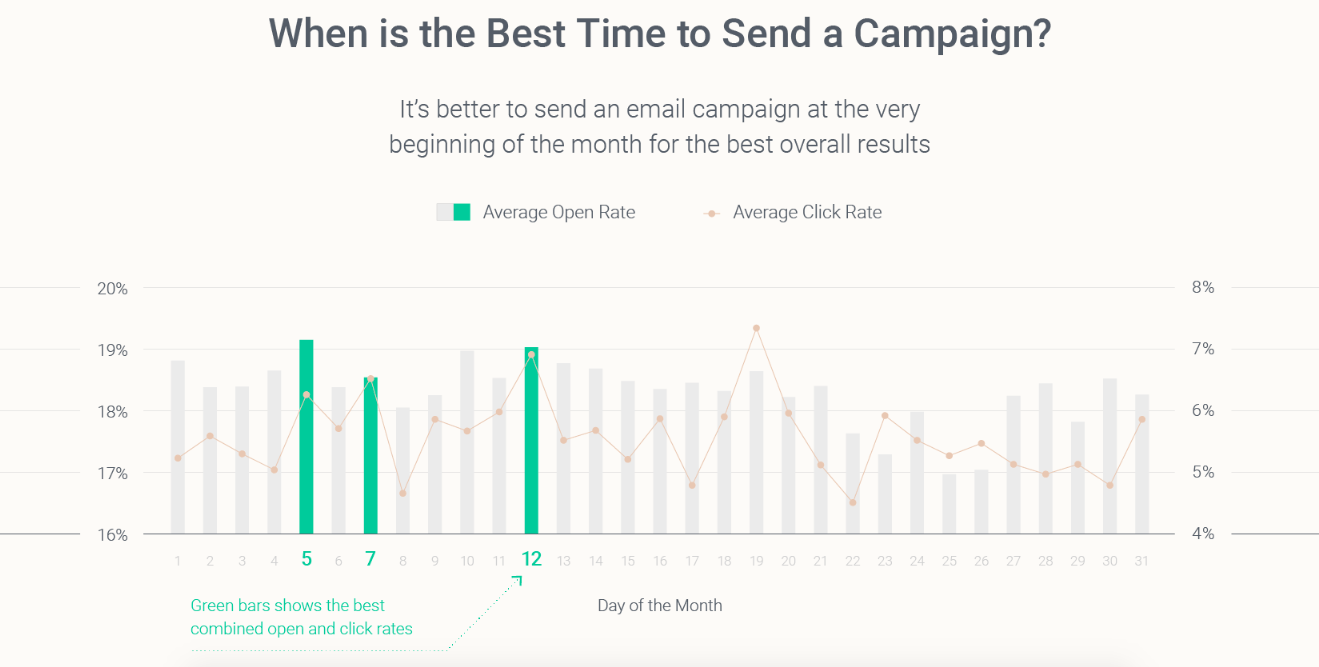 From the chart below, it's clear that the first two weeks perform significantly better than the end of the month. The best days are the 5th (19.15%), the 12th (19.03%) and the 7th (18.54%).
Digging deeper and paying attention to the number of orders made throughout the month, the absolute leader with the best overall performance becomes the first 10 days of the month with the following results:
Days 1-10 of the month:
Open rate: 18.56%
CTR: 5.59%
Orders 7.16
Days 11-20 of the month:
Open rate: 18.55%
CTR: 5.92%
Orders: 6.96
Days 21-31 of the month:
Open rate: 17.87%
CTR: 5.24%
Orders: 6.67
For the whole picture of actual orders, see the chart below.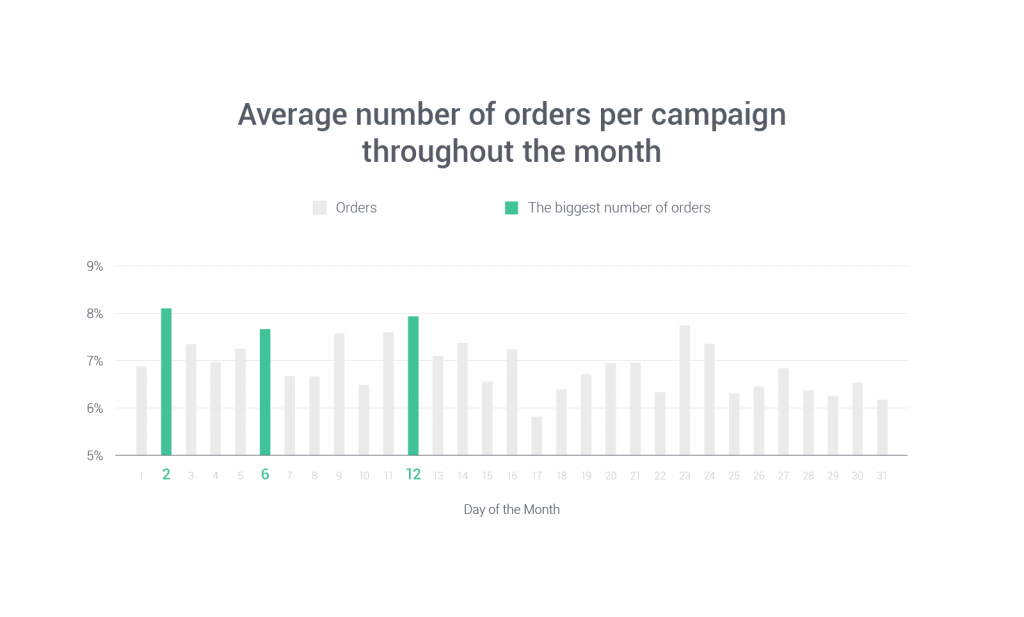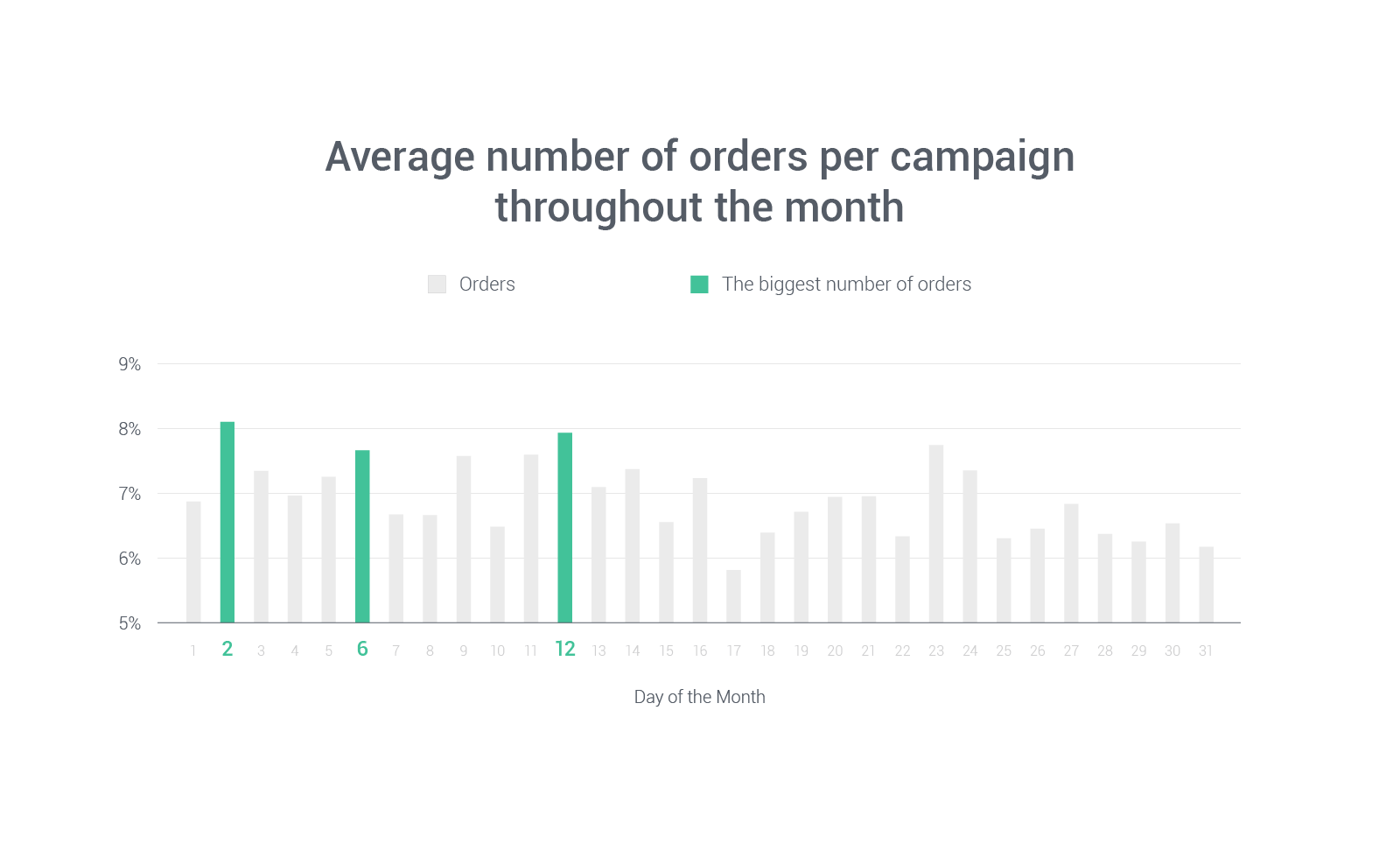 In the charts above, we can also see the days to avoid sending emails. It seems that days from the 25th to the 27th are critical in terms of both: opens and orders.
What the reasons are for such distribution of customer activity, we can only guess. My bet would be the paydays. Most of us are paid in the beginning and/or in the middle of the month. So usually we have no extra money for shopping at the end of it.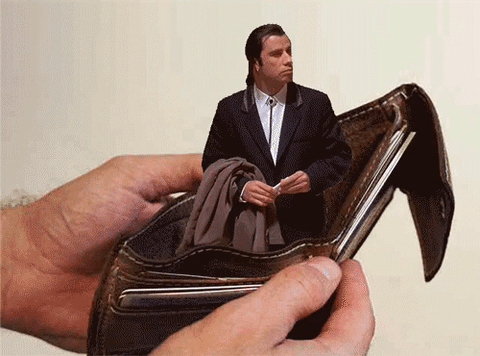 The Best Days of the Week to Send Emails
For those who send weekly newsletters, it's important to know which day of the week can bring the best possible results.
At this point, we won't say anything different than the other players in our field.
Our data confirmed that the best day to send promotional email is Thursday, the second is Tuesday.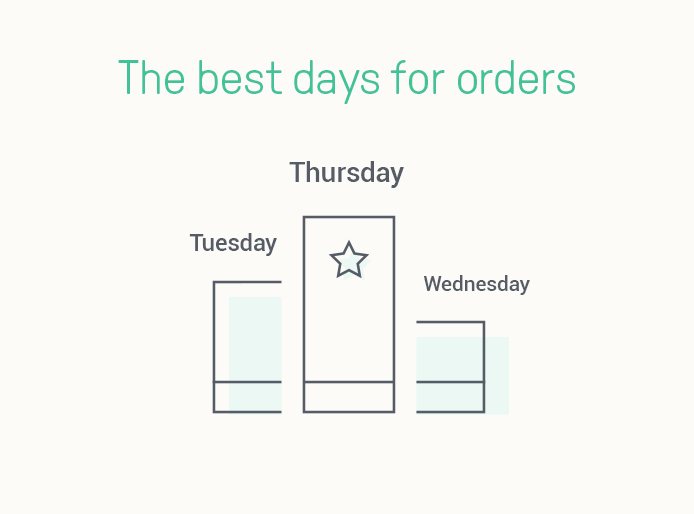 [bctt tweet="With a great combo of open & click rates, Thursday is the best day to send emails #emailmarketing"]
Although other days like Sunday have a better click rate, Wednesday has a winning open rate. Friday has the biggest number of campaigns sent, but the overall performance of Thursday wins the battle.
The worst day for promotional emails is Monday, the second worst place goes to Saturday. So you shouldn't expect the best results possible if you send your campaign on these days. Unless, of course, your audience is tech-obsessed and they check emails every 10 minutes no matter where they are and what they do.

The Best Time of the Day to Send Emails
The research showed that sending promotional newsletters in around the workday schedule provided the best results.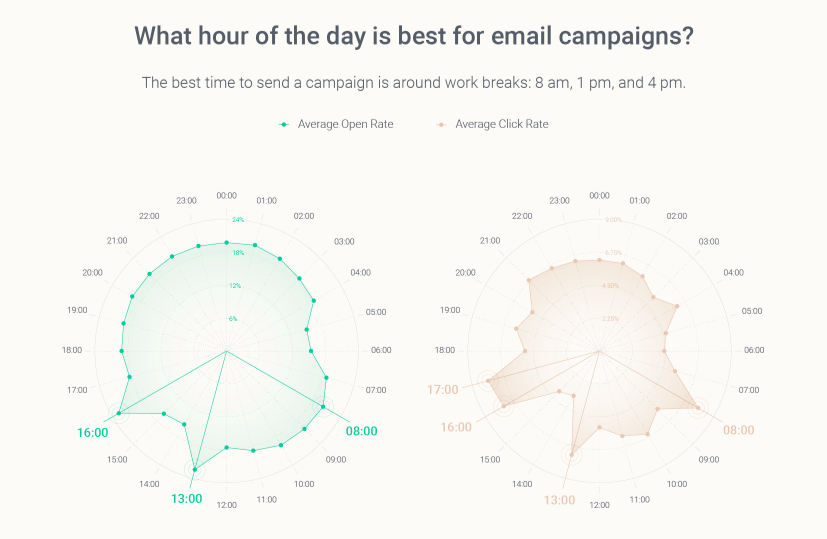 More of our findings of the day time for emails:
The best hour for the highest open rate is 8 am. Newsletter campaigns sent at 8 am received a 20.32% open rate and a 7.79% click-through rate. The average number of orders per campaign sent at this time is 8.37.
The best performing time for click-through rate was 5 pm.
But the best order rates come from campaigns sent around 4 pm, with an average of 10.66 orders per campaign.
A great time to send your newsletter is at 1 pm. Although the open and click rates aren't the highest possible, the overall performance, including the number of orders, is great. This makes sense, seeing as people are most likely to be on their smartphones or computers at 1pm (after lunch), easing back into work or taking a break from work.
An interesting fact is that campaigns sent at 10 am have a great open rate (19.83%) but a significantly small number of orders per campaign – 4.66. Which might indicate that customers open emails but don't have time to make purchases at 10 am in the morning.
[bctt tweet="Best time to send emails is 8am or 4pm based on Omnisend #Email Stats 2019 #ecommerce #emailmarketing"]
Overall, activity rates follow the daily activities of most people quite nicely, and it's safe to say that the best time to send emails would be when people have breaks before, during, or after work hours (but just don't send it during the night).
A Short Checklist to Improve Your Campaign Activity Metrics
Make Sure Your Email List Is Healthy
The quality of your email list is crucial to overall campaign performance.
So review your contact list and make sure your audience has opted in your email marketing list in the last 6 months (it means that email addresses are still in use) and they are still engaged with your brand.
Only by sending your newsletter campaigns to active subscribers (or at least active email addresses), you will be able to yield actual results.
Reconsider the Email Frequency
Review the frequency of approaching your audience.
Maybe you send too many emails and they start to ignore you.
It might also be true that you send your campaigns too seldom. In this case, your audience doesn't feel the pulse of your brand and lose interest in reading your messages in general. Plus you lose the opportunity to sell.
You should definitely test different frequency of newsletter campaigns. This may have an impact on the increase in newsletter engagement rate.
Examine Your Audience
Knowing your buying persona is the most important thing in marketing in general.
If you sell products to a somewhat specific audience, it might deny all "best time to send" rules.
For example, if your buying persona is in his/her early 20's, sending a promotional newsletter at 10 pm wouldn't be a crazy idea. Young people check their emails on mobile phones all the time, even during the night.
Also, a great example could be mommies that usually wake up very early and have some time for browsing while their kids are jumping around.
With this kind of buying persona, sending emails at around 6 am could be best.
I hope you've got my point. Try to examine the habits of your audience. It should help you with both: preparing the content of the campaigns as well as defining the best time to email them.
Double-Check Your Subject Line
The subject line is usually the one that we write at the end of creating the entire campaign. We quickly fill that small obligatory field and launch the campaign. Don't we?
The subject line should be the most tested thing in your entire email marketing. It should be bold and stand out from the rest in your customers' inboxes. That's maybe even more important than the timing.
Revise your emails
Make an inventory of your emails that you send manually.
Maybe something could be automated and organized as an omnichannel experience?
For example, instead of email reminders about the latest sale, you could send an SMS. That would be even more personal and with greater open rate.
In this case, the question of email timing would be solved. Because the best time for email is when customers expect a message from you. That you can reach only by setting the triggers and automating your communication.
Wrap Up
Now that we've analyzed the best day of the month, and the week and the most active hours as well, we can come up with some quick points.
If you're sending monthly newsletters, or want to know what day of the month is best to send out the most important emails, the first part of the month seems to perform significantly better. The 5th and the 12th day in particular (if not the weekend or a holiday).
The best time to send promotional emails will be at 8 am, 1 pm, and 4 pm on Thursdays for weekly campaigns.
Also, different industries may react differently. It is possible that if your crowd skews younger, then 1pm emails may be fine for them. However, if you sell to senior citizens, 8am may be better.
The point here is: use these stats to your advantage, but use them as one factor in your decision.
The other factors should include your knowledge and intuition of your audience, as well as knowledge of your industry.

Based on your experience, which times and days are best for your email marketing campaigns? Let us know in the comments below!

Drive sales on autopilot with Omnisend – email marketing automation for ecommerce!
Start my free trial