Drive sales on autopilot with ecommerce-focused features
See Features
5 Shopify Alternatives to Consider in 2021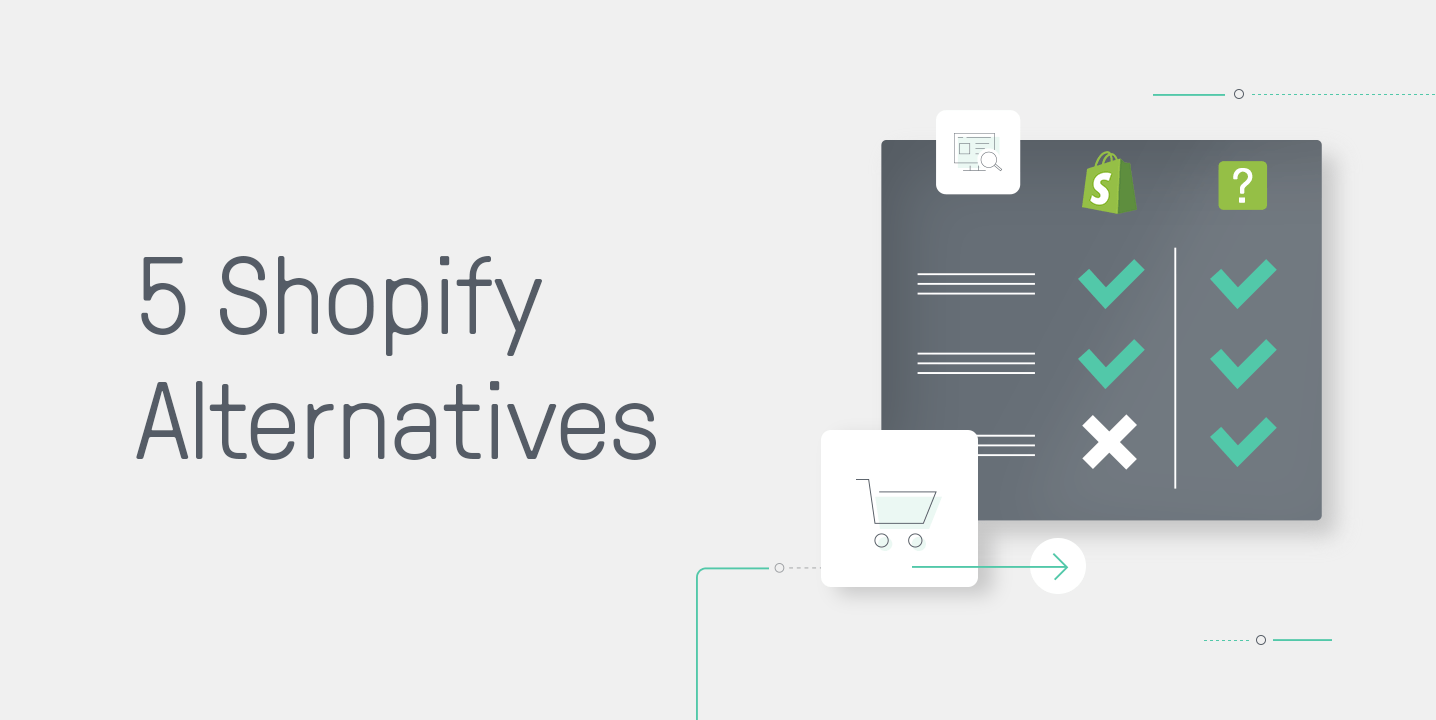 Reading Time:
5
minutes
Shopify has established itself as a strong brand in the ecommerce world. Since businesses need a way to sell their products online, Shopify provides tools and resources that allow them to do so with as little headache as possible. It also integrates with hundreds of great apps that let you customize your store according to your needs.
While an ecommerce business can integrate email marketing to Shopify stores, some business owners find the full Shopify suite a bit limiting when they start to grow. This could be for different reasons:
They want something that costs less.
Shopify doesn't provide the flexibility that they want.
They don't want to use Shopify's interface.
Whatever the reason may be, you might want an ecommerce software aside from Shopify. Look over these best Shopify alternatives to see if they can provide you with an ecommerce software that you want.
Best Alternative for Shopify
WooCommerce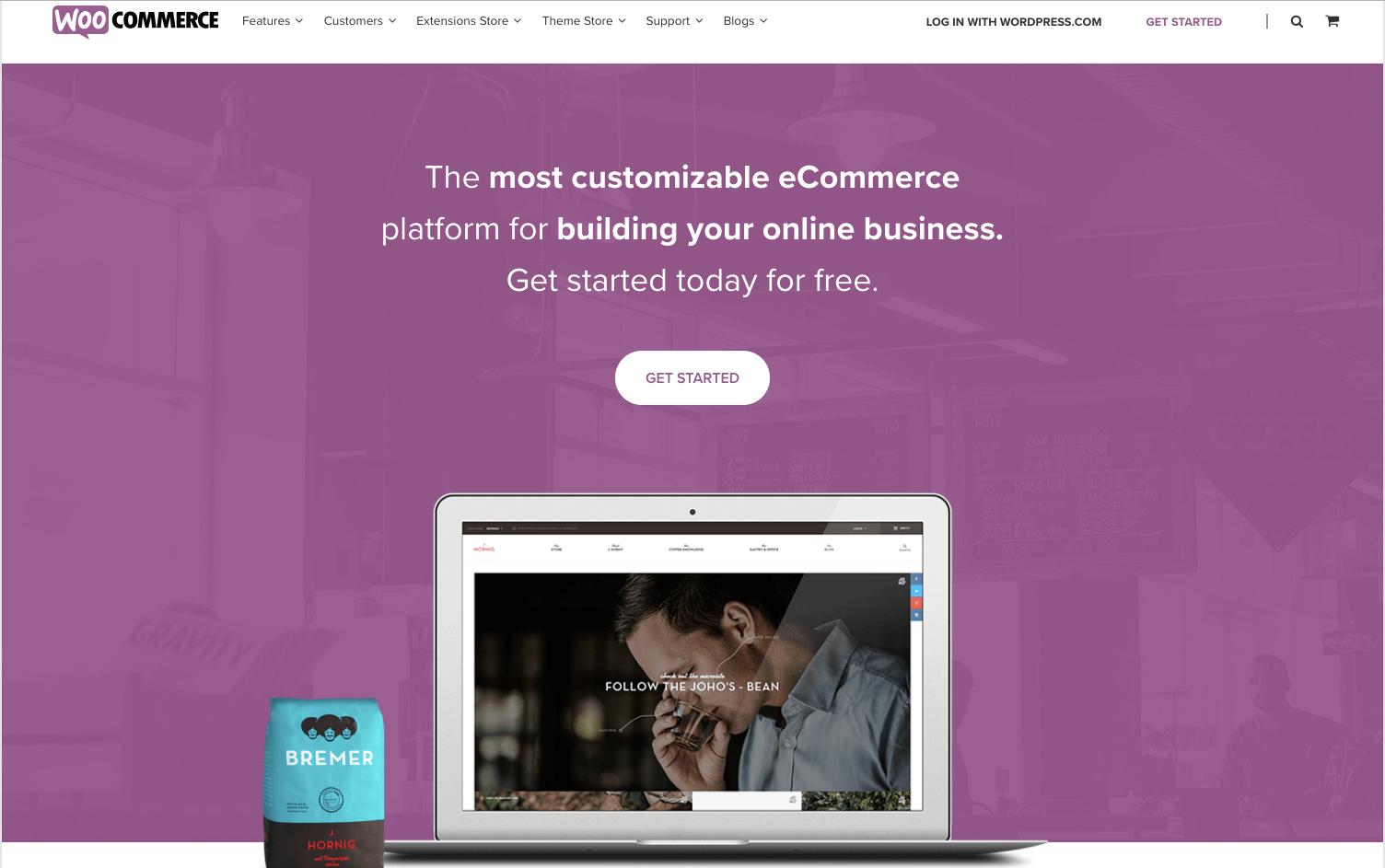 WooCommerce stands out as an excellent place to get ecommerce software.
As a highly modifiable WordPress plugin, WooCommerce offers significantly more freedom and control than Shopify, whose main goal is to do the non-ecommerce elements of your business for you.
WooCommerce also includes extensions for other businesses, making it easier for your business to integrate key companies into your ecommerce.
This includes PayPal, USPS, and others. As you find ecommerce software that provides the right services, you can cover the needs of your customers.
WooCommerce allows businesses to customize their platform. This way, you can adjust it according to your business' needs. Your store can stand out from other stores in its format and style. If you're willing to work with it, you can have a powerful ecommerce tool through WooCommerce.
BigCommerce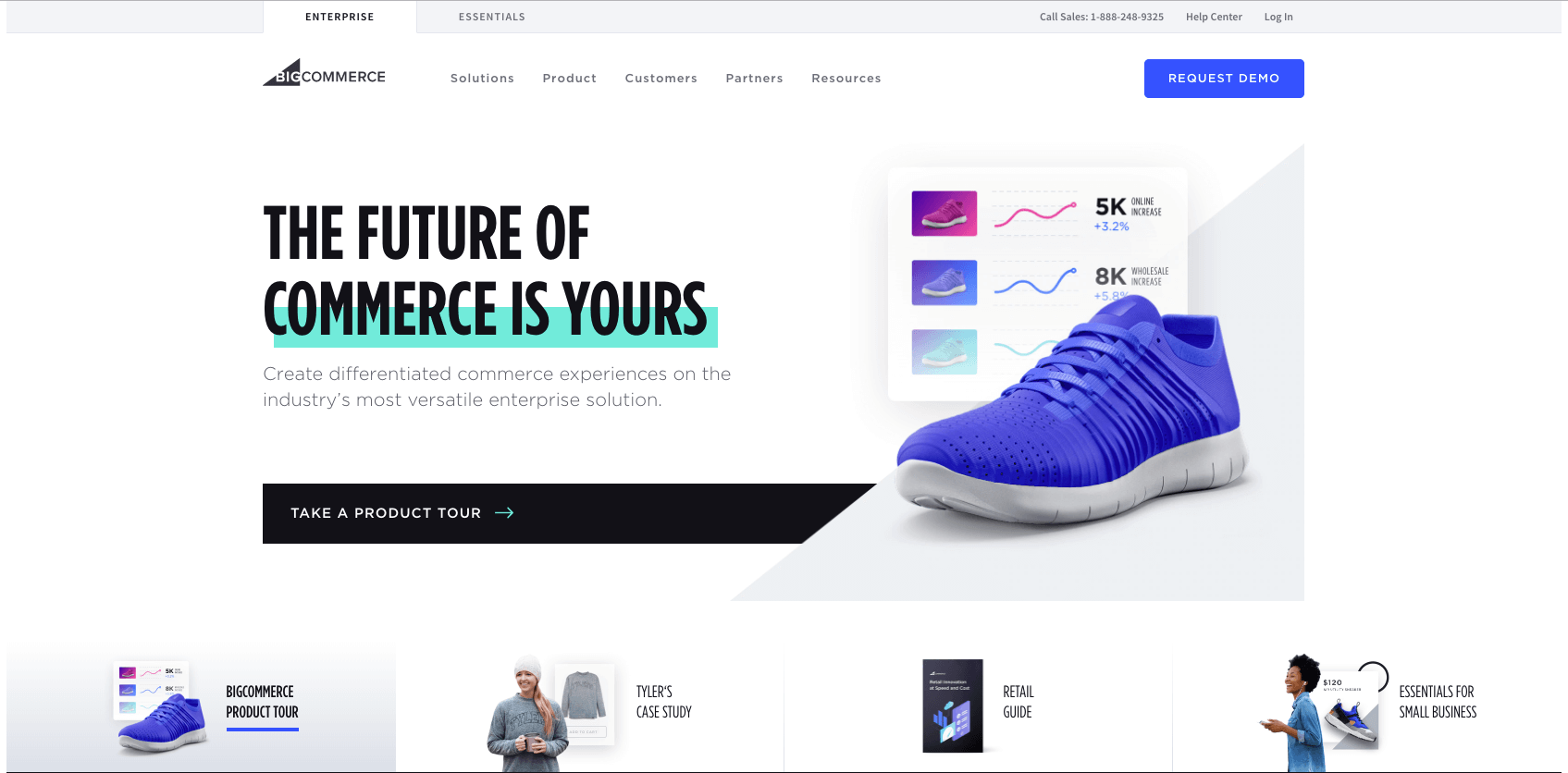 BigCommerce has risen in popularity for both small and large businesses. Providing ecommerce software to multiple large companies, more businesses want to use BigCommerce for their ecommerce needs.
It boasts major statistics that show the success of BigCommerce. However, keep in mind that these statistics reflect the effectiveness of the software. It shows how the software benefits companies and allows them to make a profit and grow as a business.
99.99% website uptime.
28% annual growth.
¼ the cost of other companies.
To add to this, BigCommerce offers a 15 day free trial without a credit card.
This means that you can try out their ecommerce software without worrying about a charge on your credit card at the end of the trial. Since it's free without risk, you might as well try out BigCommerce.
Square Online Store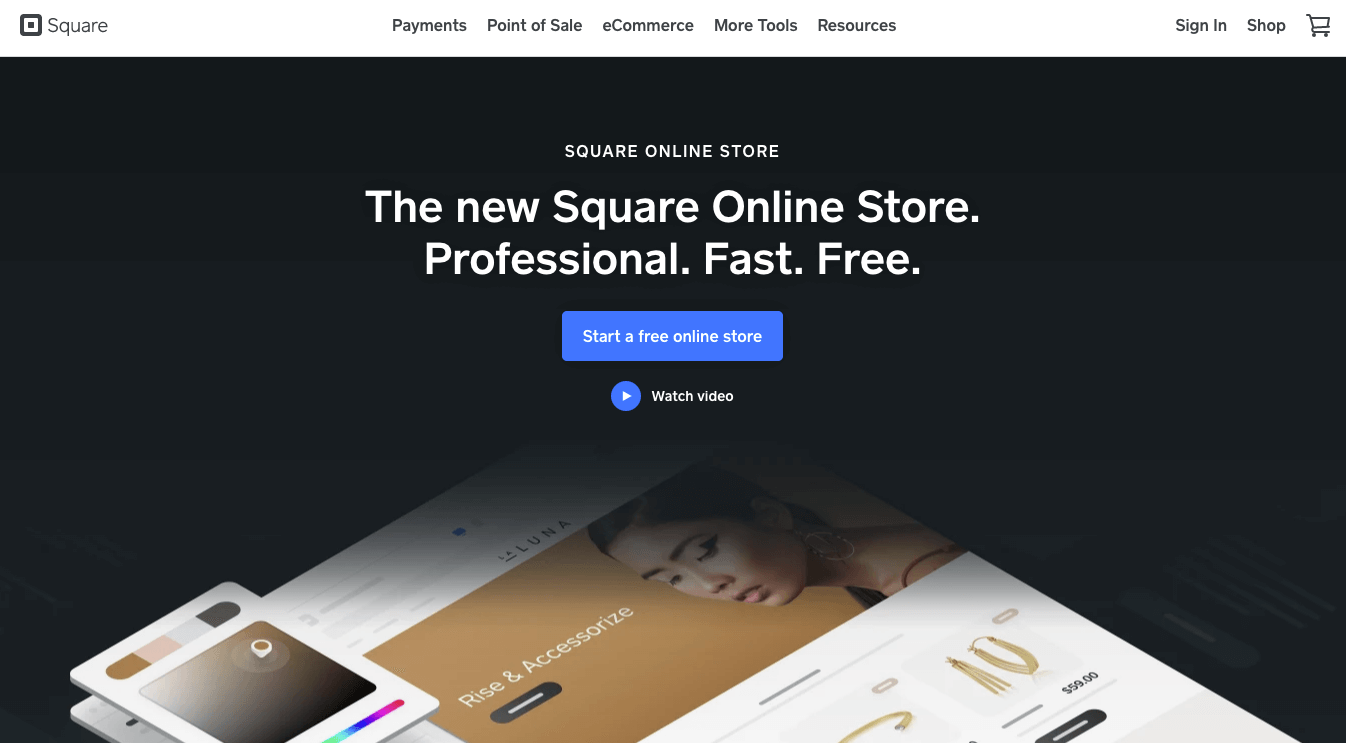 Square Online Store takes a different approach from other companies. Instead of a monthly or annual fee, you can start using their ecommerce software for free. However, this does involve some royalties and payments in the long run.
You can use the software, but each time you make a sale, Square Online Store gets 2.9% of the cut plus an additional 30 cents per transaction. This works well for smaller companies that have occasional sales since they don't need to worry about breaking even each month.
This makes Square Online Store the ideal software for small businesses that lack sales. Think about it: if you can't meet the monthly cost of software and make a profit, then you have a failing business. With this approach, you only have to give Square Online Store a small portion of the profits each time you make a sale.
Along with being free to use, it also provides ecommerce tools in one place. You can manage your shipping, sales taxes, and other important aspects of sales through their software. If you just want to start a business, you may want to look into Square Online Store.
3dcart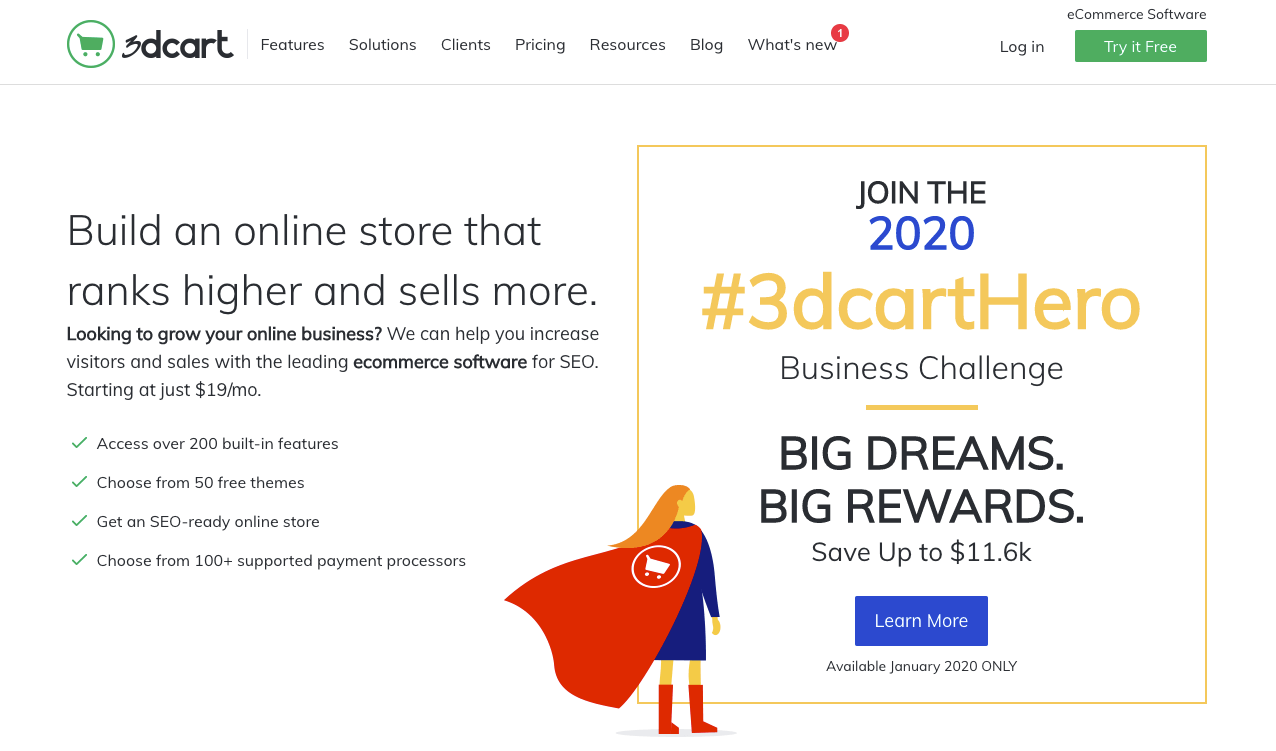 3dcart shows strong confidence in its ecommerce software. They do so by offering the first 6 months free while providing a 10% discount. This gives businesses an excellent opportunity to test out the software and see if it works for them.
The front page mentions a variety of features that draw in the attention of businesses.
More than 200 built-in features.
50 free themes from the start.
Supports over 100 payment processors.
With these key points, 3dcart allows businesses to apply features that they want, choose a theme that fits their style, and use the payment processor that works best for them.
They also provide four different tiers of payment options, allowing the software to meet the needs of small and large businesses. To add to this, all tiers are free of transaction fees and allow you to sell unlimited products.
3dcart seeks to establish itself and to stand out from the rest by providing an extended free trial along with versatility in payments. This allows businesses to easily download 3dcart and to start using their ecommerce software.
Magento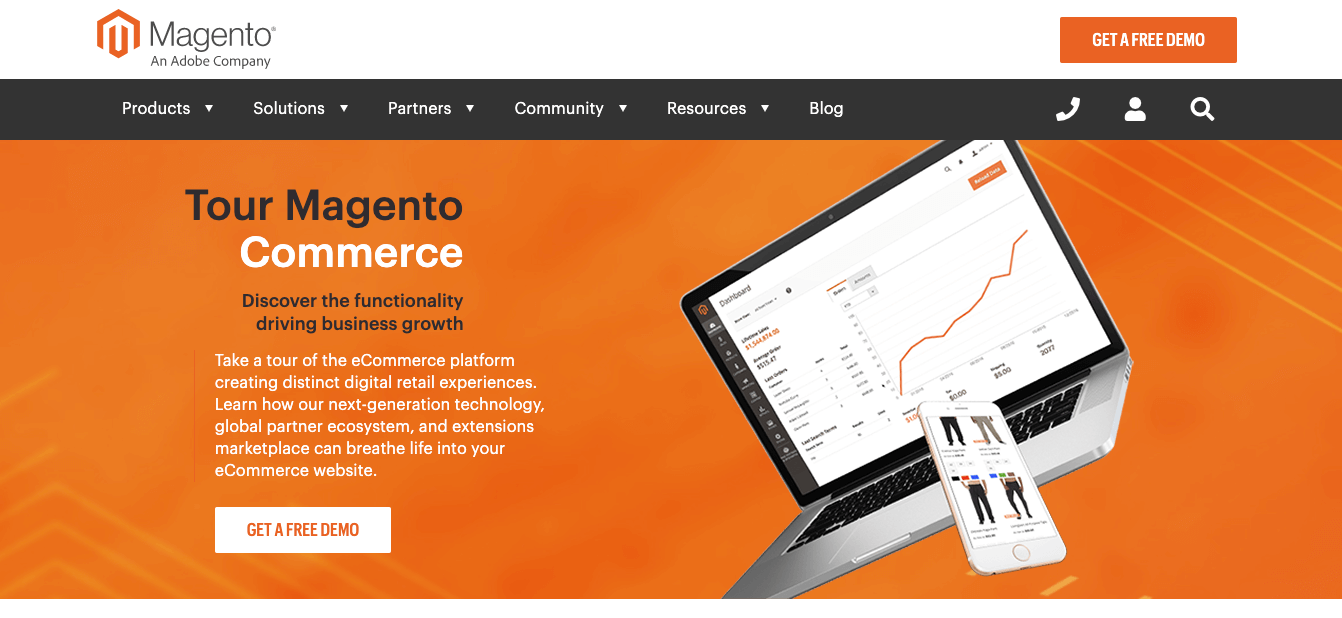 Magento focuses on the community when it comes to their ecommerce and software. They want people to come and work together to bring success to multiple ecommerce platforms. They seek to reach out and give an effective ecommerce experience to businesses of different sizes.
Magento knows that businesses have different needs, so they provide various services on their website to make things easier for businesses.
Providing solutions to businesses of different sizes.
A program to find or become a partner.
A community hub where you can communicate with others about ecommerce.
By focusing on the community as a whole, Magento provides a place where businesses can learn and grow in the ecommerce world. This encourages networking and working with others to bring success to multiple people.
It also provides easy integration of sources into your ecommerce website. You simply check or uncheck the different sources to add it to your site. This gives you simple customization that allows you to make quick changes.
Magento stands out as an ecommerce software that provides community and multiple tools to businesses.
Conclusion
Shopify can provide a variety of benefits to companies, such as using Shopify Plus for marketing integration. It stands as a great business that works for hundreds of thousands of companies. Don't get us wrong: Shopify provides an excellent service, but some people may want different software. We recommend this Shopify course to understand how to find the right software for you.
It comes down to finding the right ecommerce software for your company. Think about your business' needs and problems. If you want something different, look for an alternative for Shopify that meets your business' needs.
As you keep searching and thinking about your business, you will find the right ecommerce software. Once you find an ecommerce software that you like, use it to build up your business and establish a store that will draw in customers and revenue. Whatever ecommerce software you decide to go for with, make sure to find out if it has integration with Omnisend.
Get started with Omnisend today & drive sales on autopilot with pre-built automation workflows at Omnisend
Start Free Today