Drive sales on autopilot with ecommerce-focused features
See Features
Reading Time:
8
minutes
Shopify is an ecommerce giant that powers more than two million websites and is used by over 820,000 merchants around the world. Only Amazon and eBay are bigger online retailers.
The simple reason for this success is Shopify gives users what they want:
A highly capable platform for beginners and established businesses
Ease of use
The biggest variety of apps to enhance your store as you want it. There are more than 6,000 apps spanning a range of categories, including sourcing products, product reviews, upsells, invoicing, and various marketing tools including email marketing.
Shopify also makes it easy to discover apps that you maybe don't know about, with recommendations based on your current stage of business:

Shopify is available at different price points, allowing business owners to start small and scale on the platform, while its variety of free and paid themes for different niches mean each site can look exactly as the owner wants it to, with no fuss.
Despite this, it's not always the right platform for everyone, and one of the various Shopify alternatives may be a better fit.
5 reasons you might look for a Shopify alternative
For all of its benefits, some ecom store owners prefer the numerous alternatives to Shopify. Some of the most common reasons are:
Price
Shopify's paid plans are $29 per month for Basic, $79 per month for Shopify, and $299 per month for Advanced. There's also Lite for $9—which doesn't give users a website but does allow them to add a 'buy' button to their own site and social media—and Shopify Plus, which is the Enterprise plan.
These prices are competitive, but there isn't a free plan except for a trial. For newer businesses trying to keep costs down while they get established, free Shopify alternatives may be preferable. Others may simply prefer features offered on alternative platforms for a similar price.
Payment processing
Shopify's plans come with Shopify Payments, its built-in payment processor. The good news is that Shopify charges no transaction fees if you use this processor, which can save a considerable amount of money. It's not available in every country though, and if you choose to use a different payment processor, Shopify charges up to 2% on each transaction.
Tech accessibility
Shopify is famous for its ease of use, so it's no surprise that its users don't need to be tech experts. However, it also doesn't allow the source code to be edited directly, so if you're someone who likes to make changes then you'll be disappointed. Nor does Shopify always make the raw data accessible, which is another reason why some store owners prefer to find a Shopify alternative.
Consistent product images
Good design is a critical component of a successful ecom store, which is why choosing a nice theme is important. One feature that Shopify doesn't offer is automatically adjusting product images with different aspect ratios. Without this image consistency, which is offered by websites similar to Shopify, your store's design will suffer.
Currently, you're required to adjust the photos manually, either before uploading or using Shopify's built-in photo editor.
Product variants
As you'd expect of an ecommerce platform, Shopify lets you create variations of each item. It allows 100 variations per item, but limits you to just three different options.
This means that your most popular item of clothing can have 100 variants listed but you can only add three options such as color, size, and style. If you need more than this, you'd need to use a third-party app, add some code, or look at the best Shopify alternatives.
Shopify alternative: WooCommerce
Unlike Shopify, WooCommerce isn't a standalone ecommerce platform. Rather, it's a free plugin that transforms any existing WordPress blog or website into a store, and is the leading ecommerce platform.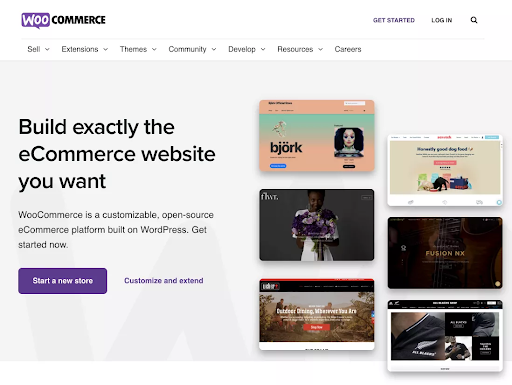 Being a WordPress plugin is both a good thing and a drawback: on the one hand, if you have an existing website, are familiar with WordPress, or want access to the vast library of WordPress plugins, then WooCommerce is a great option. On the other hand, if you want an all-in-one solution or to get up and running with minimal work, WooCommerce may not be your preferred choice, particularly in comparison with Shopify.
WooCommerce gives significantly more freedom and control than Shopify, and has a large library of plugins to help you make your store exactly what you want.
The main difference is that Shopify is an all-in-one platform and it's built to make your life easier. So it's no surprise that it's generally easier to build a store on Shopify than WooCommerce, and the security included in Shopify's list of features gives you peace of mind.
The extensive customization options and flexibility that WooCommerce offers will be extremely appealing to any store owner who wants things to be exactly as they want them, and WooCommerce also offers far more themes and templates to dial in your perfect design. But the tradeoff is that you have to do a lot of work yourself—for example, WooCommerce stores can be extremely secure, but that responsibility falls on your shoulders. Similarly, you need to have a domain and hosting before installing WooCommerce.
One of the most compelling aspects of WooCommerce is that it's free to use, with costs coming in the form of paid themes and premium extensions. If you're looking for free alternatives to Shopify, WooCommerce is a worthy contender.
Pros
Access to WordPress' massive library of plugins
Free to use, controllable costs for premium plugins and themes
Extensive flexibility
Cons
Not an all-in-one platform
Requires separate hosting and domain registration
Can only be used with WordPress
Shopify alternative: BigCommerce
BigCommerce, like Shopify, is an all-in-one ecommerce platform. It offers a drag-and-drop interface that allows you to build a beautiful, responsive store, and it boasts high levels of security and 99.99% website uptime.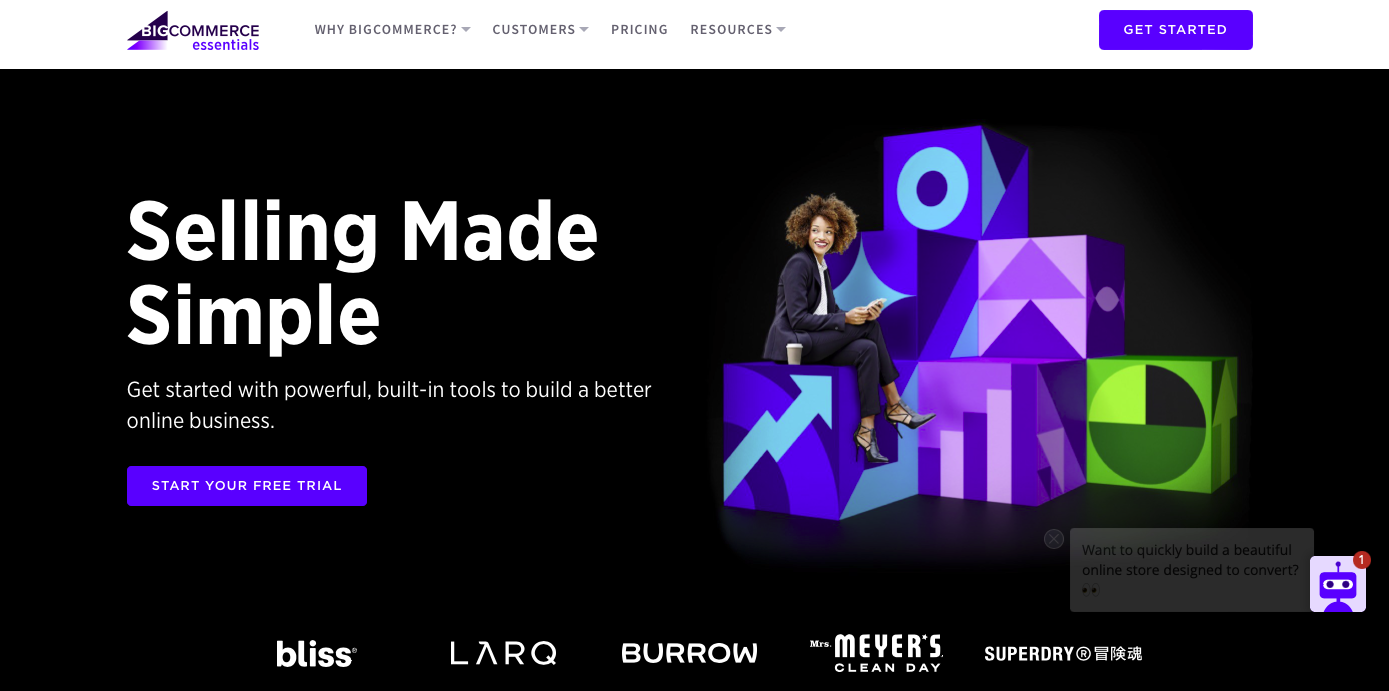 A comparison between BigCommerce and Shopify reveals a number of similarities that make it a compelling option for anyone looking for a Shopify alternative.
BigCommerce's pricing structure is similar to Shopify's and among its extensive library of addons are various payment processing options. And, unlike Shopify, BigCommerce doesn't charge any transaction fees when using third-party payment services.
Although BigCommerce doesn't offer as many addons as Shopify, there are still plenty to choose from and they're helpfully categorized by function and the stage of your business, from just launching to firmly established. There are also numerous free and paid themes to choose from to help you get the perfect look and feel for your store.
Pros
All-in-one platform, handling hosting and security
Extensive library of addons
No transaction fees for third-party payment services
Cons
Requires a paid subscription
Less unique templates than Shopify offers
Shopify alternative: Wix
Wix has a strong reputation as a comprehensive and easy to use website builder. This reputation may mean it doesn't always spring to mind for an ecommerce store, but it actually has plenty of features to compete with Shopify.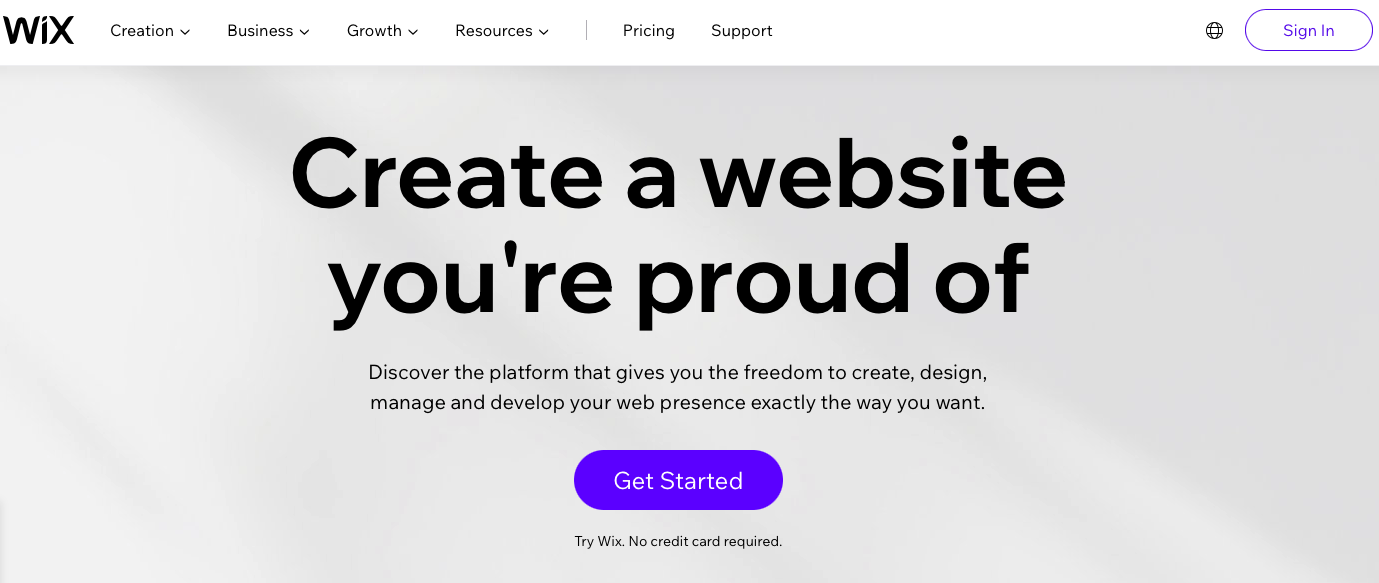 Wix is famous for its design flexibility, giving users a lot of customization options to make their site look exactly how they want it. And if you thought ecom wasn't well represented, think again: Wix offers more than 120 ecom-specific templates, and each one is free to use. In contrast, Shopify only offers 10 free themes.
Given that ecommerce is Shopify's sole focus, it's no surprise that it's more sophisticated than Wix's ecommerce functionality. For example, its product and inventory system allows a store to be populated faster, and there are more addons available in its extensions library.
Yet the website builder from Wix is much easier to use and the platform is typically considered more intuitive than Shopify. This makes it easier to use for the average store owner, and its Business Basic plan is just $17 per month—almost half the price of Shopify's starting price of $29 per month.
Pros
Excellent design flexibility
Offers a 14-day free trial
Has 120+ free templates designed for ecommerce
Cons
Inventory and product management features aren't as advanced as Shopify's
Ecommerce features aren't the most robust e.g. product variants
Shopify alternative: Adobe Commerce
Formerly Magento, Adobe Commerce has a number of features that make it a viable Shopify alternative, as well as an alternative to other ecom platforms like WooCommerce.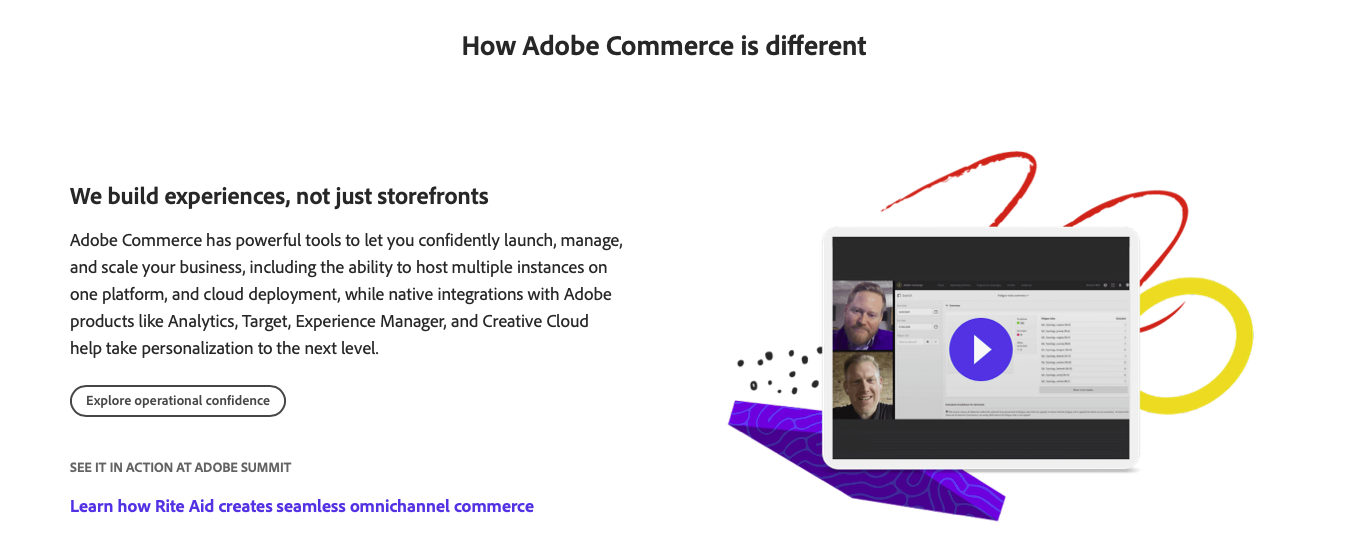 Adobe says that its platform is "powering commerce for brands of all sizes and all industries" including Hewlett Packard. Among its features is the ability to host multiple stores on one platform, and it natively integrates with other Adobe products including Analytics, Experience Manager, and Creative Cloud. Businesses that want to manage different stores in different languages will be interested in Adobe Commerce's ability to do exactly that.
The platform uses a freemium model, and its high uptimes will give you confidence that your site will have minimal disruptions.
Pros
Robust multi-store management features
Freemium business model
Adobe Connect takes security seriously, releasing patches periodically to ensure that your website is protected by the latest technology.
Cons
Only offers six official themes, and four are paid
Requires separate hosting
Shopify alternative: Square Online Store
If you want a free alternative to Shopify, Square Online Store is worth looking at. It can provide free access to the platform with no monthly or annual fee, and although the features are significantly lighter than Shopify's, it still offers plenty to make it worthy of consideration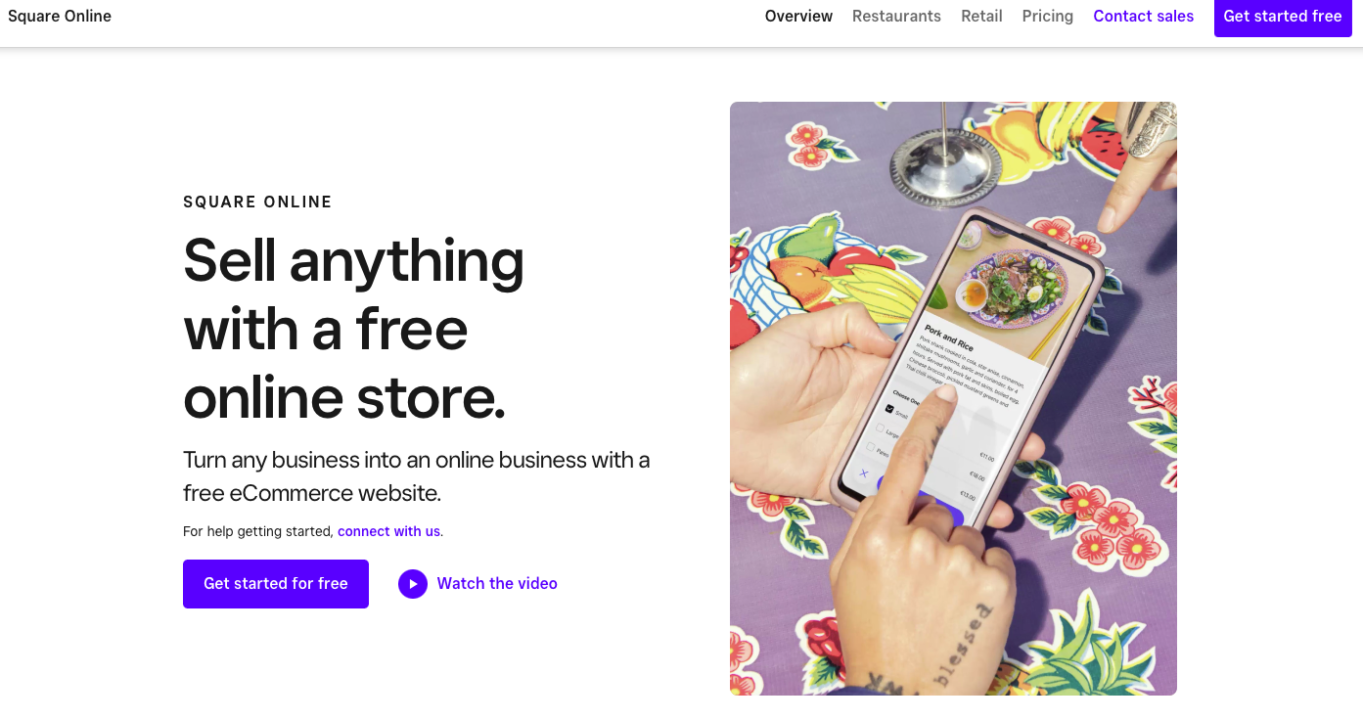 The main difference between Square Online Store and Shopify is that the former is primarily a payment processor. It offers point of sale and hardware solutions for physical shops, so its online offerings are fairly minimal—but it does integrate with other platforms, like Wix and WooCommerce, to boost its functionality.
Like Shopify and BigCommerce, it also offers hosting and domain names. This means it can be a one-stop-shop for starting your store, and you can be up and running very quickly.
Unlike some other Shopify free alternatives, Square doesn't charge any subscription fees—this isn't just a free trial. Instead, and much like its physical products, it earns its money through transaction fees. This does mean that it could cost more overall, depending on your sales volume and prices, but you also won't pay anything if you aren't making sales. That can be a compelling option for new businesses, with a trade-off of the platform offering fewer features than Shopify.
Pros
Offers hosting and domain name registration
Very quick setup time
No subscription fees
Cons
Doesn't have as many features as Shopfiy and other alternatives
If you have significant sales volume, it could cost more than competitors charging a flat subscription
Shopify alternative: Shift4Shop
Shift4Shop, formerly 3dCart, is a robust and feature-rich platform. In fact, it claims to have the most feature-rich ecommerce software available.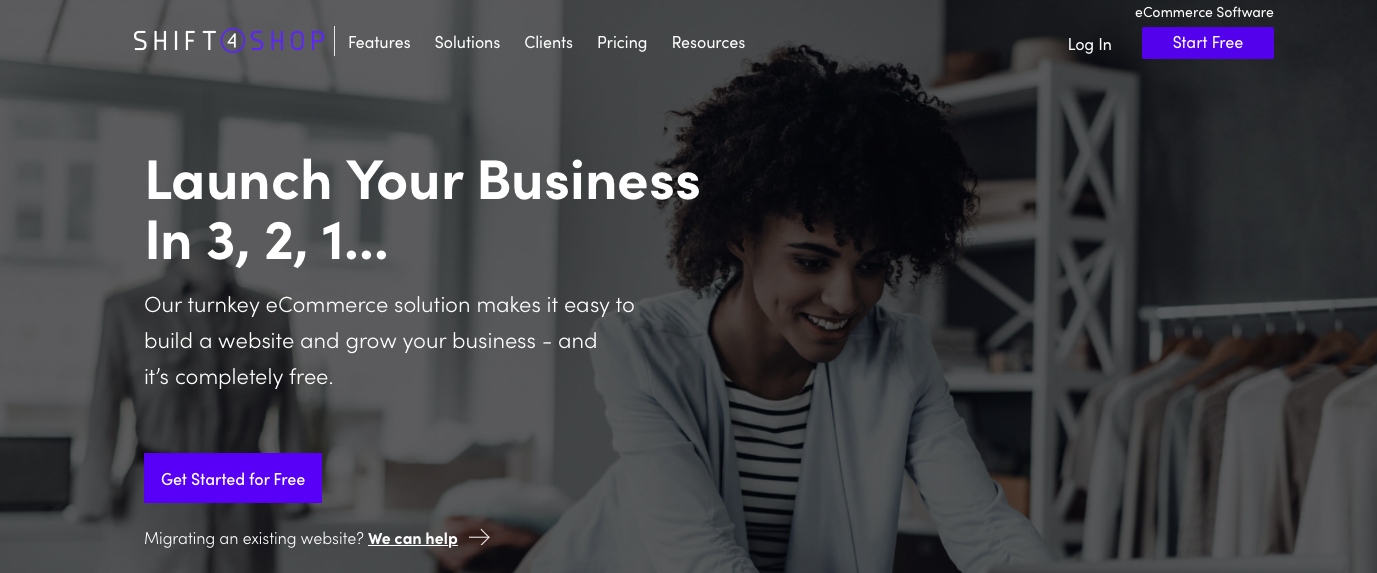 If you're based in the US and use Shift4Shop's own payment processor, you can have an enterprise-level plan with no monthly fee. If you're outside of the US or prefer to use a different payment provider then you can choose from the three paid tiers, which are $29, $79 and $229 per month. It also offers hosting, SSL, and a free domain name if you need one.
Shift4Shop has impressive features, including Facebook dynamic ads, a reward program, store credits, support for dropshipping, an affiliate program, CRM and SEO tools, and gift wrapping. There are more than 100 free, SEO-optimized themes, along with industry-leading fraud protection, all of which make this platform a worthy contender to Shopify.
Pros
Boasts a lot of features including fraud protection
US users have the option of an enterprise-level plan for free
Over 100 free themes
Cons
Free plan isn't available to people outside of the US
Website builder isn't as intuitive as some rivals
Wrap up
Shopify has earned its position as a popular ecommerce platform. It's feature-rich, easy to use, and offers a lot of extensions to customize your store.
But if for whatever reason you aren't completely satisfied with its options, the good news is there are plenty of excellent Shopify alternatives that will allow you to create the store you want at the price you can afford. There's even a good chance that the one you want will integrate with Omnisend.
Get started with Omnisend today & drive sales on autopilot with pre-built automation workflows
Start Free Today
related features
Want more sales?
Omnisend has everything you need to succeed.
Start free now
No Credit Card needed.