Drive sales on autopilot with ecommerce-focused features
See Features
Reading Time:
11
minutes
SMEs and large enterprises alike recognize the increasing importance of having the means to sell goods and services on the web. That's why ecommerce platforms like Shopify have skyrocketed over the past decade. These technologies enable businesses of all sizes to easily set up their online stores, market their goods, and manage their operations.
Shopify is undeniably among the most recognizable brands in ecommerce. However, it isn't necessarily the best option for all businesses. It may not be immediately obvious, but Wix is actually a worthwhile competitor and one of the most remarkable Shopify alternatives.
No matter which ecommerce platform you choose, you can automate your marketing and generate sales effortlessly. Start using Omnised for free.
Wix vs Shopify
While Shopify has always been known for ecommerce, Wix's popularity began among freelancers and content creators looking for an easy and inexpensive way to build a web presence.
Eventually, the company expanded its features to include ecommerce essentials that allow it to compete with brands like Shopify.
According to SimilarTech, 0.68% of sites in the entire web run on Shopify while Wix holds a much smaller share of 0.18%. This puts both among the top five ecommerce platforms alongside other popular technologies like WooCommerce, Squarespace Commerce, and PrestaShop.
When you compare only the top one million most visited websites, however, Shopify takes the highest share at 3.62% and Wix is no longer part of the list. This goes to show that there are more serious online businesses on Shopify than on Wix.
But is that enough reason to dismiss Wix and automatically choose Shopify?
That wouldn't be prudent as Wix does offer many advantages that would make it more beneficial depending on your experience in ecommerce, the nature of your business, your current size, and your plans for scaling.
To help you make the right decision both for now and for the long term, below is a comprehensive evaluation of Wix vs Shopify, and when to choose one over the other.
In-depth Shopify vs Wix comparison
This comparison includes the most critical considerations for ecommerce stores. Once you identify which ones are most important to you, it should be easier to choose either Wix or Shopify.
Features
The quality of the website you can create and the simplicity of the process is among the most critical parts of any Wix vs Shopify debate. There's no denying that the Shopify website builder is incredibly powerful. It enables you to create beautiful and responsive online stores with lots of ecommerce functionalities. Apart from built-in sales tools, the top merchants on Shopify highlight the advantages of a robust inventory system that make the platform more scalable.
In contrast, WiX eCommerce isn't quite as sophisticated. It has all the basics you need to create an ecommerce store and accept payments. But it doesn't have as many built-in sales tools as Shopify.
Nevertheless, Wix is best known for its design flexibility. Unlike Shopify, Wix allows for greater design customization. This opens up possibilities for better branding and sales optimization.
Ease of use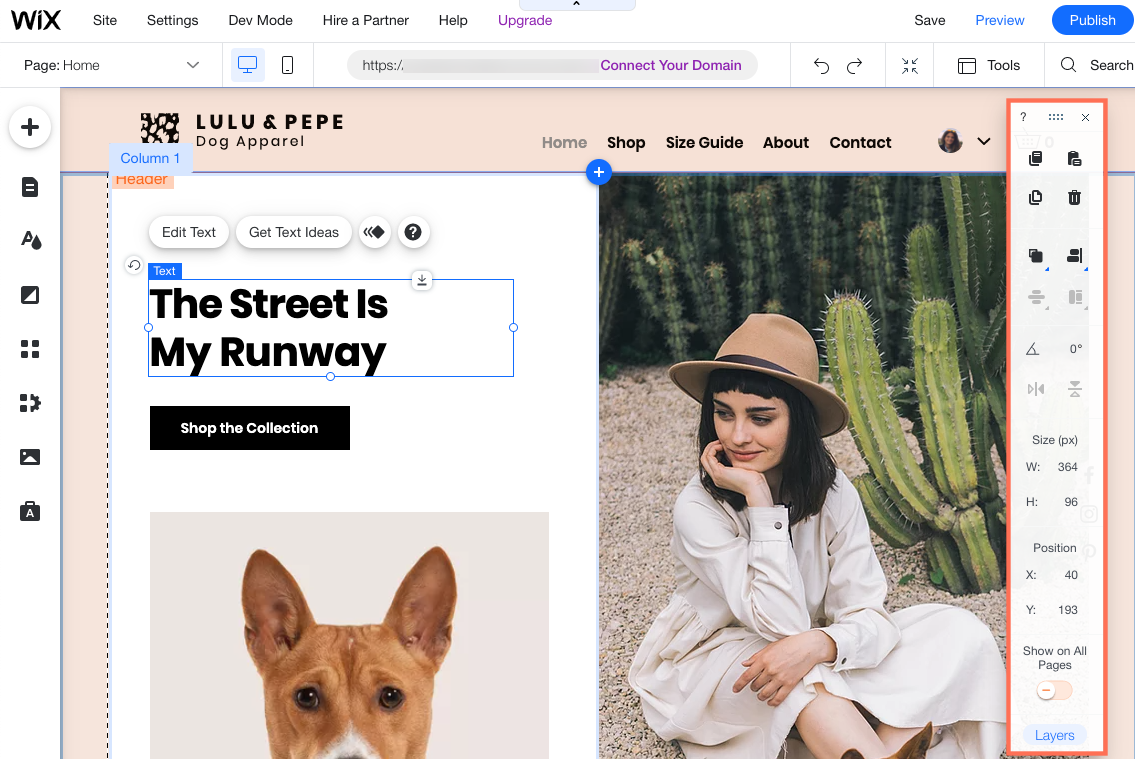 Most will agree that the Wix website builder is much easier to use, which enables businesses to get their online stores up and running sooner. It has a what-you-see-is-what-you-get (WYSIWYG) editor that allows you to build your website with drag-and-drop elements. It also offers in-editor help, which provides guidance right where you need it.
Overall, the Wix platform is generally considered more intuitive than Shopify.
Although its robust features are the reason why Shopify users sing its praises, that sophistication is the same reason why it is much more difficult to use. That being said, it still enables non-programmers to build elaborate ecommerce stores, albeit with a little more time investment and patience in figuring things out.
Beyond the website builder, Wix is still generally easier to use for the average merchant. However, Shopify's product and inventory system allow you to populate your store faster and is, therefore, more beneficial for bigger stores with more SKUs.
Pricing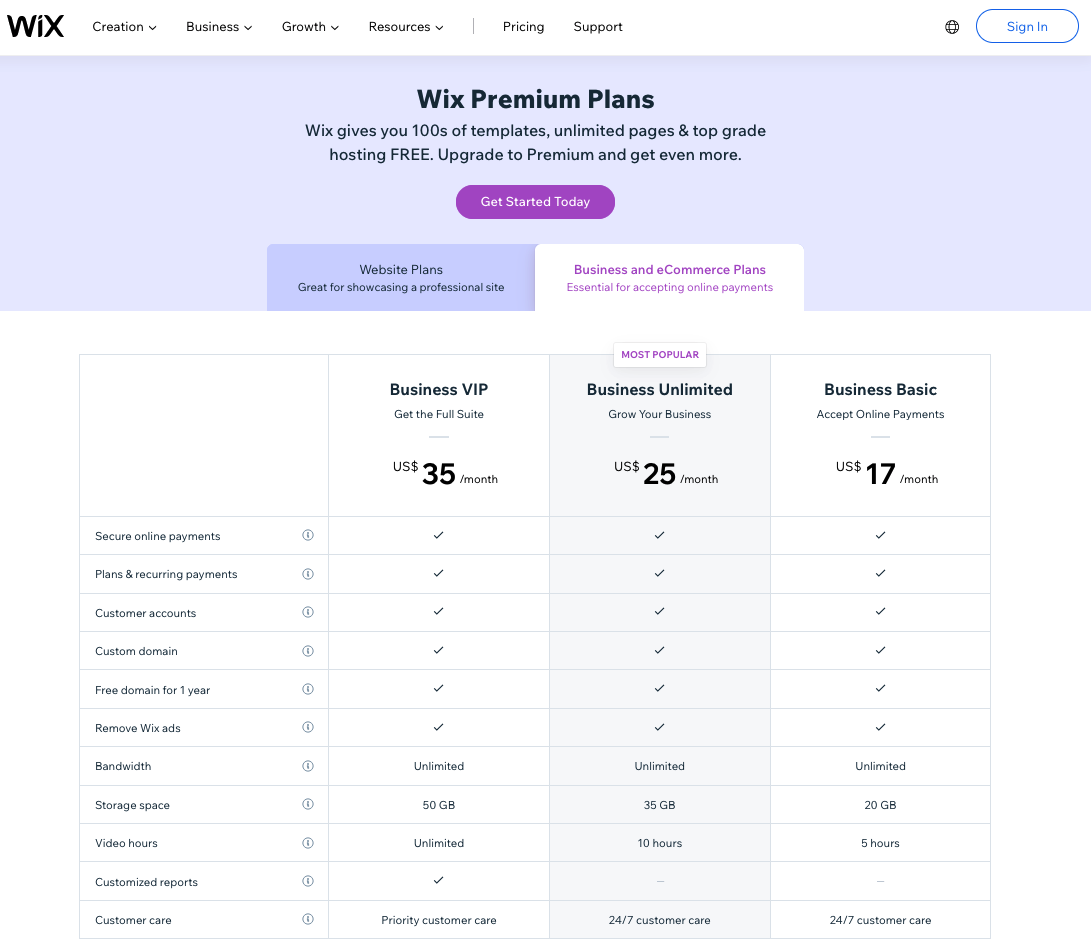 Affordable Wix pricing is one of the main reasons why the platform is so attractive, especially for small businesses and individual merchants. With Wix, you can build your online store through the Business Basic plan, which costs just $17 per month. This will already enable you to sell an unlimited number of products and accept secure online payments.
For access to more advanced features, Wix also offers a Business Unlimited Plan for $25 per month and the Business VIP plan for $35 per month. These upgrades include the ability to collect recurring payments for subscriptions, accept multiple currencies, and sell on marketplaces like Amazon and eBay.
The upgraded plans also give you access to features for dropshipping, collecting and showcasing reviews, and managing loyalty rewards.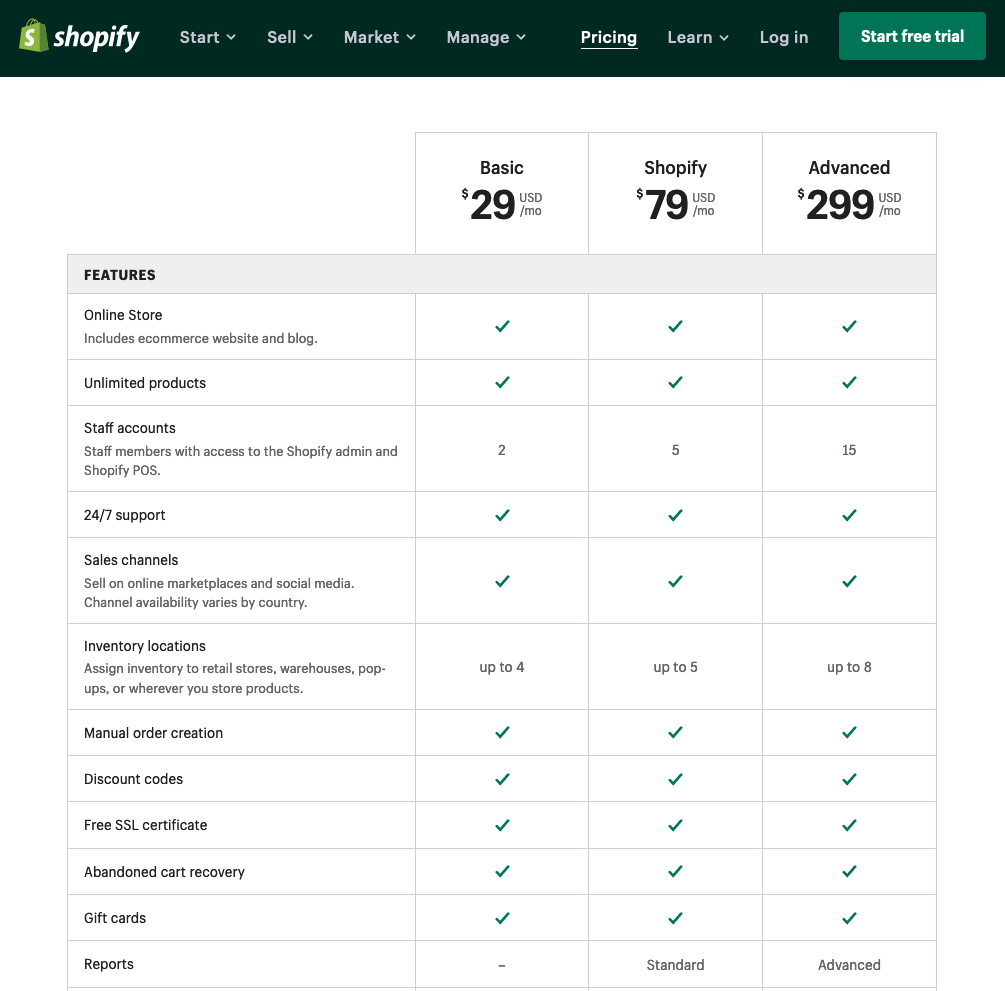 In contrast, Shopify pricing is not quite as affordable. Its more powerful ecommerce functionalities definitely come at a cost, starting at $29 per month for the Basic plan.
This gives you access to most of Shopify's features, including the ability to sell an unlimited number of products, process payments securely, and enjoy competitive shipping rates. However, it doesn't include performance reports, international pricing, and country-specific domains.
The standard Shopify plan costs $79 per month while the Advanced plan costs $299 per month. Among the most significant benefits of these upgraded plans are the more advanced reporting, larger shipping discounts, and more competitive payment processing fees.
For existing websites and blogs, Shopify offers a Shopify Lite version, which allows you to sell a small number of products and accept credit card payments. This plan costs only $9 per month and will work no matter what platform you're on.
On the other end of the spectrum, the Shopify Plus solution is available for enterprises with massive sales volumes. That plan is customized for every business and starts at $2,000 per month.
It's worth noting that both Wix and Shopify offer 14-day trials. While Wix promises a no-questions-asked money-back guarantee, Shopify doesn't require payment upfront.
Themes & templates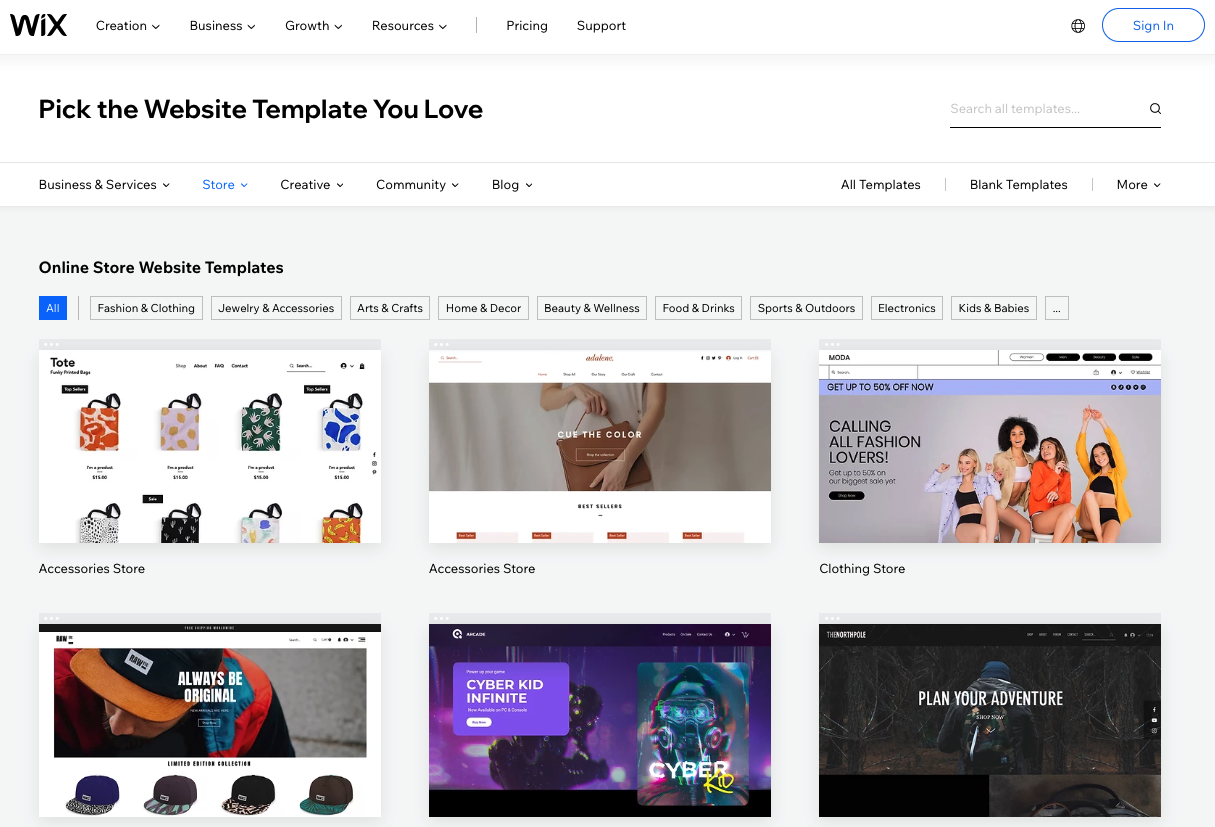 The availability of themes and templates is the key for non-programmers to create online stores with the exact layout, functionality, and design they want. To create your Wix store, you get access to over 120 Wix templates specifically designed for ecommerce. All those templates are free to use.
Additionally, Wix's categorization (e.g., Fashion & Clothing, Arts & Crafts, etc.) makes it easy for you to choose a good template based on the nature of your business.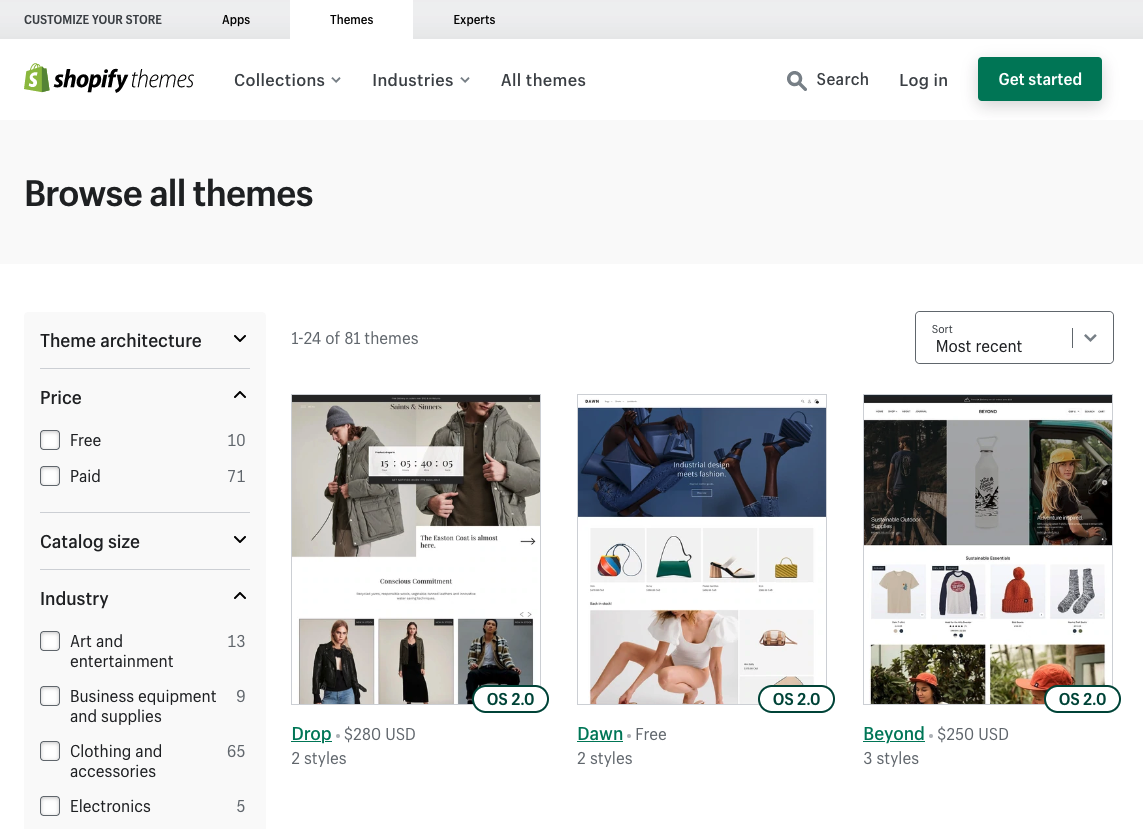 In contrast, Shopify only has 10 free themes available. There are over 70 premium templates, but these range in price from $150 to $350, which is a significant addition to the total cost of building your Shopify store.
Nevertheless, you can access more options in template marketplaces outside of Shopify. Envato's Themeforest alone has over 1,300 Shopify themes, with some selling for less than $20. Not many of such marketplaces sell themes for Wix, which might be a hindrance if you prefer to find templates that require little to no customization for your brand.
Product options
The nature of your business is an essential deciding factor when evaluating Wix vs Shopify for ecommerce. Both platforms allow you to sell an unlimited number of physical goods. Both also have built-in tools that let you offer services and schedule appointments.
But if you intend to offer digital products, only Wix allows you to do that without the use of third-party integrations. Its two higher tiers (Business Unlimited and Business VIP) even enable you to collect recurring payments for subscription offerings.
In terms of product presentation, having a Wix store can be much more beneficial because it has a built-in product zoom function. You can also use the Wix Video Maker to create video demonstrations. However, Wix can't compete with Shopify's features for creating and managing multiple variants of the same product.
Inventory options
Shopify's inventory and product management features are definitely more advanced than Wix's. With Shopify, you can upload single or multiple products and also multiple variants of the same product. It also enables you to manage stock between several physical locations.
On the other hand, the built-in inventory management tools are less sophisticated for a Wix store. Although its features might be too limited for more complex businesses, the simpler platform offers a huge advantage to smaller businesses looking for something easy to manage.
Shipping options
There is no Wix vs Shopify competition when it comes to shipping options. Shopify definitely wins in this regard because the platform enables you to manage the entire fulfillment process and shipping features are built into every account.
With Shopify, you can buy postage, print shipping labels, and monitor deliveries from your admin account. You can also enjoy significantly discounted rates from the largest couriers, including USPS, UPS, and DHL Express.
Discounts can be as large as 88% from standard pricing, which opens up more possibilities for offering free shipping and other incentives to your customers.
In contrast, Wix only comes with a shipping fee calculator (based on USPS rates). It doesn't have built-in features to help you fulfill your orders. You'll need to rely on third-party apps to do what Shopify offers out of the box.
Although these apps will give you the features you need, they often involve additional costs. For example, ShipStation plans start at $9 per month and can cost up to $159 per month depending on shipment volume.
Marketing features
Most ecommerce stores rely heavily on email marketing to drive sales and nurture relationships with customers. However, built-in tools are limited in both Wix and Shopify. Both platforms have abandoned cart recovery features, which allow you to automatically send emails to remind shoppers of items they left in their shopping carts. Beyond that, it seems Wix offers a greater advantage.
Wix email marketing features are available through its Ascend service. Every Wix account is allowed to run up to three campaigns and send up to 5,000 emails per month. Beyond that, the Ascend premium plans are available from $10 per month. Although the additional cost might seem daunting, the service goes beyond email marketing and offers other tools for your Wix store to drive traffic, promote products, and manage customers.
In comparison, Shopify email marketing features are heavily reliant on third-party integrations. Apart from abandoned cart recovery, there's not much you can do out of the box. Additionally, Shopify accounts don't include custom domains and it requires more work to set up your email account to use for your campaigns.
This typically involves additional costs. Google Workspace, for example, will cost an additional $4.20 per user per month for the most basic plan, which does not yet include the price of your domain name.
Apps, plugins and integrations
What ecommerce platforms lack in built-in features are often available as apps or plugins that are easily integrated into your online store. Comparing the number of Wix marketing plugins vs Shopify App Store, Shopify definitely wins in terms of app availability.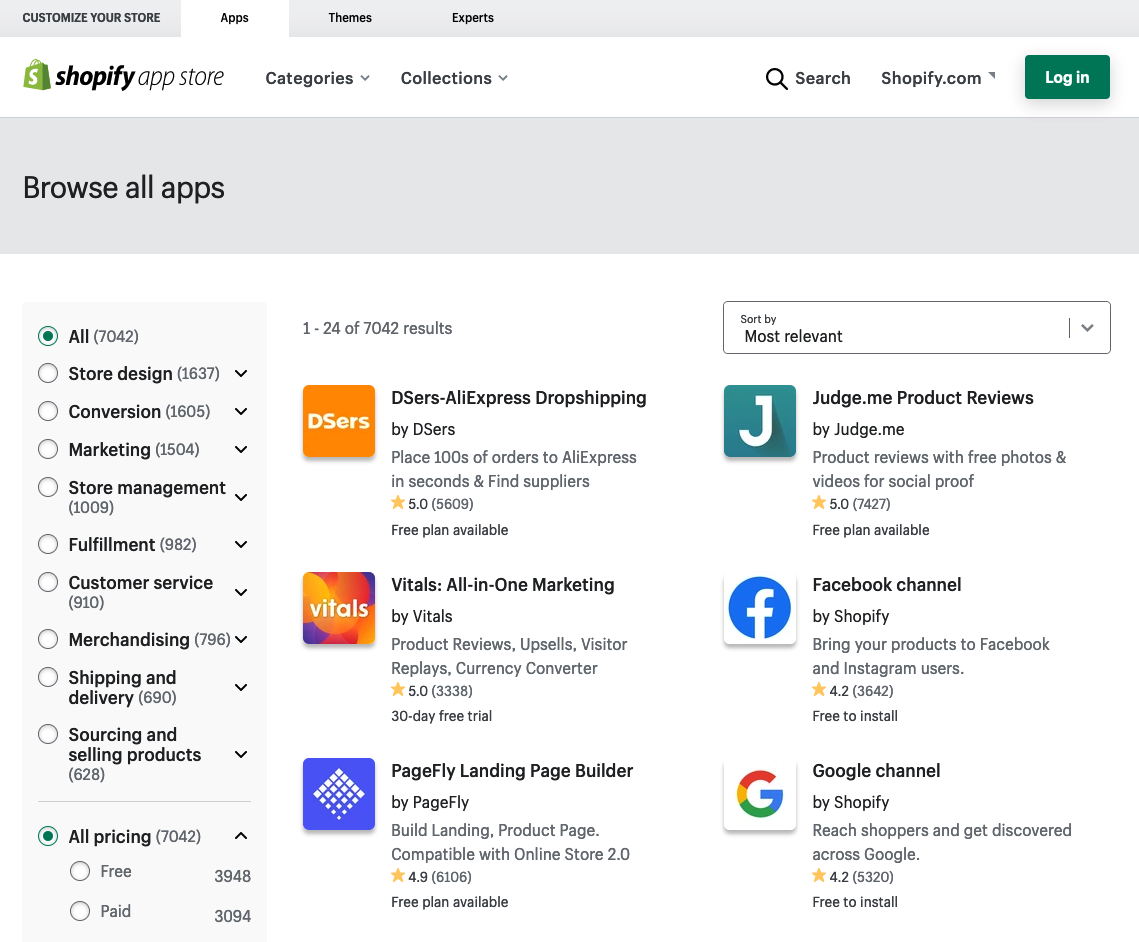 Because of the widespread use of Shopify, software developers prioritize creating plugins for the platform. This is why there are over 7,000 plugins available on the Shopify App Store. These apps provide additional functionality to your Shopify store and can help in different aspects of your business. Some of the best Shopify apps are useful for store management, customer service, and marketing.
Omnisend, for example, integrates directly with Shopify and allows Shopify stores the ability to use omnichannel marketing—email, SMS, push, and even Facebook and Google—to capture, convert and retain customers. It's also a Shopify Plus Certified App, allowing you to integrate the service seamlessly with the platform's enterprise-level plan.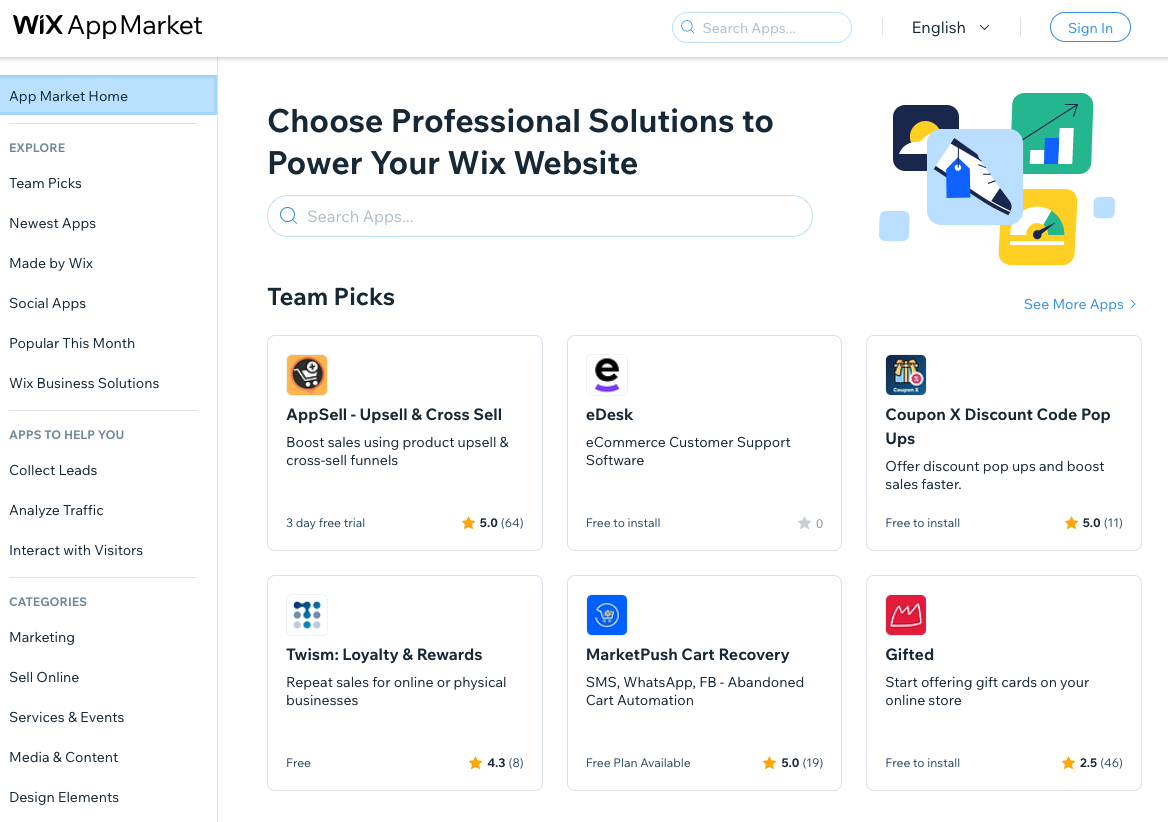 In contrast, there are only about 350 plugins available on the Wix App Market. Nevertheless, it's worth noting that the most popular services are typically available on both platforms. For example, Omnisend is also available as a Wix plugin.
Payment options
Both Shopify and Wix offer in-house payment gateways. This means you'll have a built-in payment processing solution no matter which platform you select. With either Wix Payments or Shopify Payments, your customers can pay you using credit cards and debit cards.
Both platforms charge a processing fee per transaction. For Wix Payments, the fees differ per region while Shopify bases its rate on your plan.
Wix processing fees for Canada and US-based customers are the same as Shopify's fees for their Basic plan, which is a $0.30 flat fee + 2.9% of the transaction amount. Shopify lowers its variable rate to 2.6% and 2.4% for the standard Shopify plan and the Advanced plan, respectively.
Wix's fees are especially beneficial for online merchants with a large European audience since its transaction fees are much lower in this region. UK payments are charged a £0.20 flat fee + 2.1% of the total transaction while payments from EU countries are only charged a €0.30 flat fee + 1.9% of the transaction.
Apart from debit and credit cards, Shopify and Wix Payments enable you to accept a variety of other payment options. Both include Paypal and Apple Pay.
Both Shopify and Wix also offer a Point of Sale (POS) system, which allows you to accept in-person payments through a system that's fully integrated with your online store. So, you don't need to manage sales and inventory separately.
Security
Whether you choose Wix or Shopify, security shouldn't be an issue. Both platforms provide ample security for ecommerce stores and have measures in place for the protection of your business as well as your customers.
Every Shopify and Wix plan includes SSL security. This is the standard technology required for websites to ensure a secure server connection. With an SSL certificate, you're able to safeguard sensitive information, most especially the personal data of your customers.
Both Wix and Shopify also work hard to ensure that websites built on their systems are protected from DDoS attacks, malware, and viruses. This means the risk of your store being unavailable due to cyberattacks is low on both platforms.
Additionally, both are PCI-compliant, which means your store will automatically follow the stringent security standards for accepting credit card and debit card payments. This is required by credit card companies and both Shopify and Wix are subject to annual validation of compliance, so you can rest easy no matter which platform you choose.
Support
Shopify used to be lauded for its 24/7 availability of live chat support, with priority given to VIP plan holders. Wix didn't offer live chat support until recently, but it now offers the advantage of live support not only in English but in multiple languages, including French, German, Hebrew, Italian, Japanese, Portuguese, Russian, and Spanish. The company also offers email support in Korean.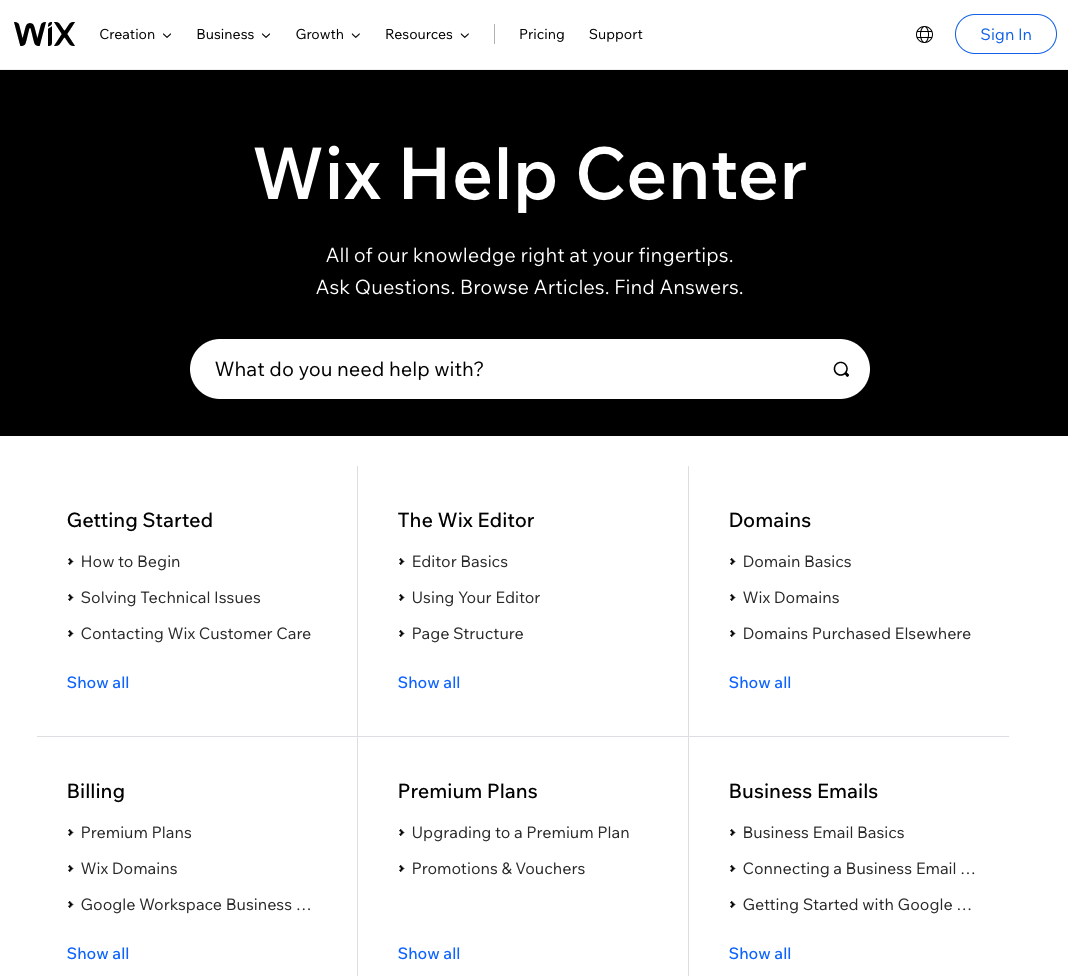 Now, both Wix and Shopify offer 24/7 support over live chat, phone, and email. Both offer positive experiences in terms of wait time and the quality of support provided.
However, Wix has the advantage of a better Help Center. Its library of resources is much more comprehensive and organized. The answers to questions are clear and are available as both articles and videos. Furthermore, Wix has an active social media support team as well as an active community forum, which offers additional channels for seeking advice.
Wrap up
On the surface, Shopify might seem like the clear winner in any Wix vs Shopify comparison. However, when you dig through every feature needed to build and manage an online store, you'll quickly realize that Wix offers many significant advantages.
If you need an ecommerce platform with a robust inventory management system, sophisticated sales tools, and many plugins to choose from, Shopify is your best option. Shopify also wins if you expect to scale up your operations massively in the near future.
However, if all you're looking for is a simple ecommerce solution that's easy to use and manage, Wix should definitely be your top consideration. Wix also offers better branding and design flexibility. Additionally, it is much less expensive to use.
Both Shopify and Wix stores integrate seamlessly with Omnisend, which enables you to run marketing campaigns on autopilot.
Get started with Omnisend today & drive sales on autopilot with pre-built automation workflows
Start Free Today
related features
Want more sales?
Omnisend has everything you need to succeed.
Start free now
No Credit Card needed.