Drive sales on autopilot with ecommerce-focused features
See Features
Reading Time:
4
minutes
It was only 3 years ago that Soundest was born to help small and medium-sized ecommerce businesses communicate with their customers.
Our plan was to give smaller businesses the complex email marketing tools they needed, but to make it easy to use and at a great price.
And, in our three years, that's exactly what we've achieved.
Soundest is now used by more than 30,000 brands in 130 countries all over the world, sending millions of emails every single day.
We're the #1 email marketing choice for merchants on Shopify, and our reviews constantly contain the words that have come to define our platform: "easy to use."
However, as we were building features and planning our future, we realized that Soundest just wasn't big enough anymore for all our goals.
Our features have evolved to include more than just email marketing, and we've been steadily moving more towards omnichannel marketing, which puts the customer experience at the center of everything.
Meet Omnisend
Omnisend is focused on helping our customers, ecommerce merchants, to know their customers better and build stronger, longer-lasting relationships. This will enable them to know how to provide the most value to their customers or subscribers at the right time and in the right place.
We believe that the only way to build a strong business in this new age of commerce is to build a strong relationship with your customer.
That's why we're focusing on omnichannel marketing, so that customers can get the same unified experience no matter what channel is being used—whether that's email campaigns, receipts, landing pages, popups, signup forms or interactive elements.
Omnisend as a brand name also involves some practical considerations:
While we love Soundest, the name doesn't say much about what we do at the moment, neither as email marketing nor marketing in general
Soundest doesn't really encapsulate what we see as the future of marketing: omnichannel marketing
Therefore, Omnisend places the focus on converting the visitors that come to your store and continuing a good relationship with them after they've made their purchase.
That's the core of our message on our new homepage: Convert your visitors. Retain your customers.
We want to help merchants build connections with their customers throughout the entire customer journey—from the first time they visit the store all the way until they make their repeat purchases.
In order to do that, it will require the following steps:
1. Getting to know your customers
Omnisend really is focused on getting the merchant to better understand his customer.
With our Signup boxes and popups, you can offer your store visitors an interesting offer, such as a discount or free shipping, in exchange for their email addresses. But you're not just limited to their name and email.
You can also add in any other important information, like their birthday, city, country, phone number, etc.
The Wheel of Fortune offers your visitors a fun experience, while the Landing Page allows you to focus on a specific aspect of your store or product.
With the right information, you'll be able to know your subscribers much better, which will help you deliver the right message to them at the right time.
2. Keeping your customers engaged
Now that you have your customers' email addresses, Omnisend can help you engage them with interesting features that help you stand out from the crowd.
You can send a unique, randomized Discount Coupon Code to your visitors. Even better, it's automatically synced with your store, so you don't need to do anything else.
3. Sending the right messages at the right time
Keeping an eye on every single customer can be very difficult to do, but it's often a great way to respond to them at the right time and with the right message.
But it doesn't have to be so hard.
You can automate the entire process, so that any time your customer completes a certain action (like buying something or abandoning their cart), you can send them a customized email.
Our Cart Recovery and Order Confirmation email will go out to your customers at the time when they need it most.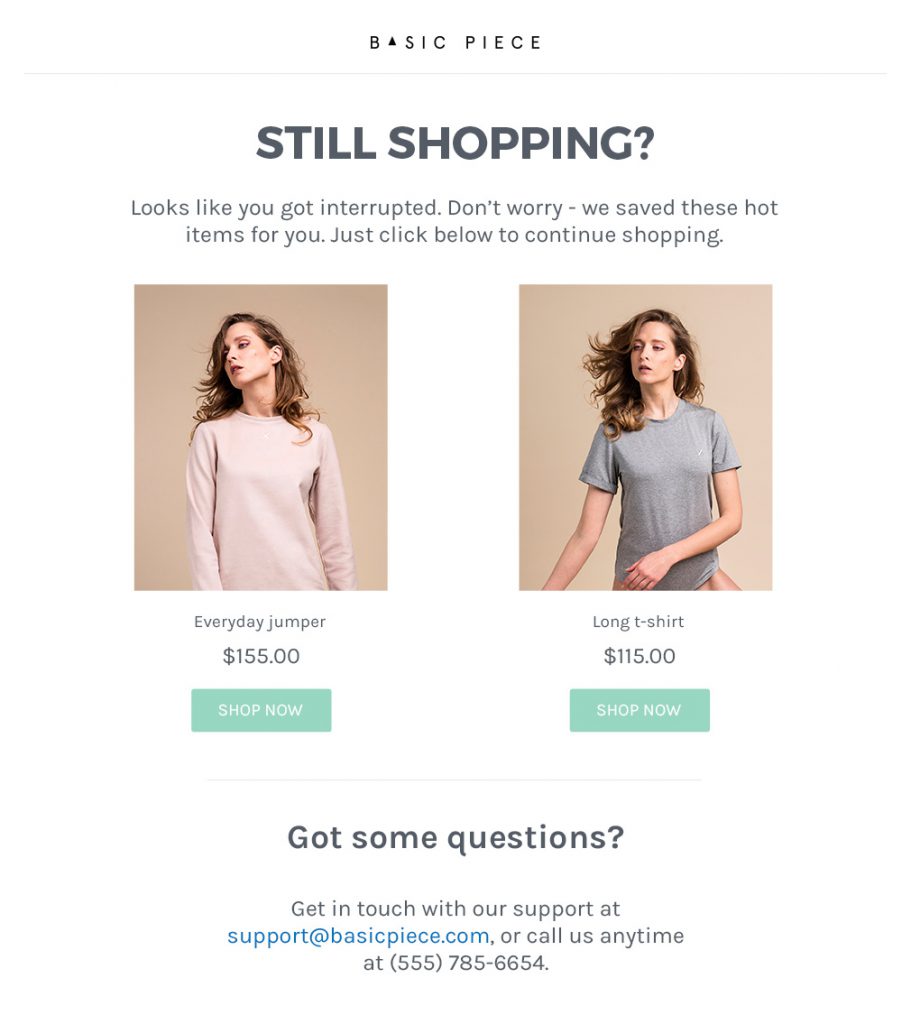 4. Keeping your customers around for longer
You shouldn't stop focusing on your customers once they've made a purchase from you. In fact, keeping them around for longer is much better for your business, since keeping a customer is 5-25 times cheaper than getting a new one.
That's why you need more features to re-engage customers who've gone quiet and keep the ones that just bought from you active for longer.
Our Order Follow-up email allows you to ask for customer feedback after they made a purchase and even inspire them to buy from you again. Our Customer Reactivation series goes out after a certain amount of days and contains offers like free shipping or discounts to get those customers back.
Omnisend helps you build lasting relationships with your customers
When you get down to the basic definition of commerce, it's essentially about the exchange of value. With better and smarter features, we can help you create this constant exchange of value throughout your entire relationship with your customer.
And we'll be able to do that without having to change our pricing, so you don't have to worry—you'll be paying the same rates as you always have.
With our new brand and renewed vision, here are some of the big changes you'll be seeing in the coming days and months, which include:
24/7 support, so that we can help our customers at any time, around the clock
an updated, more developer-friendly API so that our users can integrate their shops no matter what platforms they're on, including PrestaShop, OpenCart, WooCommerce and more
more flexible automation and more segmentation capabilities
account managers for our larger customers that need more help on a regular basis
But the biggest change you'll see—something which has, in all honesty, started a long time ago—is our explicit guidance to help merchants put their customers at the core of their business.
We firmly believe that only by building up a relationship with your customers will you be able to build any kind of long-term, sustainable business.
After all, we heart our customers, and we want you to heart yours.

Get a personal 1-on-1 Omnisend demo that will supercharge your next campaign!
Get My Demo
related features
Want more sales?
Omnisend has everything you need to succeed.
Start free now
No Credit Card needed.