Drive sales on autopilot with ecommerce-focused features
See Features
Reading Time:
12
minutes
There's a pervasive myth that email marketing is dead—that effective marketing now relies on other platforms.
Those that use email know otherwise. Thanks to its incredible ROI, email marketing has become an integral part of many businesses' marketing strategy.
But with so many email marketing platforms available, choosing the right one can be a challenging task. Among these platforms are Mailchimp and Constant Contact—two of the most popular and reliable email marketing platforms.
Both offer a range of features and tools to help businesses connect with their audiences effectively.
But, which one should you choose?
In this article, we'll compare both the platforms and provide tips for choosing between them for your email marketing needs in 2023.
What we'll cover in this post:
Choose the right email platform that's tailored for your specific needs
Choose Omnisend to enjoy a range of features even in the free plan such as segmentation, templates, automations, and 24/7 live chat support.
Used by Inglot, Lakers store, and 80,000 other businesses.
💡Get Omnisend
Upgrade your skills and knowledge. Explore our expert-led email marketing courses and tutorials and get the know-how you need to achieve great results.
Constant Contact vs Mailchimp: quick facts
Let's take a look at how these two platforms stack up against each other in terms of their users.
User base
Constant Contact: 142,090
Mailchimp: 1.4+ million
Well-known users
Some of the well-known users of Mailchimp are:
The World Health Organization (WHO)
Wine Folly
Amazon
Walmart
The North Face
World Bank
The World Economic Forum
PETA
FAS (Federation of American Scientists)
GE (General Electric)
Well-known users of Constant Contact include:
University of South Carolina
The government of the City of San Antonio
Stony Brook University
Salt Lake County
National Association of Social Workers
Star Beacon Park Ave
University of South Carolina
Location of users
About 76% of Constant Contact customers are in the United States.
About 29% of Mailchimp customers are in the United States and 7% are in the United Kingdom.
Users by industry
Mailchimp:
Retail is the most popular segment, accounting for 6% of Mailchimp's user base. This is followed by IT services, marketing, and SaaS businesses. When it comes to non-profits and educational organizations, the usage hovers around 21,000 to 24,000.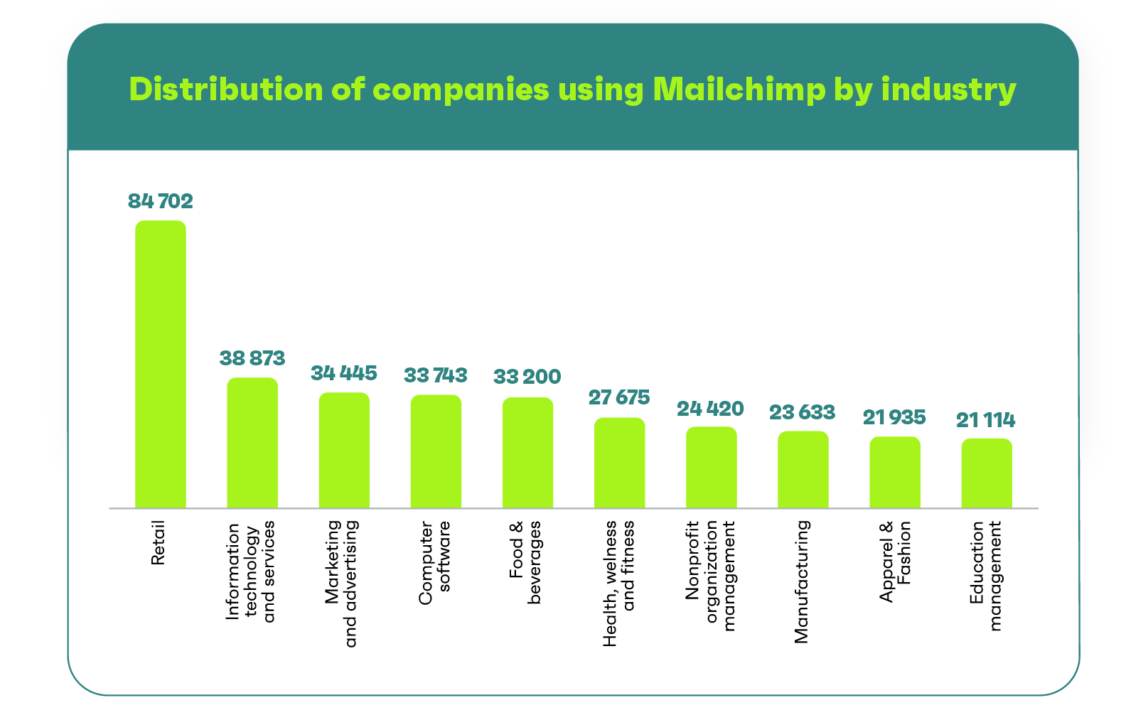 Constant Contact:
Non-profits are the largest user base of Constant Contact followed closely by retail. The other segments that make up Constant Contact's user base differ significantly from that of Mailchimp.
Customers are distributed across various industries such as healthcare, hospitality, religious institutions, and recreational facilities.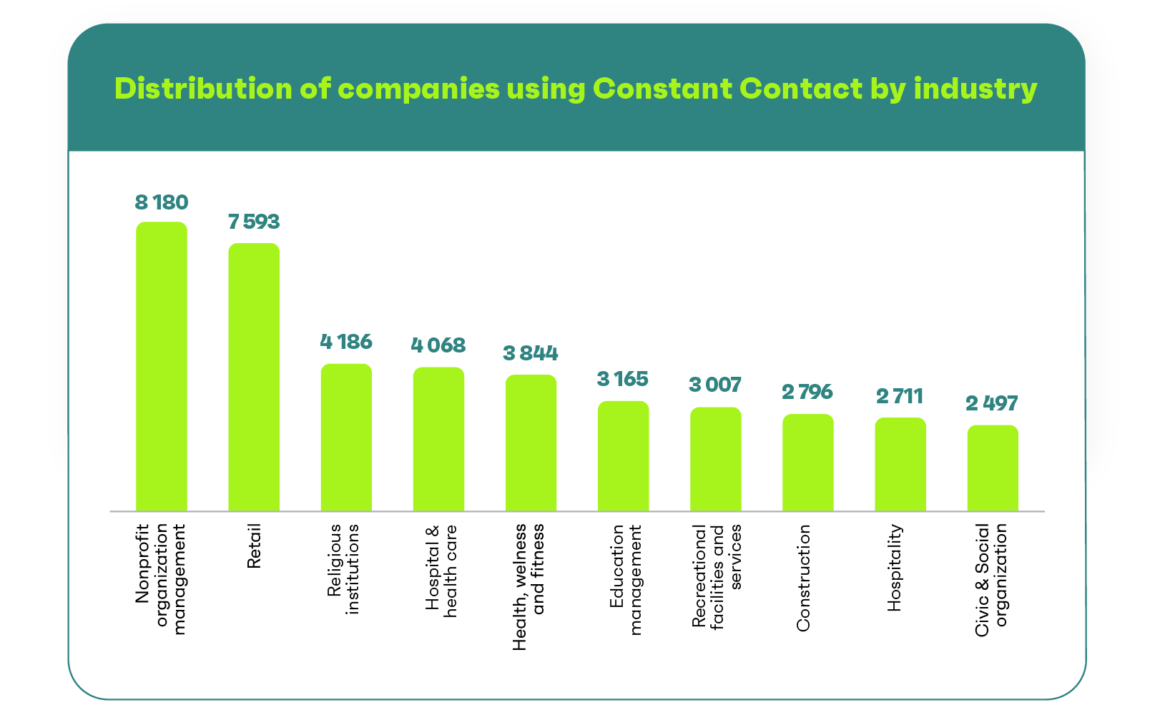 Mailchimp and Constant Contact: a short comparison
Constant Contact
Mailchimp
Free plan
❌
✅
Prices start at
$9.99
$13
User ratings (G2)
4.0
4.4
Number of templates
300+
100+
Customer support
Live chat, phone
Email and chat support
Automations
Welcome email
Anniversary and birthday
Abandoned cart reminder
Automated email series
Resend to non-openers
Welcome email
Purchases
Birthday and anniversary
Abandoned cart reminder
Clicked and non-clicked campaigns
Email opens and link activity
Custom triggers
Extra features
SMS marketing, landing pages, social media ads,
SMS marketing, landing pages, social media ads, subject line helper
Best for
Small businesses, non-profits, startups
Small to medium businesses, retailers, SaaS companies.
Mailchimp and Constant Contact: detailed comparison
Mailchimp and Constant Contact offer similar features and benefits, but differ in some areas. For instance, Mailchimp has a free forever plan while Constant Contact allows you to send a higher number of emails in all its plans.
In this detailed review, we'll look at the strengths and weaknesses of both platforms, so you can make an informed decision to determine the best one for your business.
1. Ease of use
Winner: Mailchimp and Constant Contact
There's no clear winner here as both Constant Contact and Mailchimp are easy to set-up and navigate, making them the perfect choice for beginners or those who don't have too much time.
Both platforms offer templates, email editors, and email list management. Mailchimp's new editor and automation are easier to set up and use when compared with its classic builder.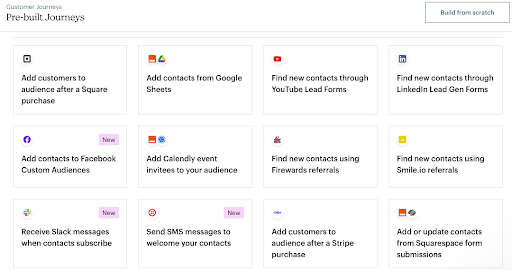 Constant Contact has received a high rating for its ease of use thanks to its streamlined interface, simplified editor, an uncomplicated view of analytics, and the pre-built automation flows.
2. Email editor
Winner: Mailchimp
Mailchimp's new drag-and-drop email builder helps you craft emails quickly with the help of content blocks, templates, images, and branding.
You can add text directly in the blocks, use the redo or undo buttons to revamp your design, and display social media buttons.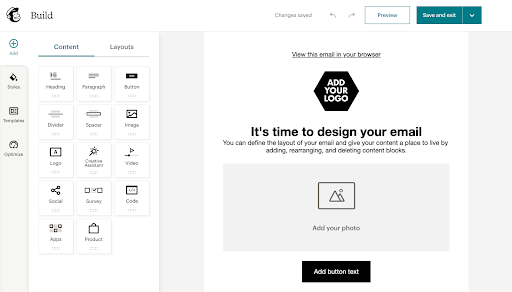 Constant Contact's email editor is similar to Mailchimp's email builder and allows you to create emails with pre-built layouts and blocks. You can add images, text, choose custom colors, and preview your email before sending it.
While Constant Contact's editor is simpler and easier to use, Mailchimp's email editor is more polished and offers greater customization options.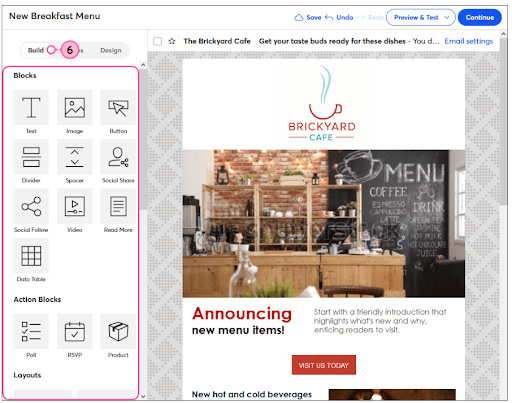 3. Email templates
Winner: Constant Contact
Both Mailchimp and Constant Contact offer a wide range of email templates that you can leverage to build stunning emails for your campaigns.
These templates can be customized to match your branding and you can also create your own templates from scratch. While Mailchimp offers 100+ templates, Constant Contact has over 300 templates on offer.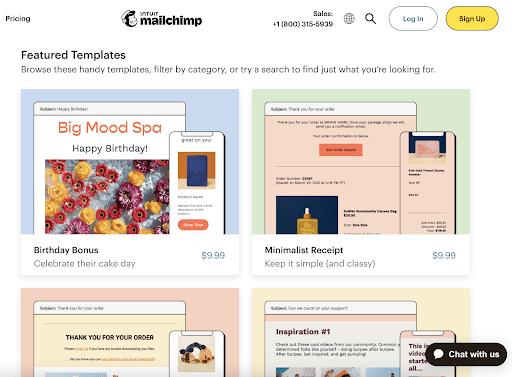 Going by the sheer number of available templates, Constant Contact is the winner. But if you want more sophisticated templates with greater customization options, Mailchimp has the edge.
Constant Contact's templates, however, are easier to use, making them the ideal choice for beginners who are new to designing.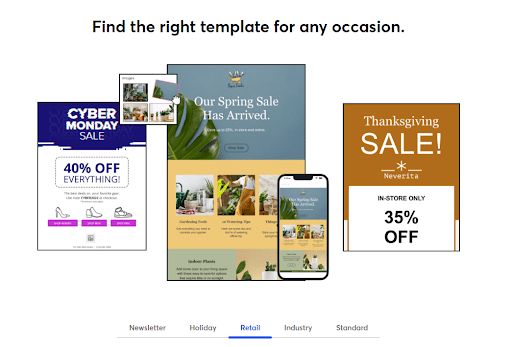 4. Email list management
Winner: Constant Contact
Mailchimp's import tool lets you import your contacts from Excel, Google Sheets, or by syncing with supported apps such as Zapier and QuickBooks.
You can segment your audience based on multiple criteria, including purchase history, signup source, campaign activity, etc. Mailchimp offers stats and insights on your audience as well to help you segment your lists and deliver personalized emails.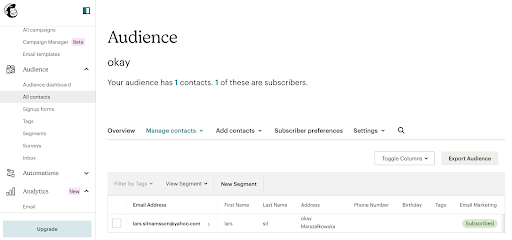 Similarly, Constant Contact makes it easy to upload contact lists from apps, Excel, or Outlook. You can also segment leads based on click activity, profile info, and tags.
While Constant Contact's user interface is more seamless, Mailchimp offers advanced segmentation, insights, and real-time updating of segmented lists.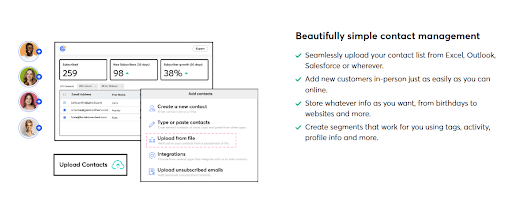 Learn more:
The Five Email List Management Best Practices
5. Automations
Winner: Mailchimp
Constant Contact offers simple automation features that allow you to send welcome emails for new subscribers, anniversary/birthday emails, and to users who haven't opened your first email.
You can set up triggers for automated email series when you subscribe to Constant Contact's premium plan. These triggers are of four types: sign ups, email opens, link clicks, and Shopify activity.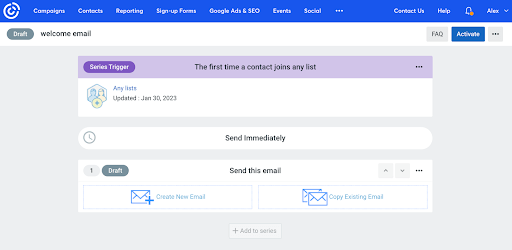 Mailchimp offers similar automation features but goes beyond Constant Contact in some ways. You can preview pre-built automation flows with Mailchimp's free plan while you can build your own with any of the paid plans.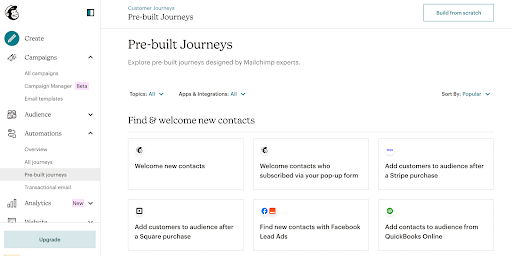 Mailchimp also allows you to leverage multiple data points thanks to easy integration with over 300 apps including Google Analytics, Instagram, and WooCommerce.
6. Email signup forms
Winner: Mailchimp
While both Mailchimp and Constant Contact provide similar basic features for creating email signup forms, there are some differences when it comes to form design options.
Mailchimp's email sign-up forms are generally more customizable and integrate with numerous third-party tools. These embedded signup forms are the starting point for audience segmentation in Mailchimp.
The key difference between the two is that Mailchimp's signup form builder offers more options for building customized fields and also has a "Translate it" feature to translate your forms to another language.
In addition, Mailchimp offers more robust form plugins and integrations with platforms such as WordPress, Facebook, Squarespace, and others.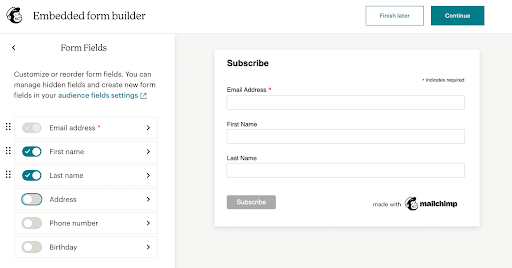 Constant Contact has a simpler user interface and less advanced customization options.
It allows you to create four types of signup forms including popup, banner, inline, and flyout forms. You can add a CTA button, your logo, and a background image to customize your forms.
An interesting feature that Constant Contact offers is the ability to create and place a QR code on your marketing collateral that links to your email sign-up form.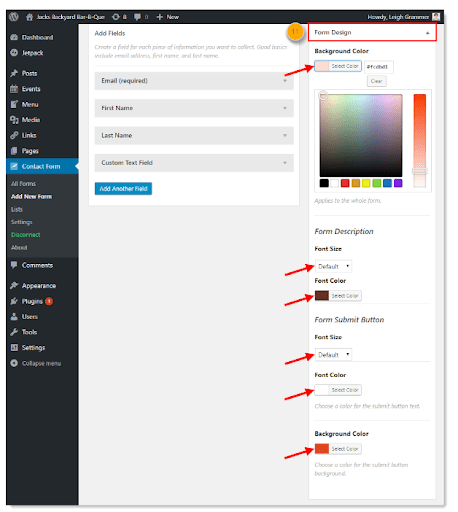 Also read:
The best signup forms for high conversions (Omnisend research)
9 killer strategies to build an email list quickly and easily
7. Deliverability
Winner: Constant Contact
Email deliverability is a measure of how successful your emails are at reaching a recipient's inbox.
While a lot of factors affect email deliverability, sender reputation is one of the important ones.
Sender reputation is a measure of the sender's trustworthiness and can be based on the email content, the frequency of emails, and the engagement of the recipients with the messages.
Certain words or phrases, such as those commonly used in spam ("money back," "earn cash," etc), may be flagged as spam by email filters.
Authenticating emails using tools like SPF, DKIM, and DMARC can help prevent email spoofing and improve deliverability.
A recent study shows Constant Contact has a higher email deliverability compared to Mailchimp across email clients.
| | |
| --- | --- |
| Marketing automation platform | Email deliverability |
| Constant Contact | 90.4 |
| Mailchimp | 87.9 |
Ideally, you should choose an email marketing platform that helps you achieve a deliverability of 95% and above.
Related:
Email deliverability guide 2023: Common issues and best practices
How to use sender reputation warming for better email deliverability
10 tips to improve deliverability & list cleaning after iOS 15
8. Campaign reporting
Winner: Mailchimp
Both Constant Contact and Mailchimp offer insights into the metrics that matter.
Constant Contact's dashboard is simple and straightforward, covering the basics such as click-through, open, and bounce rates. You can integrate the platform with Google Analytics to track email conversion rate as well.
Constant Contact also offers campaign comparison, click-tracking, click segmentation, and open rates across mobile and desktop: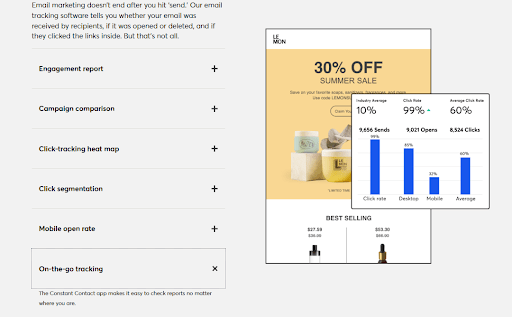 Mailchimp's dashboard also displays important metrics in addition to the industry averages to make it easy for you to understand where you currently stand.
The slick reporting interface features campaign-specific and list-based graphs. Plus, Mailchimp allows you to dig deep into your campaigns with its AI-based Content Optimizer that recommends content based on the best practices followed in the industry.
Another feature that Constant Contact lacks is "Revenue" analytics. Once you connect your ecommerce store, Mailchimp allows you to see the sales revenue you earned through email marketing, but Constant Contact doesn't.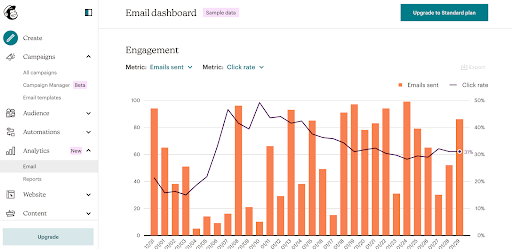 9. Pricing
Winner: Mailchimp
Mailchimp has a free forever plan that allows you to send 1000 emails per month and offers basic reporting tools, email templates, forms, landing pages, and creative assistant.
As your business grows, you will need to upgrade to one of the paid plans, starting at $13.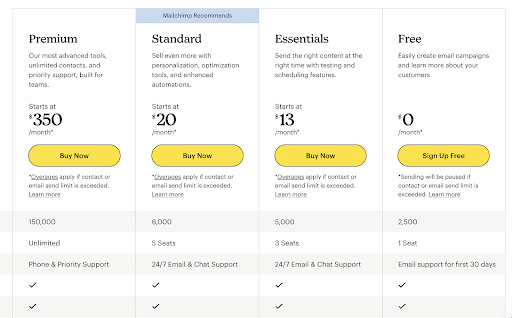 Constant Contact, on the other hand, offers no free plan but you can try out both the paid plans with a 30-day free trial.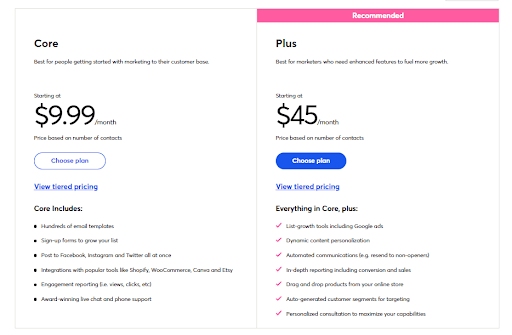 Apart from email templates, signup forms, and basic engagement reporting, the Core plan does not offer much in terms of features. For in-depth segmentation, email automation, and list-growth tools, you will need to upgrade to the Plus plan.
Unlike Mailchimp, Constant Contact sets the monthly email sends at 24 times the number of contacts you have. For instance, if you have 500 contacts, you can send up to 12,000 emails per month.
If your email list grows to 50,000 contacts or more, your plan will get upgraded to their Plus plan.
Also read:
How to create a welcome email template (+ examples)
What are email blasts? Definition, how to do email blasts & examples
10. Features & plans for non-profits
Winner: Constant Contact
Mailchimp's free plan allows up to 2500 monthly email sends, as well as access to the free tools that Mailchimp offers, including free website builder, pre-built automation, reporting, and templates.
It also offers a 15% discount to non-profit organizations that are registered or have 501(c)(3) status in the US. Charities and non-profits can request for the discount by contacting Mailchimp and choosing non-profit discount requests as the billing question.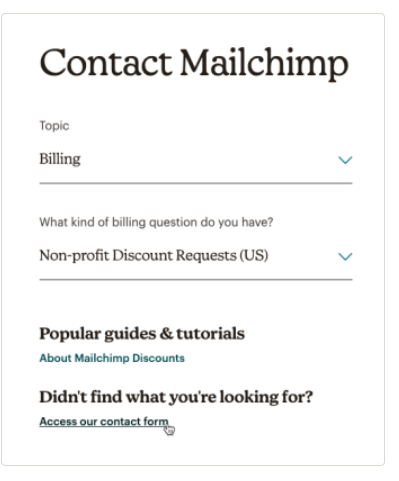 Constant Contact offers a 20% discount on the paid plans when non-profits pay upfront for six months. If they prepay for 12 months, they can get a 30% discount.
Charities and non-profits will need to call Constant Contact to place a request for the discount.
The verdict?
For beginners, Constant Contact is the perfect choice given its easy-to-use drag-and-drop editor, uncomplicated campaign reports, and higher email deliverability.
Mailchimp, on the other hand, offers more features and customization options, particularly when it comes to automating emails and segmenting customer lists.
That said, you can also explore the best alternatives to both Constant Contact and Mailchimp to get the best of both worlds.
Mailchimp and Constant Contact: best alternatives
1. Omnisend—better for ecommerce businesses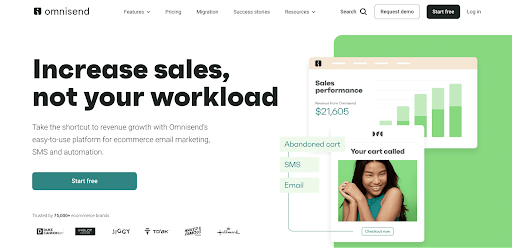 G2 rating: 4.6/5
If you have an ecommerce store, the best choice for you is Omnisend. As an established email and SMS marketing platform, Omnisend offers ecommerce-specific features, automated workflows, integrations, and much more.
And if you're not yet in need of the bigger plans, you'll definitely want to consider Omnisend. Although many marketers believe that they have to spend a lot of money to get a great email platform, Omnisend proves otherwise.
Specifically, it allows you to send 500 monthly emails of unlimited size in addition to pre-built automations and 24/7 live chat support—all for free! And that free plan also includes award-winning 24/7 live support, and all of the features found on the paid plans.
If you need to send more than 500 monthly emails, just upgrade to the Standard plan that starts at just $16 per month.
Why Omnisend is a good alternative:
Free forever plan and affordable paid plans
A user-friendly interface that is easy to navigate
Pre-built, ecommerce-specific automation workflows for cart abandonment, welcome series, post-purchase, and other scenarios
Integrates with a wide range of ecommerce platforms and tools, including Shopify, BigCommerce, WooCommerce, and Google Ads
Offers multi-channel marketing in combination with SMS marketing, push notifications, and other channels that can help small businesses maximize visibility
Pricing:
Free: $0
Standard: starting at $16 per month
Pro: starting at $59 per month
Read the stories of businesses using Omnisend:
How Amundsen Sports' focus on identity leads to more sales after the order
How INGLOT Canada uses Omnisend as part of its long-term retention strategy
2. GetResponse—better for SaaS businesses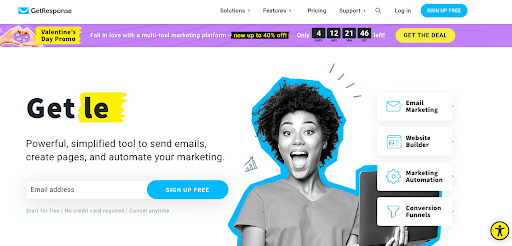 G2 rating: 4.2/5
GetResponse offers a wide range of features that can help businesses automate and streamline their marketing efforts.
SaaS businesses often have complex sales cycles, which can involve multiple touchpoints and stages.
GetResponse's marketing automation features allow businesses to create targeted campaigns that can be triggered based on customer behavior, such as website visits or sign-ups. This can help businesses move customers through the sales funnel more efficiently and effectively.
Why GetResponse is a good alternative:
You can track and rate your customers' actions and create niche segments
A timing tool helps you send emails at your recipients' preferred times
Automation triggers product recommendations based on each customer's preferences and purchase history
Pricing:
Free: $0
Email Marketing: starting at $19 per month (if paying monthly instead of annually)
Marketing Automation: $59 per month
Ecommerce Marketing: $119 per month
3. ActiveCampaign—better for B2B businesses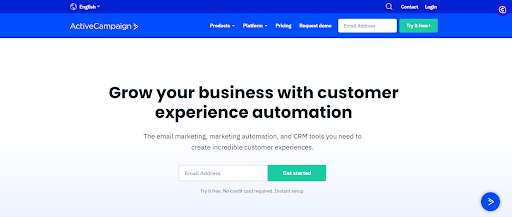 G2 rating: 4.6/5
ActiveCampaign is a user-friendly email marketing tool that allows businesses to create and send personalized and targeted emails to their subscribers.
The platform offers a range of customizable templates, automation workflows, and analytics to help businesses optimize their email campaigns.
What makes it a good choice for B2B businesses?
B2B businesses often have complex sales cycles that involve multiple touchpoints with specific individuals, groups, or the entire company. With ActiveCampaign, users can track each B2B opportunity by categorizing them as 'accounts' instead of tracking the opportunity through individual contacts.
Why Active Campaign is a good alternative:
Segmentation allows businesses to create targeted campaigns based on factors such as job title, company size, or industry
Allows you to send broadcast emails to everyone in a group or list to keep B2B customers engaged
Integrates with 870+ apps such as Zapier, CRMs, WordPress, and more
Pricing:
Lite: $29 per month
Plus: $49 per month
Professional: $149 per month
Enterprise: Custom pricing
Your next steps
Both Mailchimp and Constant Contact are robust email marketing platforms with a variety of features to help businesses and organizations connect with their audiences.
Mailchimp offers a free plan and a user-friendly interface with powerful automation tools, advanced reporting, and integrations with other platforms.
Constant Contact, on the other hand, offers a vast library of customizable email templates, reporting, and excellent customer support. Both platforms provide email list management, segmentation, and A/B testing, making it easier to create targeted campaigns.
Going by its ease of use and uncomplicated features, Constant Contact is the winner. But for cost-effectiveness, depending on your audience size, Mailchimp could be the way to go.
Ultimately, consider your specific requirements (the features you need, your budget, the level of support you need from the email marketing platform) before deciding on the right one for your email marketing and automation needs.
related features
Want more sales?
Omnisend has everything you need to succeed.
Start free now
No Credit Card needed.