Drive sales on autopilot with ecommerce-focused features
See Features
Reading Time:
8
minutes
Roses are red, violets are blue. Valentine's is just around the corner — are you ready to woo?
The season of love is here, and there's never a better time to share the love with your customers. In fact, this year, 52% of consumers plan to celebrate the day and spend an average of $192.80. And despite inflationary pressures, Valentine's Day spending is expected to rise by 8.4% this year.
Your customers are ready to spend — they just need the perfect offer. Of course, to sell the perfect offer, you need the ideal message, too. Here's a quick guide on how you can capitalize on SMS marketing this Valentine's Day:
Why is SMS marketing an excellent choice for Valentine's Day?
Nothing says "I love you" like a personalized text message. Not only is SMS marketing one of the most efficient ways to reach your customers, but it also offers a personal touch that other channels can't match.
63% of survey respondents ages 18 to 44 prefer expressing their love through text messages on Valentine's Day — and there's no reason to exclude your customers, too. SMS orders grew by over 900% from 2020 to 2021, which shows the increasing shift to text-based communication.
Plus, unlike email marketing, SMS marketing doesn't take as much time to write or send. You can quickly craft a few Valentine's Day texts and schedule them to go out in advance for maximum impact.
9 Valentine's Day SMS marketing ideas for the last-minute business
Valentine's Day is all about the right words, so make sure you know the perfect ones! Here are nine Valentine's Day SMS marketing ideas to get your customers saying "I love you."
Make a love-ly offer
Show your customers some love with an exclusive Valentine's offer. Create an exclusive Valentine's Day collection which customers can only purchase during the promotion period. Include a link to the collection in the SMS and display the collection name in a Valentine's inspired font.
Don't have an exclusive collection? Simply create a collection of any red, heart-themed, or love-inspired items. Rebrand and promote it, so it looks Valentine's related and include a link to the collection in your message.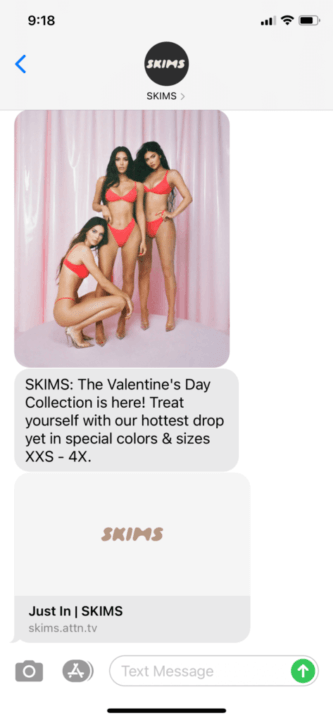 SKIMS, for example, promoted its Valentine's Day Collection with a simple, yet effective message. Power words like "hottest" and "special" instantly make the offer feel more exciting. The SMS also includes a preview of the collection so customers can see what's on offer.
Pro Tip: Use power words to maximize engagement with your offer. Here are some words you can use:
Mindblowing
Exclusive
Don't miss out
Limited
Ends soon
Example: Love is in the air! Show your love for our exclusive Valentine's Day collection – perfect gifts for that special someone. Shop now and don't miss out on the hottest items! <Link> 🔥
Share a special offer code
Nothing says love like an exclusive offer code. Give your customers something to swoon over with a special Valentine's Day-only offer code. This code could be anything from free shipping, a discount off their entire purchase, or even double reward points when they buy from the collection you've created.
Include the promo code in your text so your customers can use it when purchasing. You can also add the link to your SMS that applies the code at checkout.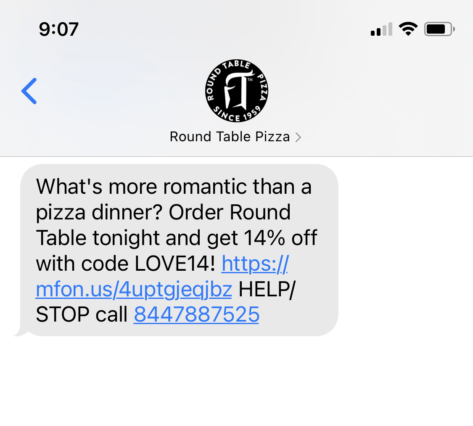 Round Table Pizza offered a 14% discount and called a pizza dinner "romantic," instantly reframing the offer in a way that appeals to couples. They've included the link and the promo LOVE14 so customers can quickly redeem the offer.
Pro Tip: Make the offer as easy to use as possible. Give details on how customers can avail the offer and make sure the link or code is working properly.
Example: What better way to say "I love you" than a super special gift? Use code ROMANCE20 at checkout and get 20% off your purchase.❤️
Create a last-minute gift guide
Sometimes, people just can't decide on the right gift. Don't let them miss out — give them a helping hand with a last-minute Valentine's Day gift guide.
Include items from your store that could make great gifts and customize the list according to who they're buying for — their partner, friends, or family members. Categorize items into sections like 'romantic gifts' or 'friendship gifts' or even gifts for him or her to help your customers save time.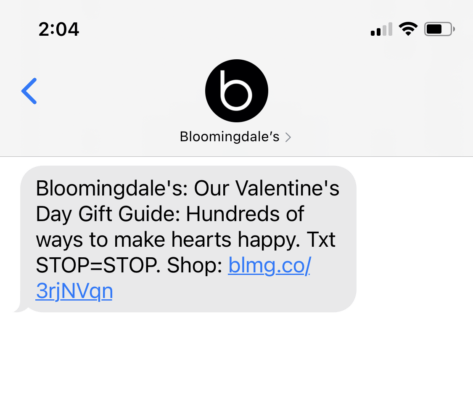 Bloomingdales promoted their Valentine's Day Gift Guide to help customers pick out the perfect present. They featured different types of gifts and included a link to the gift guide so customers could shop directly from it.
Pro Tip: Include items at various price points that cater to all budgets.
Example: Still looking for that special gift? Check out our Valentine's gift guide and find something perfect! <Link> 🎁💐
Offer in-store pickup
People just need that nudge to get out the door and buy. Let them know that if they hurry, they can receive their items in time for Valentine's Day by offering in-store pickup.
Include a link to where customers can find the store nearest them and highlight any other benefits of ordering online, like free shipping or exclusive discounts when they use the service. Also, remind them of the pickup deadline, so they don't miss out.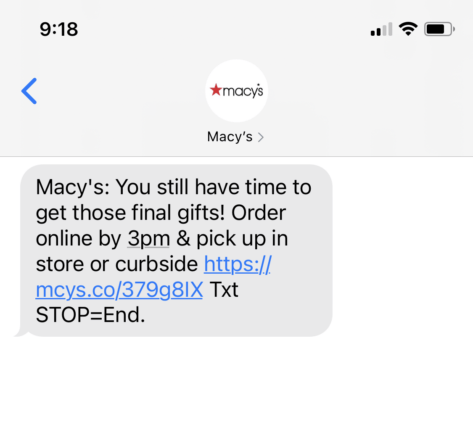 Macy's capitalized on the sense of urgency by stating customers "still have time." They included the time frame and a link to their store locator for easy access.
Pro Tip: Make the ordering process as seamless as possible. Include all necessary information like store locations, opening times, and any other requirements for in-store pickups.
Example: Time's running out – sort your Valentine's gift with our in-store pickup! Find the nearest store and get your order before V-day. <Link> ⏰
Be thoughtful
Not everyone celebrates Valentine's Day, and it's also crucial to be sensitive to people's emotions. Offer your customers a chance to opt out of any Valentine's Day-related messages if they'd like.
While this may seem counterintuitive, it can show customers that you care about their preferences and respect their wishes. It's an incredible way to build trust and shows that you're considerate of their needs.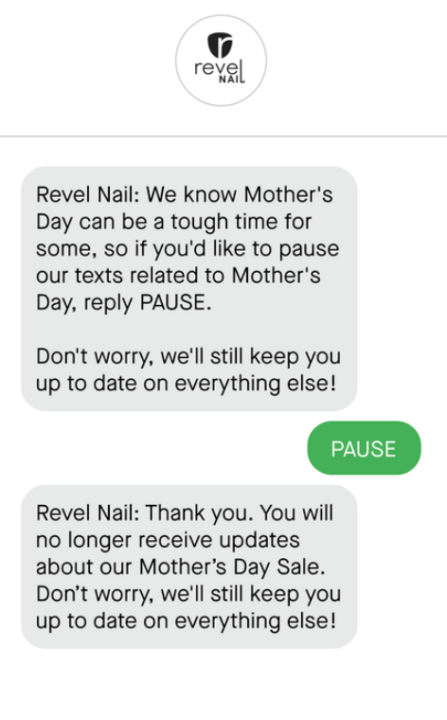 Revel Nail gave customers an option to opt out of Mother's Day text messages, showing they wanted to be respectful of people who found the holiday difficult. They also made sure customers knew they weren't excluding them from all messaging.
Pro Tip: Make it clear to customers that they can opt out while still letting them know they're special to you.
Example: We understand not everyone celebrates Valentine's Day. If you'd like to opt out of our holiday messages, simply reply "NO" and we won't send you any V-day related emails. 🤍
Spread some love to the girls
Galentine's Day is a day for celebrating female friendships, so why not show appreciation to the special ladies in your customers' lives?
Create a Galentine's Day-themed campaign and include discount codes or special offers. Showcase stories from powerful women or inspiring quotes to add a personal touch. You can promote products that would make great gifts for the special ladies in their lives.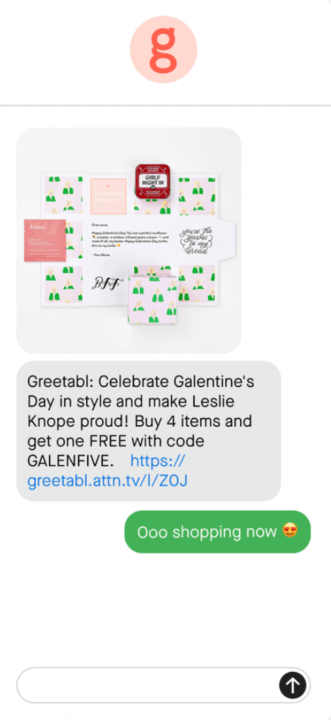 Greetabl referenced Parks and Recreations' Leslie Knope, who popularized the term "Galentine's Day." They included a buy 4 get 1 free offer to encourage customers to shop for their female friends.
Pro Tip: Encourage customers to buy bulk or bundle items so they can gift multiple people at once.
Example: Celebrate the ladies who make your world go 'round with our Galentine's Day bundle! Get a 20% discount on 3 items or more with the code GIRLS20. 👯‍♀️
Send your customers a special gift
Gifting has always been a key part of Valentine's Day, and it's a great way to show customers how much you appreciate them.
Send your customers a special Valentine's Day-themed gift, or add a freebie to their order when they purchase from you. It could be something as simple as adding chocolates with each delivery or sending everyone who purchases a product on the 14th of February a surprise gift.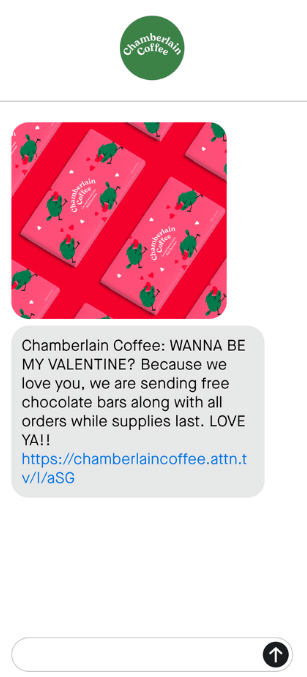 Chamberlain Coffee asked customers if they'd like to be their Valentine and offered to send chocolate bars with every order on their website. It was a great way to show their customers they care while encouraging them to shop with them.
Pro Tip: Make sure the gift you choose is something that your customers will use or appreciate. Personalize it to make it extra special.
Example: This Valentine's Day, let us spoil you! Place an order on our site and get a 10% discount plus a complimentary box of candies to share with your loved one. <Link> 💗
Celebrate singlehood
Valentine's Day isn't just about couples. It's also a day to treat yourself and celebrate singlehood. Encourage your customers to embrace their "me time" by giving them a special discount or freebie.
You can also create a special campaign to show that singlehood is something to be celebrated. Feature products they can use to pamper or treat themselves or even create a challenge around self-love.
Keranique offered a 40% sitewide sale to customers who wanted to treat themselves on Valentine's Day. They also reminded customers when the sale was about to end so they wouldn't miss out.
Pro Tip: Make it easy for customers to take advantage of your offers by including clear call-to-action buttons or links in your messaging. Remind them of time-sensitive offers.
Example: Time to treat yo' self! Get 20% off all items in our store this Valentine's Day when you use the code LOVEYOURSELF at checkout. Hurry, offer ends soon! <Link> 🥰
Offer last-minute shipping
When it comes to Valentine's Day, one thing's always certain: people forget about it until the last minute.
Offer last-minute shipping so customers can still get gifts to their loved ones before Valentine's Day. Include a special note or card that they can add to the gift as well and let them know that they can still make the day special even if it's at the last minute.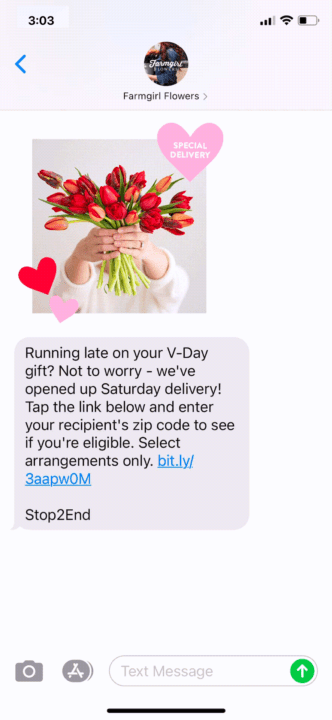 Farmgirl Flowers offered last-minute delivery to make sure customers could still express their love and appreciation. They included a link where customers could enter the recipient's zip code and choose from a selection of last-minute bouquets.
Pro Tip: Make sure your shipping times are accurate and be transparent about any extra charges for last-minute delivery.
Example: Need to send something special in time for Valentine's Day? No problem! We've got you covered with our same-day delivery service. Shop now and don't miss out! <Link> 🚚
Show your love this Valentine's Day
No matter what type of business you have, there are plenty of creative ways to make Valentine's Day work for you.
Get creative and come up with special offers and campaigns that will delight your customers. From discounts to gift bundles to last-minute shipping, keep customers in mind when coming up with ideas so they can express their love on Valentine's Day.
And, of course, if you need a hand, Omnisend is here to help. Our platform gives you all the tools you need to create beautiful, effective SMS (and email and push) campaigns that will make your customers fall in love with your brand.
If you're sending customers to your website (through Facebook ads, social media posts or other), make sure to grab their phone numbers or emails with our ready-to-launch popups: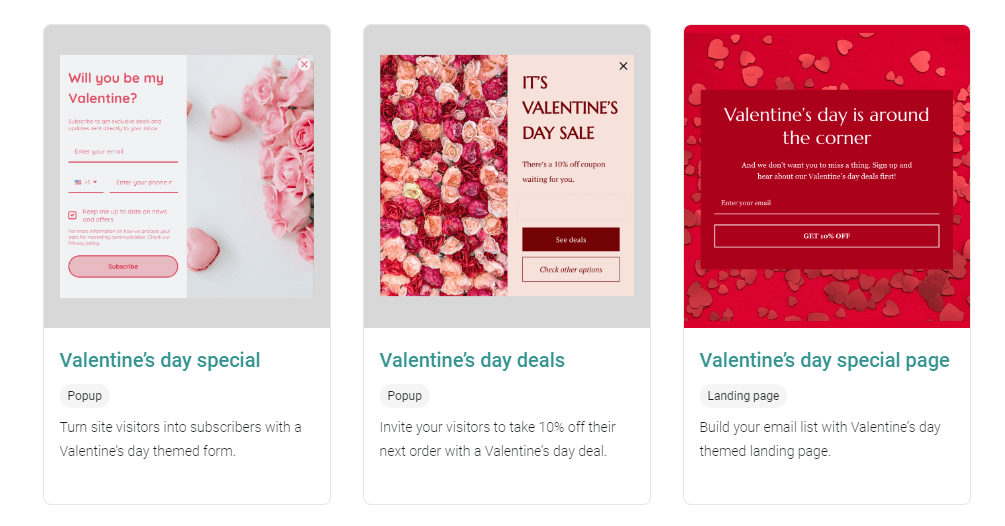 Author bio
Kiran Shahid is a content marketing specialist who creates compelling, data-driven content for B2B SaaS companies. With over 9 years of content writing experience, Kiran has contributed to successful campaigns for tech companies such as HubSpot and Helpjuice. In her spare time, you can find her trying out foods from different cuisines or booking her next travel adventure. Connect with Kiran on LinkedIn or check out her website.
related features
Want more sales?
Omnisend has everything you need to succeed.
Start free now
No Credit Card needed.