Drive sales on autopilot with ecommerce-focused features
See Features
Reading Time:
7
minutes
Some people love Valentine's Day. Others—not so much. But we can all agree that this is a great occasion for amazing sales. Merchants promote it in their holiday campaigns and customers have no problem shopping for cheaper products as well.
To realize how big of a shopping holiday Valentine's Day has become (and how you can use it to increase your sales):
The overall shopping pool for Valentine's day in the US exceeded 20 Billion US dollars in 2019.
There's no long lead-up to Valentine's Day. 46% of shoppers plan to start shopping only in early February
In 2016, 19% of all people bought Valentine's Day gifts for their pets, a total of $681 million
Although it's considered a couple's day, merchants should still focus on the single ladies (and gents). 50% of all Americans identify as single, and 25% of those plan to do something for Valentine's Day
If you sell experiences, you're in luck. 35% of American shoppers spent almost $3.6 billion on Valentine's Day experiences, not products
But of course, if you are a jewelry merchant, this is your day. In 2016, American shoppers sent almost $4.5 billion on jewelry for Valentine's Day
These numbers tend to grow every single year, and this year is no exception. Based on these statistics above, it is worth thinking about how you can incorporate love into your sales and send a few newsletters before Feb 14.
Having analyzed a bunch of Valentine's Day newsletters, here are some tips to help you have a lovely and profitable Valentine's Day 2023.
Tip #1 Make a list of Valentine's email ideas: what is the purpose of the campaign?
Either you want to sell products for Valentine's Day or organize a sale on that day because you love your customers.
Your newsletter campaign schedule depends on this purpose and the amount of time needed to ship your goods.
Six to seven days before Feb 14 is the best time to launch your campaign, unless your shipping takes longer.
Last year I have received an awesome email offer a day before Valentine's Day, but the shipping would have taken 3 days. Therefore, it was pointless to buy it online and I had to look for other gifts.
Tip #2 Think about the subject line
I wouldn't recommend sending the email with a simple subject line as "Happy Valentine's Day."
Looking over last year's subject lines in my inbox and the campaigns sent by Omnisend clients, I see that this subject line was quite most common.
However, the open rates were not stunning. This year, you'll need to think of something a bit more original.
Men usually feel difficulties with choosing gifts for their ladies. So you could solve their problems right in the subject line. For example, you can use this subject line:
Need some help this Valentine's? 5 perfect gifts for her
You may also consider expanding your subject line idea in the preheader or including some emojis:
❤5 perfect Valentine's gifts for her (all under $30)❤
Tip #3 Send a special email
It is a nice occasion to send a special email to surprise and delight your subscribers.
Include a romantic or funny video, or a cute animated GIF.
It will create a positive emotion and encourage subscribers to click on the call-to-action button.
You can include classic, funny Valentine's videos (or gifs from the videos), such as the one below:
Tip #4 Look for a color
Just imagine, how many emails will be painted in red? Try to pick different colors for your email campaign! The romance could be created with catchy headlines, happy faces, and much more.
Here are my favorite tools and photo stocks that make my life easier. They probably can help you as well:
Tip #5 Include other kinds of love into the Valentine's Day email marketing
Valentine's Day doesn't have to be all about candy kisses and romantic love.
You can offer your subscribers to treat themselves, their dogs, and other beloved ones. As I mentioned above, Americans spend almost $700 million on Valentine's Day gifts for their pets.
Vary up your Valentine's Day offerings so that you can include all the kinds of love, not just the romantic type.
Tip #6 Use social media to help your Valentine's email campaign
Update your campaigns or create a new landing page to capture new leads for your campaign.
Landing pages work amazingly well for holidays and short campaigns since you don't have to edit the look and feel of your store.
Just make sure you add an enticing offer to your social media ads and set automated Welcome or Order Confirmation emails for all the people who sign up or buy from you.
Tip #7 Don't forget your current subscribers
Your current subscribers are your best source for purchases. They've already bought from you once, so (if they enjoyed that experience) they'll be more likely to buy from you again.
This audience also deserves a "teaser" on social media.
For this, you can use "custom audience" preferences, when you upload your list of subscribers and promote a post or a banner only for them.
Find out how you can do this on Facebook and Twitter.
Tip #8 create some buzz around your brand
Invite your customers to tweet or share photos on Instagram with your products and your special #hashtag. As an incentive, you can make an announcement about your contest where one of those who retweeted you will get a prize.
As an example of the buzz on social media, you can check #RomanceOnDemand.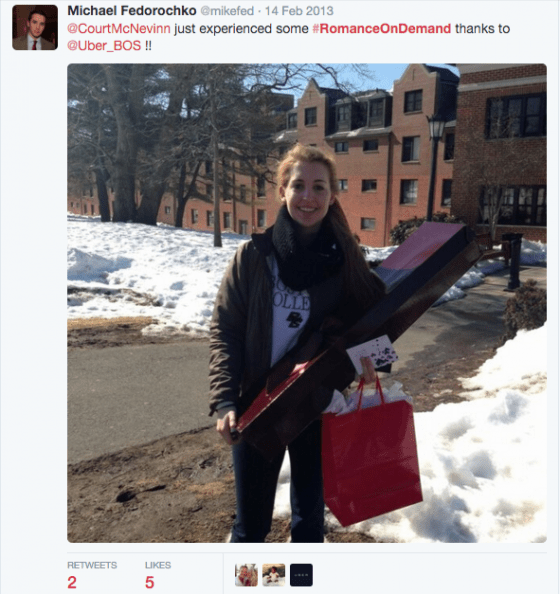 However, before writing using a hashtag, check on Twitter/Instagram if it is free.
Tip #9 Appreciate your customers
Use Valentine's Day to express your love and appreciation for your customers.
Pick your best customers and send them an email with a special discount so they can spoil themselves after the holiday.
Even better, choose the customers who have purchased the most from you (number of items or amount spent) and send them a special gift through the mail. Just make sure they get it by Valentine's Day.
Show them that you know and care about them and they will return to you over and over again.
Tip #10 Don't forget to promote your gift cards
There are a lot of customers that are afraid of making mistakes.
A gift card is a perfect solution. Just be sure to think about the best message you can put next to it.
You can try something similar to:
It's not too big, too small or too bright. Our gift card is always the perfect fit for your loved one (or yourself)
Tip #11 Createurgency and highlight the perks of getting things done now
One of the first tips in our post on the psychology of email marketing was about creating urgency in your email newsletters.
You can also use the principle of urgency to get your subscribers to buy from you sooner. All you need to do is remind them of the chaos they'll experience in the shopping malls and all the time they'll have to spend to get there.
Tip #12 Segment your audience by gender
If you want to send the perfect Valentine's Day message to the perfect person, you'll need to segment your subscribers in smart ways (such as with our smart segmentation features.)
Without proper segmentation, you'll be sending irrelevant content to a part of your recipients or you'll be sending too-general offers that will pique no one's interest.
Divide your newsletter into "Gifts for him" and "Gifts for her" and send your newsletters to the appropriate groups.
You can see an example from Diesel below:
Tip #13 Make sure you offer something amazing and relevant
In order to get great sales this Valentine's Day, make sure your promotions are not just big, bold and sexy, but that they're also relevant.
This tip works with every holiday campaign when your subscribers' recipients have high expectations for the commercial offers they know they'll get.
Tip #14 Create stories to sell your products
What if your product itself isn't particularly romantic, such as vitamins or food supplements? What should you do then?
You can create a contextual story about friendship, care, and many other positive things, then supplement it with a heart image (related to self-love, for example) and offer a discount.
The message could be:
True love begins on the inside
Trust me, a good story sells.
Tip #15 Send your campaigns out now
Luckily for most merchants, people don't start shopping for Valentine's Day until a week or so before Feb. 14th.
What this means is that you don't have to have very long campaigns, although getting in there before your competition starts sending out their Valentine's Day campaigns is probably a good idea.
Make sure that your first campaign is sent out no later than Feb. 7th and that you follow up regularly before the 14th. Optimally, you can send about 4 emails in that week leading up to Valentine's Day.
As they say, there's no time like today. And when it comes to making great sales on a wonderful, positive holiday like Valentine's Day, it's even truer.
May you have lots of love (and sales) this Valentine's Day!
related features
Want more sales?
Omnisend has everything you need to succeed.
Start free now
No Credit Card needed.