Drive sales on autopilot with ecommerce-focused features
See Features
Reading Time:
5
minutes
Valentine's Day is no longer just for lovestruck couples.
In fact, since 2010 the amount of money that people spent on their friends has increased from $737 million to over $2 billion.
Nor is it limited to people: more than a quarter of people who celebrated Valentine's Day in 2020 said they'd buy presents for their animals, and over $1.7 billion is now spent on pets.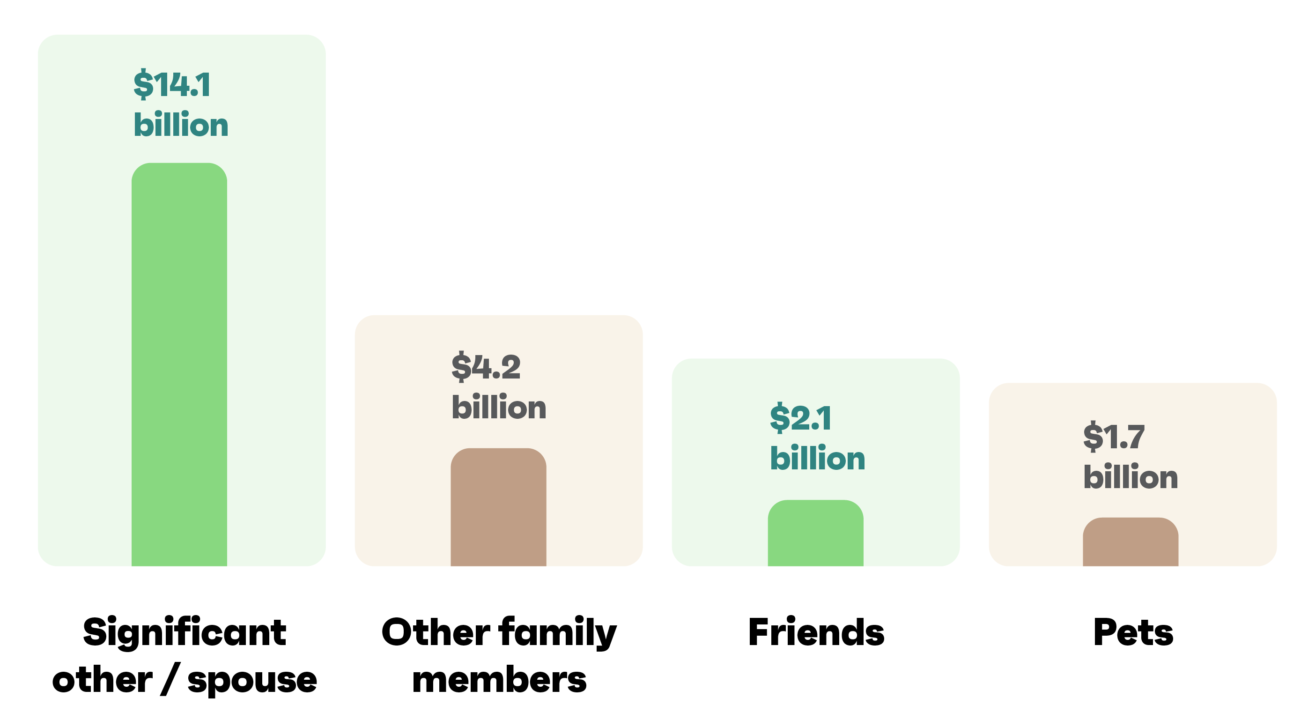 So with Valentine's Day now presenting a bigger opportunity for a wider range of ecommerce stores than ever before, how can you best prepare?
We analyzed over 635 million emails and more than 2.2 million SMS sent from Omnisend in February 2020 and 2021 to identify trends to help your Valentine's marketing.
What are the main trends to follow for Valentine's Day?
Valentine's Day sales have evolved over time. Today, more casual gifts are exchanged, indicating that there has been a shift from a lovers' holiday to an appreciation of the people (and animals) that are most important to us.
Once upon a time, stores selling dog collars and friendship bracelets may have lost out to businesses selling romantic gifts, but those days appear to be behind us
This change has been adopted widely, with all groups under the age of 55 now spending more on their pets than in the past.
All of which means one thing: a broader range of shops can increase their Valentine's Day sales. However, other brands will also have the same idea, so it's essential to think of ways to stand out if you want to capture your audience's attention.
One highly effective way to do that is to use automated communication, so your sales messages are on autopilot. If you take an omnichannel approach, you utilize multiple channels of communication to reach customers in more ways than just their email inbox.
Let's take a quick look at how effective email and SMS marketing can be, and why you're leaving money on the table if they aren't part of your strategy:
Email
Our analysis of over 635 million emails sent in February of 2020 and 2021 proved that shoppers place orders throughout the month. In other words, if you're waiting until the big day arrives to start your Valentine's Day marketing campaigns then you're missing out on sales.
Shoppers placed more orders at the start of the month in 2021 than 2020, possibly indicating that people will continue to shop further ahead (the first three days of February saw 20% of the month's sales in 2021, compared to 15% in 2020)
In 2020, a combined 18% of Valentine's Day sales were on the day itself and the day before. In 2021, this dropped to 12%
Orders via email saw year-on-year growth of 367%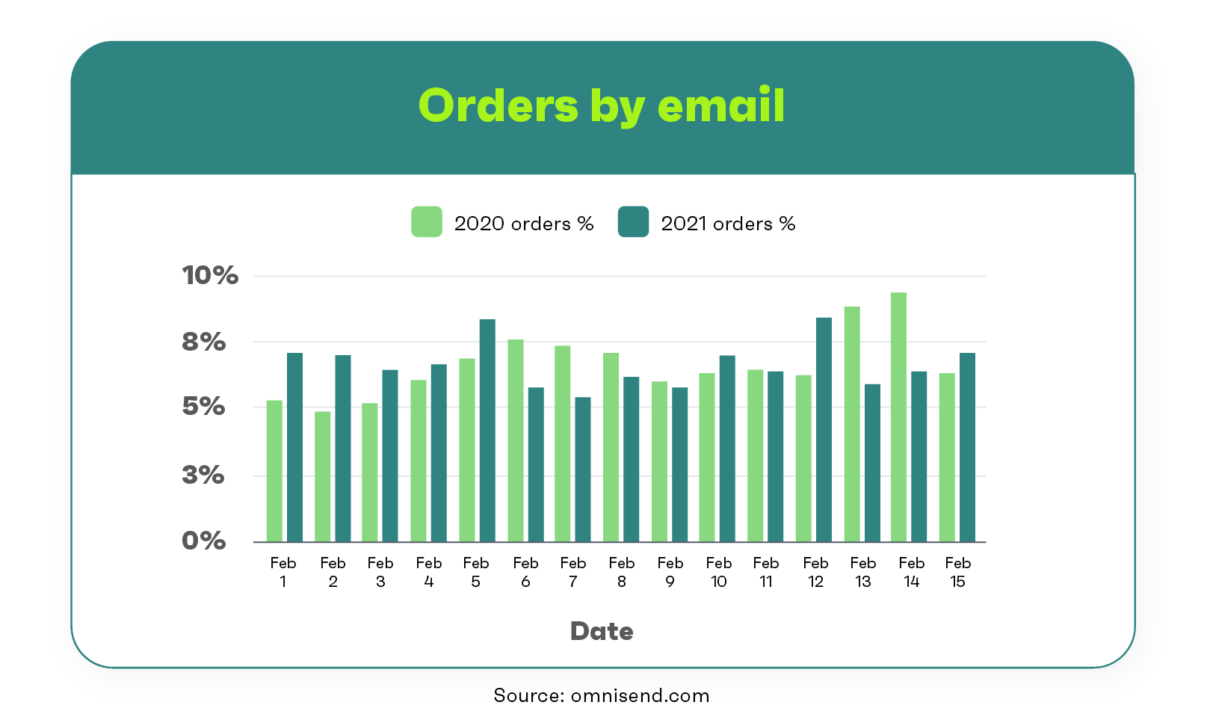 SMS
Email has established itself as the dominant marketing platform for ecommerce businesses, but SMS shouldn't be overlooked. Our review of over 2.2 million SMS sent from Omnisend proved that shoppers are willing to place orders from this channel, and adopting omnichannel marketing is a highly effective way to stand out from competitors.
SMS orders grew by over 900% from 2020 to 2021
The average SMS conversion rate increased from 0.21% to 0.34%
In 2020, a combined 21% of SMS-driven Valentine's Day sales were on the day itself and the day before. In 2021, it was just 12%.
If you're not already using SMS marketing, incorporating a new channel will open up lots of new Valentine's Day marketing ideas.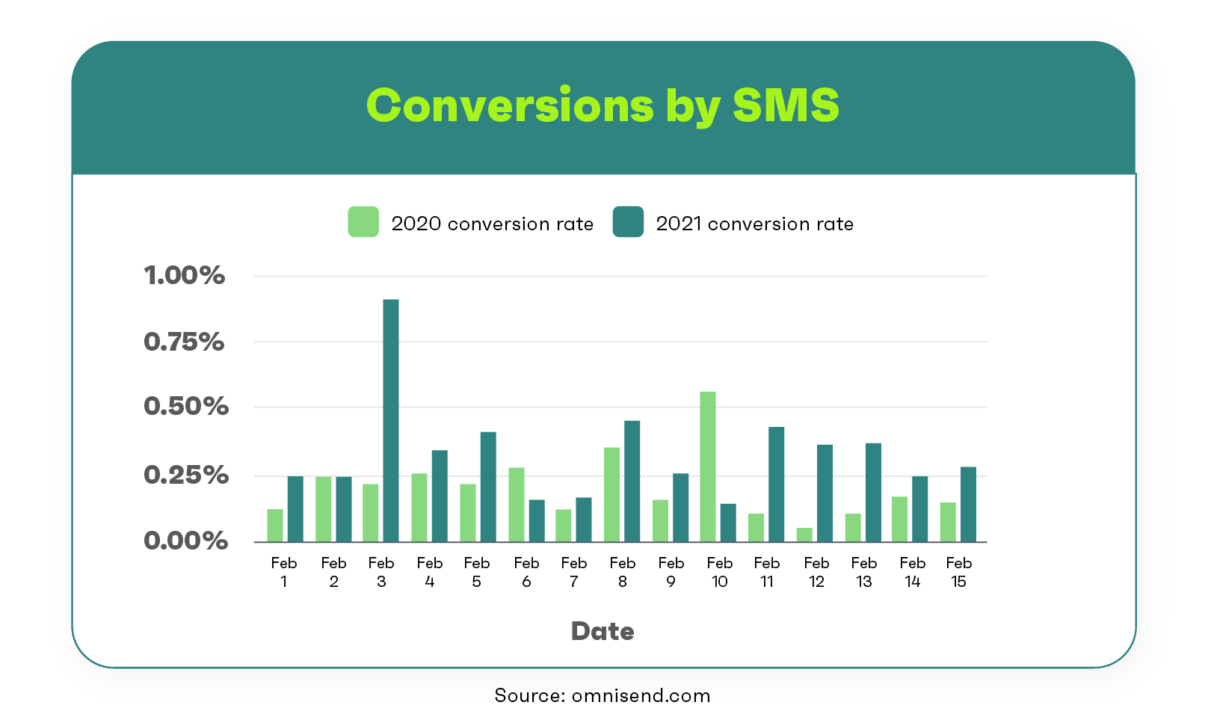 What are the main tips and ideas for Valentine's Day?
As the previous section highlights, many people buy their gifts in advance. If your Valentine's marketing is left until the day itself then you're missing out on sales and giving a huge advantage to your competitors.
With that said, here are five tips to help you improve your Valentine's Day sales:
1. Consider your audience
Always the golden rule, our first tip is to put your audience first.
Who are they?
What are they looking for?
How can you appeal to them?
Valentine promotions often follow a similar trend, with businesses trying to shoehorn references to love and flirtation into their messaging—even if it feels forced. Instead, knowing that people also buy Valentine's gifts for non-romantic reasons, you can be more authentic.
You could also build different segments within your audience. This allows you to try different subject lines and different messages or offers to each segment.
Some potential audience segments include:
New customers, possibly offering a discount for their first order
Demographics, separating your audience by factors like age and location (this can also include gender, enabling you to have targeted offers "for him" and "for her")
Loyal customers
2. Messaging
Puns can be fun when used well, but if they're not your thing then don't feel pressured to include them in your Valentine's marketing. Not every communication needs to be about love and crushes.
Knowing that more people are buying non-romantic gifts opens up lots of new possibilities for how you promote your products, including a deliberate mention that your buyers can treat their pets or friends. Some ideas could include:
"Show your furry friend that they're appreciated."
"Recognize your years of friendship."
"Family deserves to feel special too."
As always, be authentic to your brand and put your audience first. The important thing to remember here is that you can include strong Valentine's language if you want to, but you don't necessarily have to.
3. Timing
Valentine's Day is a popular occasion, and shoppers will be exposed to promotions frequently. To get your share of success, it's important to send your promotions in advance. While some people will buy the day before, or even Valentine's Day itself, our analysis found that:
In 2020, 84% of email orders and 70% of SMS orders were placed by February 13
In 2021, this increased to 87% of email orders and 86% of SMS orders
You want to find the balance between too early and too late. Being mindful that people have only recently spent money at Christmas, it's generally good practice to start your Valentine promotion from late January or the beginning of February, with reminders to non-buyers as the big day gets closer.
4. Omnichannel approach
Email might be the most popular platform for selling to an audience, but other channels have proven their ability to increase sales too—and combining them into a seamless experience is especially powerful.
Omnisend customers can create workflows that incorporate email, SMS, push notifications, and retargeting on Facebook and Google ads.
With the different platforms working together, your audience can enjoy a continuous experience. Promotions and order confirmations can be sent via email, SMS or push notifications, while people who visit your website but don't place an order can see related items or discount codes in your retargeting ads.
These integrated campaigns can send different messages on each platform, making them more useful to the recipient—and less annoying than receiving an email and SMS that both say the same thing.
5. Optimize for mobile
Mobile optimization was already important, but the pandemic drove a 30% increase in mobile shopping over 2019. As if that wasn't compelling enough, research has also shown a CTR 106% higher on mobile than desktop.
Being optimized for mobile moved from "really important" to "absolutely essential."
Omnisend customers have peace of mind that all emails, forms, landing pages, and promotions like Wheel of Fortune are already mobile optimized and don't require any additional work.
Wrap up
With less reliance on romantic messaging, the sky's the limit for Valentine's Day ideas. Regardless of the products in your store, the right messaging and timing will enable you to enjoy the Valentine period too.
Send your communications in advance, tailor the messaging to your audience, make use of multiple channels, and you'll give yourself the best chance of making those Valentine's Day sales and growing your customer base further.
Get started with Omnisend today & drive sales on autopilot with pre-built automation workflows
Start Free Today
related features
Want more sales?
Omnisend has everything you need to succeed.
Start free now
No Credit Card needed.