Drive sales on autopilot with ecommerce-focused features
See Features
Reading Time:
3
minutes
September can only mean one thing: Black Friday is right around the corner.
You might be tempted to wait until nearer the time before you start planning your campaigns, but when it comes to this popular holiday, there's no time like the present. The sooner you start, the more time you have for thoughtful planning and execution, avoiding a panicked rush just before the big weekend.
Speaking of Black Friday, we have an exciting new feature that will put a spotlight on your potential revenue from now until the holiday starts.
And that's not all we've been working on. Keep reading for all of the details, or watch this video for a quick summary:
New revenue calculator: what you can earn between now and Black Friday
If you're not already using signup forms on your website, you're not only preventing your contact list from growing quicker, but also missing out on potential revenue.
Not convinced? Then take a look at our new Black Friday headstart calculator. Simply tell it how many monthly visitors you receive and it will show you how many new subscribers you could have by Black Friday, and how much revenue those subscribers could generate.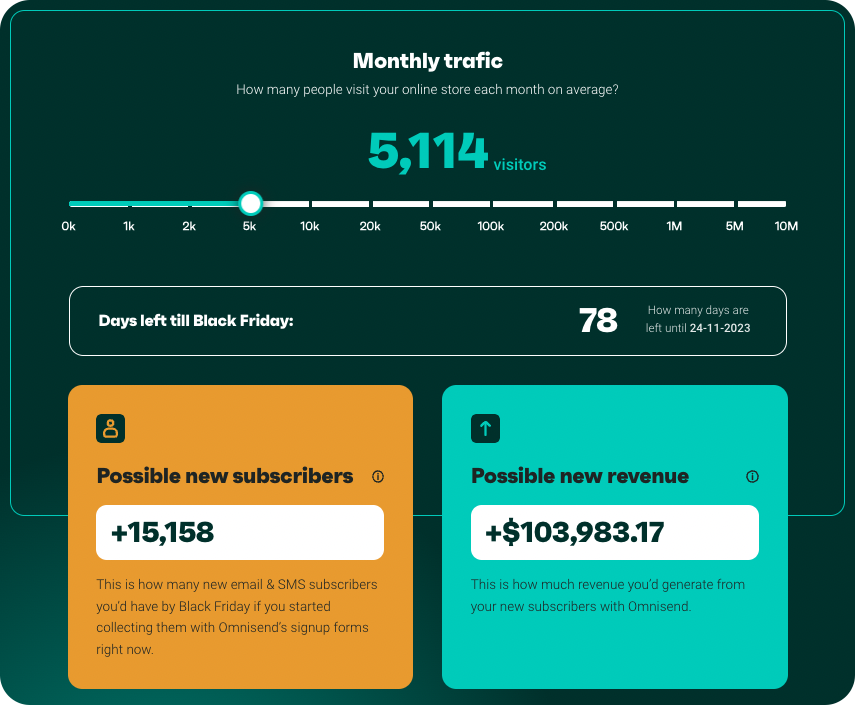 Privacy policy URLs added to your forms automatically
Compliance with privacy regulations just got easier. If you're already using forms then you know the importance of including a link to your privacy policy. While this is a good thing for your visitors, it can be time consuming and tedious having to manually hunt these URLs down each time you need to add them to a form.
That's why we've simplified this process for you: now, instead of you looking for the links yourself, we'll automatically find your privacy policy URLs and add them to your forms.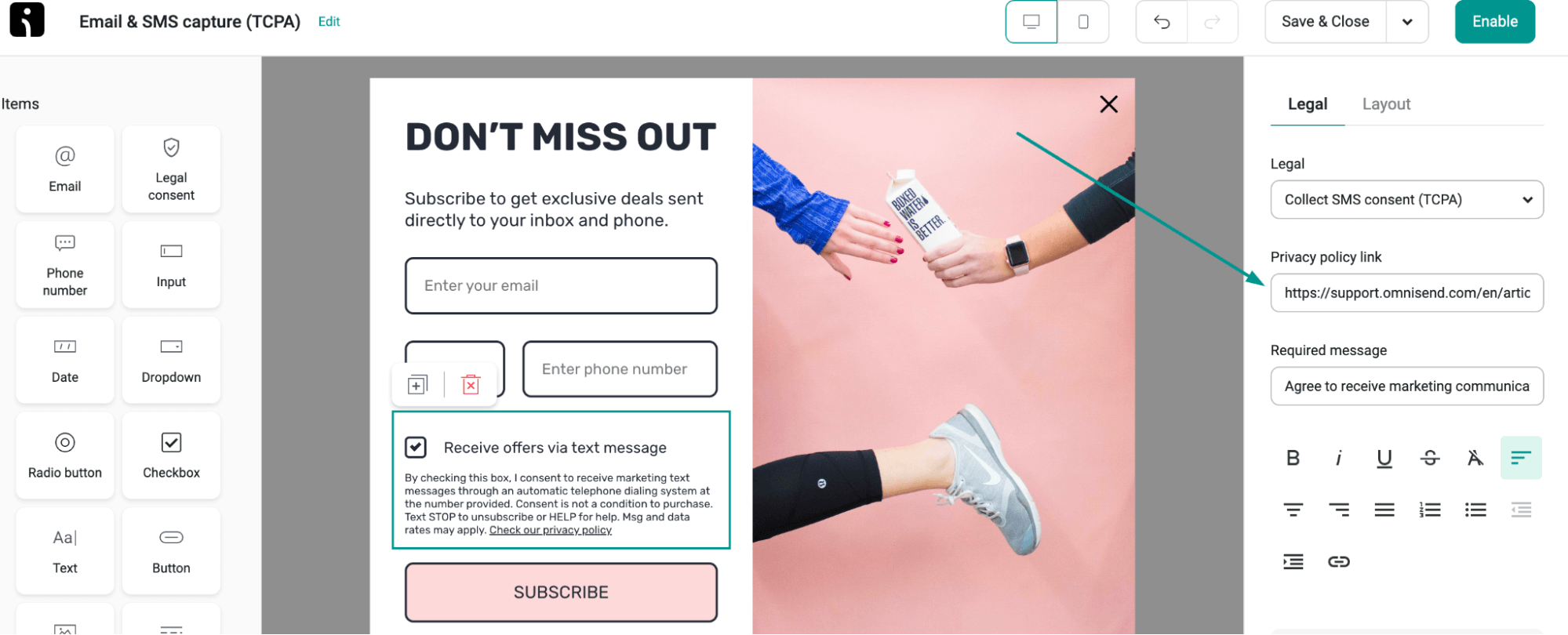 Abandoned cart: now more powerful
One of the most effective workflows just got even better. The original Abandoned Cart workflow has now been split into new workflows: Abandoned Cart and Abandoned Checkout.
As the names suggest, the workflows distinguish between people who have started the checkout process and who haven't. You'll also have access to more data, additional filtering and splitting options. And, of course, you can customize the workflows.
The best part? This is a completely seamless transition, your messages will continue to be sent as before, without you needing to do anything.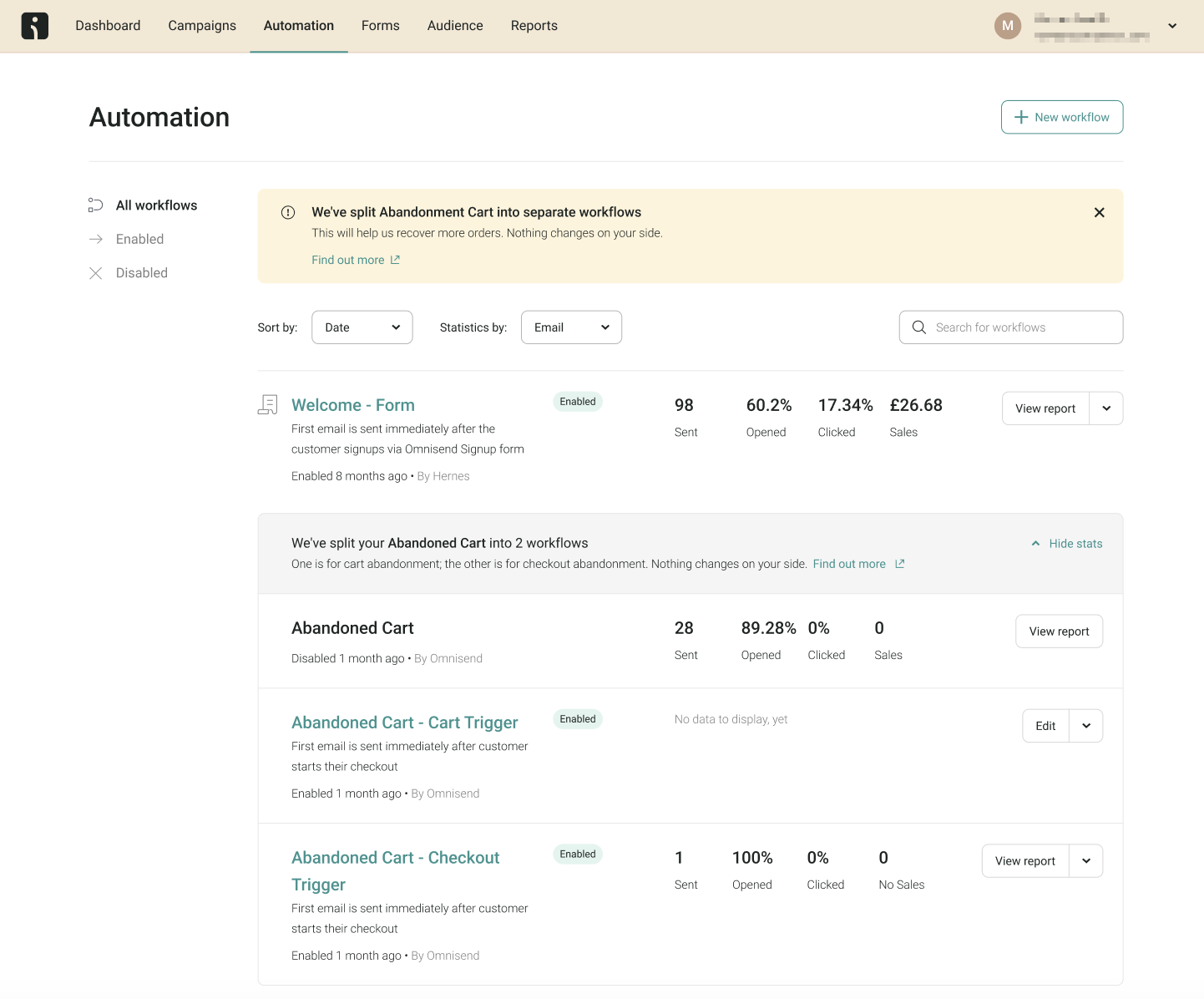 Events
Looking for webinars and workshops to help you learn about Omnisend or upgrade your knowledge about email marketing, signup forms, SMS and more? You're in the right place.
👉 Workshops:
1. Email + SMS marketing: keys to BFCM success (September 28 at 10 am ET). With 15% of holiday shoppers already diving in, the festive season is gaining momentum. We get it—navigating the BFCM frenzy while keeping your brand on point can be a challenge. That's exactly why we're inviting you to a workshop where we'll dive into:
🔍 Must-know BFCM shopping trends
📈 Learning from last year for 2023 wins
💬 Smart moves with strategic SMS
💌 Amping up automated messages
In case you missed it:
2. Email & SMS: Strong alone. Beautiful together. This interactive workshop demonstrated how to reach more customers, build your brand faster, and get more sales by combining SMS with your email marketing.
Not using Omnisend yet?
If you're still not using Omnisend, you're only minutes away from joining more than 100,000 other brands and enjoying all of these features.
In addition to everything mentioned above, you'll have instant access to unlimited audience segments, an extensive email template library, pre-built workflows, features specifically designed for ecommerce, and so much more. There's even 24/7/365 live support for every customer.
Get better email & SMS marketing that's constantly being made better
Start Free Today
related features
Want more sales?
Omnisend has everything you need to succeed.
Start free now
No Credit Card needed.