Drive sales on autopilot with ecommerce-focused features
See Features
Reading Time:
8
minutes
Looking to score big this Black Friday? Well, you can't do that without a good SMS marketing strategy. Plus, you'll find our list of Black Friday SMS templates quite helpful for designing successful SMS campaigns.
Black Friday and Cyber Monday, or BFCM, are two of the biggest holiday sales of the year. SMS marketing is a perfect way to introduce those fantastic discounts to prospective customers.
Text messages are quick and easy to read. Besides that, SMS marketing can easily be integrated with Black Friday email marketing to boost sales.
Supercharge your Black Friday sales by using Omnisend's email & SMS marketing channels.
Start Free Today
Why is SMS marketing great for Black Friday?
Text messages have a vast reach and are a direct way of communicating with your prospects and customers.
Studies show that 91% of consumers are interested in subscribing to SMS marketing messages, but not all businesses offer them. However, this doesn't mean that Black Friday email messaging is dead.
The problem is, email open rates for BFCM are primarily determined by the text length. Omnisend found that email subject lines with 7 words have the best open rates of 15% to 17%. For longer ones, the open rates begin to drop steadily.
What does this mean for you?
Use SMS marketing with the right messaging and subject lines to boost your Black Friday sales.
Here are a few reasons why SMS marketing is a great choice for Black Friday:
Speed: SMS marketing messages are delivered almost instantly, so you can be sure your Black Friday promotions will reach your customers on time.
Reach: Not everyone checks their email regularly, but almost everyone checks their text messages. So if you want to reach as many people as possible with your Black Friday deals, try SMS marketing.
Integration with Email Marketing: It works well in conjunction with email marketing. You can send a teaser of the upcoming sale with an email and with SMS, you can also include additional information, like links to your Black Friday landing page or a coupon code.
Tips for using SMS marketing
According to Omnisend, Black Friday accounted for 19% of all November 2019 SMS orders.
The data above shows how important SMS is for BFCM. When used correctly, SMS marketing can create a surge in online traffic during holiday sales.
The following tips will help you get the most out of your Black Friday SMS marketing campaign.
1. Plan your Black Friday messaging in advance
When planning your Black Friday messaging, it's essential to start early. This will help you take advantage of the holiday sales rush.
When planning your campaign, answer these questions:
What Black Friday deals should we offer?
What makes them special?
Who is our target audience?
What type of messaging will resonate with them?
What's the competition doing for Black Friday?
How can we make our Black Friday text messages stand out?
Black Friday shoppers are looking for great deals, so make sure your messaging offers real value. Check out these Black Friday prep tips from experts to guide you.
2. Choose what information the SMS will carry
To get the most out of BFCM sales, decide beforehand what information the SMS will carry. Make sure to highlight the discount or offer clearly in your messages and make it easy for people to take action.
Here's an example:
"Early Black Friday Specials: Get 30% OFF our entire home appliance catalog. Click [LINK] for more information. Reply STOP to opt-out."
Check out our Black Friday email examples to get inspiration for your campaign.
You can use other marketing channels to provide additional information about your Black Friday sale.
3. Use a call-to-action (CTA)
A call-to-action (CTA) is essential for any marketing campaign, and the Black Friday SMS marketing campaign is no exception.
Omnisend research shows that Black Friday email marketing messages with two to three CTAs received the best click rates. This shows the power of CTAs, and you can achieve the same with SMS marketing.
But to increase the chances of customers clicking on your CTA, it should be clear and specific. Here are two examples:
For running a Black Friday sale on your website you can use "Click here to shop our Black Friday sale."
For a discount code, your CTA could be "Text BLACKFRIDAY to 12345 to receive a 20% off coupon."
4. Send a follow-up message
After you've sent your initial Black Friday text, consider following up with a second message. Your follow-up message could be:
A reminder of your Black Friday sale
A CTA to your website or landing page
A coupon code for people to use, etc.
This is particularly important for abandoned carts.
A recent study by Kibo Commerce showed a 77.5% cart abandonment rate in the US, as shown below.
Don't let this happen to your holiday sales. When a customer abandons a cart, send them a follow-up text. Here is an example to inspire you.
The message is not too pushy. It's more of a friendly reminder to a customer that their cart awaits when they are ready. Plus, it conveniently includes a link to help the customer navigate back easily.
Sending a follow-up text lets customers keep your brand top of mind while reminding them of your Black Friday deals.
5. Collect phone numbers in advance
To send Black Friday texts to your customers, you need to build a robust BCFM customer list in advance.
One way to collect phone numbers is by asking customers to sign up for your SMS marketing list on your website or landing page.
Here's an example by JoomlaShine: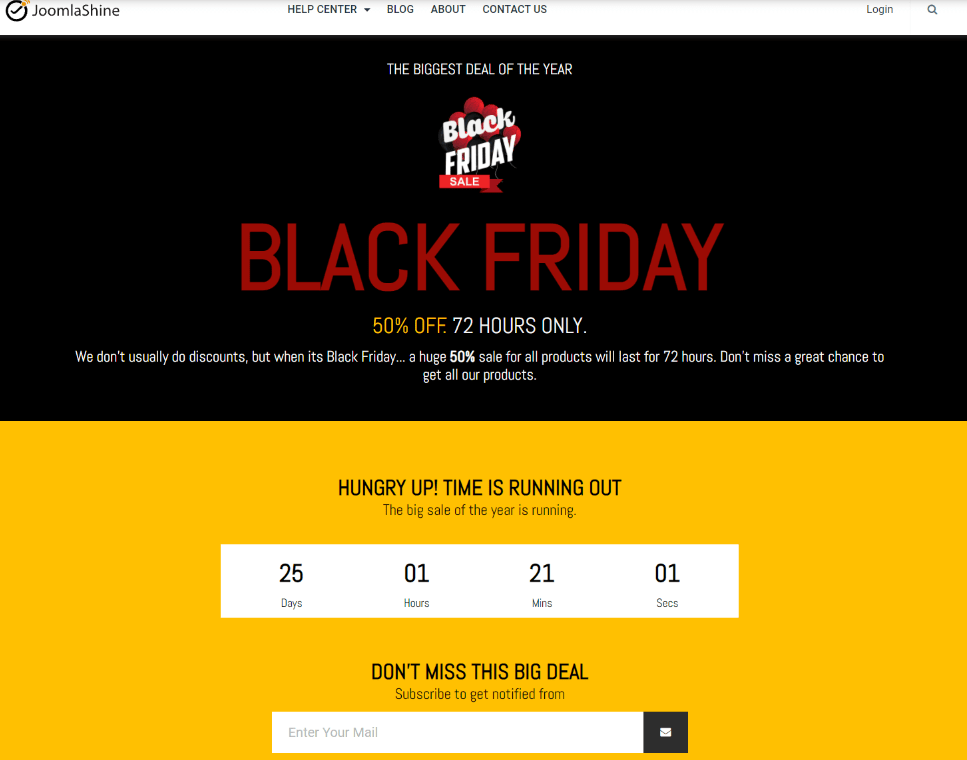 The form is catchy, creates a sense of urgency, and requires customers to enter their email addresses to claim an offer. You can use a similar landing page in your SMS marketing strategy to collect customer details.
You can also use exit-intent pop-ups to collect customer information for your Black Friday weekend campaigns. Here's an example of a popup made with Omnisend: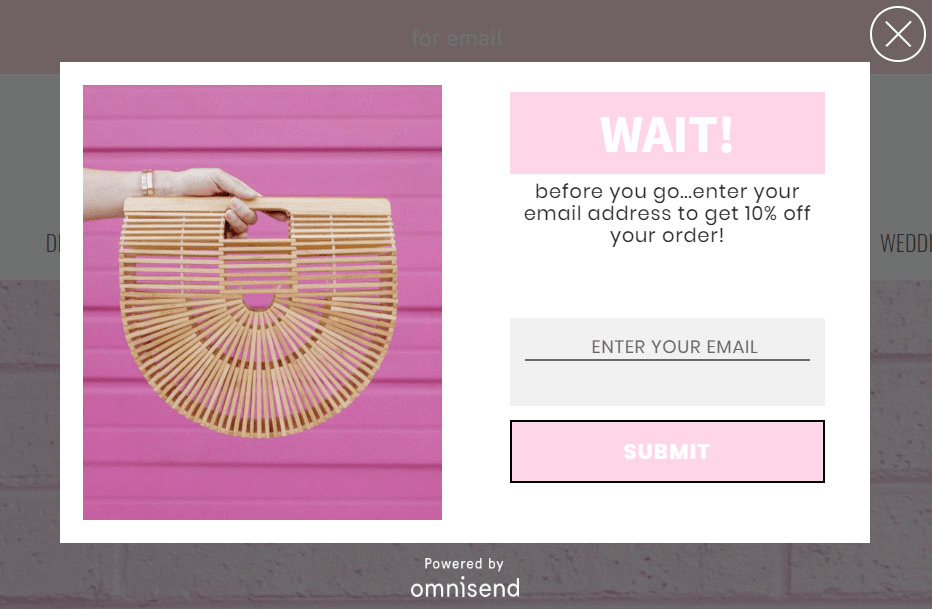 You can also use a form to collect contact information from people at events or in-store.
6. Segment your subscribers' list
When it comes to Black Friday messaging, it's important to tailor your offers to the needs of your subscribers.
Creating segments allows you to provide the most relevant offers to each group of subscribers.
For example, you could segment your list by:
Channels such as social media platforms, SMS, email, etc.
Customer's shopping behavior
Customer demographics and location
Here's a YouTube video showing you a step-by-step process on how to segment your list:
7. Use MMS instead of SMS to boost engagement
MMS, or multimedia messaging service, allows you to send photos, videos, and other types of media files to recipients.
If you need your Black Friday text messages to be visually appealing, then use MMS instead. You can create rich-media content and up to 1,600 characters of text!
Here is an example of how you can get creative with MMS during Black Friday: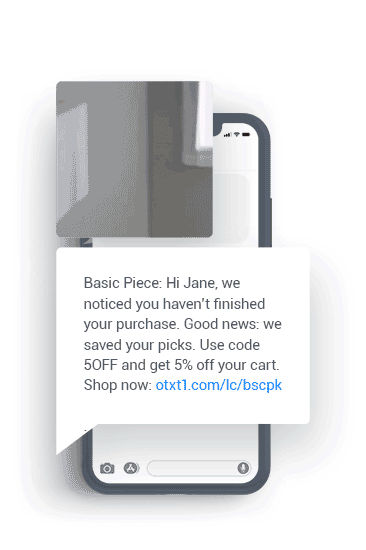 Notice how the message captures attention with a GIF? Also, it contains a CTA link for the offer, making it easy for the customer to buy.
You can maximize your Black Friday SMS marketing efforts by using MMS. You'll be surprised at how much more engagement you get!
8. Personalize your messages
Personalized messages are more likely to be read and acted upon than generic, one-size-fits-all messages.
Approximately 63% of marketers in the US get increased conversion rates as the main benefit of marketing personalization.
You can use the recipient's first name or city to personalize your Black Friday texts. The segmented lists, discussed earlier, can also help you tailor your messages to your audience.
Here is an excellent example of personalization in SMS marketing to inspire your Black Friday messaging: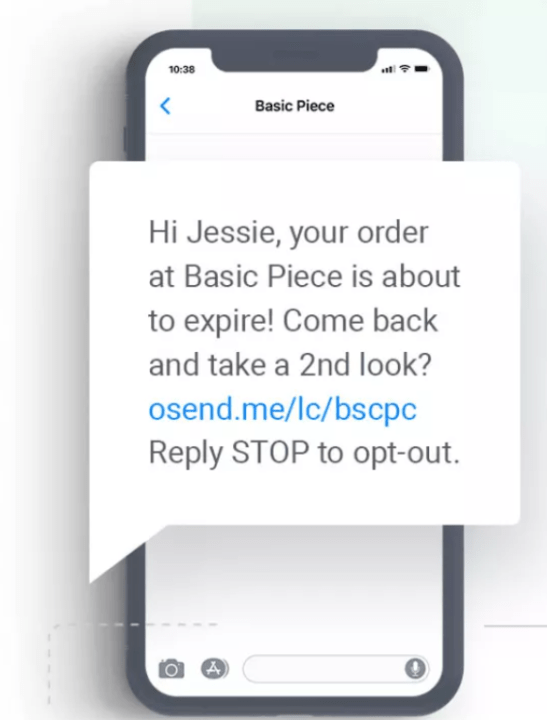 While at it, give your customers an offer that stands out from your competition – one specifically created for them.
9. Keep it short, specific, and urgent
When it comes to SMS marketing, less is more. Keep your message short to avoid overwhelming people with too much information.
Your Black Friday SMS should be clear and concise. Get straight to the point and include a CTA, so people know what to do next.
Be sure to communicate your promotions, products, and discounts clearly. Also, it's essential to start promoting your Black Friday deals on time.
According to Omnisend reports, the best time to send Black Friday emails is at the start of November. This is also the time your SMS marketing campaigns should start.
Why? Because that's the time when people will be searching for early offers.
Create a sense of urgency by including phrases like:
Offer valid until midnight
Order before stock runs out
Few minutes till the sale ends!
Final call
Prices going up in 1 hour 30 minutes
Urgency triggers the fear of missing out (FOMO), often making people buy. Here's an SMS template that you can use to create a sense of urgency.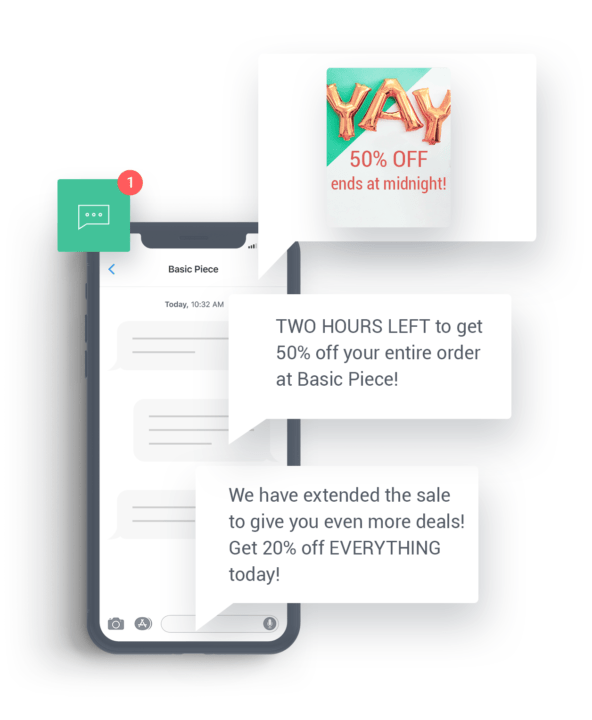 Omnisend offers an easy way to launch your holiday SMS marketing strategy. It also combines email, SMS, push notifications, Facebook, and Google Ads sync for better reach.
Wondering how easy it is to send Black Friday SMS with Omnisend? Follow these four simple steps and launch your SMS marketing program today!
Get better engagement and sales with Omnisend's email & SMS marketing
Start free
Black Friday SMS templates
The above tips are easy to implement if you use the following Black Friday SMS templates:
"X Days to Go! This Black Friday, get Y% off everything in our store! Click here [LINK] to preview the hottest items on sale and how to pre-order."
X Days, over Y deals on clothing and electronics. Get a head start on your holiday shopping with our amazing blowout deals here: [LINK]
"Shop now and get a FREE gift worth up to $X with your purchase. Valid on all items of sale. Use [CODE] to check out. [LINK]"
"Black Friday sale extended! Get X% off all [Product or Category]. Offer valid until midnight. [LINK]"
"Missed out on our Black Friday deals? We're giving you another chance! Take X% OFF your purchase today. Visit [LINK] to claim your offer!"
"This Black Friday, get the best deals on all your favorite products. Text BLACKFRIDAY to [SHORT CODE] to get a X% off coupon for our Black Friday sale!"
"It's that time of year again! Get ready for some amazing Black Friday deals! SMS [KEYWORD] to [SHORT CODE] to get a sneak peak at our top offers and be the first to know when they go live!"
Unsure of what to give your parents this Christmas, [NAME]? How about a little bit of everything? Our annual Black Friday sale just started! Click [URL] for some amazing discounts!
Here are a couple of visual Black Friday SMS templates and examples to help you design the perfect SMS marketing campaign.
Divatress Black Friday SMS with a discount for women's essentials.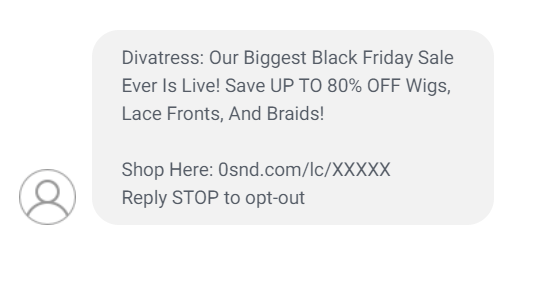 General time-sensitive SMS template (can be adapted for Black Friday).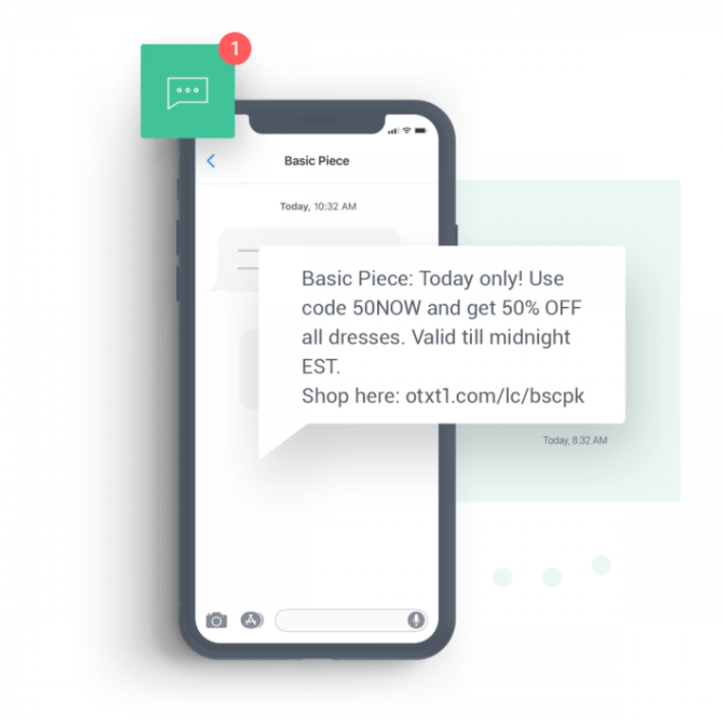 Ready to boost your Black Friday sales?
Now that you know the best tips for sending Black Friday SMS messages, it's time to get started.
Use the Black Friday SMS templates and examples we provided to run a successful SMS marketing campaign.
Segment your subscribers' list to provide the most relevant offers during BFCM. And, don't forget to use personalized messages to make your texts more engaging.
With these tips, you'll create Black Friday messaging texts to boost sales and stand out from the competition.
Put your Black Friday marketing on autopilot with Omnisend's automated SMS marketing.
Start Free Today