Drive sales on autopilot with ecommerce-focused features
See Features
Reading Time:
2
minutes
Gamification, the tactic of motivating customers to behave in certain ways in exchange for taking a specified action, is a marketing tactic increasingly being used by retailers today.
Often, gamification can be found inside of marketing emails, such as by clicking an image to reveal a "present." It creates a fun, interactive element for subscribers.
Gamification can also be applied to your website in order to grow your email and SMS list, making it one of the best signup forms for conversions. Using a Wheel of Fortune allows you to gamify signing up for your email and SMS programs. The best part—it is compatible with other pop-ups and sign-up boxes, so the combination of several forms can be used in each store based on the situation.
How Does the Wheel of Fortune Work?
It is an interactive signup form that invites website visitors to enter their data (name, email address, date of birth, etc.) for an opportunity to spin a wheel and win a prize. Prizes can be various things, the most popular prizes are discounts of different sizes. However, you may also include other giveaways or free shipping.
The form has a small widget as a sign-up box does, and it can be displayed according to flexible targeting rules. For example, it may occur only on the particular product page, show up as an exit-intent dialog box, etc.
Like all the rest of the forms on Omnisend, Wheel of Fortune has preset designs and text and can be enabled without additional customization. However, if you require more advanced Wheel of Fortune behavior and settings, you can choose from many options.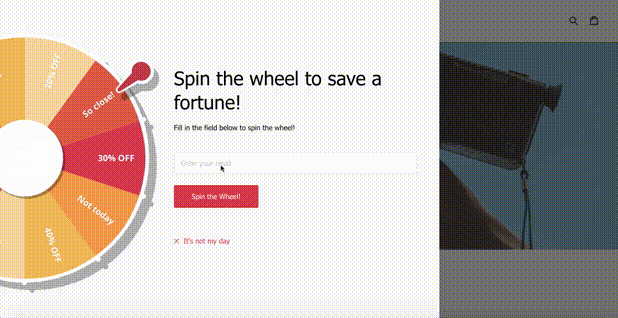 The Main Benefits of an Interactive Signup Form
Wheel of Fortune is innovative and based on gamification that successfully interacts with your store visitors and converts them into subscribers—and even customers.
In comparison to alternatives in the market, our Wheel of Fortune adds value to your entire email marketing package.
The form provides your visitors with interactive entertainment. Offering a discount can increase the email signup rate often helps you get email addresses that can later be used for your bulk email campaigns.
A sign-up form with multiple fields helps you learn about your subscribers: name, SMS number, gender, etc. You can use this information for further segmentation and personalization.
As with other sign-up forms from Omnisend, the Wheel of Fortune allows you to gather other data that will later prove invaluable for implementing email marketing automation.
Setting up a Wheel of Fortune is as easy as everything else in Omnisend. To provide assistance, this is a step-by-step tutorial on how to set it up.
If you're not yet using Omnisend, try our email marketing tool for ecommerce for free!
related features
Want more sales?
Omnisend has everything you need to succeed.
Start free now
No Credit Card needed.