Drive sales on autopilot with ecommerce-focused features
See Features
Reading Time:
9
minutes
Email marketing remains the most cost-effective way of engaging your digital audience and promoting the products and services of your online business. To maximize its value, however, you need a bulk email service that allows you to reach larger audiences through highly targeted email campaigns that convert.
Nowadays, it's easy enough to find a mass email service provider with the basic features you need to run newsletter campaigns. But when choosing marketing software for your business, don't just settle for one that enables you to send bulk email. Find those with additional features that will truly maximize the value of your audience.
This article will go through the basic functionalities you should expect from any email service. It will also comb through the features of the best bulk email service providers and identify what makes each software unique. At the end, you should be able to determine the most favorable option for your online business.
Choose software that enables you to automate your marketing campaigns and reach a wider audience with targeted campaigns on several channels. Start using Omnisend for free.
General features of a bulk email service
Different email marketing software have different functions and cater to different types of businesses.
But no matter the scale or nature of your business, here are the most basic things you should be able to do using any mass email service:
Send bulk email
Of course, you should expect any mass email service to be able to send bulk email. What's important to consider here is performance.
Technically, you can run an email marketing campaign manually. But using even the most basic mass email service offers not only efficiency but also deliverability. Without the technology of a good email marketing software, your emails are more likely to be tagged as spam.
Consequently, your subscribers won't receive your emails and your sender reputation will suffer.
Manage subscriber data
Before you can send emails, you need a list of recipients. Not all tools will help you generate leads but, at the very least, the software you choose should let you store and manage your opt-in list. It should also let you easily select recipients for every campaign.
Furthermore, you should be able to monitor subscriber engagement. You should see which recipients open your emails and act on the messages inside them.
These tools should also give you ways to segment your contacts for better targeting and personalization.
Review campaign performance
All mass email services should generate reports on campaign performance. This will help you not only monitor how well you're doing but also gather insights on how to improve future campaigns.
Although some software will have more in-depth reports than others, you should at least have a real-time view of how effective your campaigns are. You should know if your emails are received, read, and acted on.
Ideally, you will also be able to track how much sales revenue you generate from every email campaign.
Best mass email service providers
MailChimp is one of the brands that come to mind when discussing email marketing software. This is mainly because it was among the first services that enabled email to become the powerful marketing platform it is today.
However, you'll find that there are now many other bulk email services that are much more powerful and more cost-effective.
Any one of the following tools will serve as an excellent alternative to Mailchimp and have unique features to give you a considerable advantage over your competitors:
Omnisend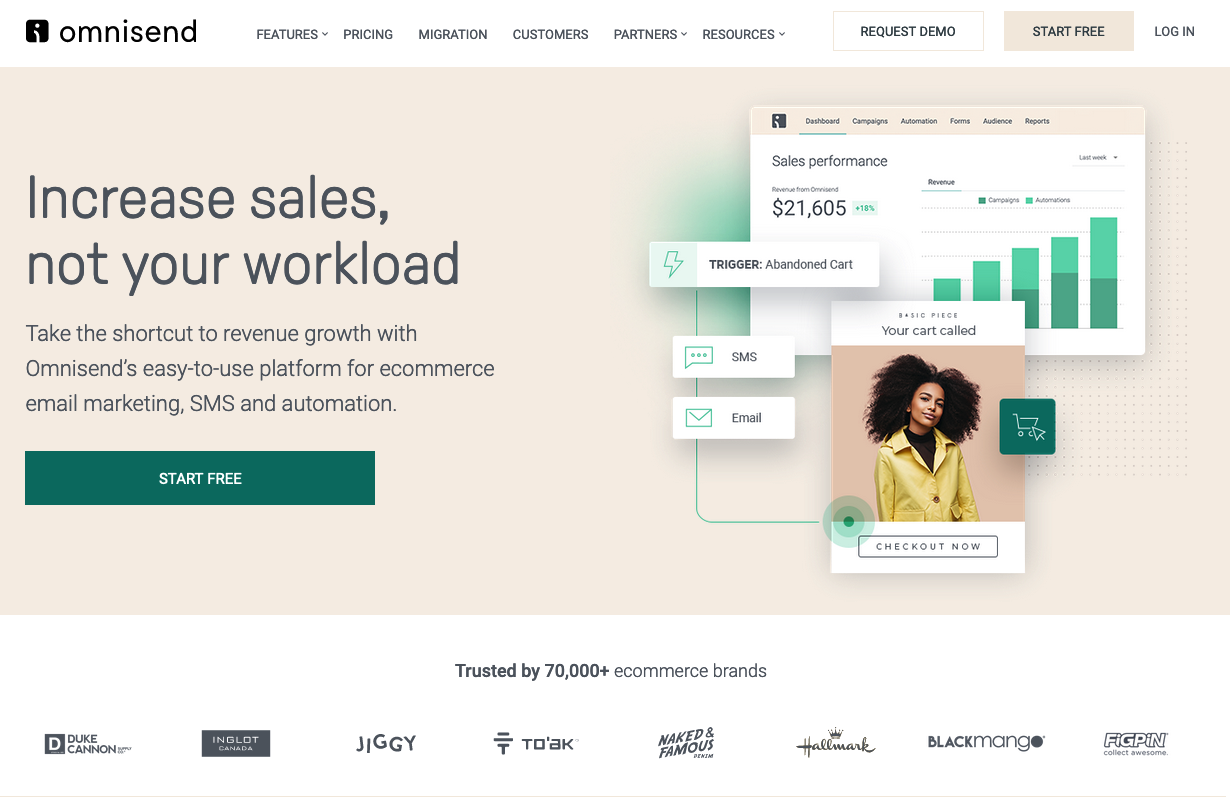 Omnisend is a platform designed specifically for ecommerce and is an excellent option whether you need a small business email provider or something that can scale up to enterprise-level marketing.
What makes it among the best mass email service providers is that it has marketing automations that are powerful and yet easy to use. What's more, the workflows you create can include not only emails but also other channels like SMS and web push. You can also use it to manage your retargeting campaigns on Facebook and Google.
Other than being a bulk email service, Omnisend is an all-in-one ecommerce solution because it includes everything you need to convert visitors into subscribers, subscribers into shoppers, and shoppers into loyal customers. This includes high-converting email capture forms and customizable email templates.
It also has detailed customer segmentation and powerful automation options that allow you to reach your audience with more personalized and, therefore, more effective messages.
Pricing
Omnisend's pricing structure is unique among popular mass email services. It offers a free plan that lets you access all its features without limits on the size of your subscriber list.
The free plan does limit you to 500 emails per month sent out to a maximum of 250 contacts. Beyond that, you'll need to upgrade to a paid plan, which starts at $16 per month.
Sendinblue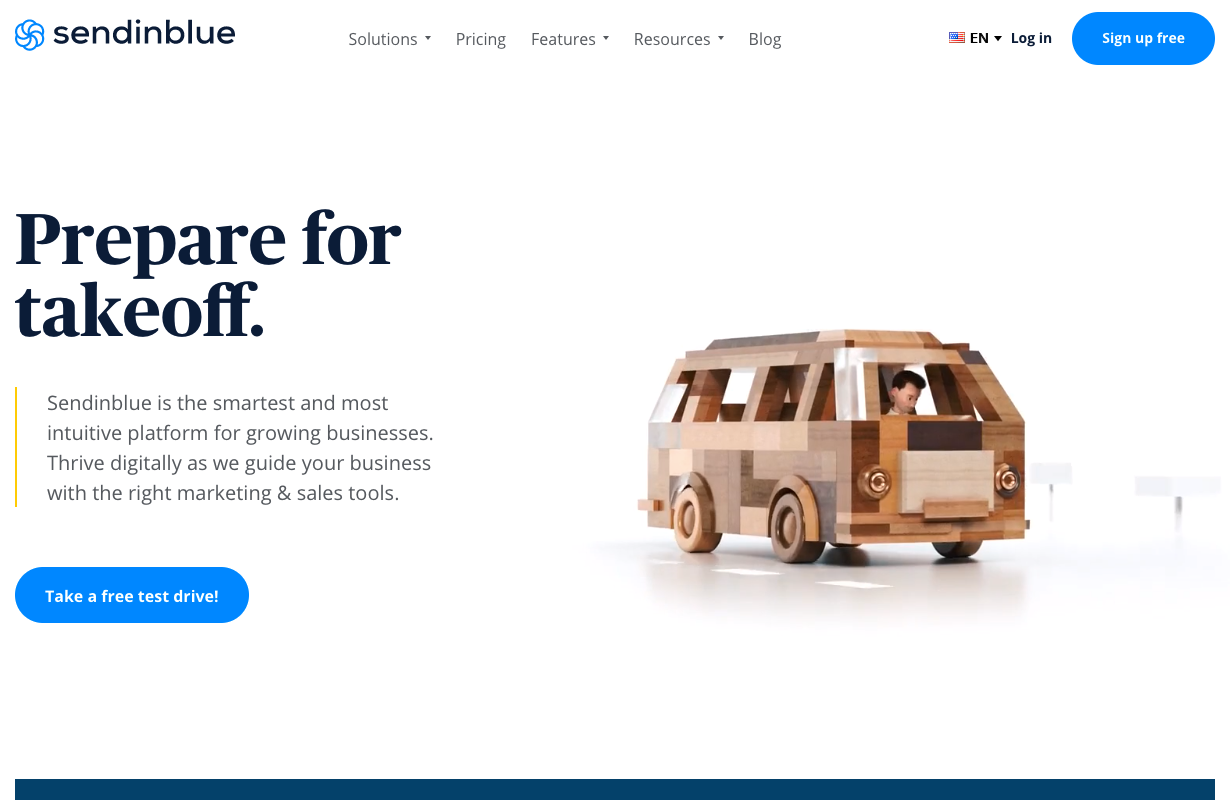 Sendinblue is best known as a mass email service, but it is actually a robust digital marketing tool for small businesses. Beyond being a mere bulk email software, Sendinblue allows for multichannel communications through SMS and live chat.
It also has some marketing automation features that help provide individualized experiences to your customers with minimal intervention from your team.
Lead scoring is one of Sendinblue's unique benefits. This feature automatically assigns a score to each contact. This score is reflective of each one's conversion potential and, therefore, helps you craft more relevant messages that drive them further towards their next purchase.
The ability to organize contacts into different lists is also one of Sendinblue's most useful features. This can be used, for example, to segment users based on demographics, acquisition source, or other similar characteristics. Such customer data management will further help improve customer experiences.
Pricing
Sendinblue offers a free tier that allows you to get started with email marketing risk-free. This free plan lets you upload an unlimited number of contacts and send up to 300 emails per day.
However, it only gives you access to the bulk email software and a few basic features. More advanced features like marketing automation and landing page creation are only available through paid plans, which start at $25 per month.
Constant Contact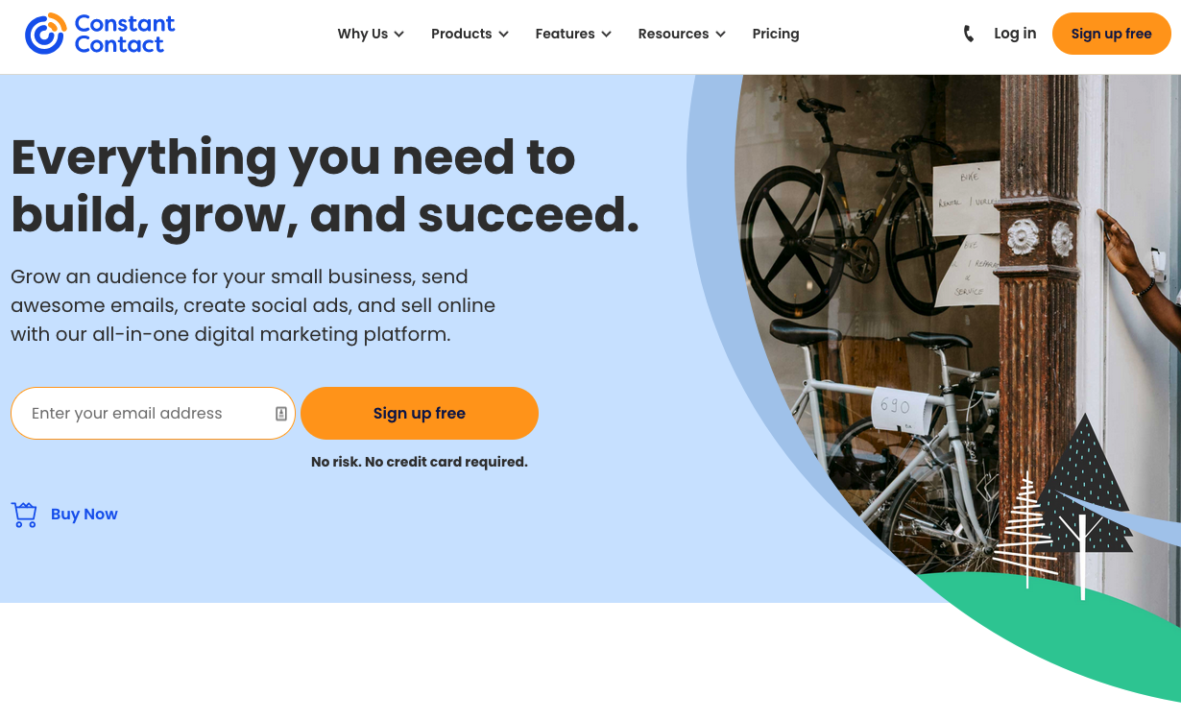 Among software made to send bulk email, Constant Contact is one of the most beginner-friendly. Though it may not be the most feature-filled option, it offers an intuitive interface that's easy enough for novice marketers to navigate.
Apart from email templates, Constant Contact also has tools to help you build dynamic subscription forms. These will help you gather leads, while creating polls and surveys on the same platform will aid you in engaging them and learning more about their needs and preferences.
Constant Contact also boasts some automation capabilities that can be useful for sending welcome emails, birthday greetings, and more.
It then gives you an overview of the performance of each automated campaign, including how many messages were successfully sent, how many recipients clicked on a link within the email, and how many opted out of your list because of it. This data should help you optimize your future campaigns.
Pricing
Unlike other mass email services, Constant Contact doesn't offer a free plan. It does, however, allow you to test their software for up to one month. After that, the basic paid plan starts at $20 per month.
More advanced features like detailed customer segmentation and customizable pop-up forms can only be accessed through the Email Plus plan, which starts at $45 per month.
Aweber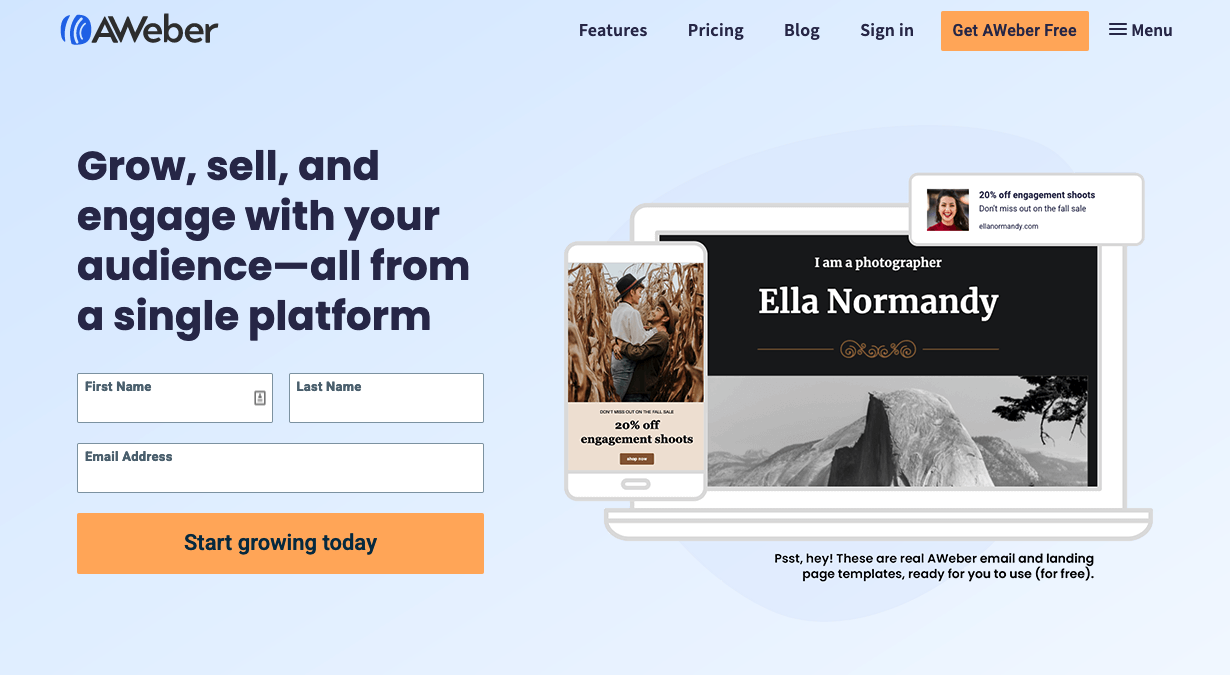 The primary feature that sets Aweber apart from other bulk email providers is its integration with Canva, the powerful graphic design platform that makes it easy for even non-creatives to make all sorts of visual content.
This helps you create professional-looking email templates in mere minutes and it even gives you access to thousands of graphics and stock images you'd otherwise have to pay for separately.
It also has several pre-built campaigns you can copy into your account and tweak with more relevant information. Some of the most useful series templates include multi-email courses and Black Friday campaigns.
Furthermore, Aweber uses a tag-based system to help you organize your subscribers. Although this offers limited segmentation and targeting options, it is this simplicity that many novices appreciate. Its reporting and analytics tracking features are just as simple but include the most important information marketers need to monitor campaign performance.
Pricing
Aweber offers its bulk email services through a free tier that gives you access to the email templates and drag-and-drop builder it is best known for. However, this free plan is limited to 500 subscribers. It also has limited automation, analytics, and split-testing features. To take advantage of Aweber's true power, you'll need to pay for a Pro plan, which starts at $19.99 per month.
ConvertKit
ConvertKit is a mass email service provider designed specifically for online content creators. It is most often used to sell self-branded merchandise or even exclusive digital content. But despite the focus on YouTubers, streamers, and social media influencers, it has all the email marketing functionalities you need to start promoting your ecommerce store.
Emails, sign-up forms, and landing pages are easy to make on ConvertKit, thanks to an easy-to-use—albeit limited—editor. It also has subscriber scoring features that help you reward your most active subscribers and re-engage those that seem to be slipping away.
ConvertKit also integrates seamlessly with Sparkloop. A ConvertKit Creator Pro account automatically comes with free Sparkloop access. This newsletter referral program essentially lets you harness the power of your current subscribers to grow your audience.
Pricing
ConvertKit has a free plan that gives you access to its mass email service and allows you to create an unlimited number of sign-up forms and landing pages. However, it is only accessible to businesses with fewer than 1,000 subscribers.
If you have more than 1,000 subscribers and would like to access other valuable features (e.g., marketing automation features, Facebook custom audiences, etc.), you'll need to upgrade to one of the paid plans, which start at $25 per month. Additionally, if you have fewer than 300 subscribers but still want to access advanced features, you can subscribe to the Creator plan at $9 per month.
ActiveCampaign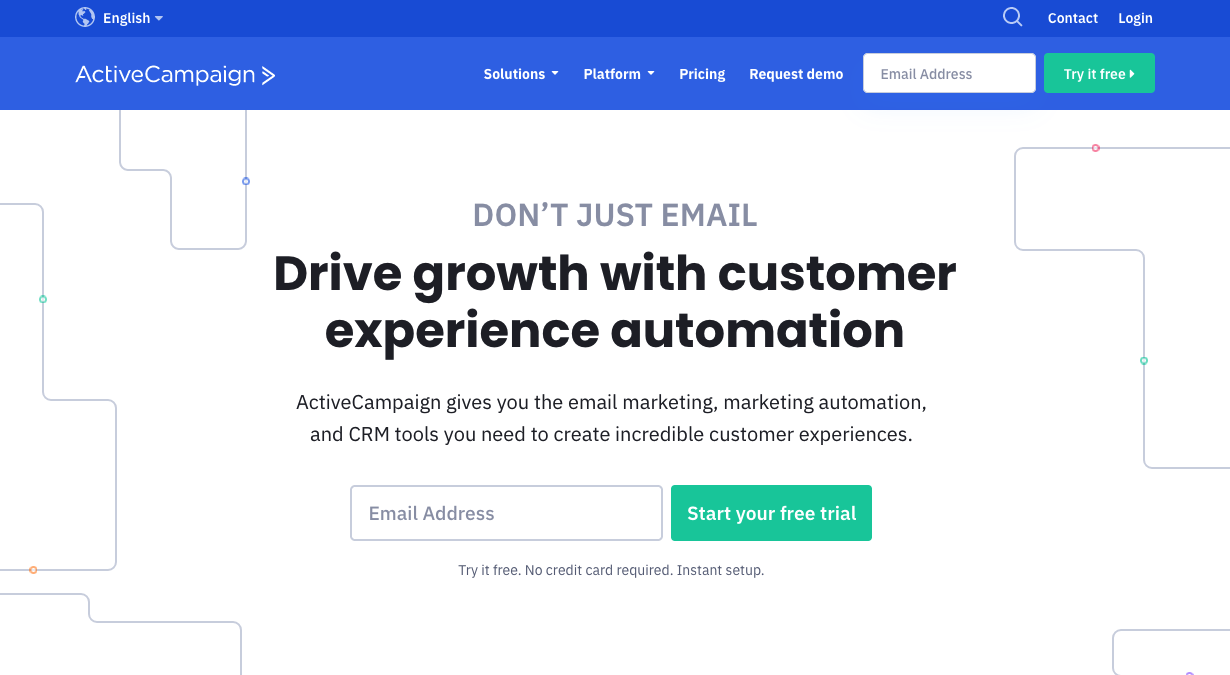 As a bulk email software, Active Campaign is an excellent option for businesses engaged in CRM-focused marketing. It offers sophisticated contact segmentation capabilities and also has lead scoring features that help you identify and focus on leads that are most likely to convert. These scores also help you personalize messages for maximum engagement.
Beyond its targeting capabilities, ActiveCampaign uses machine learning to ensure that your campaigns keep improving. For example, it uses historical data to predict which version of new content each user will find more engaging. It also makes data-based decisions on when to send emails, and such decisions become more accurate the more subscribers interact with your content.
You'll also get some marketing automation features on Active Campaign. Automation workflows are easy to create thanks to its drag-and-drop editor. It also provides an automations map that gives you a single visualization of all your active workflows.
Pricing
ActiveCampaign has no free tier but offers a 14-day free trial for any of its plans. The most basic paid plan starts at $15 per month and allows you to use not only its bulk email services but also its marketing automation features.
For even more advanced features (e.g., SMS sending, social media integrations, and lead scoring), you'll need to subscribe to either the Plus plan ($70 per month), Professional plan ($187 per month), or Enterprise plan ($323 per month).
SendGrid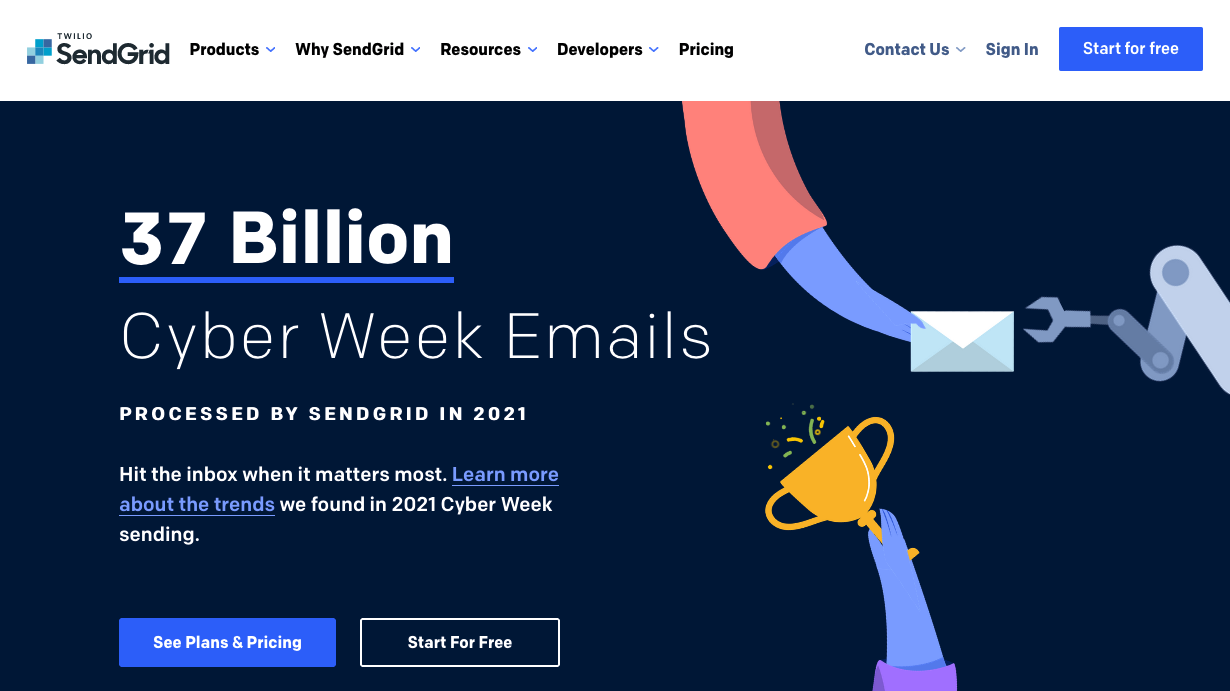 The strength of SendGrid's mass email services lies in its focus on maximizing deliverability rates. It does this through the relationships it has built with the most popular inbox service providers (e.g., Gmail, Outlook, Yahoo). But beyond making sure you avoid your customer's spam folders, SendGrid also offers a simple way to create drip campaigns and automate recurring emails.
To help you create professional-looking emails, SendGrid has many free, fully customizable, and responsive templates to choose from. Although the available designs and customizability of email capture forms are limited, the ability to create simple sign-up forms is still a useful feature.
Pricing
SendGrid's free bulk email service plan lets you store a maximum of 2,000 contacts, send up to 6,000 emails per month, and create just one sign-up form. Beyond these limits, you'll need to sign up for one of the paid plans, which start at $15 per month.
Because SendGrid's pricing plans are heavily based on the number of contacts you have and the number of emails you expect to send per month, you should have a good estimate of your current and future requirements before you sign up. Otherwise, you'll be faced with unexpected fees for overages.
Wrap up
Unless you're content to just run a simple newsletter service and have no plans to scale up in the future, you should select a bulk email service that offers features beyond the basics. Doing so will help you create high-performing campaigns that significantly impact your revenue.
Additionally, the best mass email services will help you avoid sending spammy emails and ensure that your subscribers receive and read your messages. Only with the right email marketing tool can you engage your audiences in meaningful ways and foster loyalty among your customers.
Omnisend is an all-in-one digital marketing platform. It helps you manage your ecommerce store and lets you create automated email campaigns complemented by free SMS and web push.
Get started with Omnisend today & drive sales on autopilot with pre-built automation workflows
Start Free Today