Drive sales on autopilot with ecommerce-focused features
See Features
Reading Time:
13
minutes
Someone visits your website, types in their email, and clicks "Submit."
They've got what the website promised, and you added a fresh new subscriber to your email list.
Sounds simple, but it's not. Getting someone to hand over their email address is no easy feat. That's why it's important to have a plan in place to convince visitors to give you their email.
So, how do you earn that trust and convince them to take that first step?
Here, you'll learn exactly that.
What is email capture?
Email capture refers to the process of collecting email addresses from potential customers or website visitors. The goal of email capture is to build a targeted email list that can be used for marketing, sales, or other communication purposes.
This can be done by using signup forms, teasers, or floating bars on a website, via landing pages and lead magnets that offer something of value in exchange for an email address.
By collecting email addresses, you can establish a direct line of communication with your audience, allowing you to send targeted messages and offers that are likely to be of interest to the recipient.
Email capture best practices
Want to build an email list of engaged subscribers that you can communicate with directly? Great!
But before you start collecting emails left and right, let's look at the best practices that will help you increase your email marketing ROI and keep your subscribers coming back for more.
1. Use a lead magnet
A lead magnet is essentially a bribe–it's something you offer to potential subscribers in exchange for their email. The goal is to entice them with something valuable enough that they're willing to part with their email.
So, what makes a good lead magnet? It really depends on your target audience and what they find valuable. Some popular examples include:
Discounts or coupons
Access to exclusive content
Here's a good example of a discount lead magnet by Island Olive Oil:
Whatever type of lead magnet you choose, make sure it's something that will appeal to your target audience and solve a problem or meet a need that they have.
But here's the thing: Even the best lead magnet won't do you any good if you don't promote it effectively. Make sure to prominently feature your lead magnet on your website, either through a pop-up form or a banner ad.
You can also promote your lead magnet through social media, paid ads, or guest blogging. The more people who see it, the more email addresses you'll be able to capture.
2. Use targeting to convert the right people
The best email capture campaigns always have a specific audience in mind, along with a relevant incentive. That's why targeted campaigns are more than 5x more effective in increasing your CTR.
There are countless ways to target your audience. Let's focus on a few must-haves for email capture:
First-time visitors. These visitors may be more receptive to an email capture campaign because they are unfamiliar with your brand. You can offer them a special incentive, such as a discount code, to encourage them to sign up for your email list.
Returning visitors. They are already familiar with your brand, so you can tailor your marketing to their interests or past behaviors. For example, if they have previously shown interest in a particular product, you can offer them a personalized recommendation or a limited-time discount.
Visitors who viewed certain pages. If you have a specific product or category that you want to promote, you can show an email capture campaign to visitors who have viewed those pages. This can be a good way to capture the attention of interested visitors and encourage them to sign up for your email list.
Customers who made a purchase in the last 30 days. They're already engaged with your brand and have demonstrated a willingness to make a purchase. You can show them an email capture campaign offering them a special thank you or follow-up offer to encourage them to sign up for your email list.
At Omnisend, we offer unlimited audience segmentation that lets you grow your email list by creating any segment you can imagine. With our advanced targeting options, you can make sure that your email capture campaigns are seen by the right people at the right time.
3. Show your campaigns at the right moment
When it comes to launching your email capture campaigns, timing is everything. Here's when you should trigger your forms for best results:
On landing. Show your email capture campaign as soon as a visitor lands on your website. This can be a good option if you want to capture the attention of visitors right away, but it's important to make sure your campaign is relevant and not too intrusive.
On scroll. Show a popup or signup form when a visitor scrolls down a certain percentage of the page. This can work well if you have long-form content.
Time spent on page. Show your email capture campaign after a visitor has spent a certain amount of time on your website. This can be a good option if you want to capture the attention of visitors who are engaged with your content.
On exit. Show your campaign when a visitor is about to leave your website. Use this if you want to capture visitors who are about to abandon their purchase or leave the site.
Here's an example of an exit popup that Omnisend can show when a visitor is about to leave a website:
Make sure to experiment with these timing options to find out which one works best for your business. Keep in mind that the right timing will depend on your audience, your website, and your goals.
4. Make conversion-optimized landing pages
Similar to lead magnets, landing pages are standalone web pages designed to help you get valuable information from your visitors in exchange for something they find valuable, like a free download or discount code. They can be a powerful tool for capturing emails and growing your email list.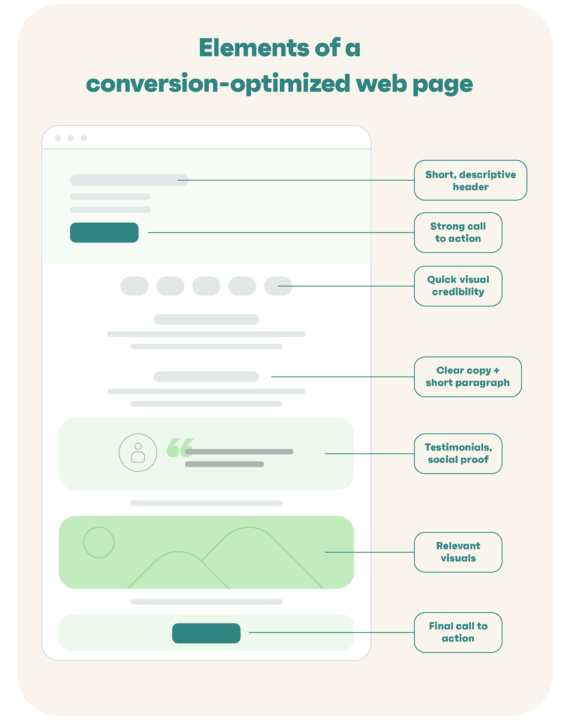 Here are some pro tips for building a great landing page optimized for conversions:
Write clear copy. Your landing page copy should be clear and concise, starting with a strong headline. Focus on the solution you're providing to your visitors in simple and easy-to-understand terms.
Use a strong CTA. Include a single, specific call to action (CTA) that stands out and tells visitors exactly what to do. Make it compelling and easy to follow.
Add testimonials. Including testimonials and other forms of social proof will help increase credibility and build trust with your audience.
Have a clear message. Visitors should instantly understand the purpose of your landing page and why it's relevant to them.
Use relevant visuals. Visual content like images and videos will help engage your audience and strengthen your message. Choose visuals that are relevant and effective.
Use the right design. The layout, style, and overall functionality of your landing page should highlight or emphasize your messaging. Keep it simple and direct, with the conversion method clearly visible and easy to follow.
5. Share expert-level content
When you create and share original, well-crafted content, you're providing value to your visitors by giving them unique and helpful knowledge. This can help establish you as an authority in your field and build trust with your audience.
To make the most of this strategy, focus on creating high-quality content that addresses the needs and interests of your target audience. This can include expert blog posts, articles, infographics, podcasts, interviews, and other formats.
Remember to always put your audience first when creating content. Think about what they want to learn and how you can provide value to them.
Let's say you run a digital marketing blog. Here are some examples of expert-level content you could offer on your website in exchange for a visitor's email:
A round-up of the latest digital marketing research and data, including trends, statistics, and insights on consumer behavior.
A case study on a successful digital marketing campaign, including a detailed breakdown of the strategies and tactics used, as well as the results achieved.
An expert interview with a digital marketing leader, covering their career journey, insights, and advice for aspiring professionals in the field.
Feel free to experiment with different types of content to find out what works best for your audience. And, as always, be sure to promote your content through social media, email marketing, and other channels to get it in front of as many people as possible.
6. Create a sense of urgency
Creating a sense of urgency is a powerful way to capture emails and drive conversions. Here are five techniques you can use to create urgency for your ecommerce store:
Special offers. Offer a limited-time deal or bundle that's not available elsewhere.
Countdown timers. Use countdown timers to show how much time is left to take advantage of an offer or deal, encouraging visitors to act quickly.
Free shipping. Offer free shipping for a limited time to encourage visitors to make a purchase.
Limited stock. Make it clear that you have a limited quantity of a popular product available.
Limited-time discount codes. Offer a special discount code that's only available for a limited time.
Here's a nice example of a limited-time coupon from Rage Coffee:
7. Gamify the email capture process
Sometimes, discounts and sales aren't enough to get people to sign up. That's why it's a good idea to try gamification marketing.
When it comes to gamified email capture, one option is to use interactive signup forms that are fun for visitors and effective for you. For example, Omnisend's Wheel of Fortune is a fun game that lets visitors spin a wheel to win a prize. To play, they have to sign up for one of your email lists.
For example, you can offer a specific discount or a percentage off as the prize:
Visitors get a chance to save on their orders, and you get to capture their email. In other words, it's a win-win, as well as a creative way to get people excited about signing up for your emails.
8. Minimize the use of CTA buttons
While calls-to-action (CTAs) are a key tool for capturing emails, don't go overboard with their use. Having too many CTA buttons can actually lead to fewer subscribers, not more.
Why? Well, inundating your content with CTA buttons can cause choice paralysis, where visitors feel overwhelmed by too many options and end up not taking any action at all. It's also pretty annoying, which can make potential customers leave your website altogether.
To avoid these pitfalls, limit your use of CTAs to a few key areas in your email capture form. Make sure they're clear, specific, and compelling, and only use them when you have a strong reason to ask for someone's email.
Here's a great example of limited CTA button usage from Sockshop:
Remember, the goal is to make it easy for visitors to take action, not to overwhelm them. By using CTA buttons sparingly and strategically, you'll be more likely to capture valuable emails and grow your email list.
Want to learn how to create powerful CTAs that actually work? Check out this video:
9. Make your designs simple and on-brand
When it comes to designing your email capture and signup forms, it's important to keep things simple and on-brand. No one wants to fill out a form that looks like it was designed in the 90s, complete with neon colors and clip art.
Instead, go for straightforward designs with branded colors, fonts, and formats. Include some branded images if you want to add visual interest, but keep it simple.
Here's a great example of on-point email capture form design from Marigold Coffee:
As you can see, everything is on-brand and to the point. Nothing more, nothing less. After all, you want to make it easy for people to sign up, not confuse or overwhelm them.
If you want to make your forms a bit more visual, make sure to keep your image apart from the copy, like in this popup from Muscle Cheff:
Embedding a signup form at the bottom of your website or campaign can also be a great way to gain more subscribers, as you can see in this example from Allbirds:
So, in short, when it comes to email capture form design, less is often more. Keep it simple, on-brand, and easy to use, and you'll be well on your way to growing your email list.
10. Add signup form teasers
Let's say someone visits your online store for the first time. They immediately see an email capture popup with a 10% discount for new subscribers. They're not yet ready to convert, so they close it.
After browsing your store for some time, they finally decide to sign up. But the popup form is nowhere to be found. That's where teasers come in.
Instead of showing up in the middle of a webpage, a signup form teaser appear around its edges. This lets visitors continue browsing your website without interacting with or closing the form. Here's an example of a great teaser signup form from Baking Steel:
Using teasers is a great opportunity to capture more emails without intruding on your visitors' browsing experience.
11. Make your email forms mobile-friendly
Let's face it, most of us are attached to our smartphones like a fifth limb. So if your forms aren't compatible with mobile devices, you're missing out on a lot of potential email subscribers.
But it's not just about making sure your forms look good on a small screen. Google also has specific requirements for mobile-friendly websites, and if your forms don't meet them, your website could be penalized in search rankings.
So, make sure all your popups and other forms are mobile-friendly.
You don't want to lose out on potential subscribers because they couldn't fill out your form on their phone. And you definitely don't want to be penalized by Google. Trust us, your website will thank you (and so will your email list).
Luckily, Omnisend users don't have to worry about mobile optimization. Everything they send through Omnisend, including all their email capture forms, landing pages, and emails, is already mobile-optimized, so they don't have to spend any additional effort to make it mobile-friendly.
Best email capture software
Building and maintaining relationships with your customers is important for growing your business and increasing sales, and email marketing is one of the best ways to do it.
To help you find the best email capture software to collect emails, we've compiled a list of the best tools. Let's take a closer look at these leading capture tools.
Omnisend is an excellent email capture tool that lets you do much more than just grow your subscriber base. On top of everything you need to build your emai list, you also get all the tools to get the most out of that list for boosting your sales, including powerful marketing automation as well as lead tracking & management.
But what really makes Omnisend stand out is its focus on ecommerce. With its cart abandonment workflows, welcome series, and special offer emails, Omnisend makes setting up and sending ecommerce marketing campaigns a breeze.
Case in point: By investing just one hour into Omnisend's email capture features, essential oil diffuser maker Organic Aromas increased their newsletter signups by 150%.
Email capture features:
Signup & lead generation forms
Gamified forms
Popups & teasers
Landing pages
Easy-to-use email & forms builders
Customizable form templates
Targeting & segmentation
Pricing: Free plan with unlimited features. Paid plans start at $16 per month.
Capture emails on your website 5X faster and easier with Omnisend
Start Free Today
OptinMonster is a popular lead capture tool with all the list-building basics covered: Along with the usual stuff like embeds and floating bars, you also get gamified popups, slide-in scroll boxes, and a form builder with customizable templates. And their basic plan is pretty affordable, too.
With all that said, some essential features like A/B testing and custom branding are locked behind more expensive plans. Still, OptinMonster is a great fit for those on a budget.
Email capture features:
Floating bars
Popups
Embeds
Scroll boxes
Spin-to-win popups
Pricing: No free plan. Paid plans start at $16 per month (with a 14-day money-back guarantee).
If you're looking for a free email capture tool with an unlimited subscriber limit, you can't go wrong with Sumo. While you have to pay for advanced ecommerce features, essentials like visitor targeting, discount codes, and cart abandonment automations are available free of charge.
Email capture features:
Bars
Popups
Embeds
Scroll boxes
Pricing: Free plan with limited features. Pro plan starts at $39 per month.
Unbounce is a specialized landing page builder that lets you create great-looking web pages without writing a single line of code. On top of that, you get a set of tools for AI copywriting and affiliate management.
However, it's not an all-in-one email capture platform, which means you'll have to use it with another email marketing platform if you need more advanced list-building tools. Luckily, Unbounce easily integrates with many popular email marketing providers, Omnisend included.
Email capture features:
Sticky bars
Popups
AI copywriting
Landing pages
Pricing: Paid plans start at $90 per month.
Hellobar is a lightweight free email capture app that lets you create and customize popups & floating bars. You can also use it as a WordPress plugin or integrate it with your email marketing platform. It's a great choice for bloggers who just want to grow their list of subscribers, and are not looking for fancy marketing features like automation workflows or gamified forms.
Email capture features:
Bars
Modals
Full-screen popups
Pricing: Free plan with limited features. Paid plans start at $29 per month.
FAQ about email capture
1. How to capture emails from my website?
One option is to add a signup form to your website, either as a popup or in a prominent location like the footer or sidebar. You could also offer a free resource or tool in exchange for an email address, like an e-book or webinar.
Another option is to run a contest or sweepstakes and require an email signup to enter. Finally, you could try using interactive forms or games, like a quiz or wheel of fortune, to capture emails in a fun way.
2. Why is email capture important?
For starters, email capture allows you to stay in touch with your audience and keep them informed about your business. It also gives you the opportunity to send targeted promotions and offers to a specific group of people, which can help boost sales.
On top of that, capturing emails gives you the chance to nurture leads and turn them into paying customers.
3. What are the best email capture tools?
All of the tools we listed above have strong email capture capabilities. However, the ones that have the best list-building features for ecommerce include Omnisend and OptinMonster. While the rest have their own advantages, but they either lack advanced email marketing features or are relatively expensive.
Get a personal 1-on-1 Omnisend demo that will supercharge your next campaign!
Get My Demo
related features
Want more sales?
Omnisend has everything you need to succeed.
Start free now
No Credit Card needed.