Drive sales on autopilot with ecommerce-focused features
See Features
Reading Time:
5
minutes
Ecommerce has boomed rapidly in the past few years and, thanks to platforms like WooCommerce, it is easier than ever before to set up a new online store or digitize your business. Its incredible flexibility, almost limitless customization options, and advanced security protocols allow you to build, run, and manage WooCommerce stores with ease.
It's also simple to run multiple stores. While this may sound difficult, there are a variety of plugins that make it easy to control WooCommerce multistores from one central panel, without logging into each store individually.
Why should you find a WooCommerce multistore solution?
Not everyone needs multi store functionality, but it can be beneficial if you want to sell particular items to select audiences, run niche stores, or tailor your messaging.
The traditional way of doing this is to either have everything on one site, which becomes messy as you try to make your store appeal to different groups of people, or to manually operate numerous stores. This option is fine for the customer, but requires you to juggle the management of each store, logging into each one separately.
WooCommerce multi store solutions give you a central hub to manage all the orders, inventory, invoices, and other aspects of your various stores. Moreover, you have detailed reports and insights for your stores in one place.
Best WooCommerce multistore plugins
If you have a WooCommerce store, you're probably already familiar with managing its different functions.
However, managing multiple WooCommerce stores brings new challenges, so with that in mind, let's look at the best WooCommerce multistore plugins to make your life easier.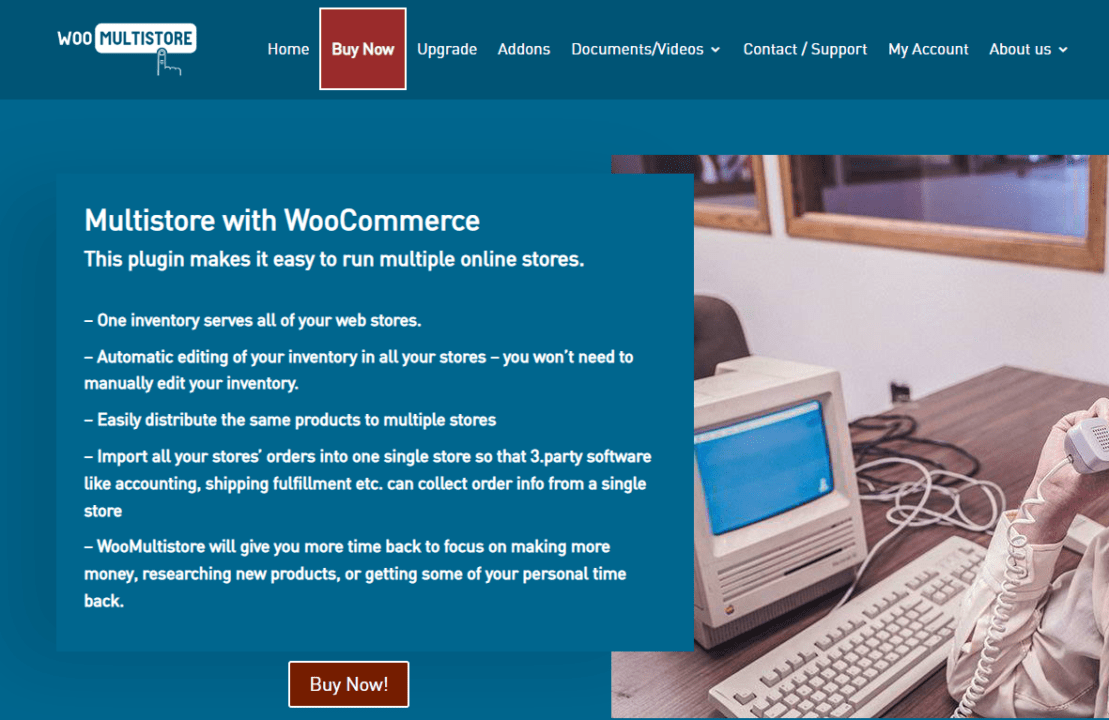 WooMultistore boasts a lot of features, including the option to maintain a single inventory for all your stores.
There's also an admin page where you can easily manage all your stores with just a few clicks, such as automated stock management which lets you set the stock quantity for each store or keep it the same for all stores. And helpfully, its user interface is similar to WooCommerce pages, which reduces your learning curve.
Features
Set up multiple stores with different settings, e.g., currency, payment options, and language support
Review and manage customer orders from a single place
Use different descriptions for the same product in multiple stores
Make automated adjustments to your store inventory
Export orders in XML or CSV format
Pricing
$199 per year for a single network license
$299 per year for five networks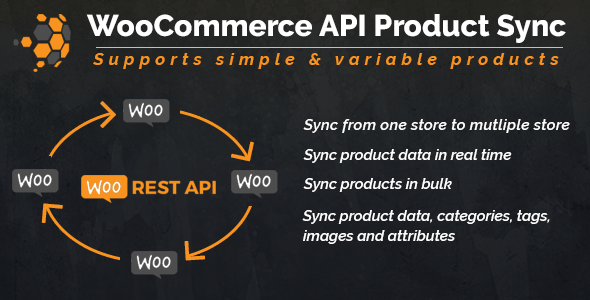 WooCommerce API Product Sync helps you sync a large amount of product data across multiple stores or inventories. Any changes you make to the data in one store will be updated across all your stores in real-time, saving time and effort. This can also include removing items that are out of stock, and replenishing them in each store simultaneously.
WooCommerce API Product Sync also supports importing products from external APIs, mapping attributes to specific product fields, categories, and tags, and importing images into WooCommerce.
Features
Automated data sync in real time
Sync product-related information and inventory
Support virtual, variable, or grouped products
Custom price adjustments in each store
Pricing
Starting from $39 per year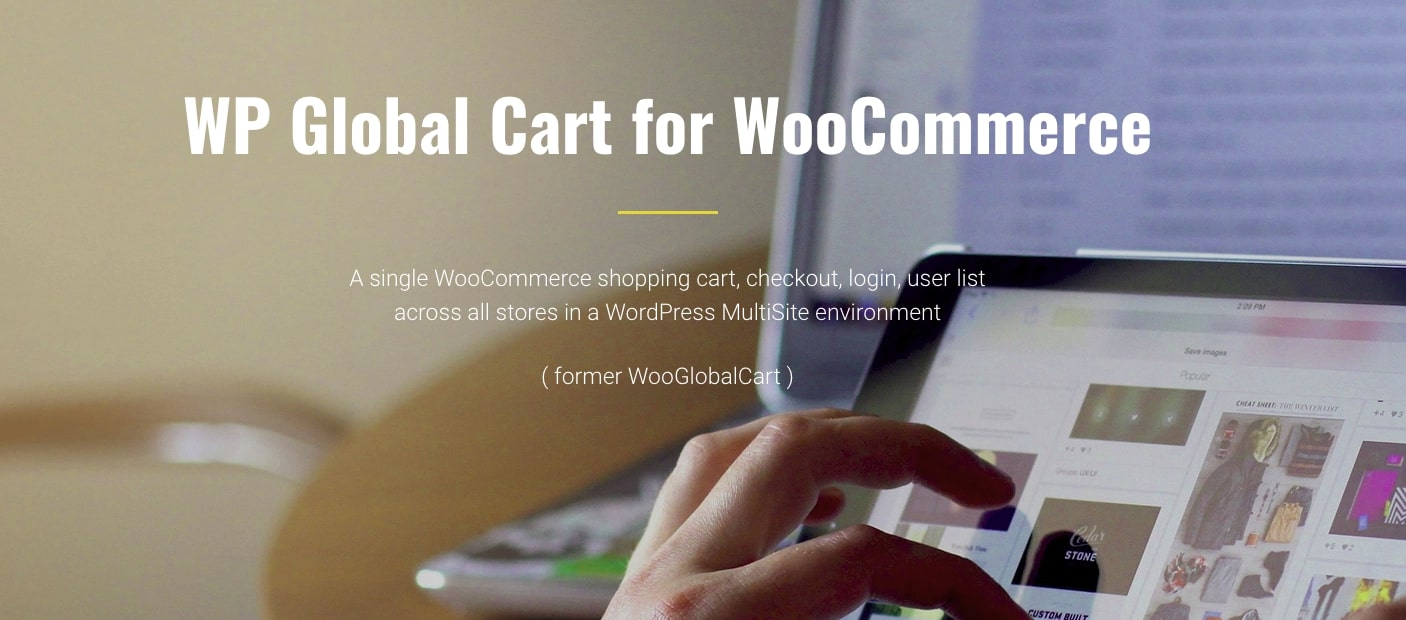 WP Global Cart lets you centralize running your WooCommerce stores including shopping carts, login information, checkouts, and user lists in a single environment. Best of all, this plugin allows for simple and quick configuration, whether you set up a new store or update an existing one.
After installation, you can manage multiple ecommerce stores on one dashboard, including being able to sync the cart information and checkout process. This means customers will be able to add your products from different stores by using a single cart.
Features
Simple, effective, and practical user UI
Supports a wide range of domain types like sub-domains and custom domains
Comprehensive documentation for ecommerce store owners
Visual stats and graphs to check store performance within a single network
Seamless integration across ecommerce stores within the multisite network
Pricing
$120 for one license for one year, with a renewal price of $60
$230 one-time payment for multiple stores with unlimited usage
Join Omnisend to automate SMS and email on your multi store sites

Even with a platform as simple and efficient as WooCommerce, two stores or more can be challenging to run. WooCommerce Multisite Duplicator overcomes this by solving one of the biggest problems with multi stores: if you've got the same products in more than one store, it enables you to duplicate product information, images, prices, and stock information with just a few clicks.
Features
Copy product details across multiple stores
Duplicate a dedicated link within the same product list or page
Limit and control access points and assign user roles and capabilities
Add and duplicate new products across different stores
Pricing
$199 for an extended license

If you use Excel or Google Sheets to manage your online stores and track your inventory, Veeqo is the WooCommerce multistore plugin you need. It is packed with useful features that make multistore management much easier, including order, inventory, and warehouse management.
Features
Improve the overall productivity of the warehouse team
Efficient order management from a single source
Robust inventory management and sync with other ecommerce stores
Easy to configure shipping integration and labels
Detailed reporting on inventory forecasting, product performance, sales performance, breakdown of shipping rates, and inventory history
Capable of syncing with various accounts from a preferred accounting integration
Pricing
Veeqo is free to use (fair usage policy applies)
Marketing automation for multi stores
When running multiple WooCommerce stores, you have several challenges. One such challenge is that you have a broader target audience to cater to, especially if you have different product lines or industries in which you work. That means you can't stick to a fixed marketing strategy that covers all bases.
This is where marketing automation comes in. It enables you to design more effective marketing campaigns that improve brand recognition, giving every one of your site visitors and customers identical communication. From popups to welcome emails and purchase updates, a consistent experience is provided.
Omnisend not only offers marketing automation, including pre-built email and workflow templates, but it also has multi store functionality. Run your email marketing and automation from one place, without the need to log into multiple stores or remember numerous passwords.
Wrap Up
WooCommerce is a popular no-code platform for building ecommerce stores with ease.
For businesses that sell a wide range of products, or the same products to different audiences, it can be beneficial to operate multiple stores. And by using WooCommerce multi store plugins, you can operate those stores without the need to manually log into and manage each one.
Get started with Omnisend today & drive sales on autopilot with pre-built automation workflows
Start Free Today
related features
Want more sales?
Omnisend has everything you need to succeed.
Start free now
No Credit Card needed.